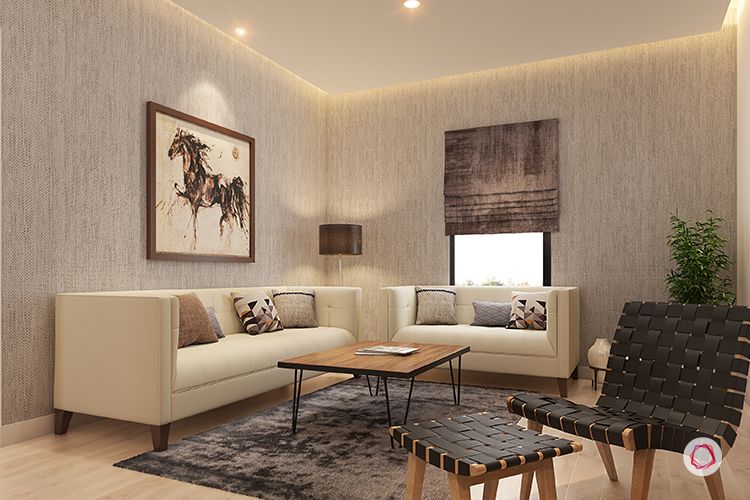 Nestled in the heart of Whitefield, this apartment is a welcoming respite from the hustle and bustle of Bangalore's IT corridor. The interior design for this Sekhar Hyde Park flat boasts sophisticated neutrals with a rich assortment of patterns and textures to boot.
Adding to the simplicity of the theme is the modern, pared back furniture, which ups the functionality of the space. Shades of black and brown on the furnishings offer beautiful contrast.
A serene welcome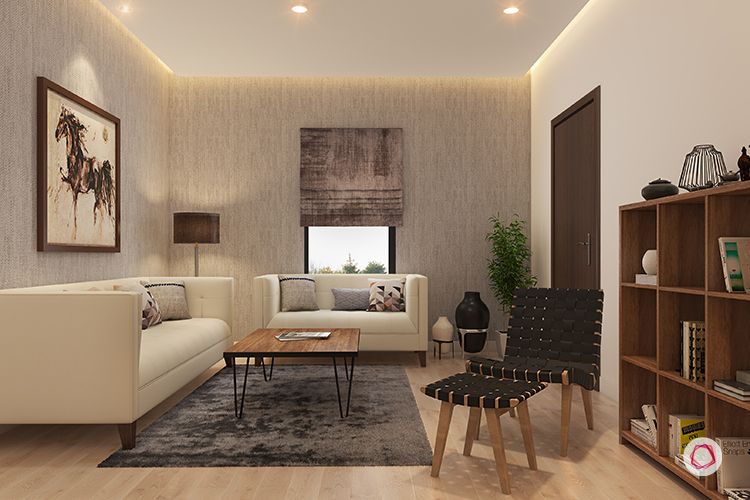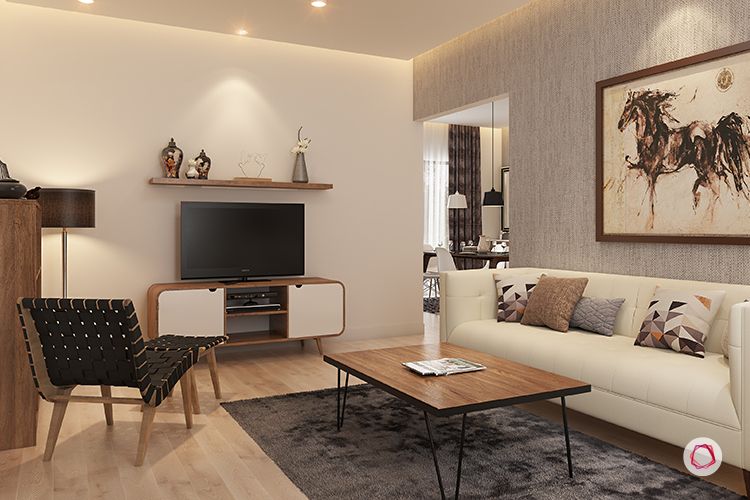 As you walk into the apartment, you are welcomed by a cozy living room that soothes the senses with warm tones of cream, white and grey.
A sleek sofa styled with soft cushions is the perfect spot from where your guests can comfortably take in the beauty and tranquility of your home. Breaking away from the monotony of neutrals, the black lounge chair and table allows one to kick back and relax with a book or enjoy TV.
The natural wood textures add interest to the neutral palette. Bringing in warm tones, the open display unit provides ample space to store books, showpieces and more. The modern center table with hairpin legs gives the room a contemporary edge.
Distressed grey furnishings and the striking oil painting blend well with the aesthetics, boosting the look and feel of the room.
For engaging meals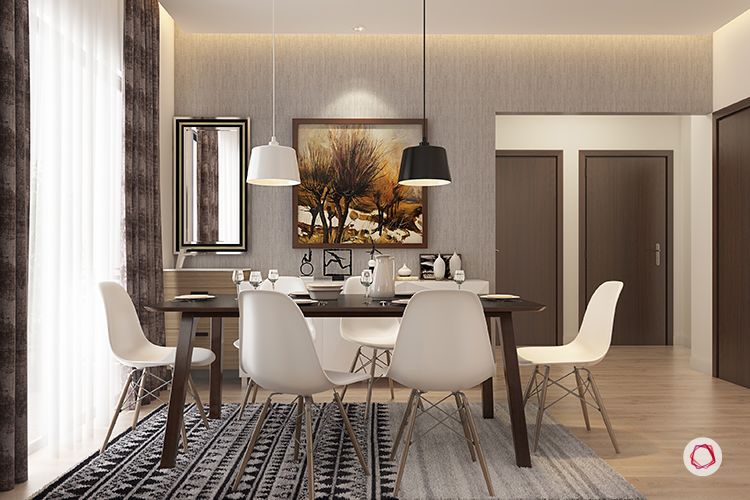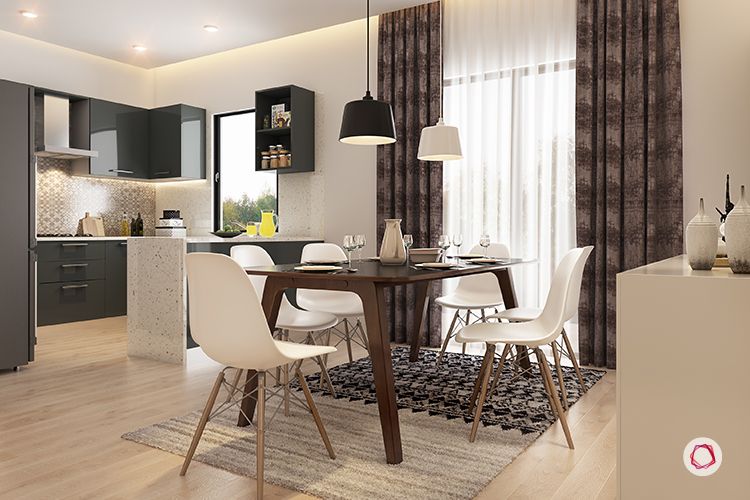 The dining area set beside the open kitchen doubles as a cool family hangout spot. Carrying forward the simple theme of the house, a mahogany dining table is paired with crisp white dining chairs.
The unique prints on the rug add an interesting dimension to the room. Black and white pendant lights loom over the dining set and further play up the overall theme of the home.
Filtering in soft natural light, the two layered ceiling to floor curtains make for a charming addition.
Savouring the tranquility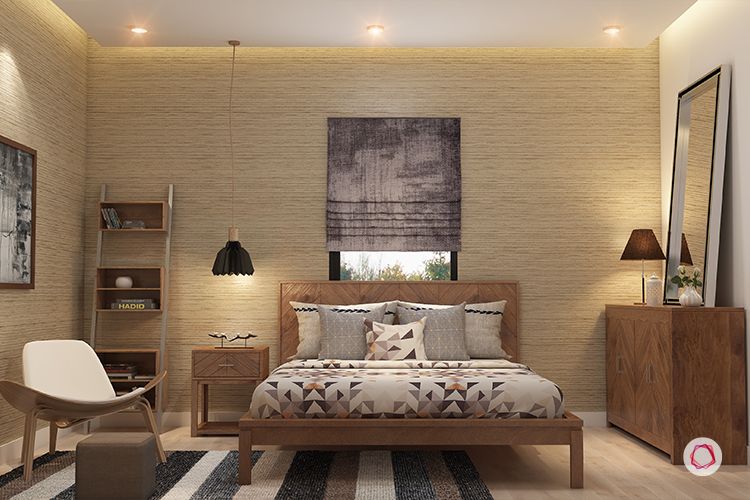 An array of textures fill the master bedroom, giving it an interesting yet snug look. The room feels light and bright thanks to the light bagel shade of the walls.
Stylish storage is one of the main attractions here. The ladder storage is used for books and accessories while the nightstand and sideboard provide enough space for personal items.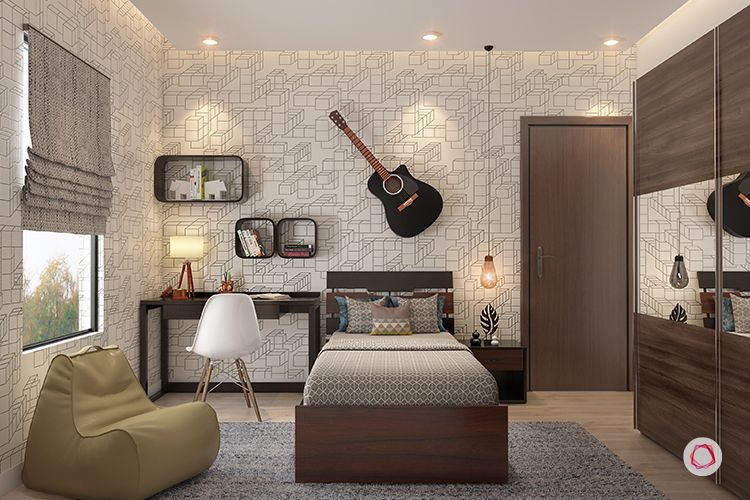 Storage is of utmost importance in a growing child's room and there's plenty of that here — under-bed storage, floating shelves and the modular wardrobe with mirrored surface. A sumptuous bean bag and a simple study table with chair clearly distinguish the areas for work and relaxation.
An edgy wallpaper subtly introduces an energetic touch to this kid's room. A timeless interior design style like this can carry on well into the teens.
A classy kitchen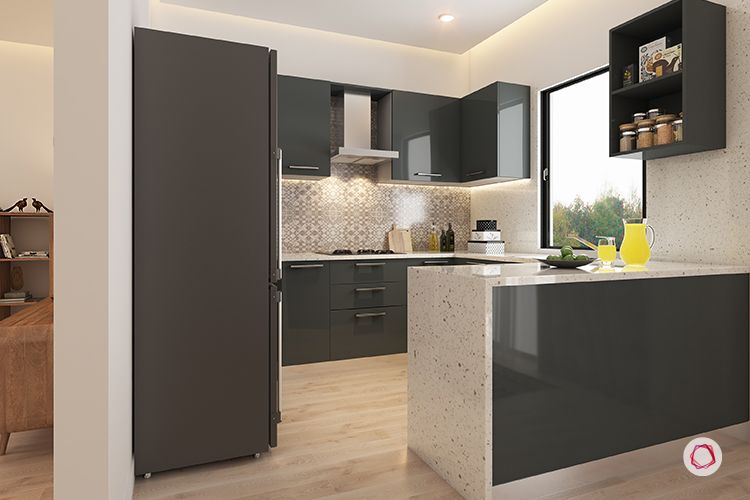 A combination of grey and white beautifies this simple yet sophisticated modular kitchen and a mesmerizing backsplash brings in some drama. Open and closed storage lets you prioritize items for ease of access.