A spacious Bengaluru home that exemplifies grandeur in minimalism.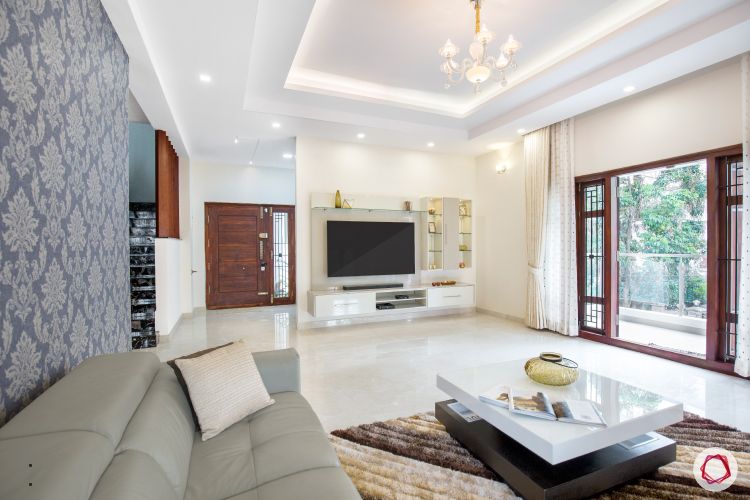 ---
Who livs here: Sumithra Devarajan with her husband Devarajan C and 11-yr-old son Sancith
Location: Independent home in HSR layout
Home Size: 5 BHK spanning 2,400 sq ft
Design team: Interior Designer Mamata Banthia with Quality Managers Pankaj Chandak and Pratik Doshi
Livspace service: Full home design
Budget: ₹₹₹₹₹
---
When Sumithra Devarajan was on the lookout out for top 10 interior designers, Livspace was one of the companies that popped up in the search. Although she visited all the interior decorators on the list, Livspace's hospitality, welcoming spirit and promising nature had her glued. After the first meeting, she was certain that Livspace would be her interior design partner!
True to her belief, Livspace designer Mamata Banthia was able to formulate a perfect ensemble to match her taste — contemporary and minimal, but luxurious nevertheless. The result was a sea of neutrals highlighted with blue in a space that redefines elegance.
A Humble Entryway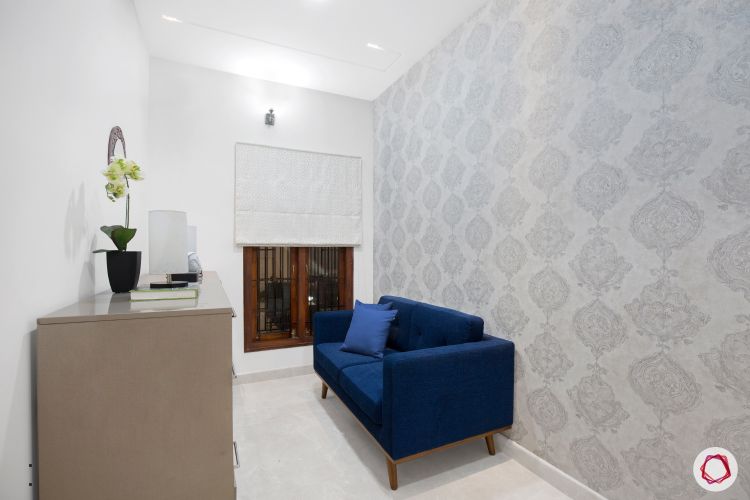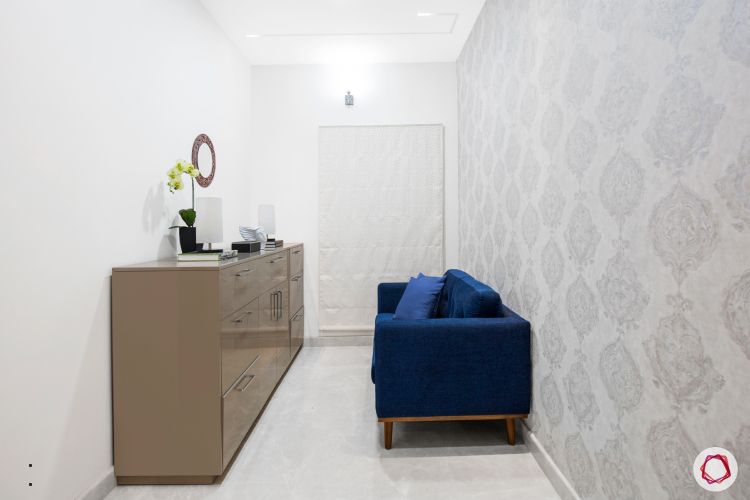 Although the foyer has a simple look with just a shoe rack and a couch, the bold blue and intriguing motifs in the wallpaper add drama to the space.
Stunning Living Room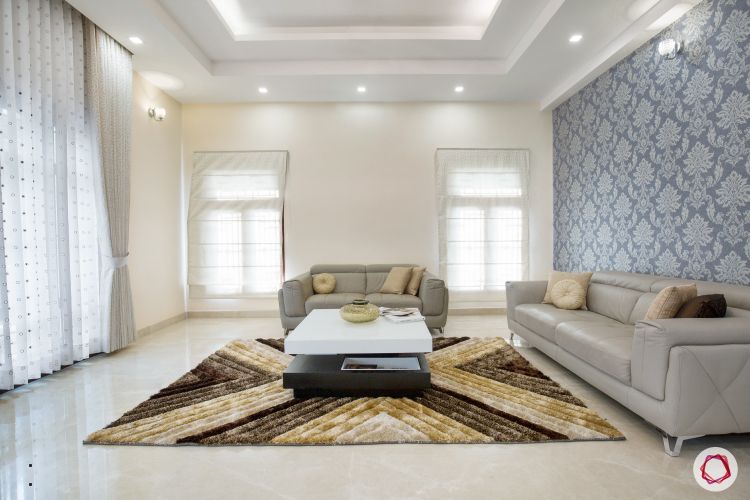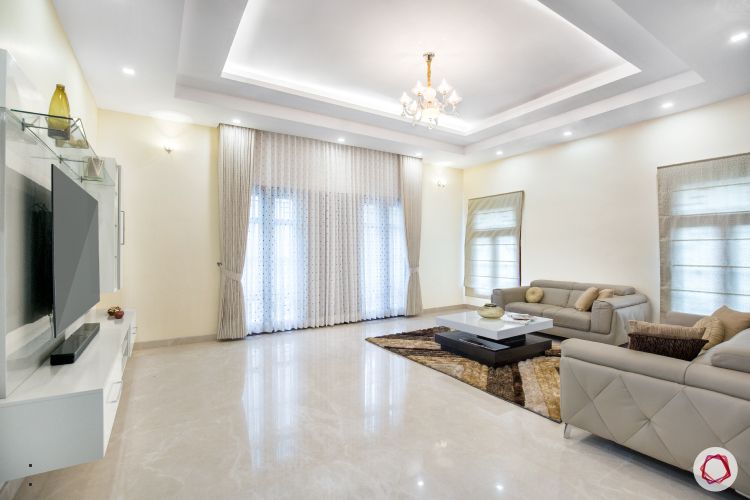 For those who think minimalism doesn't lead to grandeur, you may want to shun that assumption. This beautiful living room houses minimal furniture is breezy, bright and looks luxurious. The spacious setting dressed with ceiling to floor sheer curtains give it a graceful and welcoming look.
A multi-utilitarian entertainment unit makes display an easy task. The pristine white look sports a glamorous outlook.
A Unique Element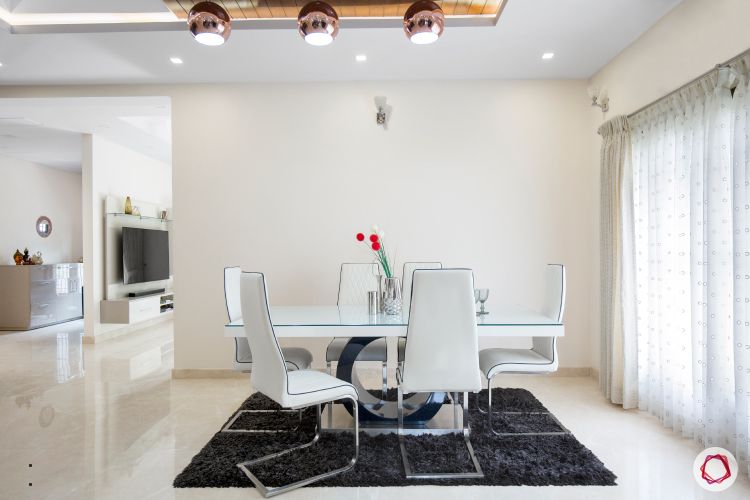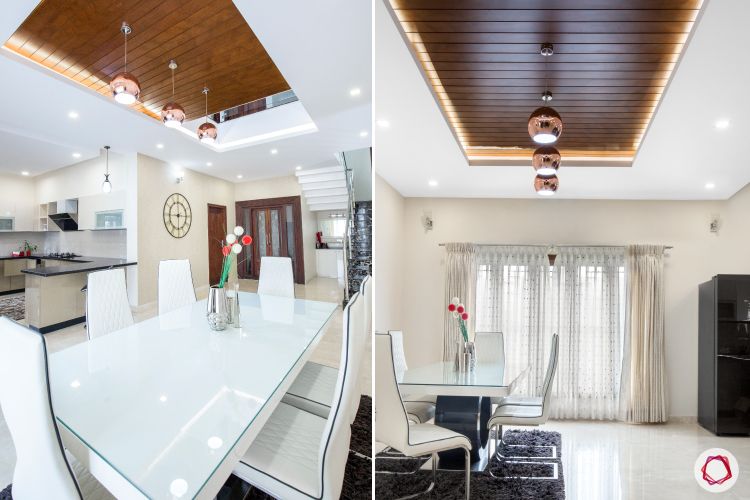 Moving away from the ordinary, the dining room has a quirky look with a stylish dining table and chair. What makes this more attractive is the stunning wooden false ceiling and trio of pendant lights.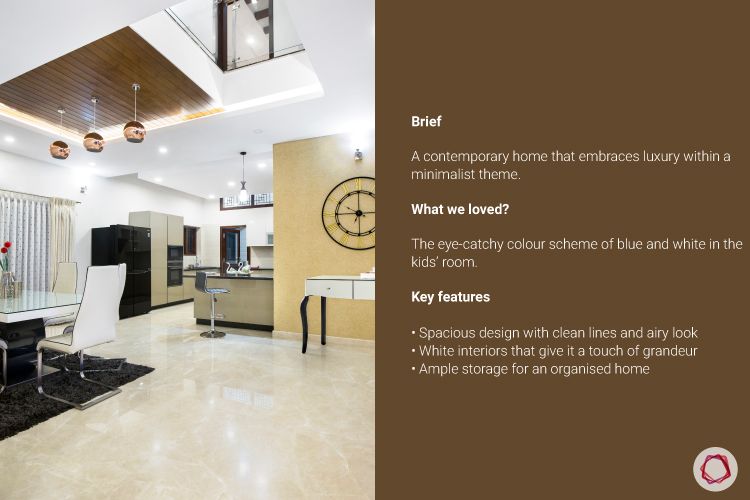 Functional and Flawless Design
Mamata ensured she received all the information she needed to create a functional kitchen in the form of a checklist. Every storage solution given neatly tucks away the vessels, appliances and groceries keeping the counter space free of clutter.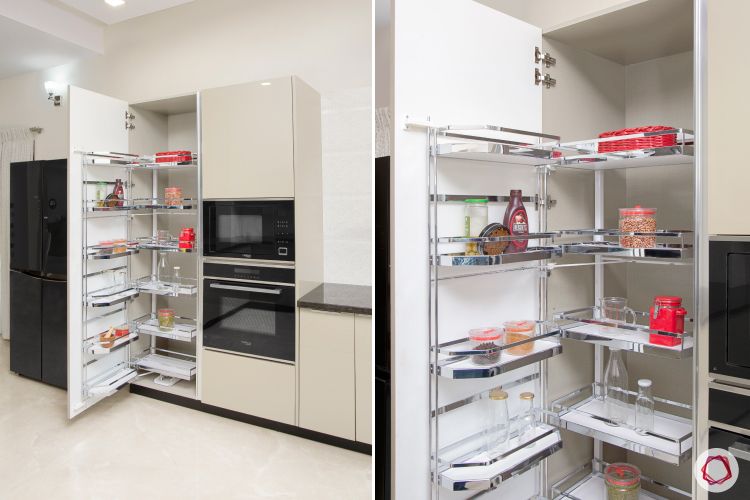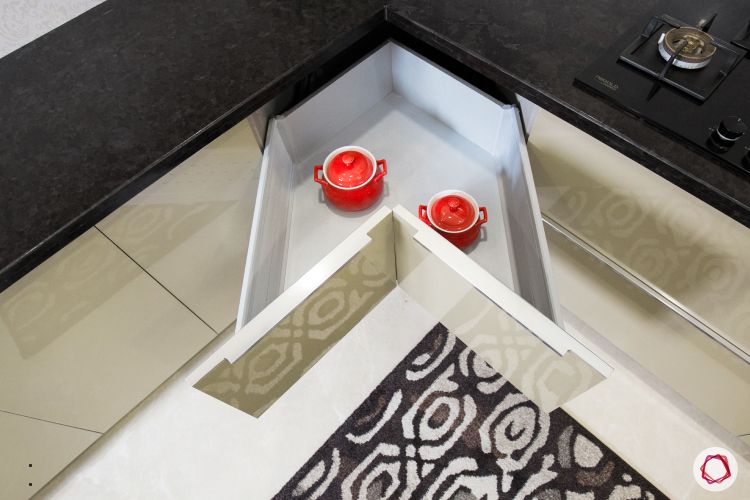 "Every appliance has its own dedicated zone with plug points. This makes cooking effortless and offers great efficiency," says Sumithra.
Spacious & Dreamy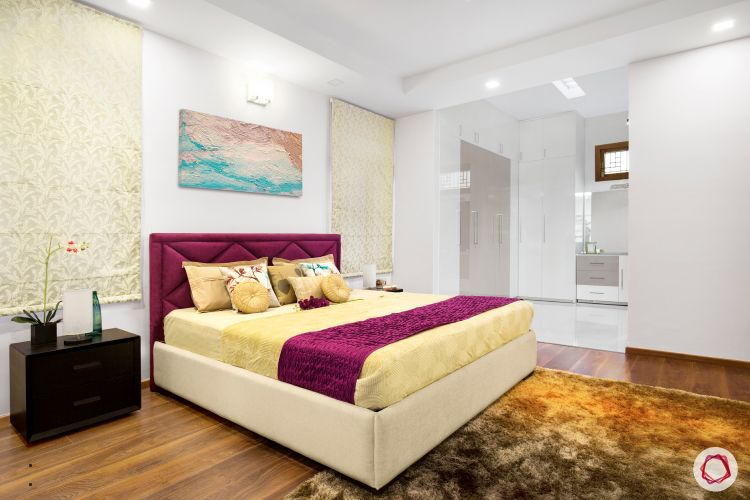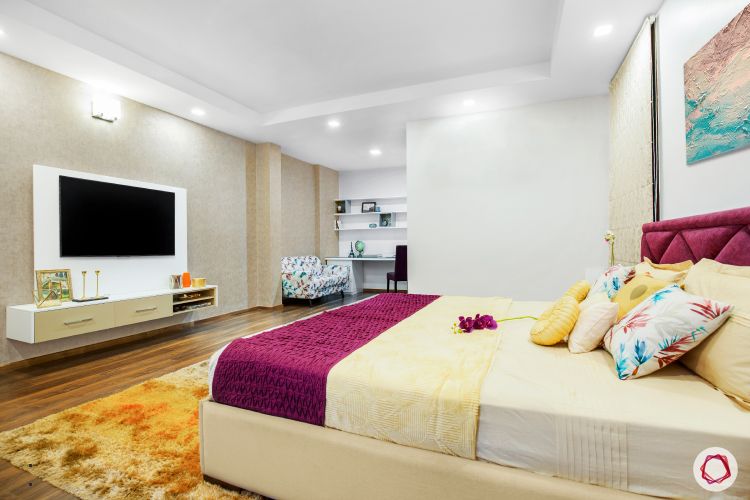 The master bedroom is a large space that houses a study and a niche for wardrobes. To ensure it doesn't feel plain, a mauve headboard with triangular patterns have been added. The chenille rug adds grace through its soft, velvety texture.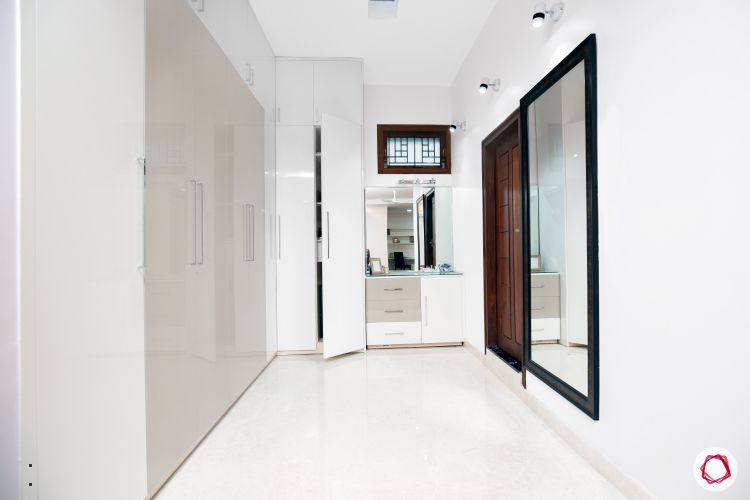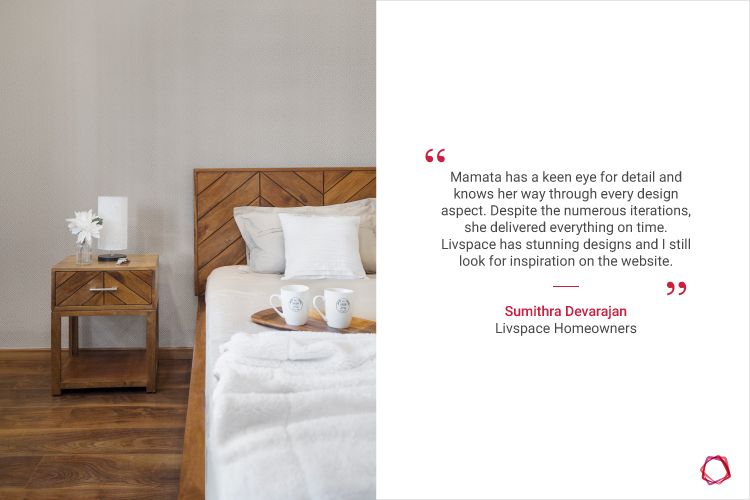 The wardrobes were also designed taking into consideration what Sumithra and her husband owned. Thus it has a collection of different wardrobe accessories to hold all their apparels along with important files and their jewellery.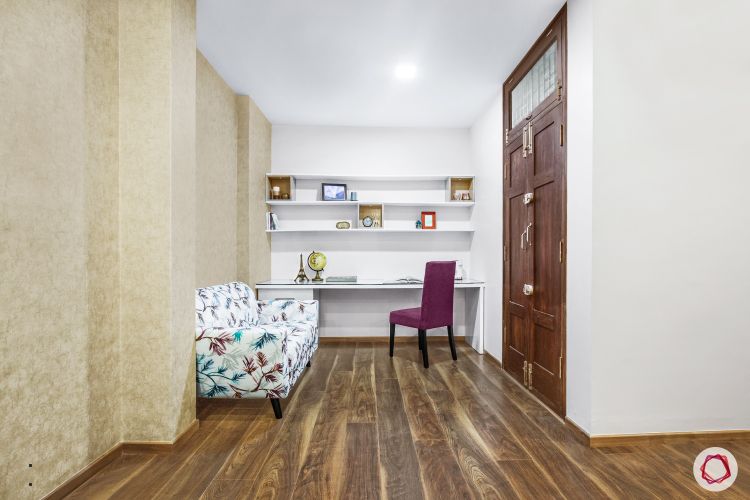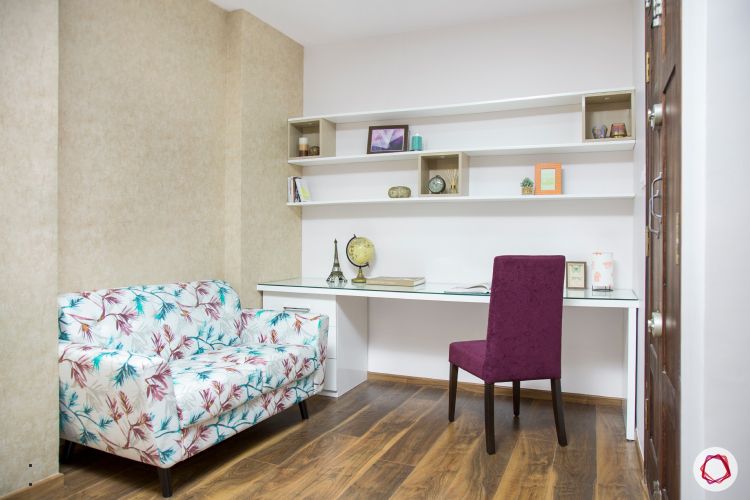 The study is compact yet snug with a plush floral sofa and mauve chenille chair. Open shelves give easy access to books and display knick-knacks while keeping the space airy.
Battling Blues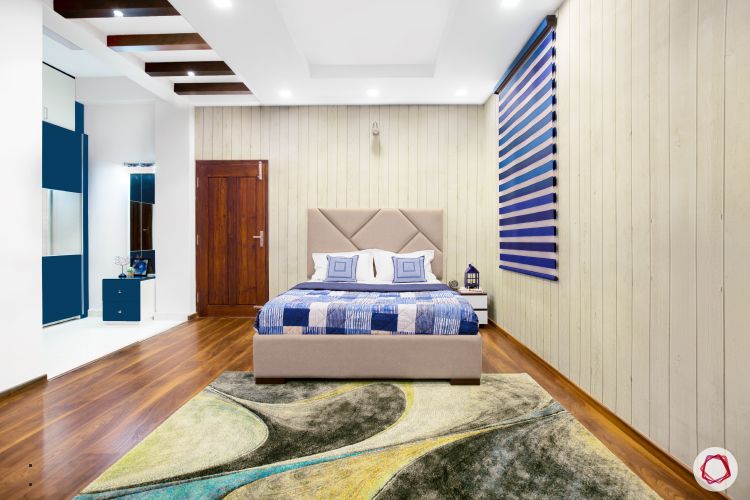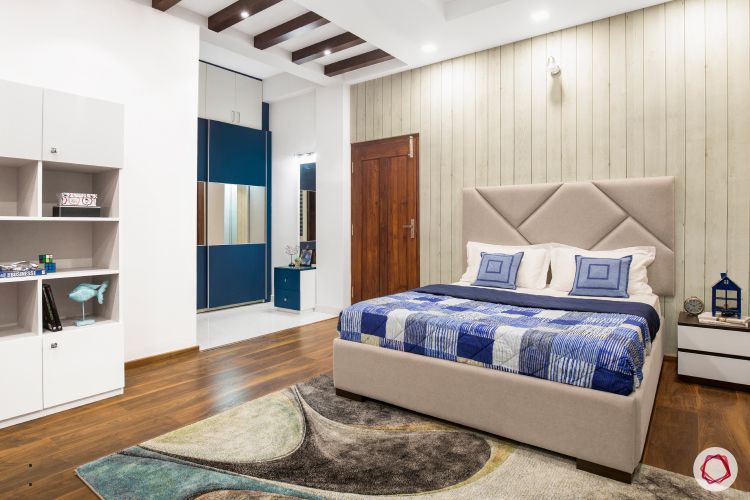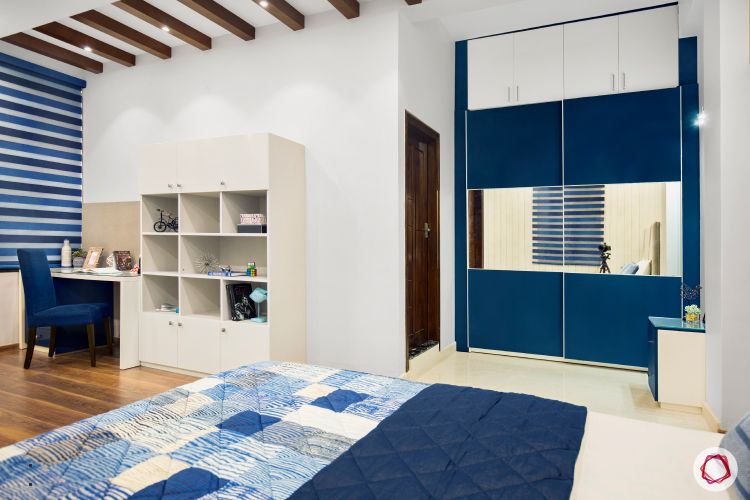 This lovely kids' room features a timeless look that we're sure Sumithra's son, Sanchith, won't grow out of. Mamata is personally happy about how the room perfectly matches his calm and composed personality. The balance of navy blue with white is elegant while brightening the room and keeping it intriguing. A sliding door wardrobe also fits in perfectly in the niche.
The kids' room study is a lovely place with a handy modular storage and simple table and chair. You can spend time comfortably without distractions while reading.
Wooden Wonder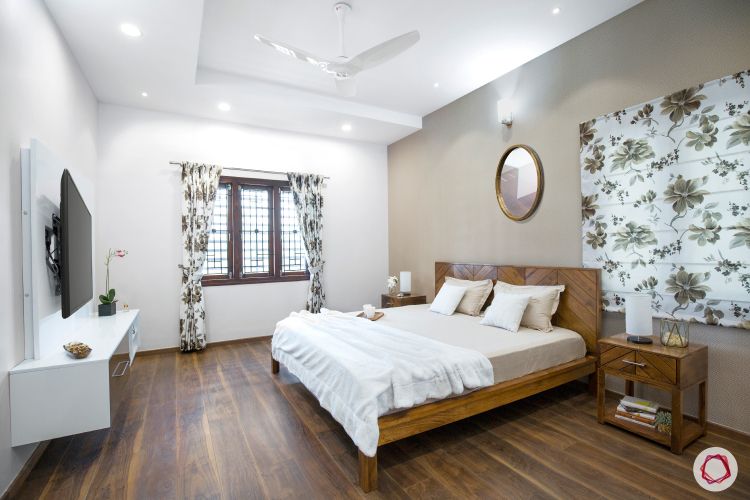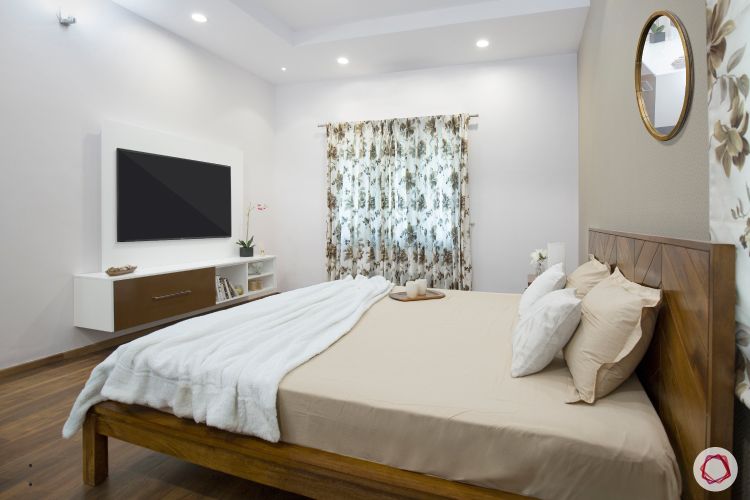 Browns and beiges take the centrestage in the parents' room. Easy maintenance, sober colours and a comfortable stay was what Sumithra wanted when their parents stayed over. Thus, this room is warm and inviting in every way with its own TV unit, in case they would like some private time.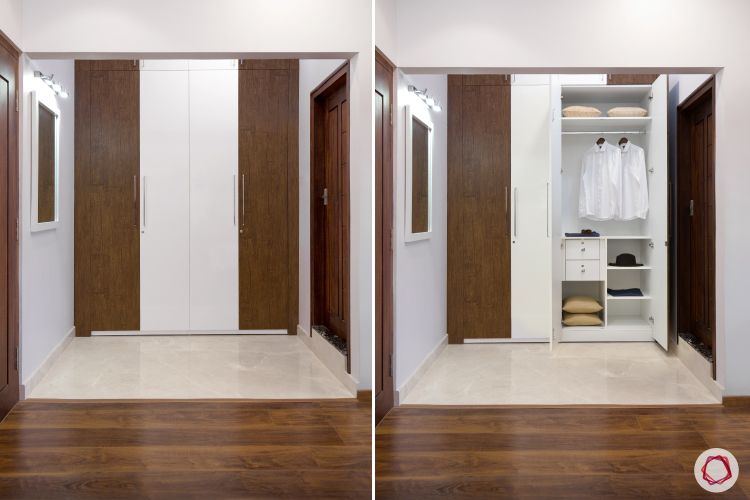 The wardrobes in this room are simple in the popular wood and white combination. The internal accessories are also basic with just shelves, drawers and hanging rods.
Simplicity & Elegance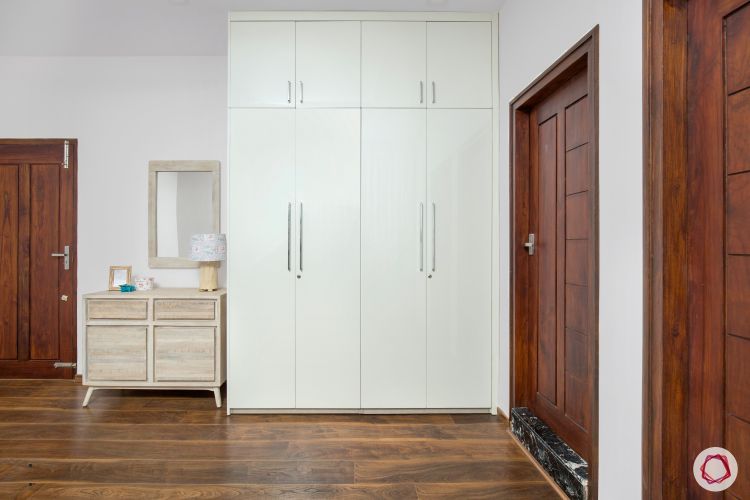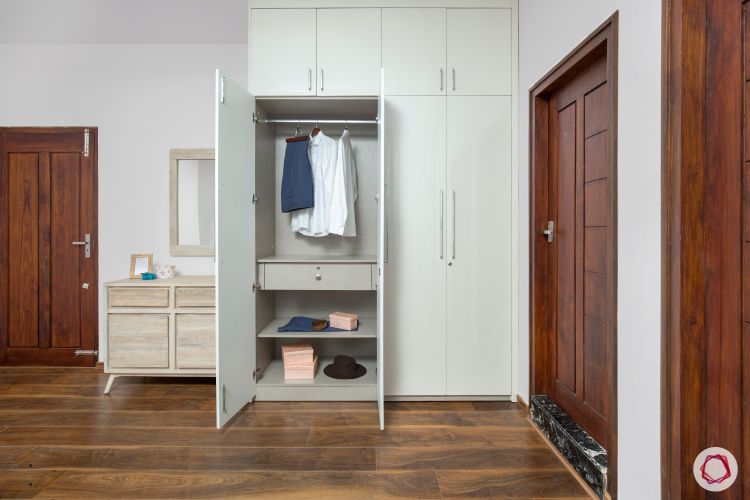 The guest room has a simple white four-door wardrobe with lofts. A beige chest of drawers is also added to make guests feel at home and store their baggage.
Beauty in Basics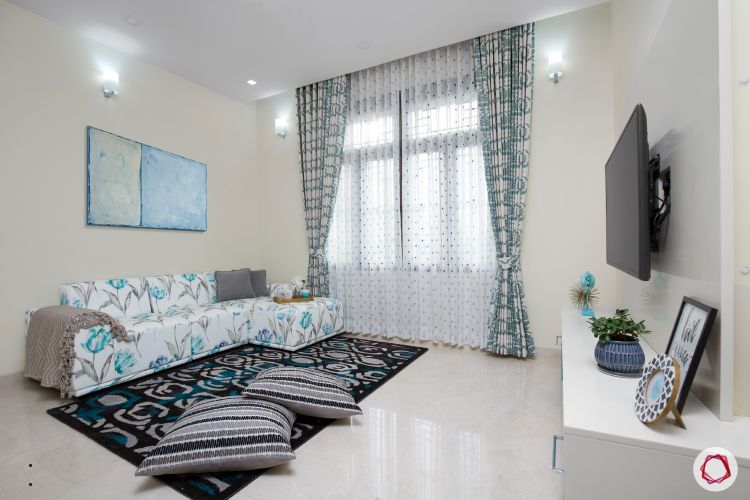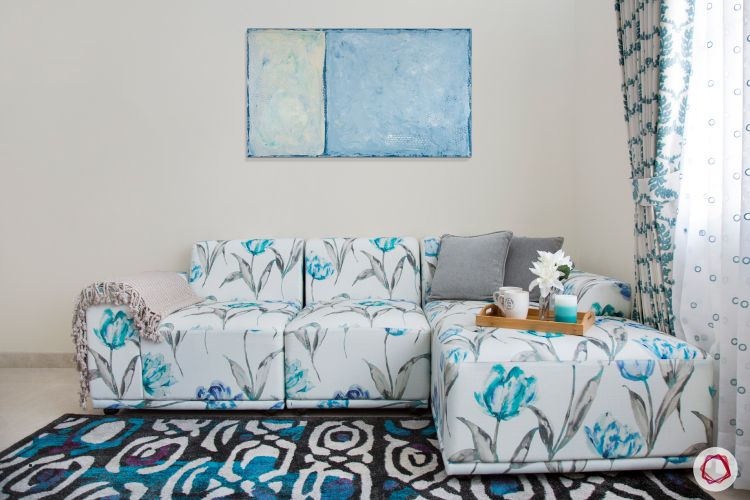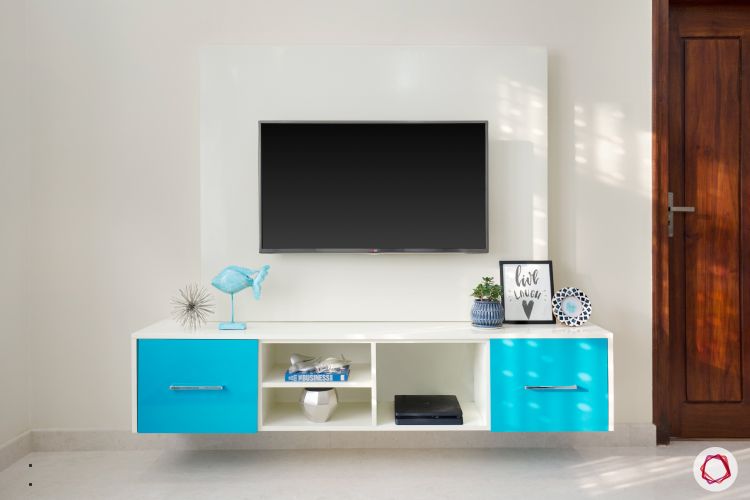 The home also features a family room-cum-lounge that also doubles as the Sanchith's play area. The space is spellbinding with a floral blue sectional sofa and an enticing tapestry. The light blue and white tones in the TV unit brighten the zone and send out a friendly invite.
"Despite having to design a large area, the process was smooth as Sumithra was very supportive. I also love how the kids' room suits Sanchith's calm and composed personality."

– Mamata Banthia, Interior Designer, Livspace
If you love white interiors, then be sure to check our tips on how to decorate with white in this article. Let us know which is your favourite room in this home.