We used our grey cells to put together this small house design. Take a tour.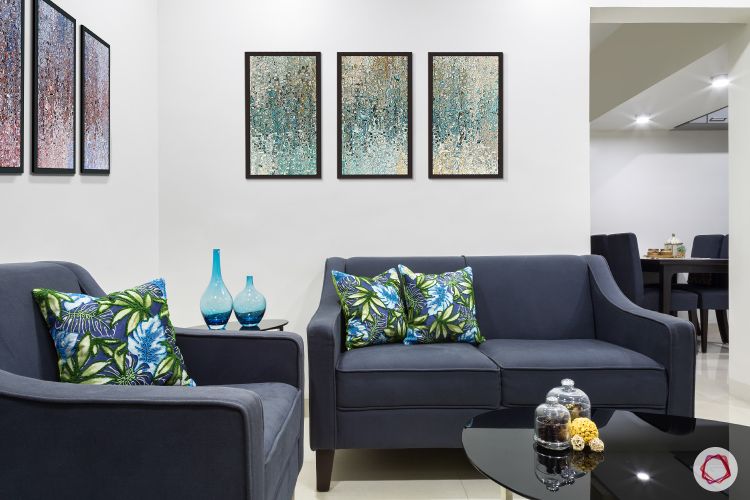 ---
Who livs here: Sujit Nair with his wife Shubha and daughter Shreya
Location: Goregaon West, Mumbai
Size of home: 1 BHK spanning, 420 sq ft
Design team: Interior Designer Ashlesha Katti with Quality Managers Lokesh Jakhotia and Yallappa Patil
Livspace service: Full home design
Budget: ₹₹₹₹₹
---
This home has undergone a miraculous change from drab to fab! The Nairs were living at this address for the last few years, and that's when Sujit decided to gift a home designed by experts, to his wife and daughter. There's something so sweet about this, that we thought of showing you how beautifully Ashlesha Katti, their designer, gave shape to their dream home.
Take a tour around this amazing 1BHK in bustling Goregaon, in Mumbai and find out for yourself, how compact spaces are designed. We love how Ashlesha has used grey, the couple's favourite colour, in every corner, so elegantly. You just cannot miss this one.
Welcome Home!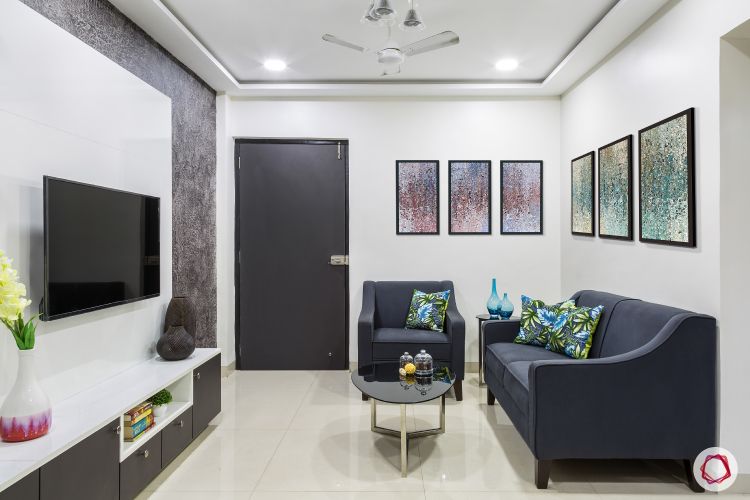 Before this home was about to witness magic, there was a very shabby set-up in the living room. Ashlesha, decided to give the living room a design that would promote family time. For this, she placed the sofas against the walls and pointed them towards the TV unit. This was done to give the living room, a more concise and streamlined look.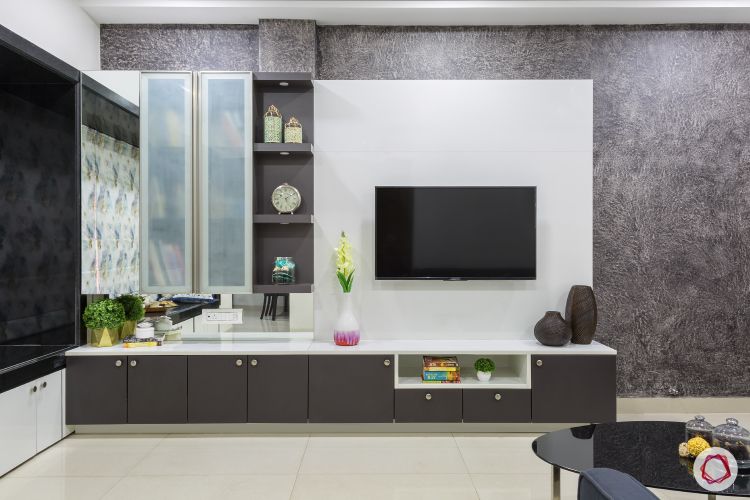 Well, if you thought this was just a simple TV unit with storage, you might want to hold on to that thought. As the Nairs are very fond of the colour grey, Ashlesha had to work it in the designs she gave for every corner, including the entertainment unit. This TV unit has cabinets for storing stuff and shelves for displaying curios, that the couple loves collecting. The L-shaped mirror is a shutter, where Sujit's mom keeps her things handy. The TV unit is done up in white and grey while the wall behind it has a wonderful texture paint on it.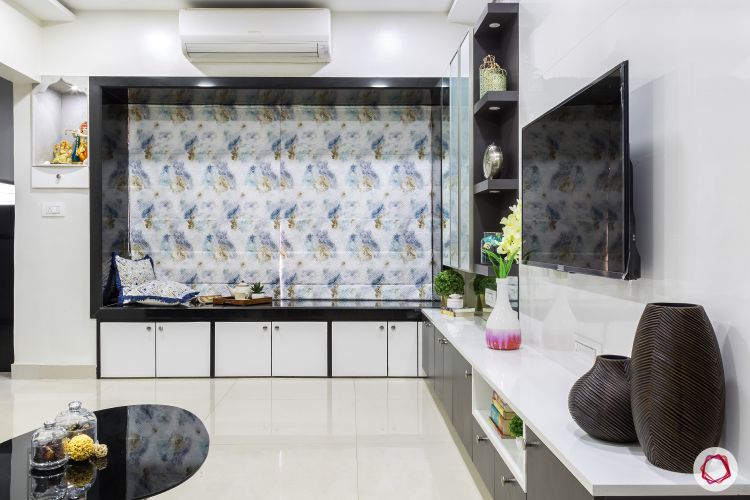 The family loves reading and spending time by themselves, which called for a space that would act as cozy reading nook. Ashlesha designed a ledge by the window in the living room with storage underneath. This was the perfect corner for all the members of the family, to unwind with a book.
A Smart Kitchen-Cum-Dining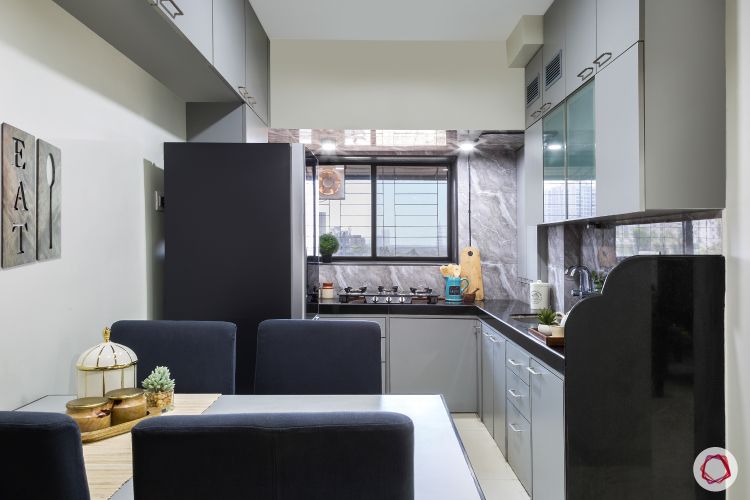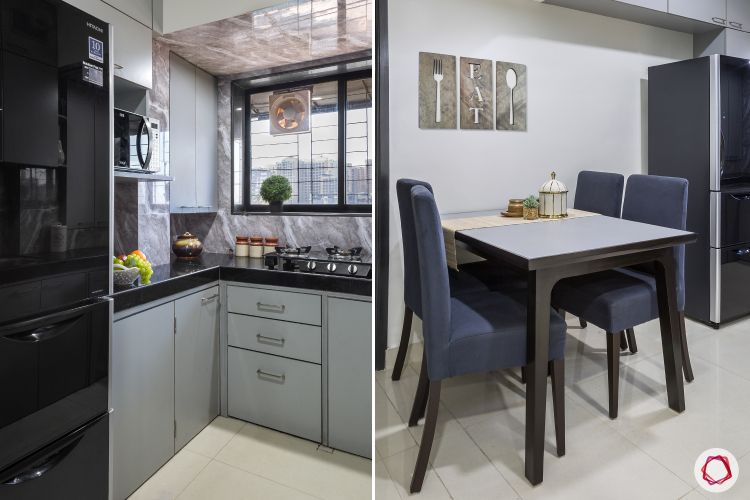 The cozy 1BHK was shouting out for some breathing space, and that's when Ashlesha decided to break down a wall and create an open layout for the kitchen-cum-dining room. This compact kitchen houses a tall unit, modular fixtures and a fully tiled backsplash. The family can have conversations while cooking, and the home can enjoy an airy vibe.
Splashes of Colour for the Bedroom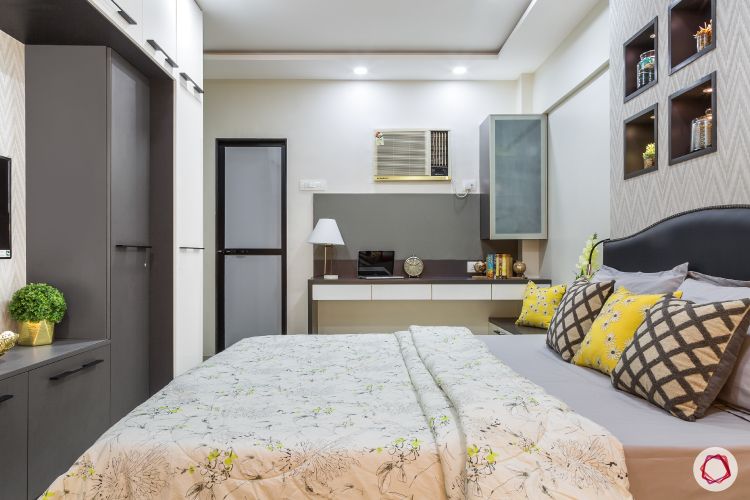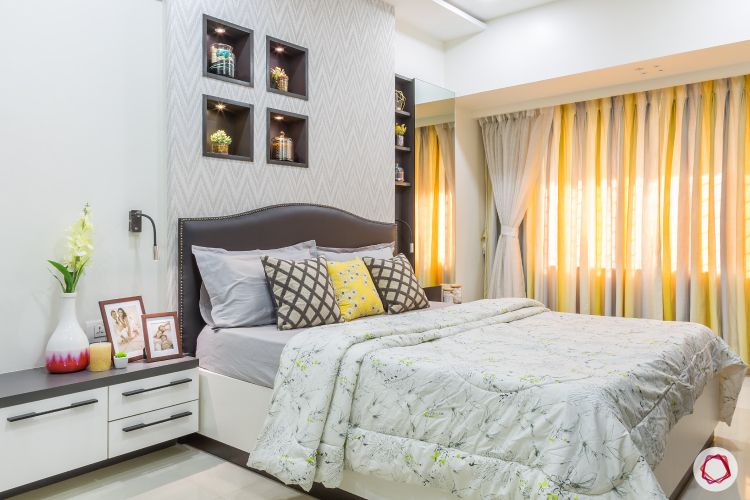 The bedroom has a very fresh feel, with yellow and white sheer drapes that add some much-needed colour to this home. Ashlesha also gave them this lovely chevron print wallpaper behind the bed and the TV unit. That adds so much character to this room.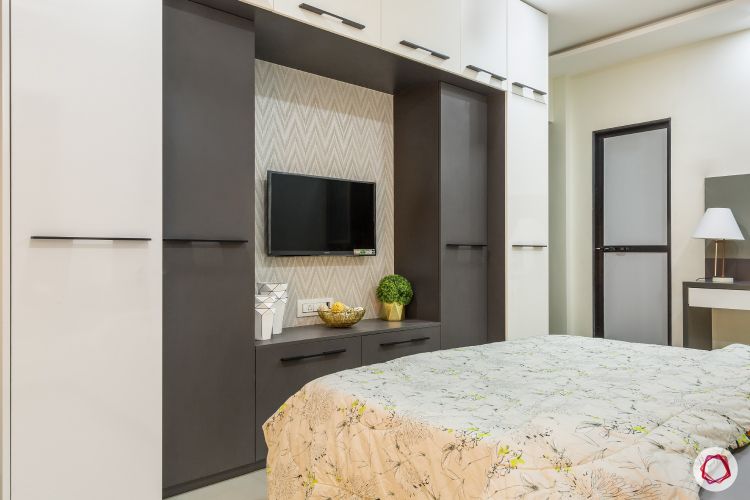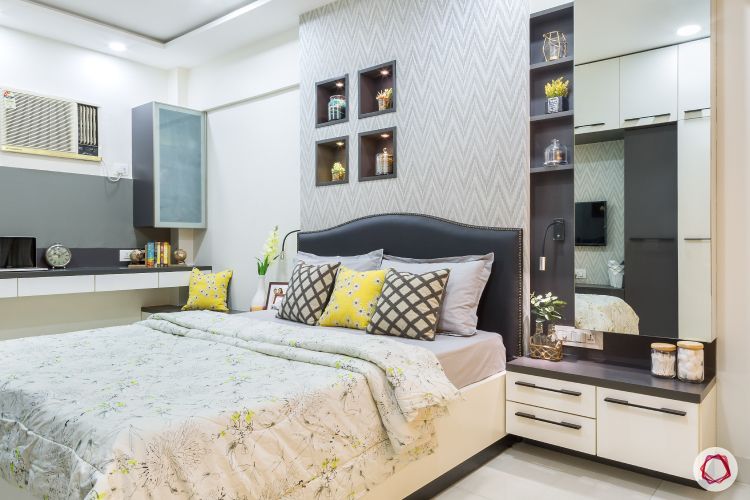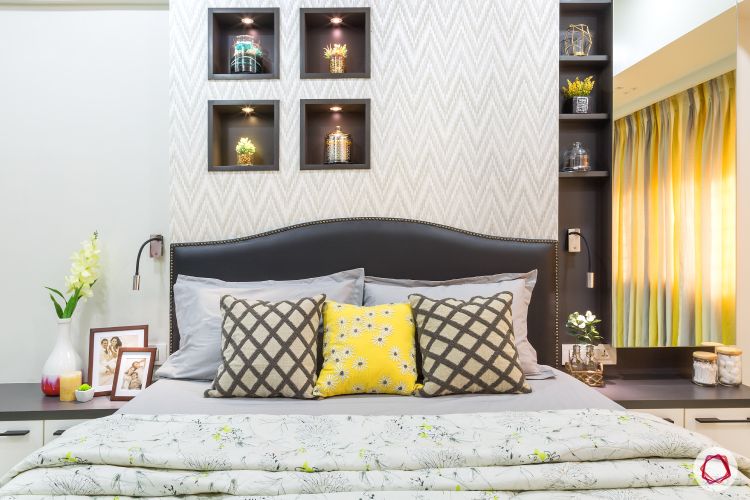 A lot of storage is what they needed in the bedroom, with some open space for the daughter to play around. Since, this room is shared by the couple and their child, Ashlesha had to keep in mind all their needs. She gave them niches above the bed and on the dresser, which took care of their display needs. The study table acts as a work from home den for Sujit and as a learning corner for Shreya.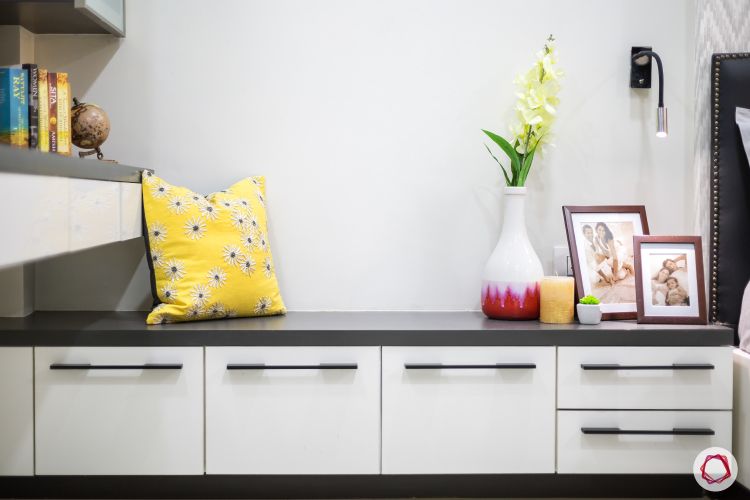 Since Shubha is a teacher by profession, she likes to have a dedicated space to teach her daughter. So, Ashlesha gave them this seating-cum-storage bench, where the mother-daughter duo spend their evenings, reading and learning. Throw in some cushions for comfort and they are all set!
---
"It was a challenging project, because the clients wanted their entire home to be designed using grey. I had to work that into the design without making it look monotonous. But in the end, I like taking up challenges and was able to give them what they wanted, with inputs that would fit in perfectly!"
– Ashlesha Katti, Livspace Interior Designer
---