This Bangalore home is a feast of refreshing colours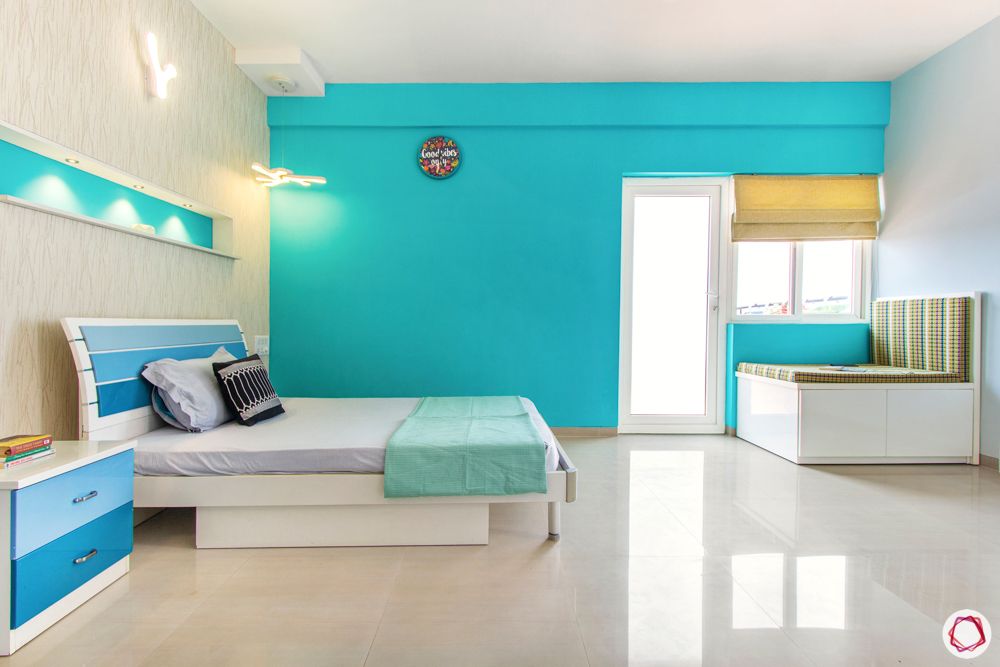 ---
Who livs here: Samit & Dr. Jyothsana with their daughter Diya
Location: Adarsh Crystal, Cambridge Layout, Bengaluru
Size of home: 4BHK spanning 2,500 sq ft approx.
Design team: Interior Designer Aparna Bharadwaj & Project Manager Karthik S Babu
Livspace service: Kitchen, wardrobes & storage units
Budget: ₹₹₹₹₹
---
The warm and fuzzy feeling that sweeps over us on entering certain spaces is what makes homes special. And this Bangalore home has oodles of it! In fact, the modern interior design of this home ensures that it is pleasing and plush in equal measure. Dr. Jyothsana and Samit, who own this sprawling duplex, have extremely busy work schedules. Thus, they were more than happy to rely on Livspace to deliver the kitchen, wardrobes and storage units for their home.
The couple was familiar with our designer Aparna Bharadwaj's work, and hence, were comfortable working with her. The result is a home with modern interior design that caters to all their needs! Take a sneak peak.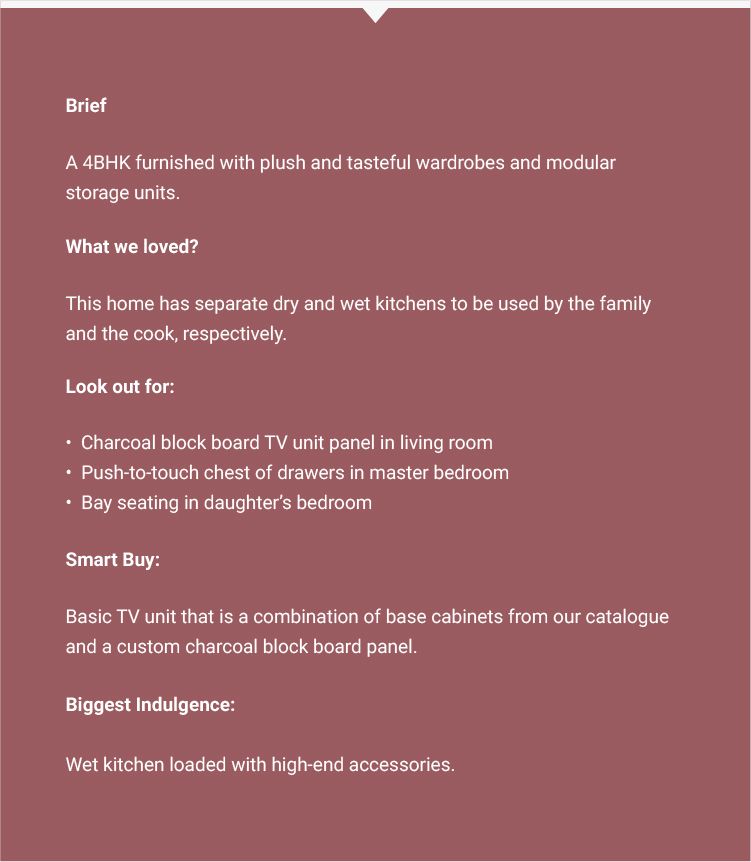 Rich & Regal Bangalore Home
The living room is rather grand in scope, and it is highlighted by several pieces of artwork from the family's personal collection. However, the focal point of this space is the TV unit that stands out for its inherent simplicity. The piece is a combination of base units from our catalogue and a customised charcoal board backlit panel, which adds novelty by virtue of its unique texture.
Lavish living area

Coded with contrast

Sleek, slender and serene
Cleverly Parted Dry Kitchen in Bangalore Home
Dr. Jyothsana has quite a busy schedule and she doesn't like to wake to the sound of a whistling pressure cooker. So she asked Aparna to design wet and dry kitchens separately. There is a breakfast counter attached to the dry kitchen that has purple and grey cabinets in acrylic finish. This area also has a wall cabinet for a microwave and a roller shutter unit. So this is where the family brews its morning cuppa while their meals are being cooked in the wet kitchen by a household help.
A dry kitchen for DIY cooking

A perfect spot for morning cuppa
Amazingly Accessorised Wet Kitchen in Bangalore Home
The wet kitchen is a closed one to cut out any unsavoury noises of utensils so that the family can have a peaceful morning. Here too, we see a combination of purple and grey cabinets in acrylic finish and a Kalinga stone countertop. Aparna ensured that this kitchen is loaded with all kinds of high-end accessories like tall unit with built-in oven, corner units etc.
Purple and grey tones

High-end accessories and more!

Set in Kalinga stone
Lavish Lilac Bangalore Home
Dr. Jyothsana has a weakness for pink, so Aparna picked a soft shade of lilac for furnishing her bedroom. The room comprises baby pink walls and a white wallpaper with pink floral motifs. Hence, the PU-finish wardrobe is a fresh shade of lilac is just right for this room's colour balance. Also, Aparna has integrated a chest of push-to-touch drawers within the wardrobe to ensure that the window over it does not get blocked.
Fresh floral shades

PU-finish end-to-end wardrobe

A modern chest of drawers
Zesty Blues at Bangalore Home
Samit and Jyothsana have a daughter, Diya, who has picked a zesty shade of sky blue for her room. In fact, this room has amazing contrast and a series of quirky light fixtures as well. However, he most interesting element by far is the bay seating spot by the window; it is perfect for a young girl to curl up and read or ponder. Moreover, this room has a walk-in closet in white white membrane finish complete with a snug dressing area.
Boisterous blue walls

A snug dressing area

Blues by the bay
"Dr. Jyothsana and Samit were extremely busy clients but they had come through reference, so they were familiar with my work. They were quick decision makers and wanted only the best for their home. It was a sheer pleasure to work with them."
Aparna Bharadwaj, Interior Designer, Livspace
If you enjoyed reading about this Bangalore home, also explore Summery Decor for a Sprawling 4BHK.
Send your comments & suggestions