Interiors for this home in Bangalore are designed to perfection!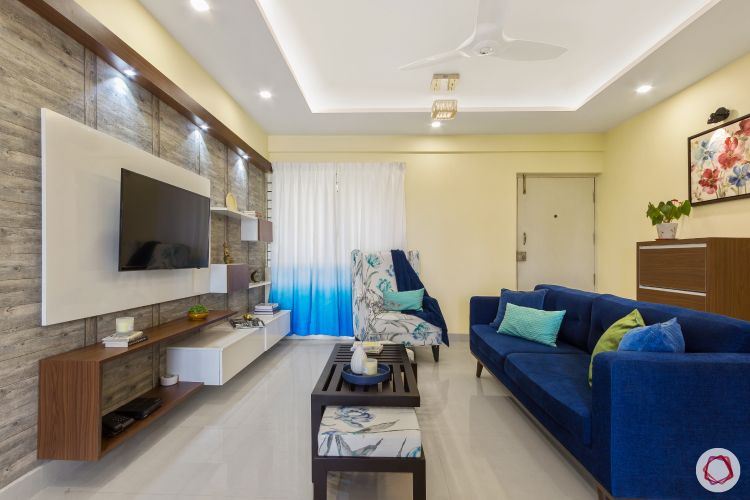 ---
Who livs here: Mahantesh with his wife Sunaina and their daughter Neeharika
Location: Mahaveer Tranquil, Whitefield, Bangalore
Size of home: A 3BHK spanning 1,600 sq ft approx.
Design team: Interior Designer Waheda Begum and Project Manager Guru Vinayak
Livspace service: Full home design
Budget: ₹₹₹₹₹
---
If you ask us, we would say that this home is one of the most cheerful homes we've seen in the recent past. When Mahantesh and Sunaina, both IT professionals, started looking out for interior designers, they had no clue about their options. Their requirements were simple — clean, spacious and budget-friendly interiors.
In stepped Waheda Begum, their designer who was going to take charge of their home. This is a home that was conceptualised by the designer and presented in the form of 3D renders to the clients. While reading through the hometour, you will find out that the home is a replica of the renders. It just goes to show how much of facilitation this process is to both the designer and the client. They can see their home on the screen even before it is ready. Filled with some exotic colours and concepts, this 3BHK is a winner in every sense of the word.
Home Bangalore: Unique Colours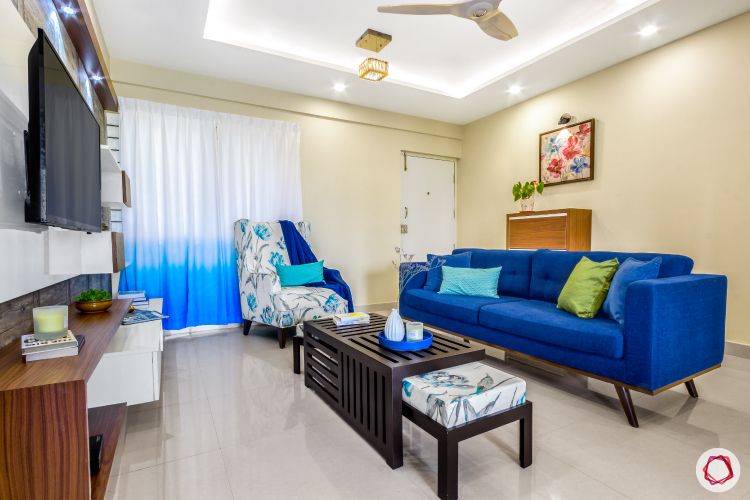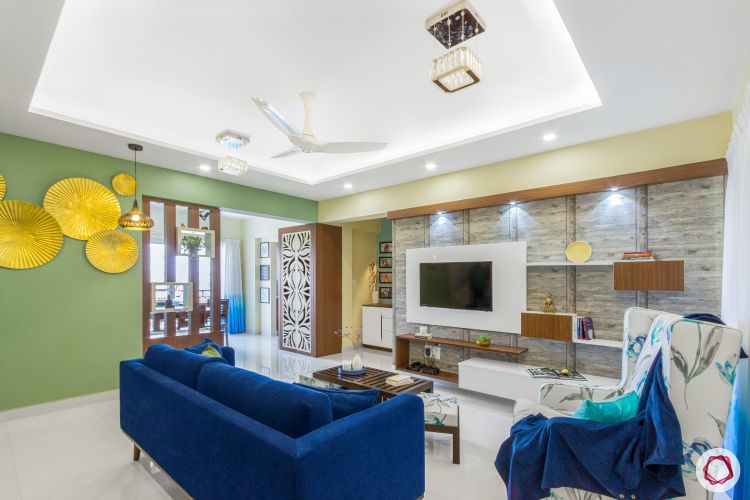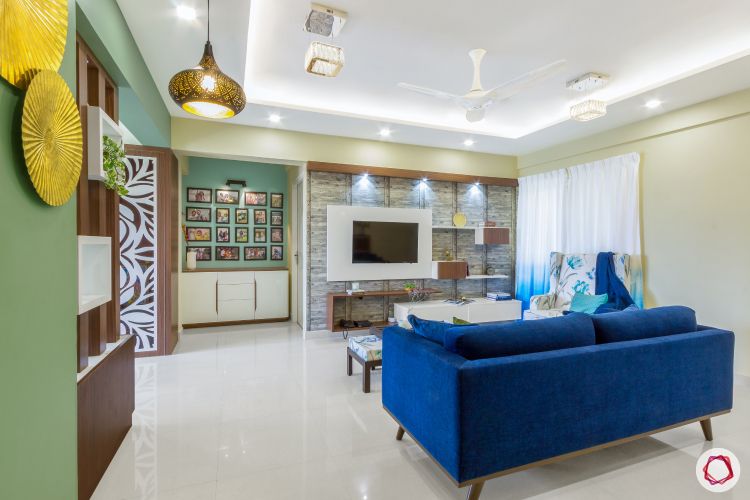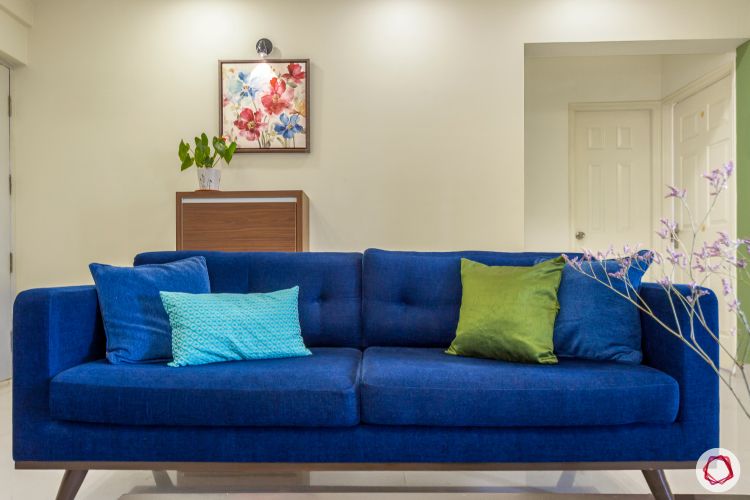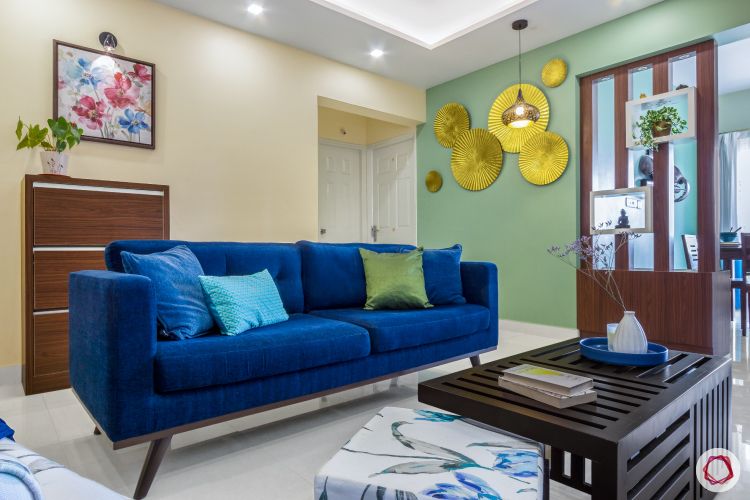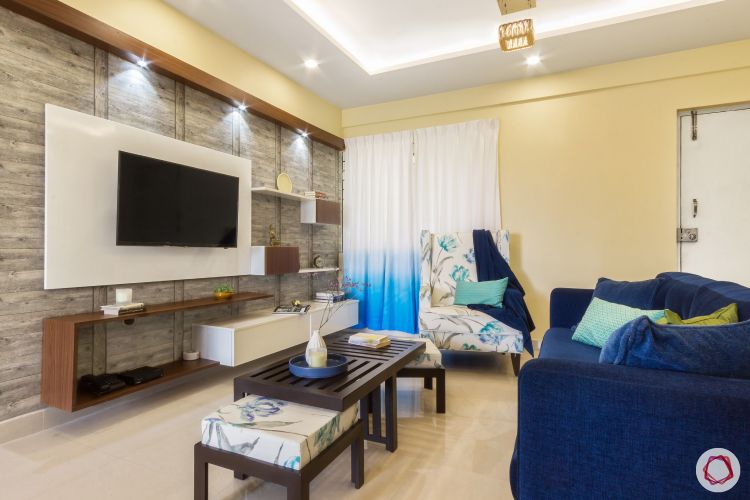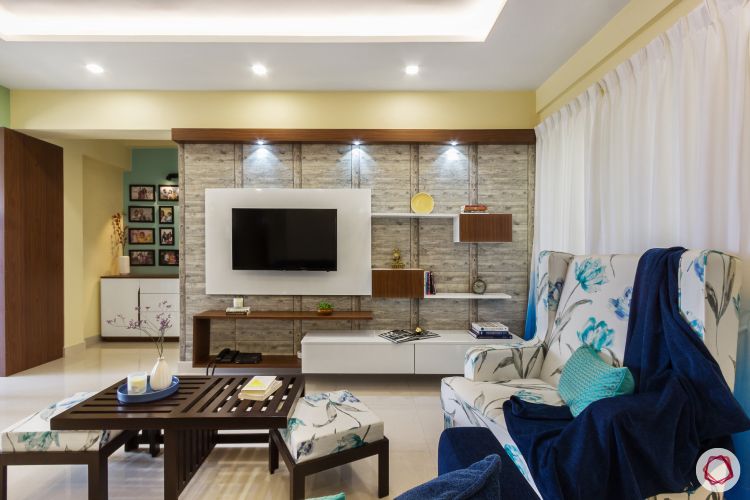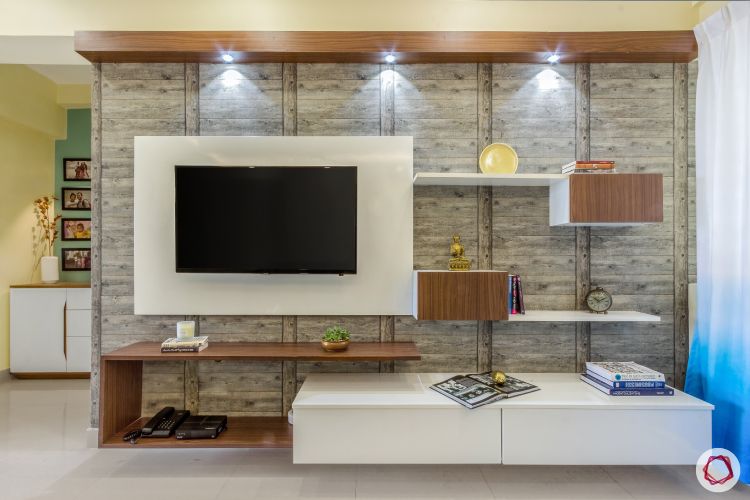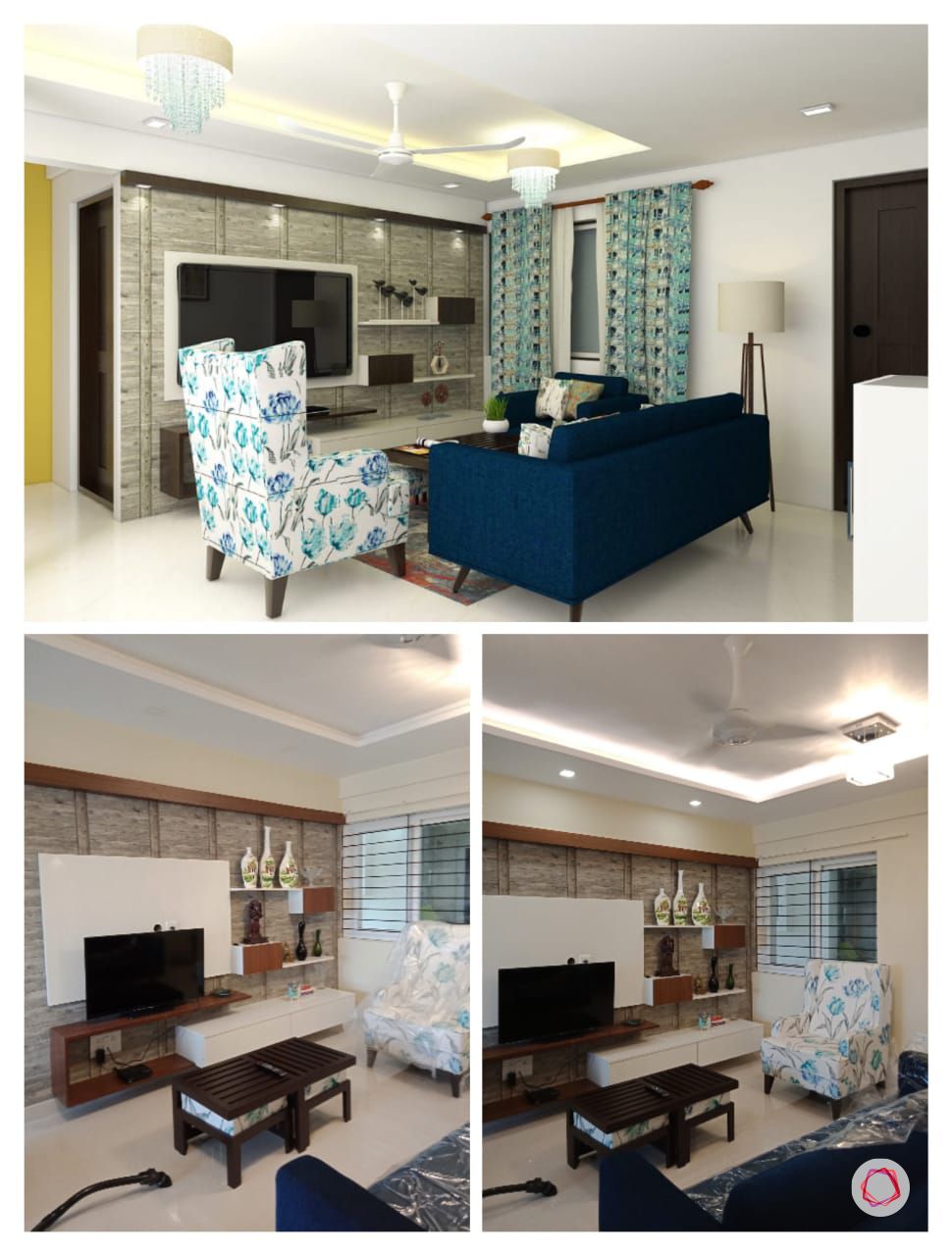 This spacious 3BHK welcomes you with a bright living room that is meant to be the centre of all activity for the family. Since the family lead hectic lives, they were specific about having a certain vibe in the living room. Waheda made sure she gave them a robust sofa in cobalt blue, that stand on splayed legs making it easy to clean underneath. She also added an accent chair with fresh floral upholstery and gave them matching ottomans that hide under the centre table.
Another striking element in this space is the modular TV unit that has a custom section to keep to the set-top box. The rest of it flaunts push-to-open drawers and display ledges. This unit is entirely finished in laminate that goes very well with the rustic wallpaper behind it. Spot lights create the right focus here. Also, do not miss the statement gold foil wall art on the olive green wall.

Home Bangalore: Of Gallery Walls and Pooja Rooms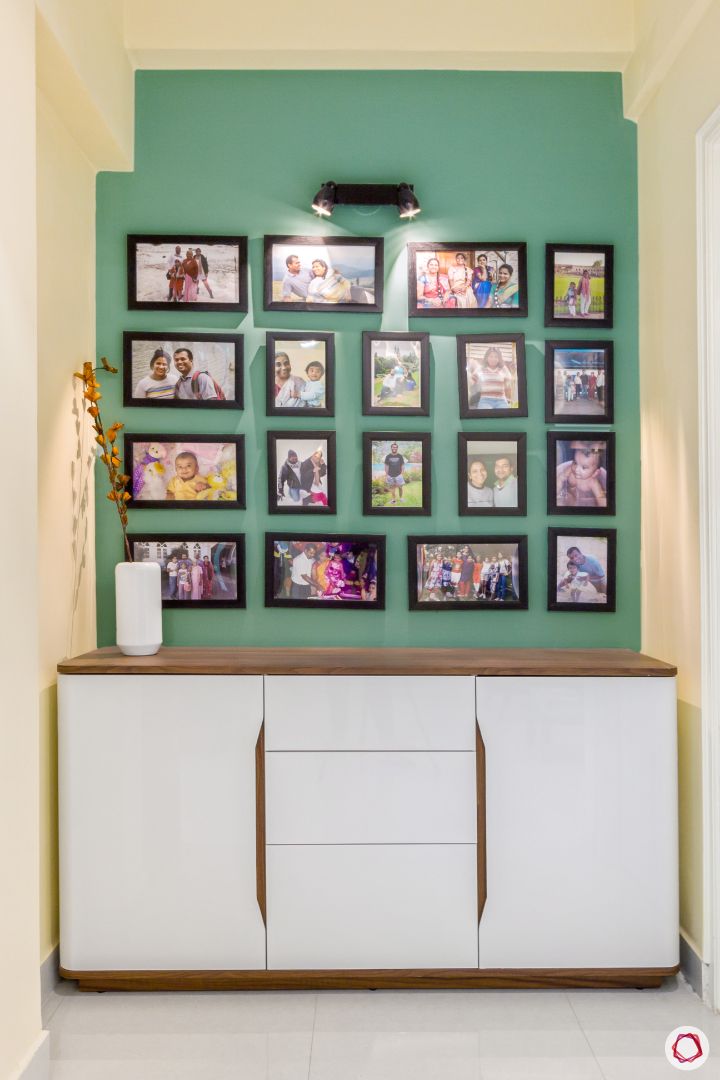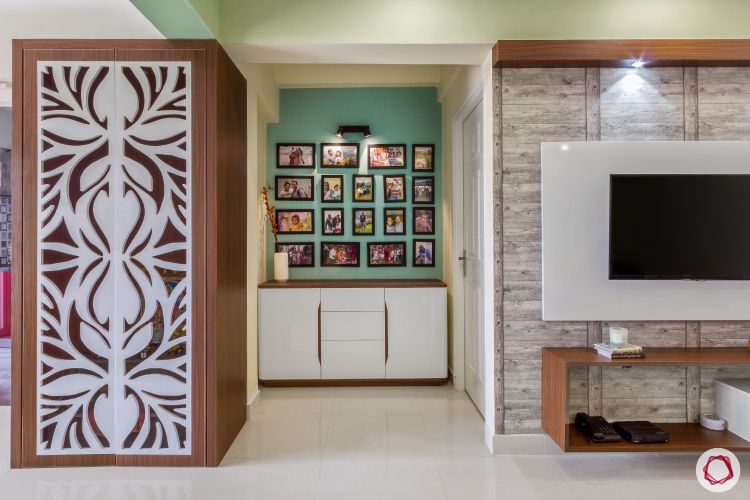 Mahantesh was very keen on having one wall at home Bangalore that is dedicated to the family. Therefore, this family fondly calls this wall in the gallery as the memory wall. You can spot some amazing family photos on this aqua blue wall. The cabinet next to it with an appealing jaali door is the pooja unit which fits here perfectly.
Home Bangalore: A Statement Dining Room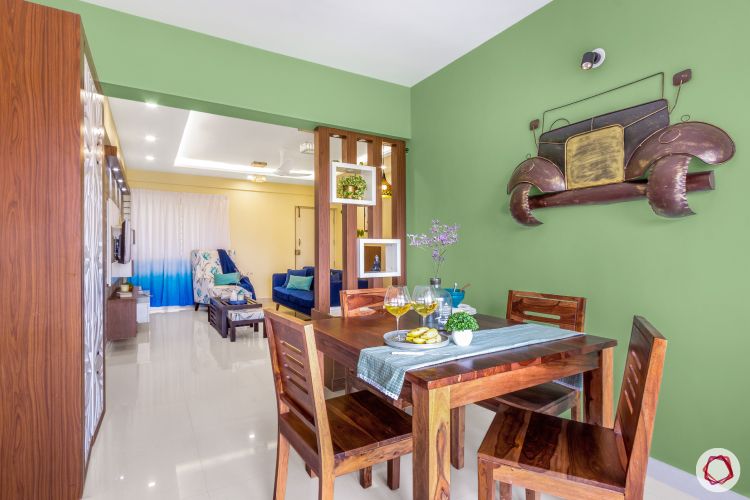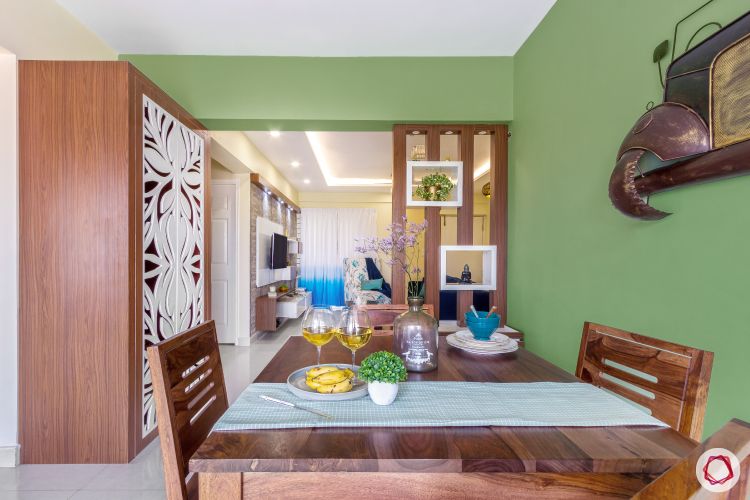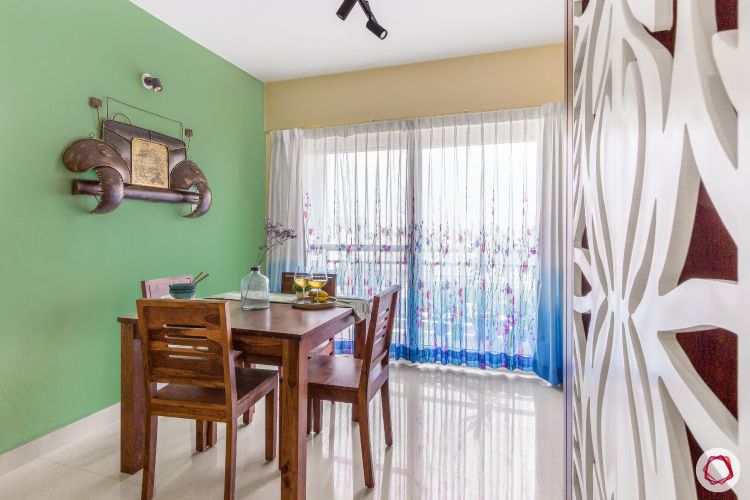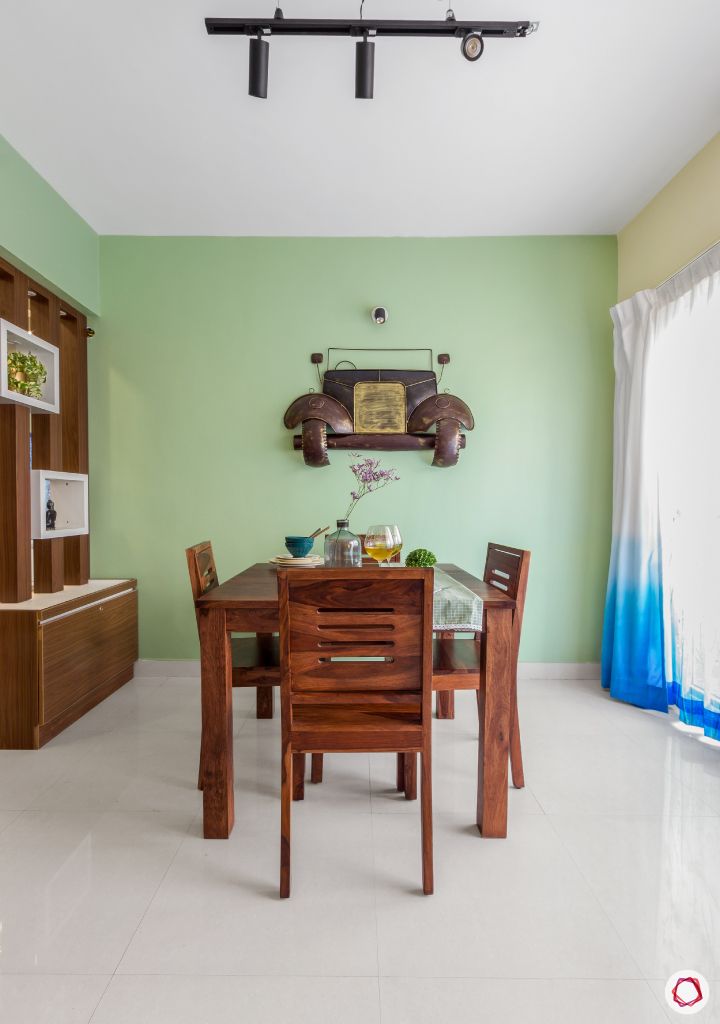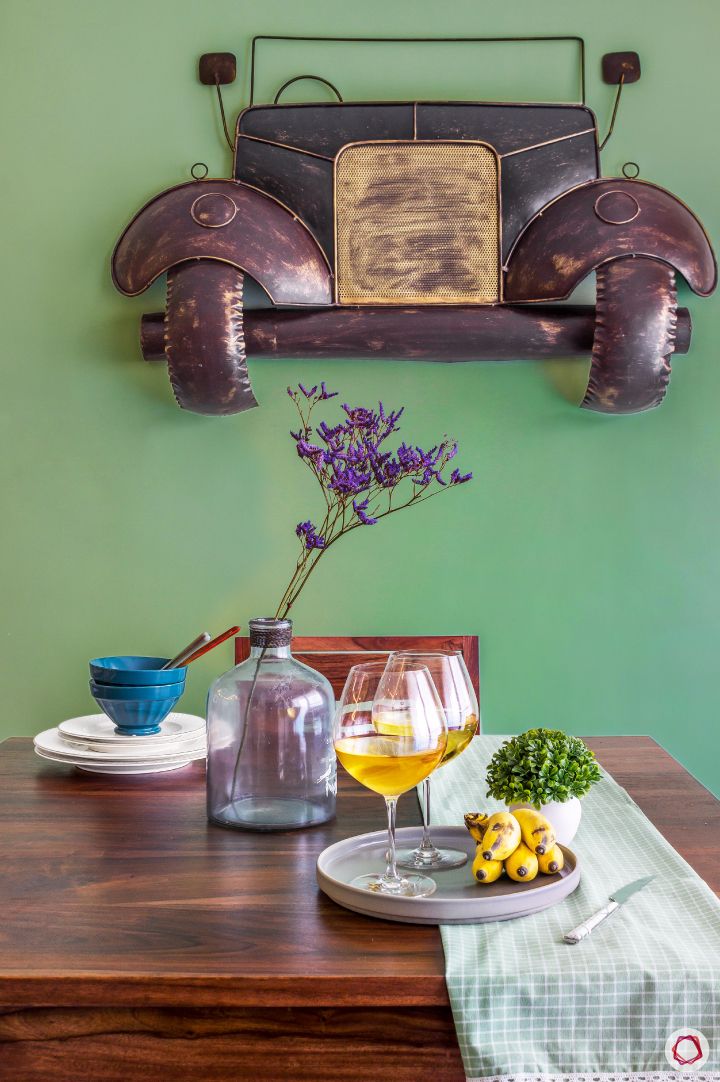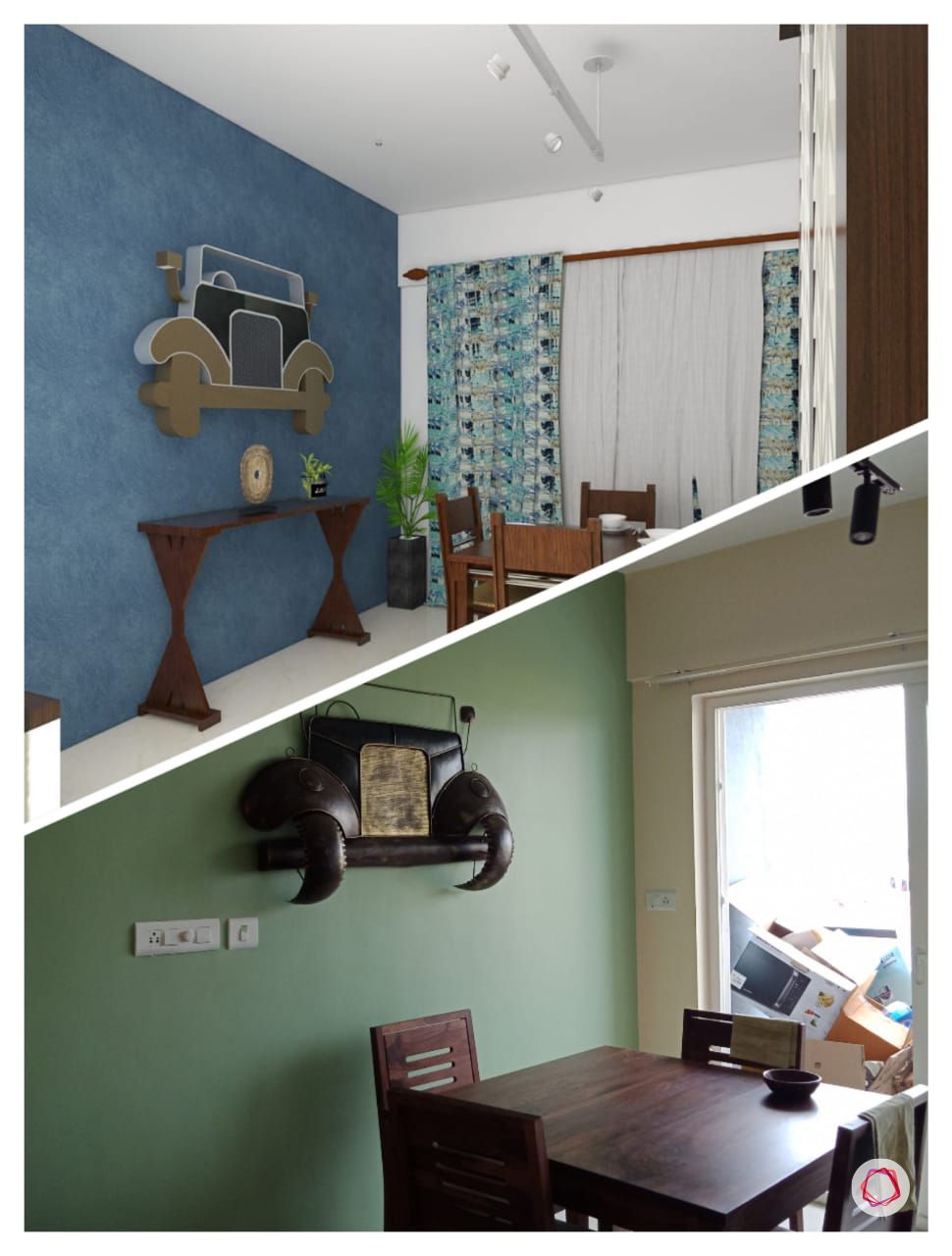 Doesn't this dining room give you major cafe feels? It does to us for sure! This is the family's zone to relax and enjoy meals together. They are particularly fond of cafe-style interiors and wanted something similar for their dining area. Thus, Waheda suggested this rustic jeep-style wall installation on the olive green wall. She made sure that it blends with the dining table set that the family retained from their old home.
Also, do not miss the sleek wooden partition that has shelves in between to display curios in style. This partition doubles up as the bar unit accessible from the dining room for those get-togethers.
Home Bangalore: Ravishing Red Kitchen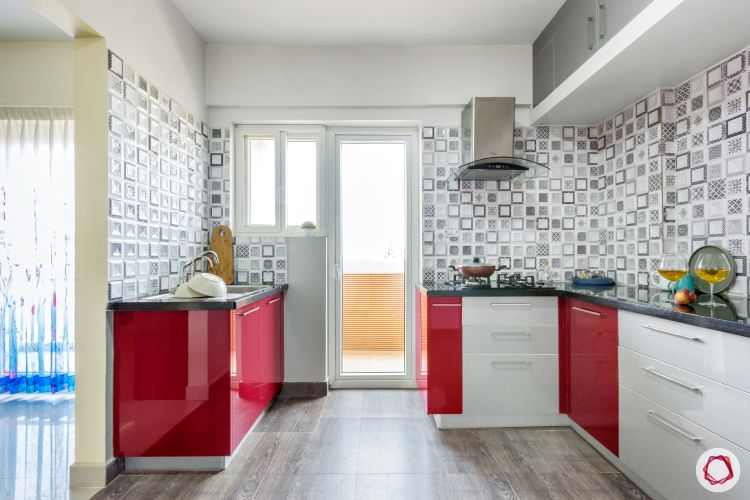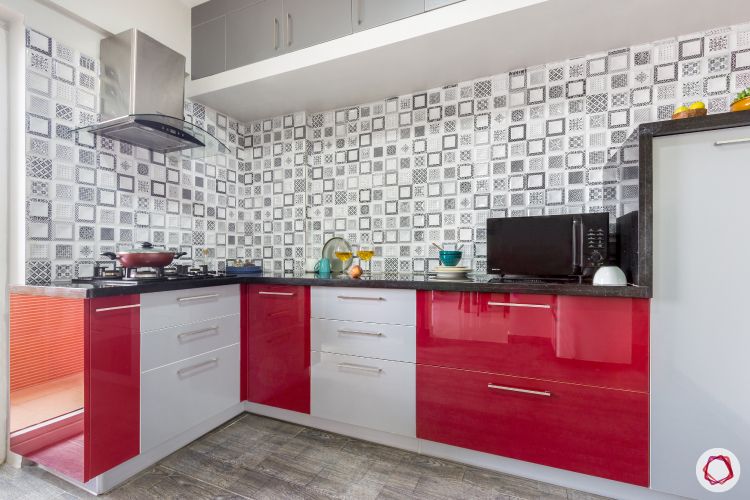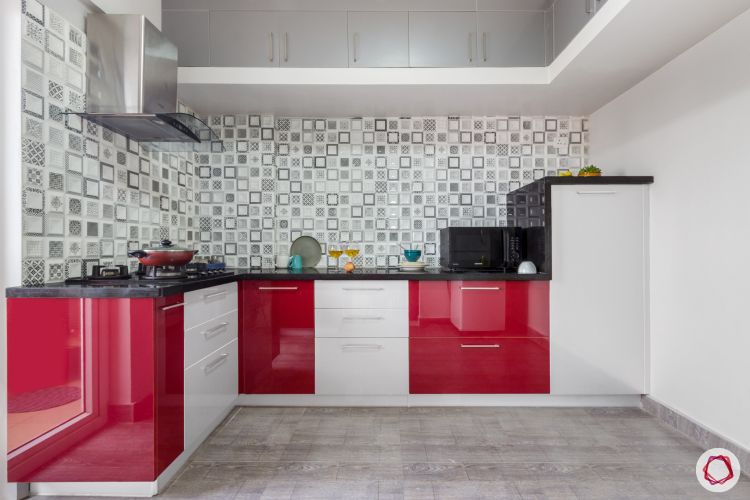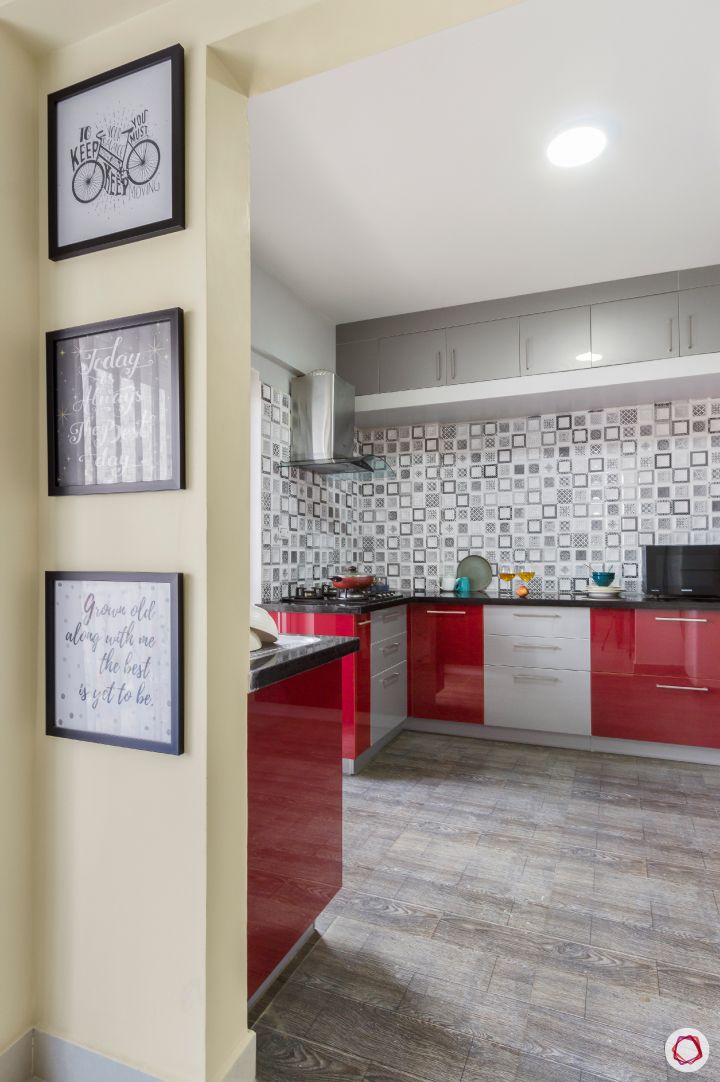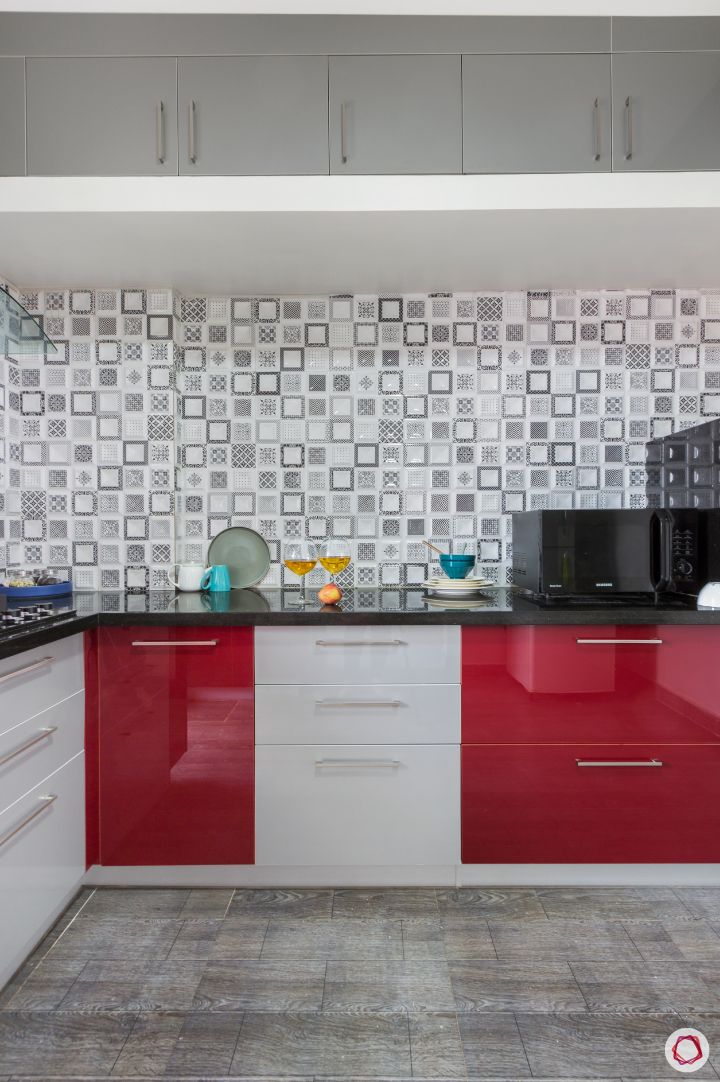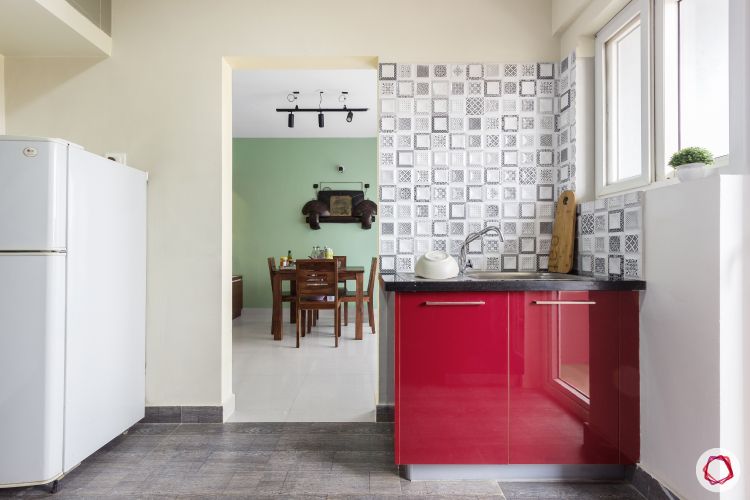 This modular kitchen is completely acrylic and we love the shades of red and grey that Waheda has used here. She has followed the golden triangle (where the hob, sink and refrigerator are placed efficiently) for placing the work zones and vastu shastra rules have also been considered. The dado tiles in the backsplash are something that the clients selected. Lofts make this kitchen storage-intensive and easy-to-use.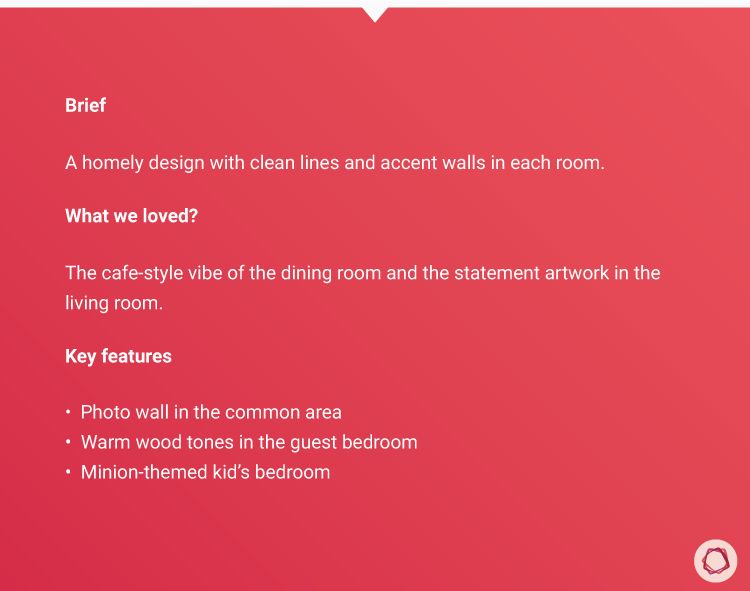 Home Bangalore: Serenity Speaks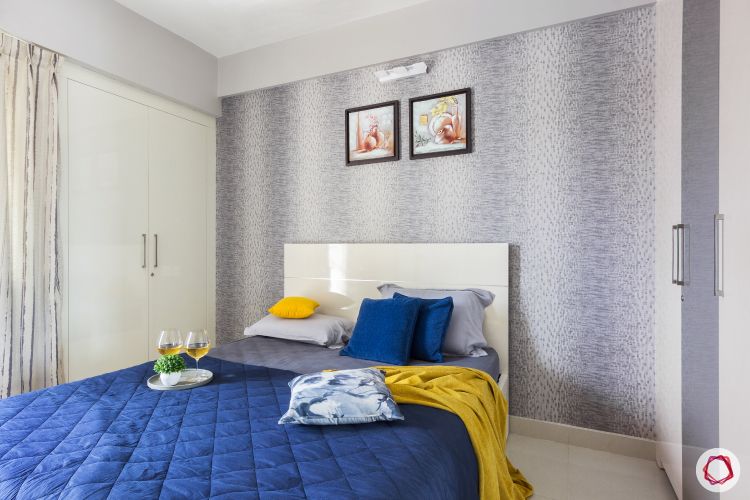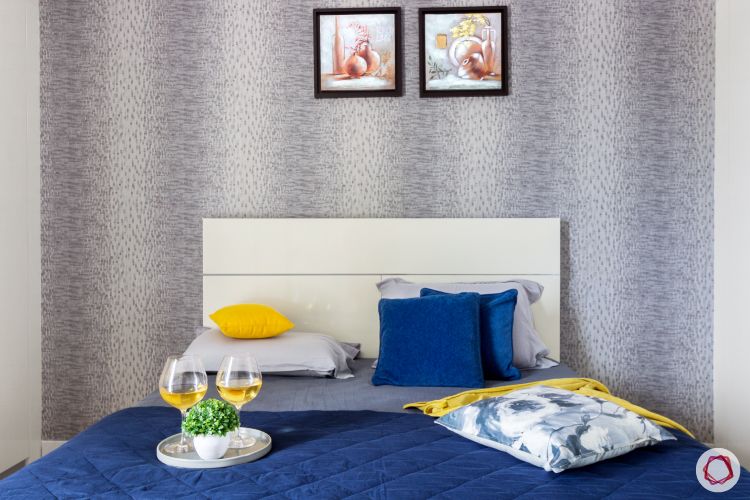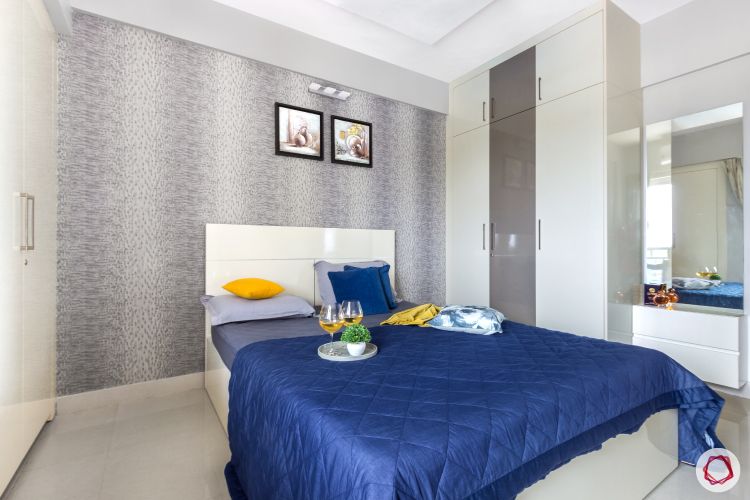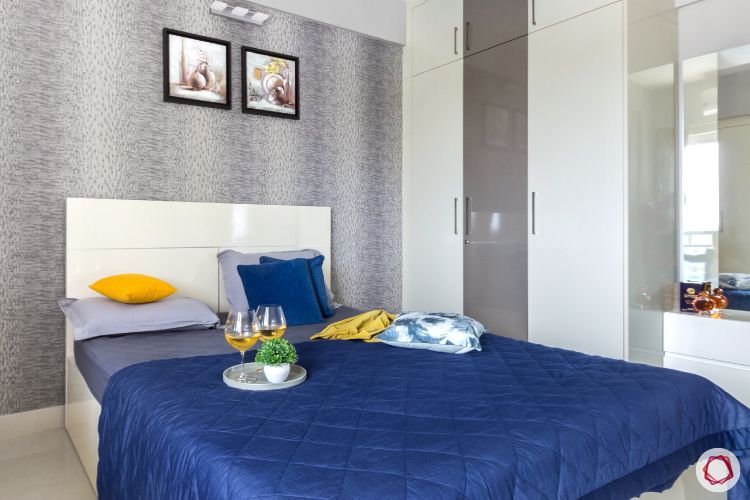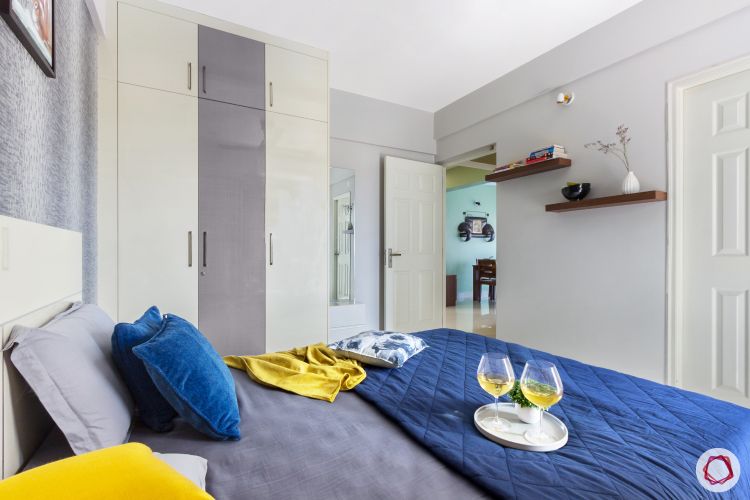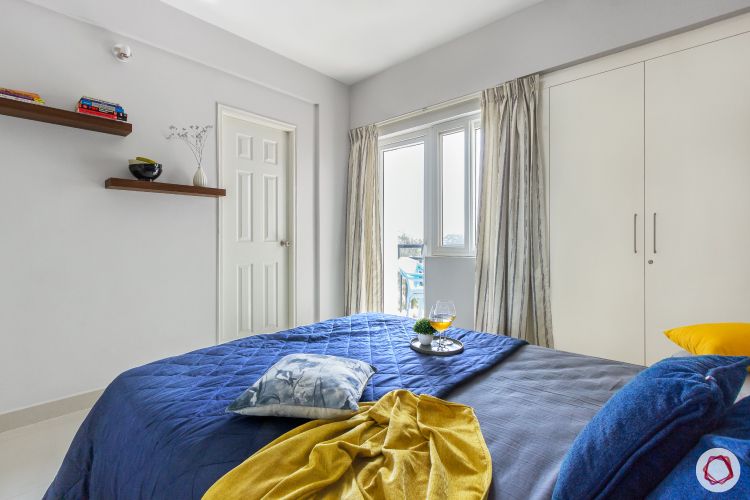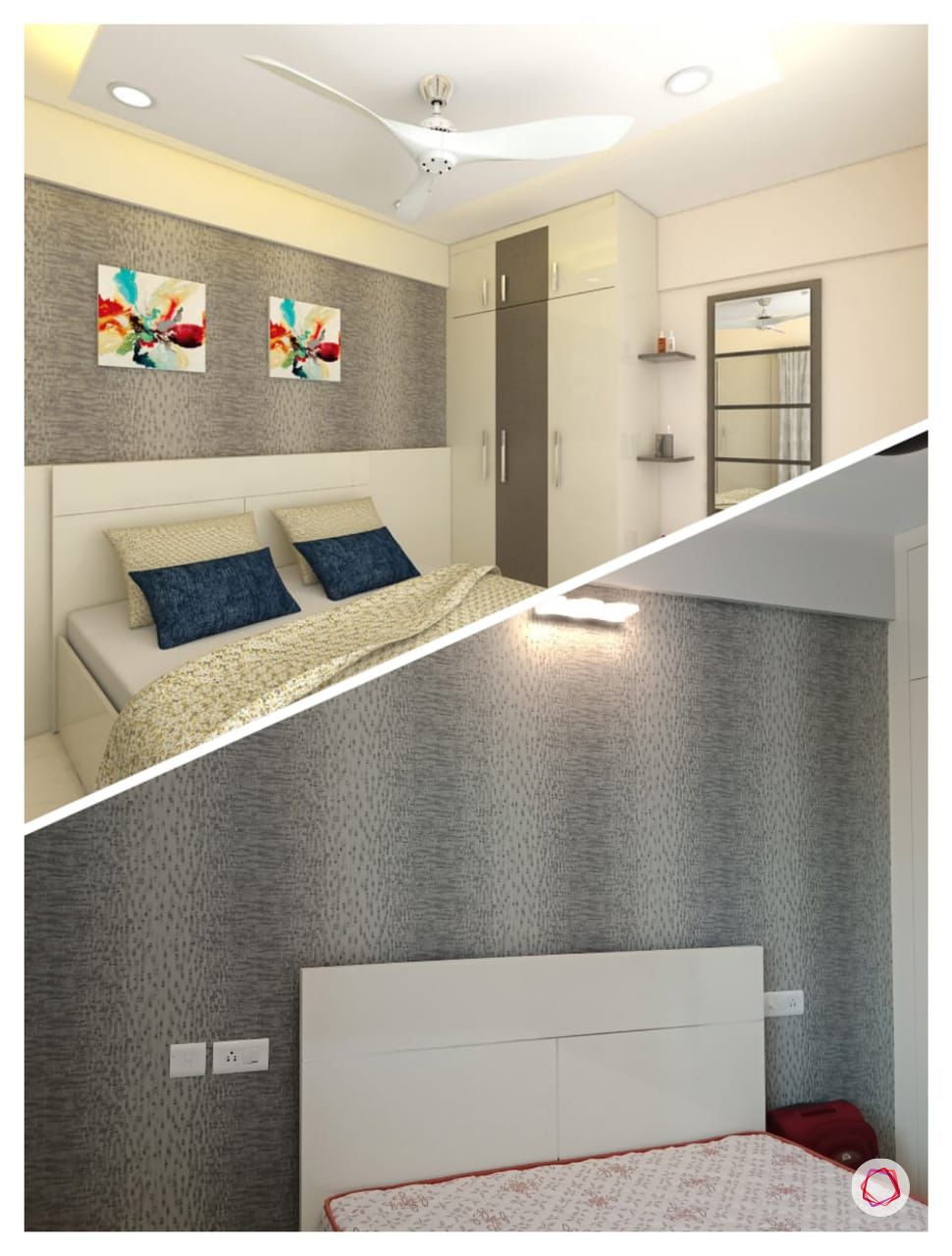 The master bedroom in this 3BHK defines simplicity and calm in every sense of the words. The couple wanted a room that feels soothing at the end of the day. The highlight of this room is definitely the pristine white bed. It looks sleek as well as sublime in this compact room. The neutral colours open up the room and make it appear larger.
Waheda gave them a combination of white and grey for the wardrobe, with sleek handles for ease of use. A cosy dresser featuring push-to-open drawers, find its way next to it. To make things a little more interesting, she gave them a wallpaper behind the bed. Also, since the bedroom doesn't have a television, to make up for the empty wall space, she gave them ledges for display.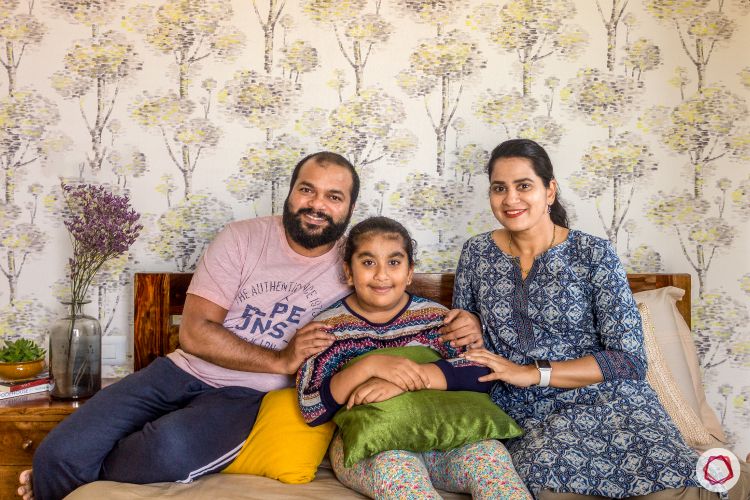 "We moved from a villa to an apartment and we wanted our new home to look beautiful. Waheda, our designer took us around to see homes designed by Livspace and that gave us more confidence to go ahead with our decision. We could see our home in the renders that she created and we loved the designs that she gave us."

-Mahantesh, Livspace Homeowner
Home Bangalore: Warm Wooden Undertones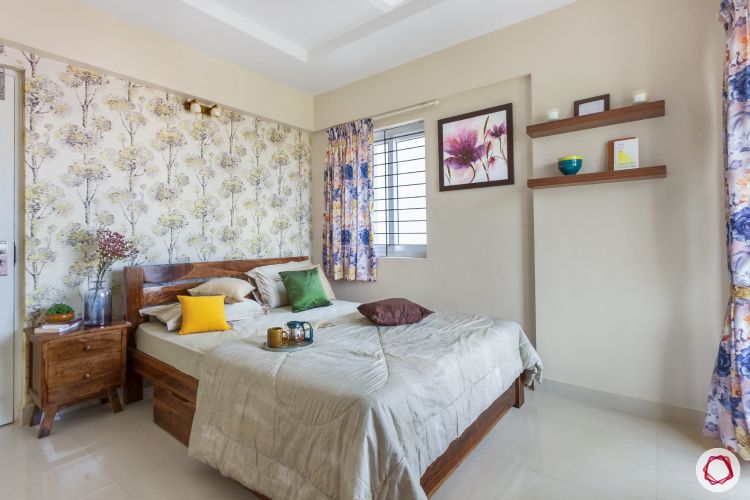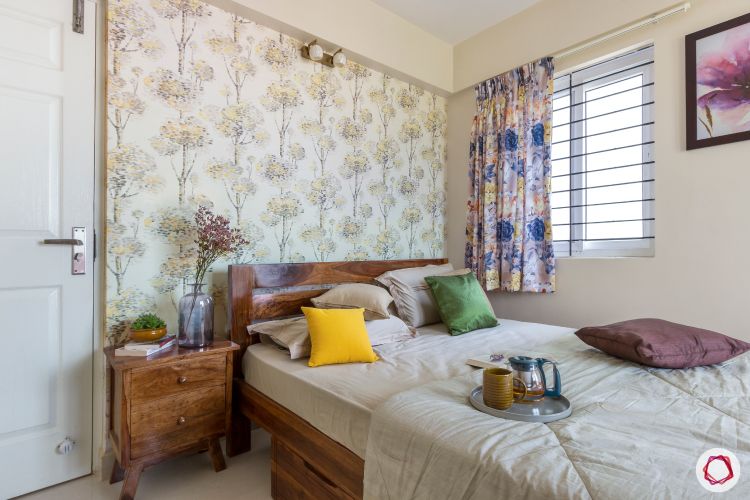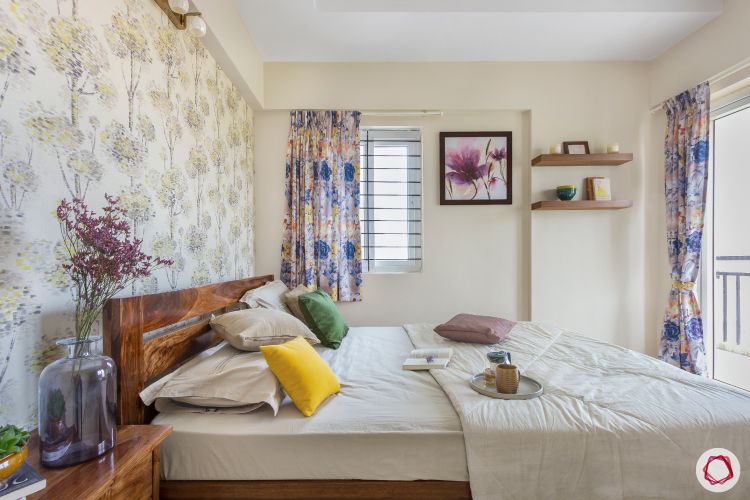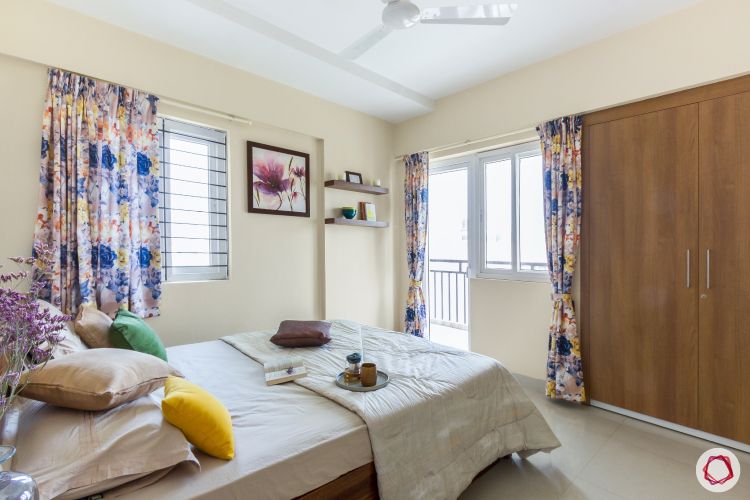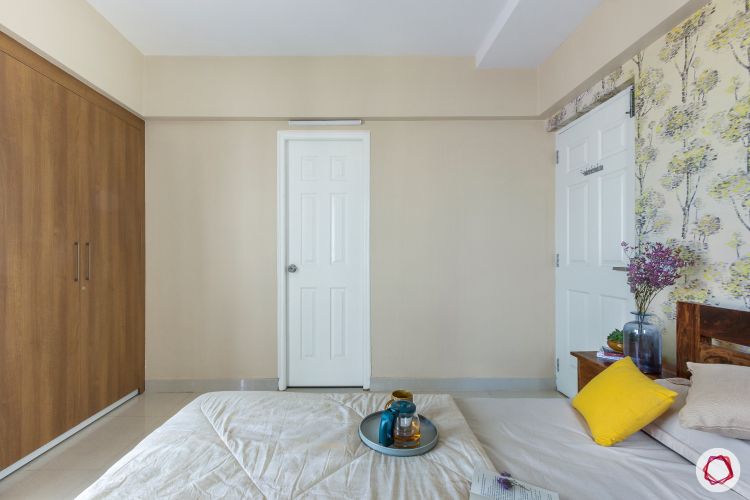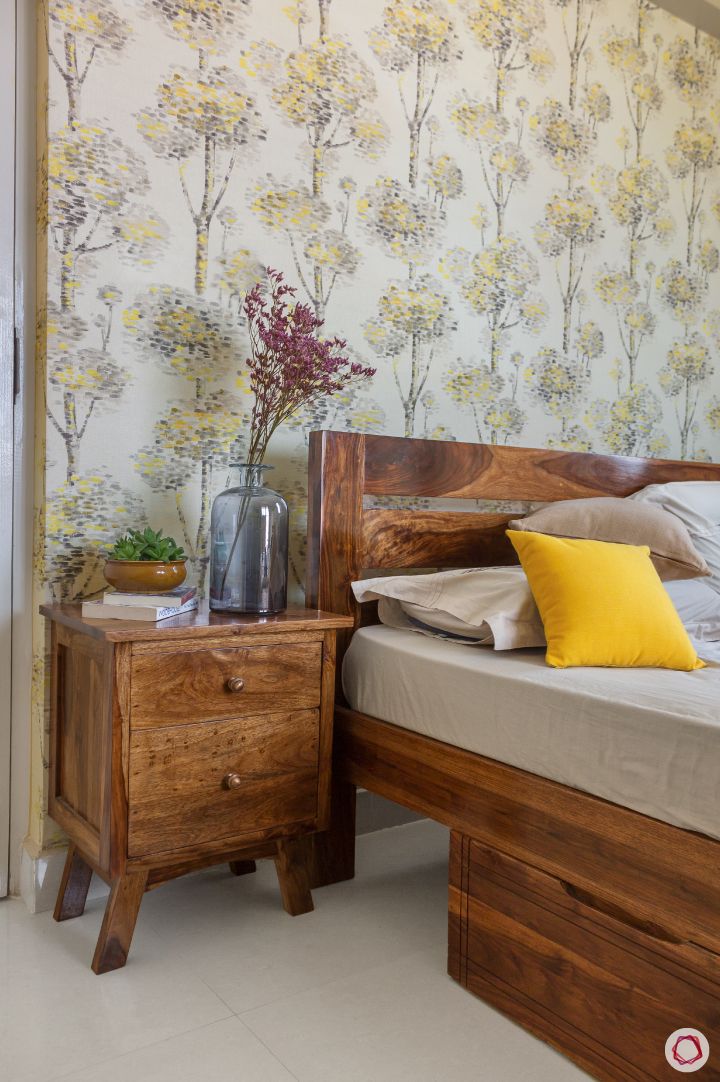 This bedroom is occupied by Mahantesh's mother when she's visiting the couple. Otherwise it serves as the guest bedroom at this home Bangalore. Done up in tasteful wooden tones, the bed and side tables play match with the wardrobe. Waheda added a dash oh cheer here, with the pretty floral wallpaper that makes for the accent wall.
Home Bangalore: Minion Mania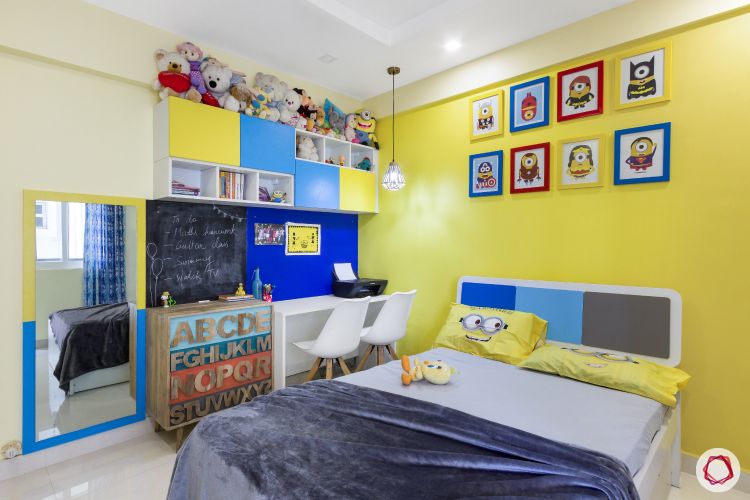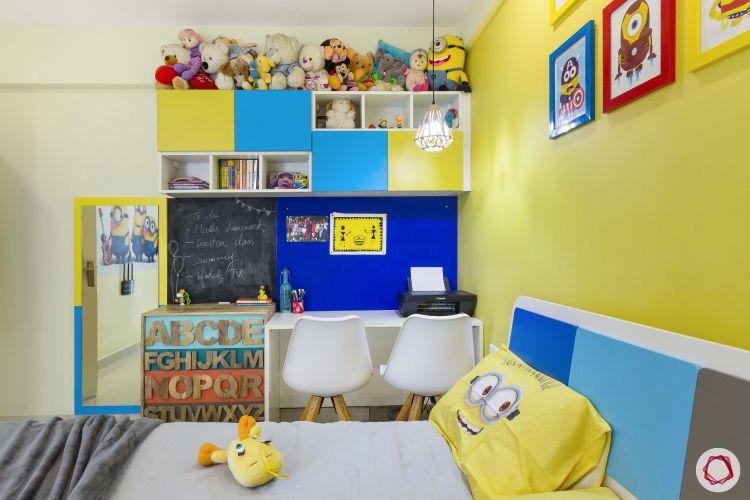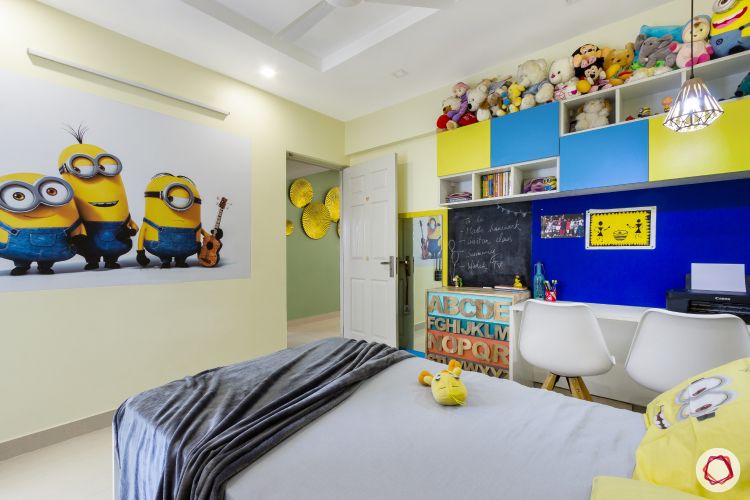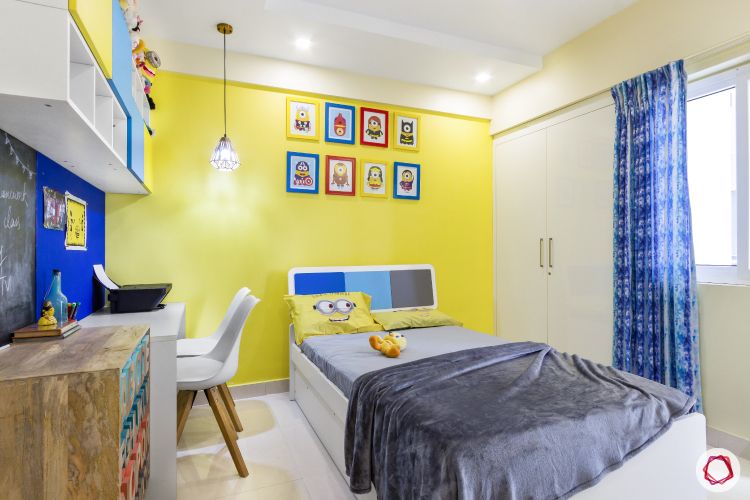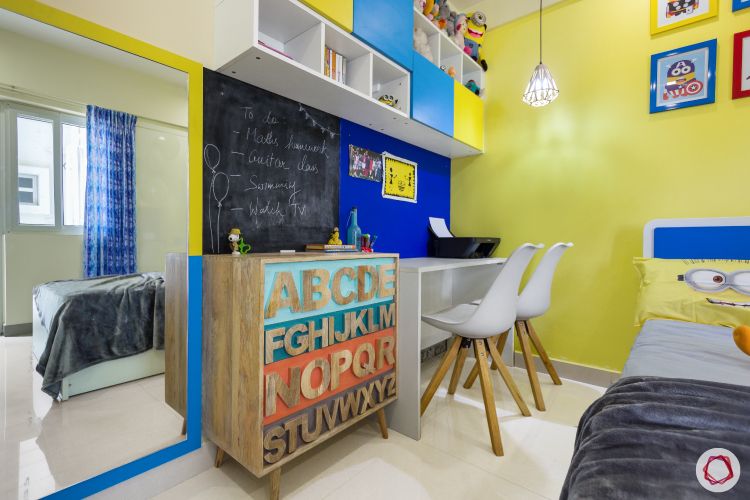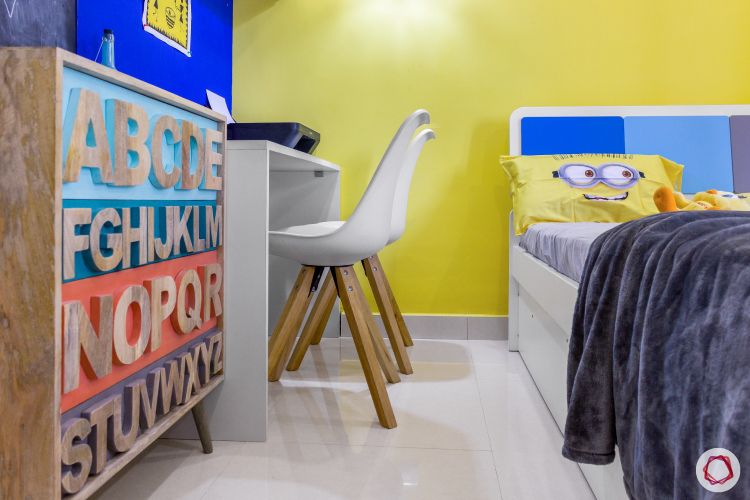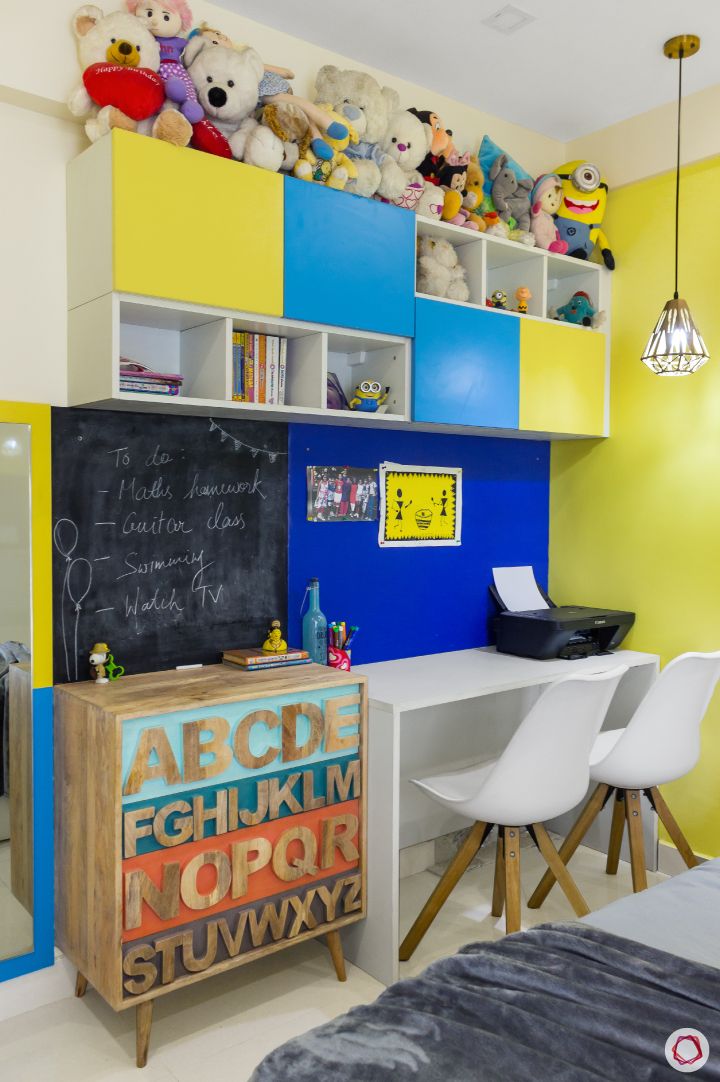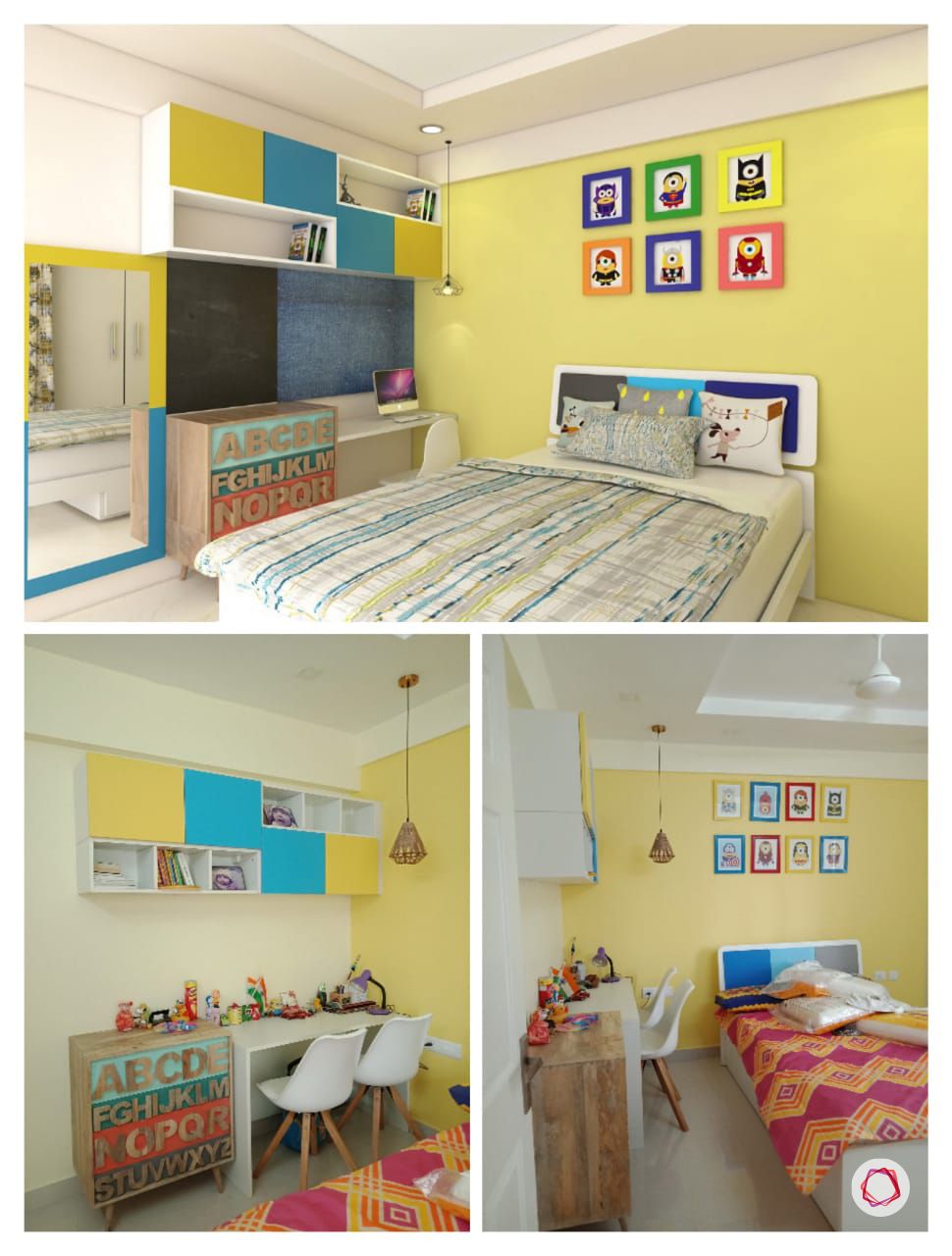 The kid's bedroom at this home Bangalore is an exact replica of the 3D designs that Waheda had shared with the clients. Mahantesh and Sunaina's daughter loves the banana loving characters, thus, Waheda had to create a minion-themed room for her. And as expected, the room catches your attention the moment you step foot inside.
The wall behind the bed has all her favourite minions framed and hung as a collage. The study table is no less than a wonder! Look at that alphabet inscribed unit, doesn't it look wonderful? The chalkboard and soft-board next to each other are perfect for keeping track of homework and activities alike.
"Mahantesh and Sunaina were very easy to deal with. They gave us clear direction as far as the designs were concerned. This is a true example of render to reality and how everything can be finalised in the designing phase itself. It was so much fun to work on this one."

-Waheda Begum, Interior Designer, Livspace
If you enjoyed reading about this vibrant and lively home, then take a look at this too: 4BHK at Sobha Forest View Gets Clutter-free Design!
Send in your comments and suggestions.