Things are getting pricier and homes are getting smaller. So, does that mean that it's impossible to get a stunning yet compact home within a tight budget? Not at all, as proved by Naveen's Bangalore 2BHK. Designed under ₹8 lacs, this 900 sq. ft. interior design for RSun Clover Apartment was completed in only 1 month! These 15 stunning photos will give you a virtual tour of this elegant home.
---
Who Livs here: Naveen with his family
Location: RSun Clover, Doddakannelli, Bangalore
Size of home: A 2BHK spanning 900 sq. ft. approx.
Design team: Interior Designer Sai Amogha and Project Manager Nagaraj K
Livspace service: Kitchen, wardrobe and storage
Budget: ₹₹
---
IN A NUTSHELL


Brief
To design a compact and storage-intensive home within a tight budget

What We Loved
The kitchen and TV unit that give the home a Scandinavian feel and a lively ambience

Look Out for
— Pop colours to elevate the space, wherever needed
— A modern-contemporary colour scheme throughout the home
— The kitchen with a minimal breakfast counter
— Maximum storage throughout the space

Biggest Indulgence
The kitchen with its space-saving hardware

Smart Buy
The TV unit


So, you must be wondering, "What did the homeowners want?" Due to the compact size of their RSun Clover apartment in Bangalore, the family wanted a 2BHK interior design that would make their home look more spacious. At the same time, maximum storage was a must, considering they have a growing child. Browse through these photos to find out how we did it.
#1: A Fun and Space-Efficient Living Room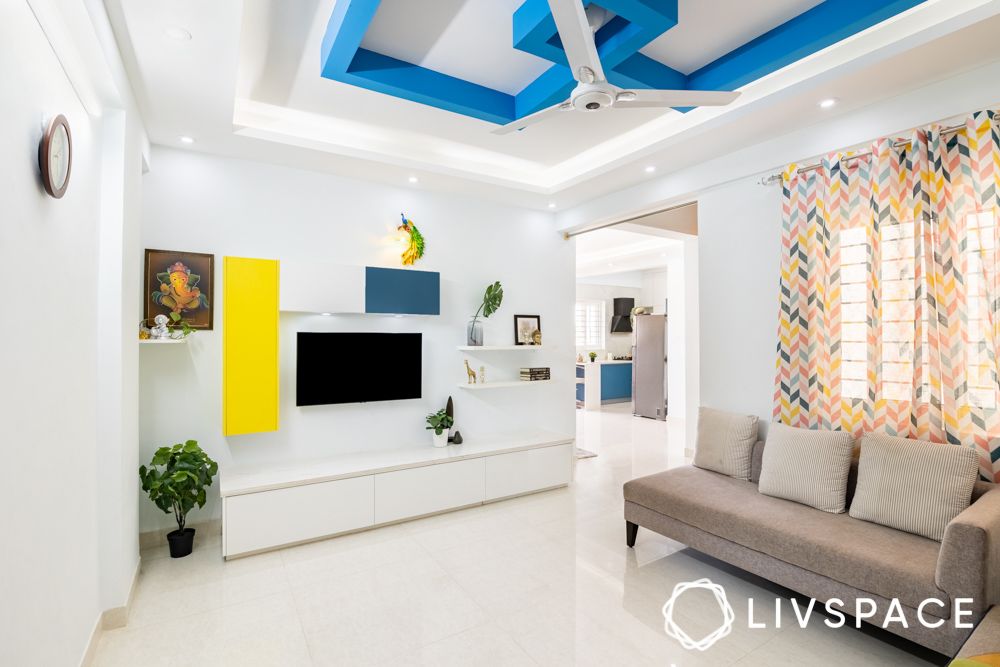 What an interesting false ceiling! Also, the colourful curtains add a dose of visual interest without disturbing the calm ambience of the space.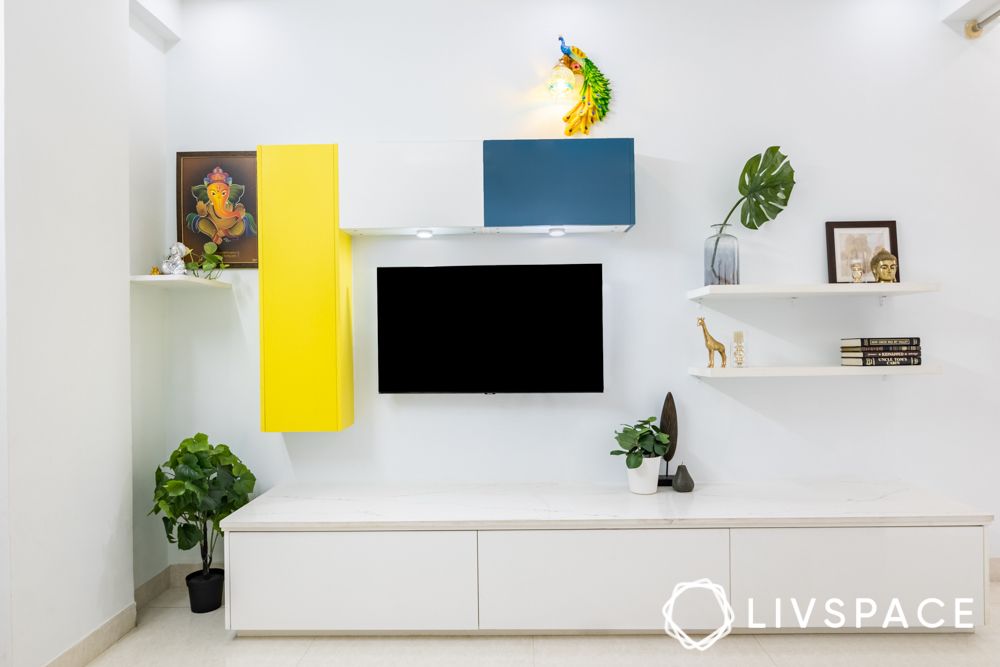 A white TV unit can complement any colour palette. So, if you choose to repaint your home, you can do so without changing your TV unit's design fundamentals.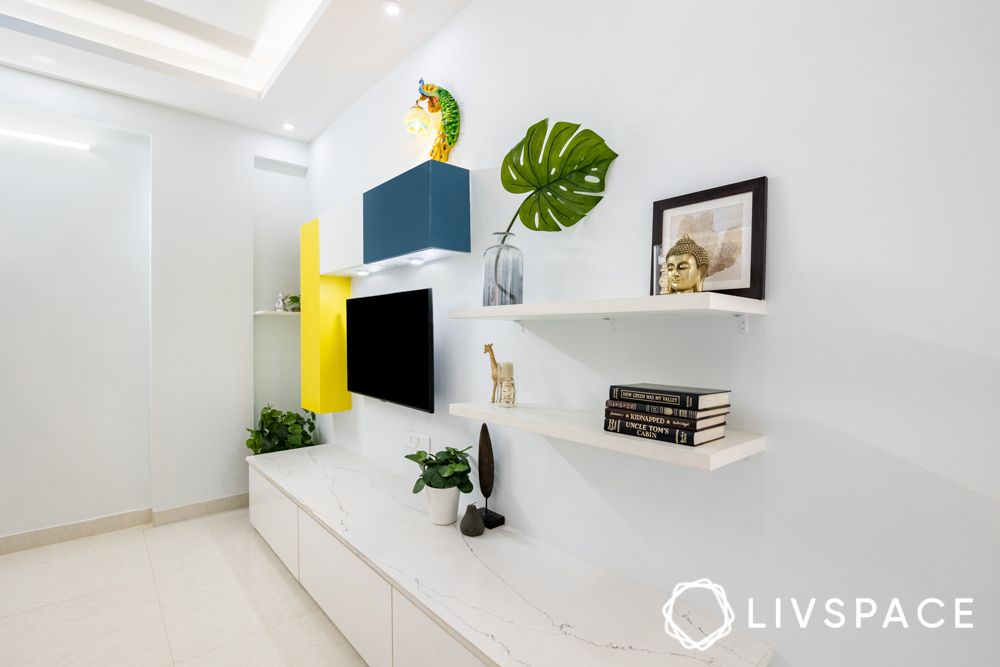 Use the shelves as excellent display units.
The Problem
The living room in this 2BHK flat design for RSun Clover, Bangalore was quite compact and almost looked cluttered.
The Solution
Designer Sai Amogha chose a white theme, to make the room look more open and spacious. To elevate the look, she added some pops of blue and yellow in the TV unit and false ceiling.
Budget Element
The plain walls.
#2: Storage That Nevers Runs Out in the Master Bedroom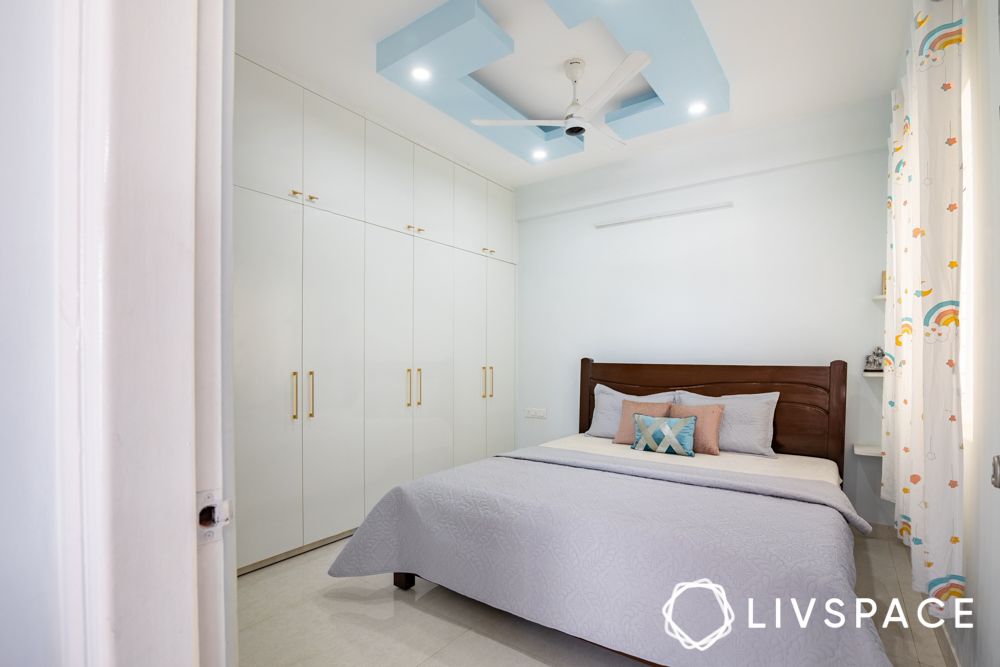 The focal point of this bedroom has to be this beautiful and blue false ceiling design.
The wardrobe has a mix of open and closed shelves so that you can use it in multiple ways.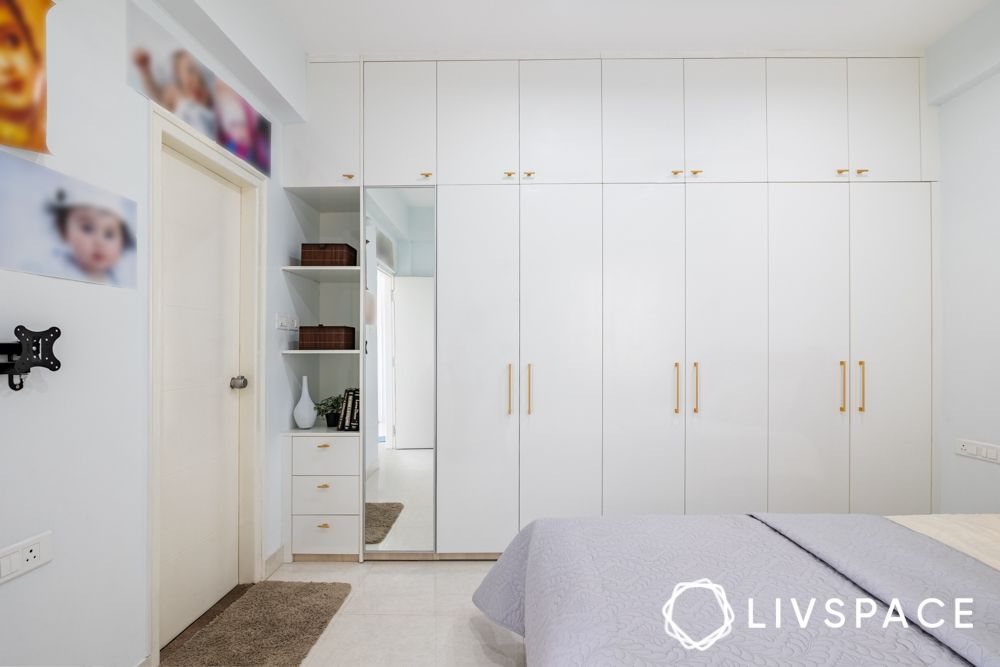 Interesting use of space for the dresser, isn't it?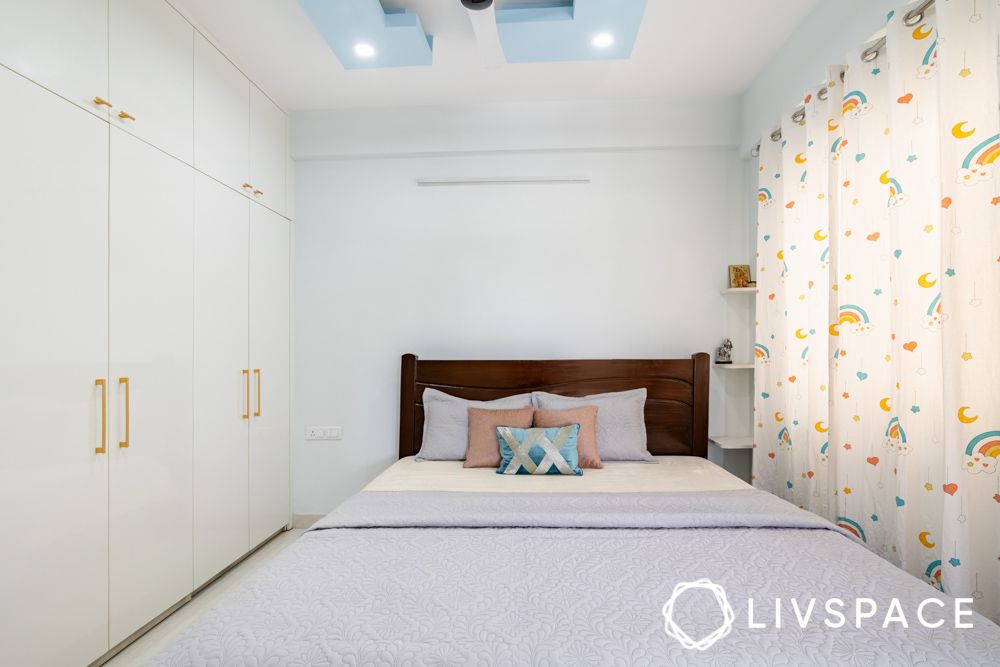 White tends to work very well with wooden pattens and touches.
The Problem
The homeowners wanted maximum storage in the master bedroom interior design for RSun Clover apartment. Also, they wanted swing wardrobes, in an otherwise compact bedroom.
The Solution
Firstly, Sai Amogha continued with the white theme in this 2BHK interior design for a master bedroom in RSun Clover, Bangalore.
This made the space look bigger. She also added a mirror on the wardrobe, a simple trick that creates the illusion of space. To make space for storage, we gave them a three-door wardrobe with lofts.
The dresser with floating shelves and gold handles on the wardrobes break the monotony of the space.
Budget Element
A swing wardrobe is more cost-effective than a sliding one.
#3: Ample Space for Your Growing Toddlers in This Interior Design for RSun Clover Apartment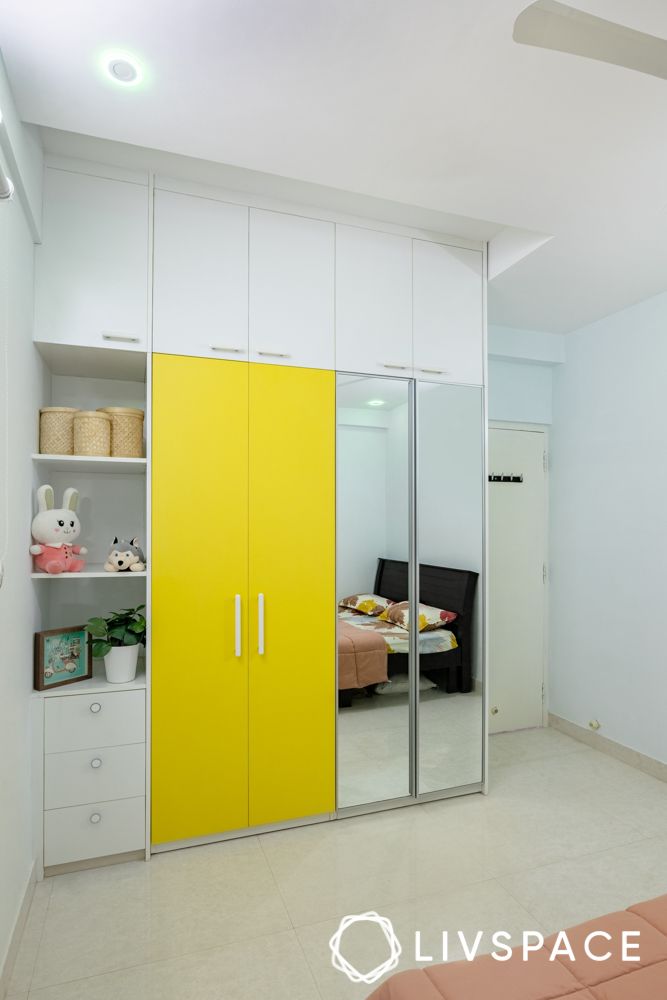 A mirror helps create the illusion of more space, thereby making your room appear bigger.
Break up the monotony of white with a single colour like this home does!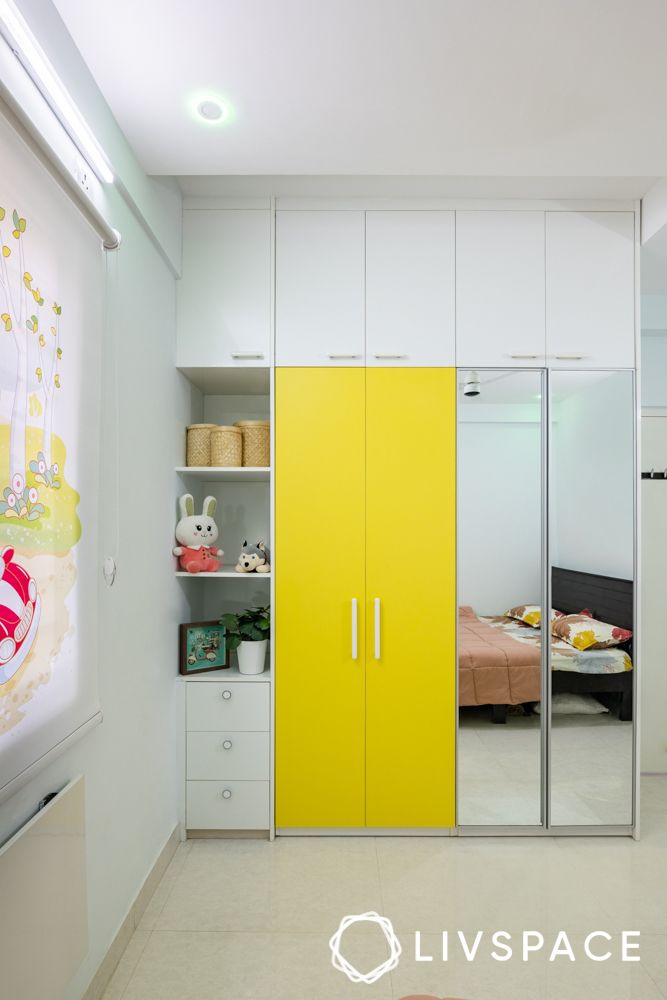 When the little ones grow up, they can use the open shelves to display other stuff.
The Problem
The kids' room in this 2BHK flat design for RSun Clover Bangalore had to be spacious enough for a growing child, despite being compact.
The Solution
Sai Amogha, our designer, has kept the furniture in this room to bare minimum to ensure there is ample space for a child to move around and play. The kids' room in this RSun Clover flat interior design in Bangalore only has a foldable study table and a wardrobe. Additionally, the mirror on the wardrobe creates the illusion of space. Also, the entire room is again done up in white to create an airy look, while pops of yellow add a touch of fun.
Also Read: Luxury for This 2.5BHK at Prestige Royale Gardens, Bangalore Comes at a Price of Just ₹25 Lacs
Budget Element
A multifunctional wardrobe with space for display and storage.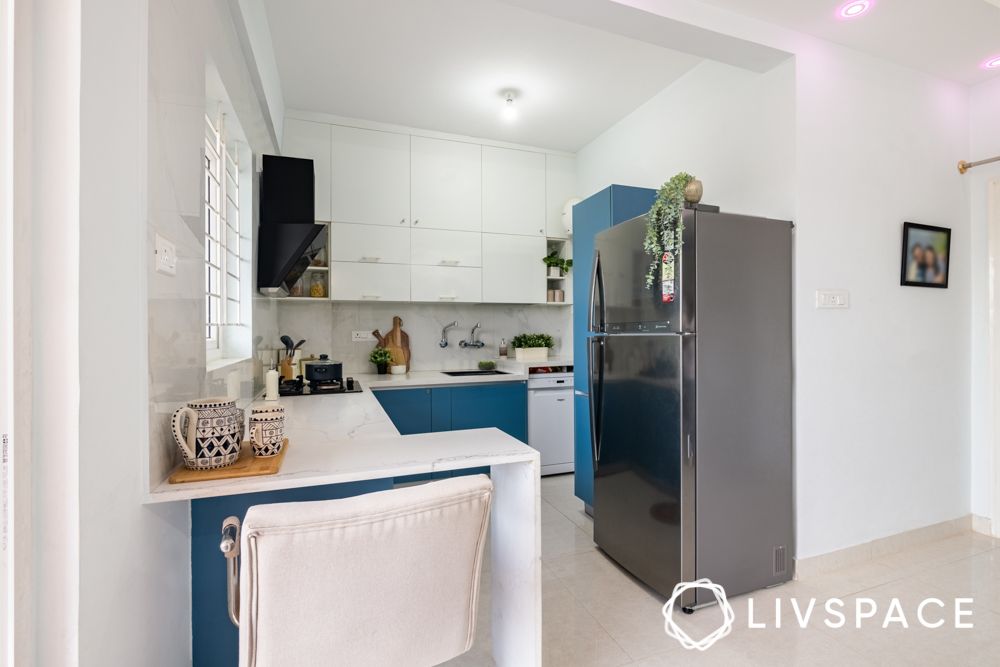 See how beautifully the living room design flows into the kitchen.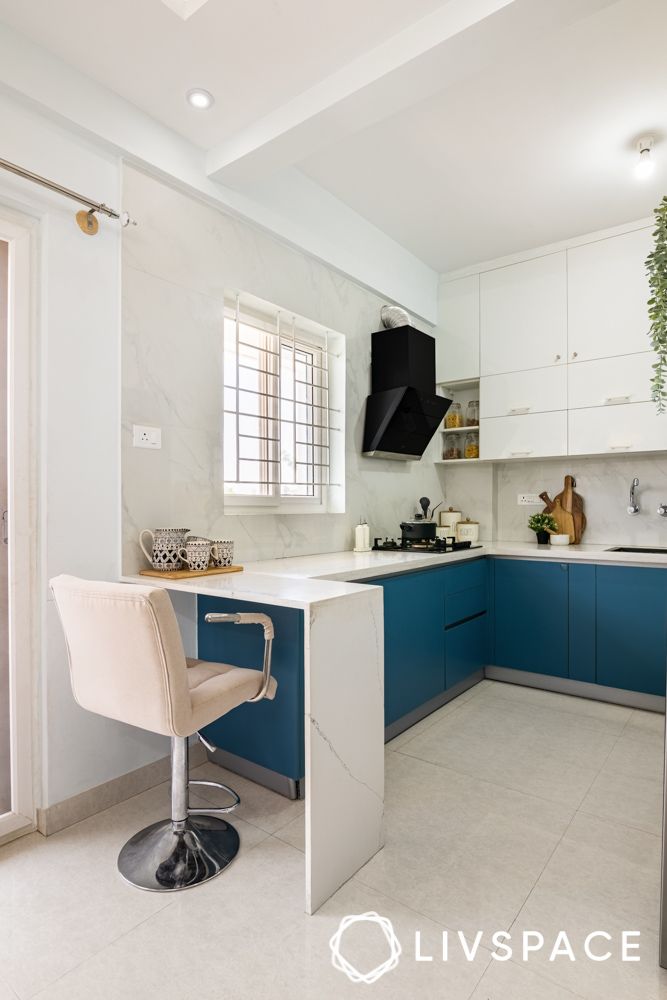 Ah! Meet one of the happiest additions to the kitchen: a peninsula.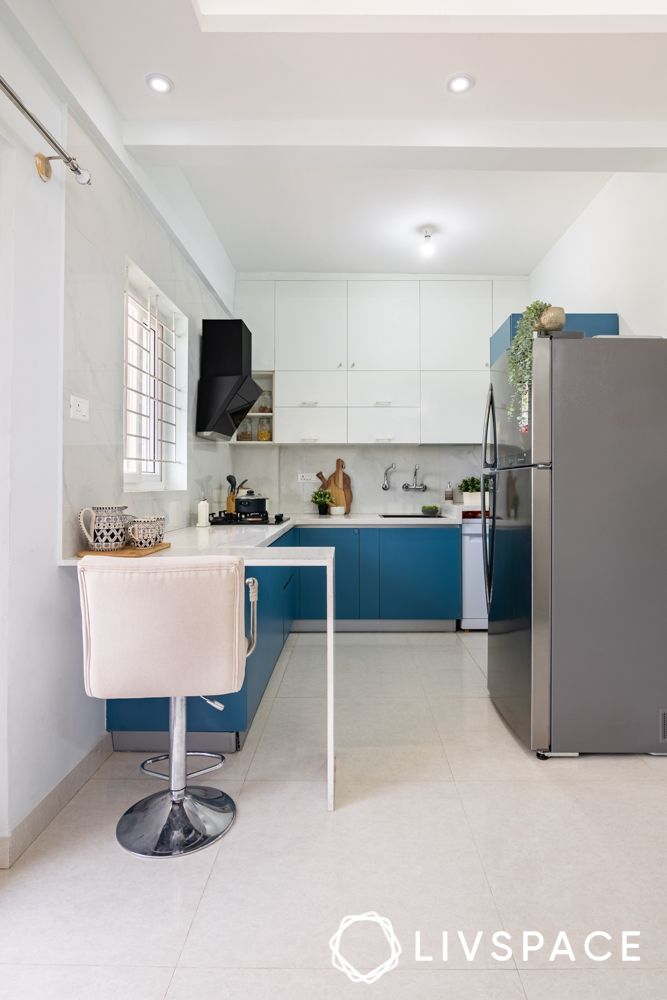 Small isn't ugly. Neither is it a bad idea.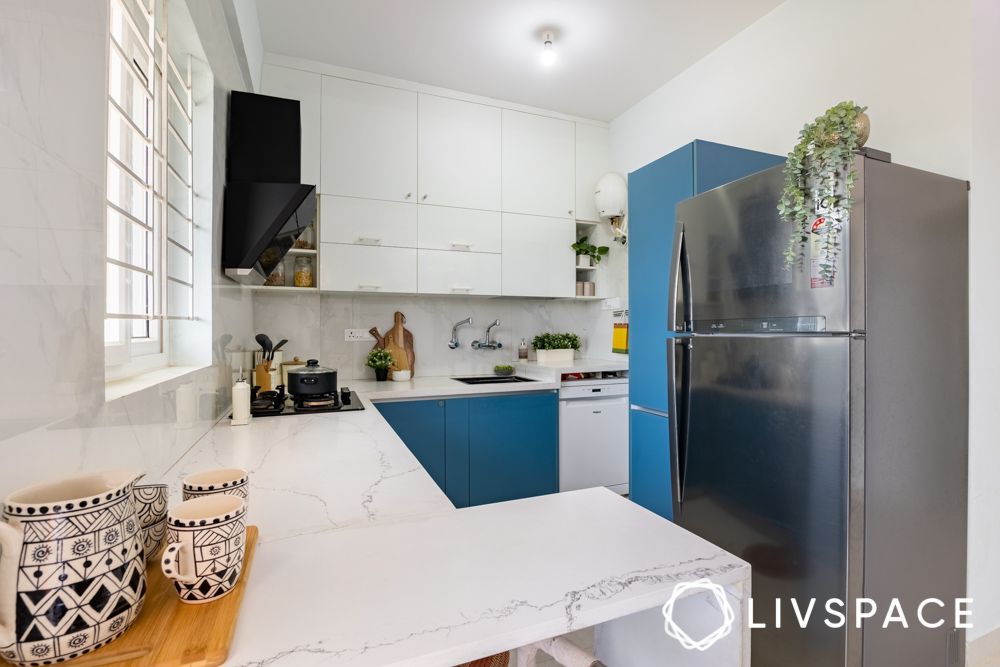 It maintains the white colour palette of the rest of the room.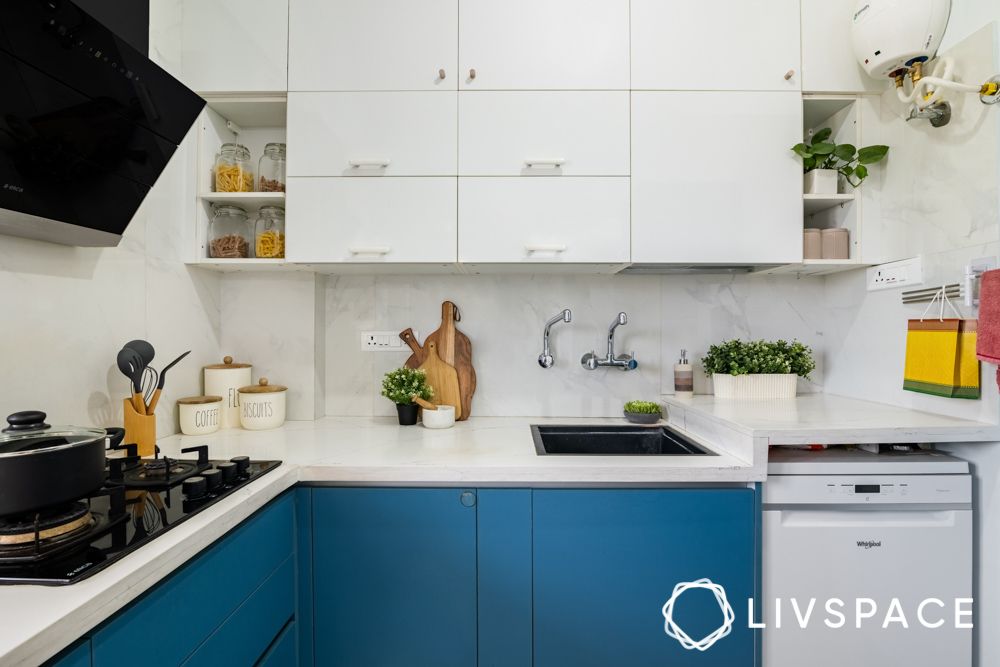 Such a small kitchen packs in even the dishwasher. This is what happens when you utilise space well.
The Problem
Although the kitchen in this 2BHK interior design for RSun Clover apartment was quite small, Naveen and his family wanted space for a breakfast counter and a dishwasher. They also wanted a Scandinavian theme for this space.
The Solution
Firstly, to make the small kitchen look bigger, Sai Amogha went with a white theme that also fit in with the Scandinavian design style. Secondly, she added some open units to help declutter the space. To accommodate Naveen's requirements, she added a minimal breakfast counter for one and created space under the countertop to fit in their dishwasher.
Budget Element
Laminate and MDF cabinetry.
This 2BHK interior design for RSun Clover apartment in Bangalore is a lesson on how to design a compact space within a budget.
How Can Livspace Help You?
We hope you found our ideas useful! If you want your home to be just as beautiful, then look no further. Book an online consultation with Livspace today.
Wondering how our customers feel about working with Livspace? You can check out the Livspace reviews here!
Have any thoughts or suggestions you'd like to share with us? We're all ears! Drop us a line at editor@livspace.com.
Disclaimer: All contents of the story are specific to the time of publication. Mentions of costs, budget, materials, finishes, and products from the Livspace catalogue can vary with reference to current rates. Talk to our designer for more details on pricing and availability.