During their first meeting with interior designer Teena Agrawal, Bipin and his family were clear about what they were looking for. Simple, functional, and budget-friendly were a few words that topped their list of requirements. Though they live in a beautiful 3BHK bungalow, the space still needed to be customised to suit the needs and requirements of each family member. Taking all this into consideration, Teena rolled up her sleeves to tackle their 3BHK interior design for Maruti Greenlands in Ahmedabad, all under ₹18 lacs. The result? Priceless.
What's special about this Maruti Greenlands flat design in Ahmedabad, is the clever use of design while staying under budget. No matter which room you tour, you're bound to see some quick thinking and creativity behind how Teena designed the space. Let's take a look at these special touches that transformed this house into a home.
---
Who Livs here: Bipin and his family
Location: Maruti Greenlands, Ahmedabad
Size of home: 3BHK bungalow spanning 3,000 sq. ft. approx.
Design team: Interior Designer Teena Agrawal
Livspace service: Full home design
Budget: ₹₹₹
---
IN A NUTSHELL


Brief

To design a simple yet budget-friendly home that has enough storage for a big family, but doesn't look cramped

What We Loved

The bright pops of colour in each room that add vibrancy to the space

Look Out for

— The clever use of open space for the kid's study unit
— Concealed storage options along with a concealed bathroom door in the master bedroom

Smart Buy

The use of stencilling in the bedrooms to create the look of wallpaper at a fraction of the cost


#1: Don't Know What Colour Palettes to Choose? Take a Cue From This Living Room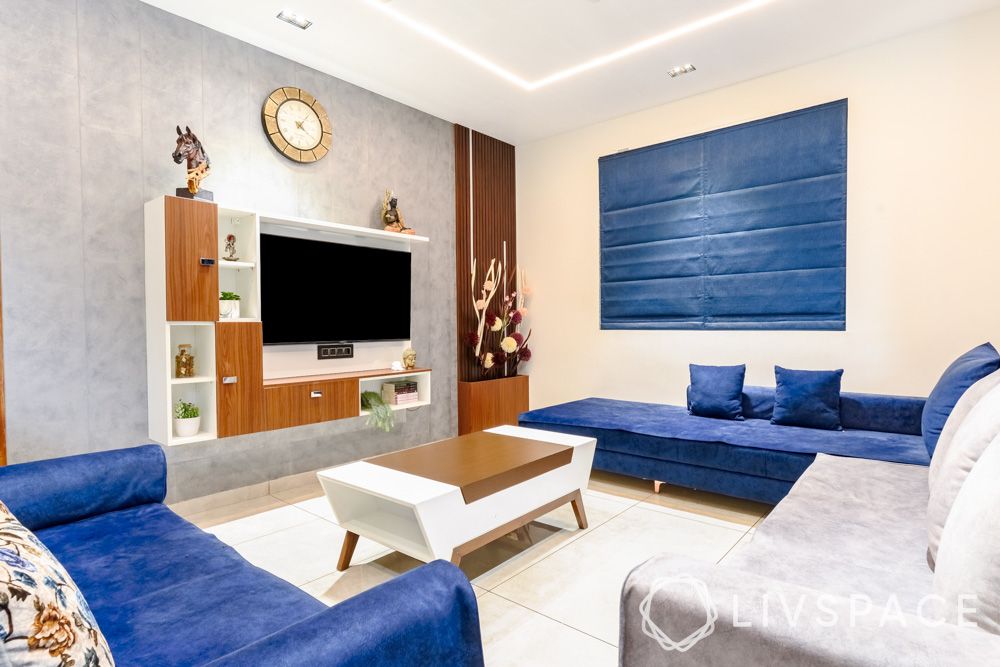 Picking the right colours for your interiors is no easy feat. After all, you need to ensure that your walls, furniture, and accessories complement one another to create harmony in design. This, of course, is no new concept to Teena as she knew just the right approach to colour selection.
For this 3BHK interior design for Maruti Greenlands in Ahmedabad, Teena allowed her preference for colours to shine by using neutrals for the walls and carpentry. This allows her to bring in some colour through the use of fabric for soft furnishings and furniture.
Why does this approach work? Teena tells us that in the event of repainting the home, 4 or 5 years later, you can still match the new wall colour with neutral furnishing; without having to reinvest in matching interiors. According to Teena, neutral furniture is more long-lasting as you can pair it with different colours and designs, without going out of style.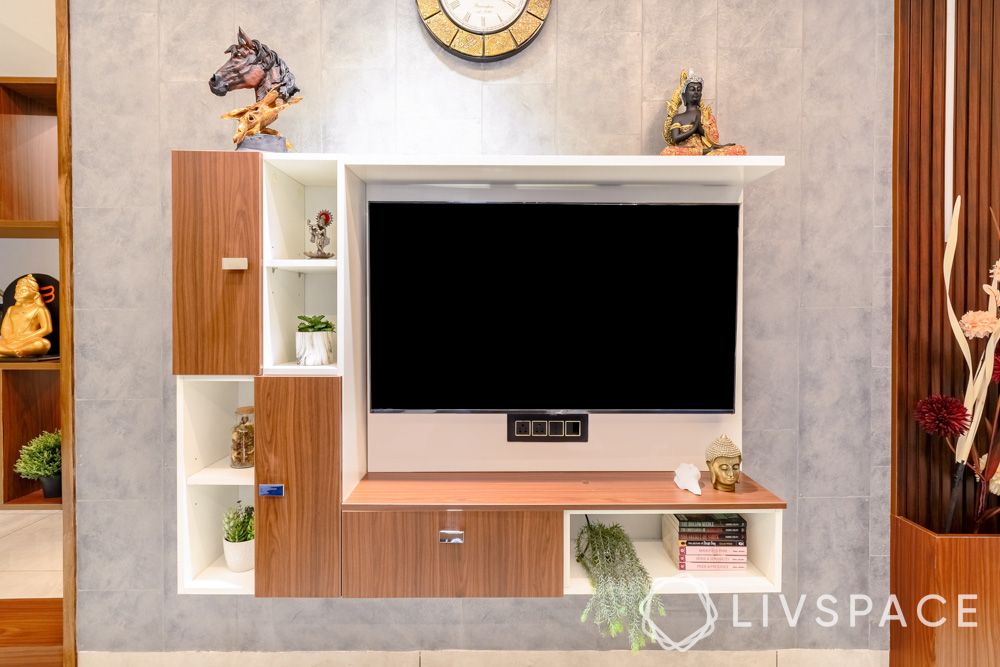 Besides colour, another nifty addition to the living room in this 3BHK interior design for Maruti Greenlands, Ahmedabad, is the use of wallpaper. Teena opted for charcoal grey wallpaper that adds visual texture to the space. Take a closer look, it's almost as if the wall is made of stone!
For an added decorative element, Teena brought in some fluted wall panels with an in-built planter. With this, the family can decorate their space with plants and flowers to further spruce up their Maruti Greenlands flat design in Ahmedabad.
Also Read: 60+ Elegant TV Unit Design Ideas: Trendy Options for TV Unit Design
#2: Seeing Is Believing, So Don't Miss This Kitchen Transformation!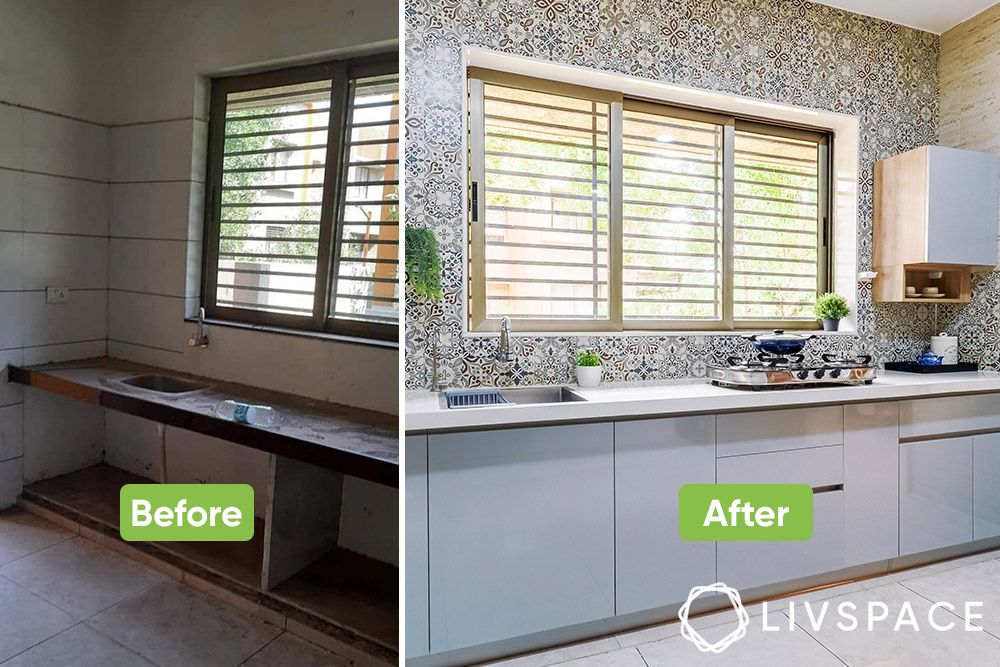 Sometimes, words aren't enough to describe the work that goes into transforming a space. So, here's a before and after comparison instead! During the initial meeting for this 3BHK interior design for Maruti Greenlands in Ahmedabad, the family was keen on a semi-modular kitchen design.
However, as Teena and her team began work, the family was sold on the quality of the design, and the scope quickly changed to a full modular kitchen! While the modular kitchen is from Livspace, Teena added an artistic touch to the space with the use of Moroccan tiles for the walls.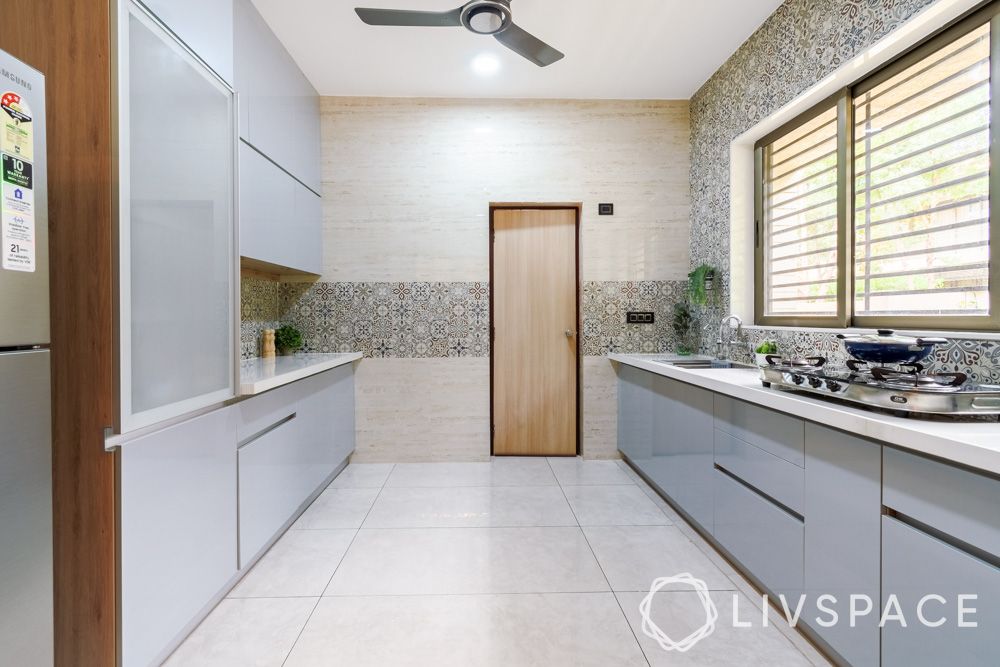 You'll also notice Teena's signature colour selection extend to the kitchen as well. She kept the entire space neutral, and brought in pops of colour with the addition of the Moroccan wall tiles. Since the family was keen on keeping the interior design for their Maruti Greenlands flat low-maintenance, Teena used a laminate finish for the kitchen cabinets.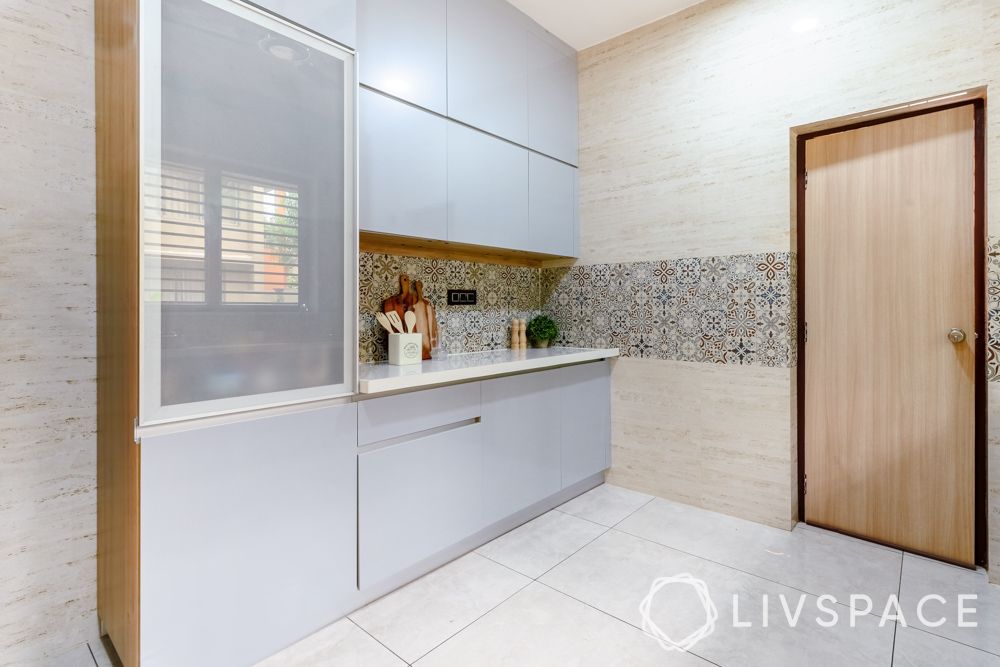 This makes it easy to wipe down with zero fuss. Wondering what other materials went into this kitchen design? Stay with us as we'll uncover all the materials and finishes that make up this 3BHK interior design for Maruti Greenlands in Ahmedabad.
The family was very cooperative and gave me the opportunity to explore creative new ideas for their home. We tried a lot of different things to ensure all their needs were met, and the family readily accepted all my design suggestions. It was a really great experience designing this home.

Teena Agrawal, Interior Designer
#3: The Master Bedroom Has a Secret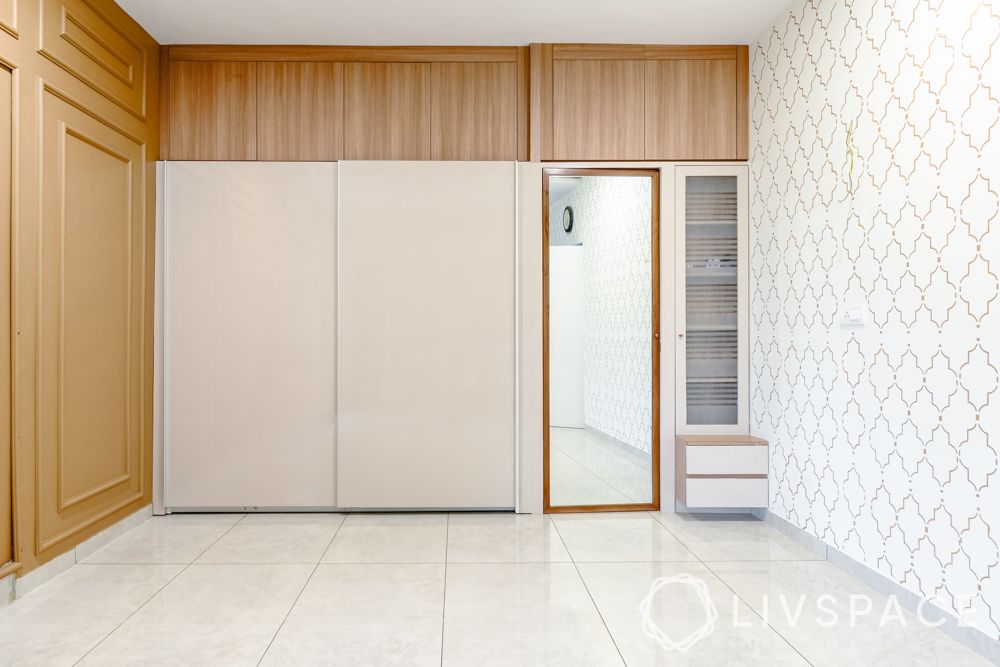 At first glance, all we see are some killer sliding wardrobes with loft storage in cosy neutral colours. However, Teena informs us that there's more to this bedroom than what meets the eye. 🧐 And of course, we hate cliffhangers as much as the next person, so we'll let you in on the secret of this 3BHK interior design for Maruti Greenlands.
Being Gujarati, Bipin and his family are big on having extra storage space at home. However, they wanted to avoid dividing the room to add more storage, and wanted to keep it as is. Moreover, they also wanted the design of the room to be simple and uniform. Here's where Teena had to get creative with design and space planning.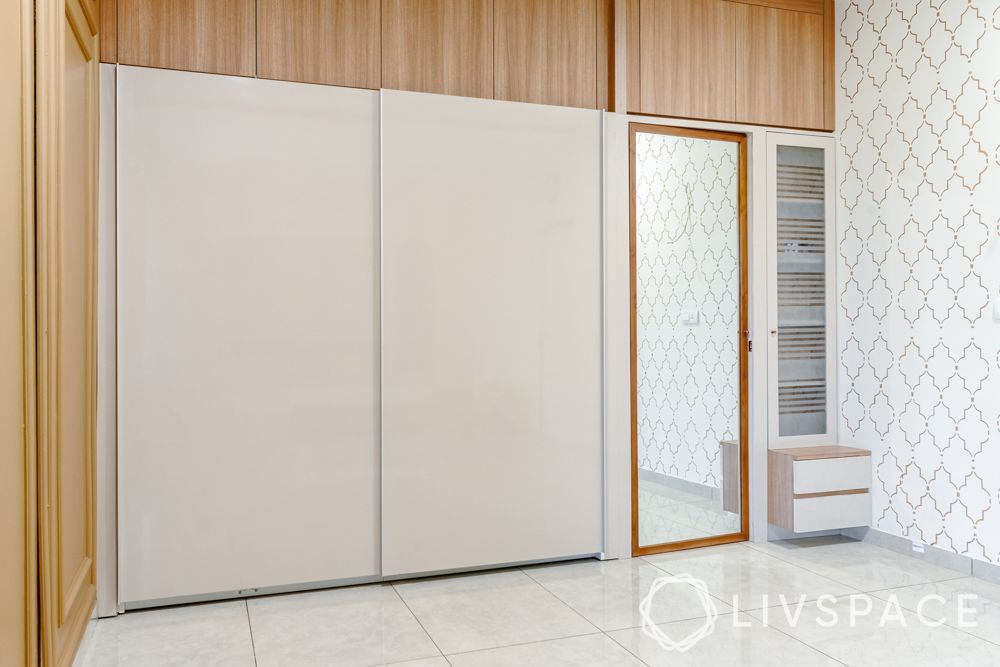 Take a closer look at the mirror beside the wardrobe. You'll notice there's a tiny knob on the frame that opens out into a 4 ft. deep internal storage area! To ensure the space doesn't look conspicuous, Teena matched its design with the sliding wardrobe and even added a vanity area beside it.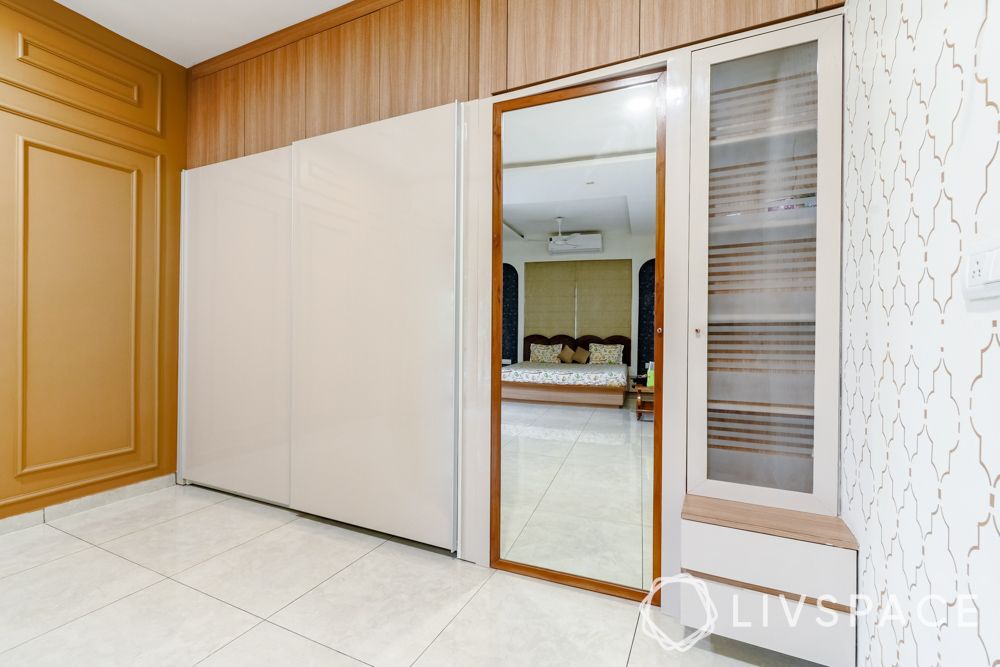 If you thought this was the only creative addition to the space, you might want to think again. Mastering the art of creativity, Teena had a few more design tricks up her sleeve for this bedroom interior design for Maruti Greenlands in Ahmedabad. Take a good look at the wall moulding on the left side of the image. Nothing about it stands out, right? Wrong!
In line with keeping things subtle and inconspicuous, Teena even created a concealed bathroom door behind the wall moulding! The seamless panel opens into the bathroom, but when closed, gives the room a neat and clean look.
#4: The Guest Bedroom Is Just As Cost-Effective When It Comes to Wall Design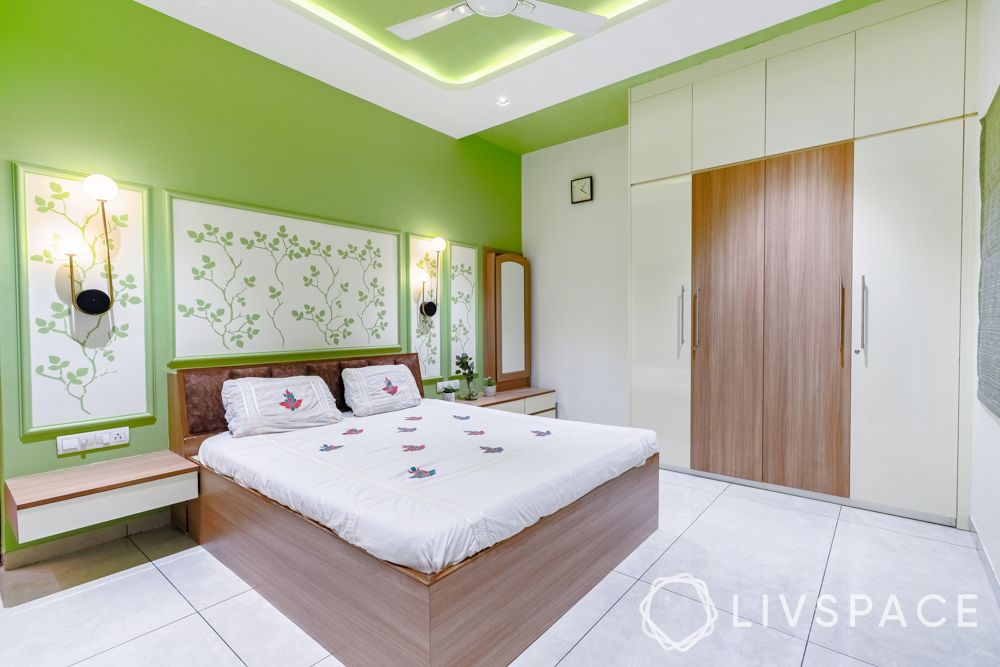 Did you notice the patterned white wallpaper in the master bedroom above? What if we told you it wasn't wallpaper at all? Don't worry, we were just as shocked as you when we found out! To keep costs down, Teena, our designer, opted for stencilling the walls in both the master bedroom and the guest bedroom.
This not only gives this 3BHK interior design for Maruti Greenlands in Ahmedabad a unique look, but also saves the family money. While the master bedroom had gold patterns stencilled onto a white wall, the guest bedroom takes on a slightly different approach. Teena added wall moulding to create a frame, within which she used stencils to paint vines into it.
The end result looks like a framed wall art that hangs beautifully above the bed. Together with the bed frame and wood grain finish on the wardrobe, this room is a perfect reflection of nature and its elements.
#5: Hate Having Empty Space at Home? See How to Utilise It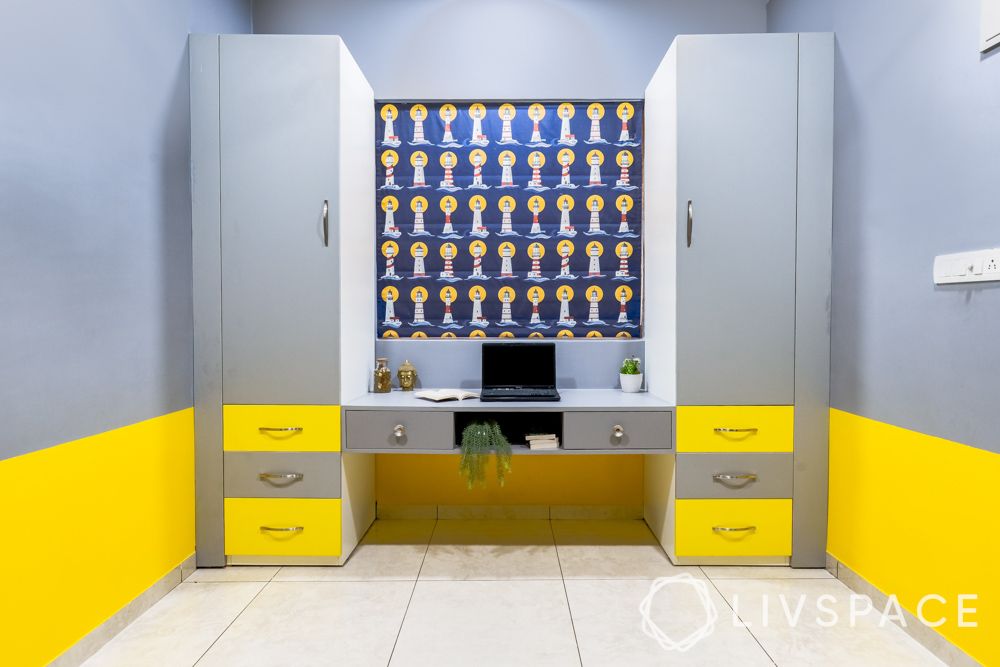 Similar to their master bedroom, the family also had a lot of empty space in their corridor. And in this 3BHK interior design for Maruti Greenlands in Ahmedabad, space wastage is simply not an option. Keen to make use of every inch of available space, Teena, our designer, threw some ideas around and landed on a study area for the kids. In fact, this recreational space can be used by almost anyone in the family, depending on their needs.
The parents were keen on having a designated study area and this space certainly met their requirements. To bring in an element of storage, Teena uses a wardrobe unit from Livspace to give both kids their own storage area. We love how the wardrobe colours match the walls, adding so much interest to this 3BHK interior design for Maruti Greenlands in Ahmedabad.
#6: Every Room Deserves Its Own Concept, Just Like the Kids' Bedroom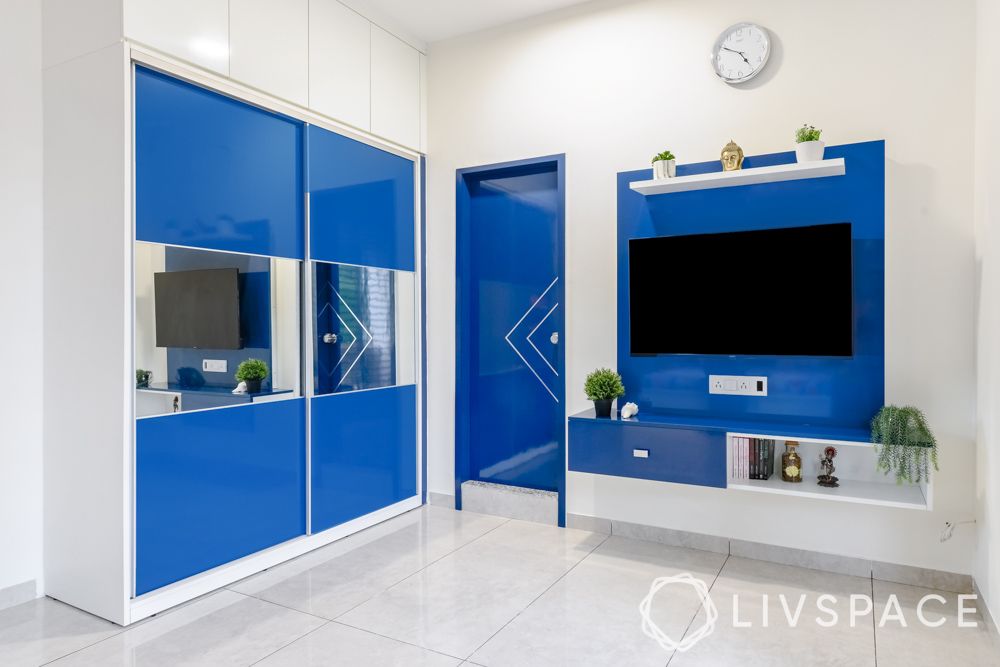 Kids rooms are all about playing around with colour and creating a cheerful atmosphere. And that's precisely what Teena achieved while designing this space. Using bright colours like blue, she gave the kids' room its own unique concept, setting it apart from the rest of the home.
The best part about this space is that these colour palettes are timeless and can still look good even when the kids are older. We love an ageless design, don't you?
We had a really nice experience with very good service provided by Teena and Livspace.

Bipin, Livspace Homeowner
#6: What Materials Can You Consider to Design Your Home Like This 3BHK?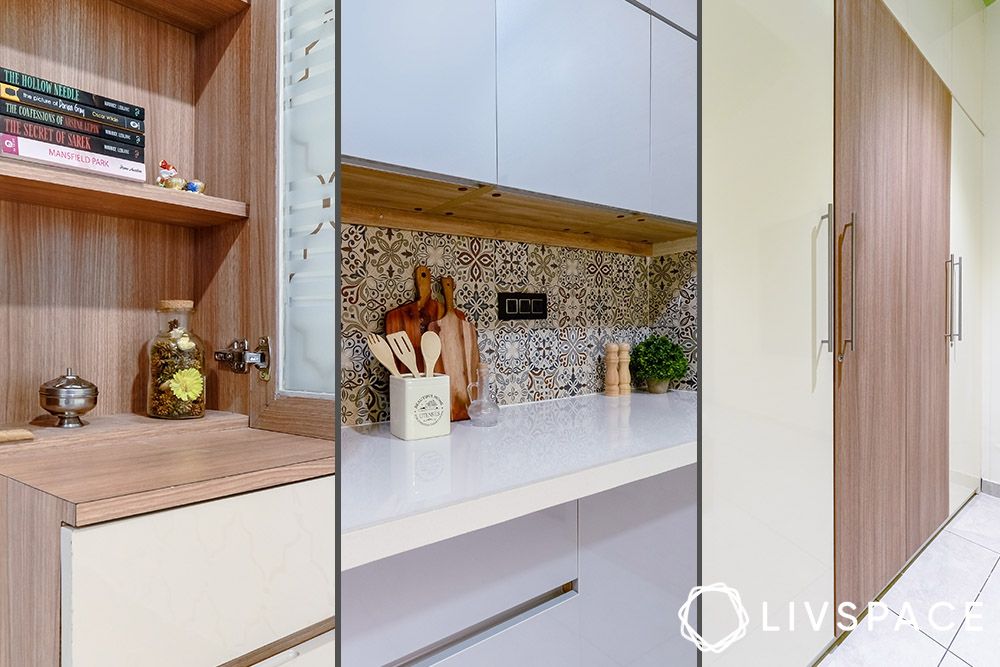 If all you could think about while touring this home was what materials we used to design it, we've got you covered. This 3BHK interior design for Maruti Greenlands in Ahmedabad is all about the convenience of low maintenance design. So, if you're looking to design your home with such materials, you don't want to miss out on this list:
Wardrobes and TV Units: MDF was used as the core material in all the modular wardrobes and TV units from Livspace. For the finish, Teena chose laminates as they are relatively more budget-friendly than other finishes
Kitchen Cabinets: Plywood is used as the base, topped with laminate finishes. Here, Teena wanted to give the kitchen the premium look and feel of acrylic. However, since acrylic finishes can be more expensive, she chose silver frost high gloss laminates that have a metallic touch. This helped derive the look of acrylic finishes without the extra expense
Also Read: What Is MDF Material? Is MDF Good for Home Interiors?
What Are the Benefits of Using MDF and Laminates?
Teena tells us that acrylic is approximately 40% more expensive than laminates. So, if you've got a budget in mind, you might want to consider using laminate finishes for your cabinetry. In terms of core materials, MDF is a great option as it's more budget-friendly compared to other core materials
MDF offers a better finish due to its smooth surface. Additionally, it's a lightweight material, preventing alignment issues while designing. At Livspace, we provide a flat 10-year warranty* for all materials, so you can invest in them with ease
Similarly, laminates are heavy-duty finishes that can withstand many years of rough use. They are also easy to maintain and available in a range of colours and designs, making them a versatile option
How Can Livspace Help You?
We hope you enjoyed the tour of this 3BHK interior design for Maruti Greenlands in Ahmedabad. If you want beautiful interiors for your home, then look no further. Book an online consultation with Livspace today.
Have any thoughts or suggestions you'd like to share with us? We're all ears! Drop us a line at editor@livspace.com.
Disclaimer: All contents of the story are specific to the time of publication. Mentions of costs, budget, materials, finishes, and products from the Livspace catalogue can vary with reference to current rates. Talk to our designer for more details on pricing and availability.
*T&C apply; For full scope of warranty, please visit livspace.com/in/service