The modern nuclear family in India needs practical solutions to its day-to-day problems. Thus, a modern-style home is an ideal pick for many young couples. Also, it ensures that you have an easy-to-maintain, workable design that caters to your personal needs. So, as a young millennial parent living in Chennai, Priya approached Livspace with the vision of having a practical, child-friendly home interior design for her 2BHK in Chennai.
---
Who Livs here: Erudhaya Priya with her family
Location: Devaraj Avenue, Thoraipakkam, Chennai
Size of home: 2BHK house
Design team: Interior designer Nimisha Thomas
Livspace service: Kitchen design, kitchen hob and bedroom wardrobe
Budget: ₹₹₹
---
Brief:

To create a practical and modern home with a child-friendly design

What we loved?

The acrylic finish that delivers an easy-to-maintain design with a modern look

Look out for:

– The two-toned kitchen bathed in neutrals
– The hob that continues from the kitchen breakfast counter
– The mirror wardrobe in the bedroom

Biggest Indulgence

The handleless, storage-intensive upper cabinets

Smart Buy:

The cabinets under the sink that have been finished in acrylic
Nimisha kept the design simple yet practical and delivered the home with no snags. So, let's take a look at how she made the home interior design for this 2BHK Chennai practical, pleasing and perfect:
#1: A Modular Kitchen Interior Design for 2BHK, Chennai Dressed in Neutrals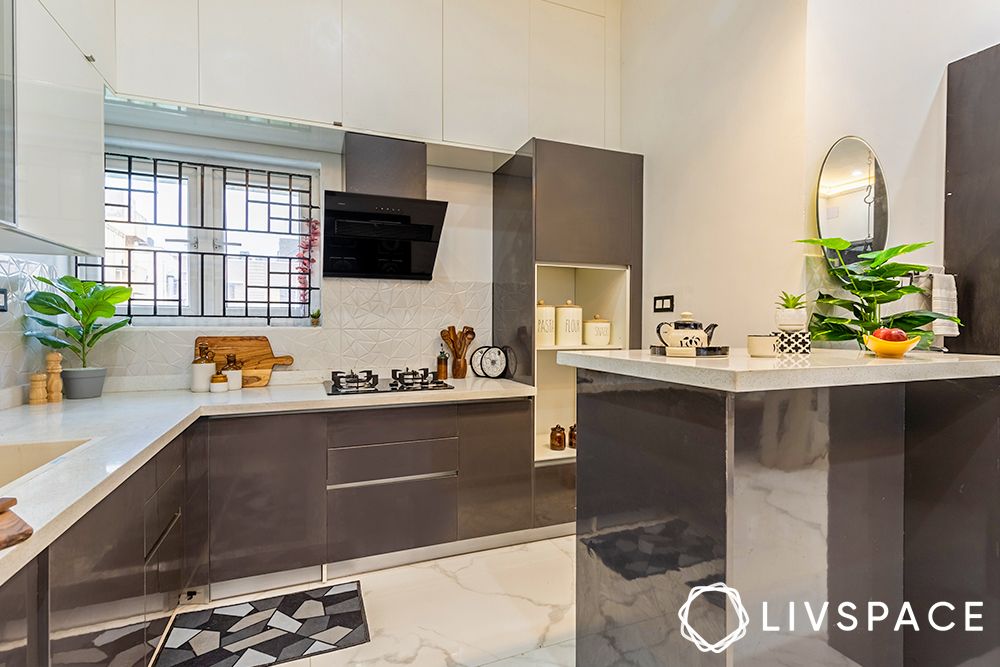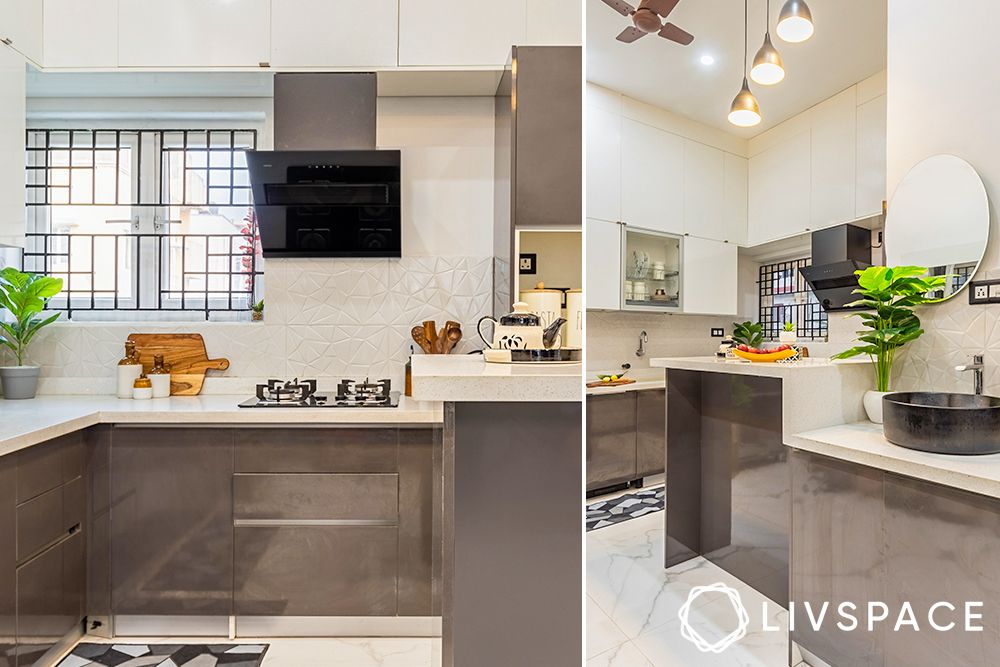 The modular kitchen interior design for 2BHK, Chennai is the main focus of this home. Priya spends a lot of time in the kitchen. In fact, her entire family takes an occasional interest in cooking alongside her. Thus, she wanted a kitchen space with multiple workable countertops. Accordingly, designer Nimisha set up an L-shaped kitchen with a breakfast counter in this home interior design for 2 BHK in Chennai. The kitchen has a glossy acrylic finish that keeps it long-lasting, easy to maintain and most importantly, child-friendly. The handleless kitchen cabinets are finished in two tones, keeping in mind the client preference for a neutral-coloured kitchen.
#2: Home Interior Design For 2 BHK, Chennai With Extended Hob
One request Priya had for Nimisha was for a stylish hob. Nimisha placed the kitchen hob design for this 2BHK Chennai near the dining area for better accessibility. Also, the quartz countertop of the kitchen and breakfast counter continues this extension. This kitchen hob design plays a critical role in establishing a transitional flow from the kitchen to the dining area. Nimisha also installed an under cabinet in acrylic to hide the unsightly plumbing work. This gives Priya extra storage space to keep utilities like vacuum cleaner and dustbins hidden from plain sight as well.
#3: Storage-Extensive Wardrobe Interior Design for 2BHK in Chennai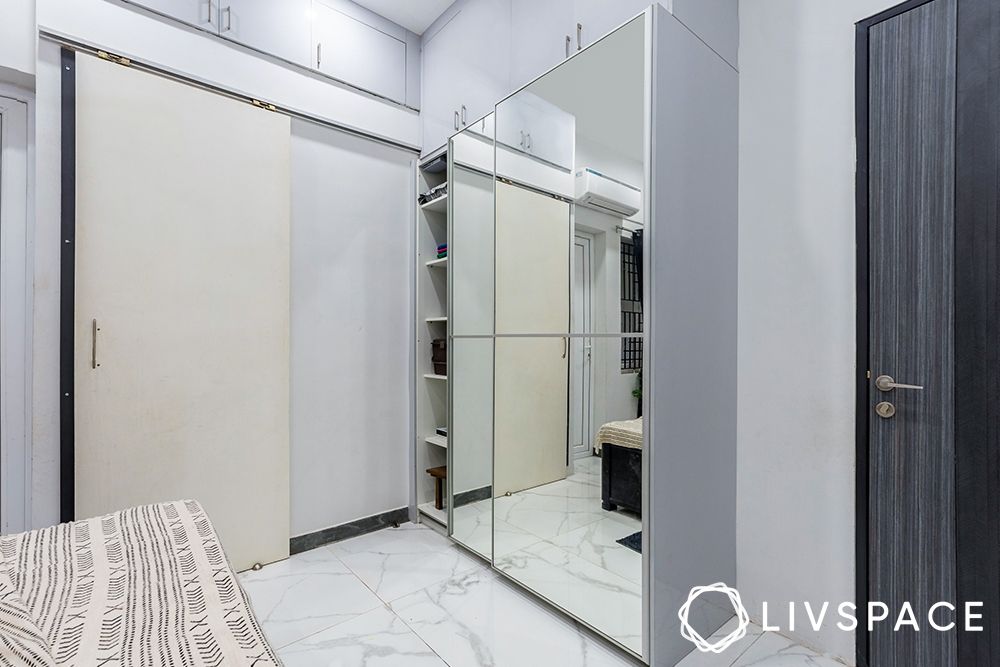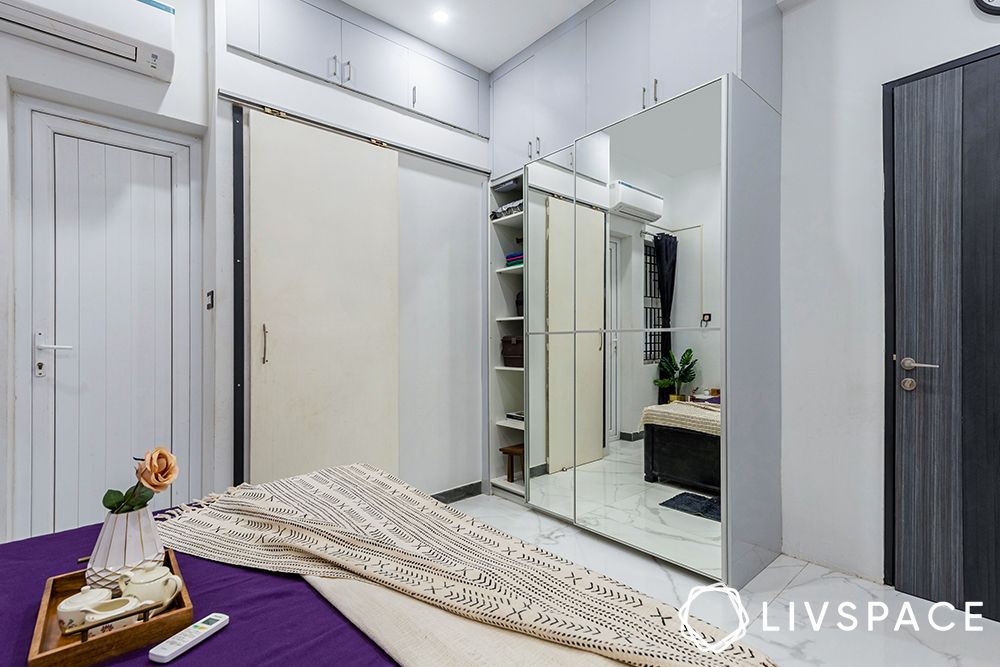 For the master bedroom, Nimisha optimised the corner space with two perpendicular wardrobes that provide plenty of storage space for the couple. At first glance, you can easily spot the mirror wardrobe with sliding doors. Once you look closer, you'll realise that this can work as a makeshift dresser as well. In fact, this wardrobe interior design for 2BHK in Chennai is built with modular MDF cabinets. However, the second wardrobe is easy to miss as it enmeshes with the white walls. It is a fitted wardrobe that flaunts a white laminate door.
To demarcate the separation, Nimisha designed open cabinets in between, ideal for displaying the couple's favourite souvenirs. The shelves also provide the couple with extra storage space. So, the modern elements of the home add to the practicality of this home, helping it maintain a cohesive theme. Hear it from Priya herself:
There, you have it! Priya's home interior design for 2BHK in Chennai is basic, beautiful and practical for a millennial couple. Do you want to check out more similar homes? This is a good place to start.
How Can Livspace Help You?
We hope you found our ideas useful! If you want beautiful interiors for your home, then look no further. Book an online consultation with Livspace today. Have any thoughts or suggestions you'd like to share with us? We'd love to hear you out. Write to us at editor@livspace.com.