New may be beautiful, but old will always be gold! Though older homes have their unique charm, they might not be as functional as modern homes. This is when you know it's time to start renovating your old house. Here's also where you might find yourself wondering: how to renovate an old house in India? Before you start your house renovation journey, it might help to take a look at some real-life renovation ideas for old homes.
We'll showcase 5 home renovations below to give you an idea of what goes into renovating a space. You're going to love the before and after stories because these old house renovations are something you don't want to miss!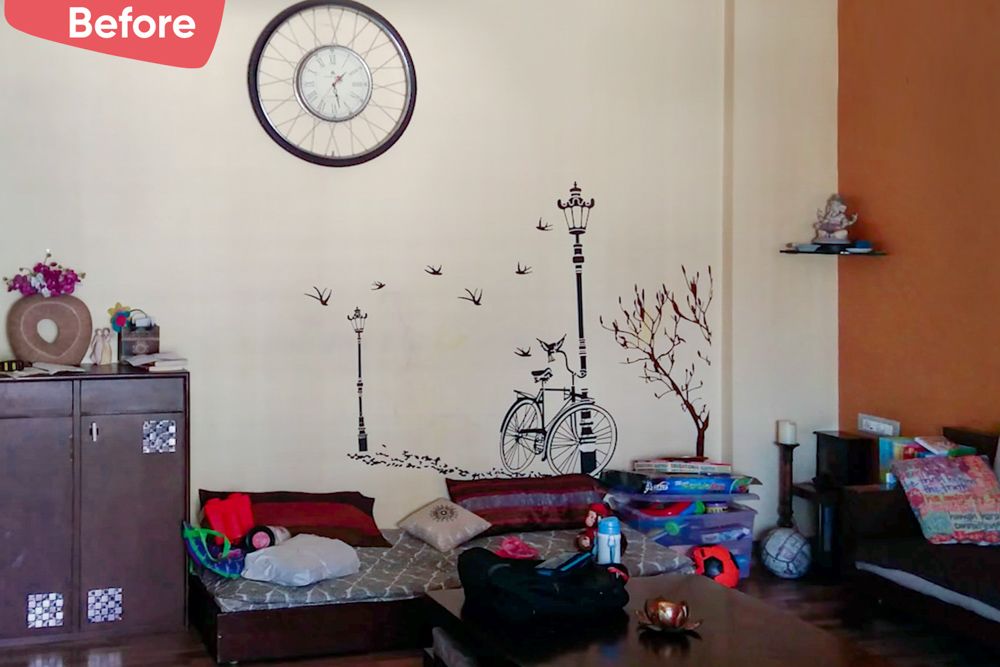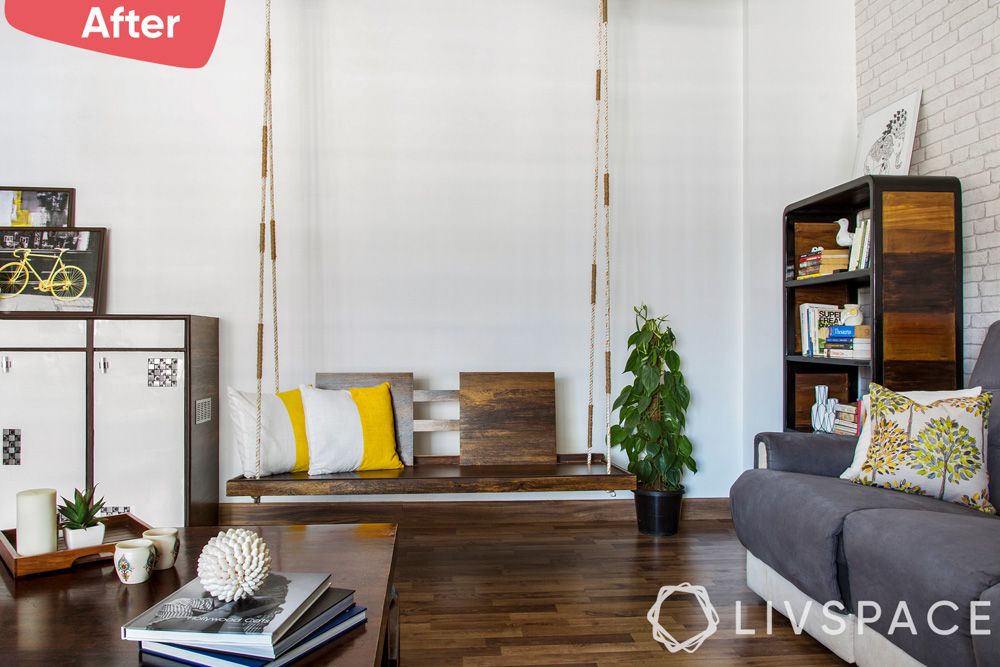 As you can see in the before shot, Shweta and Arpit's 7-year-old Mumbai home needed a drastic revamp. They wanted to transform their dark and cluttered apartment with a fresh, bright and spacious house renovation. So, what went into the interior remodelling for this 7-year-old home renovation?
Livspace designer Rukmani Dialani spun this house renovation around by giving it a contemporary look rooted in traditional design. The use of white helped highlight the natural light flowing in, and complemented the traditional jhoola in the living room.
The tale of this Mumbai house renovation doesn't end here. Take a full tour of the home to see the Moroccan influences in the bedroom and the curated kids' room design. No matter the room you enter, you'll see how bright and spacious the renovation made it.
Pro Tip: While renovating, retain some of your old furniture and use it as a focal point in the design. For more furniture ideas, you can also consider reupholstering existing furniture for a cost-effective remodel.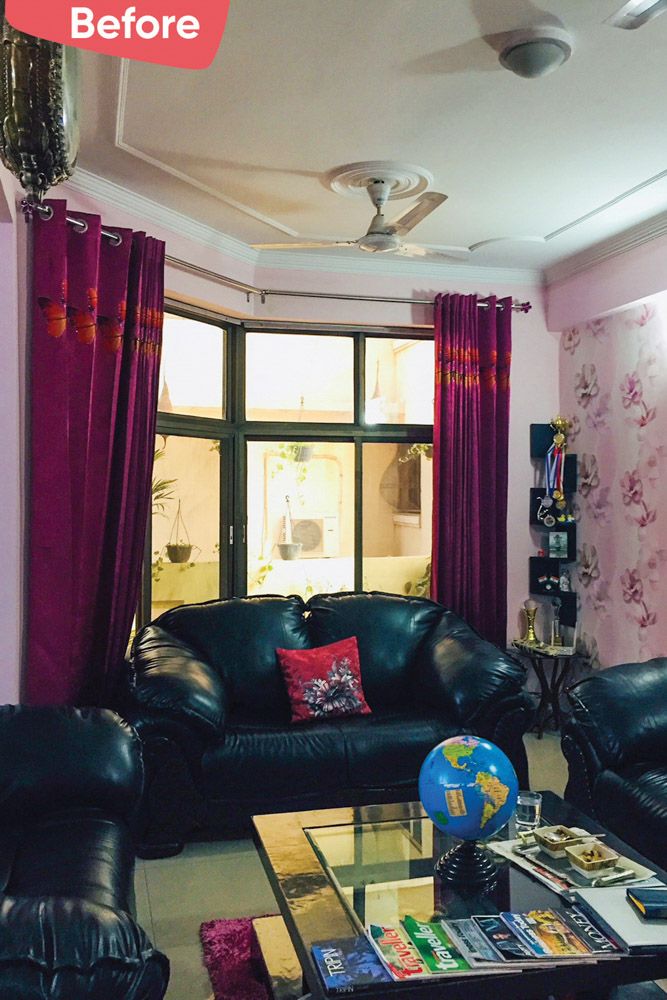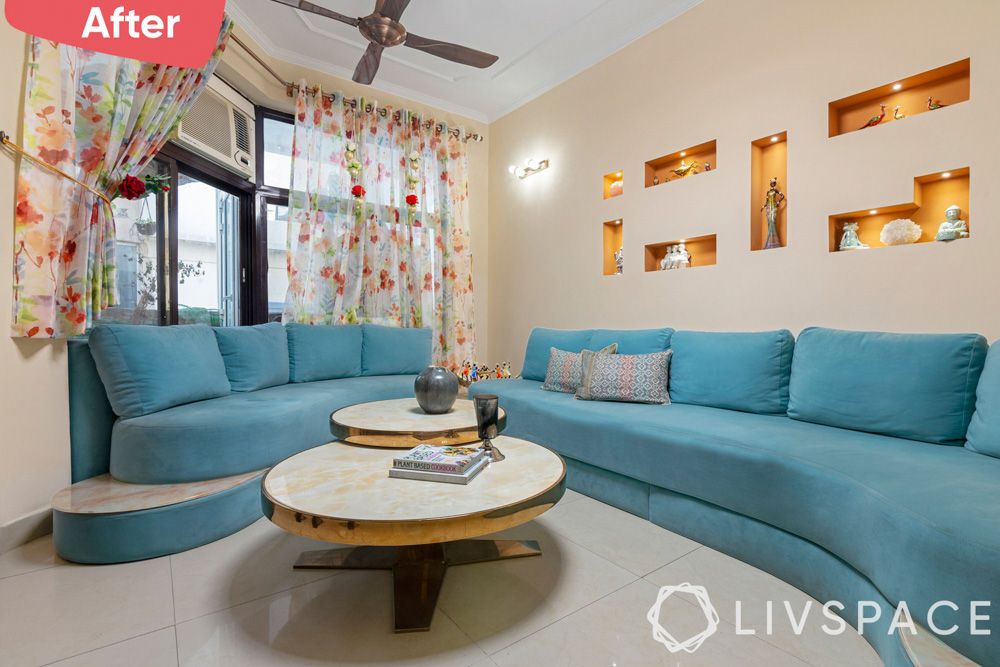 At first glance, would you be able to guess that this home is 25 years old? Before the house renovation, Dr Pallavi and Dr Aashish's 4BHK in Gurgaon was quite dark and unwelcoming. Like most of us, they wanted a warm and happy vibe in their home, along with ample storage and easy-to-maintain interiors.
With the help of some extensive civil work, designer Nilisha Keshri created the doctor couple's dream home! A cute indoor garden near the main entrance, tons of closed kitchen cabinetry, a walk-in closet, and a balcony converted into a study were a few things that went into this old house renovation. Given the extent of changes, this home remodelling project certainly is one for the books!
Pro Tip: If you want to create a unique space for decor, consider using recessed niches in your living room wall. The recessed niches in the living room are decorated with spotlights to help throw focus on decor items and awards.
Check out another gorgeous Gurgaon home:
Also Read: An Urban Revamp for a 2BHK in Mumbai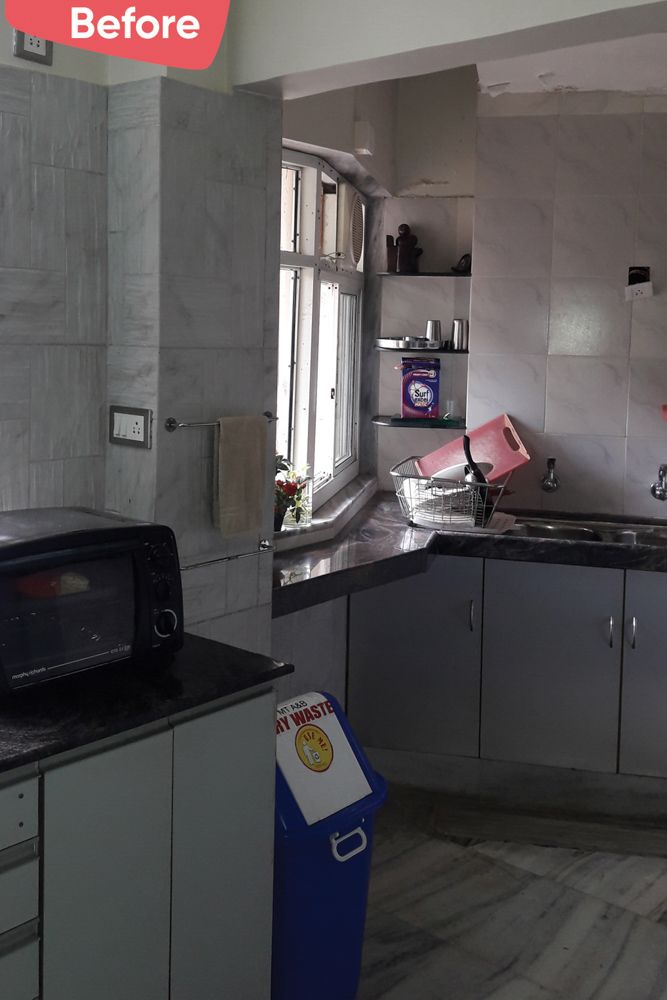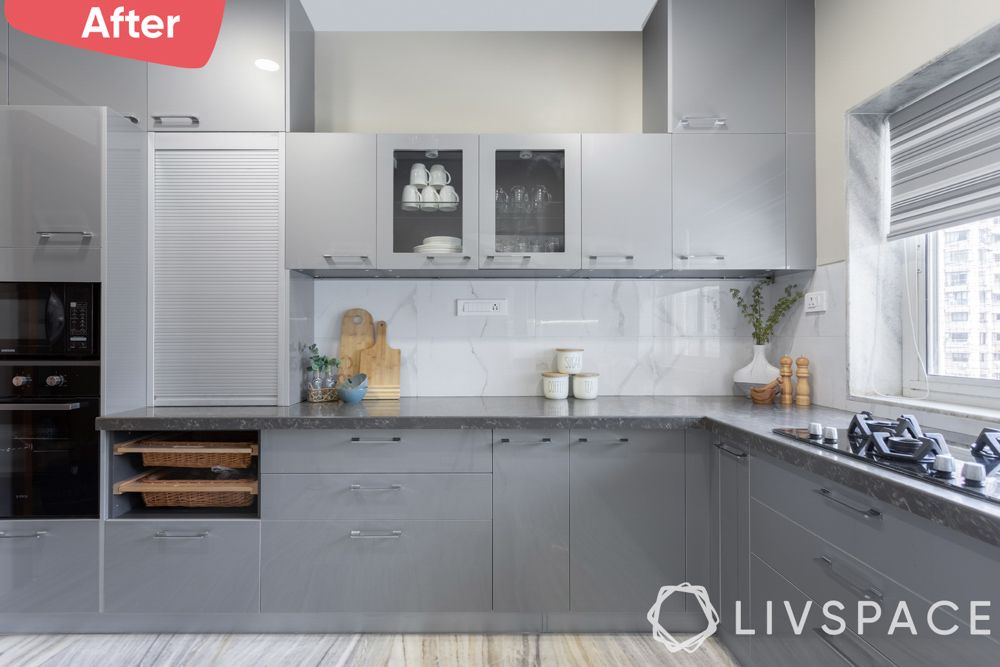 Contemporary interiors are all the rage, and even extend as far as your kitchen design! The same way, Nitya and Kamlesh Tejwani wanted their 20-year-old kitchen to look sleek, clutter-free and contemporary. However, there were two challenges for our designer, Ashwini Gokhale. The tricky trapezium shape of the kitchen, and the Tejwanis' requirement for plenty of storage without compromising on a light look.
Despite the challenges, Ashwini was able to overcome them by focusing on a linear and uniform look. She trimmed the modules so that the kitchen would have some extra counter space, especially around the sink area. From the elegant monochromatic colour palette to the variety of storage modules, every aspect of this renovation is stunning!
Pro Tip: Use pull-out storage units to save space and avoid a bulky look in your compact kitchen.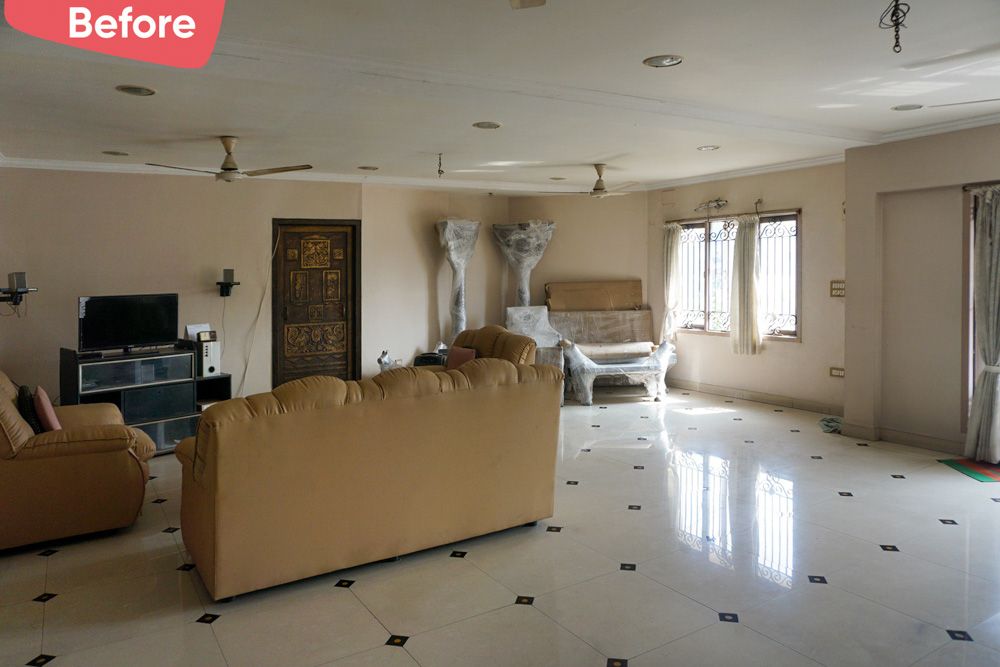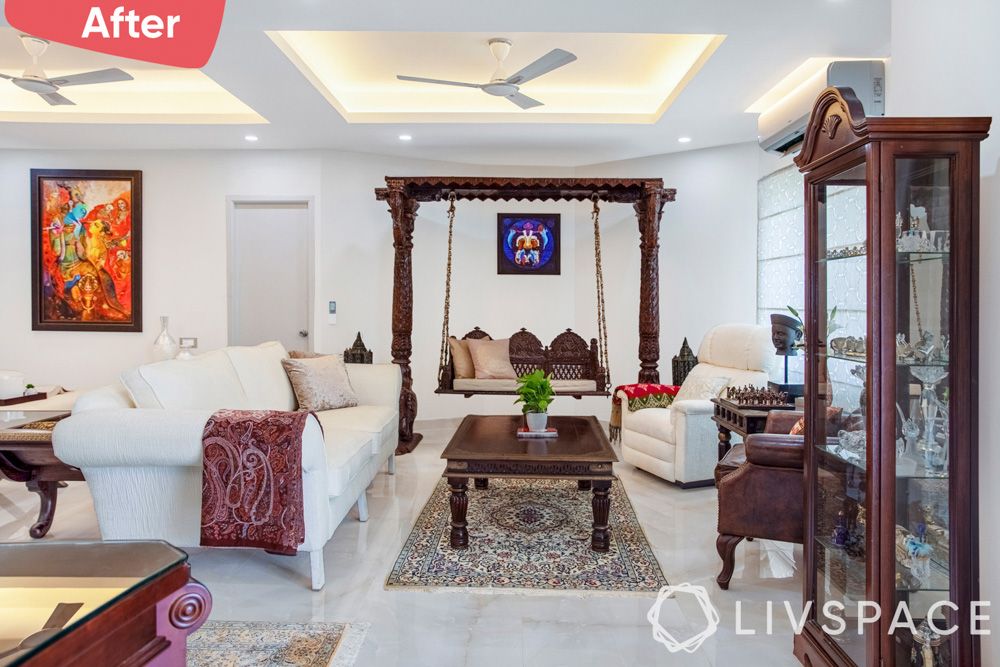 When you think about a house renovation, you might not picture vintage interiors. This is because the very term conjures imagery of modern and sleek spaces. However, this isn't always the case, as detailed in this Chennai home.
The owner of this 15-year-old home in Chennai, Kamal Ram Mohan, wanted a yesteryear theme done up in a mix of modern and classic Indian styles. To make this happen, designer Padmavathi used a vast collection of timeless vintage furniture and traditional artefacts to create a rich desi look.
The traditional style carved jhoola, the colourful artwork, and the vintage crockery cabinet combine to create such a classy look! Moreover, the use of a single colour scheme and simple false ceiling gives the home a modern and understated look.
Pro Tip: For an Indian vintage look, use wooden furniture with intricate carvings and designs.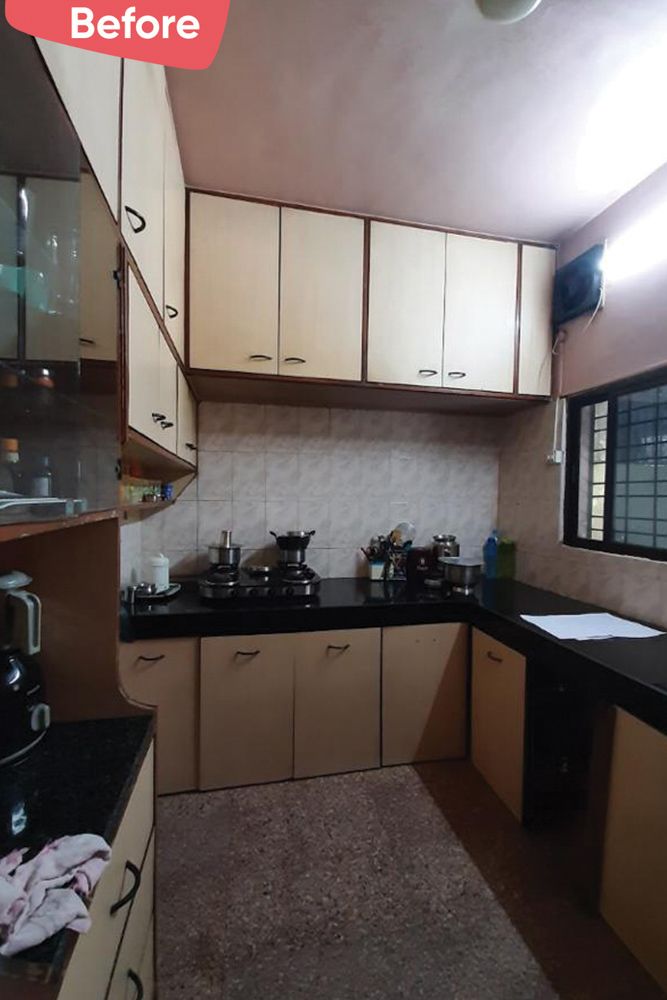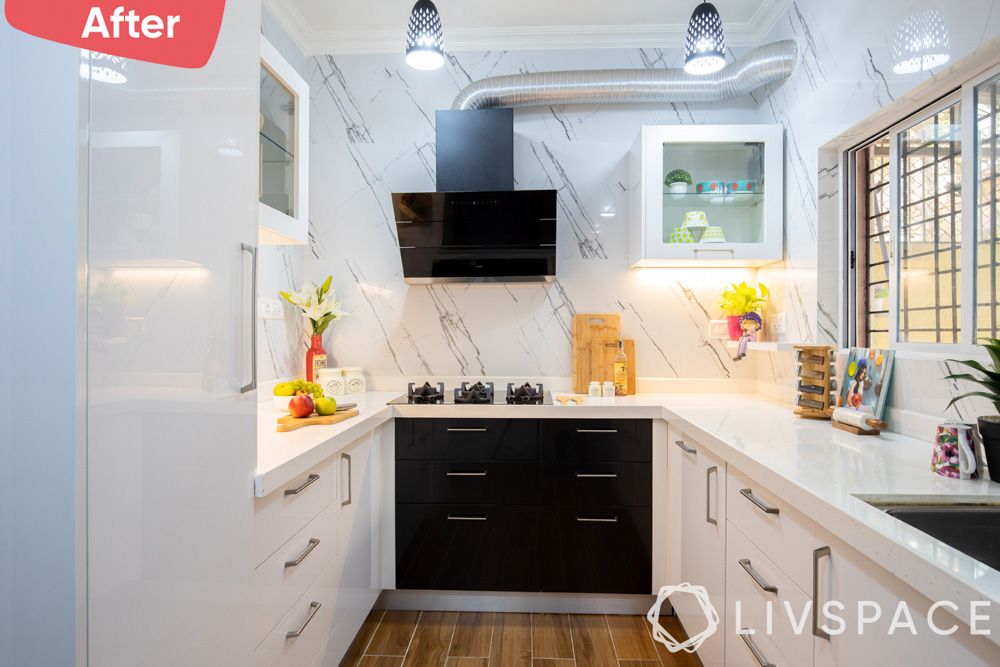 When you hear a 20-year-old kitchen that needs a complete overhaul, it sounds tricky, doesn't it? That's how we felt when we saw Rohini Karkera's kitchen in Pune. Since her kitchen was small, she wanted a clean, spacious, and modern look. And that's what designer Aparna Ganesh gave her!
The first thing Aparna did was break the RCC lofts to create more space. She also removed the existing L-shaped counters to add a more spacious C-shaped one.
A swanky black and white colour combination, high-end marble-like tiles, and sleek cabinets in acrylic and membrane ensured that Rohini's kitchen came out of the 90s and joined the modern world!
Pro Tip: LED lights under cabinetry can lighten up a kitchen that does not receive much natural light.
How Can Livspace Help With Your House Renovation?
We hope these old house renovations gave you some insight on design and remodelling. If you want beautiful interiors for your home, then look no further. Book an online consultation with Livspace today.
Have any thoughts or suggestions you'd like to share with us? We're all ears! Drop us a line at editor@livspace.com.
To know how our customers feel about working with us, check out these Livspace reviews for more details!
Disclaimer: All contents of the story are specific to the time of publication. Mentions of costs, budget, materials, finishes, and products from the Livspace catalogue can vary with reference to current rates. Talk to our designer for more details on pricing and availability.