At first glance it's difficult to guess that this home is 25 years old. But this 4 BHK house design was well thought out and some extensive civil changes went into making it look like this now. You've got to see it to believe what we're saying!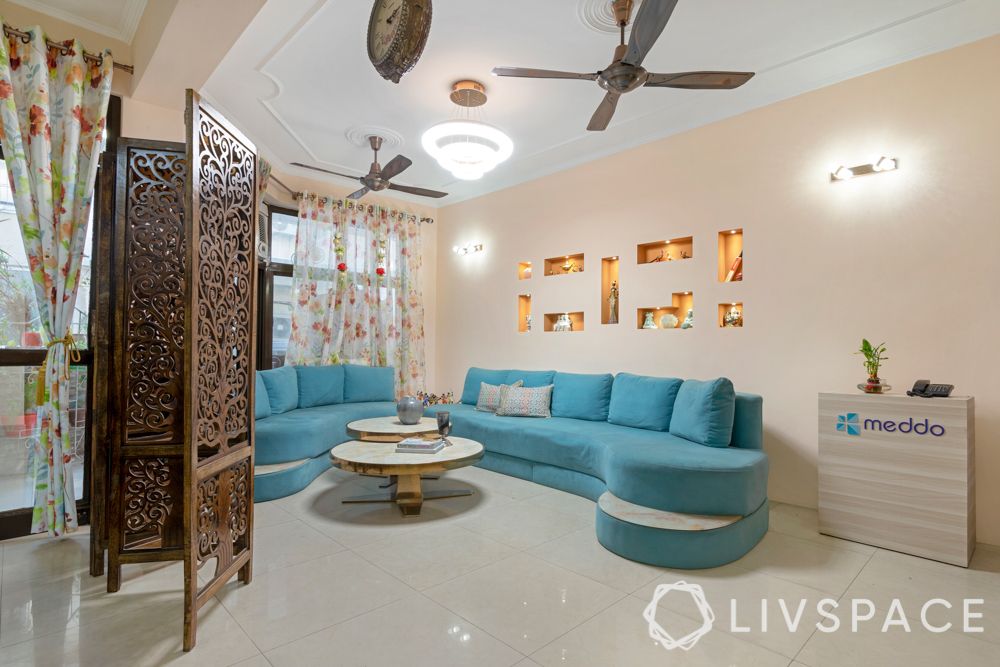 ---
Who livs here: Dr Pallavi with her husband Dr Aashish and their son Subh
Location: Golf Link Apartments, Gurgaon
Size of kitchen: A 4BHK spanning 1,500 sq ft approx.
Design team: Interior Designer Nilisha Keshri with Project Managers Harshika Allawadhi & Vikas Vishwakarma
Livspace service: Full home design
Budget: ₹₹₹₹₹
---
There's something about renovation projects that excites us. Between the freshly painted walls and plush new furniture, this 25-year-old flat does not quite look the way it looked earlier.
"After purchasing our new home, the first big task was to convert this into a dream house. So the journey began. I started fervently looking for good architects and references landed from everywhere. Livspace was referred by one of our friends and lo and behold, what an amazing experience it has been," says Dr Pallavi.
While the doctor couple work at hospitals in the city, they also attend to their patients at home. Therefore, this 4 BHK house design had to be planned in such a way that it caters to that requirement as well. You will love the solutions that our designer, Nilisha Keshri came up with. She created a warm vibe at home, with soothing colours and lots of storage, just as they pictured it. Keep scrolling to find out more.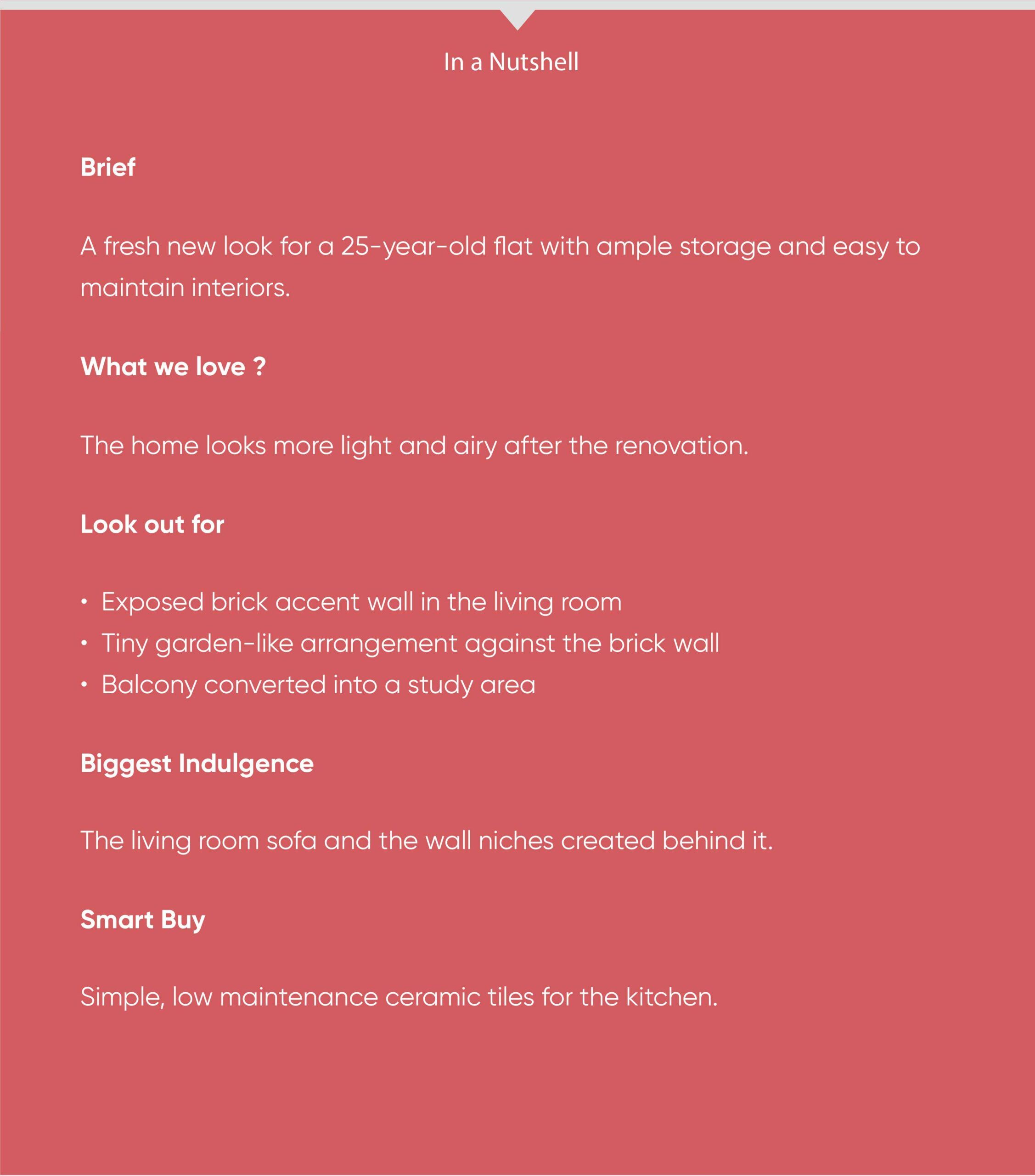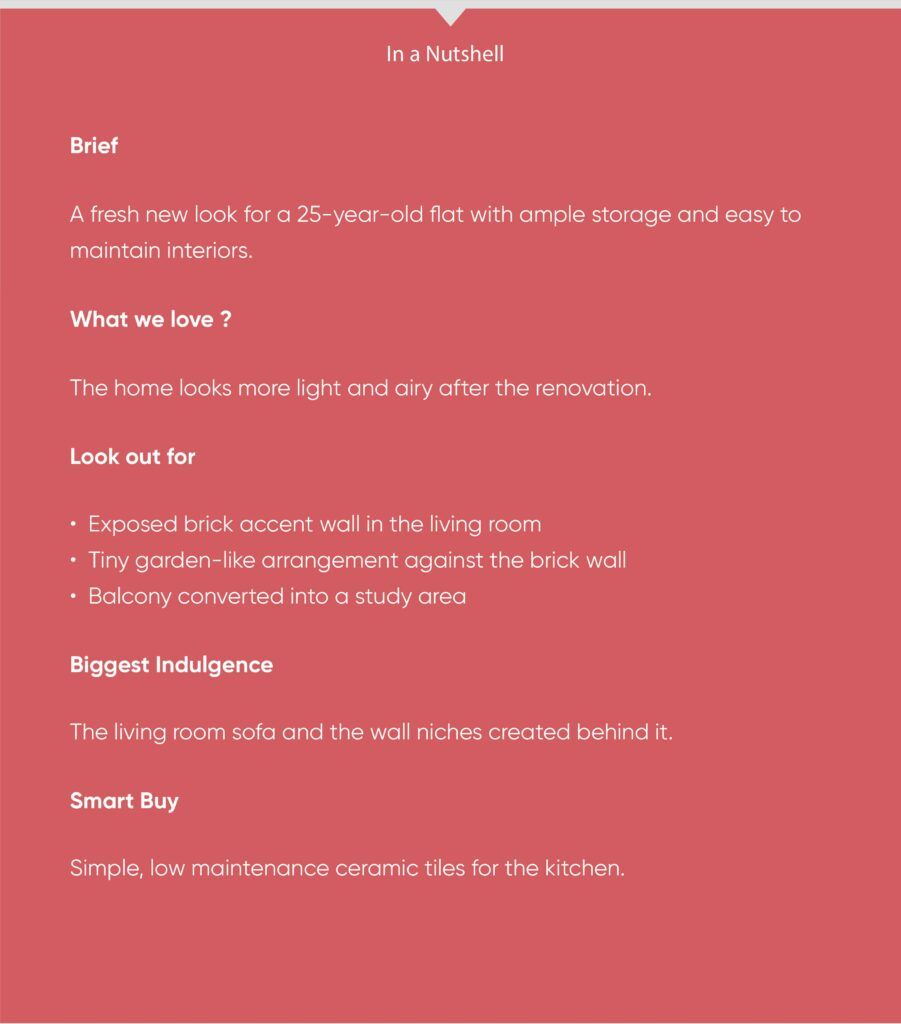 Unveiling the massive change in the way this home looks!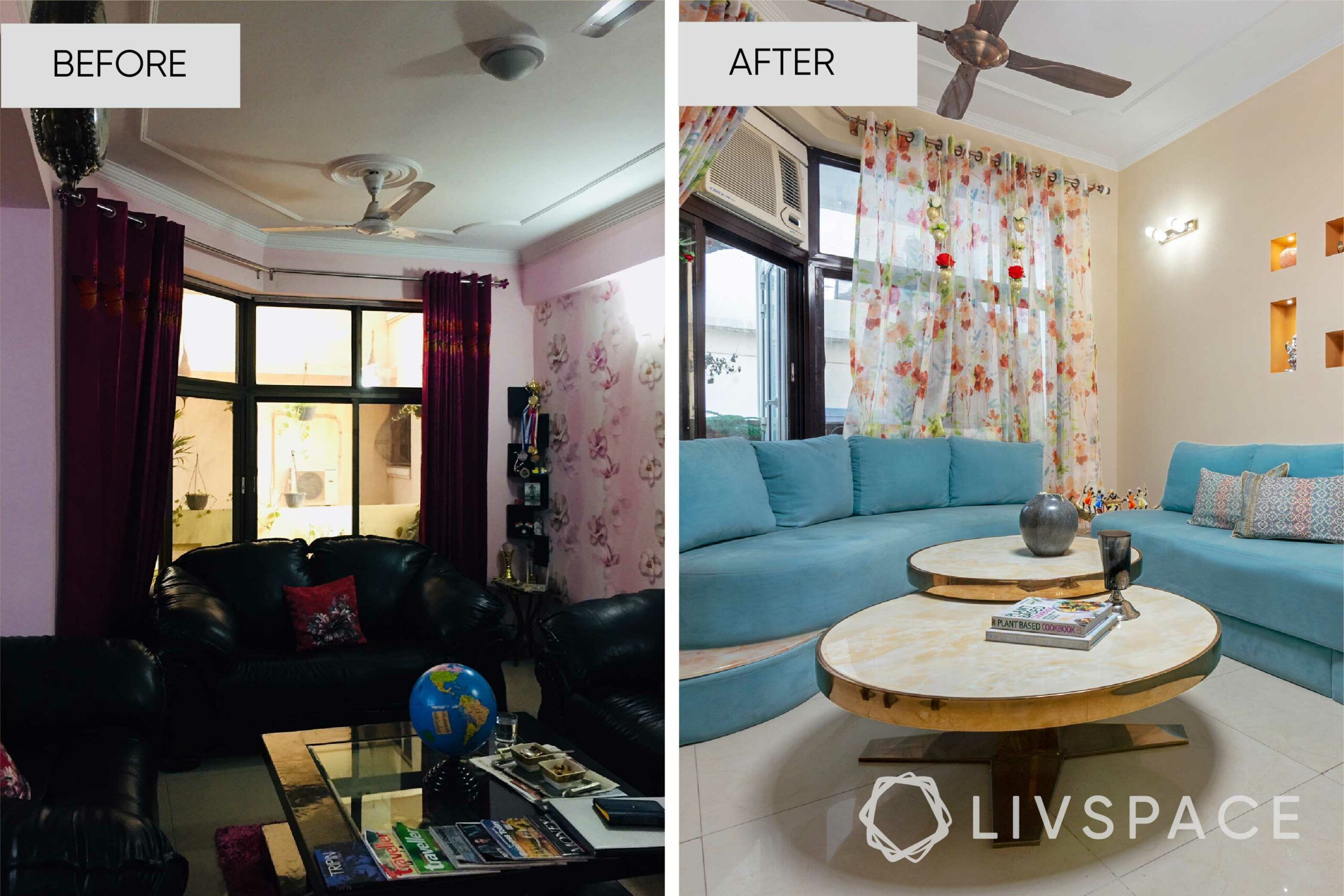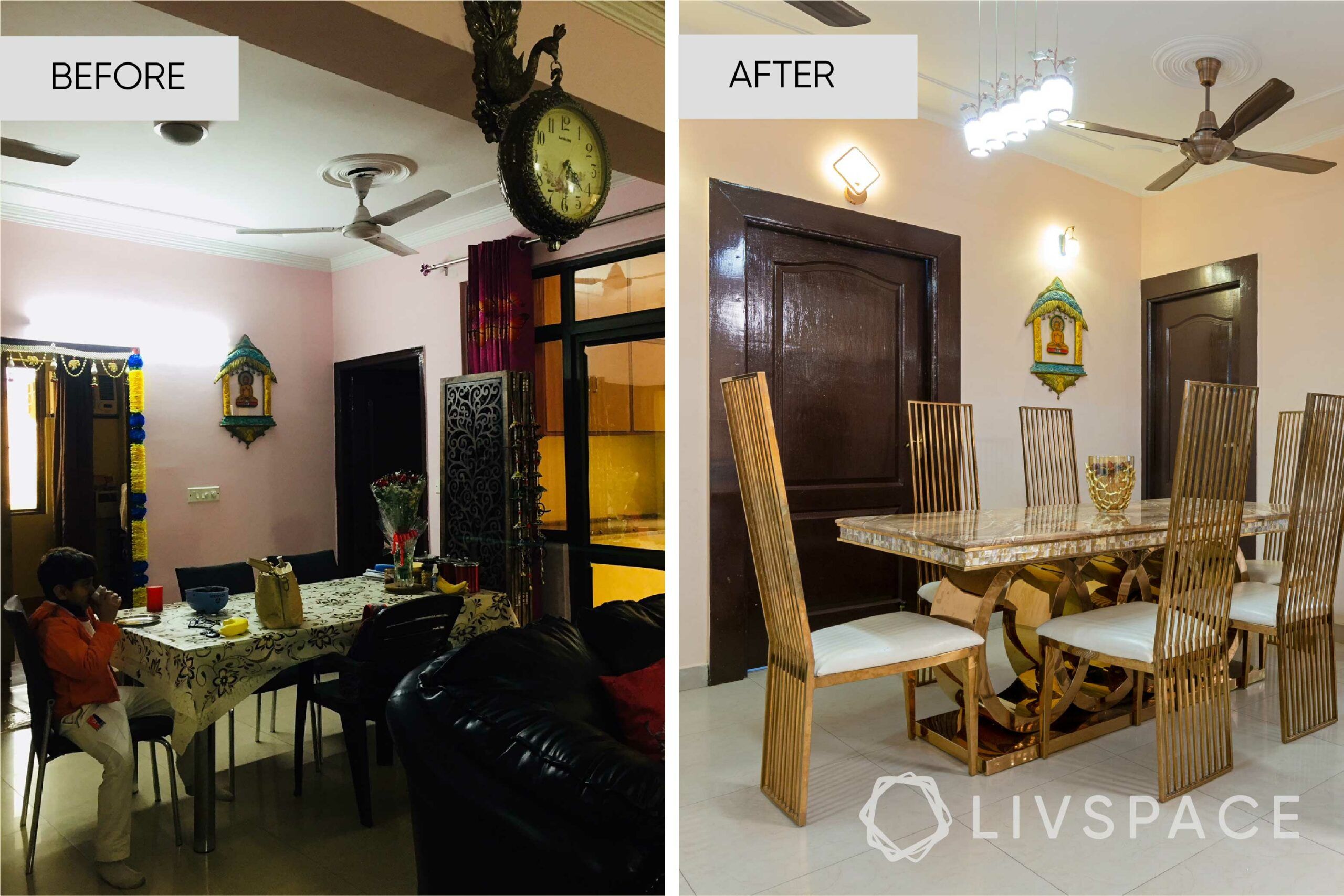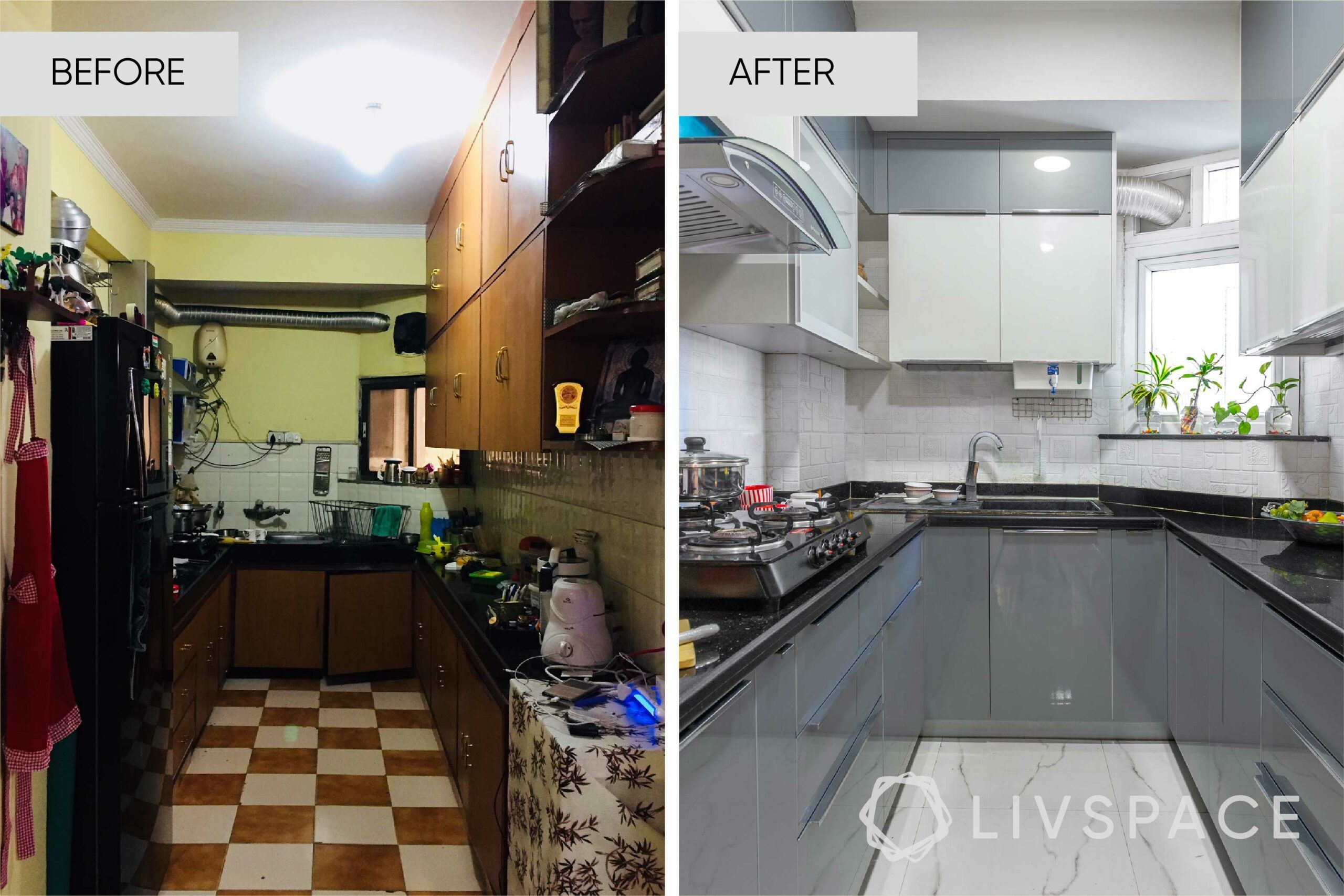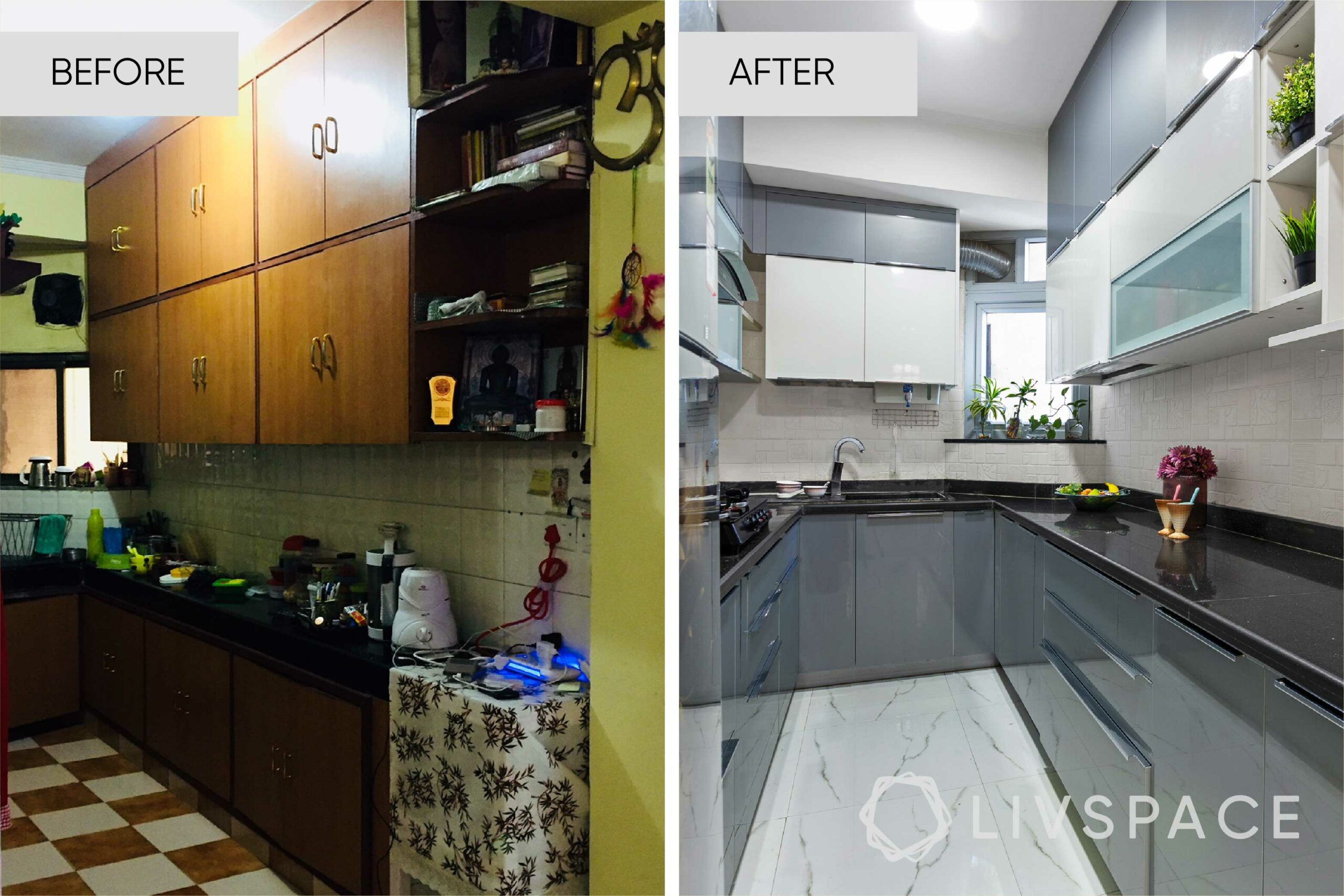 "Over cups of coffees and interesting conversations, we zeroed in on the broader designs. Nilisha burned the midnight oil and prepared a 3D design in no time," exclaims Dr Pallavi.
A refreshing welcome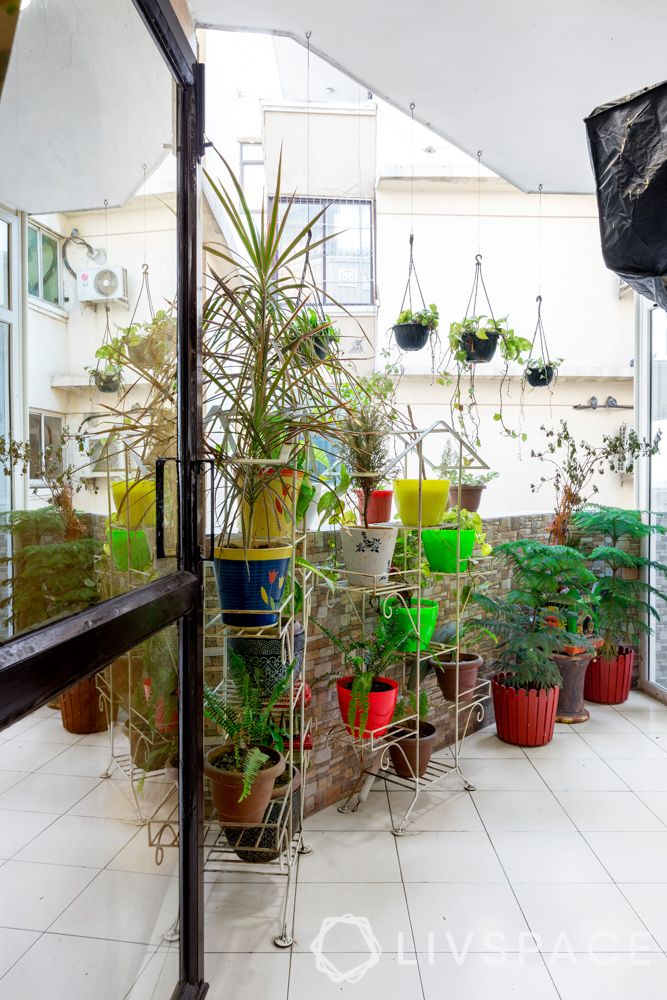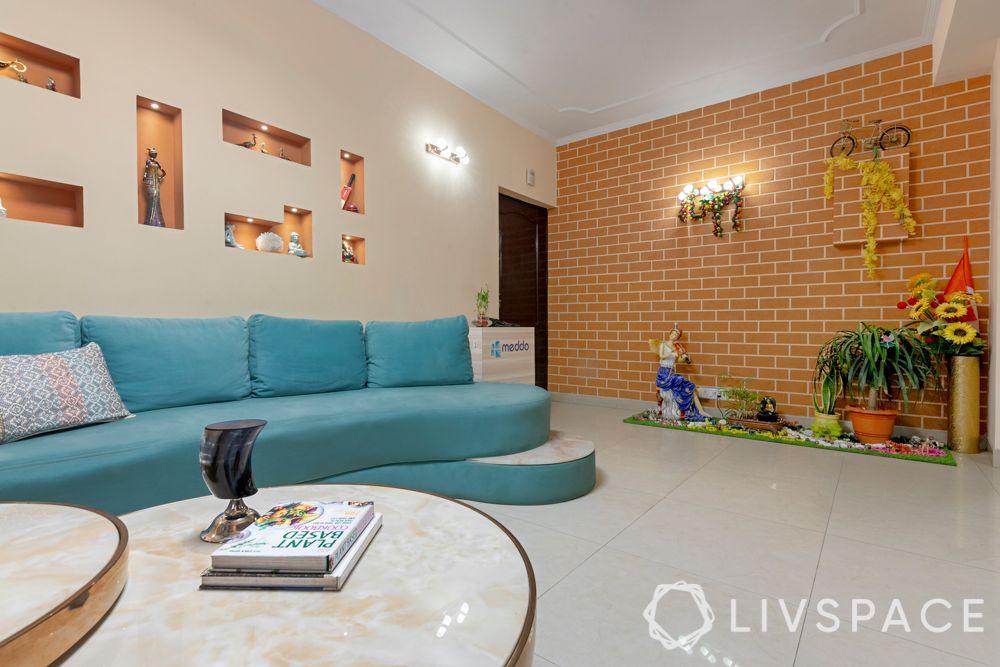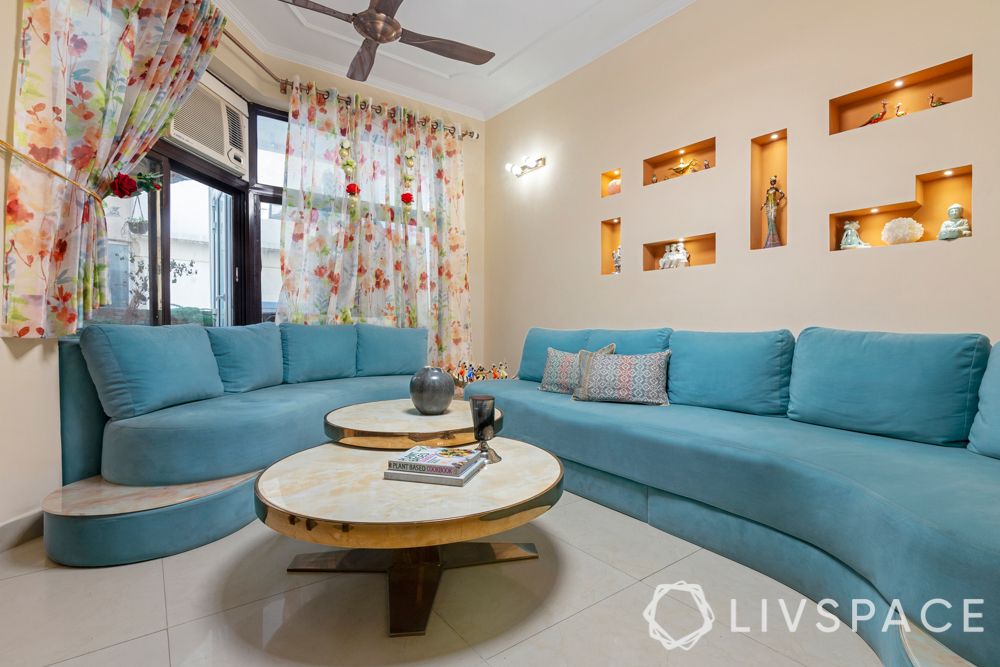 There's something we want to draw your attention to. The entryway and the living room of this 4 BHK house design. Dr. Pallavi loves gardening and she wanted to make sure that there is enough greenery at home. Therefore, Nilisha added pretty planters in their balcony, whereas the first sight when you visit this home is the cute garden in front of the main door. She further accentuated the look by adding an exposed brick wall next to it.
Check out the fully functional & easy-to-maintain kitchen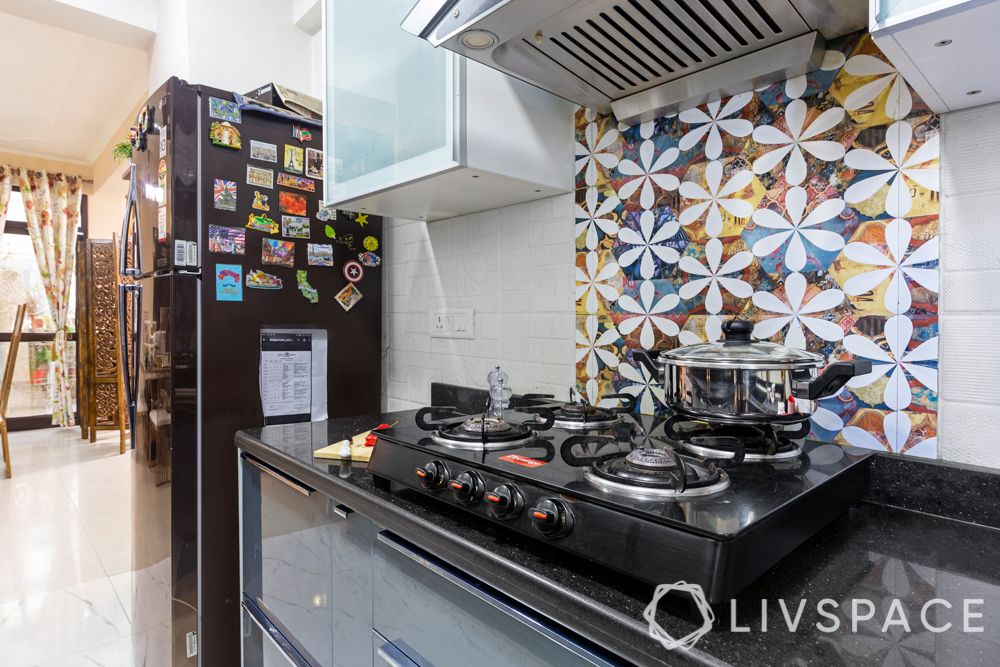 The kitchen in this 4 BHK house design is nothing short of a miracle. Nilisha had to completely break down the space and then build. She also replaced the old window with new UPVC windows. The anti-scratch acrylic finish cabinets in silver grey make this compact space look bigger than it actually is. We packed this kitchen with all sorts of modules like drawers, pull-outs, D-trays, corner units, tall unit and so on. That's a lot of storage for this small kitchen!
Optimised storage in every room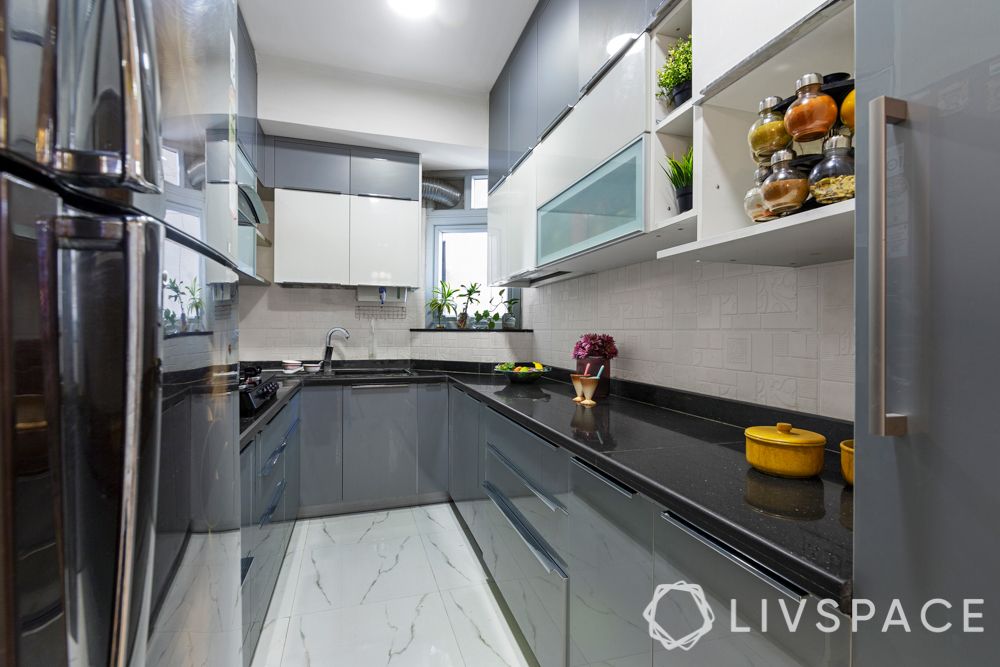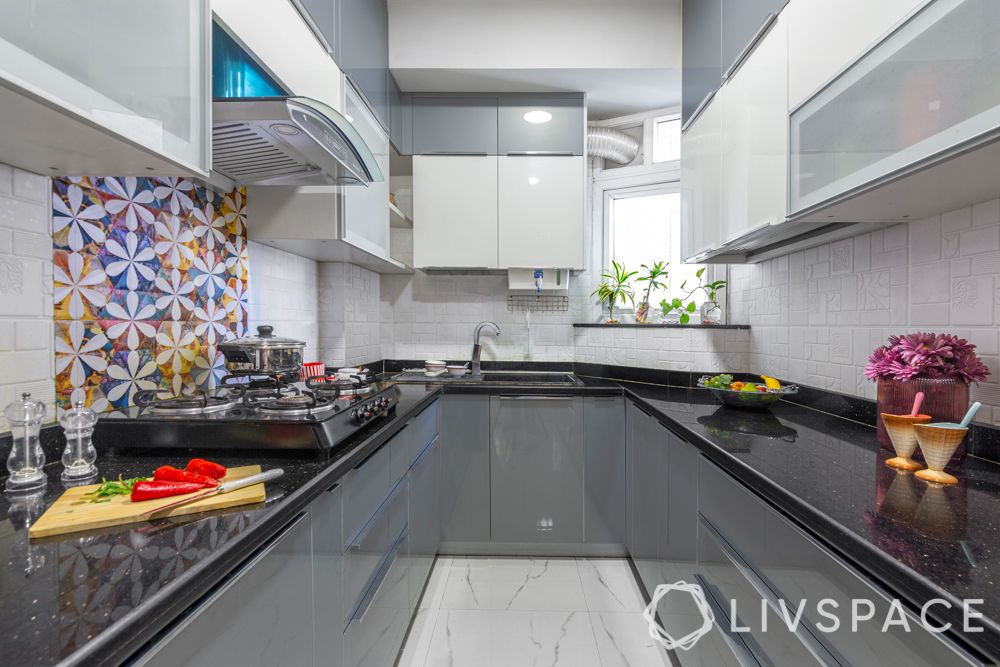 Starting from the kitchen, the couple had one requirement – storage. They had a lot of things and they did not want to store anything in the open. Therefore, in the kitchen you can spot closed cabinetry everywhere. Nilisha has also given them tall wall cabinets and lofts on top. This makes sure that they can store everything in a compact kitchen like this.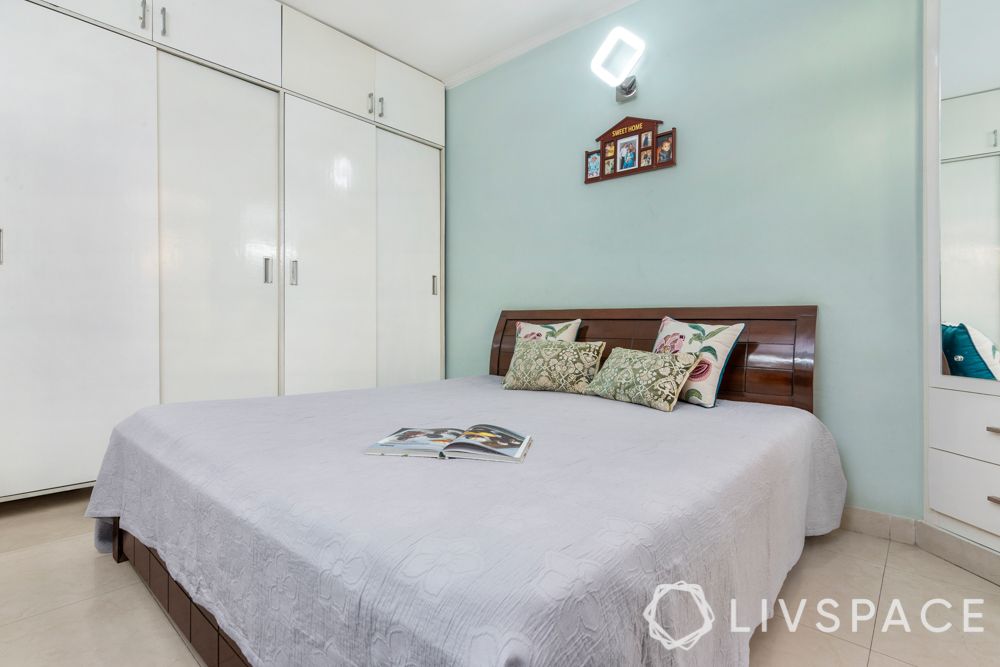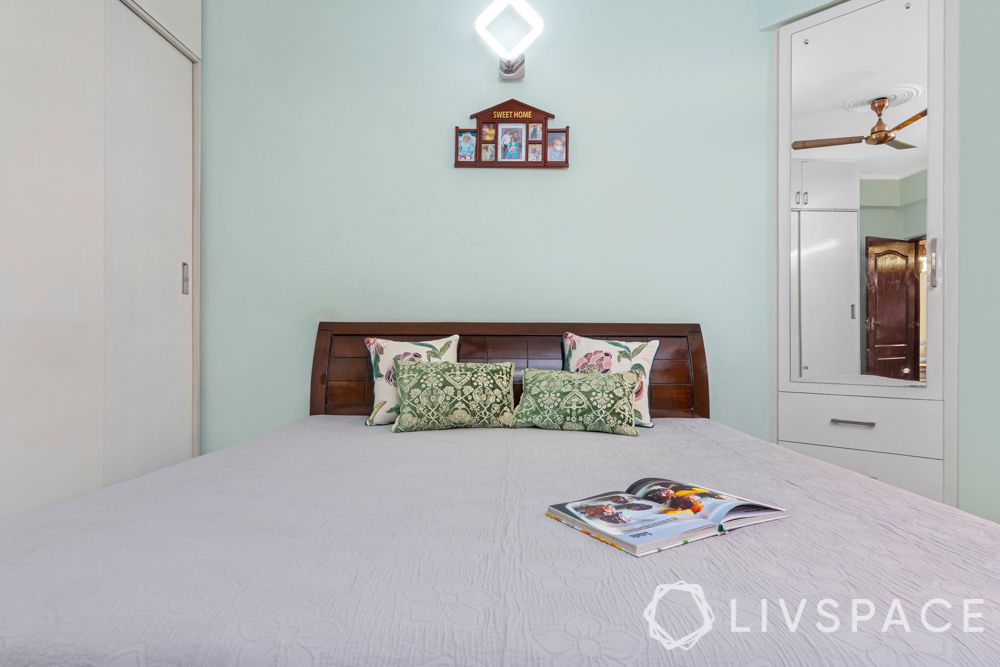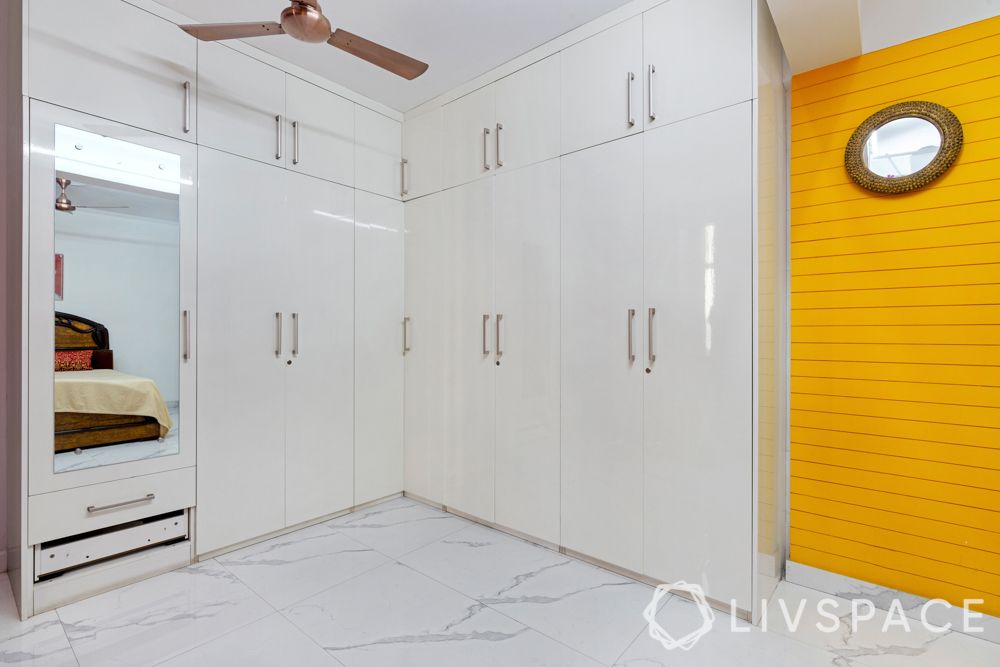 The wardrobes in both the rooms – master bedroom and guest bedroom – are also equipped with a lot of storage. Take a look at the guest room first. Here, Nilisha has cleverly utilised one corner and converted it into a niche wardrobe-cum-dresser. She has also added lofts to the sliding laminate finish wardrobes.
In the master bedroom, you can spot an L-shaped wardrobe. But it took a lot of civil work to achieve this. Nilisha made sure that she uses space cleverly in this spacious master bedroom. The couple also wanted a walk-in like wardrobe. This definitely fits the bill!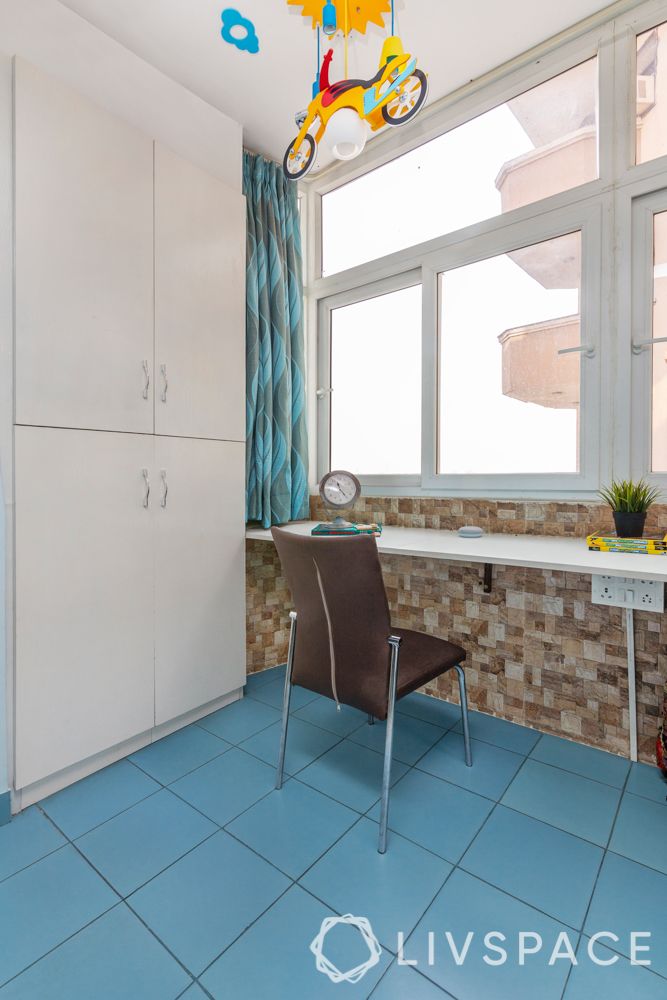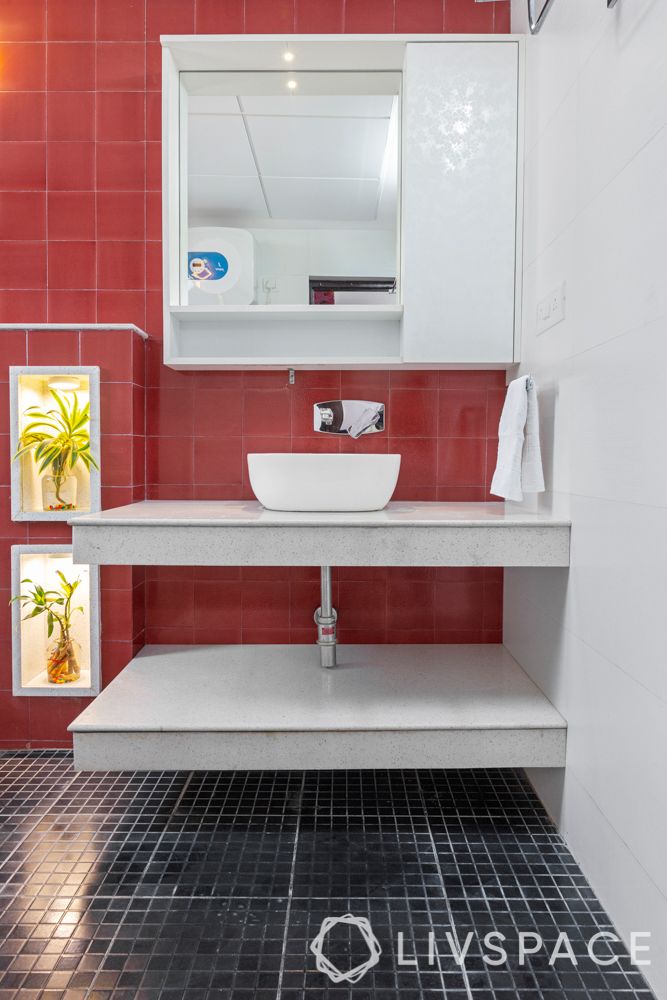 In the study area and bathroom too, you can spot ample storage spaces. She carved out cabinets inside the wall in the study area to make space for books and files. While in the bathroom you can see how she has given them a proper vanity unit. There is some storage space underneath the basin as well.
The dining room is treated as a private space in this home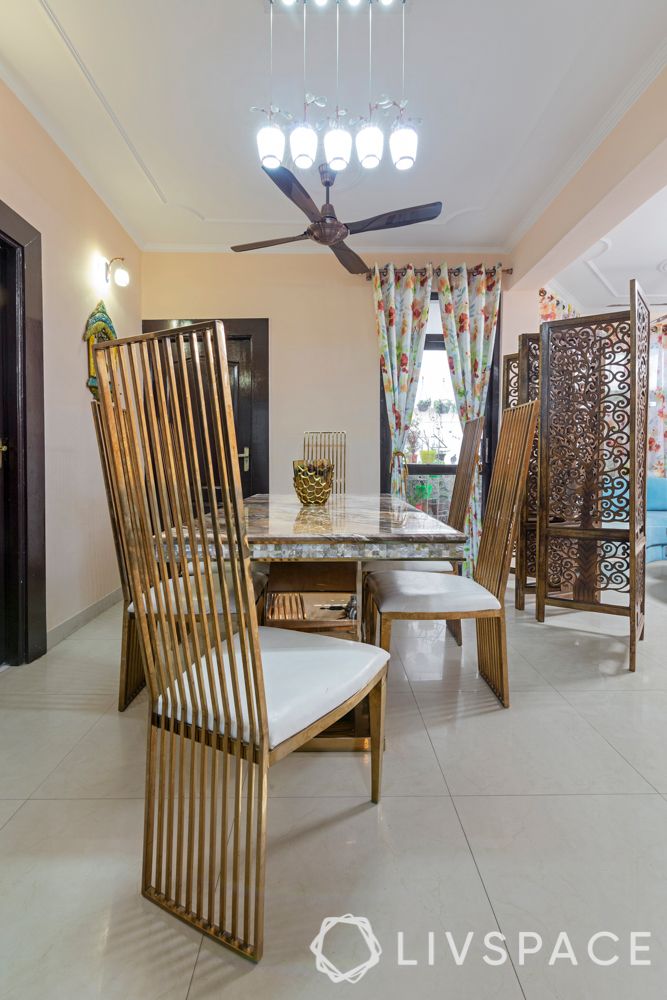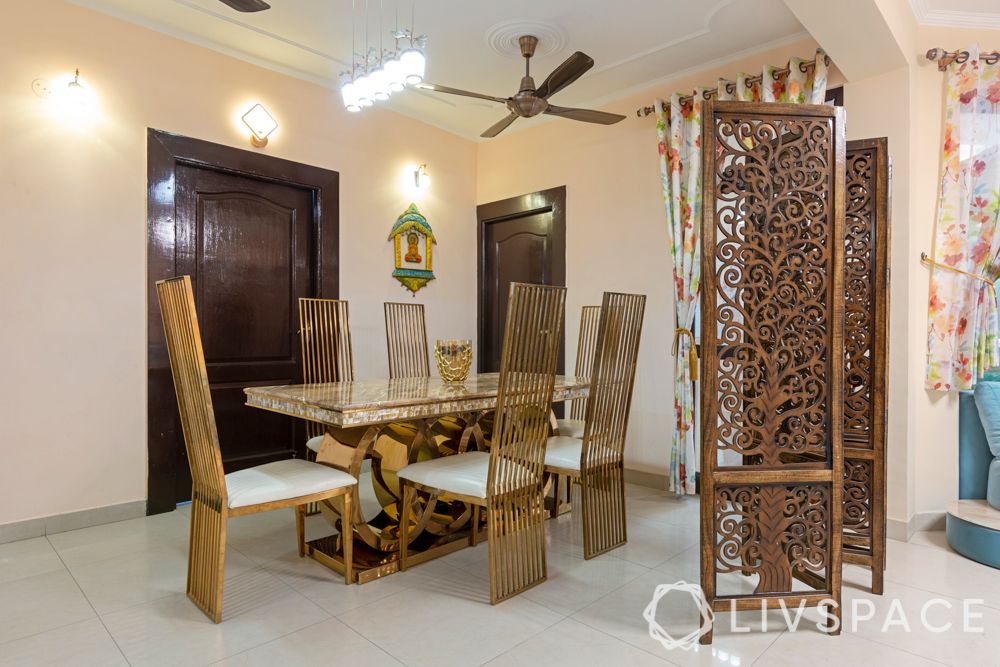 While this dining table set was procured by the couple on their own, Nilisha had given them the design. We are crushing on the marble top table with glamorous legs. The hint of wood that is amped up by the metallic finishes makes this set a complete winner. Also, the couple wanted to add a screen here and Nilisha suggested this pretty carved piece.
Onto some customised display spaces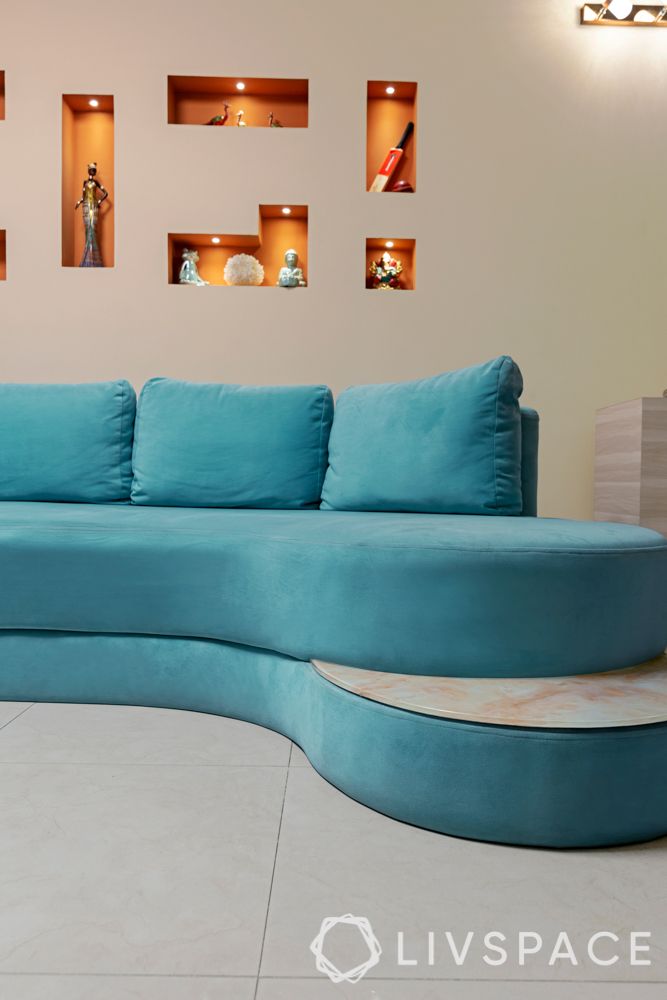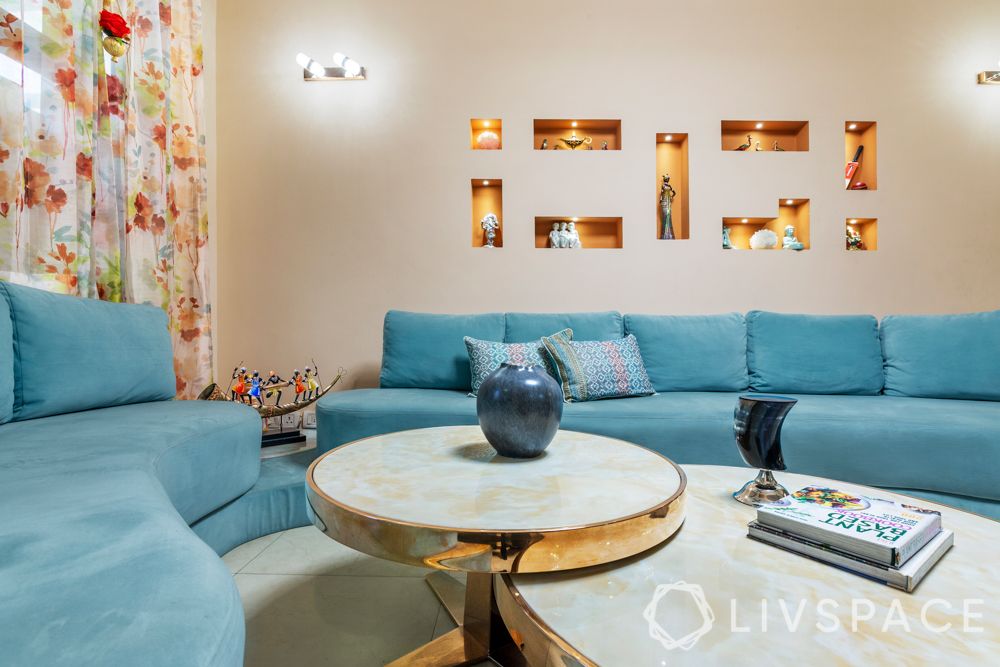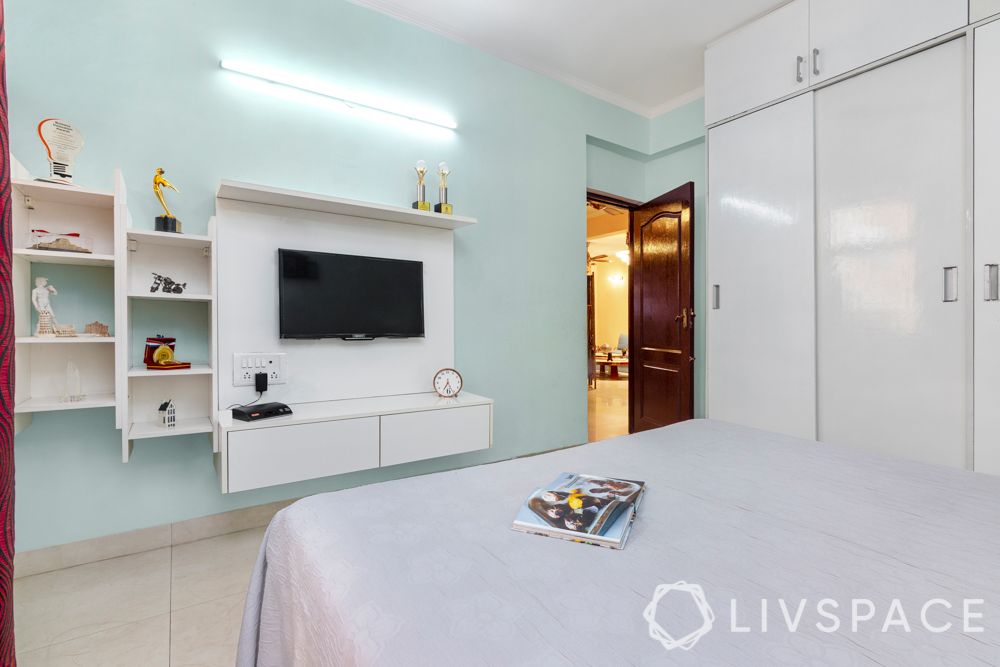 So, this doctor duo has plenty of awards in their name and who wouldn't want to put them up on display? Therefore, Nilisha added some lovely niches in the living room wall to accommodate awards and decor. This seemed like the perfect idea since patients and visitors often use this space. In addition to this, she has given them an extended TV unit in the guest bedroom. The ladder-style display shelves do not take up floor space and are great spots to show off little pieces of decor.
And finally the showstopper!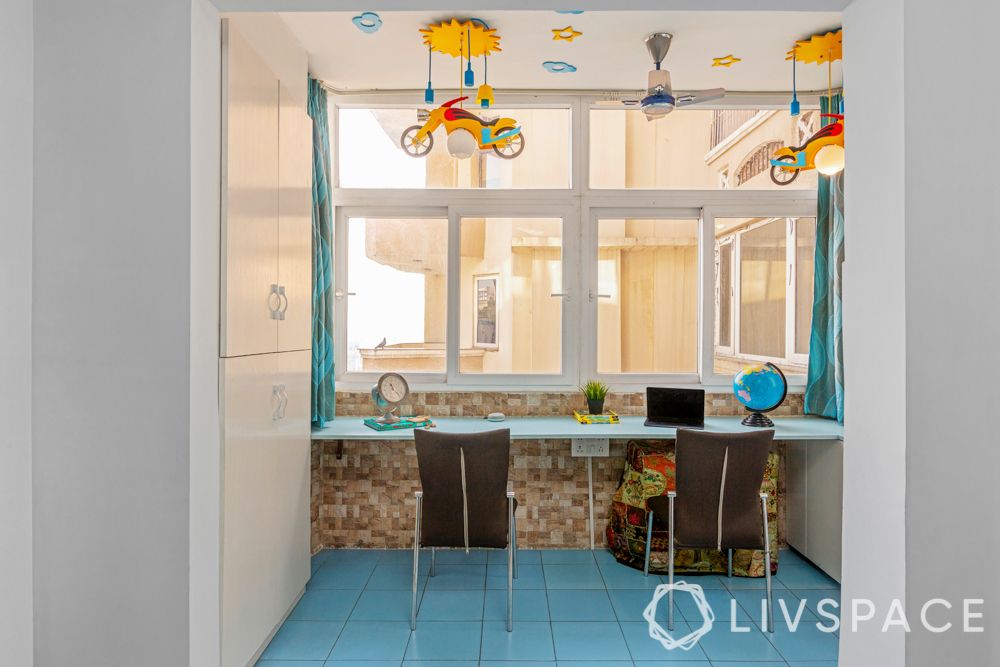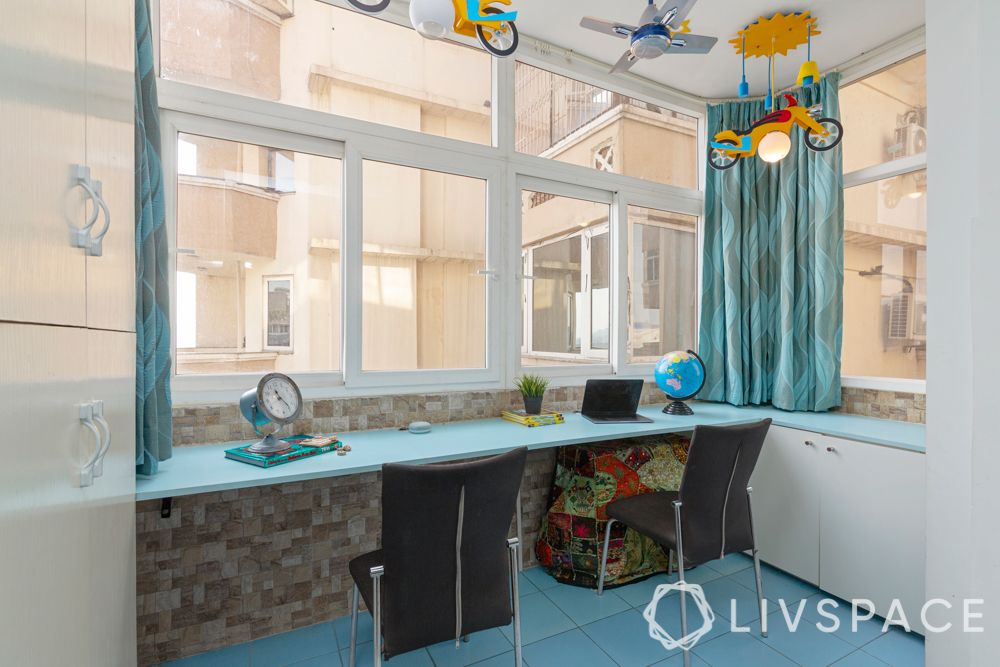 One of the best parts of this 4 BHK house design is this study area. Since the kid's room had an extended balcony, the couple thought of carving out a study area in that space. Therefore, Nilisha broke down the balcony and created this study zone for Subh. Also, she equipped this space with cabinets and low maintenance UPVC windows that allow this space to stay cool. This is a great idea when you don't have an extra room to spare!
---
Hear it from our proud homeowners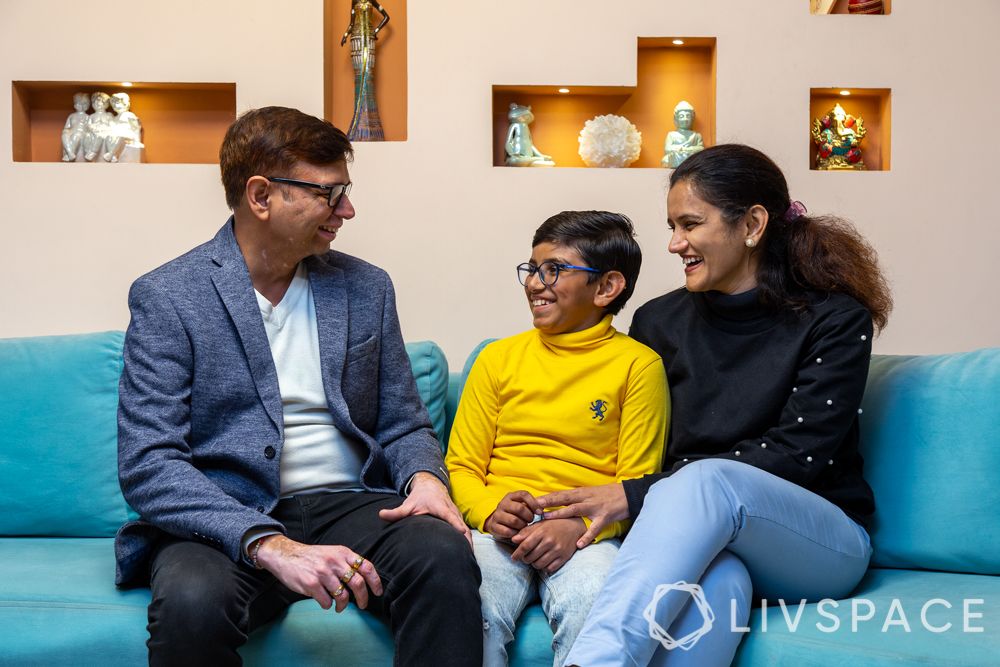 "Nilisha's creative prowess came to fore with the choice of colour combination which gave the apartment a contemporary, yet elegant look. This was not limited to design, but we also got very focused inputs on tiles and lighting ideas. Nilisha had made it possible for us to get our dream home. Harshika & Vikas (Project Managers) and Umesh (Lead Project Executor) portray immaculate project management skills, professionalism and service with a smile. Also, the operations team truly deserves extra recognition as they are the real people of converting dreams to action. A special word of appreciation for Anupama, who lead the team very effectively. Would love to recommend Livspace to my friends."

– Dr Pallavi & Dr Ashish, Livspace Homeowners
Parting notes from our designer
"It was really great working with Dr Pallavi and Dr Ashish. They came with a set of ideas and were open to new ones as well. The only challenge was to break down the old structure and create a completely new look. A lot of civil work went into this home. It was a great experience for me as a designer.

– Nilisha Keshri, Interior Designer, Livspace
---
If you enjoyed reading this, we have another home in Gurgaon that will inspire you: Dreamy 4BHK at New Town Heights.
Write in to us at editor@livspace.com.