Ever flipped through glossy magazine pages and sighed at the gorgeous home photos? Yeah, so have we! Everybody wants a luxurious home but nobody knows how to maintain it. The question then, is, are plush homes really that hard to maintain? We say no! Amongst our top 4 BHK flats in Gurgaon, Dr Priyanka's home is a sight for sore eyes! Not only is it stunning, but also very low maintenance, considering the homeowner's busy lifestyle. Here are 4 home-maintenance tips we stole from her luxurious flat.
#1: Use Dark Colours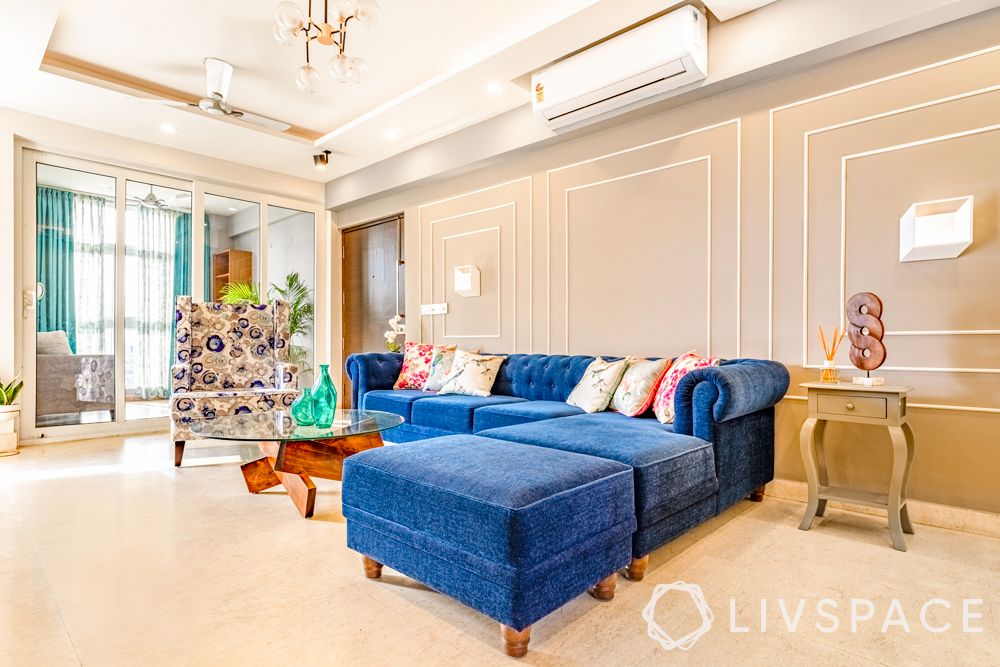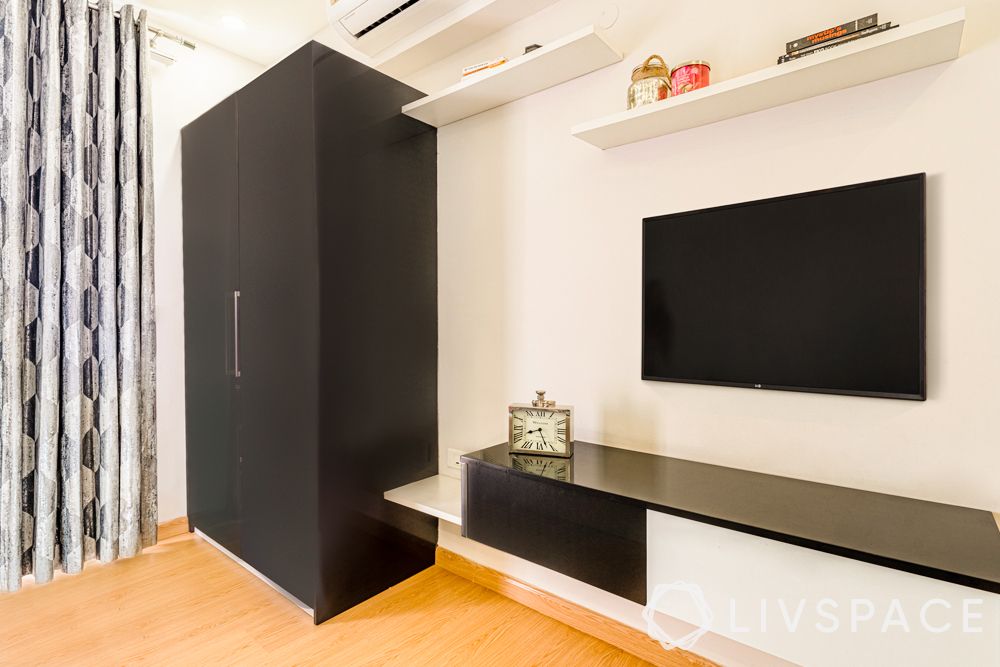 Colours not only determine the look of a home but also decide how much time you will have to spend in cleaning it up. Nowadays, most homeowners prefer to opt for whites and neutrals for their home design, in keeping with the globally popular minimal design style. But such homes can be difficult to maintain, especially in the case of furniture and furnishings. Fret not, as you can get the best of both worlds! Amongst our favourite 4 BHK flats in Gurgaon, Dr Priyanka's home features furniture and furnishings in dark shades like royal blue and black. However, to keep the entire look open and light, the walls have been done up in elegant neutrals.
#2: Your Walls Should be Easy to Maintain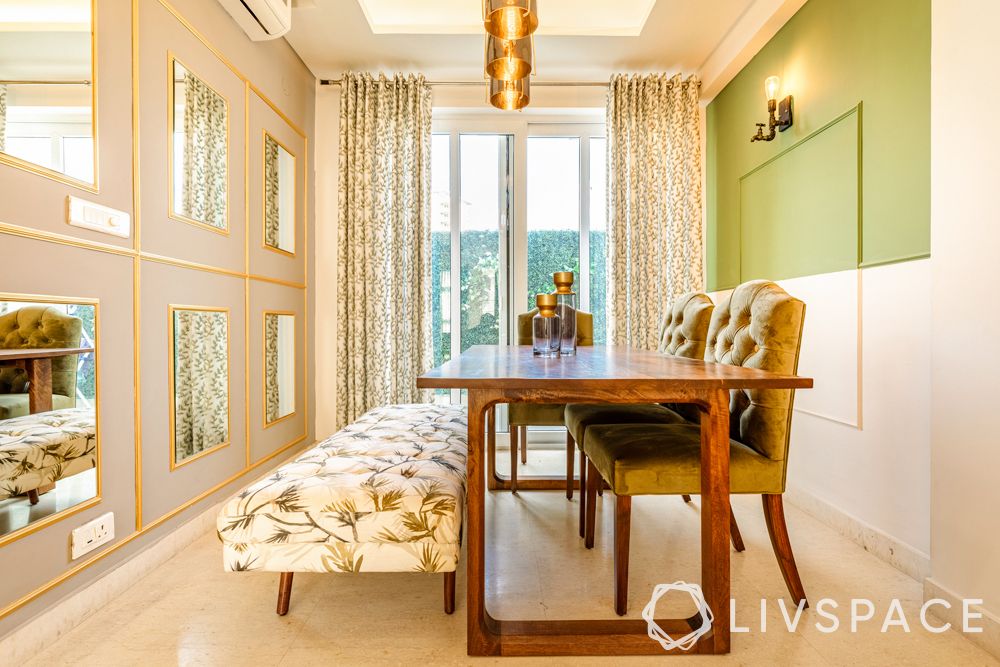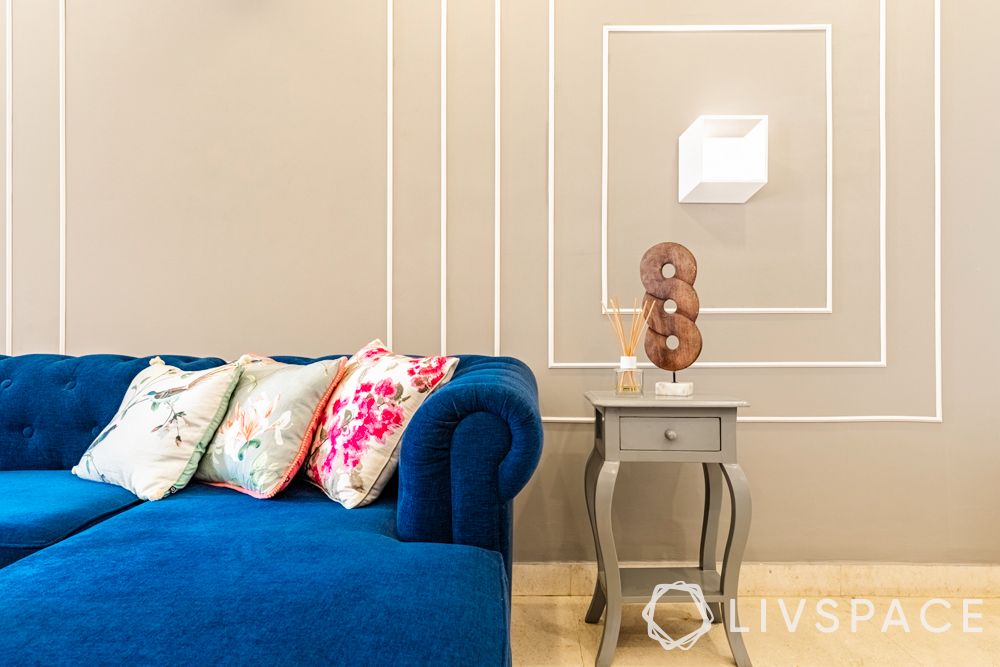 When you are a busy doctor, you would hardly have the time to deep clean your walls every few days. So, choosing easy-to-clean walls can cut your cleaning time by half. And if you are wondering which types of walls are easy to maintain, look no further than Dr Priyanka's home! From wall trims that are long-lasting with minimum maintenance to mirror walls that are super easy to clean with just a single swipe of a cloth, her spacious flat in Gurgaon is a dream come true for busy people! Moreover, both wall trims and mirror panels ensure a luxurious vibe!
#3: Opt for Low-maintenance Finishes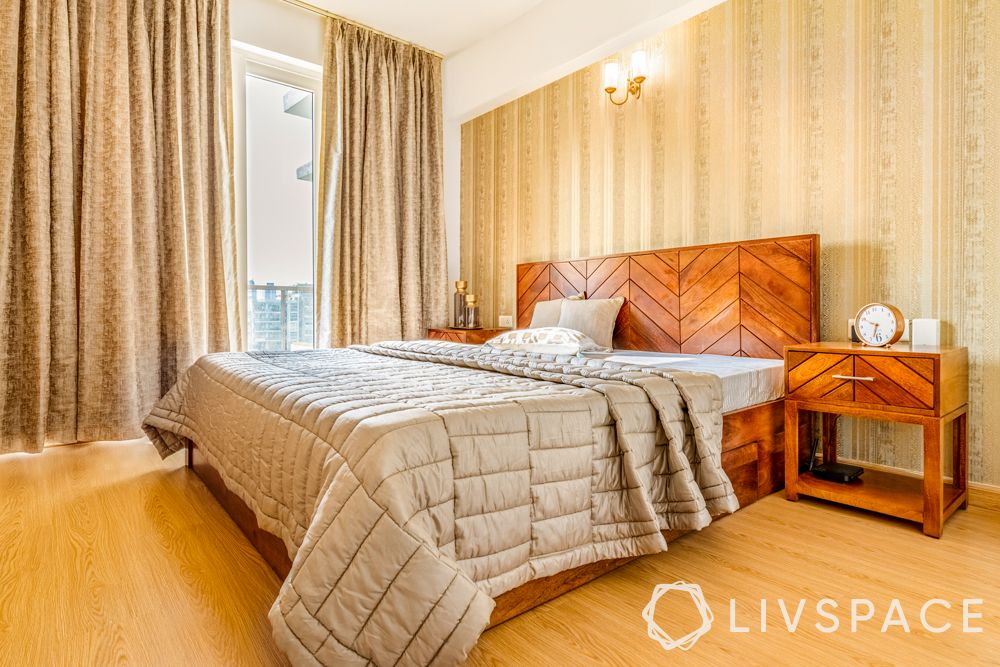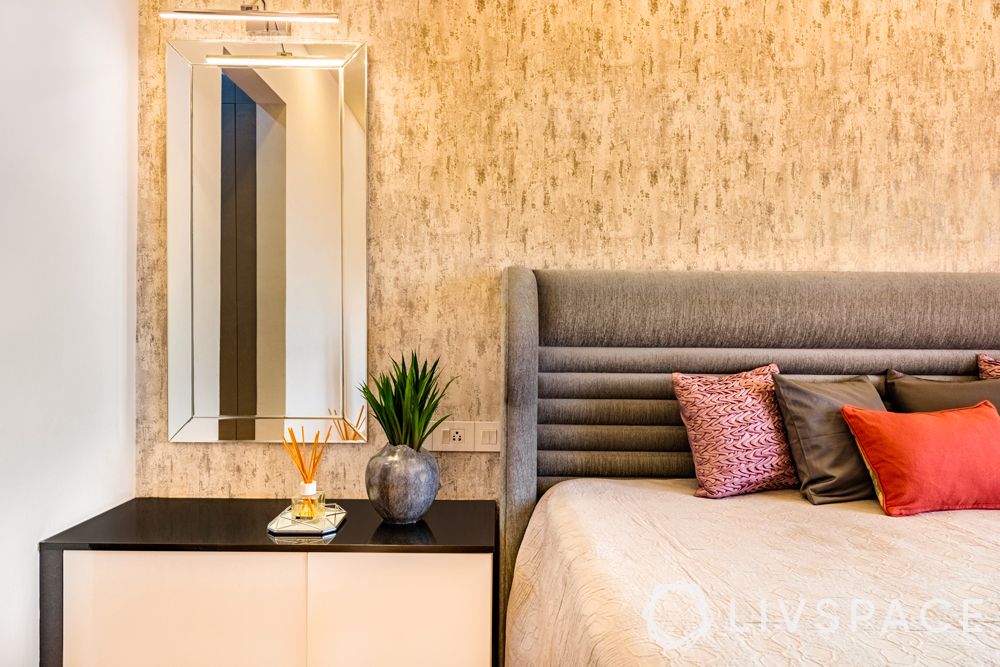 The amount of time you spend cleaning your furniture depends, to a large extent, on the finish. Some finishes require regular polishing and cleaning. Dr Priyanka was quite clear at the onset that she could not spend too much time on maintaining the look of her home. So, her home features wooden furniture, which is durable and long-lasting. The wardrobes and storage units are in an acrylic finish, a durable finish that can withstand a lot of wear and tear. It is moisture-, UV- and scratch-resistant and can be easily cleaned with mild soap and water. And the best part of both wood and acrylic are that these are high-end materials that give your space a plush look.
#4: Choose a Clutter-free Design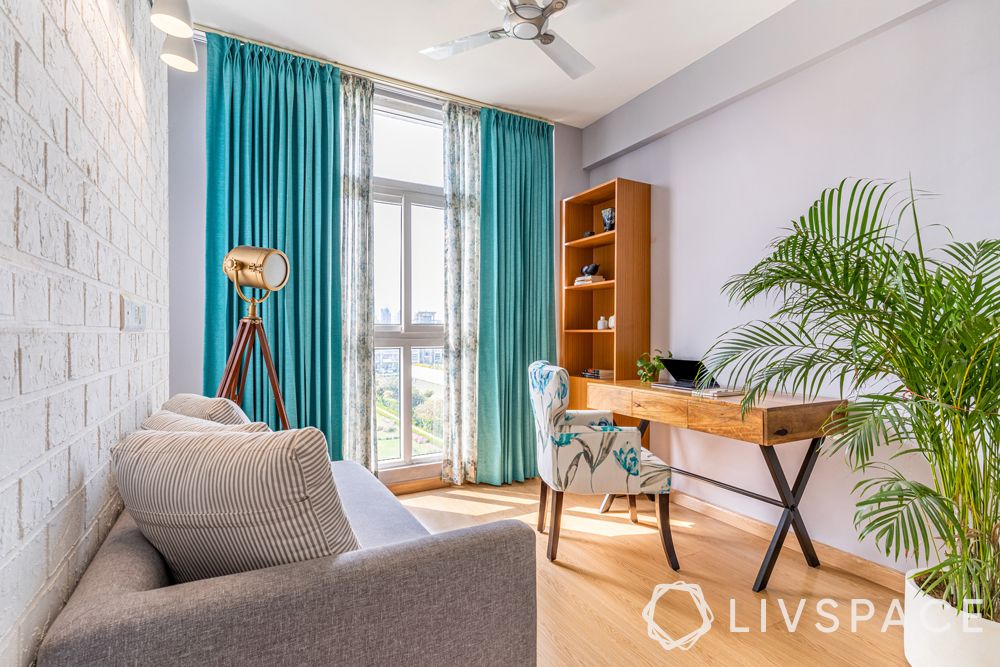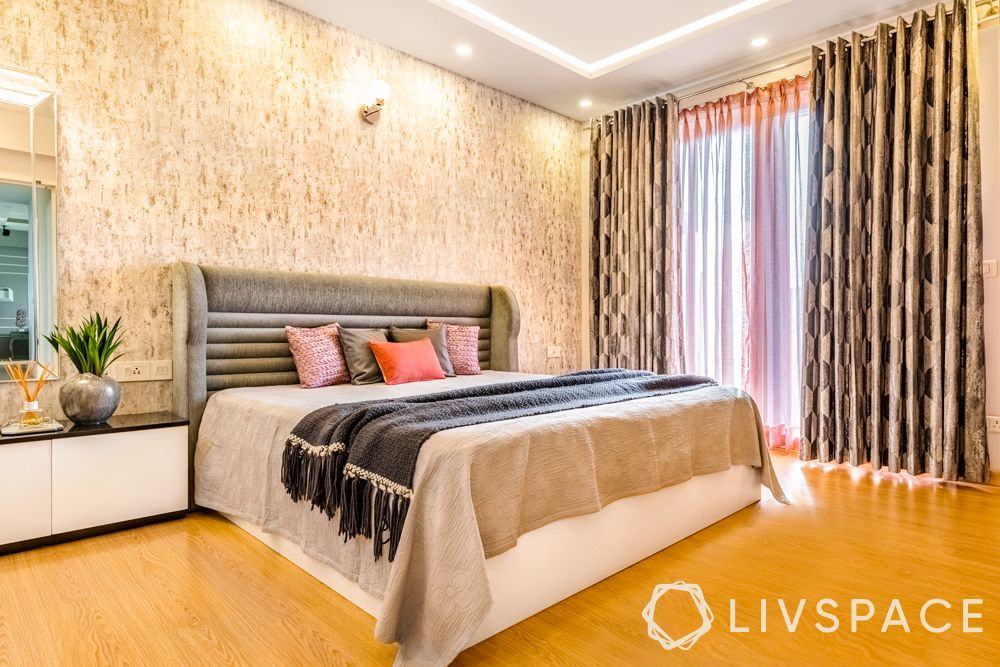 Clutter is the foe of convenience. If you have a cluttered home with too many things lying around, your cleaning time will automatically increase. Dr Priyanka's home stands out among most 4 BHK flats in Gurgaon, due to its open and clutter-free design. Our designer stuck to the basics in each room, thereby avoiding any overdecorating mistakes. Dr Priyanka's home is a gorgeous mix of unique walls and vibrant pops of colours. By avoiding too many decor items, her 4BHK looks stunning while remaining simple and clutter-free.
Amongst our top 4 BHK flats in Gurgaon, Dr Priyanka's home proves that even you can have a luxurious home that is also easy to maintain. But what about the cost? Is it possible to have a plush home that is also low budget? Yes, it is and this Gurgaon home will show you how!
How Can Livspace Help You?
We hope you found our ideas useful! If you want your home to be just as beautiful, then look no further. Book an online consultation with Livspace today. Delivering safe home interiors has been our No. 1 priority. Click here to find out how interiors are being delivered following all safety protocols.
We love hearing from you! Write to us with your comments and suggestions at editor@livspace.com