The compact kitchen interior design is packed with storage, yet looks visually light.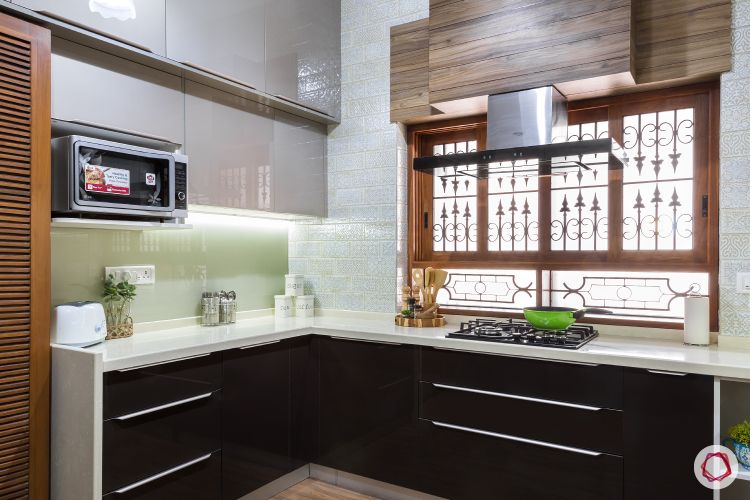 ---
Who livs here: Dr Jamshed Bunshah with his wife Pooraan and children Zervaan and Delraaz
Location: Parsi Colony, Dadar, Mumbai
Size: Compact kitchen spanning 130 sq ft
Design team: Interior designer Ar Yasin Shaikh with Project Manager Anthony Rodrigues
Livspace service: Full Home Design
Budget: ₹₹₹₹₹
---
When their 18-yr-old kitchen started having issues due to wear and tear and water seepage, Dr Jamshed Bunshah suggested to his wife that they revamp the entire design rather than getting a temporary fix. They wanted someone to handle the task and turn it into a functional space with lots of storage and an organised setting.
They enlisted help from Livspace when they heard of it through word of mouth. Thus, they met Ar Yasin Sheikh, our interior designer, who suggested designs to suit their requirement while working his way around restrictions imposed by the landlord.
In a nutshell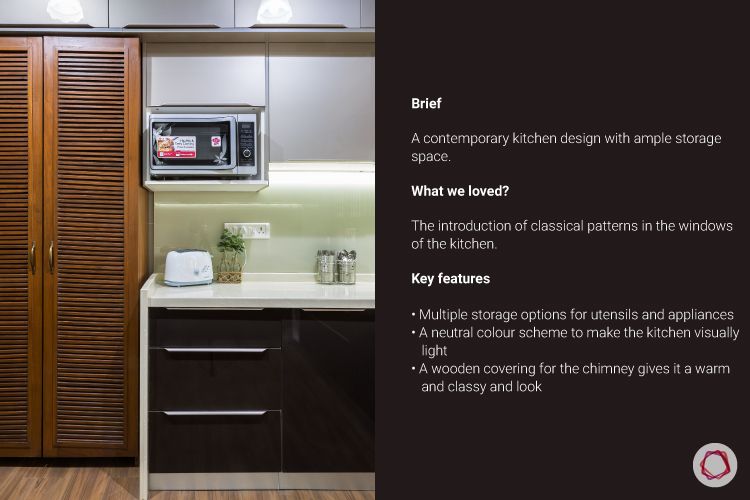 We get to work!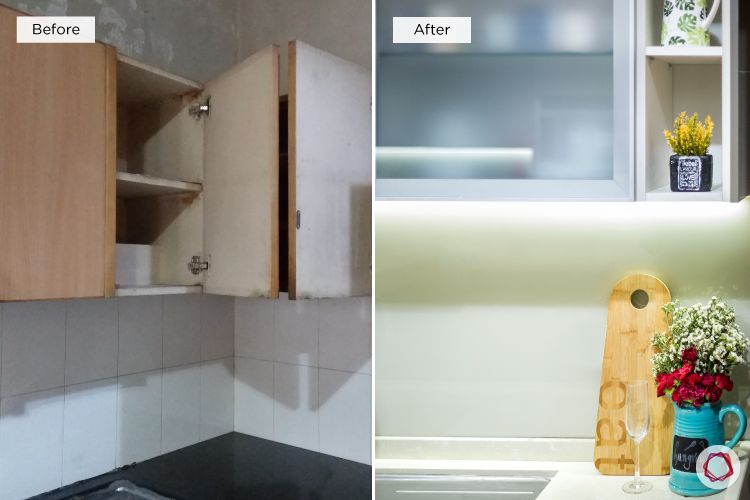 We came up with a carefully curated plan to transform the cluttered kitchen into super organised one with beautiful aesthetics. Since the emphasis was on storage, Yasin provided 900mm lofts which completely cover all three walls of the kitchen, in addition to the base and wall storage. These were fitted with ample drawer systems to ease the cooking experience.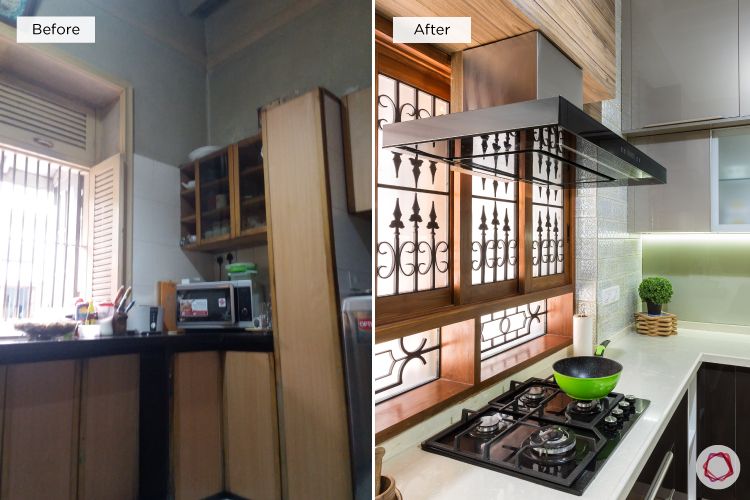 The couple also wanted a rich appearance with wooden flooring, thus wooden textured tiles were used for the floors. The next concern was to make it welcoming as the compact kitchen would have a lot of storage units and the wooden tones need a balance. Thus, the brown acrylic finish was used for the base contrasted with a metallic beige finish in the wall storage. This gave it a visually light appearance while keeping it airy as well.
Working around builder restrictions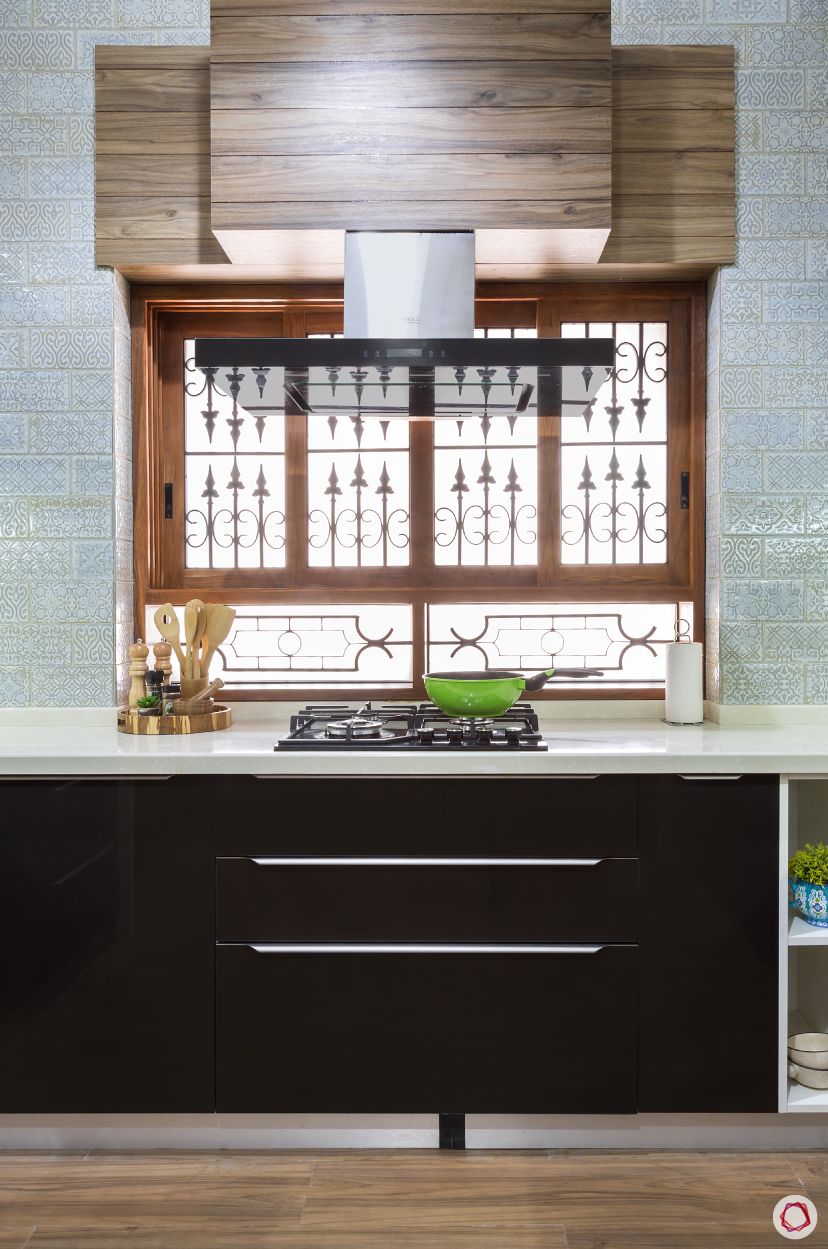 As the builder didn't welcome any structural changes, core cutting for the chimney was not an option they could pursue. Hence, Yasin smartly designed the chimney pipes to pass through the existing window and covered it up by introducing a dummy window with sliding shutters just before the actual window. He also added wooden panels to conceal the exhaust pipes.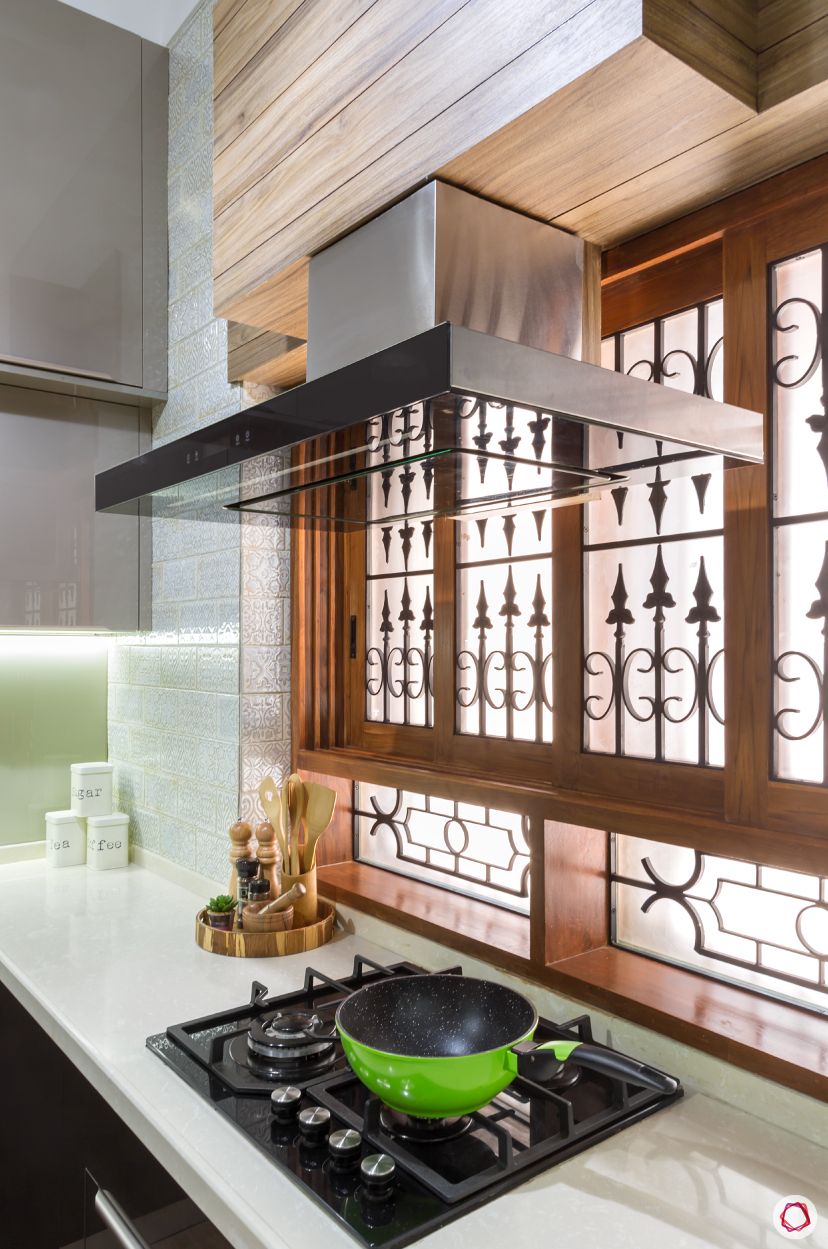 The window has mild steel jali work to mimic the ethnic charm that runs through the home. The window and wooden panelling match the wooden textured tiles to give a harmonious feel.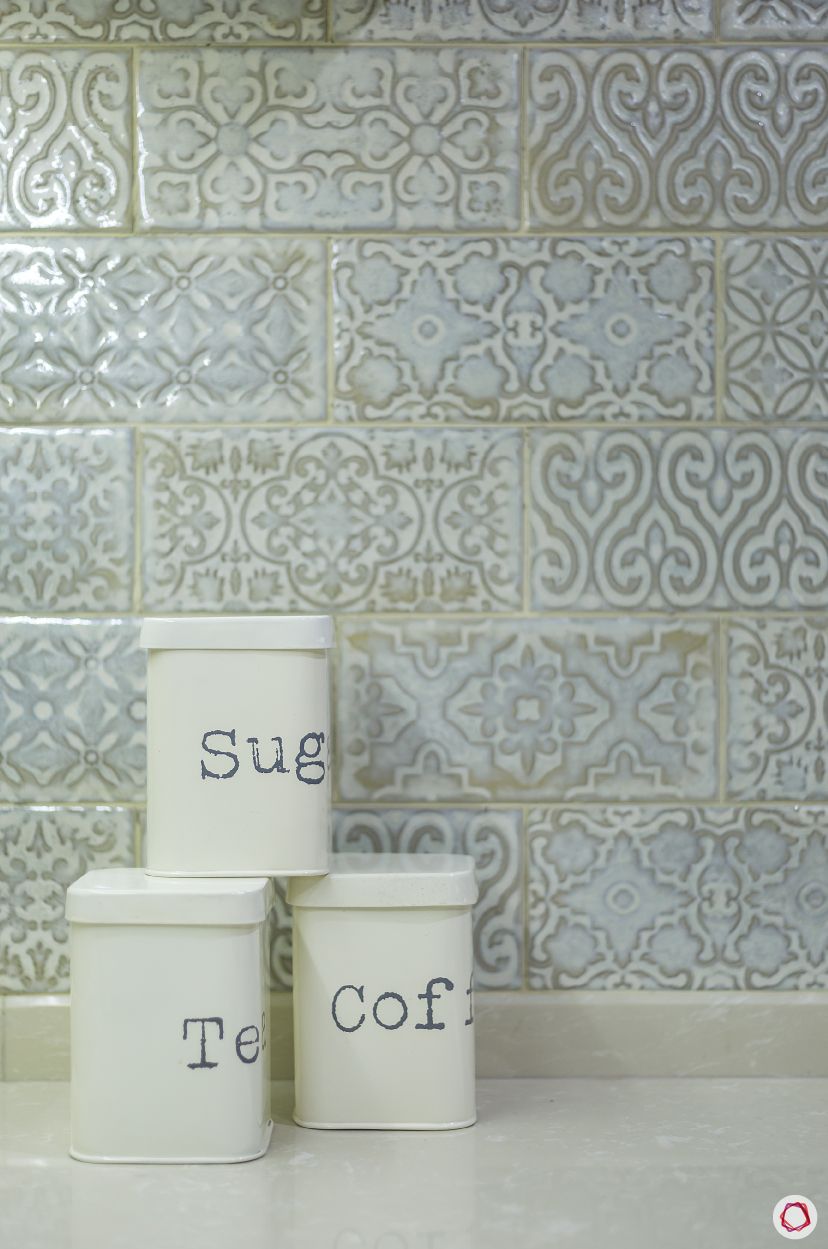 The wall with the window is covered in tiles with beautiful patterns. This gives it a boost in brightness due to its lighter colour scheme. The other two walls have back-painted backsplash with a green tint which binds together the contrasting hues of the cabinets.
And voila!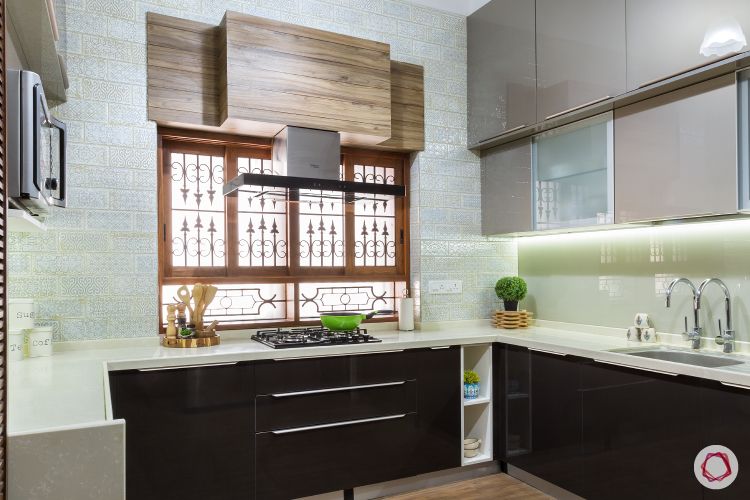 From a traditional all-wood kitchen, this transformation gave it an uber-modern look. Pooran, her daughter Delraaz and even the maid enjoy working in the newly set up kitchen. The storage units are a mix of open and closed modules with shelves and frosted glass shutters to balance the bright and airy feel.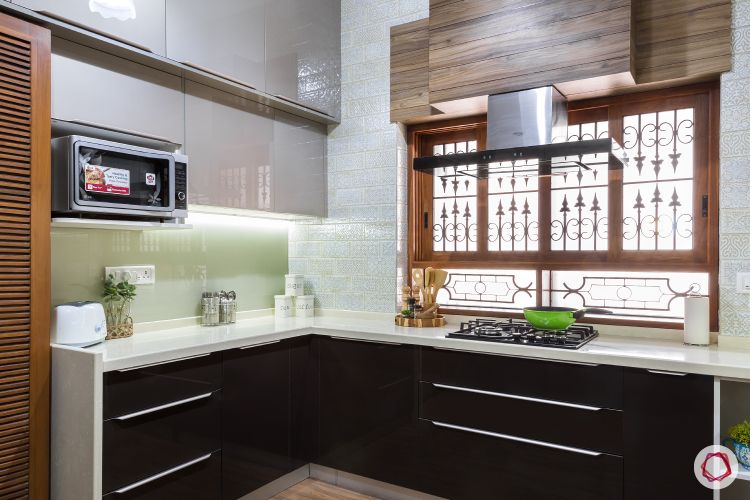 The kitchen entrance has a wooden storage rack with louvred shutters to provide added storage for other things as the home is pretty compact as well. The mindful choice of acrylic finishes makes the kitchen stand-out and contrast with the matte finish of the wooden tones.
What's the verdict?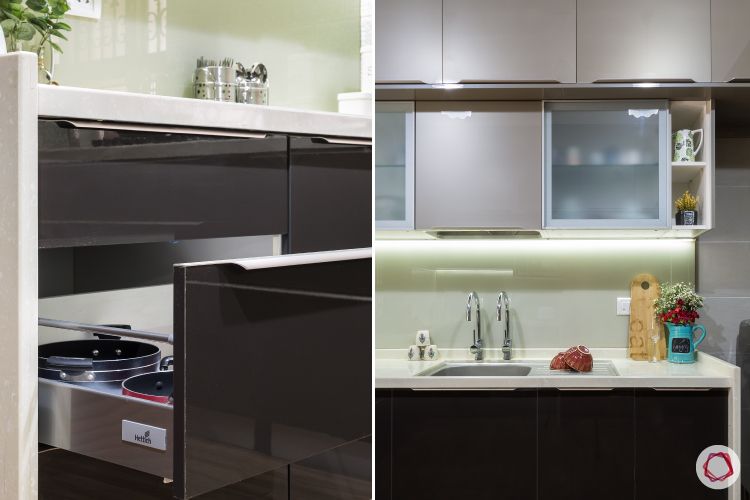 Pooran was super excited to share her experience with us. She absolutely loves what Yasin has done with the kitchen renovation. Not just in terms of aesthetics and utilisation of space, the kitchen has a balance of drawers, cutlery units, bottle pull-outs and more, which makes her carry out the work easily. In addition, open shelves and frosted glass shutters feature her fancy cutlery collection giving it a beautiful look.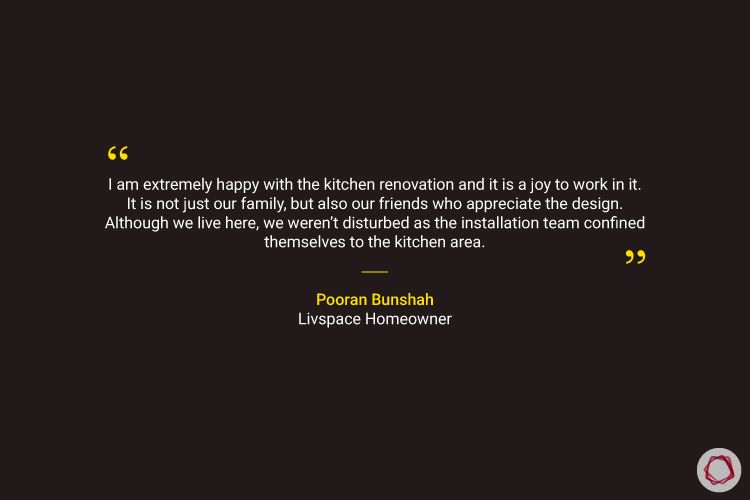 "The Bunshahs are a cheerful family and it was an absolute delight to work on their kitchen renovation. They gave me the freedom to make decisions and accepted my suggestions happily."

— Ar Yasin Sheikh, Interior Designer, Livspace
Loved this? You'll also enjoy this stylish kitchen makeover which has a wine red finish.