After a year of fretting over their termite-riddled kitchen, Rashi and her family were thrilled to see what Livspace offered in a matter of 9 weeks.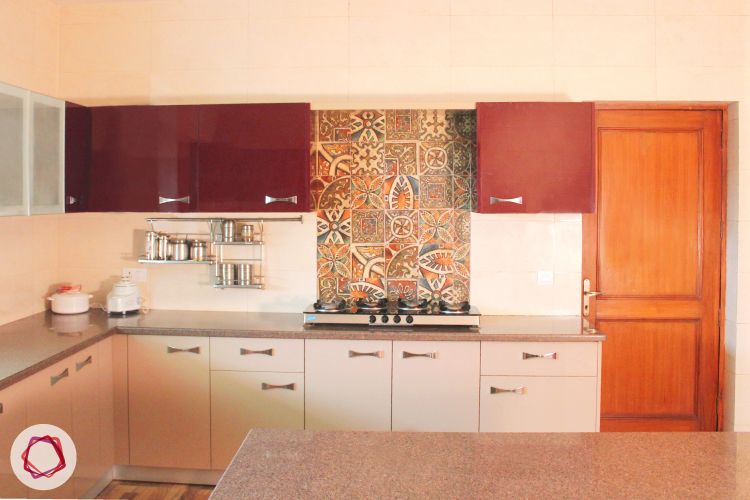 ---
Who livs here: Rashi Bhasin with her husband and parents
Location: Delhi
Kitchen type and size: U-shape kitchen with an Island
Design team: Interior Designer Manpreet Kaur with design manager Varun Chopra
Livspace service: Kitchen design
Budget: ₹₹₹₹₹
---
One of the issues that most homeowners combat with on a daily basis, is the lack of space in their kitchens. But Rashi Bhasin was privileged to have a kitchen that was spacious enough to move around in, making cooking sessions comfortable.
But then, there was one big issue.
Termites had taken over their kitchen for over a year,  eating away at the wood which resulted in the collapse of the kitchen shutters and cabinets. Storing items had become a huge problem, and everything was clearly a mess. Then entered, interior designer Manpreet Kaur who helped turn the kitchen into a well-designed space of quality and functionality.
Say hello to high-quality cabinetry
Before installing the cabinets and tiles, a termite proofing treatment was done to make sure that the same issue would not crop up again. The entire kitchen was replaced with cabinets made of materials like the HMR-HDF wood that would last them a long time.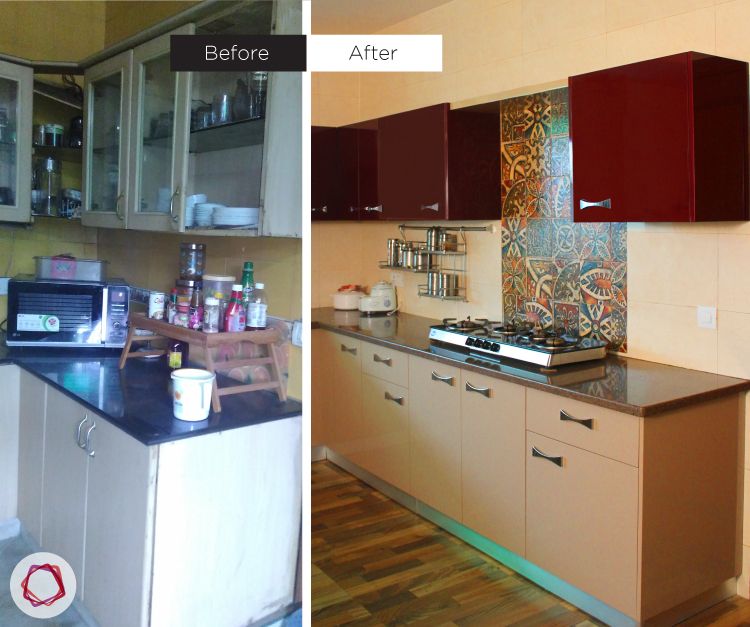 Glossy and laminate cabinets were installed to give this kitchen a modern look while some of the cabinets were fronted with frosted glass shutters to make identifying items easier. A visually appealing backsplash protects the walls from grimy stains, and the sparkling  countertop is easy to clean.
Make way for ample storage space 
The brand new kitchen now boasts an island with cabinets, providing the space the owners wanted for all their kitchen items., which was a matter of concern earlier. The kitchen is packed with brilliant storage solutions, such as a wall mounted spatula holder that frees up space for their electrical appliances.
Tasteful illumination to light up the room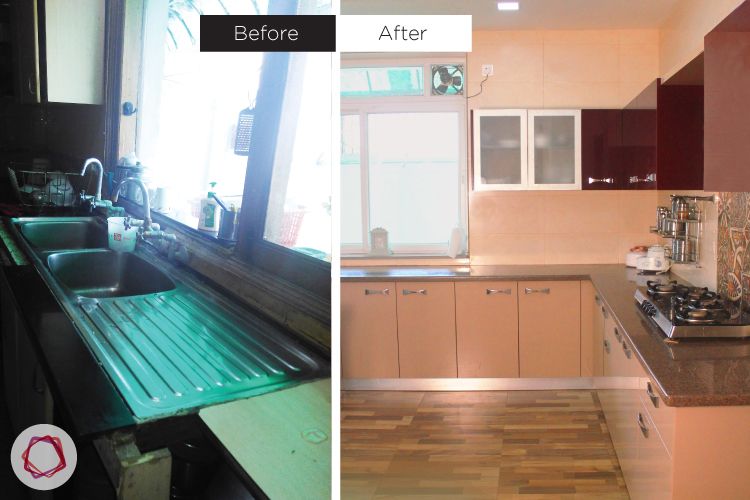 Earlier, the kitchen lacked proper lighting, but the newly designed kitchen is bright and cheerful. The choice of color palette and the false ceiling with light fixtures has filled the kitchen with plenty of light, giving the illusion of more space as well.
This brand new, cleverly designed kitchen  has created a better space for Rashi and her family to cook and bond in.
---
"I wanted to make sure that the kitchen was well lit. For this, I had a false ceiling designed which worked well in brightening up the area."

– Manpreet Kaur, Interior Designer
---