New kitchen designs for your inspiration!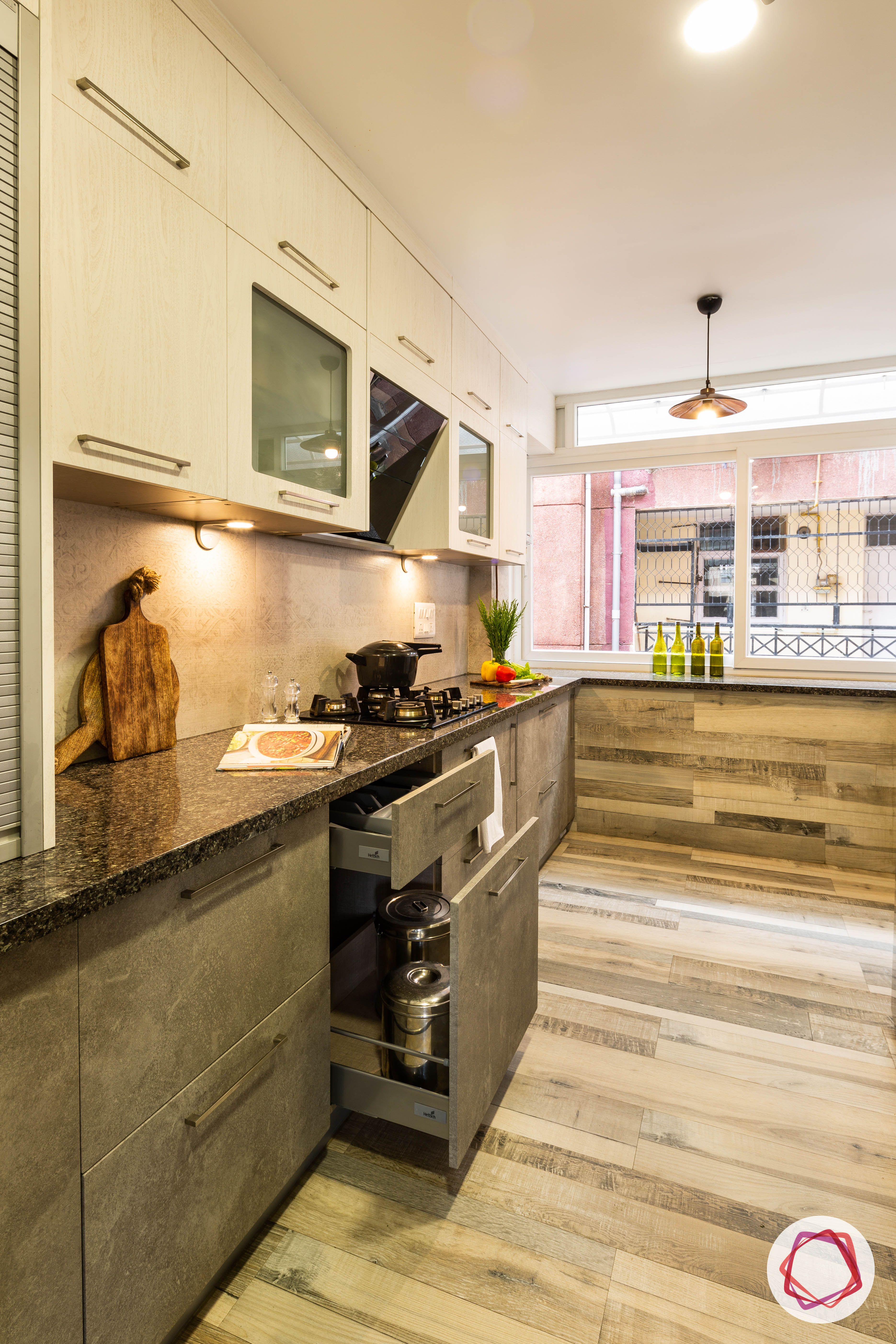 ---
Who livs here: Charu & Yogi Gupta with their two sons and his mother
Location: Defence Officers Apartment, Dwarka, Delhi
Size of kitchen: 100 sq ft approx.
Design team: Interior Designer Nilisha Keshri and Project Manager Ravi Kumar
Livspace service: Modular kitchen design
Budget: ₹₹₹₹₹
---
Charu and Yogi Gupta are characterised by two things, their love for cooking and panache for hosting parties. So when it came to revamping the kitchen in their new home, they wanted to ensure that the space supports their culinary experiments as well as social life. Also, Charu Gupta, the lady of the house, has a fetish for orderliness. Naturally, she wanted neatness and order to reflect in the new kitchen designs for her home. All these basic requirements formed the blueprint for Livspace designer Nilish Keshri to design a kitchen that would be robust and exceedingly functional.
Take a tour to find out how these new kitchen designs shaped up a compact space
New Kitchen Designs: Doorway to Hunger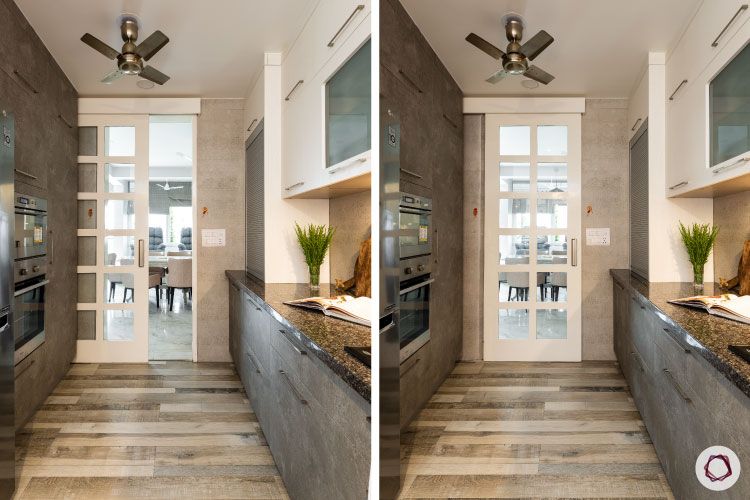 As this kitchen is just about 100 sq ft, Charu did not want to waste any space with fillers when the new kitchen designs came through. Since end-to-end functionality was the design goal, a sliding door leads to the kitchen. Having doors is a good idea for heavily used kitchens as they prevent heat and odours from filling the house.
New Kitchen Designs: The Larger Picture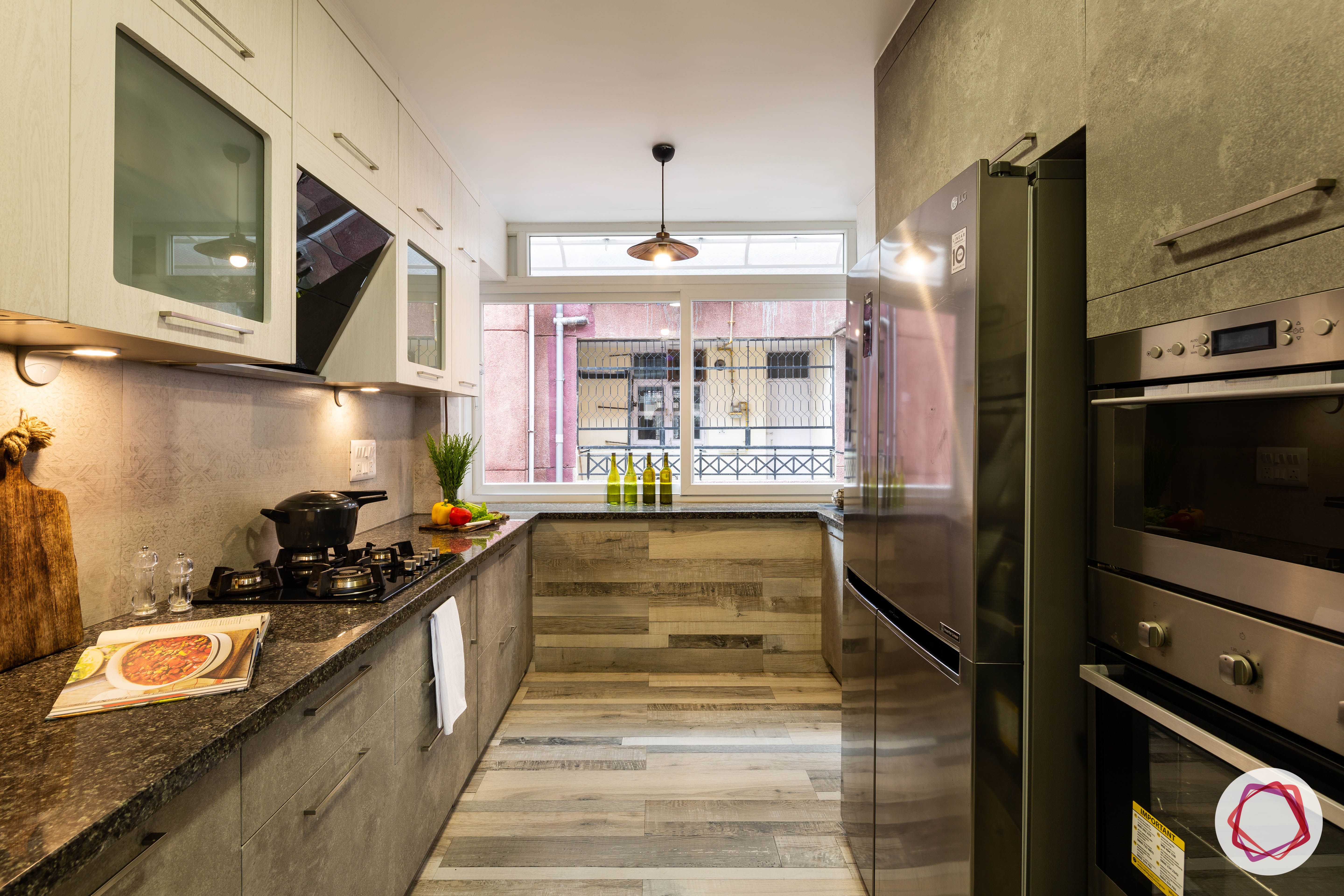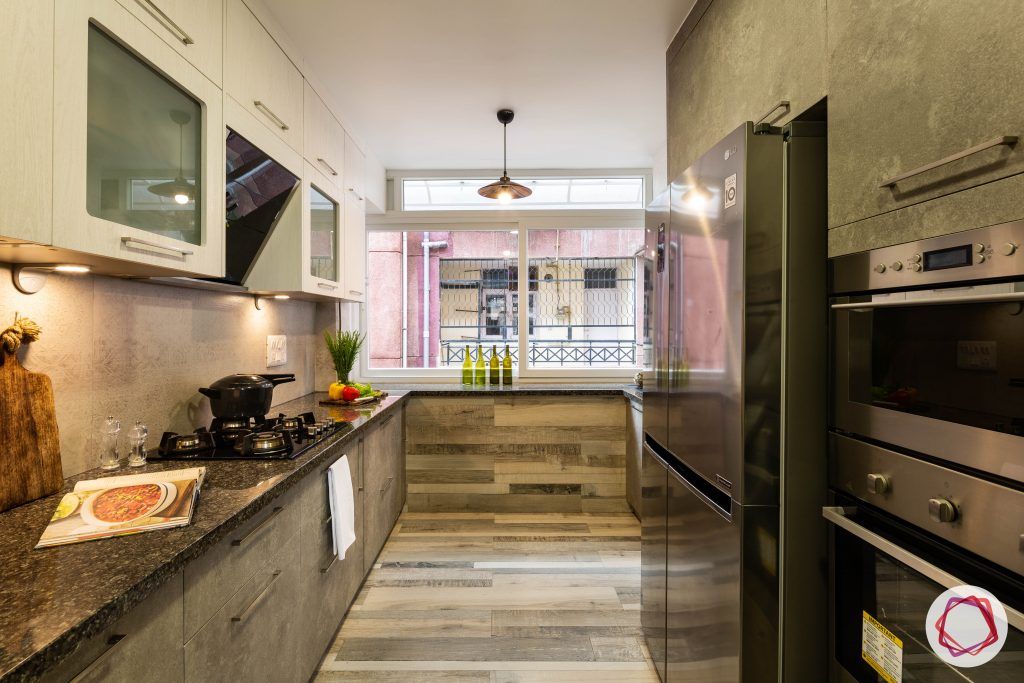 The Guptas cook extensively and they need space to go about their routine kitchen chores. At 100 sq ft, this kitchen barely provided that space. Hence, the utility space at the extreme end was assimilated as part of the new kitchen design. In fact, the designer has projected out, to a permissible extent, a granite slab by the wall-to-wall window.
"We wanted the look and feel of our kitchen to be classic. Our designer Nilisha brought her expertise and design ideas to the table. A combination of both has ensured that our kitchen has a perfect balance of aesthetics and functionality. And that makes cooking a joy for us!"

– Charu Gupta, Livspace Homeowner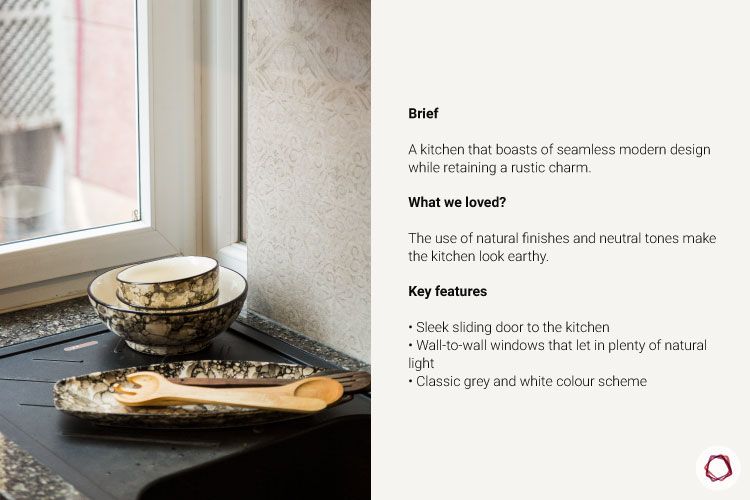 New Kitchen Designs: Up-to-Date Accessories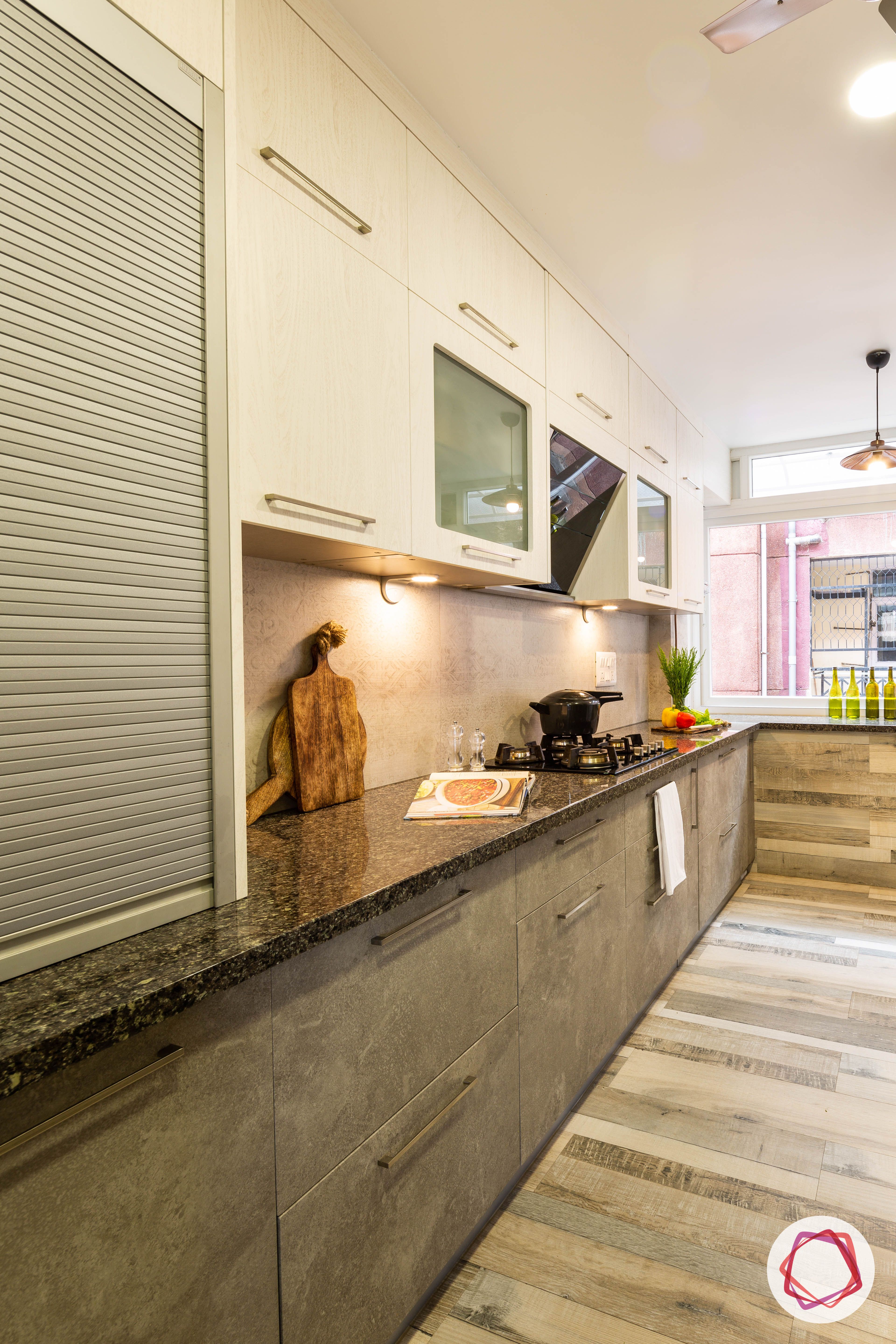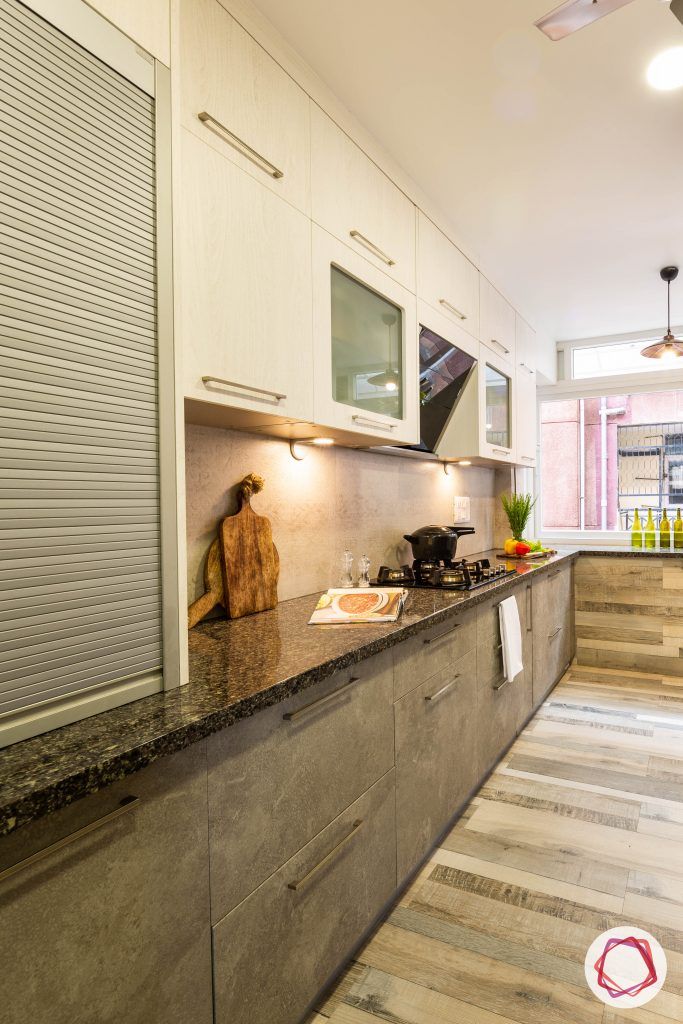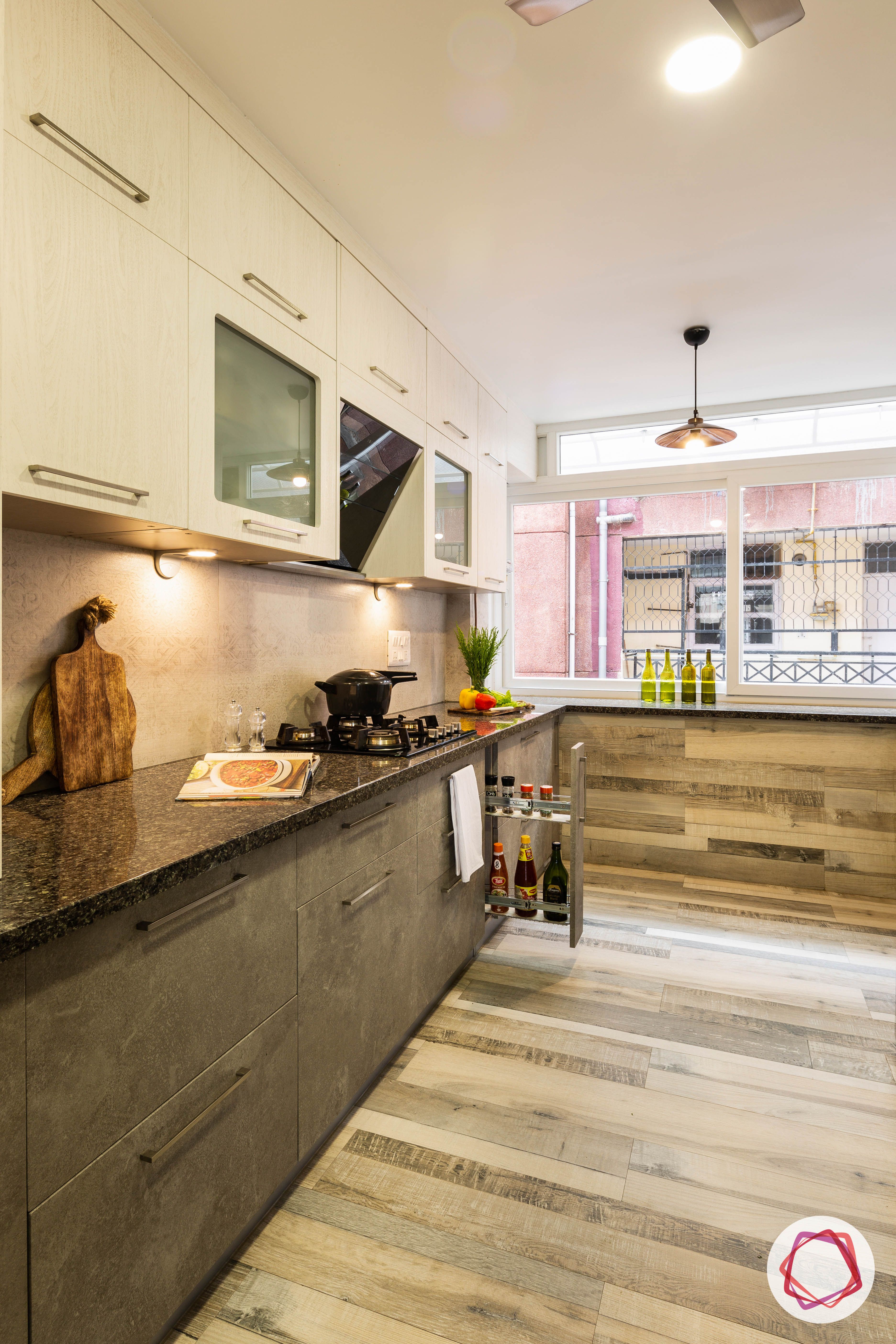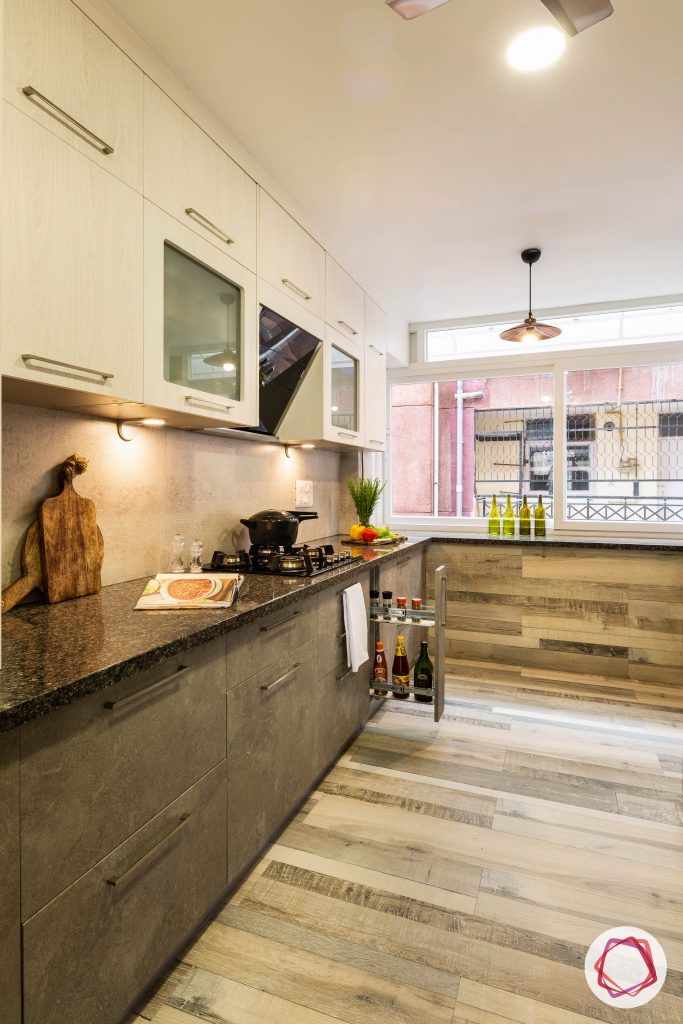 As functionality was a key requirement, this kitchen has been fitted with all possible modern accessories. It features a pantry pull-out, tall unit to accommodate appliances, cutlery trays, bottle holders and a cabinet with roller shutter. Charu wanted to have a designated place for every tid-bit in the new kitchen design so that the process of cooking is completely seamless. Looks like she got exactly what she wished for!
New Kitchen Designs: Rustic Vibes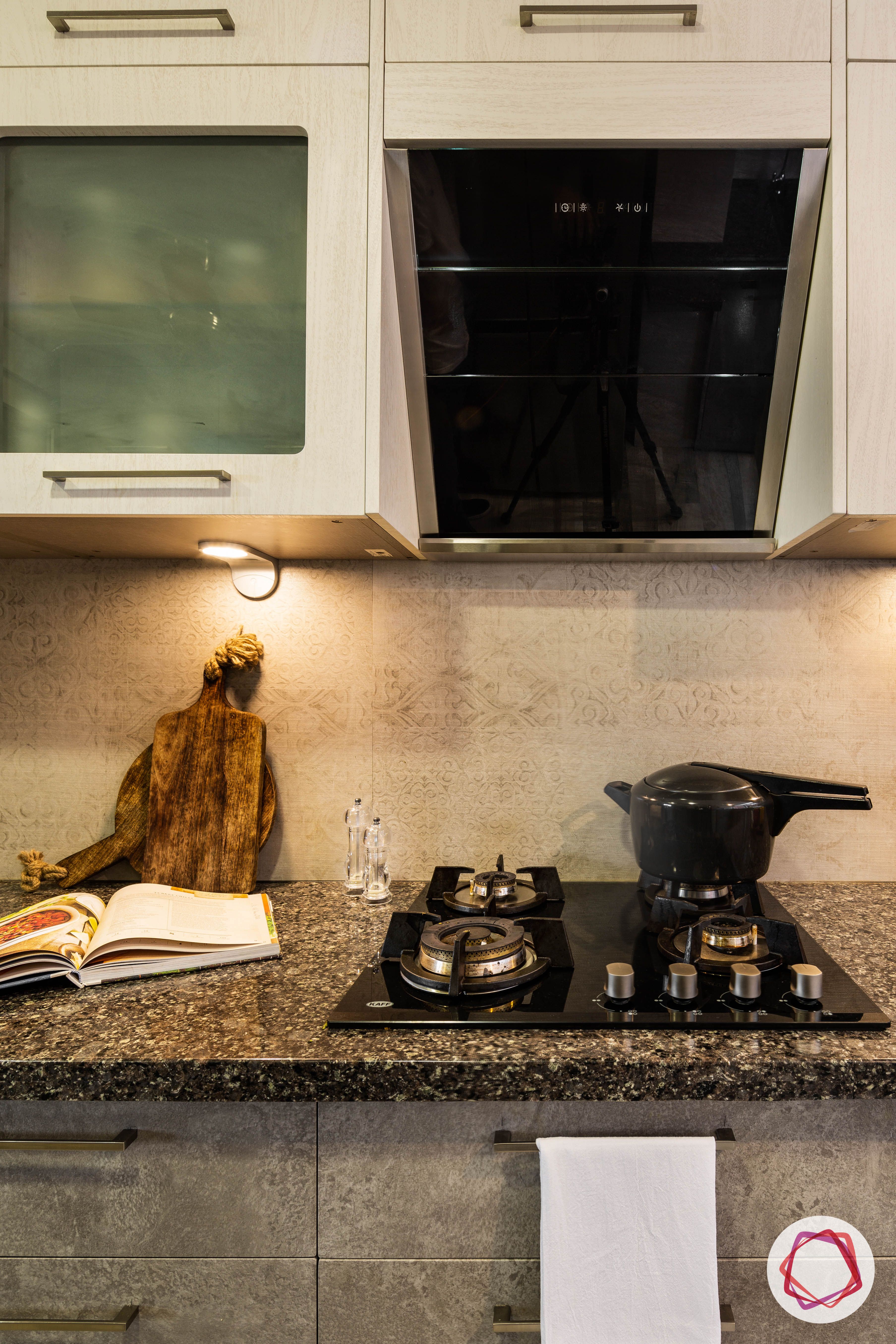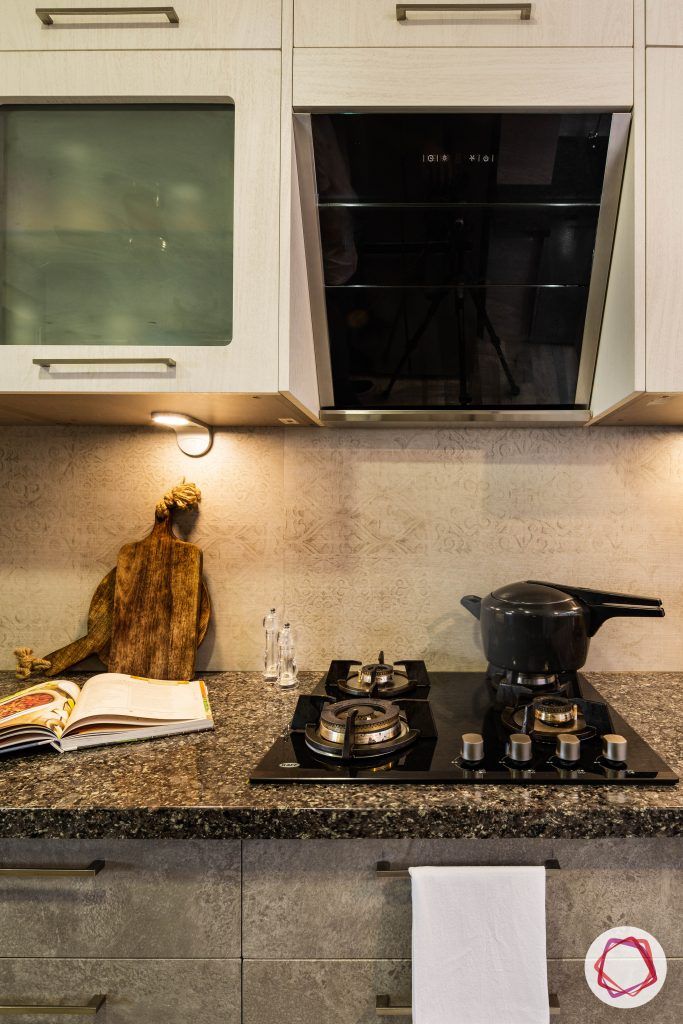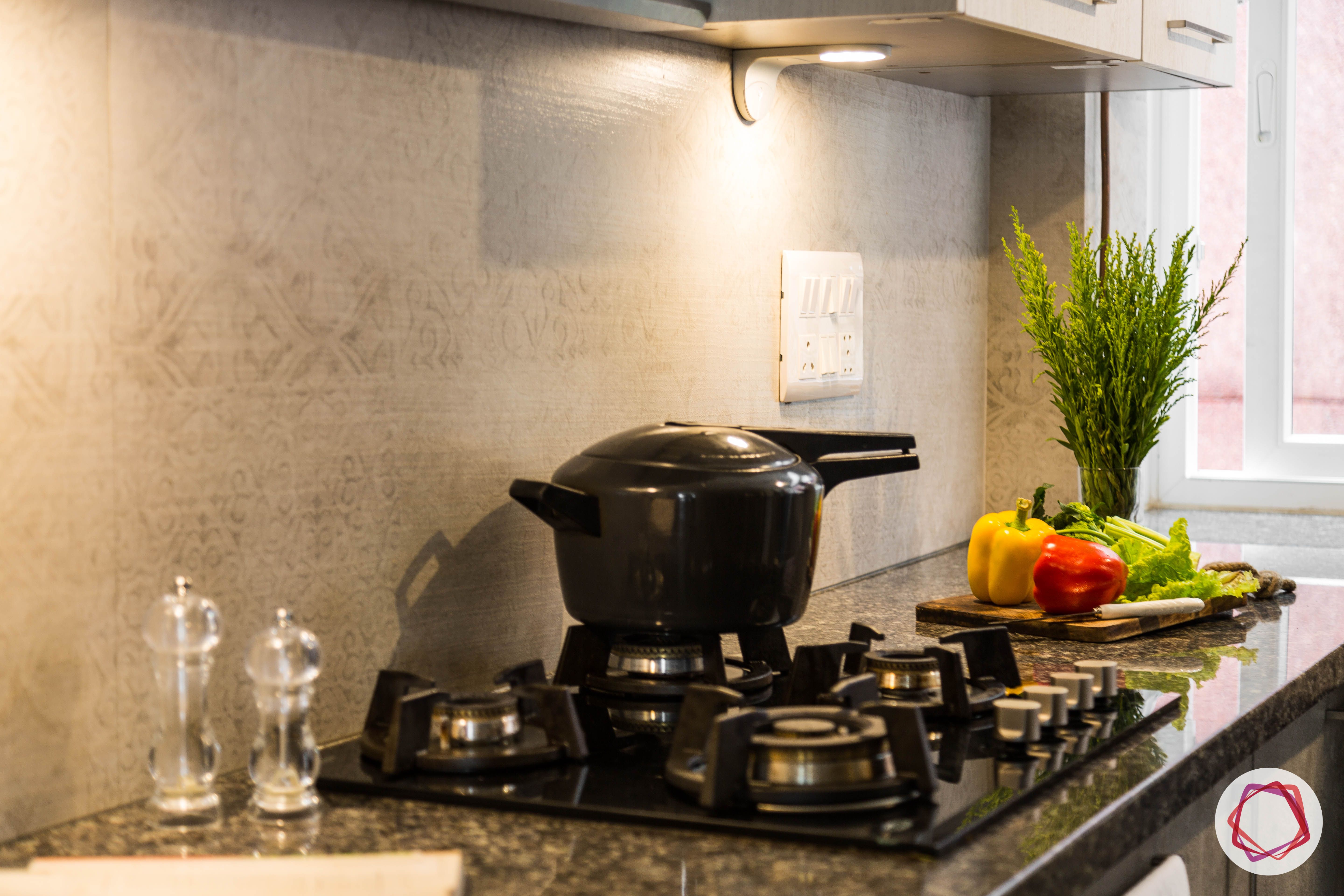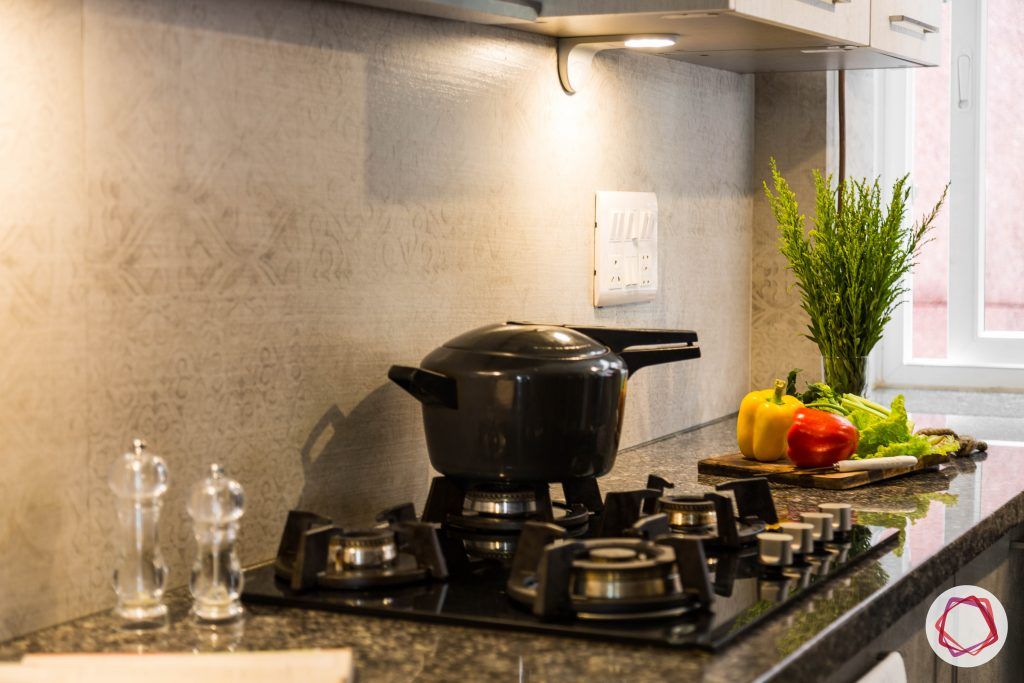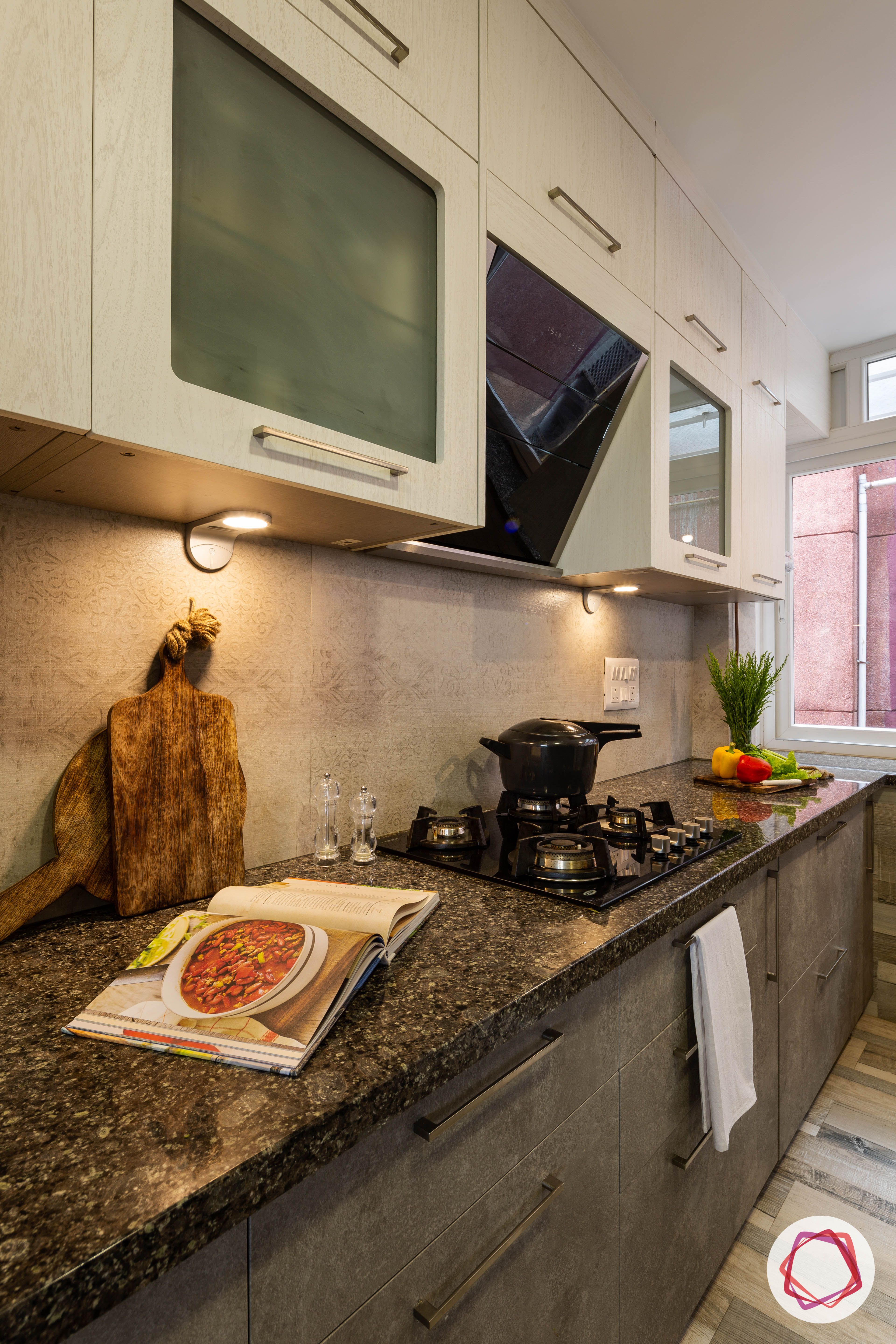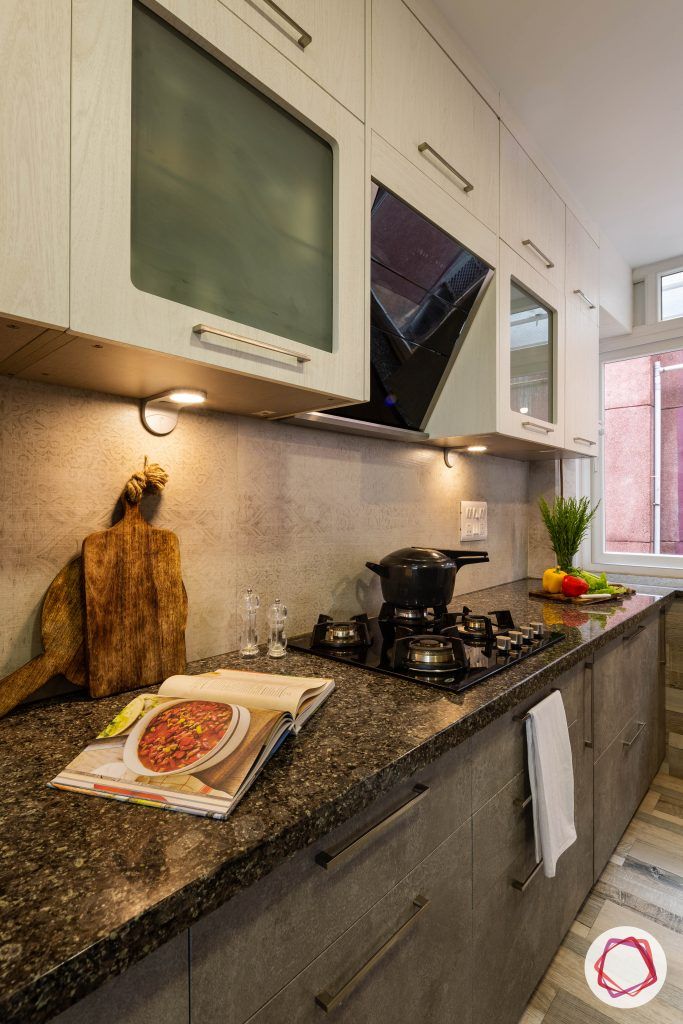 Charu wanted the new kitchen design to have a rustic vibe. As a result, Nilisha used raw and natural finishes. The countertop is made of brown adhunik granite, a high-grade variety of granite. The backsplash tiles are a neutral shade with intricate patterns. These subtle tiles have a dimension of 4×4 inches instead of the typical smaller tiles that are common for kitchens. This gives an impression of a larger space.
The kitchen cabinets have stone grey and white membrane finish. To ensure continuity of the new kitchen design, all profile handles are placed horizontally. This creates an illusion that the wall cabinets are lift-up options but they are actually regular shutter cabinets. In addition, the wooden finish tiles on the floor give the kitchen a touch of robustness.
New Kitchen Designs: Window Side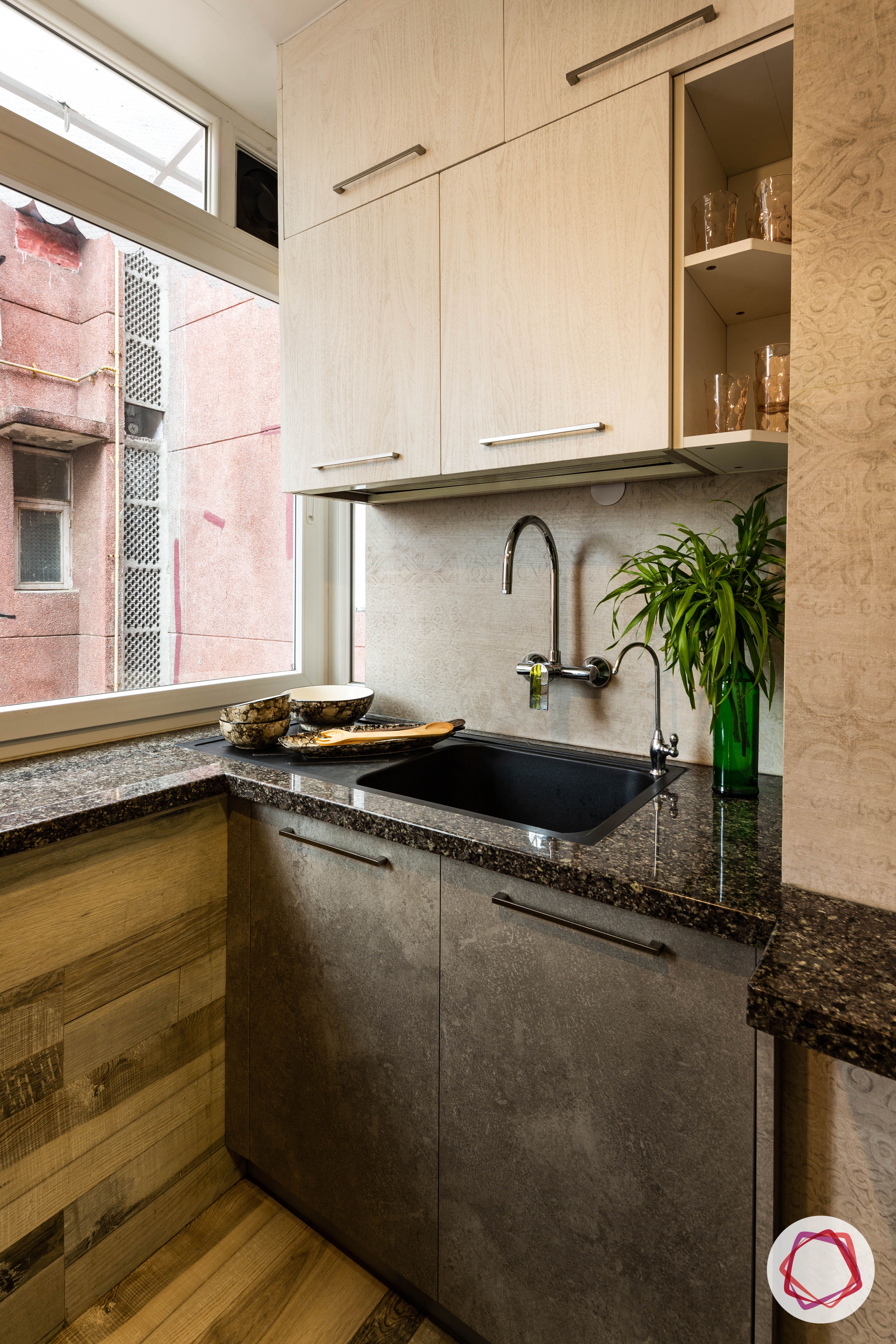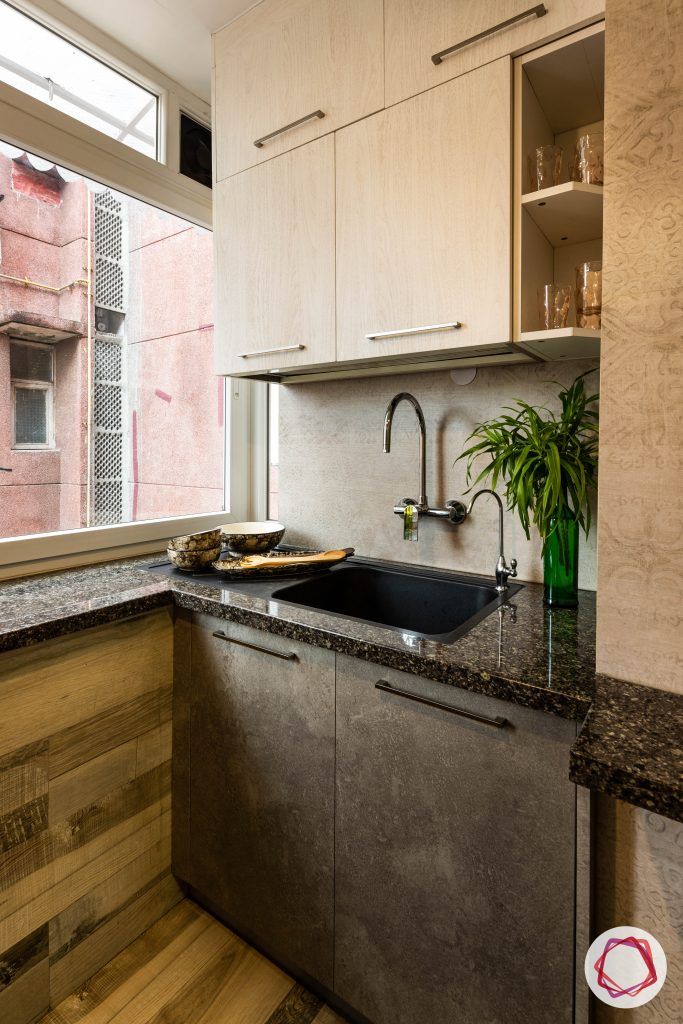 Charu's favourite part of the kitchen is the space by the large window. The sink has been placed here to maximise slab space. This is the brightest spot in the kitchen and it also overlooks a bunch of trees in her neighbourhood where a variety of birds nest. The humming of birds combined with the mundane humdrum of urban life makes this kitchen a tranquil space.
"The Guptas were very involved in the process of designing their kitchen, which helped us make it as seamless as possible. They were clear about what they wanted and& it was easy for me to craft the designs."

– Nilisha Keshri, Interior Designer, Livspace
If you liked the rustic vibes of this kitchen, don't forget to explore This Vastu-Compliant Kitchen in Bandra is High on Storage.
Send in your comments & suggestions.