A space-maximised white kitchen design in Mumbai that looks wonderful!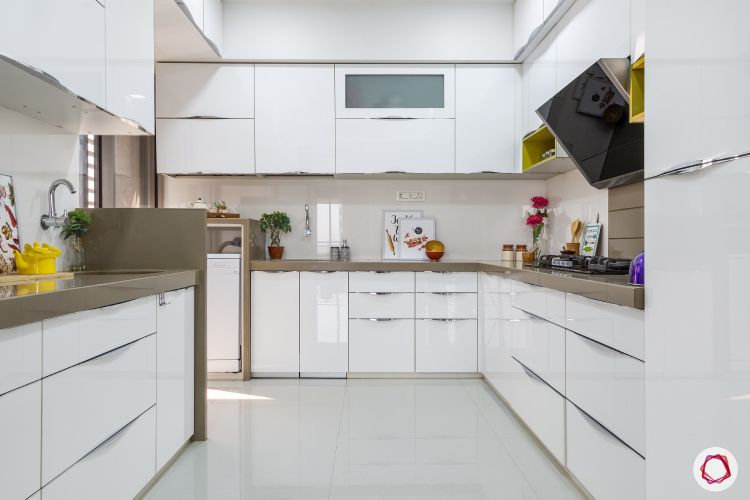 ---
Who livs here: Samir Jha with his wife Sharda Jha and three kids
Location: The Address, Ghatkopar West, Mumbai
Size of kitchen: 180 sq ft. approx.
Design team: Interior Designer Hansika Mota with Quality Manager Ramesh Chhogalal Parmar
Livspace service: Kitchen design
Budget: ₹₹₹₹₹
---
For Samir and Sharda Jha, moving into a new home meant the family could spend more time together. A businessman by profession, Samir, has always been comfortable living in Ghatkopar since his office lies in the vicinity. In the maximum city, we are guessing that's very important! Otherwise, one could easily lose out on family time with the endless travel. Another thing they really wanted for this new home was a big beautiful kitchen. This is where we come in.
In stepped Livspace and designer Hansika Mota, with a goal to give them the kitchen they wanted, and needed. Hansika understood the vibe of the clients and gave them some superb designs, and modules which were absolutely necessary. This kitchen is fully equipped, with an air conditioner in place as well. Say hello to family time in the kitchen! Take a tour.
Snowy Kitchen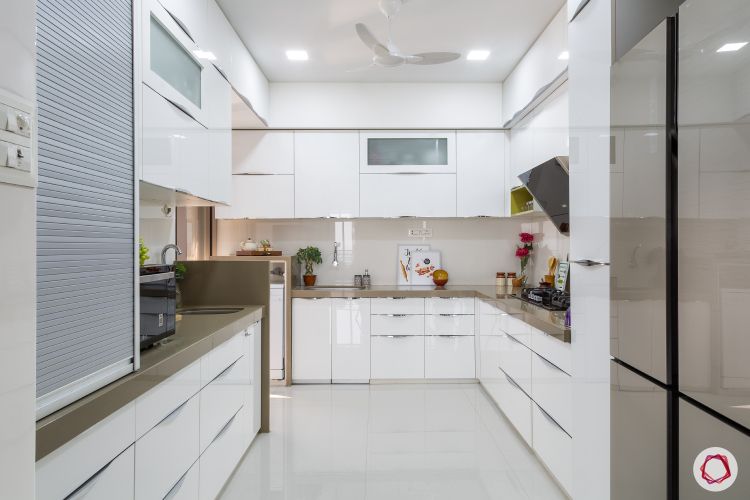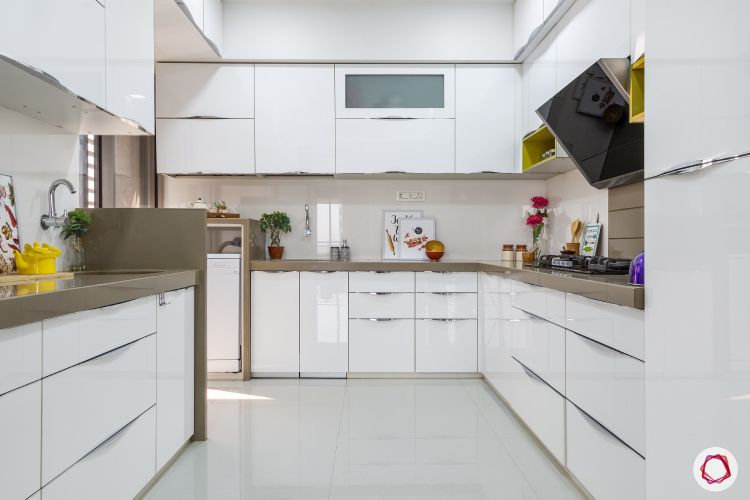 Sameer and Shardha had one requirement in place when they asked Hansika to remodel their kitchen, they wanted every corner of the space to be utilised. That's precisely why Haniska gave them customised units and cabinets that extend to the ceiling. She broke down the earlier L-shaped layout and gave them an extra counter next to the entrance. As soon as you enter the kitchen, you see the roller shutter on the left, which can store their appliances. Next to that is the extra worktop with the microwave unit.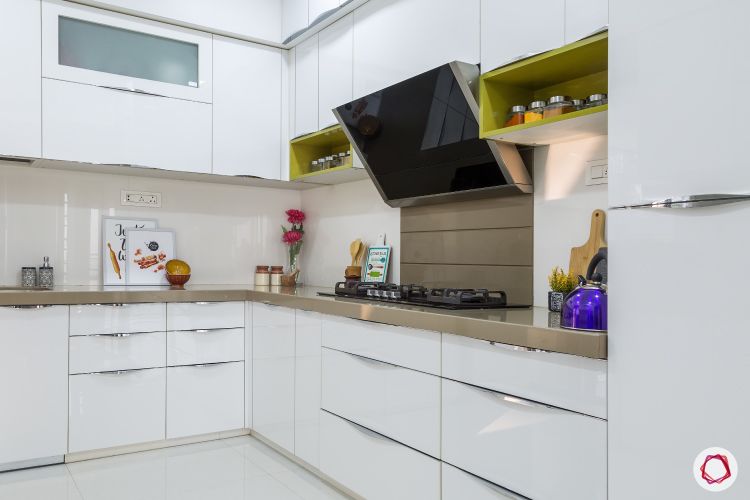 Classy Combination

Since the family has four kids and two helpers, they wanted a kitchen where at least four people could work together at once. Therefore, Hansika gave the couple a superb solution, wherein, she suggested two sinks — one for washing utensils and another for washing fruits and vegetables. This setting enables two people to work at once.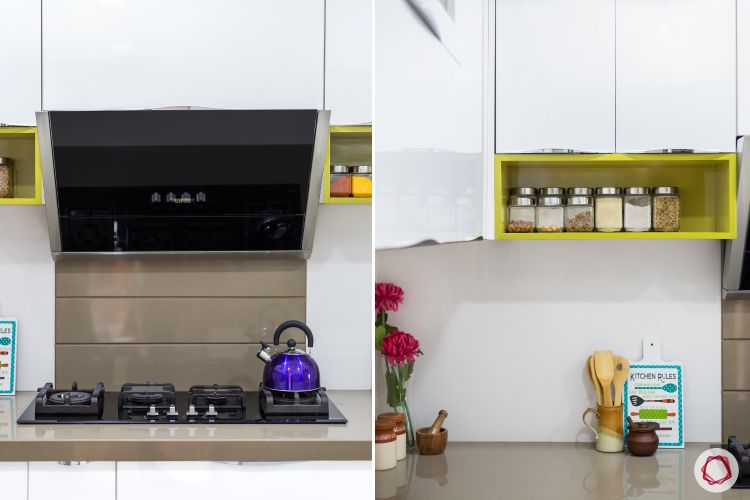 Well, talking about the modules and finishes used in this kitchen, you can find the best of everything here. Hansika has given them modules like tandem boxes, spice racks, bottle pull-outs, drawers and so on. A combination of shelves and cabinets that extend to the ceiling, make sure that they can store a lot of stuff in here. To add a dash of colour, she gave them dark citrus open shelves above the hob area, which is a treat to the eyes! The rest of the cabinetry is given in frosty white acrylic finish, just like the couple wanted.
A Pull-out Breakfast Counter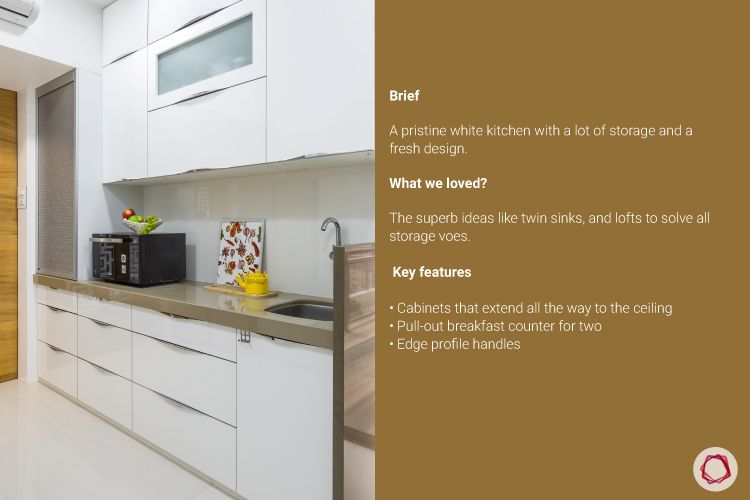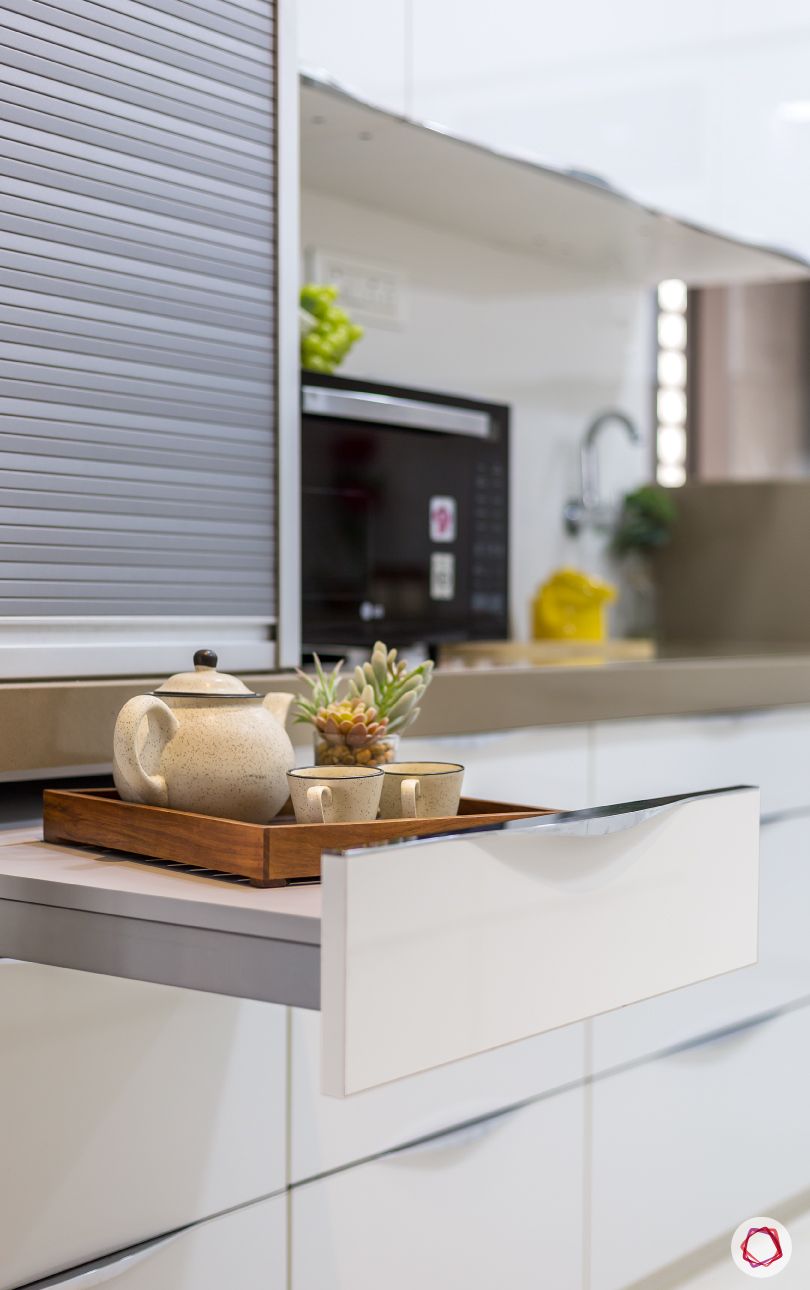 A very unique factor in this large kitchen is the provision of a pull-out breakfast counter just under the roller shutter cabinet. It extends up to three feet and easily accommodates two people. Since there are four kids in the house, it makes it very easy for Shardha to keep an eye on them while they enjoy their meals in the kitchen itself. The white acrylic finish is easy to clean, so no more worrying about food stains!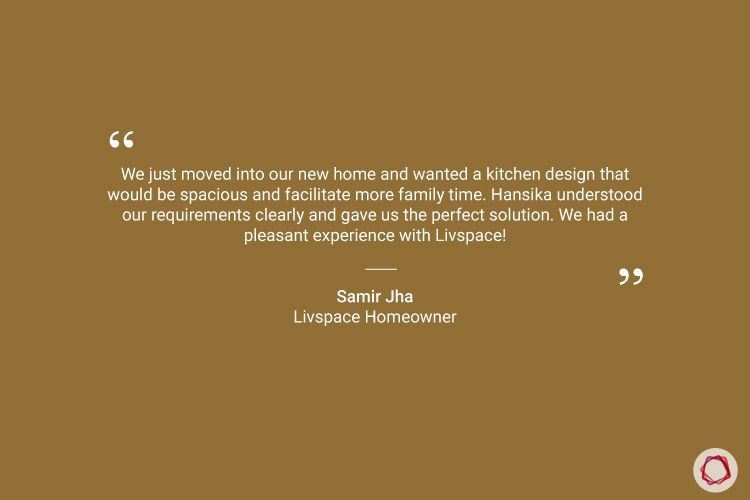 "The biggest challenge in this kitchen design was the fact that I had to change the entire layout of the space. Since they wanted a lot of storage, I had to give them large drawers and lofts. Given that they had the colour scheme and basic requirements in place, it was very easy to design for them. I enjoyed my experience with the Jhas."
— Hansika Mota, Livspace Interior Designer
Want more Livspace kitchen designs? Check this amazing makeover in Mumbai.
— editor@livspace.com