These Mumbai house images look airy and spacious after a beautiful transformation.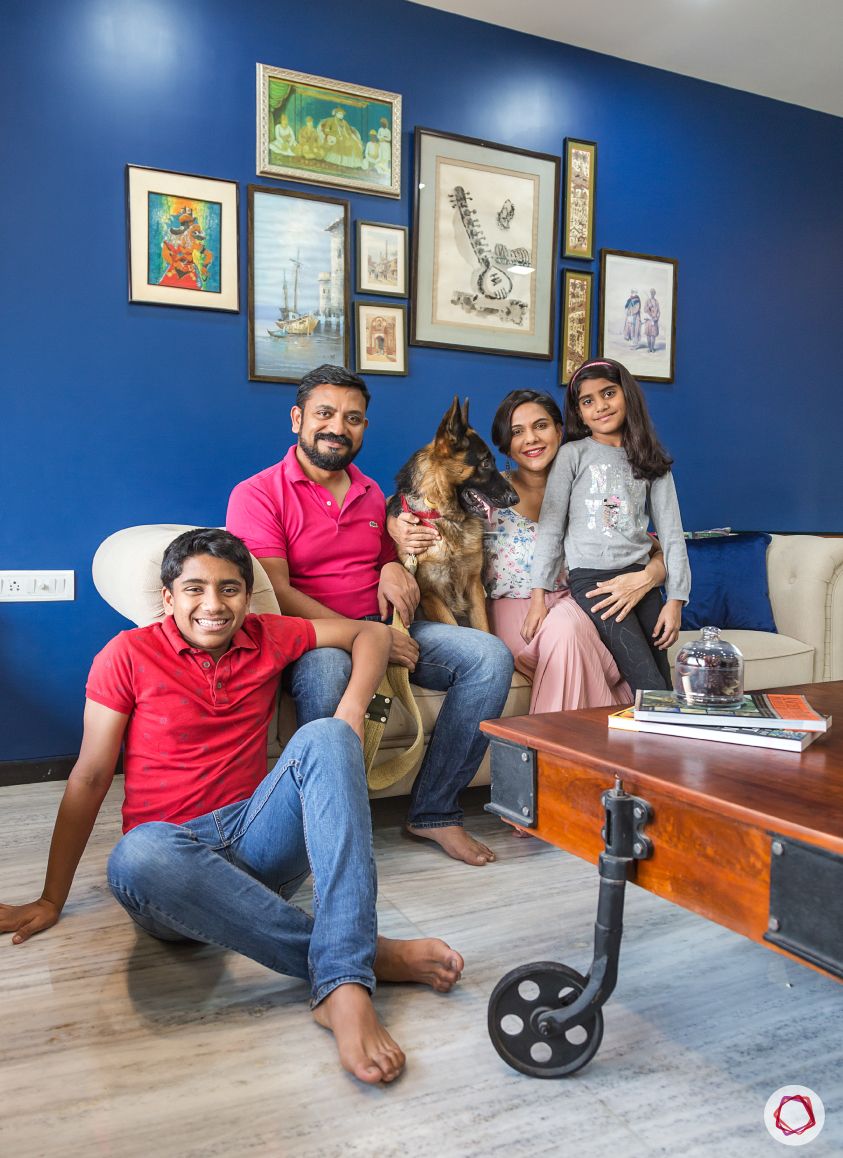 ---
Who livs here: Sumedha Naik with her husband, two kids and a pet dog
Location: Golden Square, Mumbai
Home Size: 2 BHK spanning 785 sqft.
Design team: Interior Designer Hansika Mota with Quality Manager Rupesh Kadam
Livspace service: Full home design
Budget: ₹₹₹₹₹
---
For an affable family of five (including the furry one), a renovation was in queue to ensure their home mirrors their joyful personality. Sumedha Naik wanted to move on from the wooden tones to convert her kitchen into a cheery retreat.
This is where Hansika Mota, Livspace interior designer, steps in and suggested a beautiful blue to make things interesting. Thus, the space took on an uber modern look with white cabinets and a stunning glass backsplash. Seeing the beautiful transformation, Sumedha wanted her living room to match the contemporary feel.
Blue Therapy!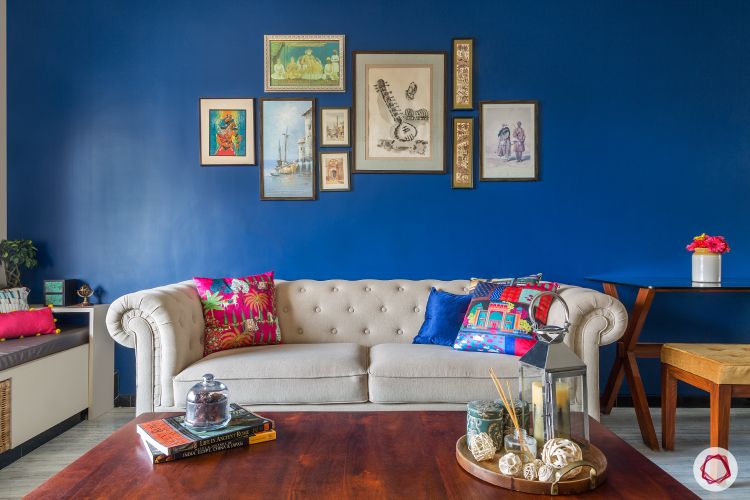 For our client, Sumedha, letting go of the navy blue wall was not an option. Thus, the whole theme revolves around this vibrant colour. A button-tufted roll back sofa takes on a muted palette to balance the colours in the living room.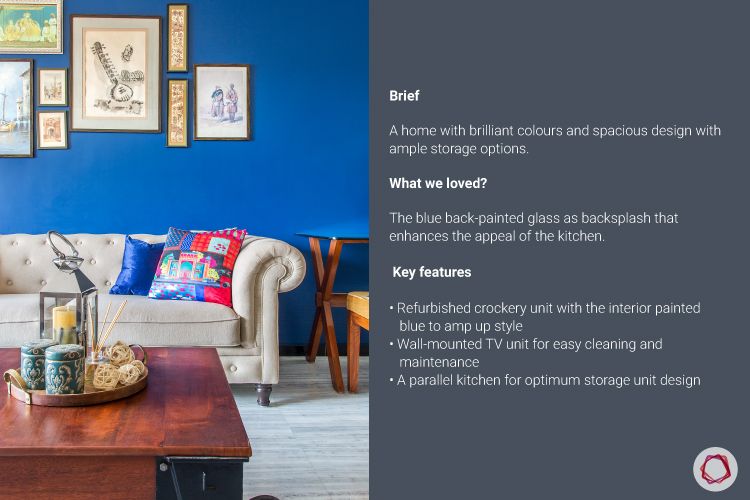 Warm notes with wooden furniture enrich the look. The wall-mounted entertainment unit clears floor space giving it an airy feel and making it easy to clean. An old ledge beside the window was converted into an added seating area with storage units for optimum utilisation of space.
Dining with Statement Accents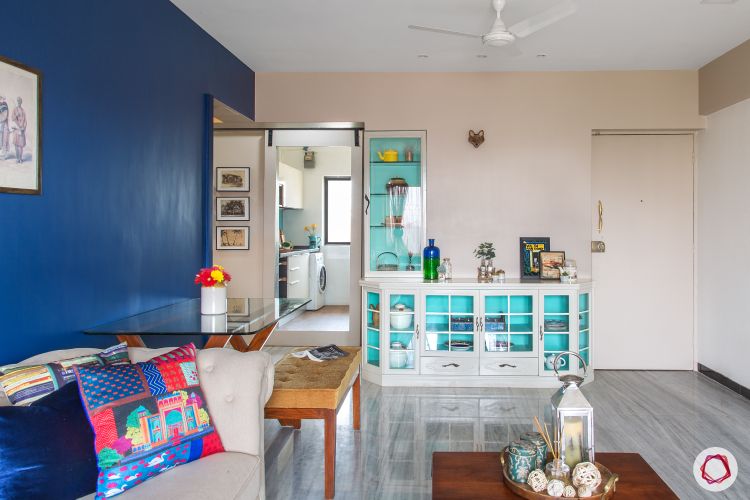 A compact glass-top dining table finds its place in the living room with a sleek bench, enough for a cosy family of four. Another striking feature in this area is the electric blue and white crockery unit, that is fully glass shuttered with two drawers at the bottom. It's the perfect combination of display and storage.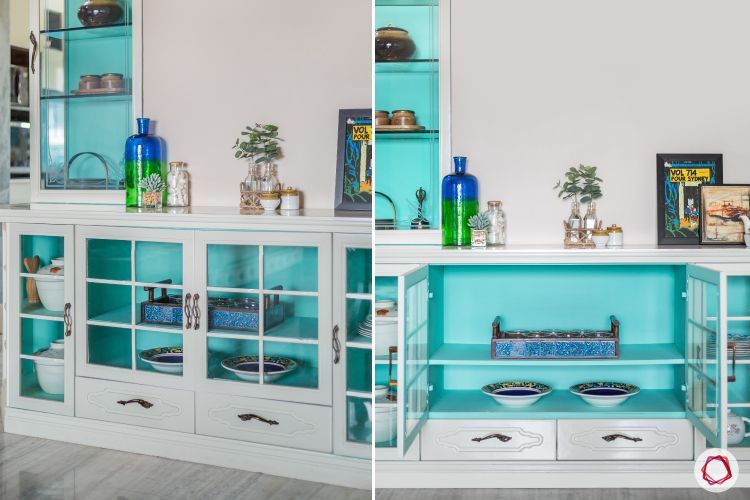 From a regular dark wooden version, this piece of furniture is revamped to suit the theme at home, with a white frame and a fresh blue-painted background. This is ideal to feature all their prized cutlery collection as it pops out, making it a delightful display.
Statement Passageway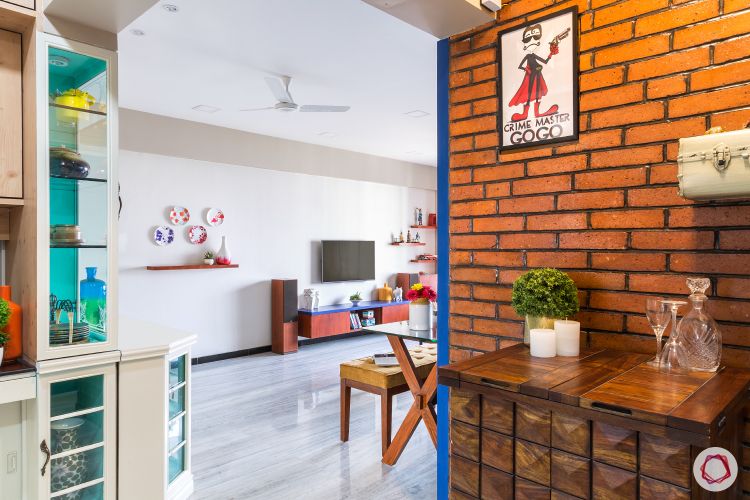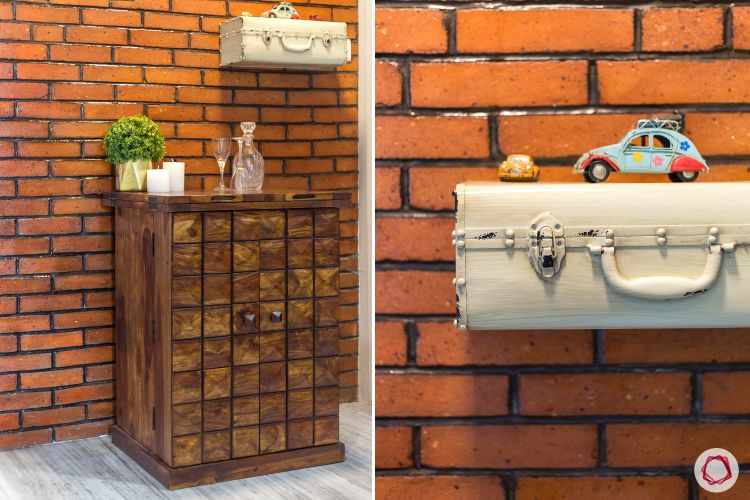 The passage beside the kitchen and living room takes on an industrial look. The exposed brick wall adds warmth to the space with the colour of the red brick tiles. A stylish bar unit is set against the backdrop of the brick wall under a small trunk, which acts as a decor element.
A Popping Kitchen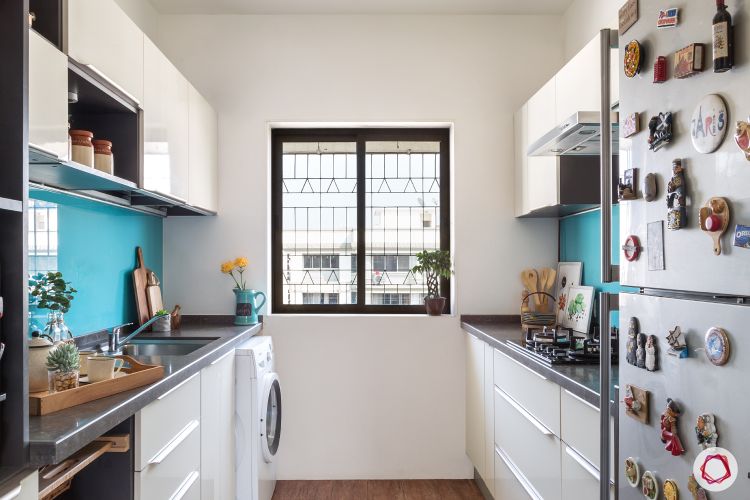 Initially, an L-shape kitchen layout, which did not offer maximum utilisation of space. Thus, it adorns a parallel design with ivory and grey shades for a bright look. Now, the washing machine which took shelter in the living room also fits into the kitchen.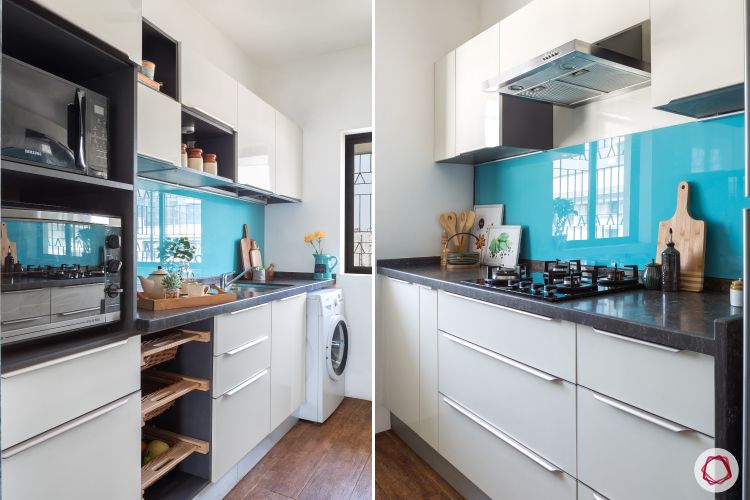 Sumedha's main concern was storage, thus plenty of drawers find place to offer maximum usage of space. This solution is very functional and lets her organise all her stuff with ease. A tall unit houses appliances like the microwave oven, along with others.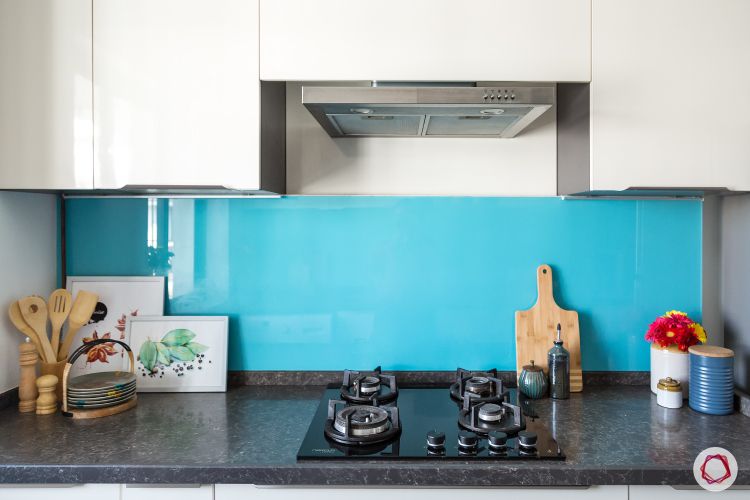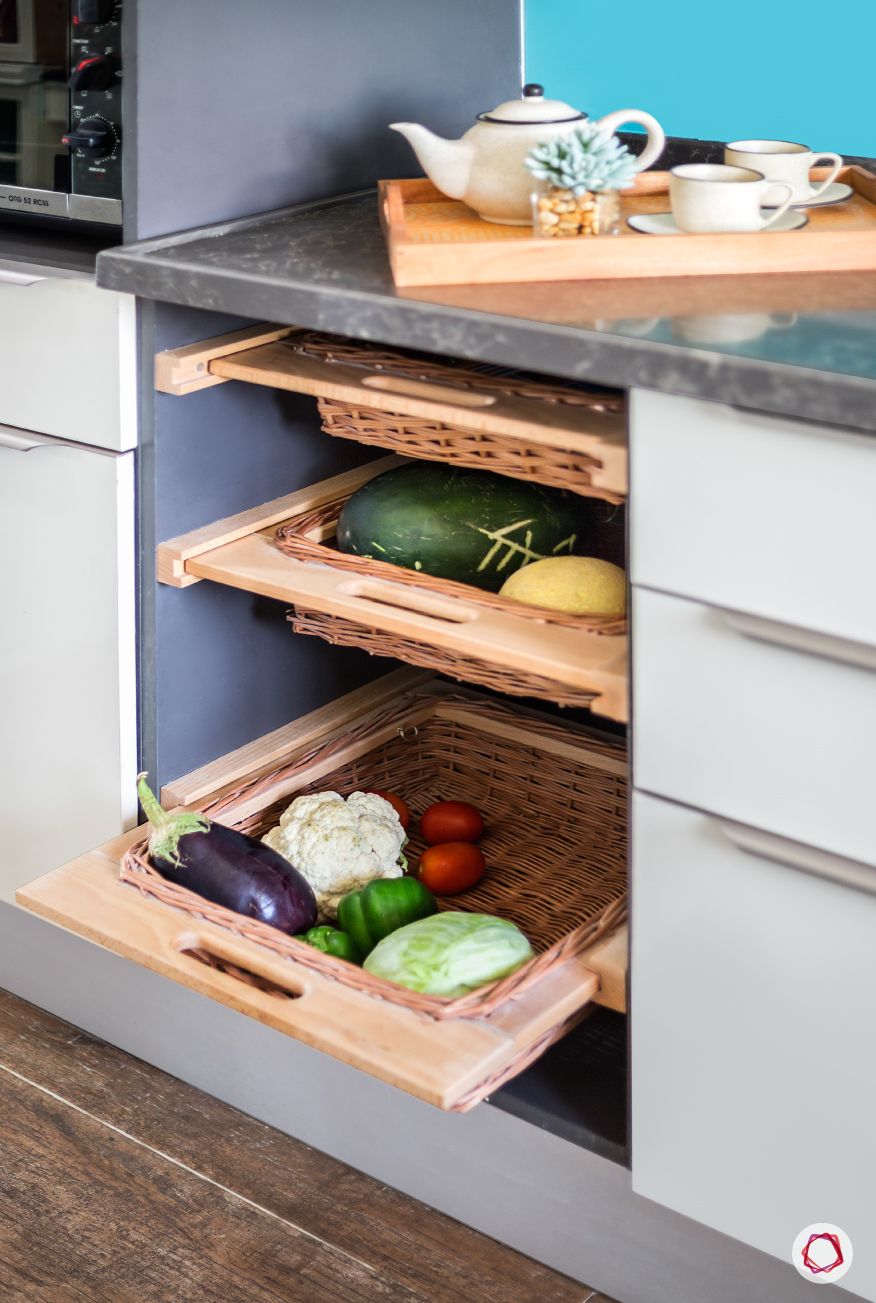 The electric blue back-painted glass gives the kitchen's aesthetics a beautiful boost. Wicker baskets keep vegetables fresh and neatly organised, keeping the kitchen ergonomics on point!
"Sumedha and her husband gave some superb design inputs and we built a great rapport with each other. I was able to gauge her colour preferences and in the end she was very happy with the output. I thoroughly enjoyed working on this one!"

— Hansika Mota, Livspace Interior Designer
We love how this beautiful home has transformed into a lively hub with buoyant colours taking centre stage. While wooden notes are warm, a contemporary design can never fail to add the wow factor! If you love this transformation we're sure you'll want to check out this quirky home.
— editor@livspace.com