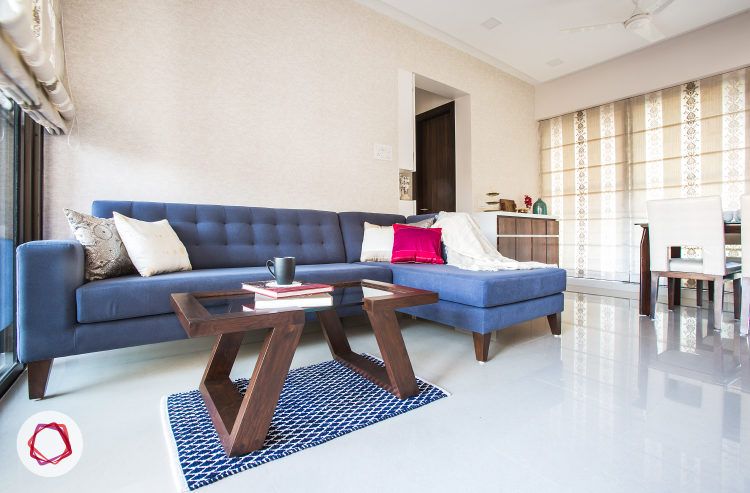 Picture Credit: Anuja Kambli
---
Who livs here: Sachin and Pallavi Bid with their 7-year-old son, Neel Bid.
Location: Runwal Anthurium, Mulund West, Mumbai
Home type and size: A 3 BHK home spanning 1,230 sq ft
Design team: Interior designer Ayushi Kanodia with project manager Sachin A Satam
Livspace service: Full home design
Budget: ₹₹₹₹₹
---
When Sachin and Pallavi Bid bought their home in the sprawling complex of Runwal Anthurium, in Mumbai's suburban Mulund West, they didn't think twice before approaching Livspace. When they met Livspace interior designer, Ayushi Kanodia, it was truly a match made in heaven, because she gave them what they were looking for — a seamless, hassle-free experience.
Self-proclaimed early-adopters, the Bids represent India's new-age suburban family. With modern aesthetics and well-travelled taste, the couple loves to experiment. Their latest undertaking is an electric scooter, which is representative of their keen interest in getting there first, and embracing every aspect of being a lighthouse customer.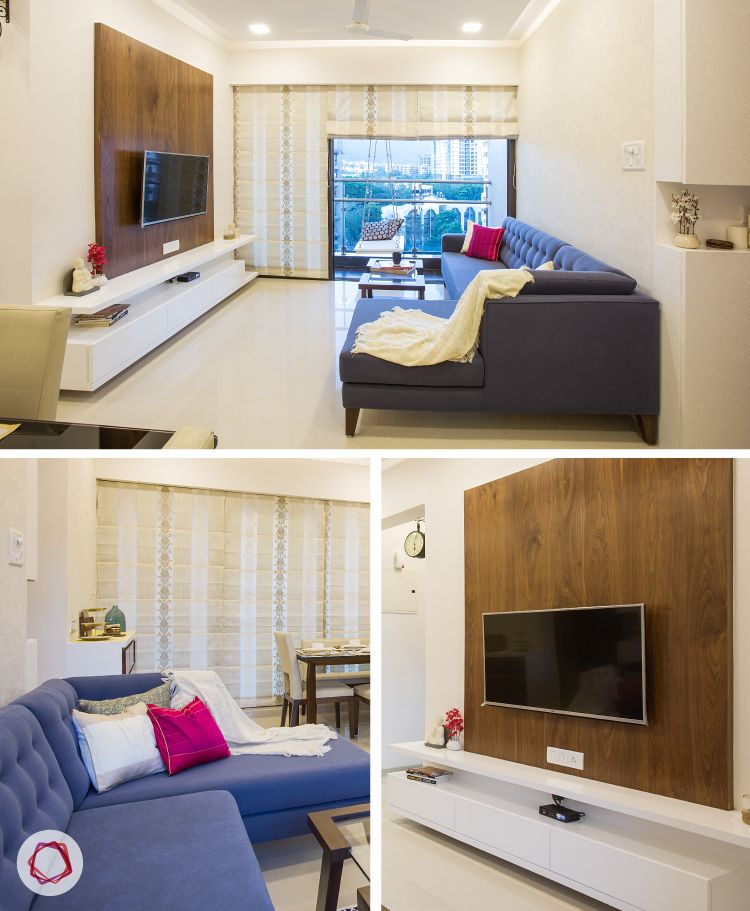 ---
The Scandinavian lines of the navy button-tufted couch in the Bid's living room dominates the space. We especially love the modish jhula in the balcony.
---


Having worked with private equity and venture capital funds, Sachin was keen to engage with Livspace for his home's interior design. Pallavi, on the other hand, is a Chartered Financial Analyst like her husband but has chosen to flourish instead as a mehendi artist. The duo are currently building their own start-ups. Sachin is at the helm of a travel start-up, My Dream Holiday, while Pallavi is contemplating building a review platform focussed on kid's nutrition.
Given their background, it was only natural that they would accept all-things-modular.
The Bid's worked with Ayushi to create an all-white home with splashes of natural wood peeking through — a stark difference from their earlier home, which the couple shared with their large joint family. The L-shaped navy button-tufted couch is Pallavi's favourite place to unwind on. I'm immediately taken to the swing in their balcony, which she says was probably the only thing, she and Ayushi didn't quite agree on. But in the end, Ayushi relented and gave them a modern twist on the traditional Indian jhula.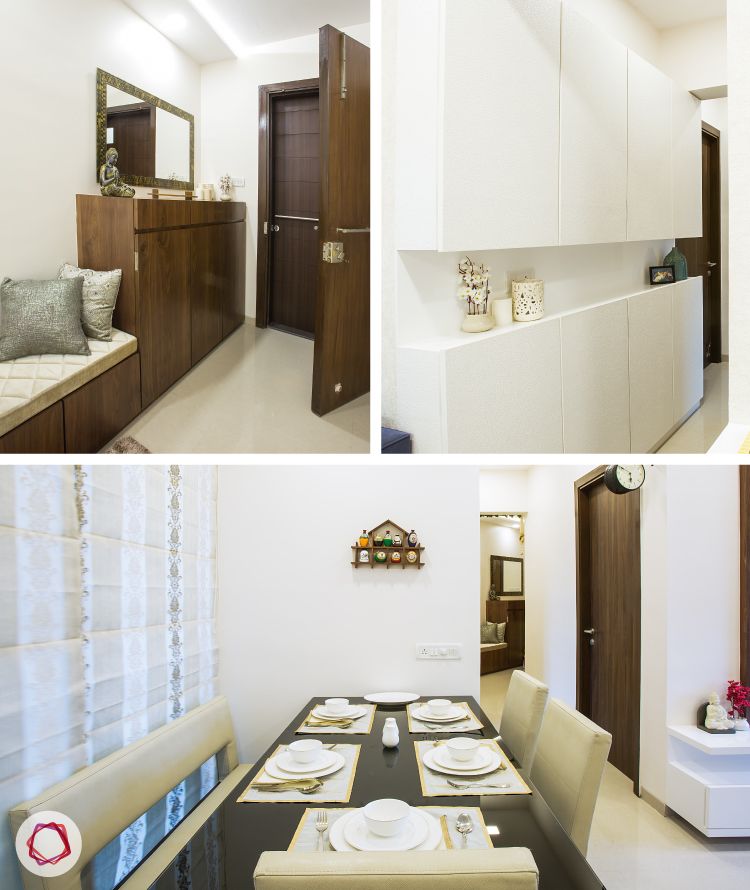 ---
The foyer enjoys the burnished feel of deep woody tones and is completed with a dull gold mirror and small settee. The short corridor that leads up to the bedrooms has storage for all kinds of odds and ends. The open-concept dining area bounces around more light, adding to the expansive feel, thanks to the glass-topped dining table.
---
The foyer, the open-concept dining area and the tiny passage to the bedrooms were all treated with the same ivory and brown palette. A big interior design challenge was making the relatively small apartment larger than it seemed. With clear windows behind the dining area and glass french doors opening up to the living room balcony, mirroring each other, the space tricks you into believing it's twice its original size.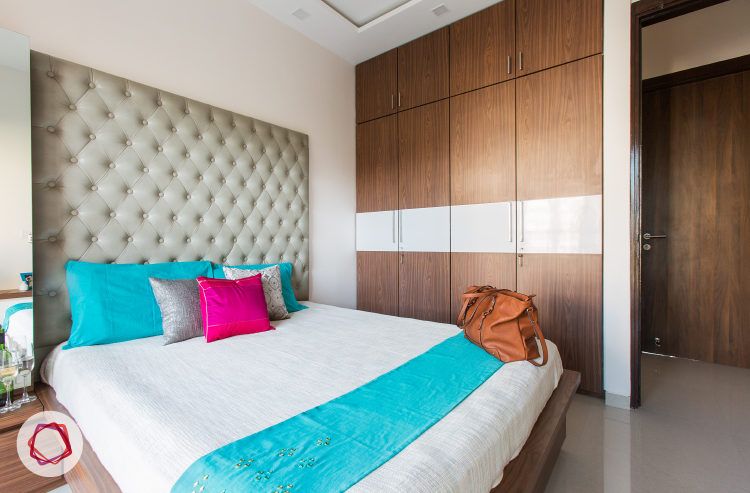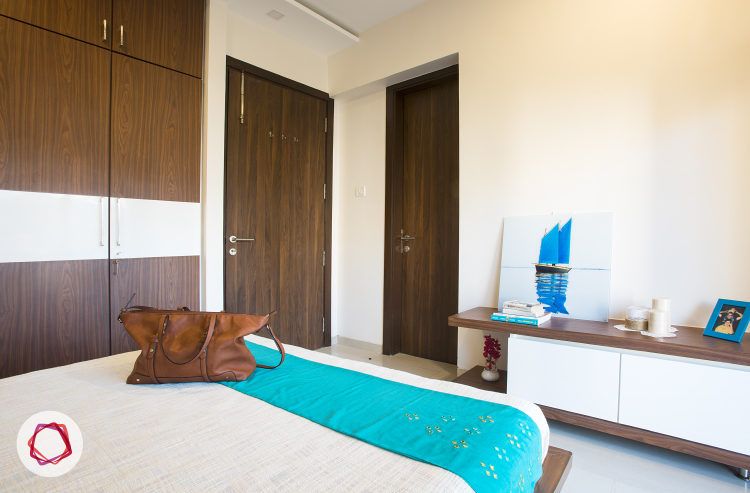 ---
The greige headboard makes an eye-popping statement in the master bedroom.
---
As you enter the master bedroom, what immediately strikes you is the towering greige headboard. The rest of the bedroom follows the Bid's favored brown and ivory colors. A short console provides the perfect stage to wall mount a TV.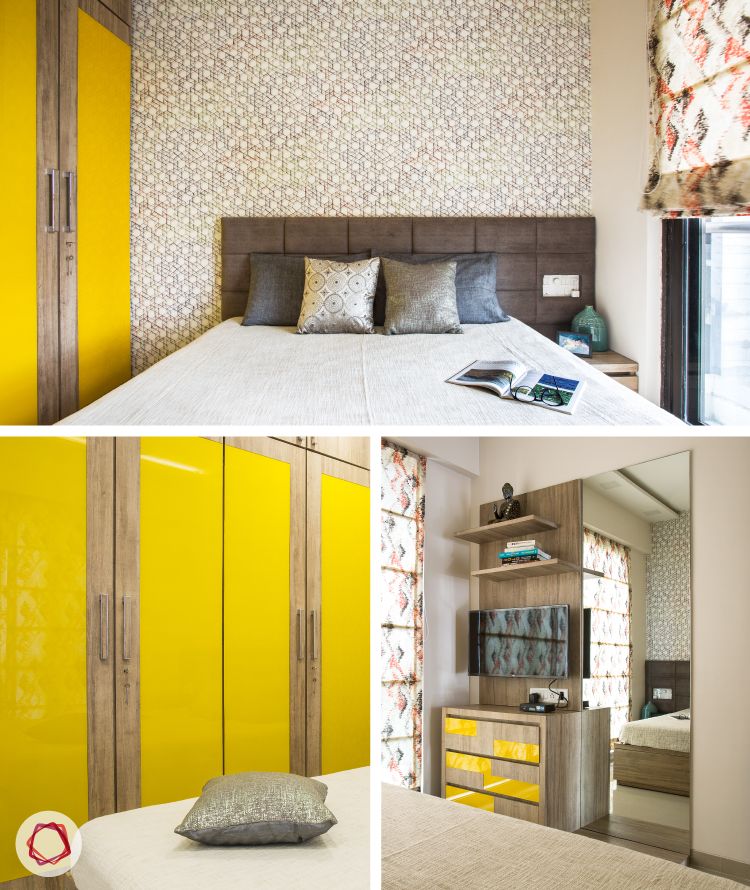 ---
Neel's bedroom stands out from the home with its sweeping notes of canary yellow.
---
Neel's bedroom is pleasantly warm with splashes of canary yellow on the wall-to-wall wardrobes. An arresting hexagonal 3D wallpaper adds a playful note to the otherwise mature design choices for a kid's bedroom. A wall panel that holds a TV and other accessories with a full-length mirror to allow for the growing boy's vanity needs completes the look. Since the room is gender neutral, it can conveniently be turned into a guest room.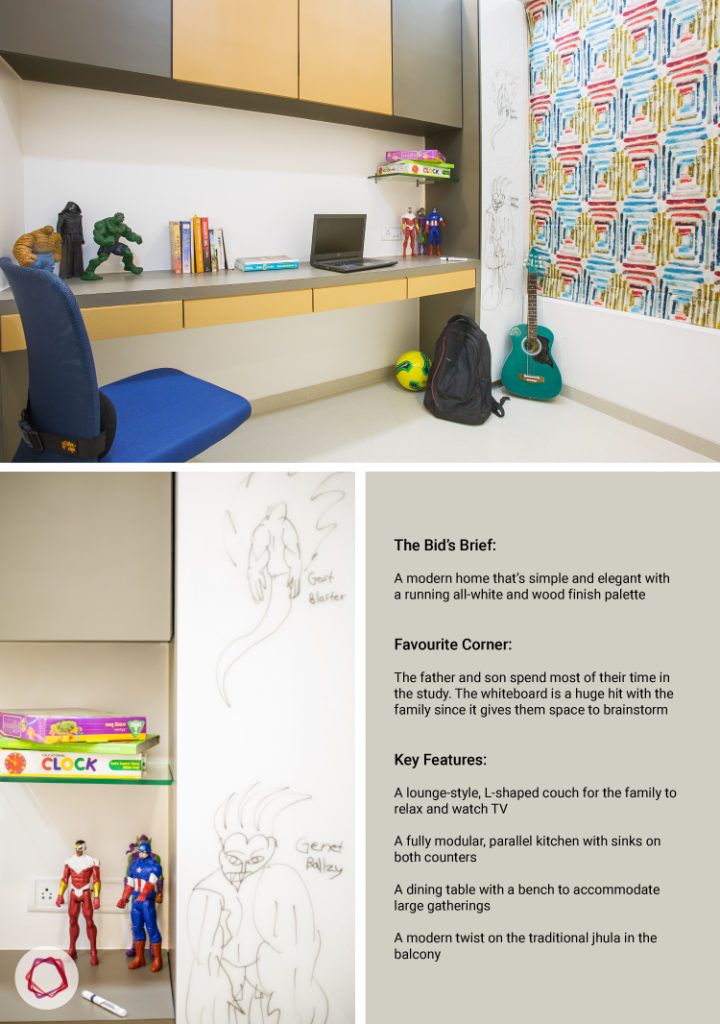 ---
The tangerine and slate study have garnered the title of the father and son's favoured room.
---
Sachin prefers to work from home on most days and finds the soothing tangerine and slate-grey of the study perfect for zoning out and getting a lot of work done. Neel, on the other hand, loves scribbling on the whiteboard, which actually camouflages a tall storage cabinet. A budding artist and avid superhero fan, Neel doesn't seem to recall he used to live elsewhere earlier, and always runs to the study room when he's back from school.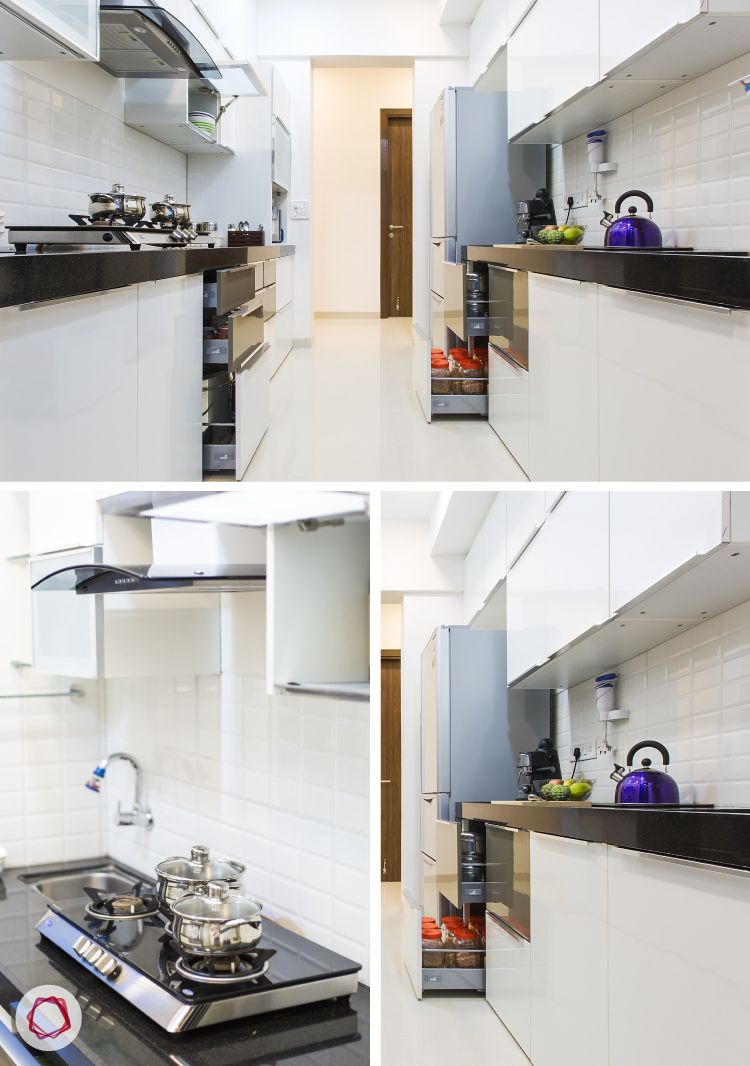 ---
Pallavi swears preparing meals has never been a more tranquil experience thanks to her pearly white kitchen.
---
Pallavi can't get over her all-white kitchen. She says cooking has become an absolute joy in her well-equipped kitchen and contrary to popular belief, cleaning up a white kitchen hasn't been tedious at all. The modular units were all hand-picked by Ayushi and her to fit her requirements to the T.
As we wind up our interview, it's evident that the Bids couldn't have been more contented with their choice in Livspace and they are sure it's going to have a trickle-down effect as their extended family follows in their footsteps.
We've had plenty of family and friends over since we've moved in. Sometimes, it feels like they're just making excuses to come over! In fact, we're pretty sure our extended family is convinced they should employ similar interior design services when they redesign or make new real estate purchases.

– Sachin and Pallavi Bid, Livspace Homeowners