A Crescent Bay apartment gets a stunning look!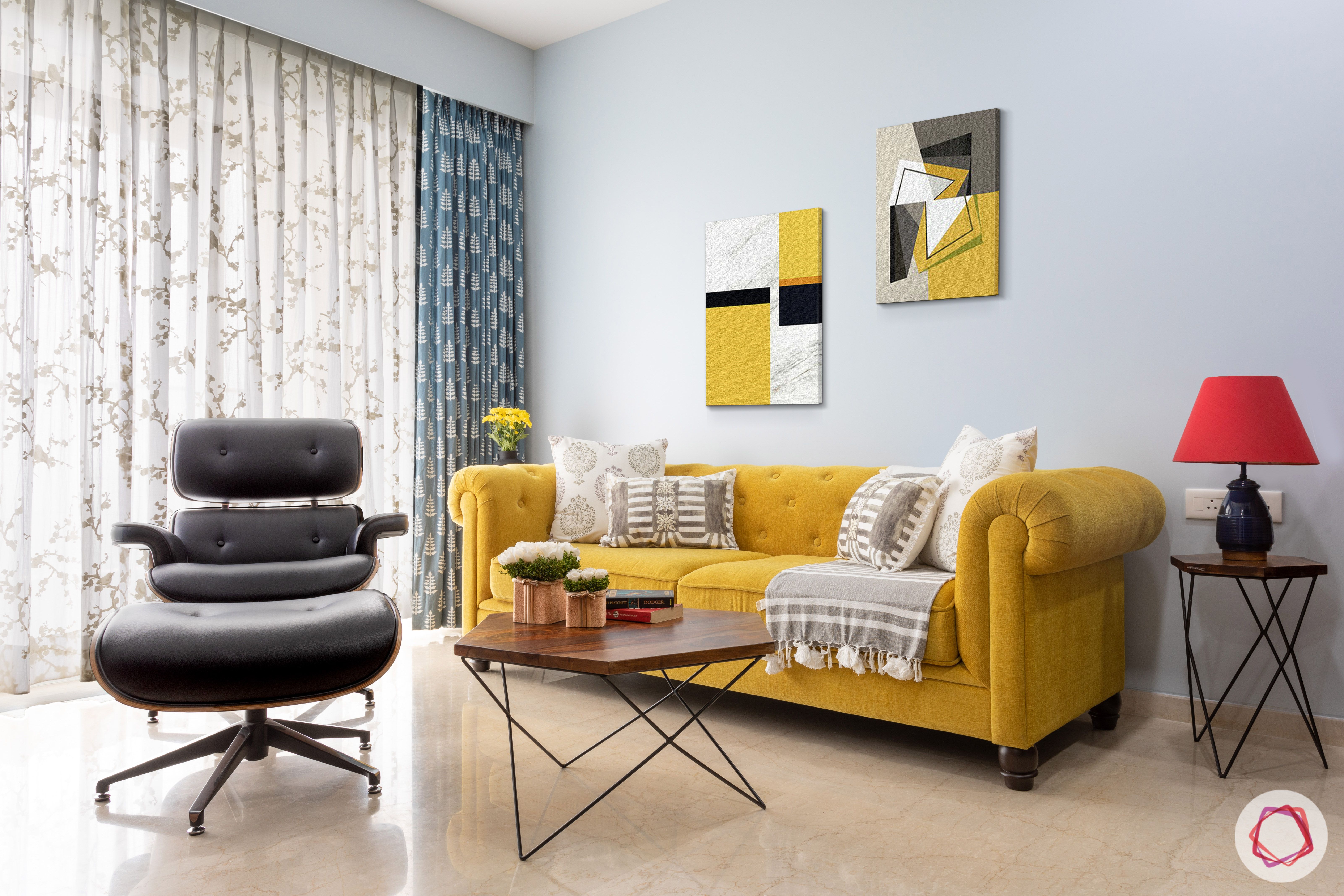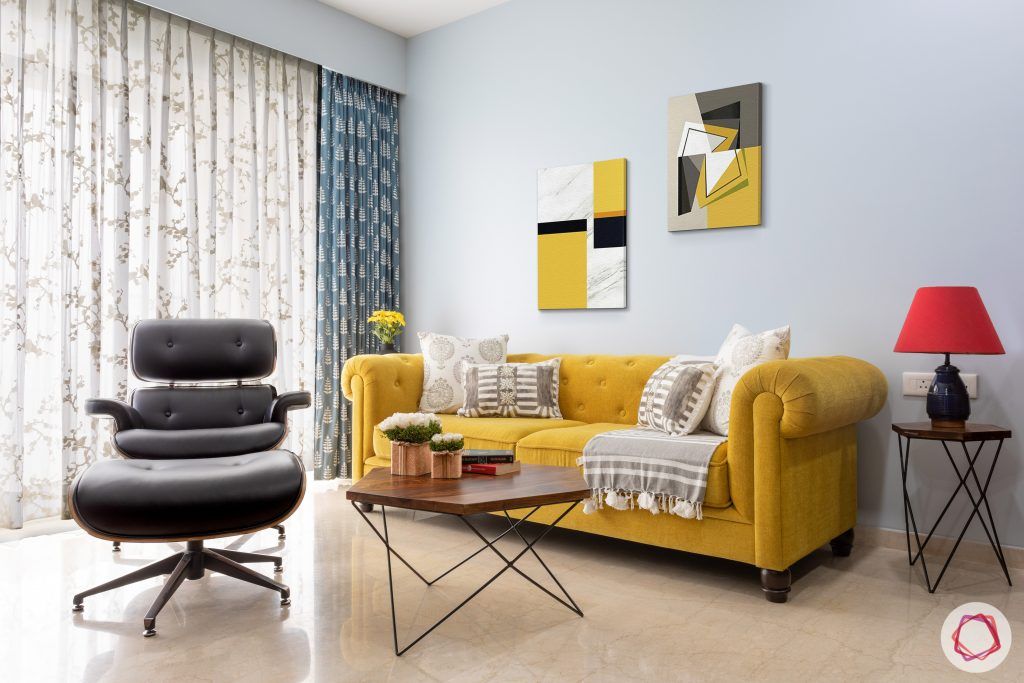 ---
Who livs here: Aparupa Saha with her husband Sayak Maity
Location: Crescent Bay, Parel, Mumbai
Size of home: A 2BHK spanning 850 sq ft approx.
Design team: Interior Designer Pallavi Goel
Livspace service: Full home design
Budget: ₹₹₹₹₹
---
If you happen to keep up-to-date with the latest trends in interior design, chances are that you are going to want to change the look of your home frequently. Aparupa and Sayak, lawyers by profession, keep super busy and love keeping up with trends. The same applied to their home design at Crescent Bay. They contacted Livspace with the hope to get great ideas for their 2BHK.
Their designer, Pallavi Goel, met them just once to understand their requirements. Post that it was all done over the phone and things were finalised pretty smoothly. Aparupa was very sure about having loose furniture that is movable and can be updated with time. Bright specks of colour is accented by classic solid wood furniture that blends in seamlessly with the design. Take a tour to see how everything took shape.
Crescent Bay: Pop Yellow Accents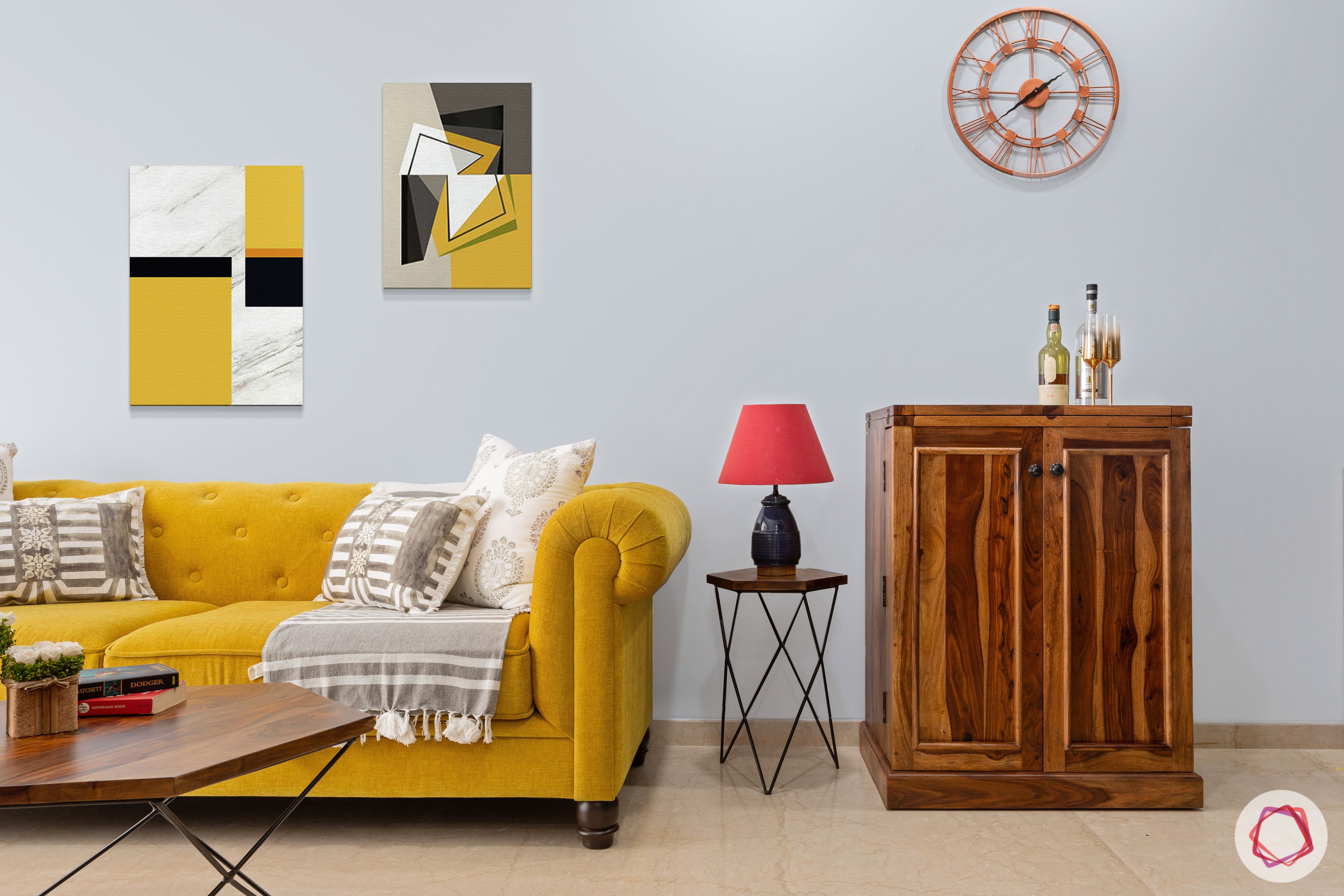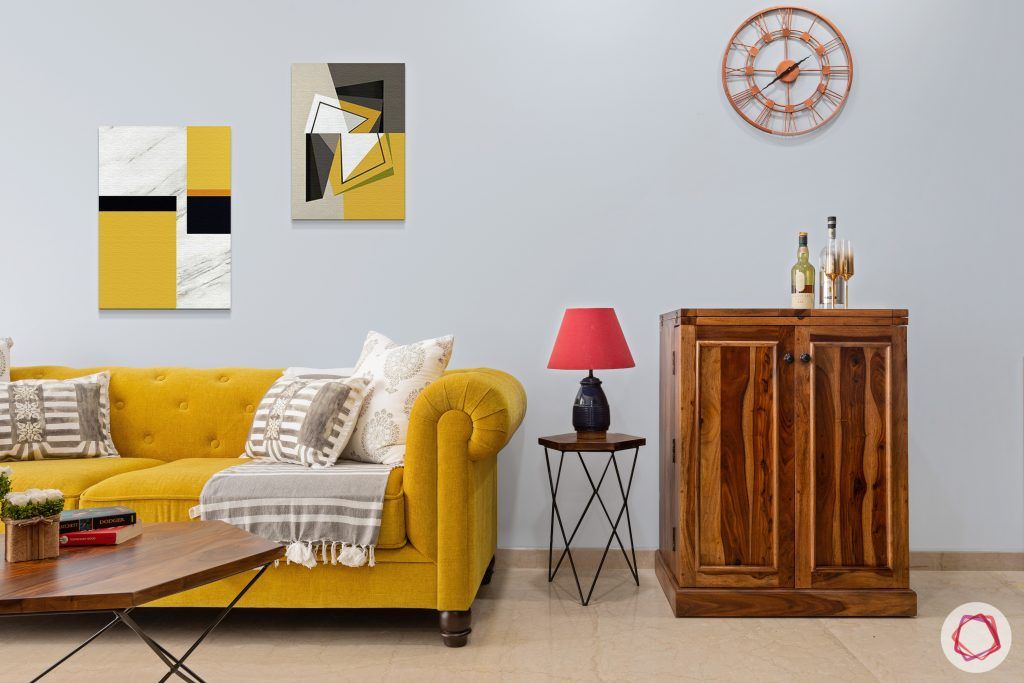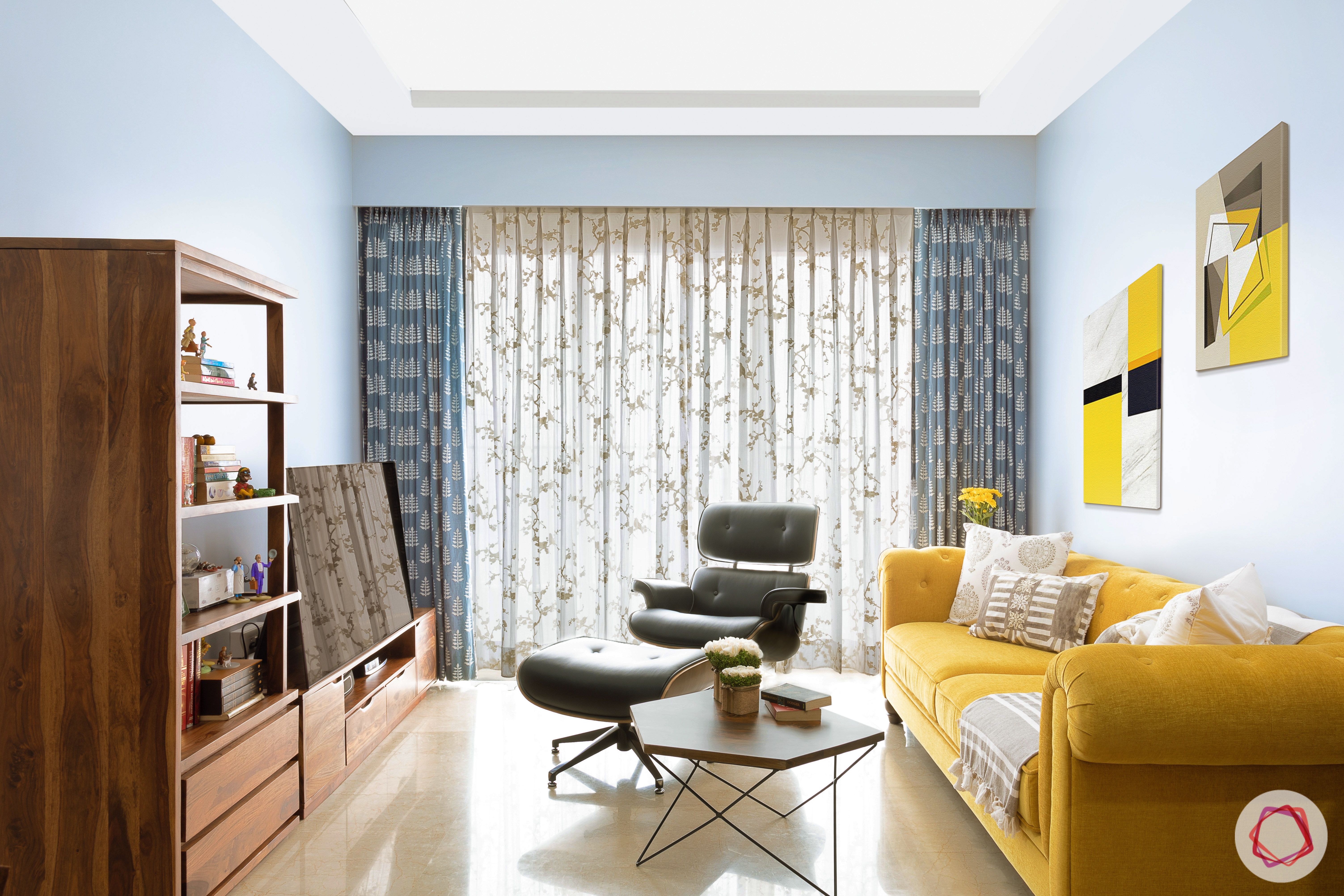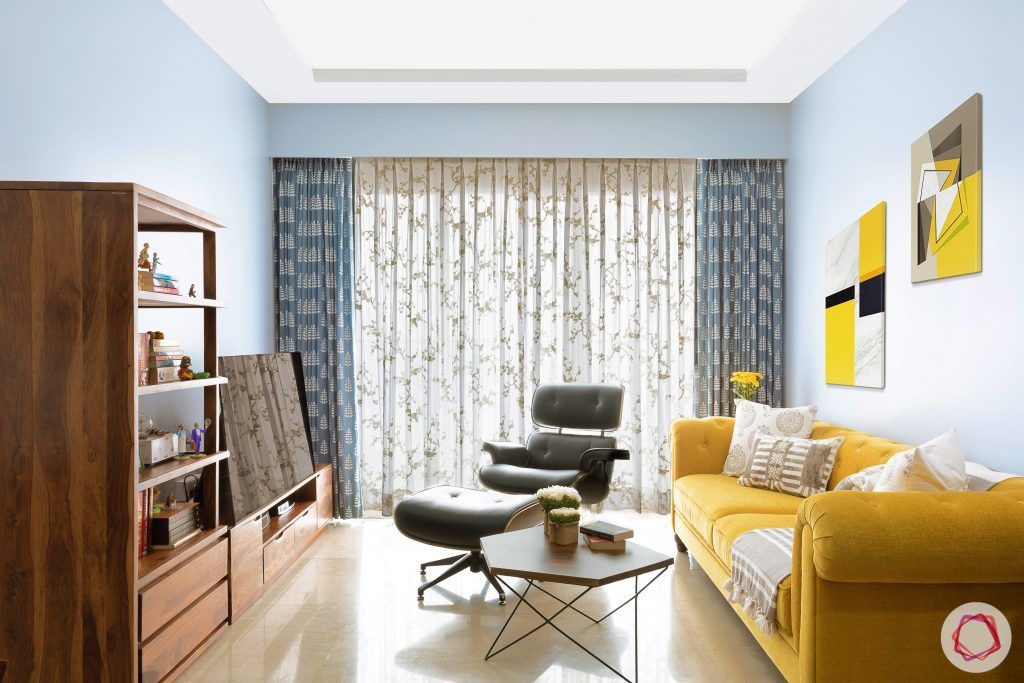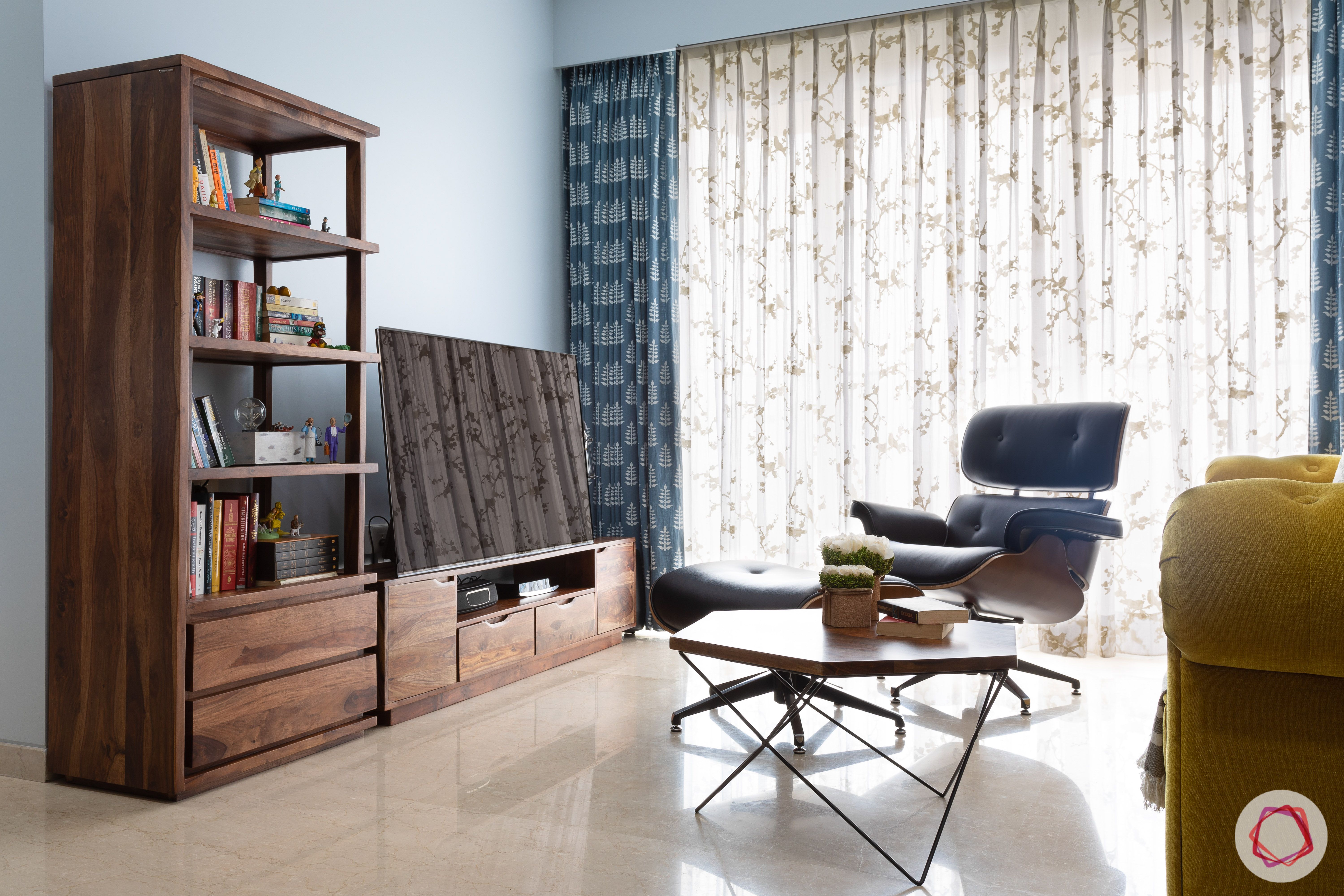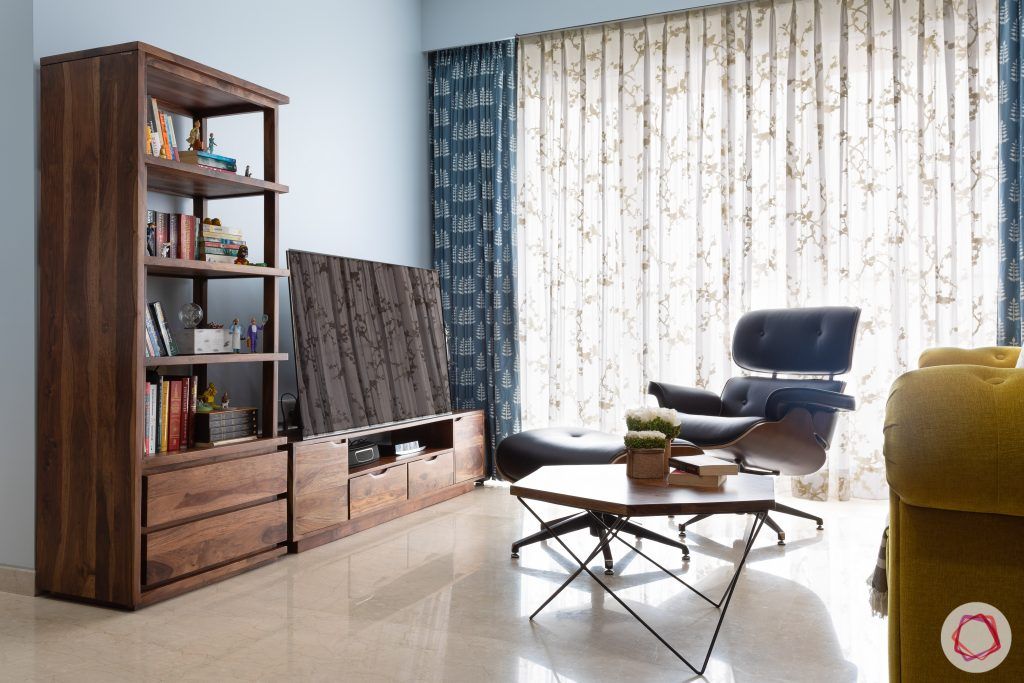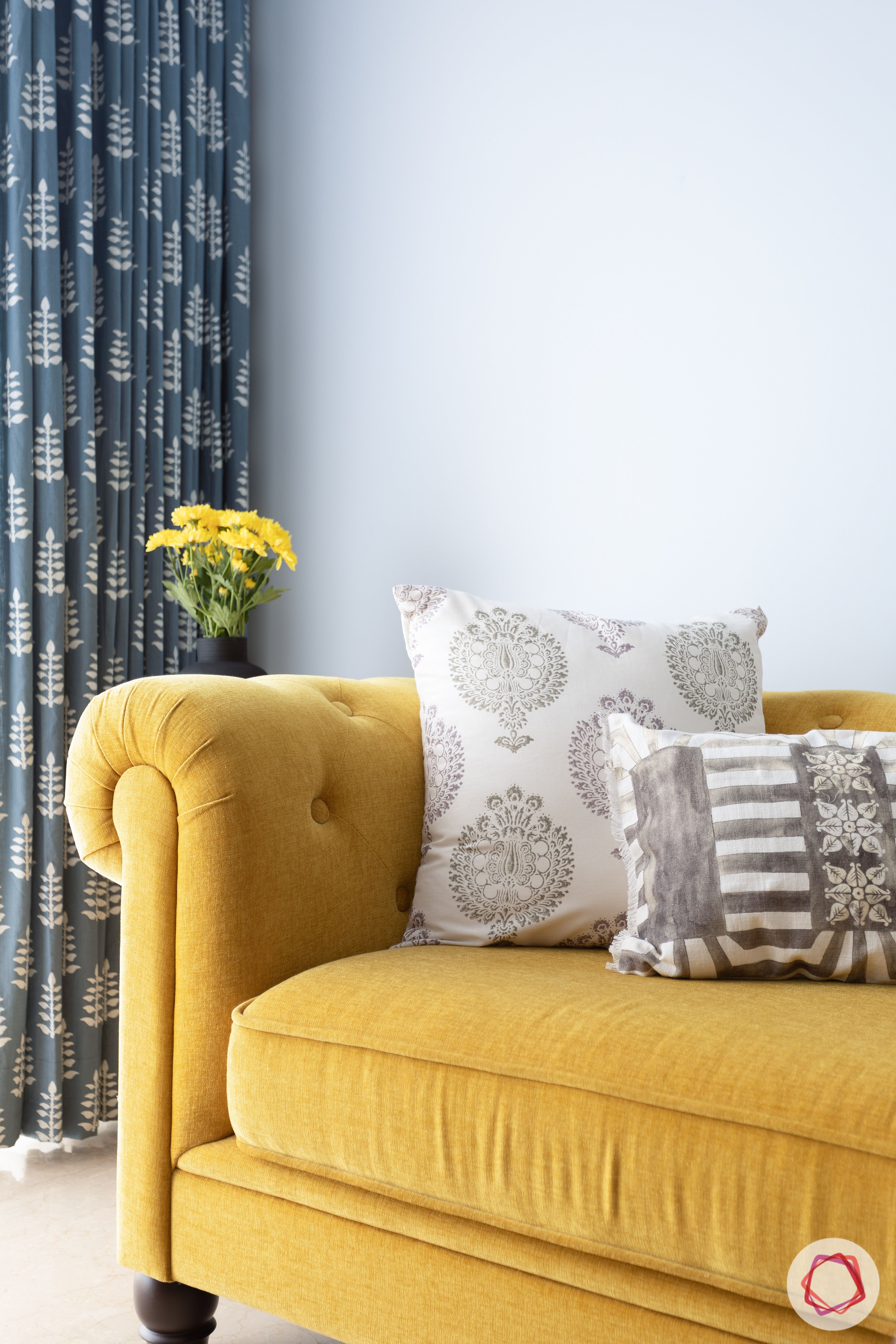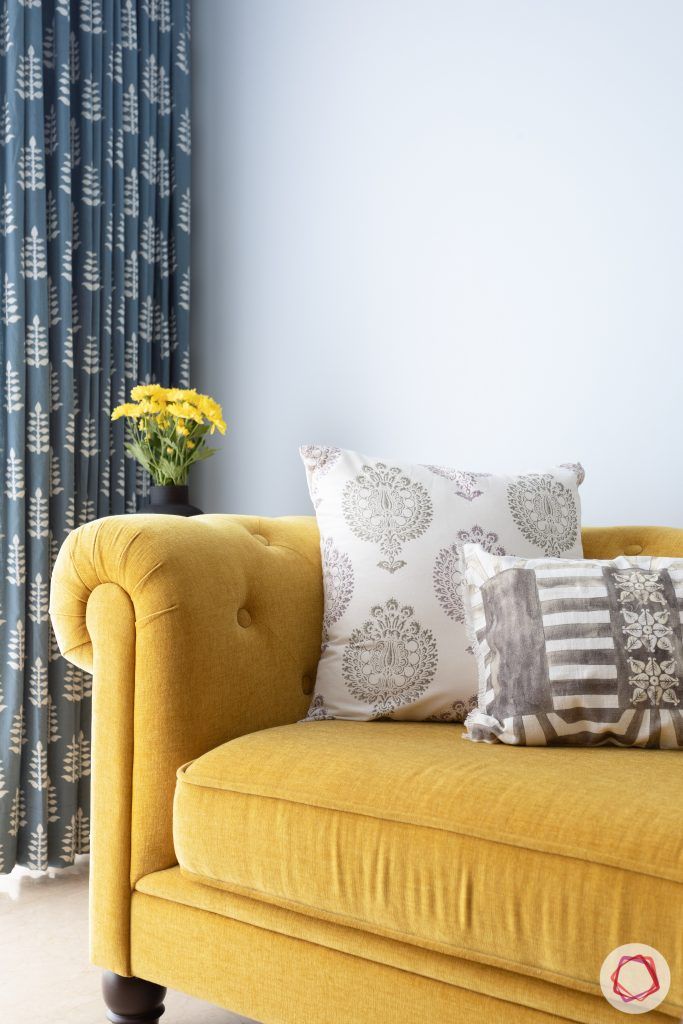 If you look at the living room at this Crescent Bay apartment from a distance, the only thing that catches your attention is the sunshine yellow Cassandra sofa. But a closer look will help you understand why this room feels cozy and perfect. Pallavi made sure that she gave them furniture that is not attached to the wall. A solid wood bar unit sits pretty right next to the sofa, while the coffee and side tables look fetching with metal legs. We particularly love the wall art that complements the sofa so well.
---
Crescent Bay: A Wooden Bookshelf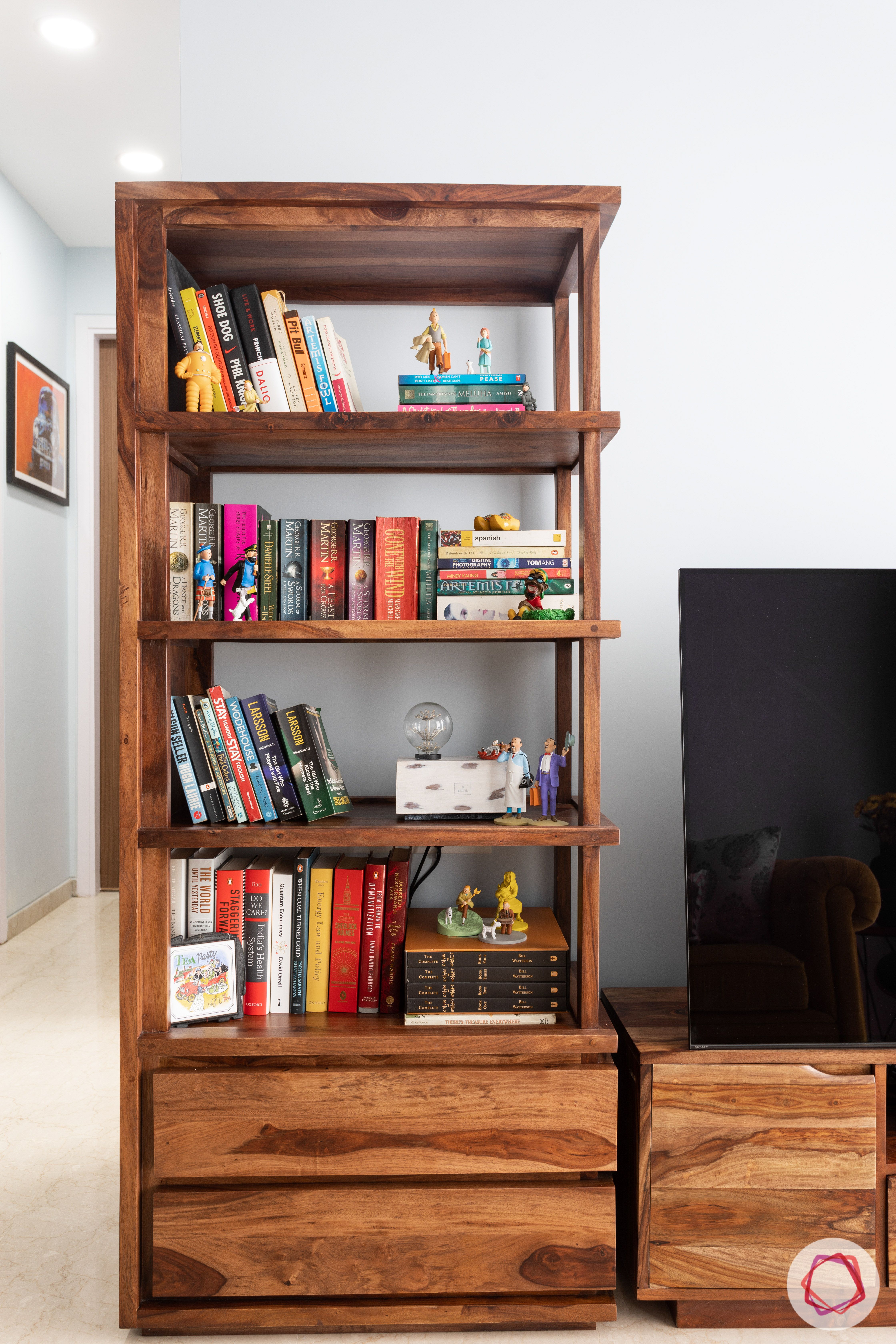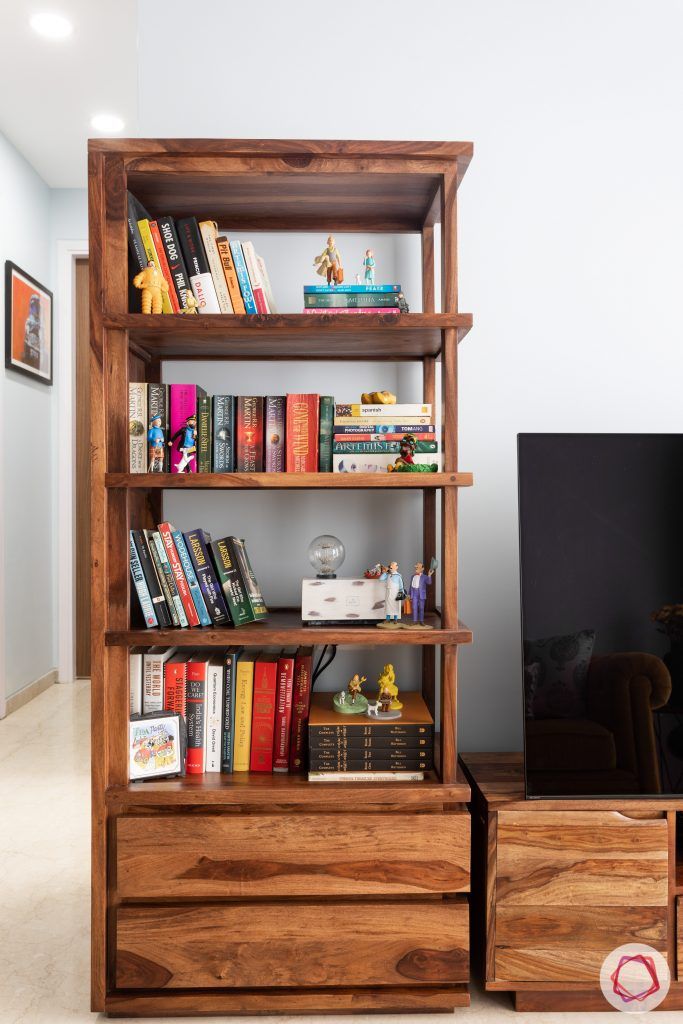 Being ardent readers, this couple were particular about having a bookshelf at their Crescent Bay 2BHK. Pallavi gave them this handsome bookshelf that can accommodate their entire collection. It almost blends with the TV unit and feels like an extension of the same.
---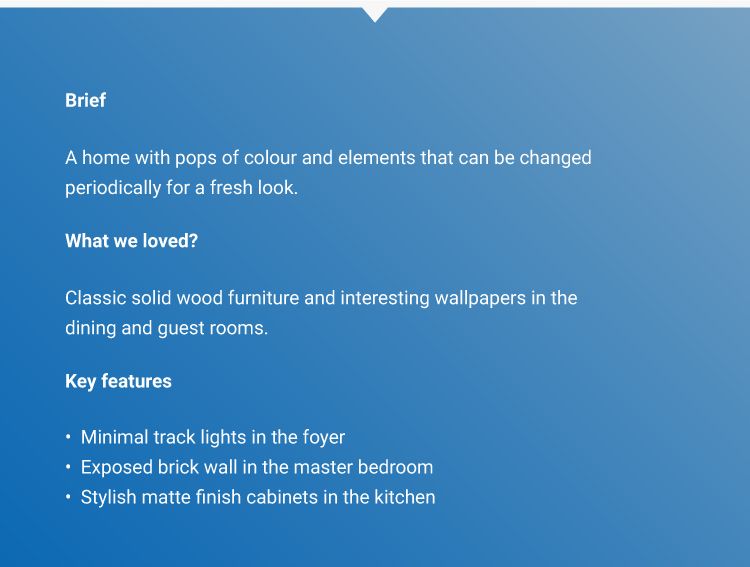 ---
Crescent Bay: Statement Dining Room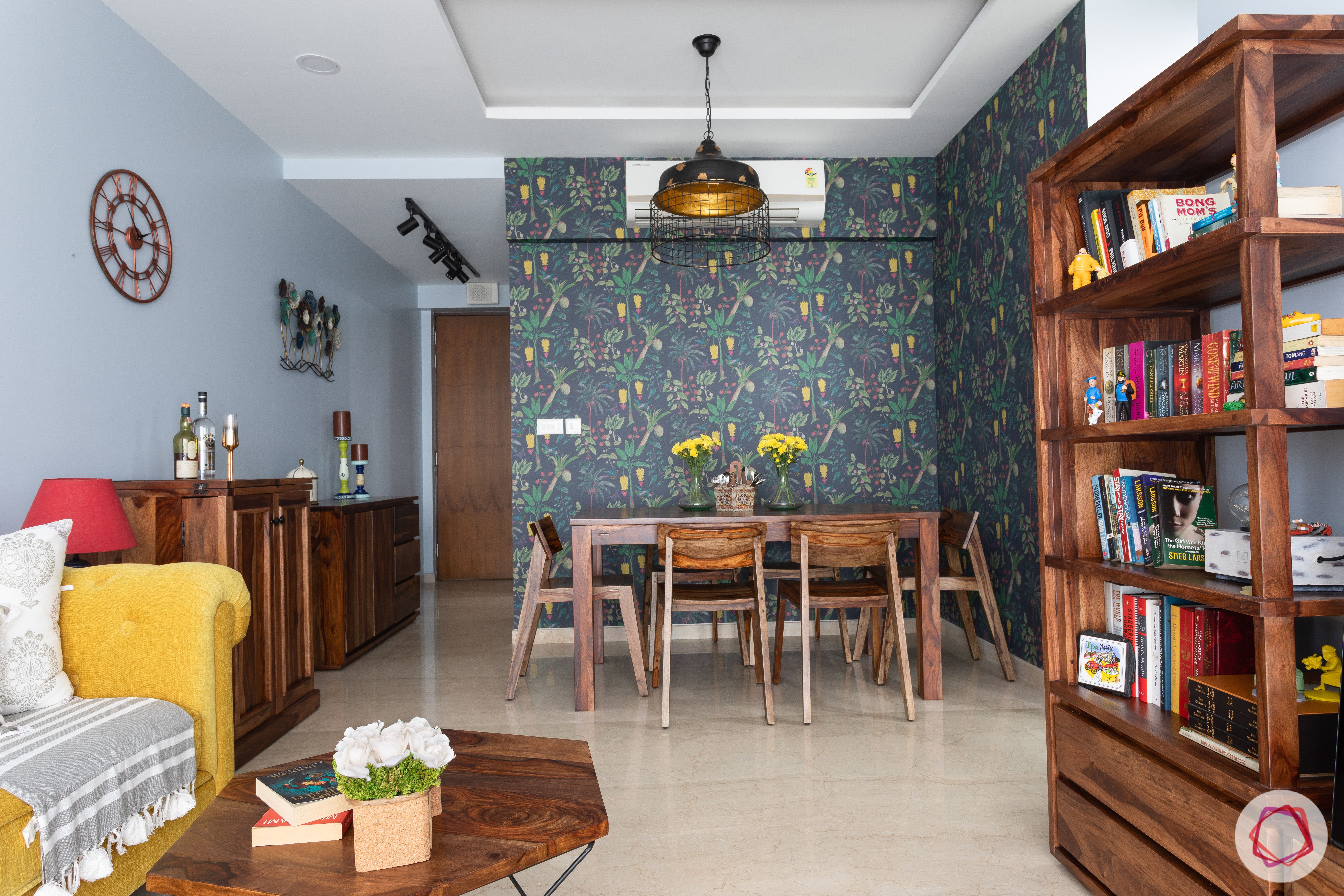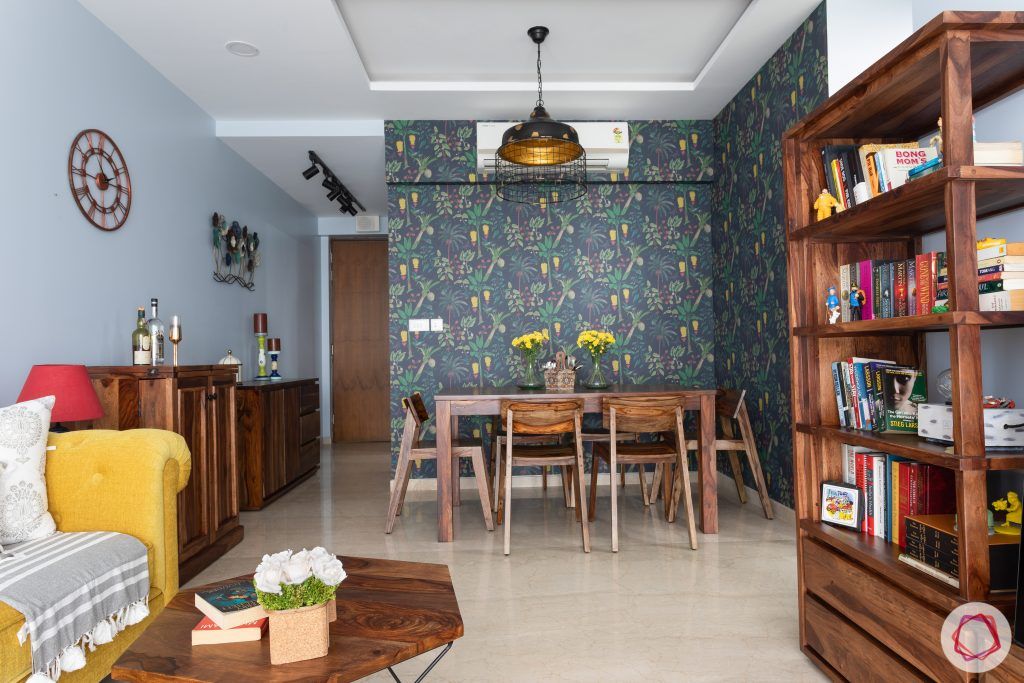 The dining room at this Crescent Bay home is one space that looks like a separate zone in itself. Notice how a wallpaper can create distinction between common areas. This stunning wallpaper is an exquisite offering by Nilaya by Asian Paints. The print acts as the perfect backdrop for the classic wooden dining table set.

---
Crescent Bay: Cerulean Hues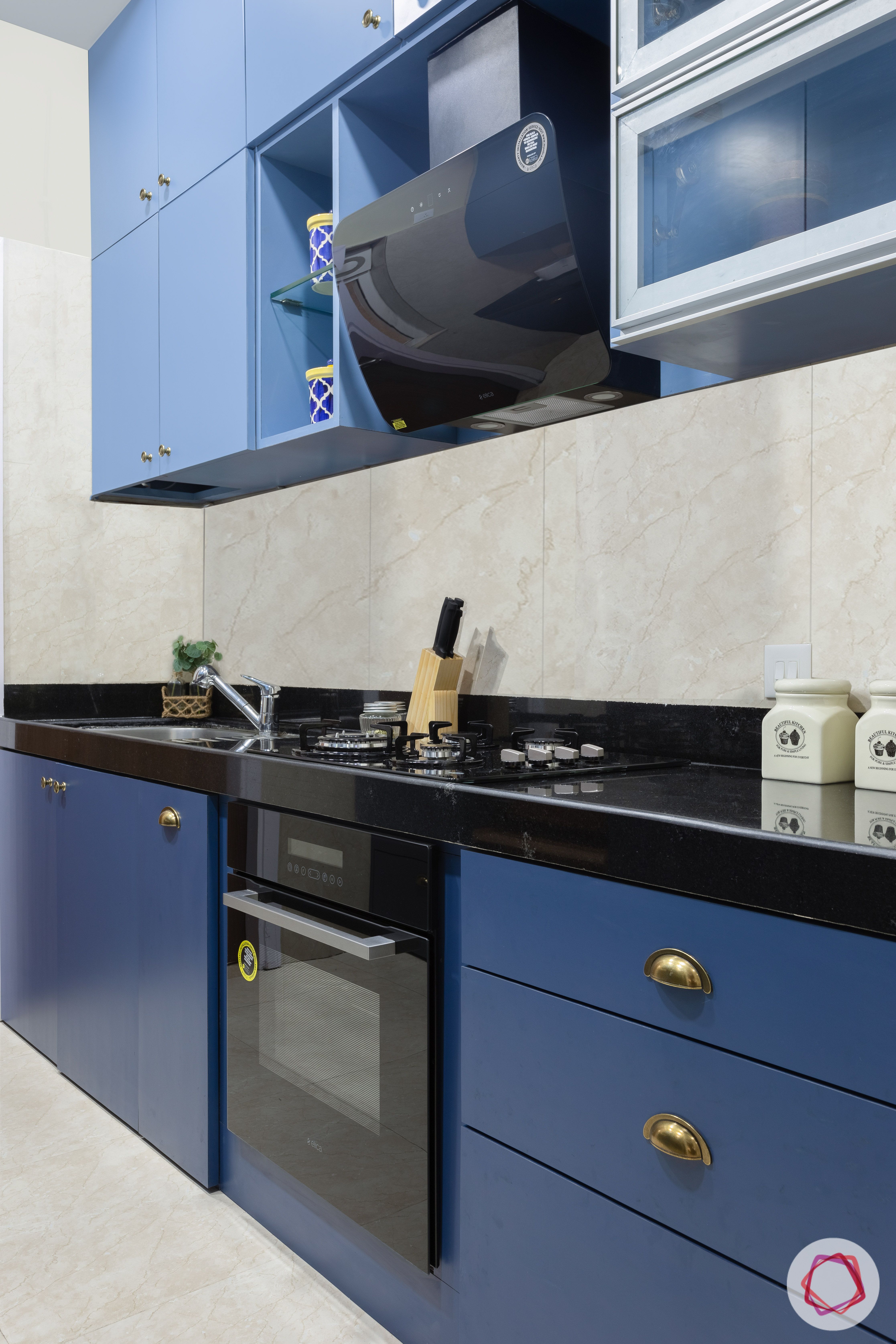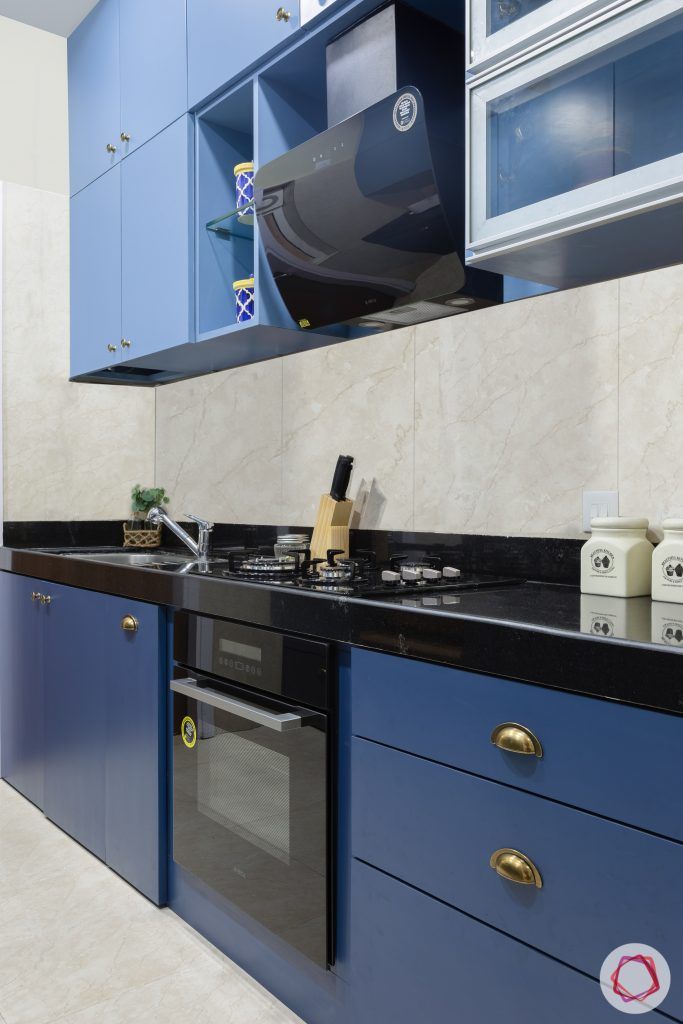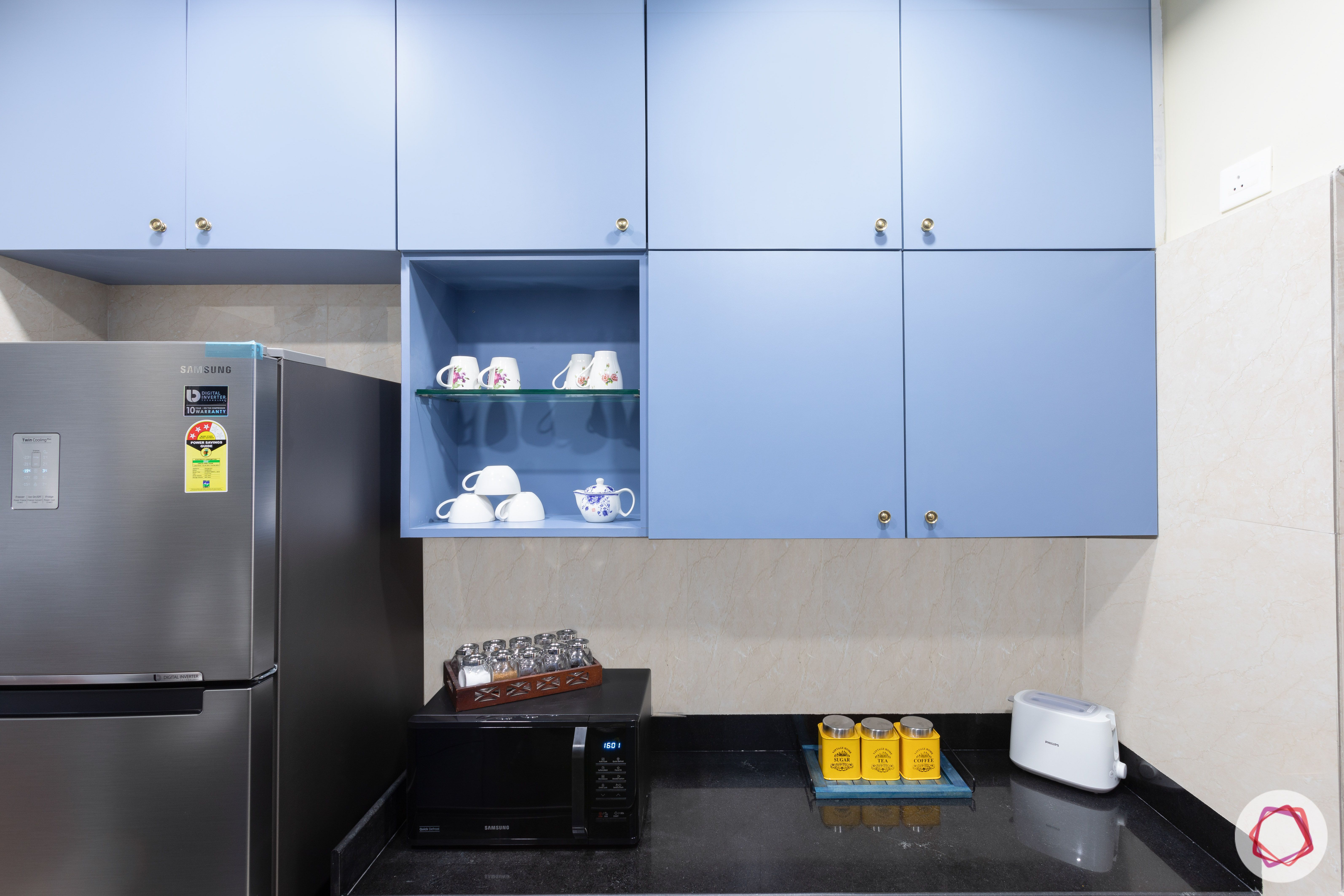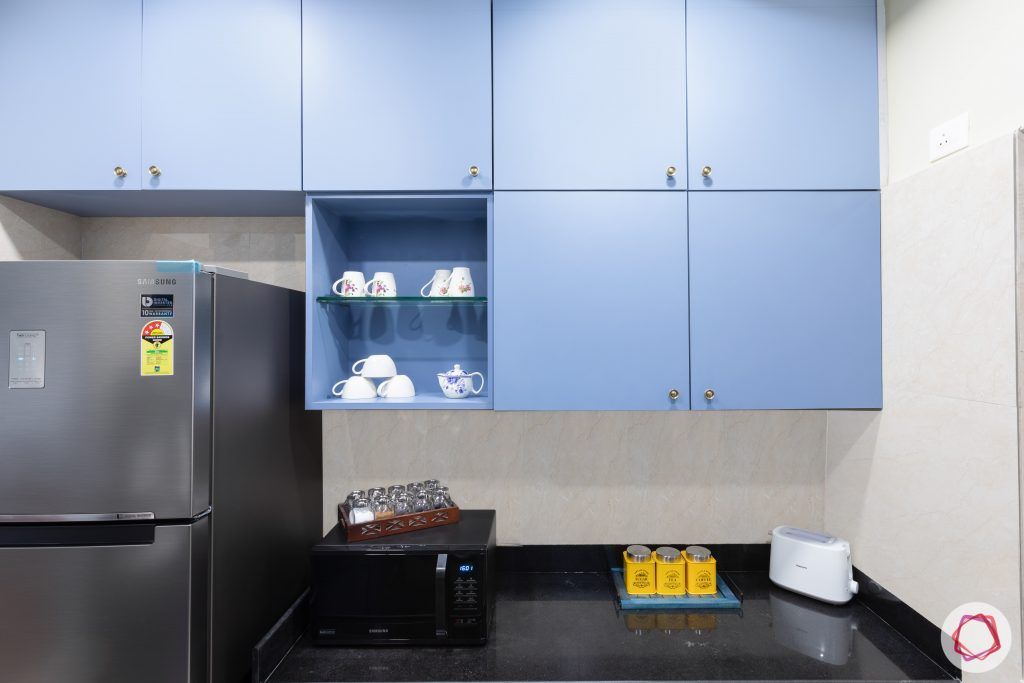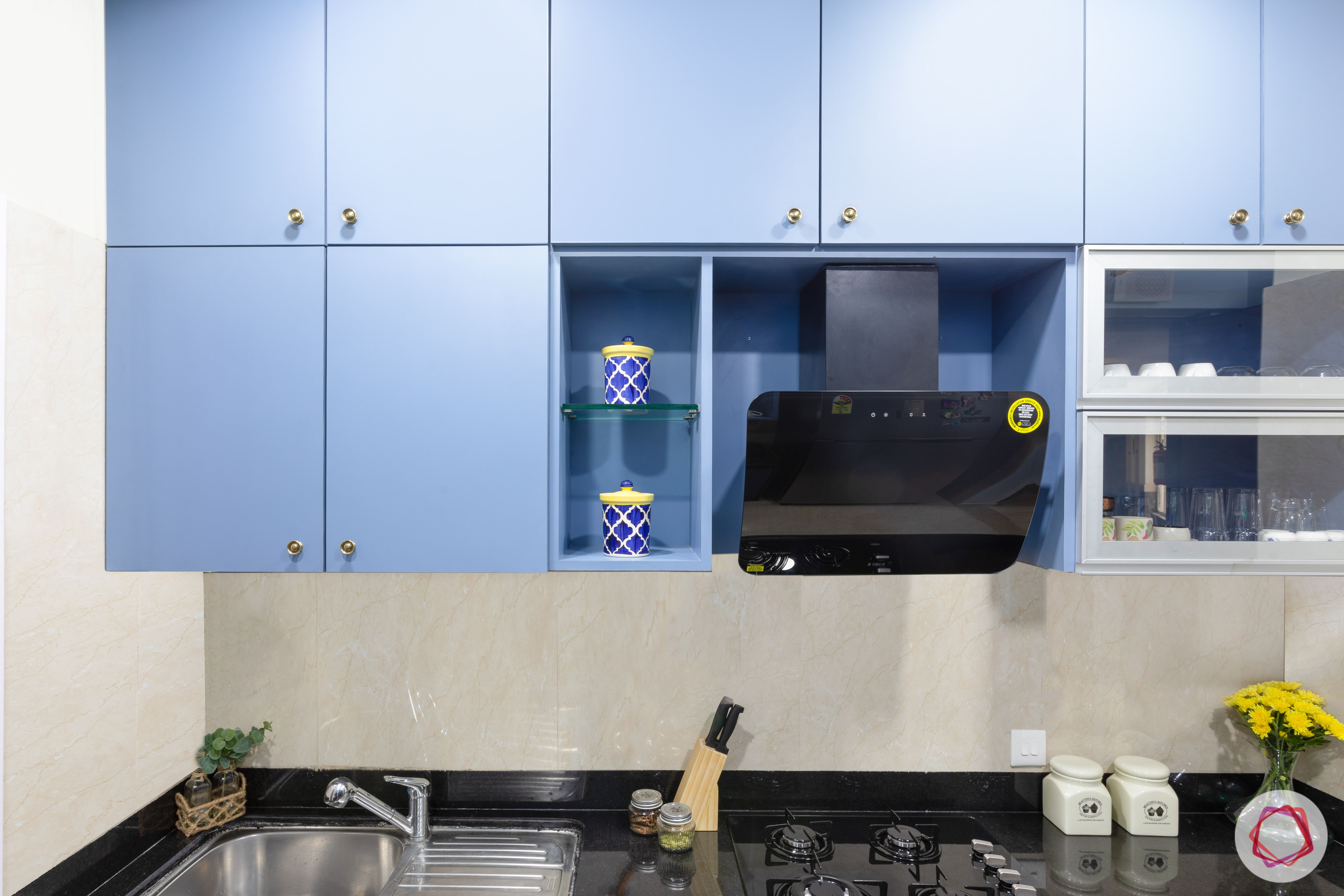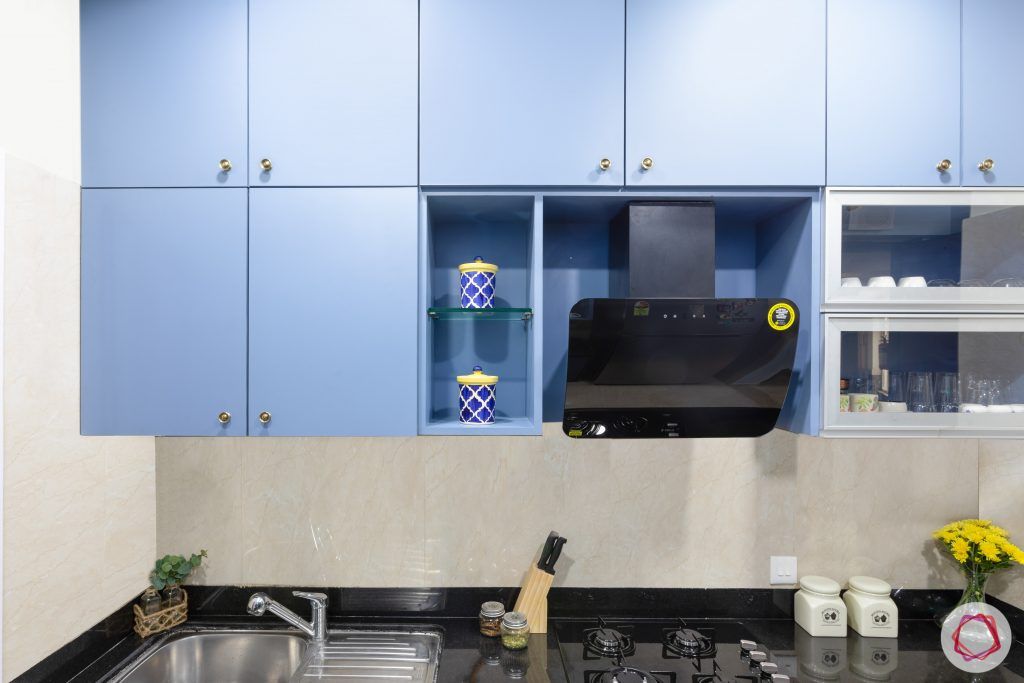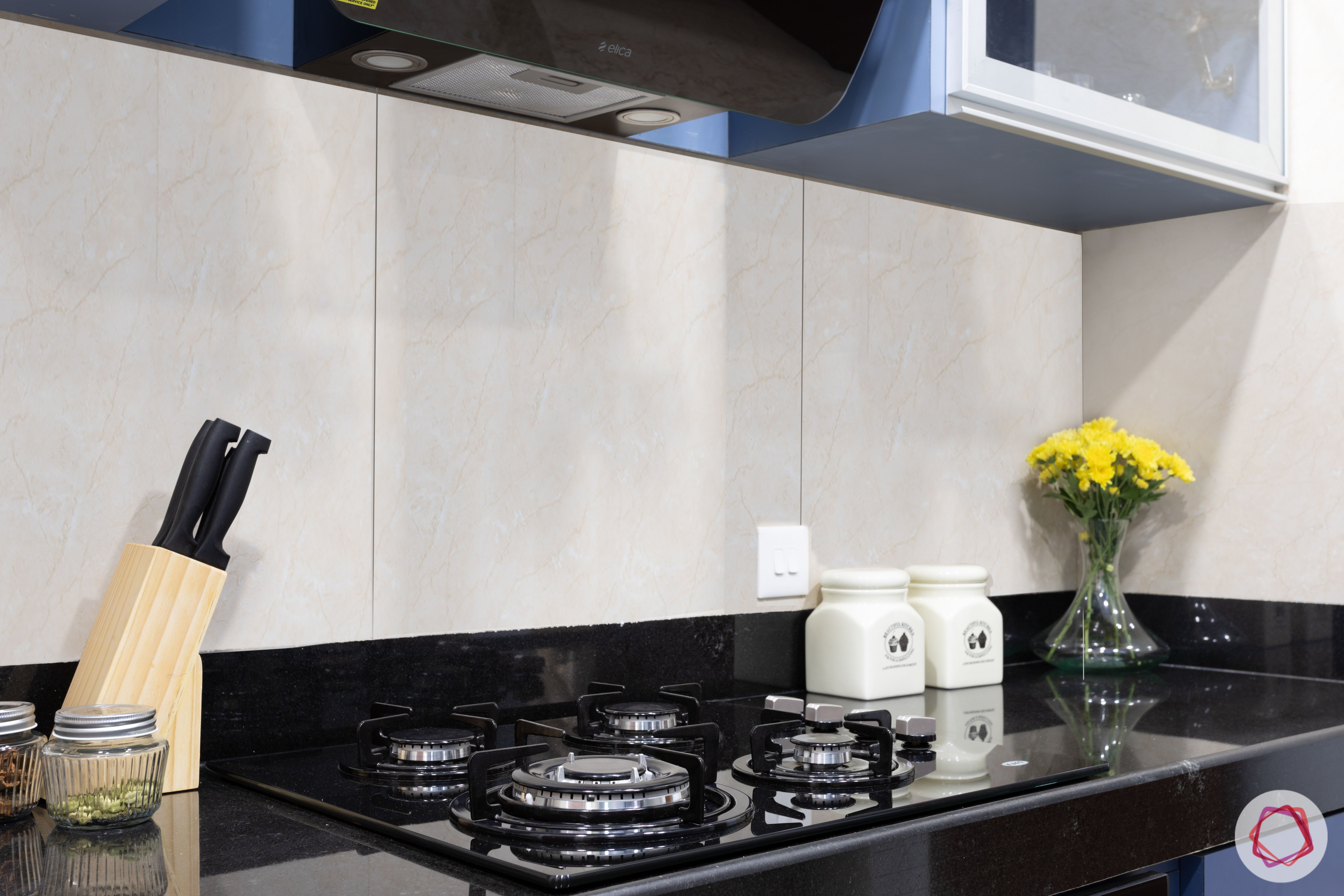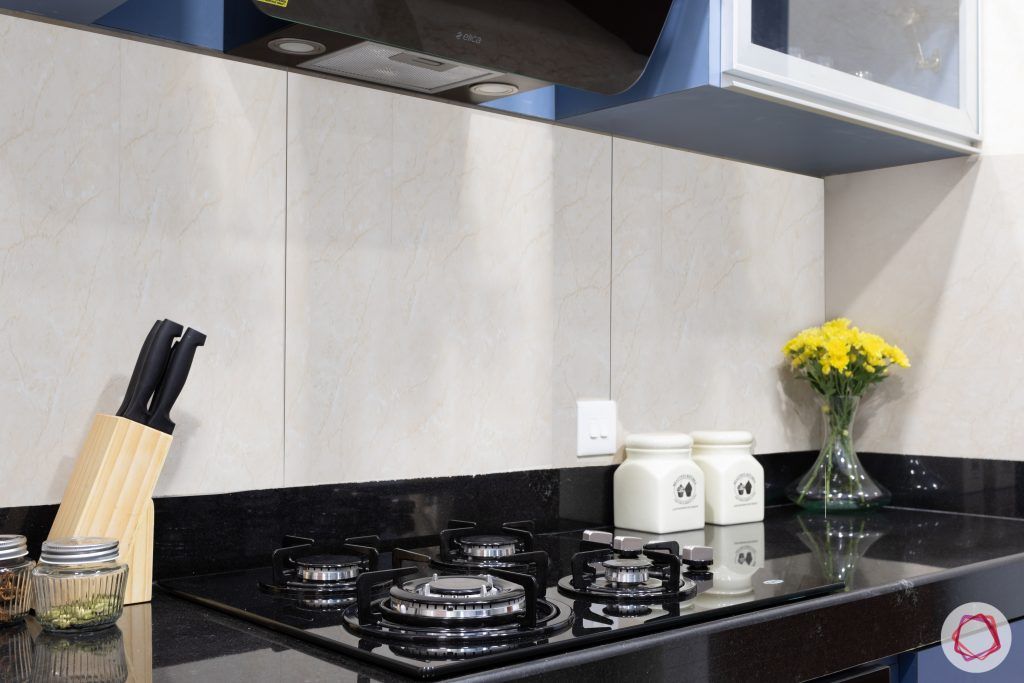 This kitchen is a complete modular offering and packs everything that a modular kitchen should have. Finished in matte-finish laminate, the subtle blue hue sets the right tone here. The jet black granite countertop is easy to clean and maintain, which was a major concern since this kitchen is going to be used by the help, most of the time.
---
Crescent Bay: Pretty White Master Bedroom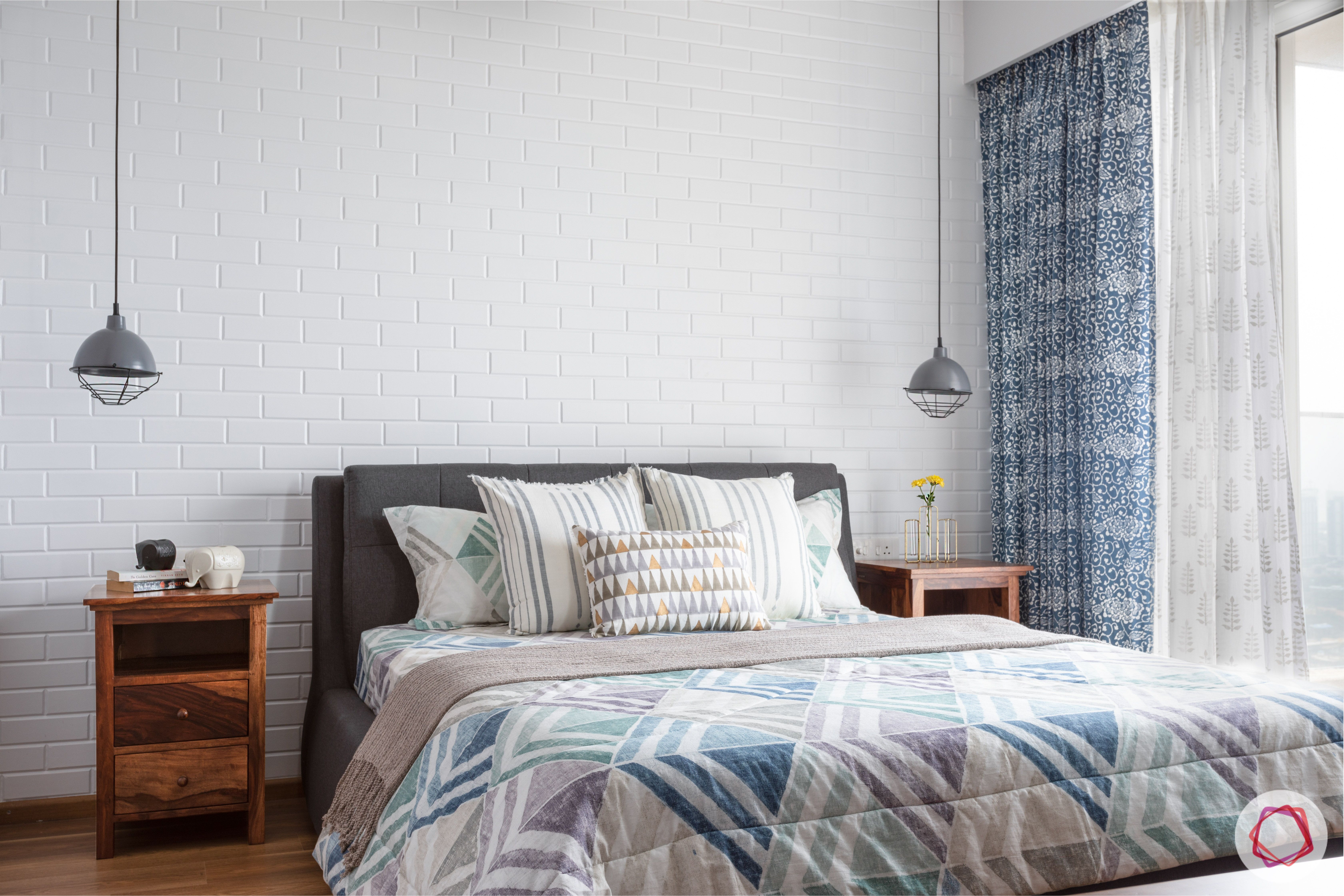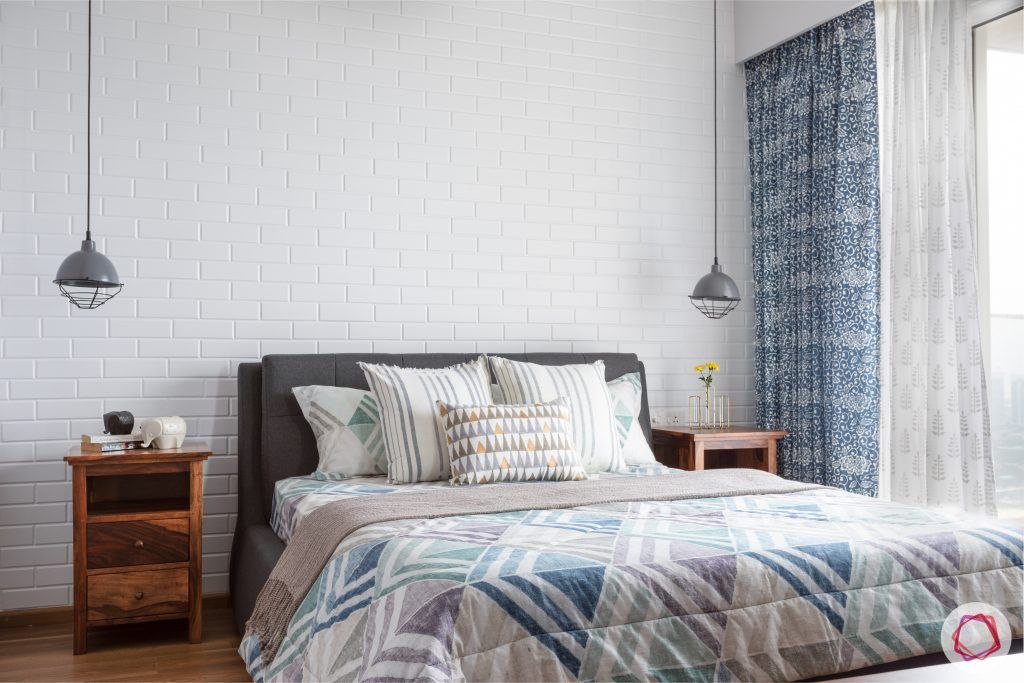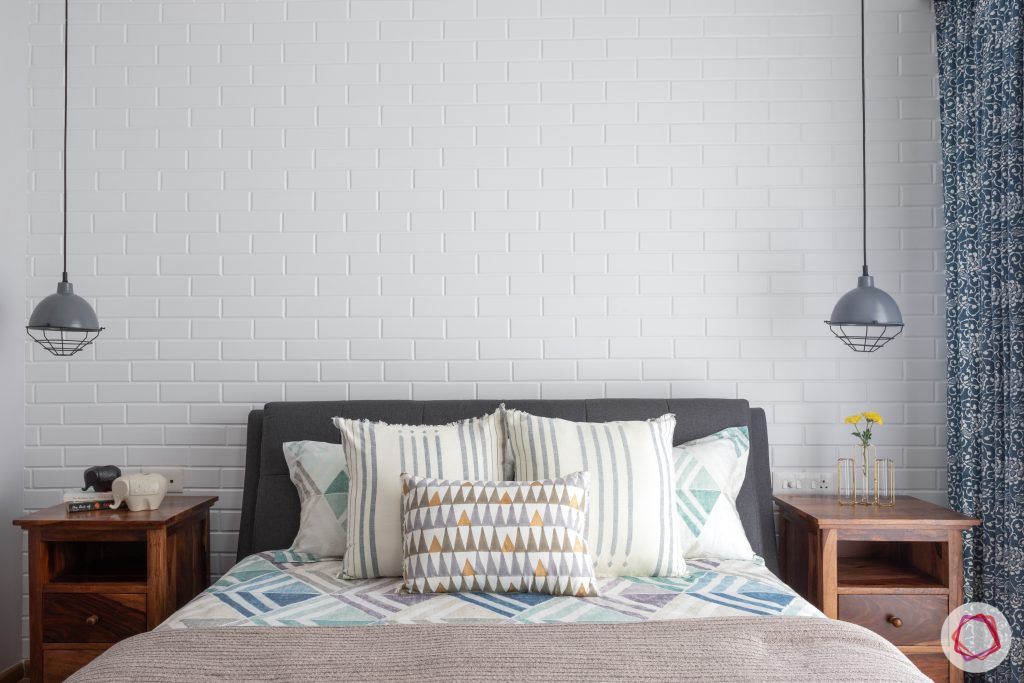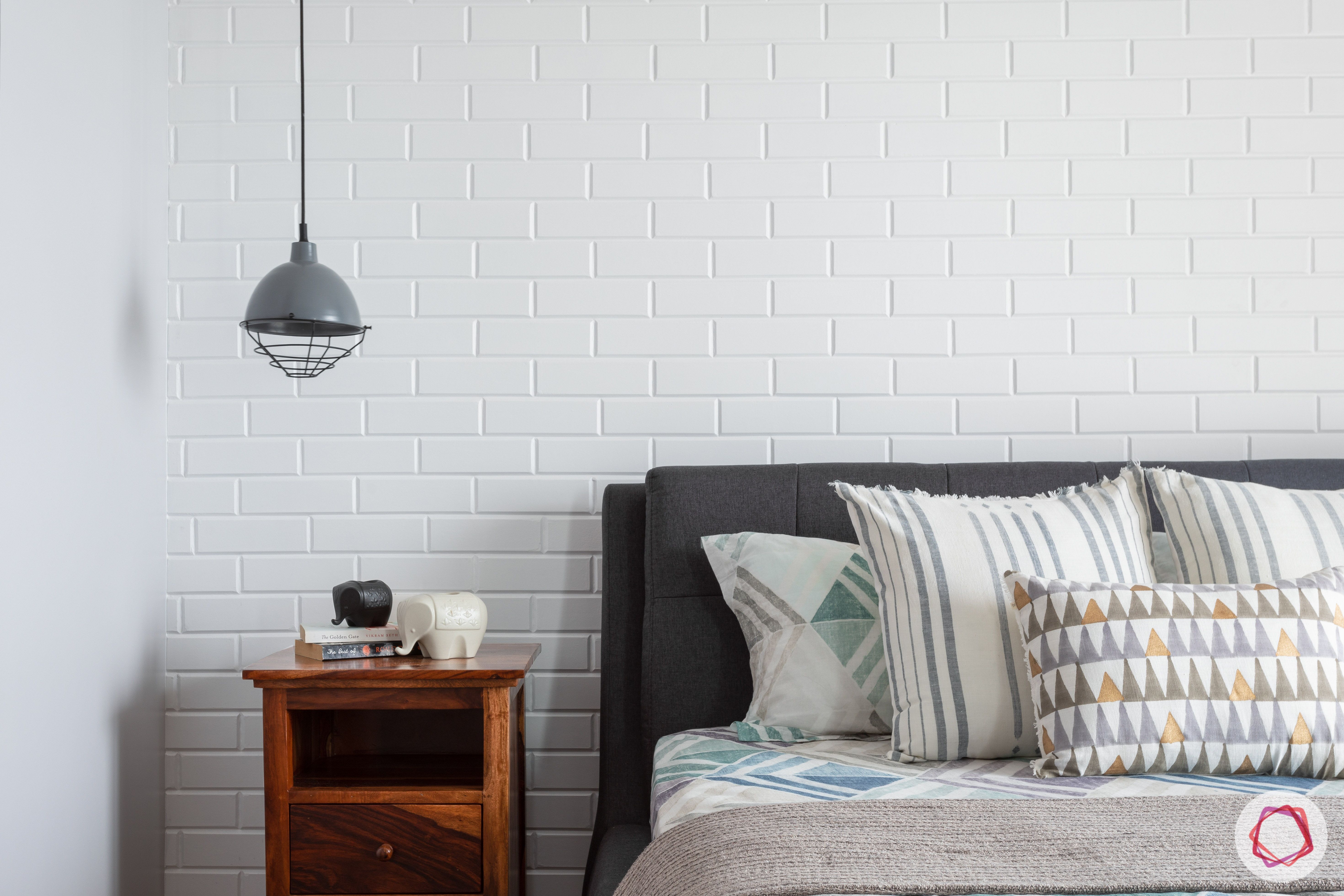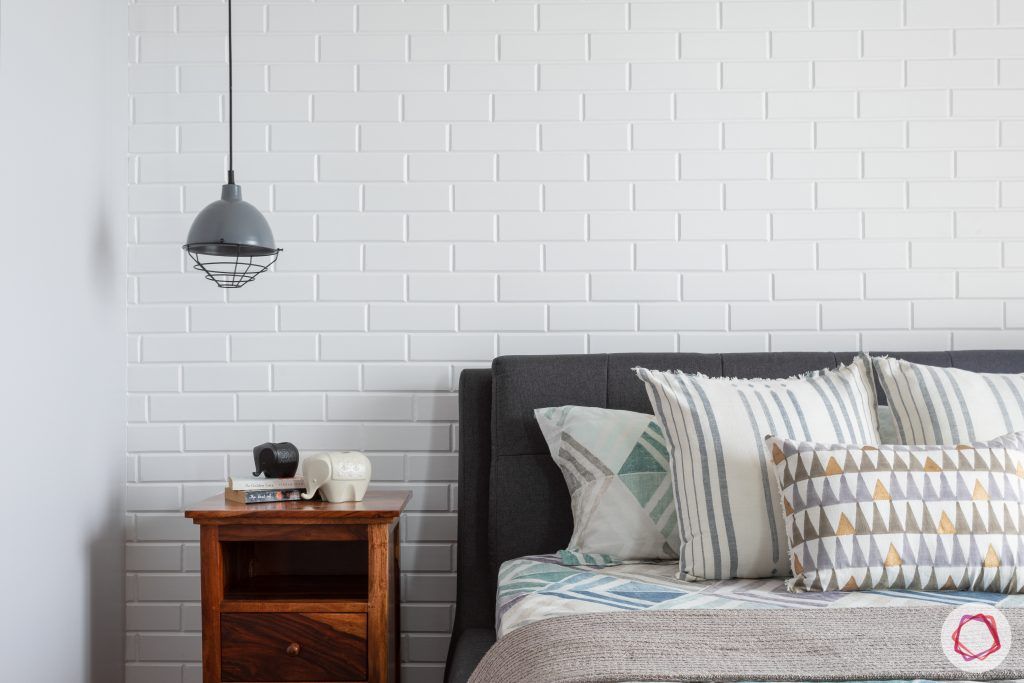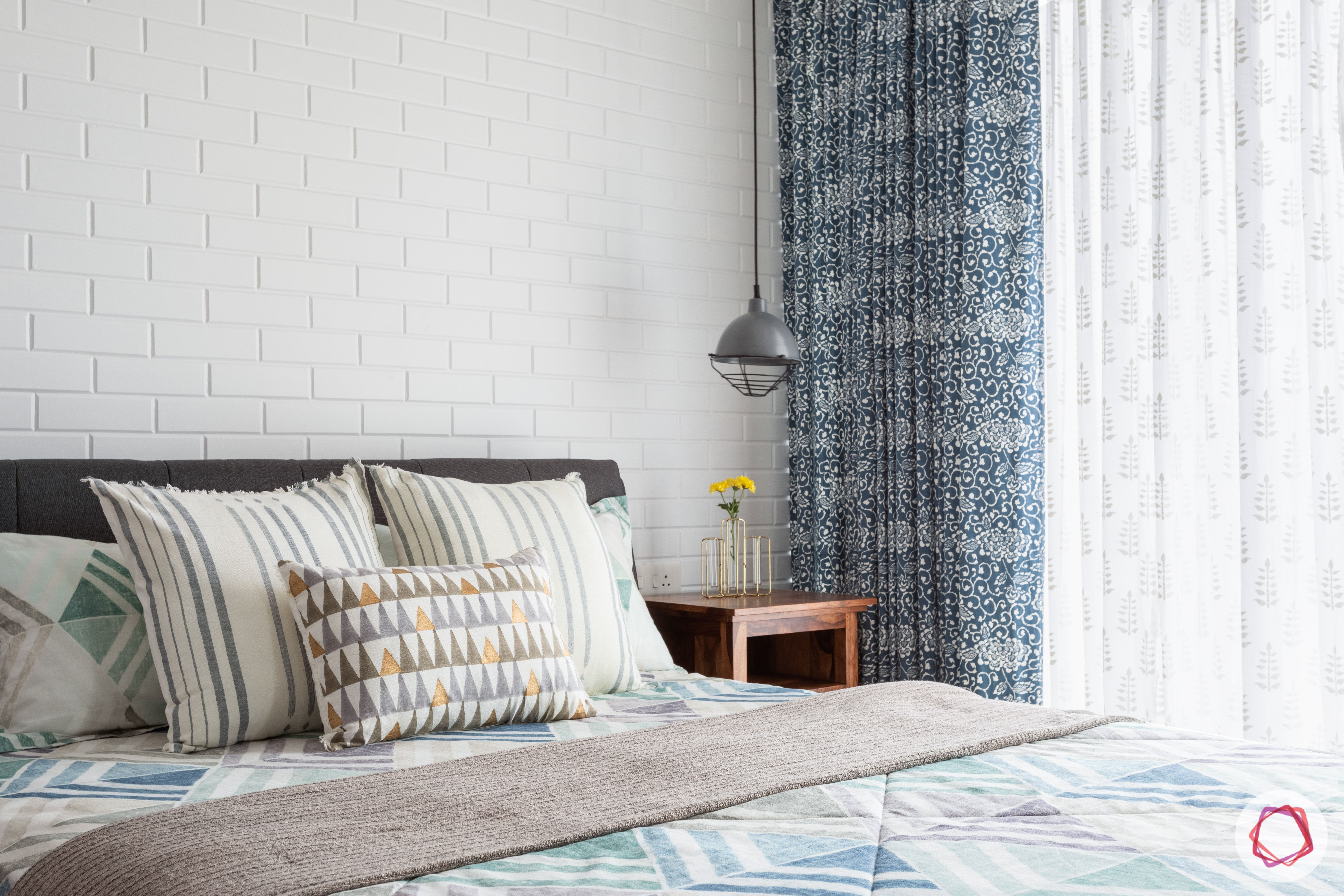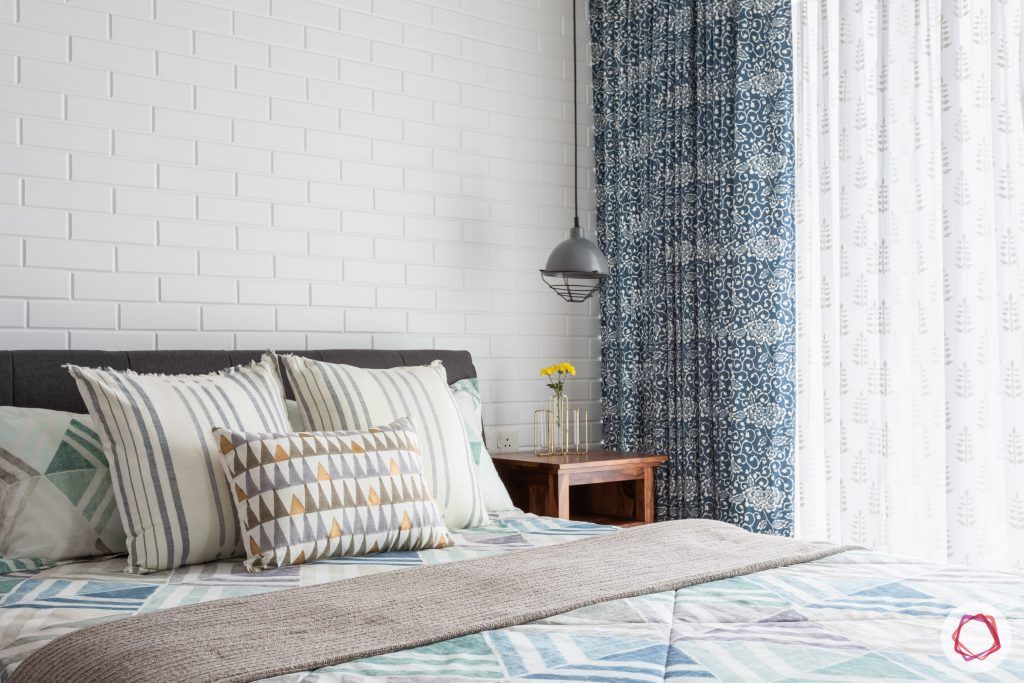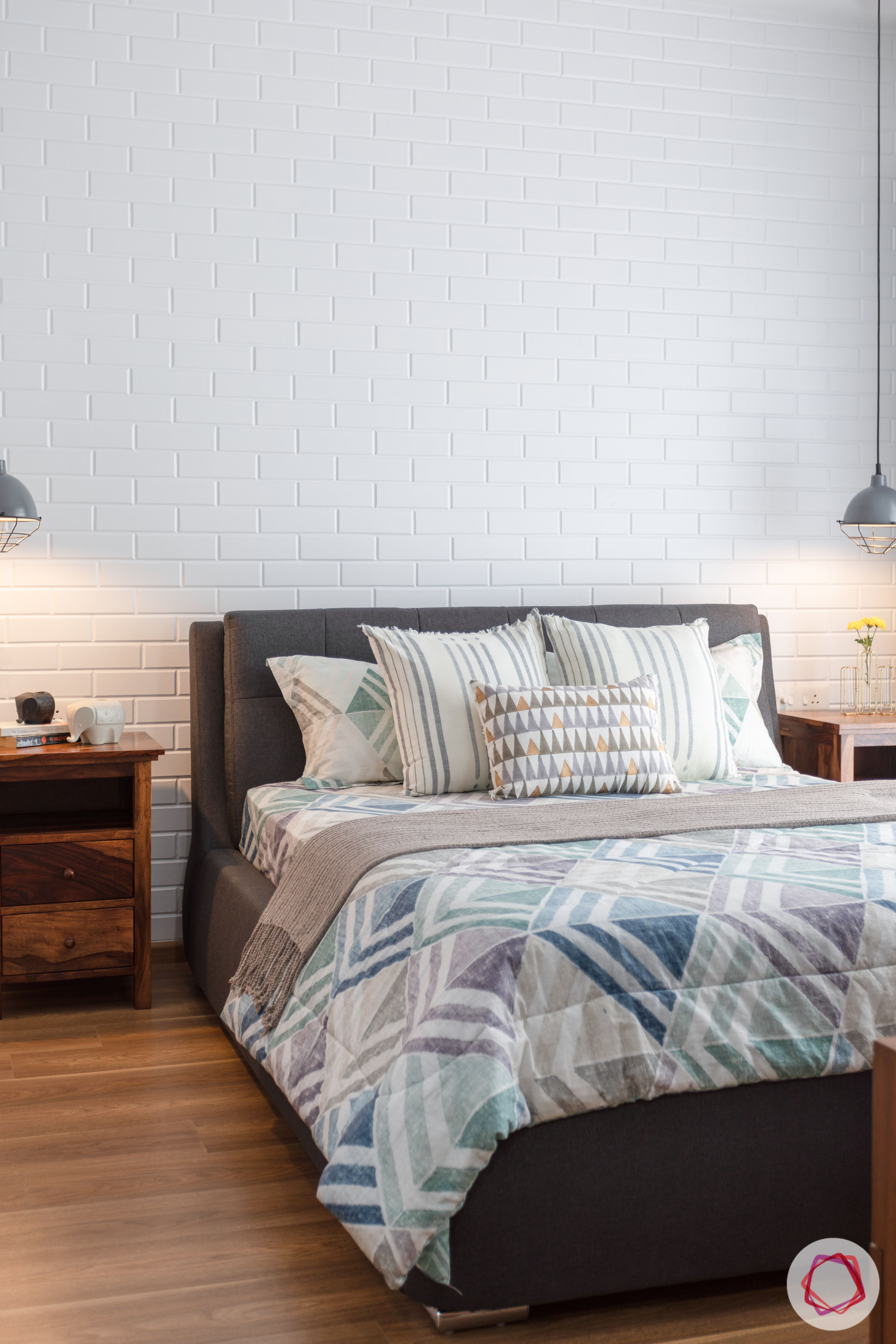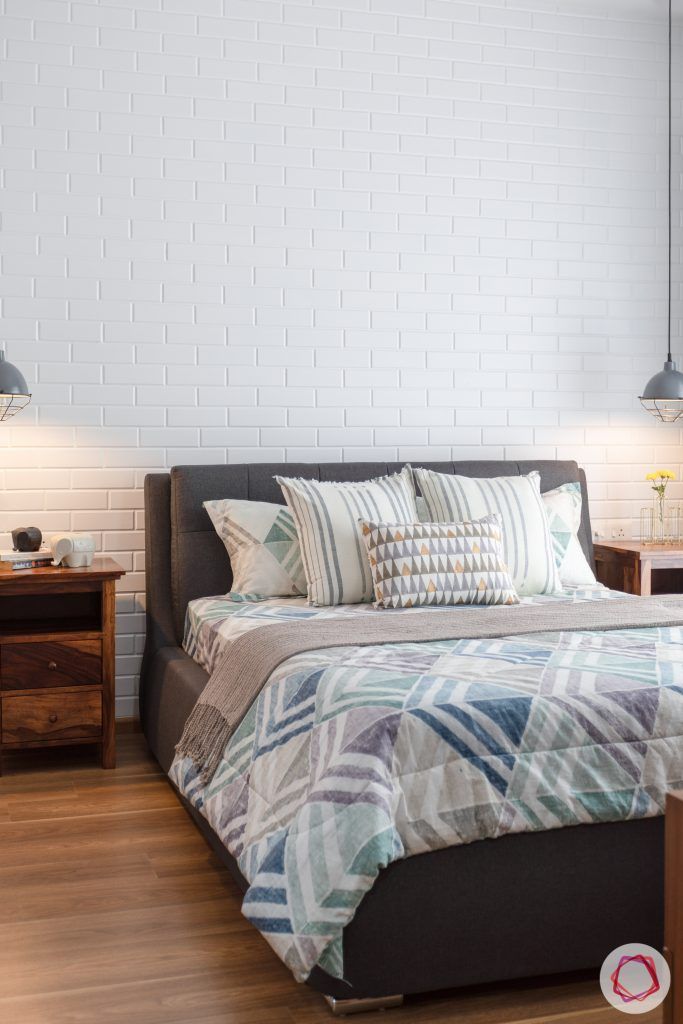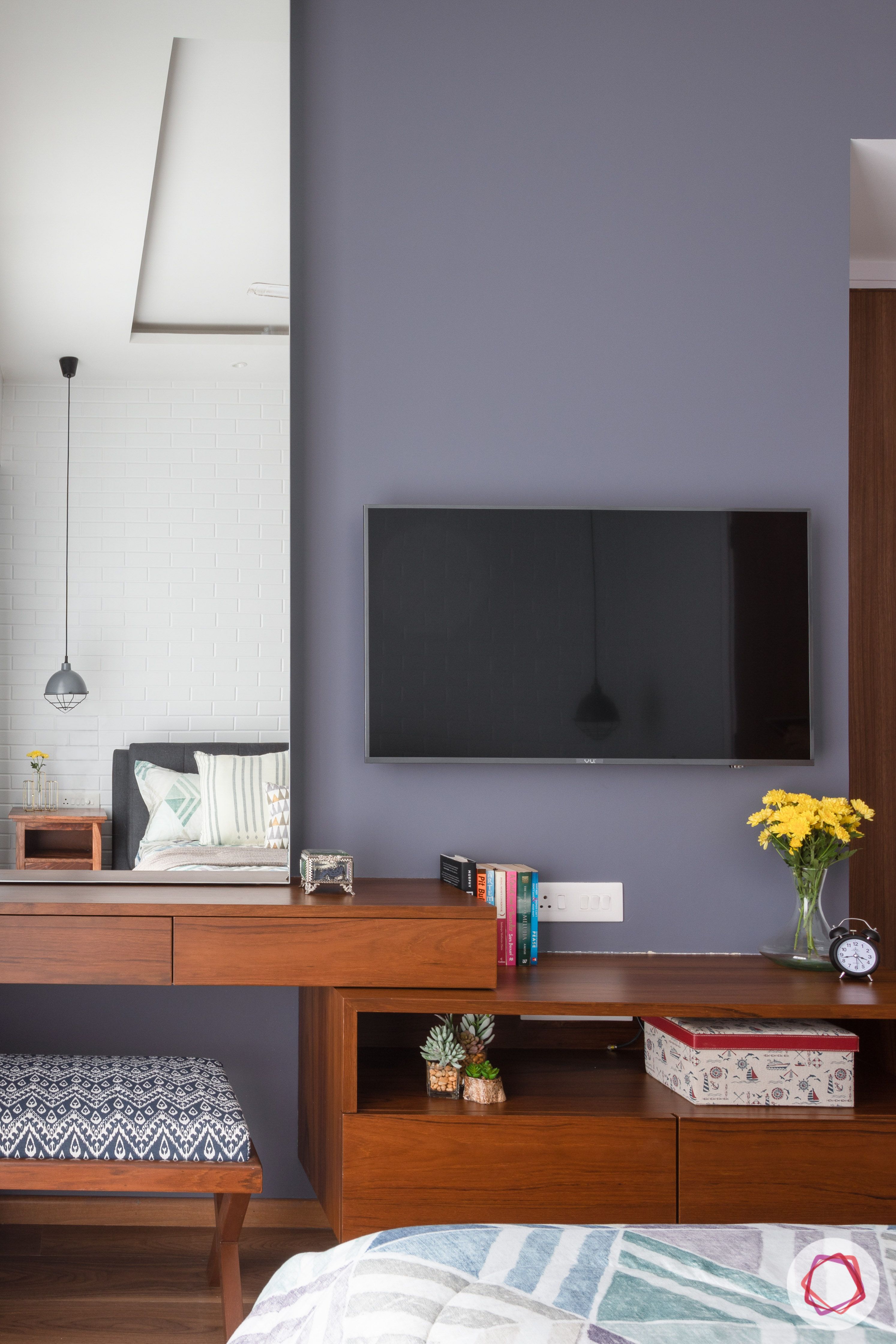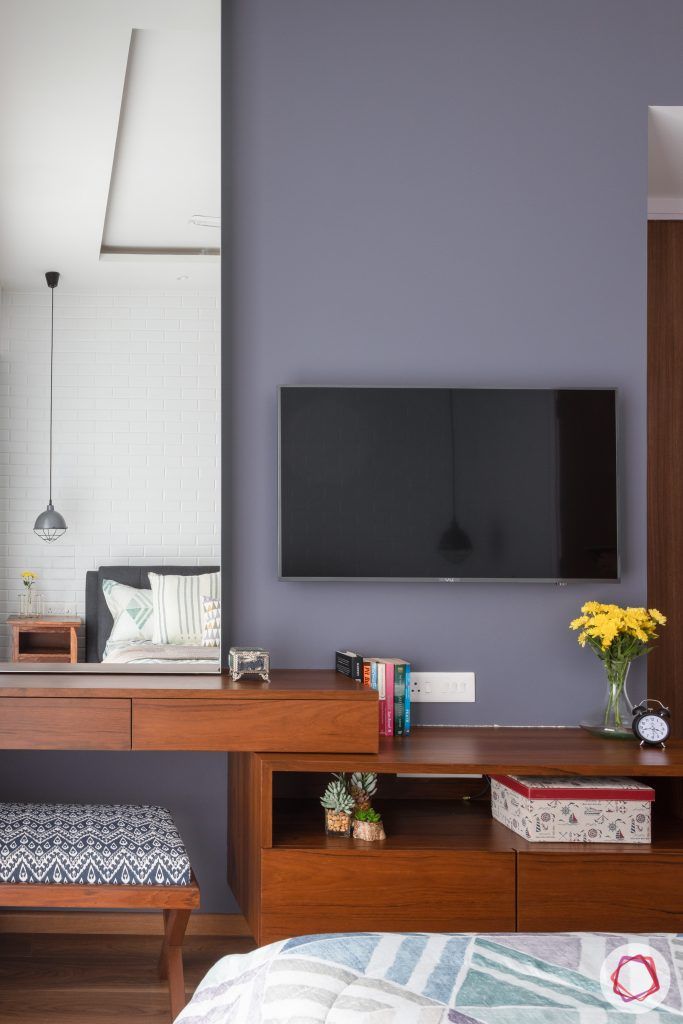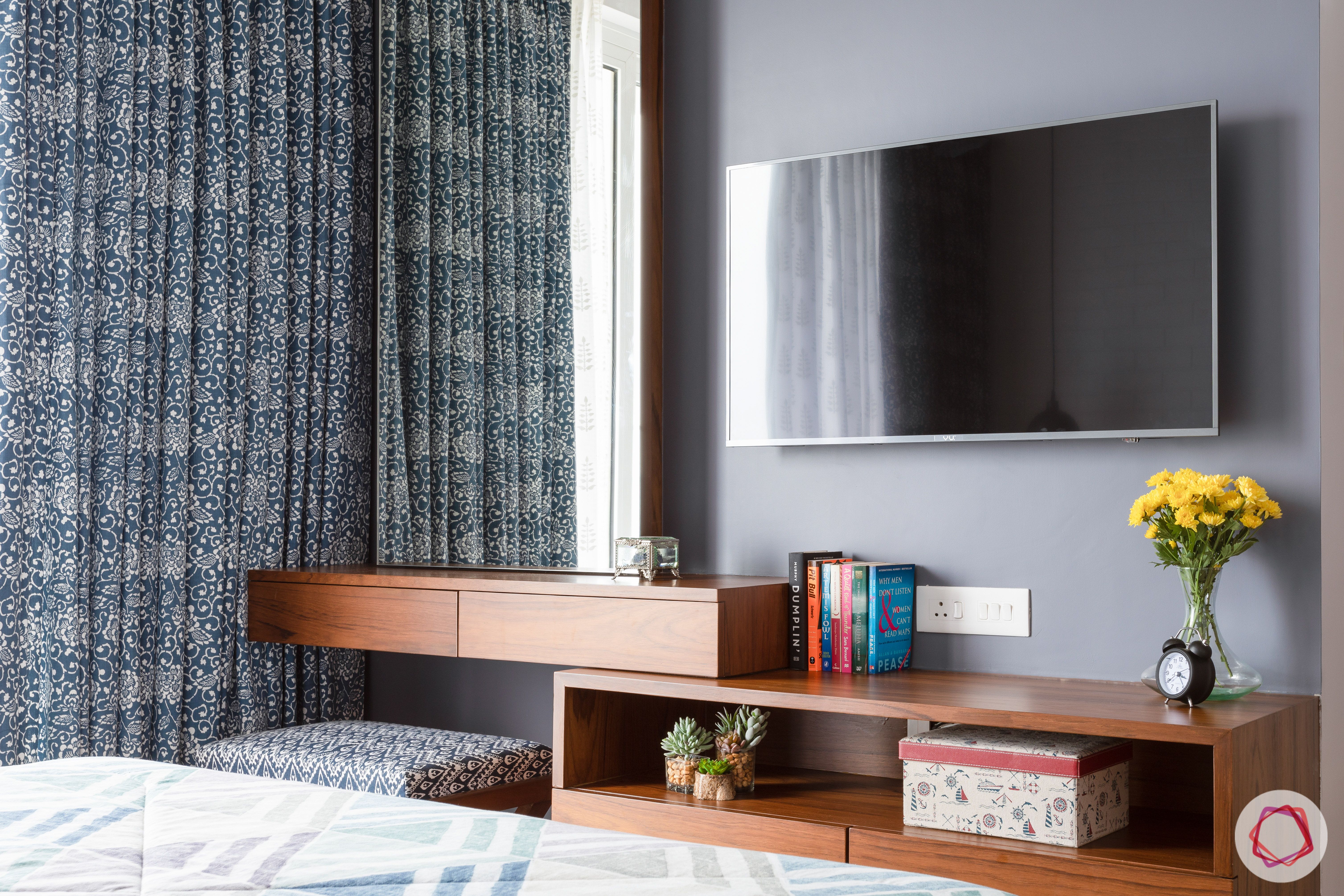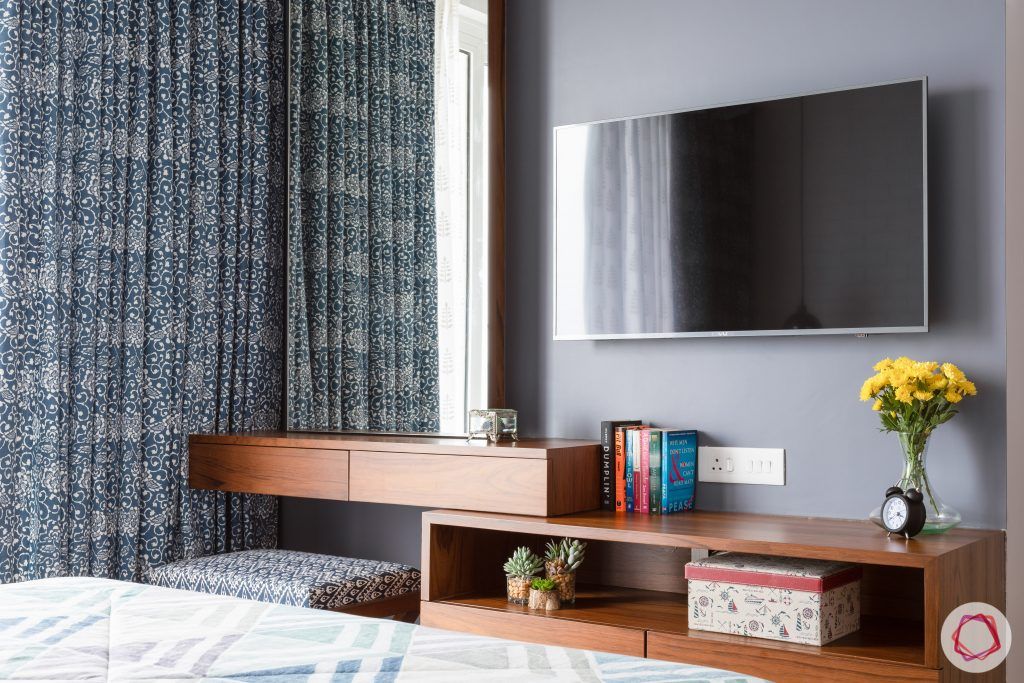 Mimicking the New York Loft style of design, the master bedroom at this Crescent Bay apartment is a class apart. Pallavi has always been in love with exposed brick walls and she had to try it here since the couple was up for it. Flaunting a slightly sleek version of the rustic exposed brick effect, the accent wall looks stunning. The wooden flooring paired with mesh pendant lights complete the look.
The TV unit is super compact and extends to the dresser that is packed with storage. The upholstery on the tiny stool in front of it plays match with the drapes and completes the grey and white theme of this room.
---
Crescent Bay: Warm Stay for Guests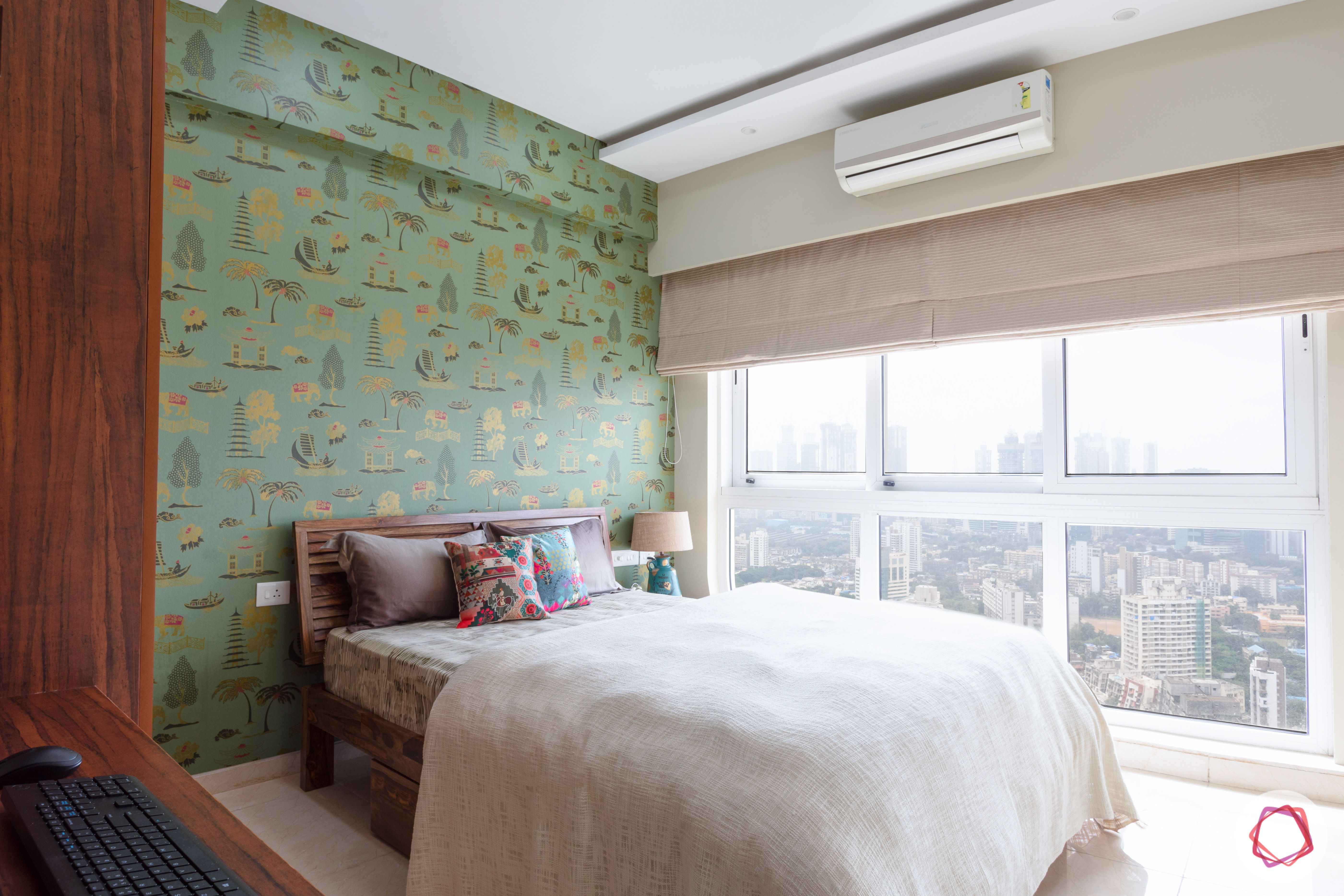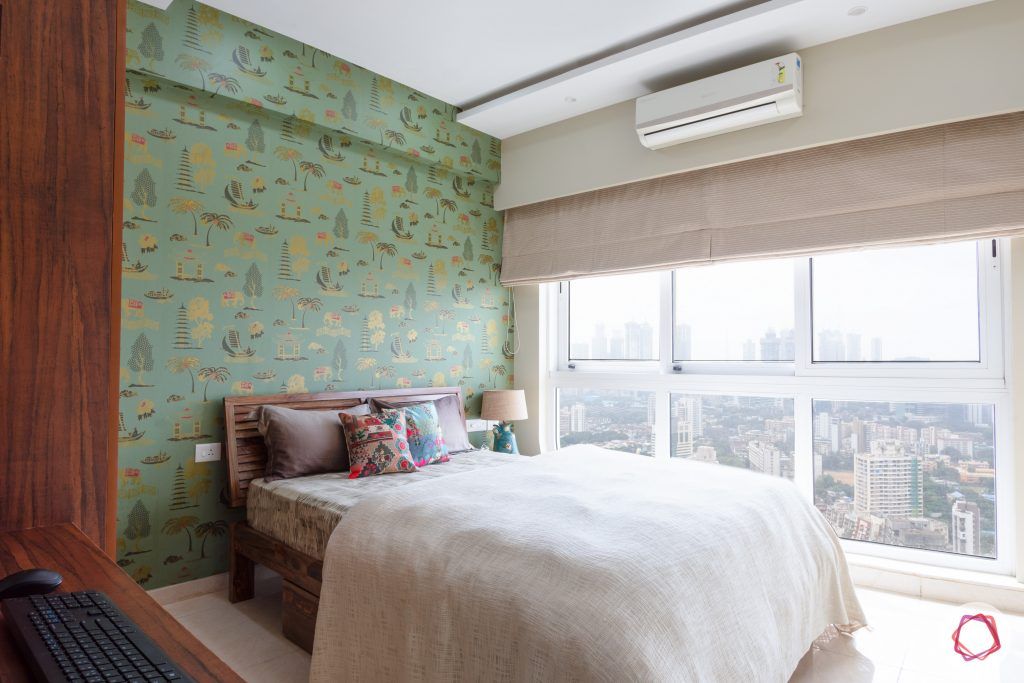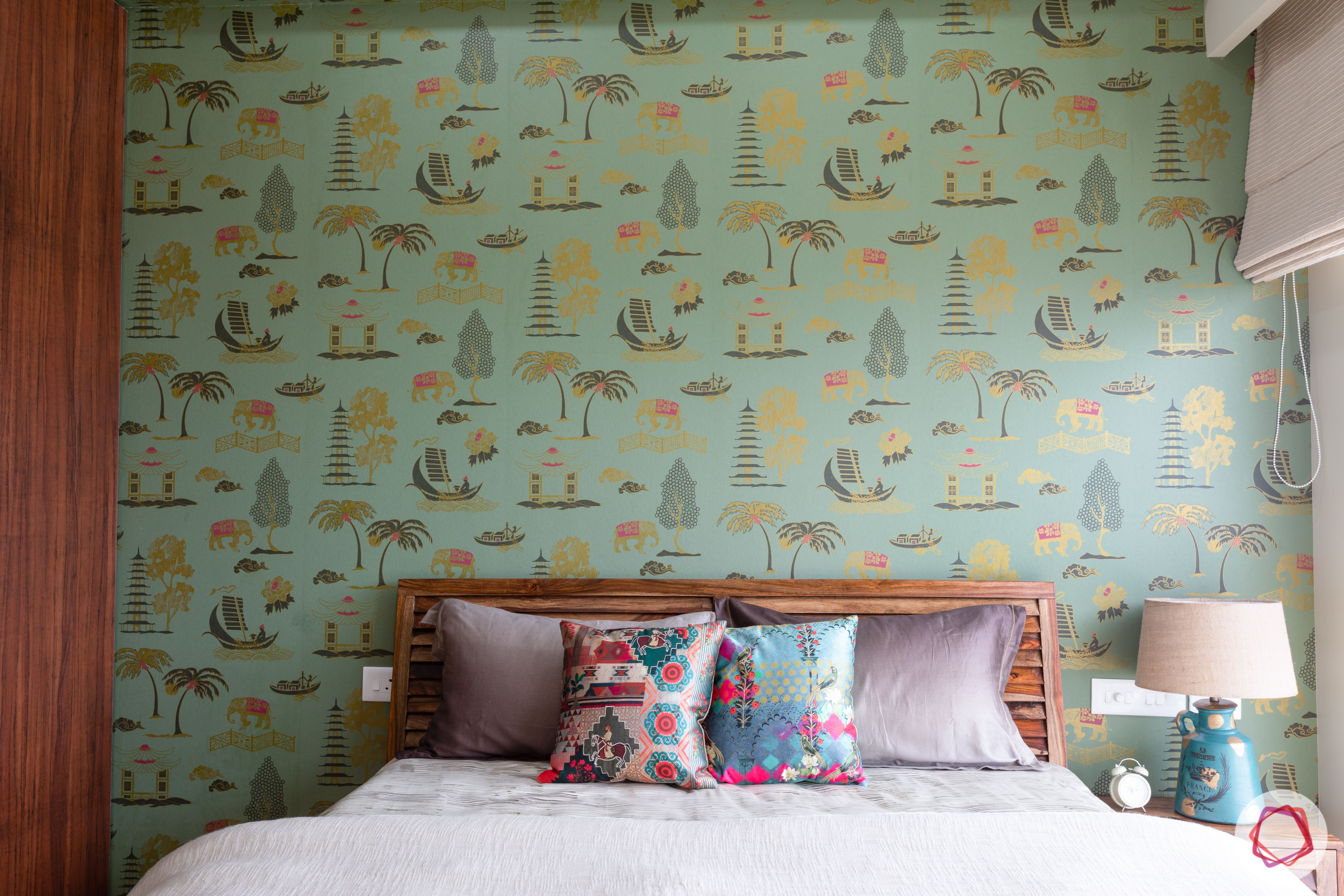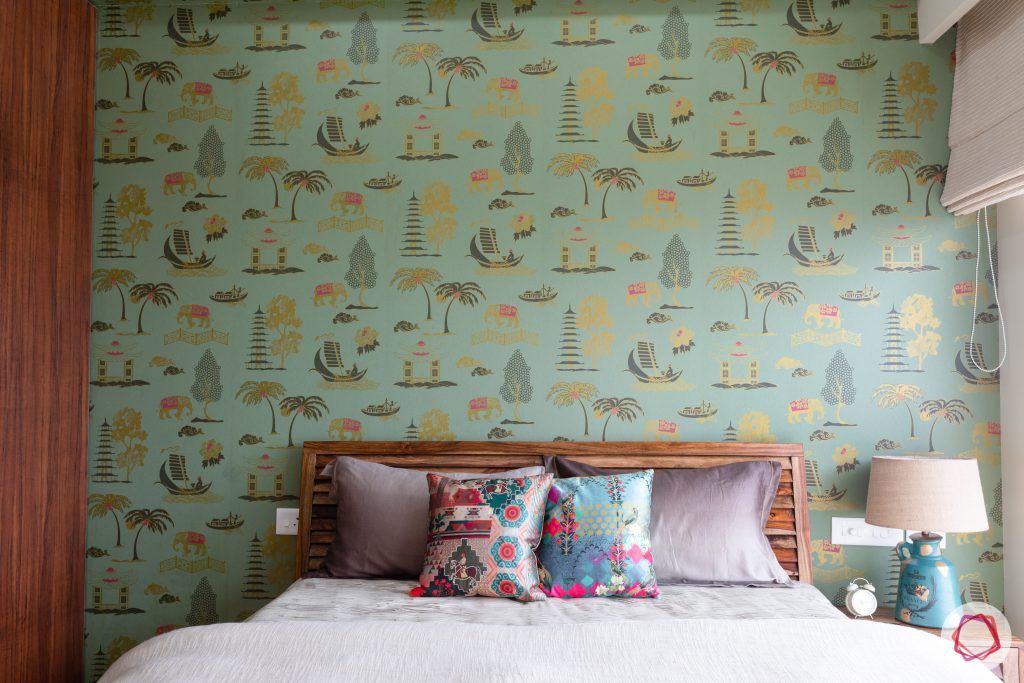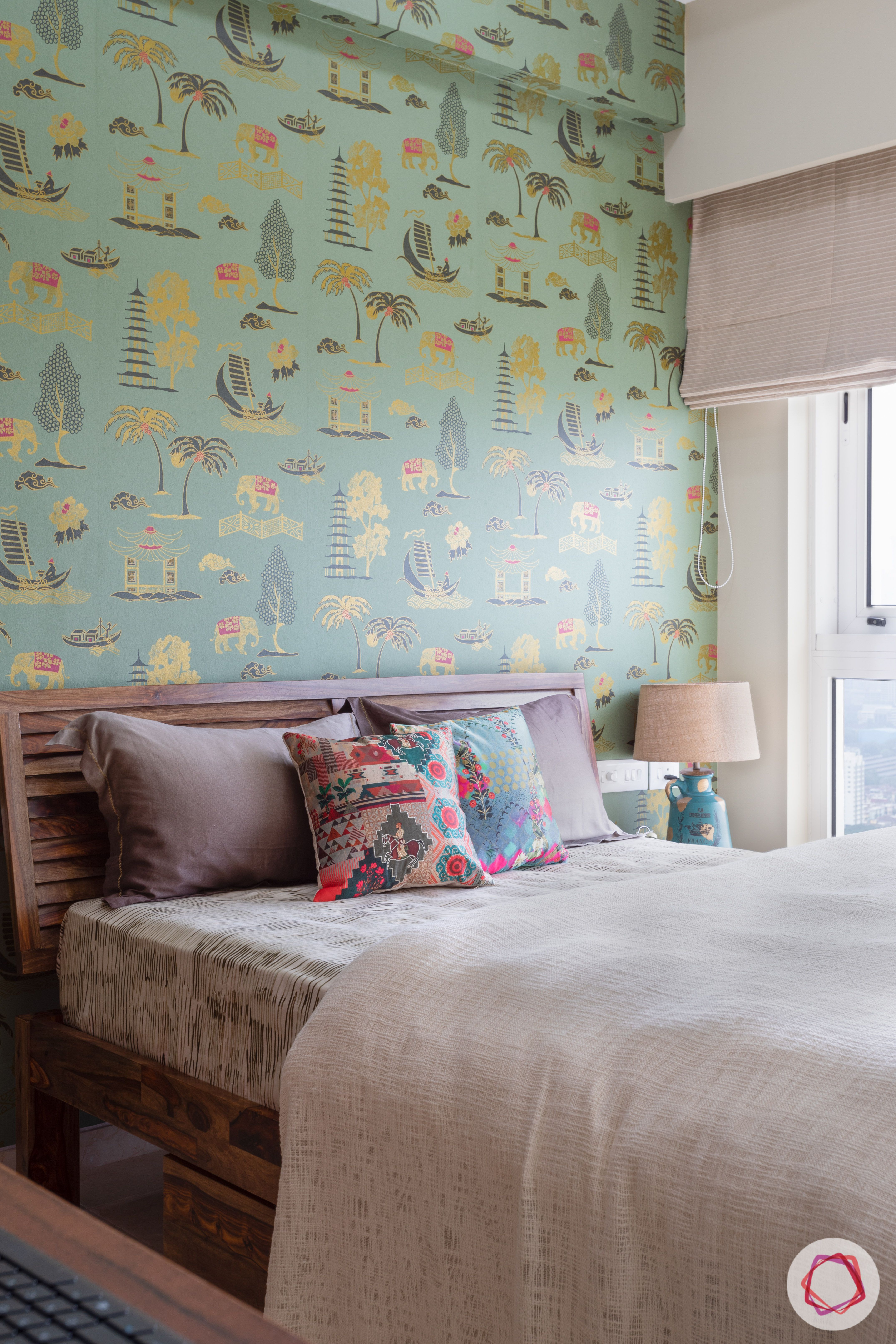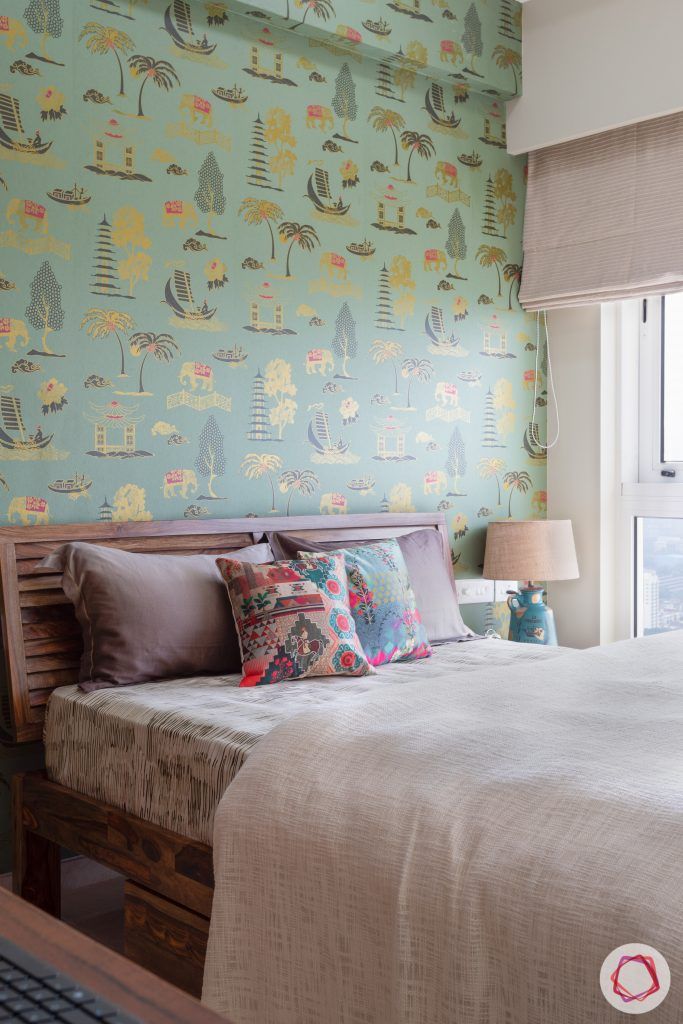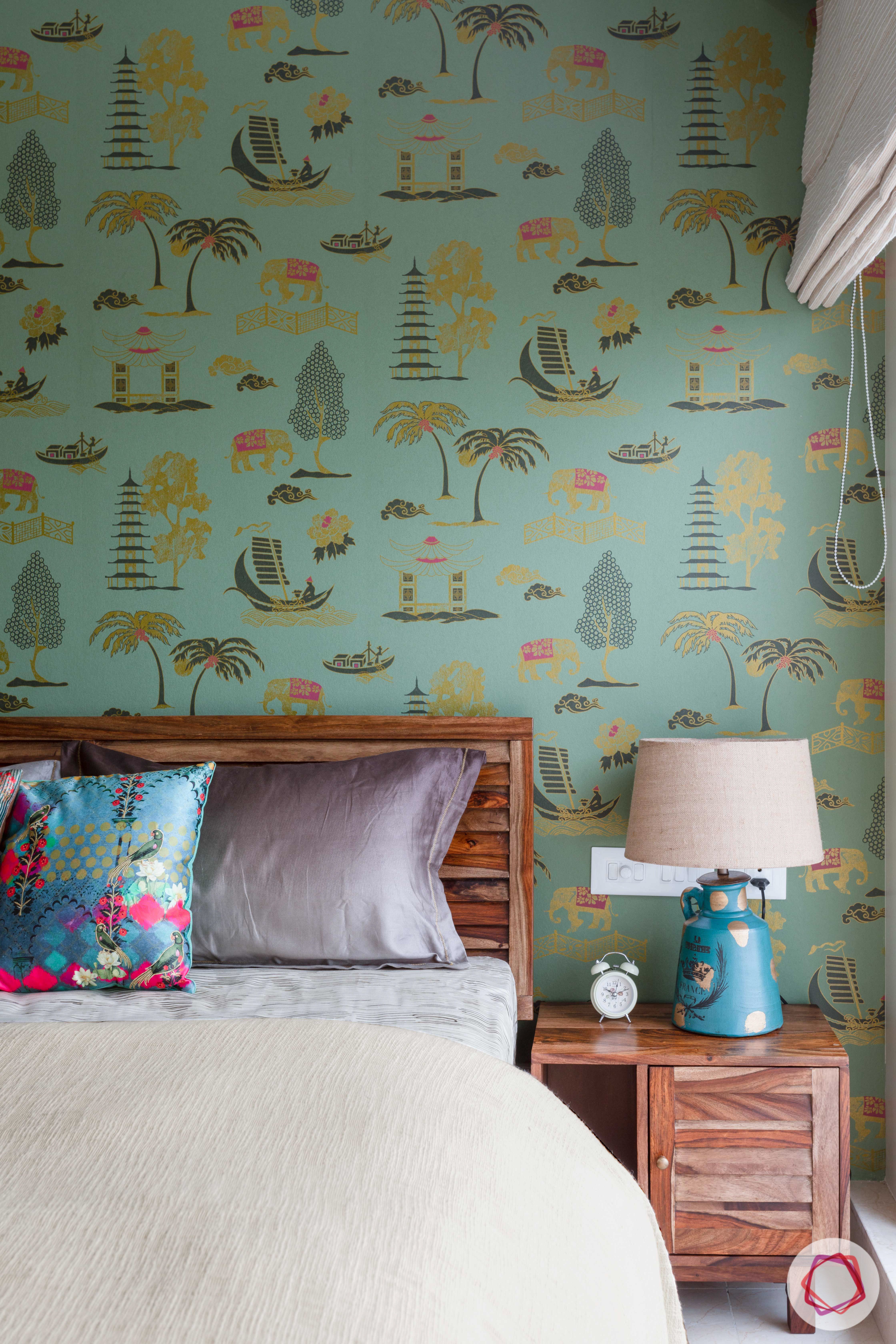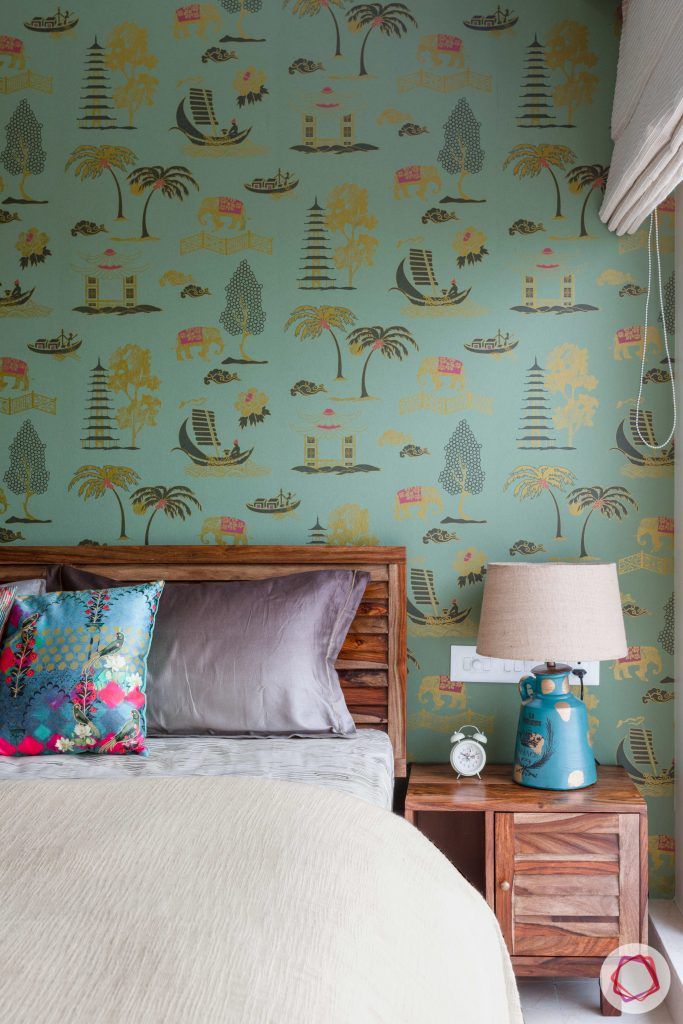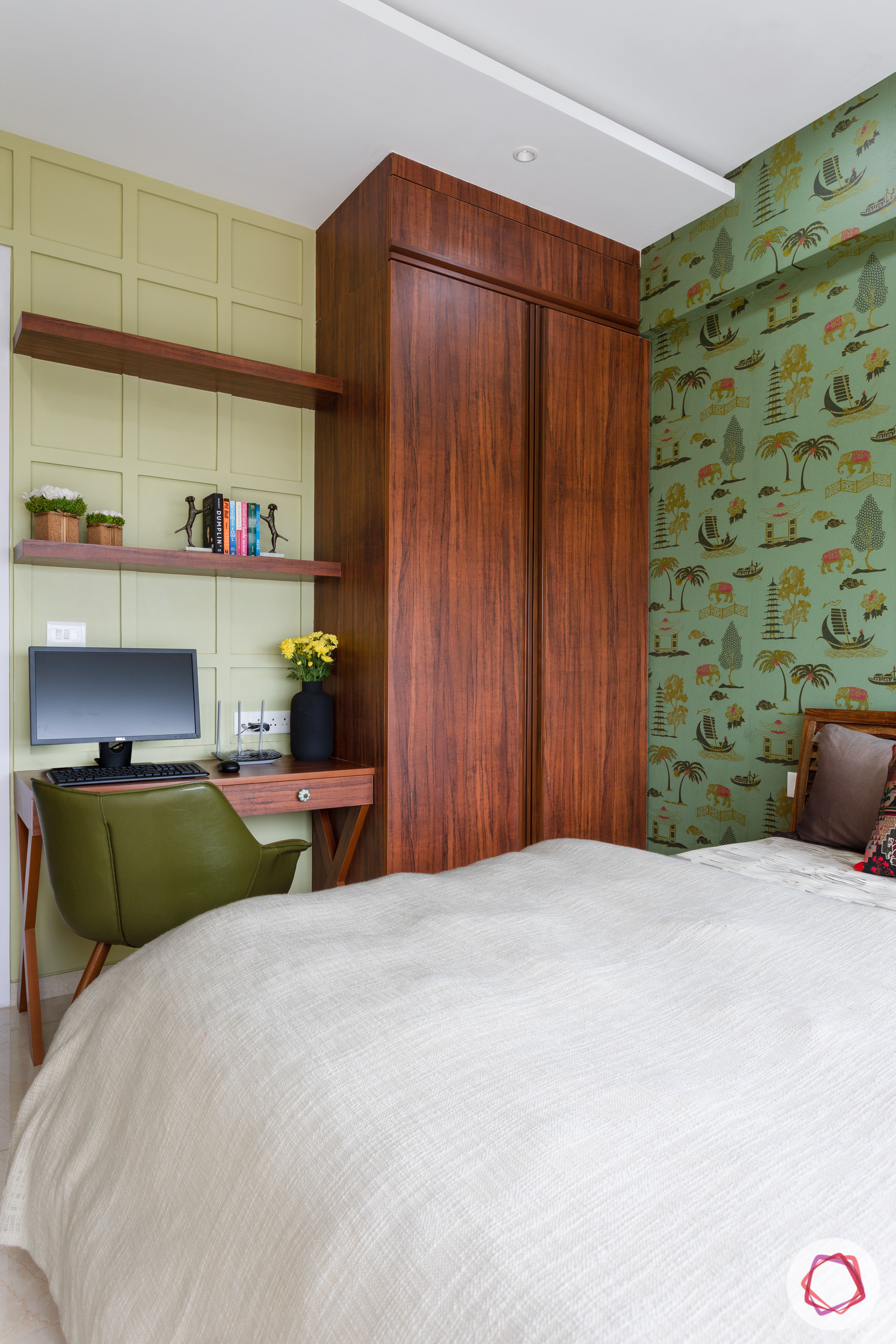 This room at Crescent Bay is one of the most refreshing guest bedrooms we've seen in a while. Just look at the fresh wallpaper that gives the room such a beachy vibe. The compact study created by Pallavi flaunts mouldings and sets that corner apart. Sleek wooden ledges take care of display.
---
"This was a fun project to work on, since the clients were open to new ideas. The only challenge was the fact that they were very busy and sometimes coordination took a hit. But otherwise, I enjoyed working on this one!"

-Pallavi Goel, Interior Designer, Livspace
Loved this story? Look at another home we designed in Mumbai – Around the World in 700 sq ft!
Send in your comments and suggestions.