Simplicity and elegance come out to play in this Gurgaon house decor!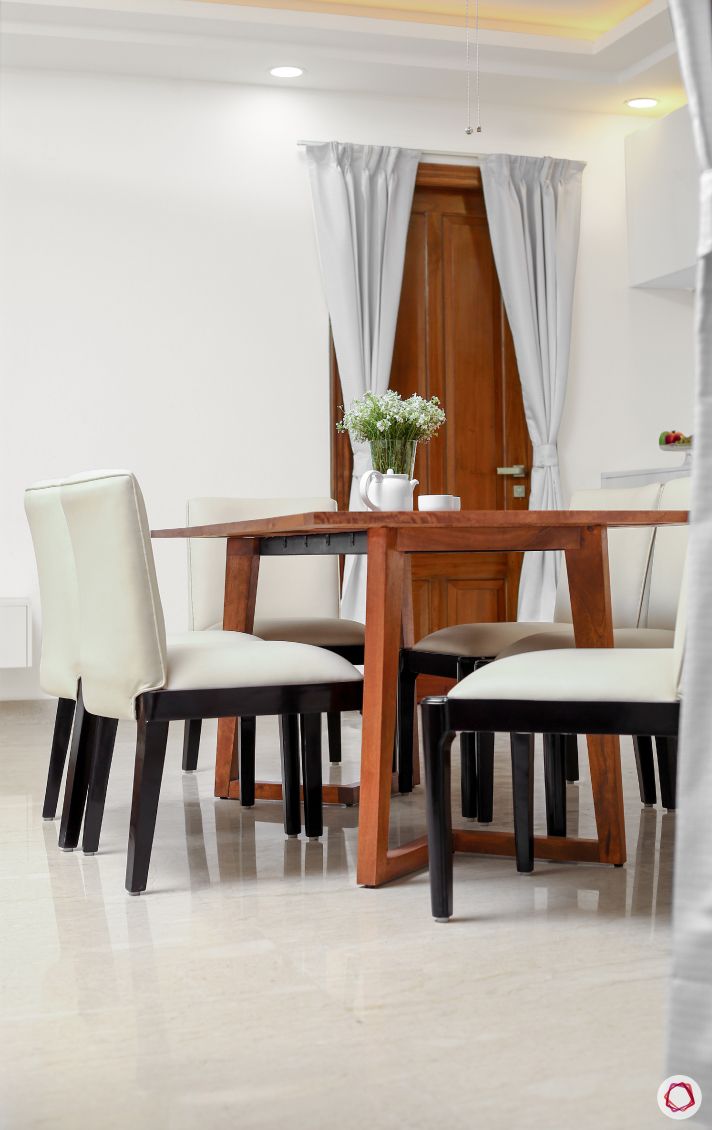 ---
Who livs here: Kapil and Anita Kalia with their son Abhimanyu and daughter Aishwarya
Location: Palam Vihar, Gurgaon
Size of home: 3 BHK spanning, 1,800 sq ft approx.
Design team: Interior Designer Pallavi Kalra with Quality Manager Shivani Modi Singh
Livspace service: Full home design
Budget: ₹₹₹₹₹
---
In a city that is teeming with people and cars, you'll find yourself constantly craving an escape. But if you, like the Kalias, have the option of a quick getaway within close proximity, consider yourself blessed! The Kalias who live in New Delhi went all out to get their weekend getaway in Gurgaon to be done up so that they could relax with family and friends.
When they contacted Livspace to get their home party-ready, they knew exactly what they wanted for the interiors. A lot of whites and space utilisation were a couple of their prerequisites. In addition, a spacious living and dining area also needed to be set up to expect plenty of visitors over the weekends.
Utility-laden Foyer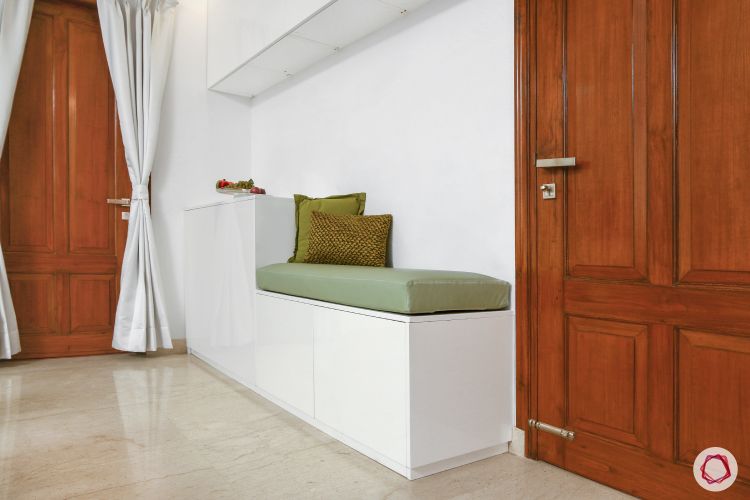 The foyer in this home is a unique combination of style and utility. The Kalias wanted a space to stow away things they don't use on a daily basis and Pallavi came up with the best solution – she gave them a shoe rack-cum-seating unit and added storage on top. With a sparkly white finish, this corner is radiant and is very functional!
For Dining Pleasure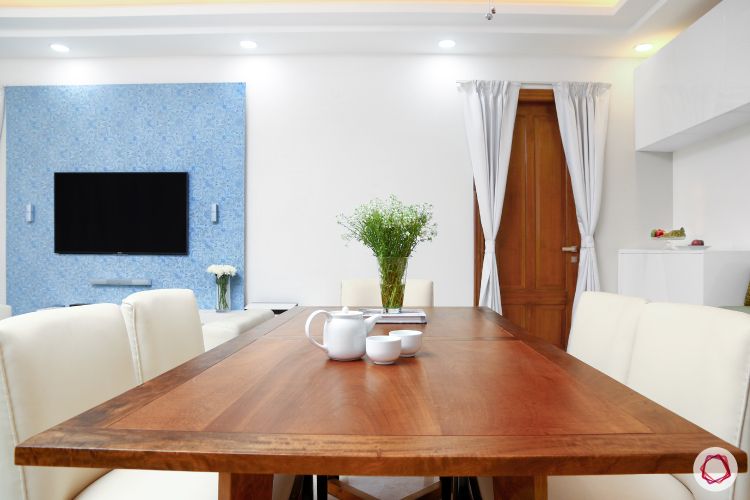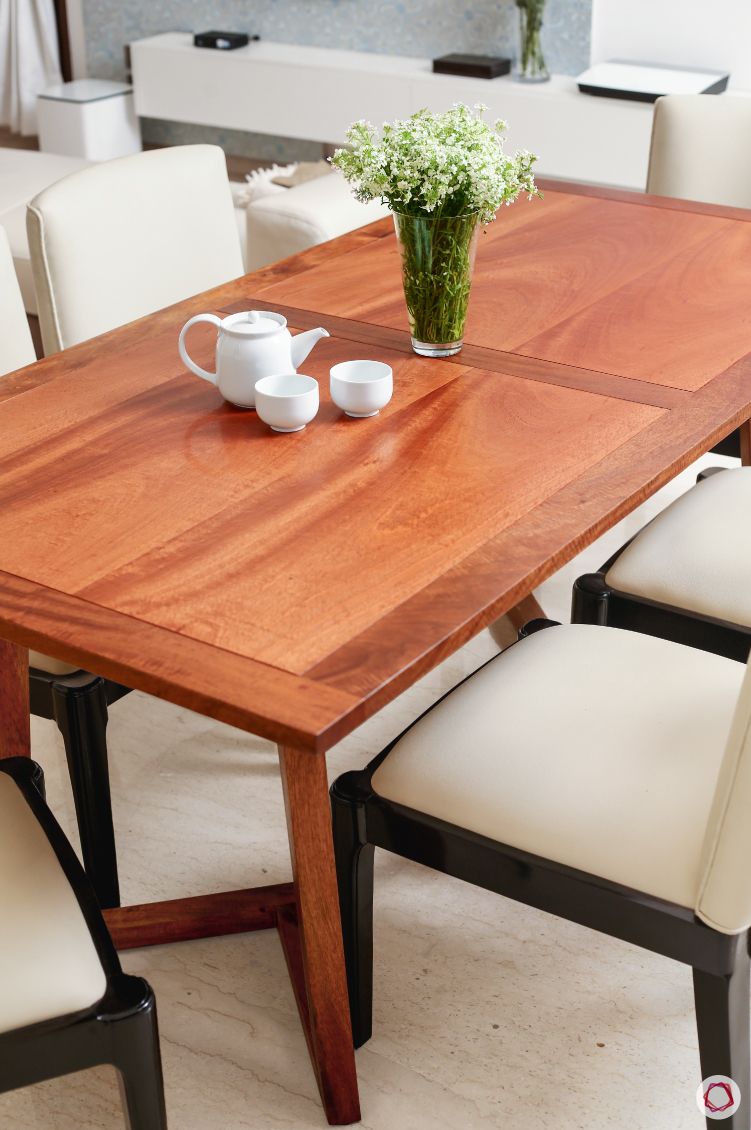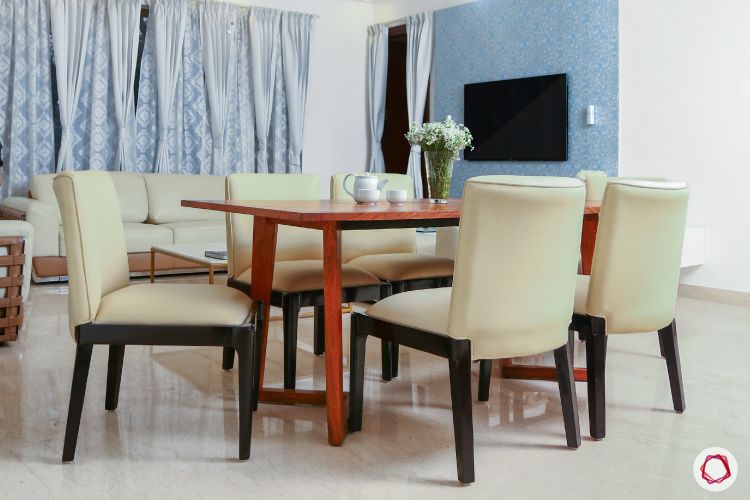 The Kalias wanted a dining area that does not look boring or common. Since they host a lot of parties at home, they wanted a dining table that would accommodate more people. So, Pallavi gave them a sleek solid wood dining table with an A-line design at the bottom. Also, the dining chairs are upholstered in beige leatherette that plays match with the sofas in the living room.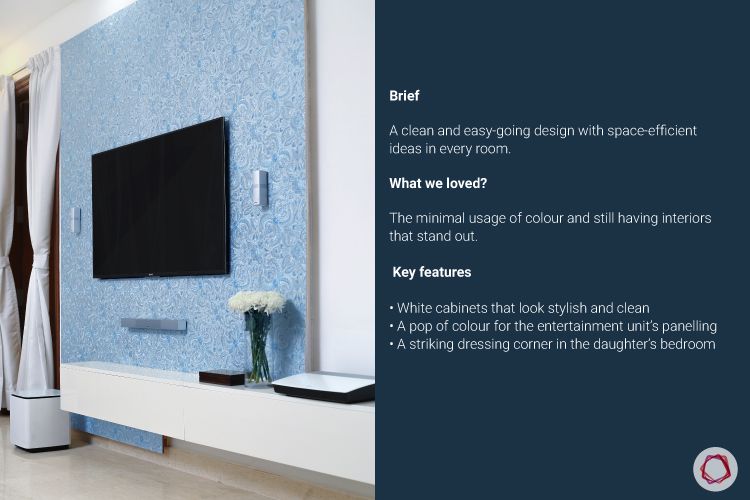 Heavenly & Soothing Design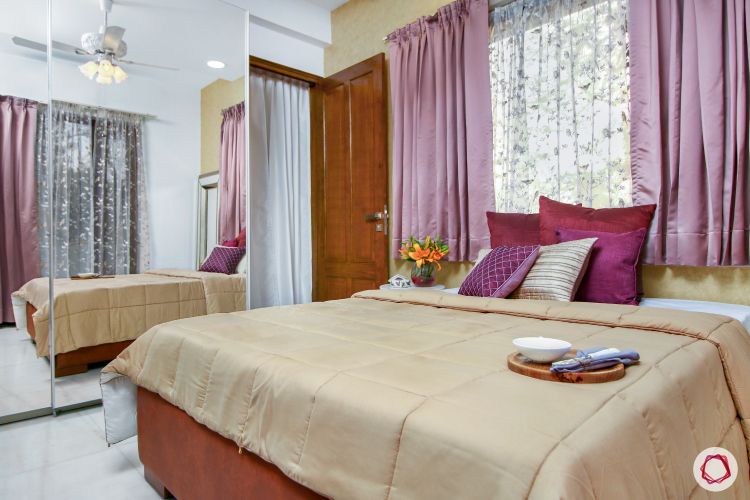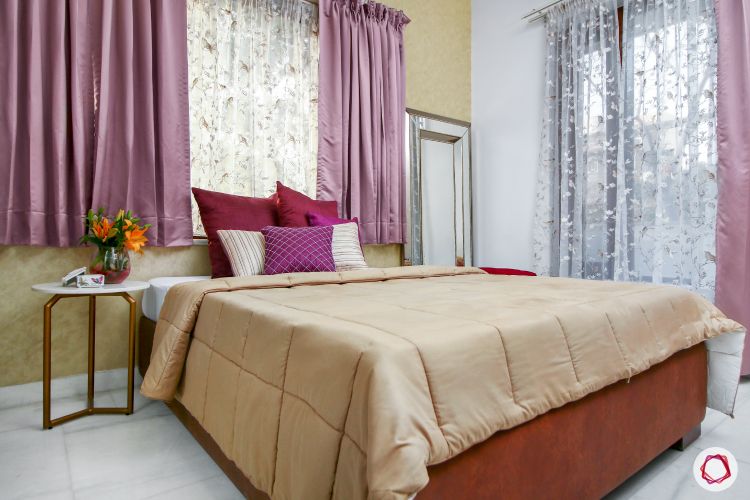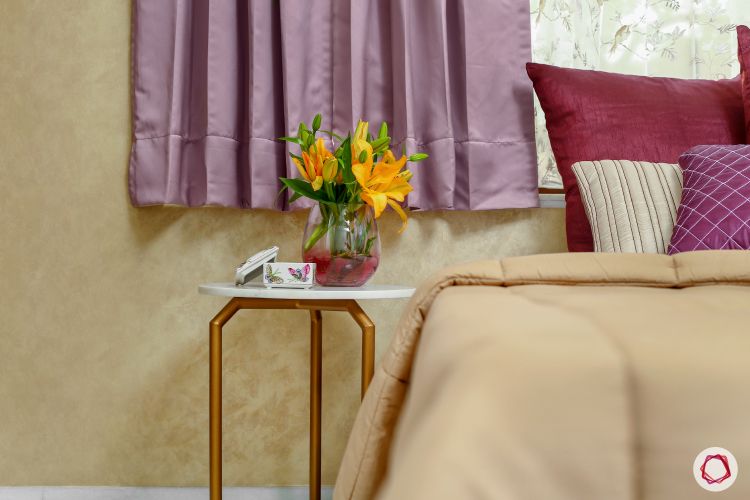 Aishwarya's bedroom is a good example of what a young adult's room should look. She was particular about having a fully mirrored sliding wardrobe! A leatherette upholstered bed ensures that this room is totally pet-friendly, since their pet stays in this room most of the time. Additionally, a bed without a headboard allows unhindered flow of air into the room through the window.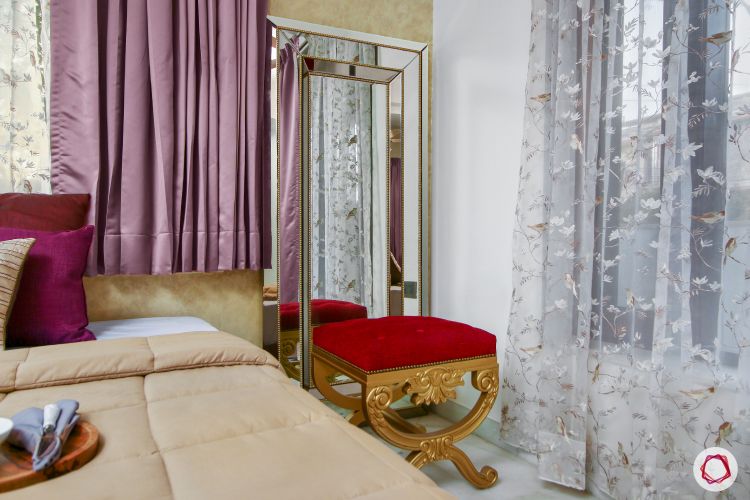 The dressing corner design is straight out of Pinterest, and this was something that they wanted from the beginning. A huge floor-standing mirror and a red pouf with ornate golden legs — such a pretty installation for a girl's bedroom. Perfect, we say!
For Happy Vibes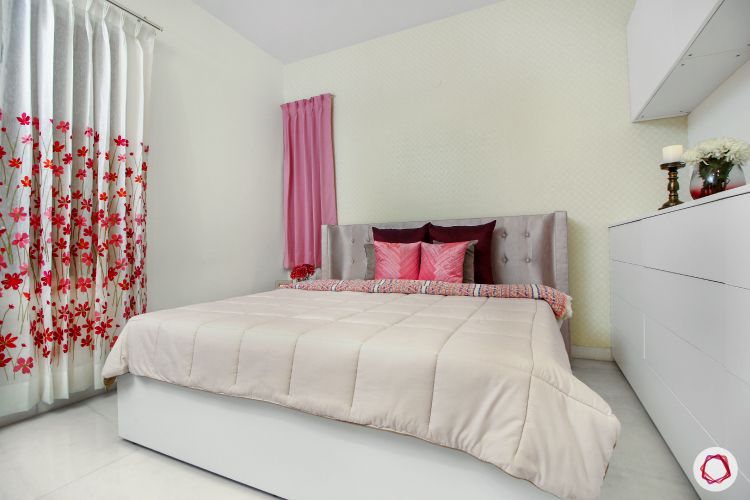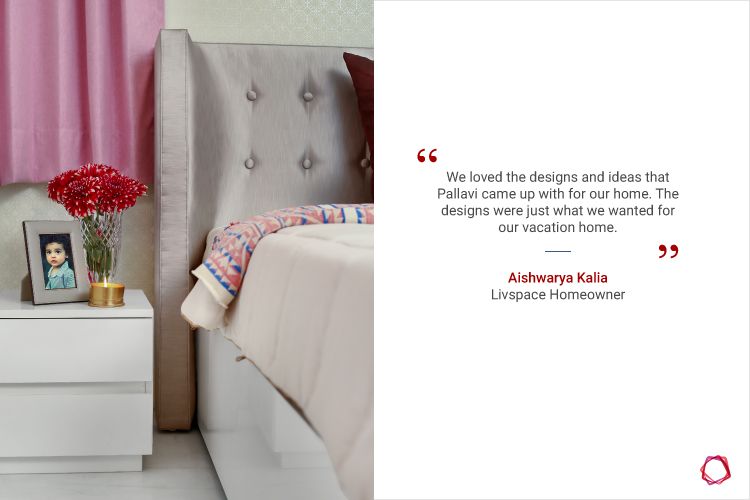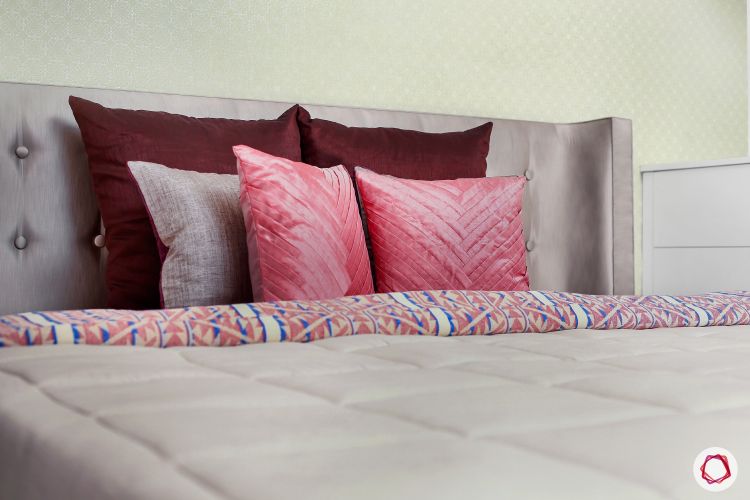 The master bedroom is designed in white, with a matte finish bed and side tables, and white walls with a subtle self design. Add to it a silver/beige-coloured wingback headboard, this bedroom looks like a dream! We love how easy and streamlined the design and colours are in this room.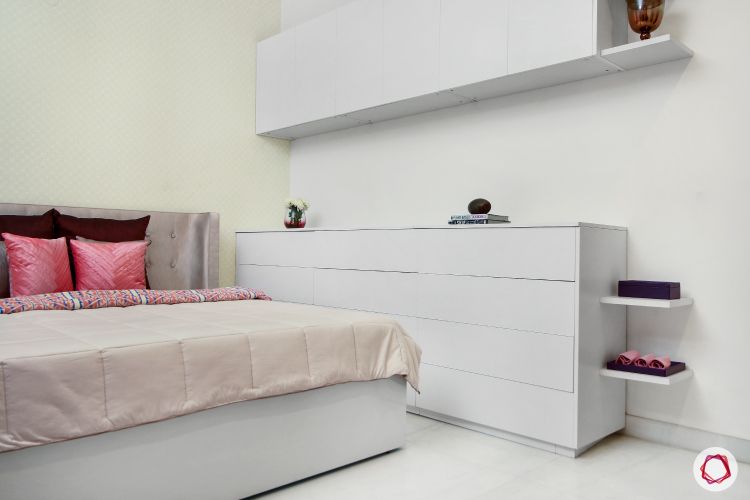 Anita wanted to utilise every inch of space in the master bedroom, since she has a lot of stuff to store. This way, she wouldn't have to go to the trouble of moving it around a lot. Therefore, Pallavi gave them a storage unit with drawers and cabinets on top, in white matte finish. Space was specially created for this unit, by blocking out one of the windows that was of no use. Smart idea!
---
"It was a pleasure to design for the Kalias, since they knew exactly what they wanted. Decision-making was easy and quick and I enjoyed working on this project!"
– Pallavi Kalra, Livspace Interior Designer
What do you think about this home? Leave your comments and suggestions.
Disclaimer: All contents of the story are specific to the time of publication. Mentions of costs, budget, materials, finishes, and products from the Livspace catalogue can vary with reference to current rates. Please get in touch with a designer for more details on pricing and availability.