A Mumbai couple's home that scores high on style and aesthetics!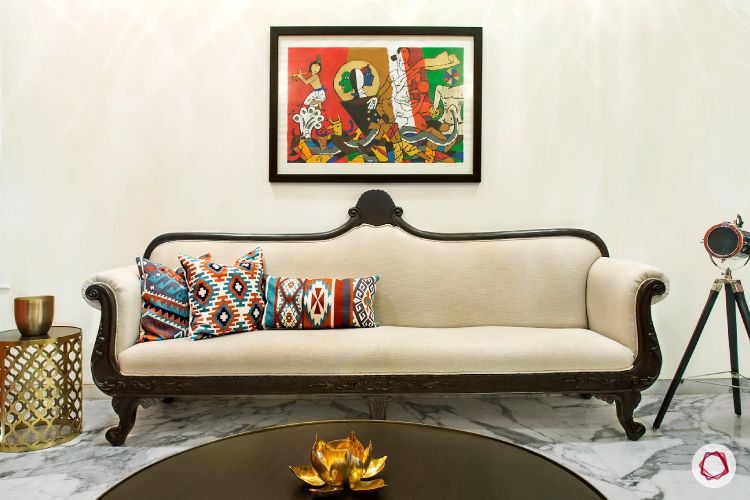 ---
Who livs here: Mrs. and Mr. Tripathi with their daughters
Location: Lodha Property, Parel, Mumbai
Size of home: 1,400 sq ft approx.
Design team: Interior Designers Avneet Kaur Hanspal and Pallavi Goel with Project Manager Ravindra Panchal
Livspace service: Full home design
Budget: ₹₹₹₹₹
---
What started as just a basic interior upgrade, turned into an overall makeover for this interesting couple's Mumbai home. A banker by profession, Mrs. Tripathi approached Livspace with the intent to give her living and dining area a facelift. But after the initial rendezvous with designer Avneet, the couple decided to get their entire home retouched! In stepped Pallavi, their designer for the rest of the home and gave their paradise a magical spin!
Set in a bustling neighbourhood in the city of dreams, this home features an enchanting amalgamation of classical and contemporary design aesthetics! Take a tour of this captivating home and find out why we're all hooked!
Festive Foyer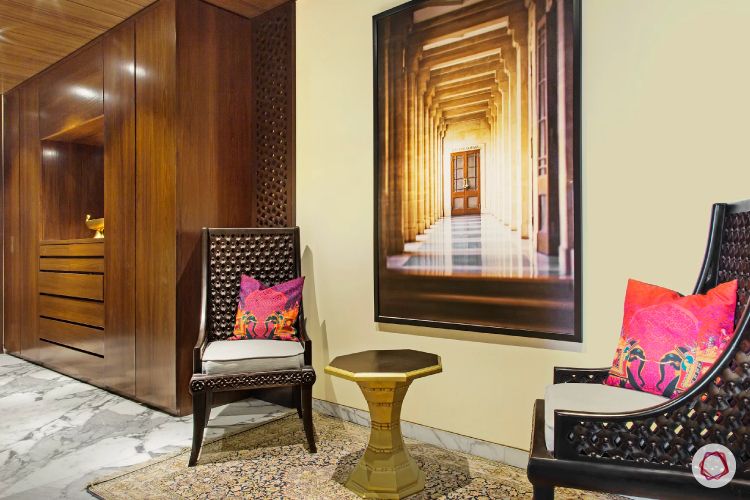 As you enter the Tripathi residence in Parel, your eyes come to rest on intricately carved wooden chairs in the foyer and a captivating painting on the wall that reminds one of palace corridors. Apart from being beautiful, these chairs have a purpose. Mr. Tripathi's mom sits here to supervise while she's visiting them.
Complete harmony is maintained between the foyer and the pooja corner which sits perpendicularly opposite to it. The chairs and the wooden panel play match with the jaali panels that adorn this divine corner where the family prays together!
A Warm Welcome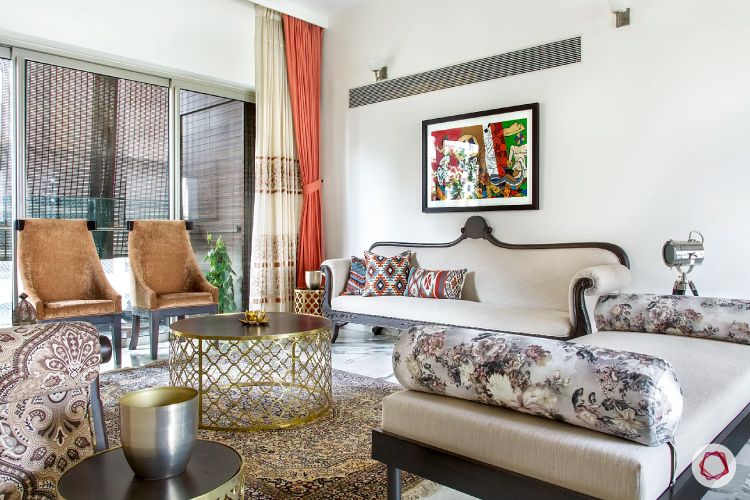 The living area displays the beautiful marriage between classical and modern elements. Take a look at the centre and side tables in laser-cut metal embellished in a soothing golden yellow tone. It blends beautifully with the style of the room. Comfort and style rank high with plush upholstered sofas, accent chairs and dreamy ceiling-to-floor drapes!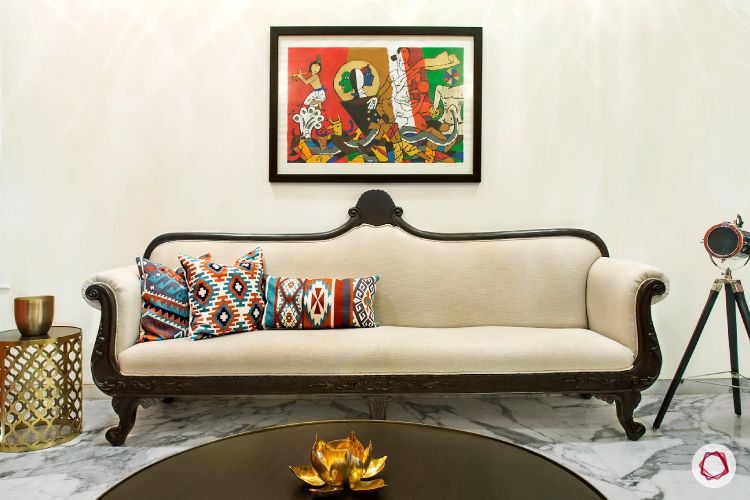 While in conversation, Mrs. Tripathi told us about her love for the Taj properties around the country and how she has a soft corner for furniture that's curvy and classical on similar lines. As a result, you see this curvaceous beauty in the living room that makes this area look royal!
Dine with Panache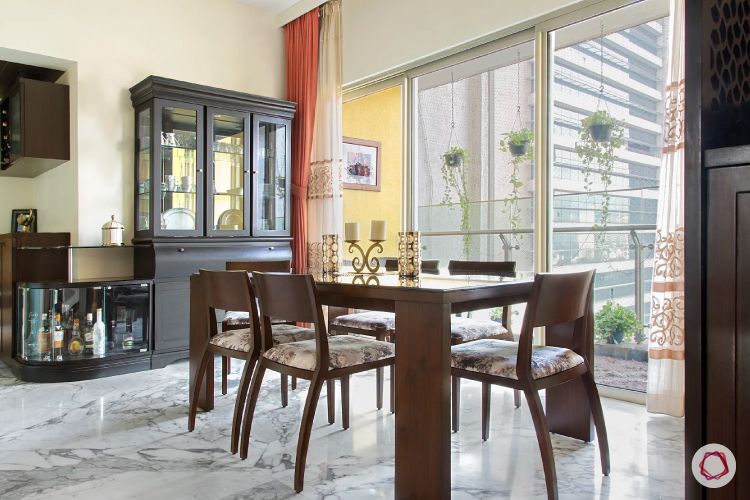 Our designer Avneet Kaur, gave the dining room a slight makeover with a big impact! For a warm and comfortable dining room setup, Avneet gave them a sleek wooden dining table and chairs positioned to make the most of the breathtaking view for meal times. The bar unit was extended to a crockery unit with a built-in piano for their elder daughter to practice her music lessons.
In a Nutshell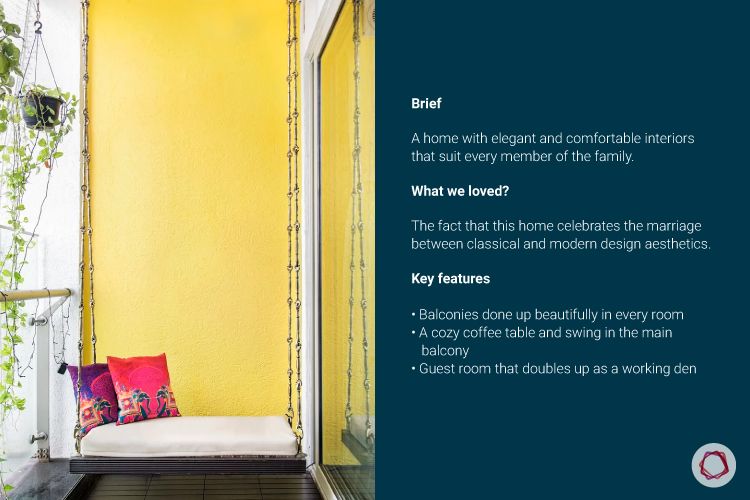 Bedroom Getaway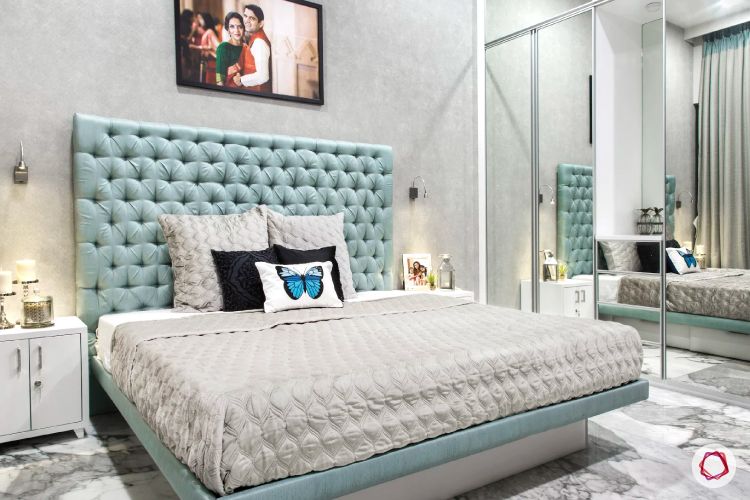 While talking to Pallavi Goel, Livspace designer, we found out that Mrs. Tripathi, our client, was very particular about wanting a spacious and elegant couple's bedroom. So, she designed a fully mirrored wardrobe and pristine white side tables that match the marble flooring. The powder blue, fully upholstered and button tufted headboard amplifies the comfort quotient in this room.
Perfect for Two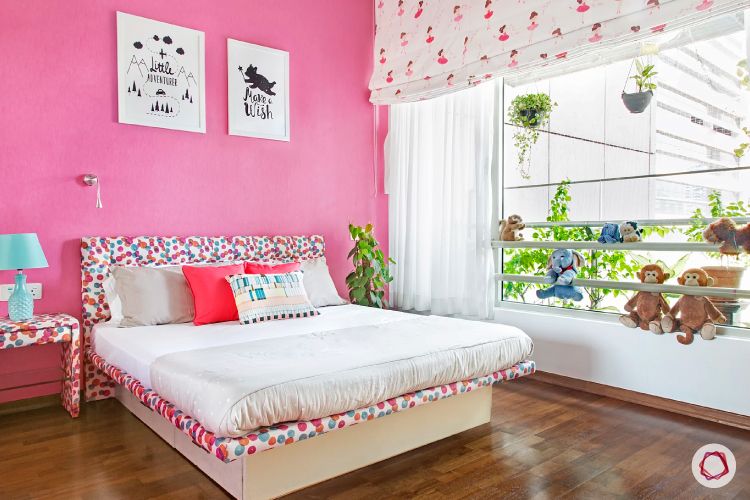 This room is the stuff of dreams. Cute polka dotted fabric wraps the bed to match the walls, while the girly-print blinds and hanging planters in the balcony seal the deal for Tripathi's little angels.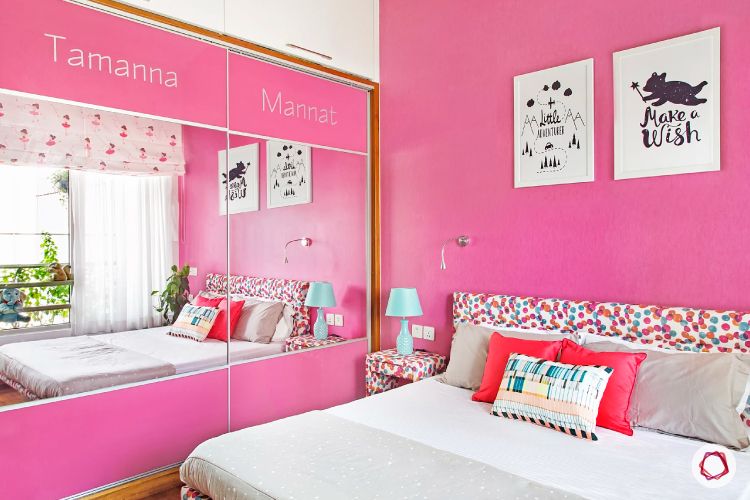 Mirror panelled wardrobes for the girls with their names etched on them! It's creative and a great way to personalise a room. Also, talk about teaching kids how to respect each other's space! We love this idea!
A Touch of Glamour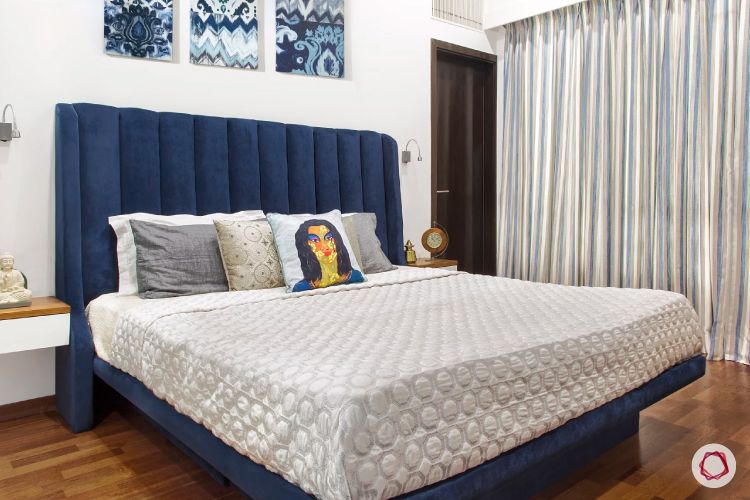 The guest bedroom is done up in a royal blue theme that promotes a healthy state of mind and positive energy. This room is occupied by the couple's parents, when they come visiting. Hence, Pallavi gave them compact wall-mounted side tables that could hold all their night time essentials.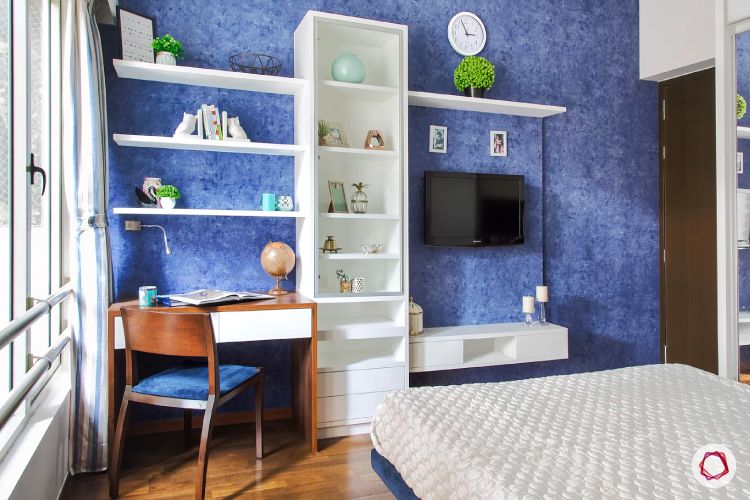 When the Tripathi's parents are not visiting them, this room is Mr. Tripathi's working den! For someone who works from home most of the time, a study area with dedicated shelves for gadgets with charging points and ample space for books is a must. So Pallavi made sure this need was catered to.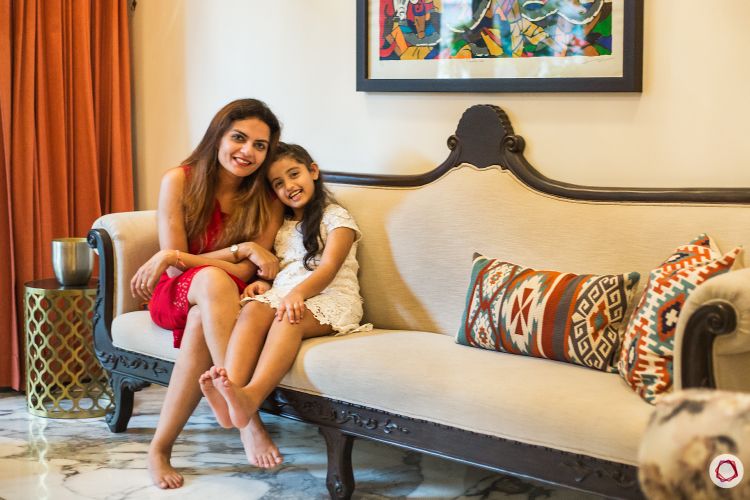 ---

"I loved how Avneet and Pallavi were so quick in understanding our needs, because we really did not want to spare a lot of time explaining what we wanted. They were very efficient and we loved the entire experience with Livspace!"
– Mrs. Tripathi, Livspace Homeowner
---
"The couple were so easy to work with! Mrs. Tripathi knew exactly what she wanted in every room and as an interior designer, I was given complete liberty to work around their requirements. It worked out since the very first pitch and the entire project went on smoothly."
– Pallavi Goel & Avneet Kaur Hanspal, Livspace interior designers