As is the case with most renters – long term or short – the amount they invest in decorating their rented home would be limited, for obvious reasons. As a result, it's easy to tell if a flat is rented or if the homeowners live there. This 4bhk flat in one of Mumbai's posh localities, however, threw even trained people like us off track! Home to renters Michelle Baptist and family, this rental home goes all out, and why not!
It was this vision that guided the design team led by Pallavi to furnish this home in such a delightful, yet practical manner. It meant no permanent changes, more loose furniture and installations that could just as easily be used in another house, should they decide to move.
---
Who livs here: Michelle Baptist and Debasish Purohit with their daughter and his parents
Location: Raheja Vivarea, RTO Colony, Mumbai
Size of home: A 4BHK spanning 2,000sq. ft.
Design team: Studio Head Pallavi Goel and Interior Designer Hamza Pinwala
Livspace service: Living and dining area as well as 2 bedrooms (kitchen and wardrobes excluded)
Budget: ₹₹₹₹₹
---
But what exactly is the difference between designing a rental home as opposed to a home where homeowners live?
Typically, in a rented home, three main things could happen:
You have to somehow make your existing furniture fit the given space
The furniture you bring in often won't match the existing furniture of the house like wardrobes, kitchen, etc
The walls are often bare or painted in a neutral colour like white
But banker couple Michelle and Debasish wanted none of these for their new home, where they intended to stay for a while. But tenants are often not allowed to make permanent changes to the home they have rented. So our design team was ready to work around that problem and create a beautiful space for this family without making extensive renovations.
Now, let's delve into how this 4BHK flat changes our preconceived notions of what a rental home could look like.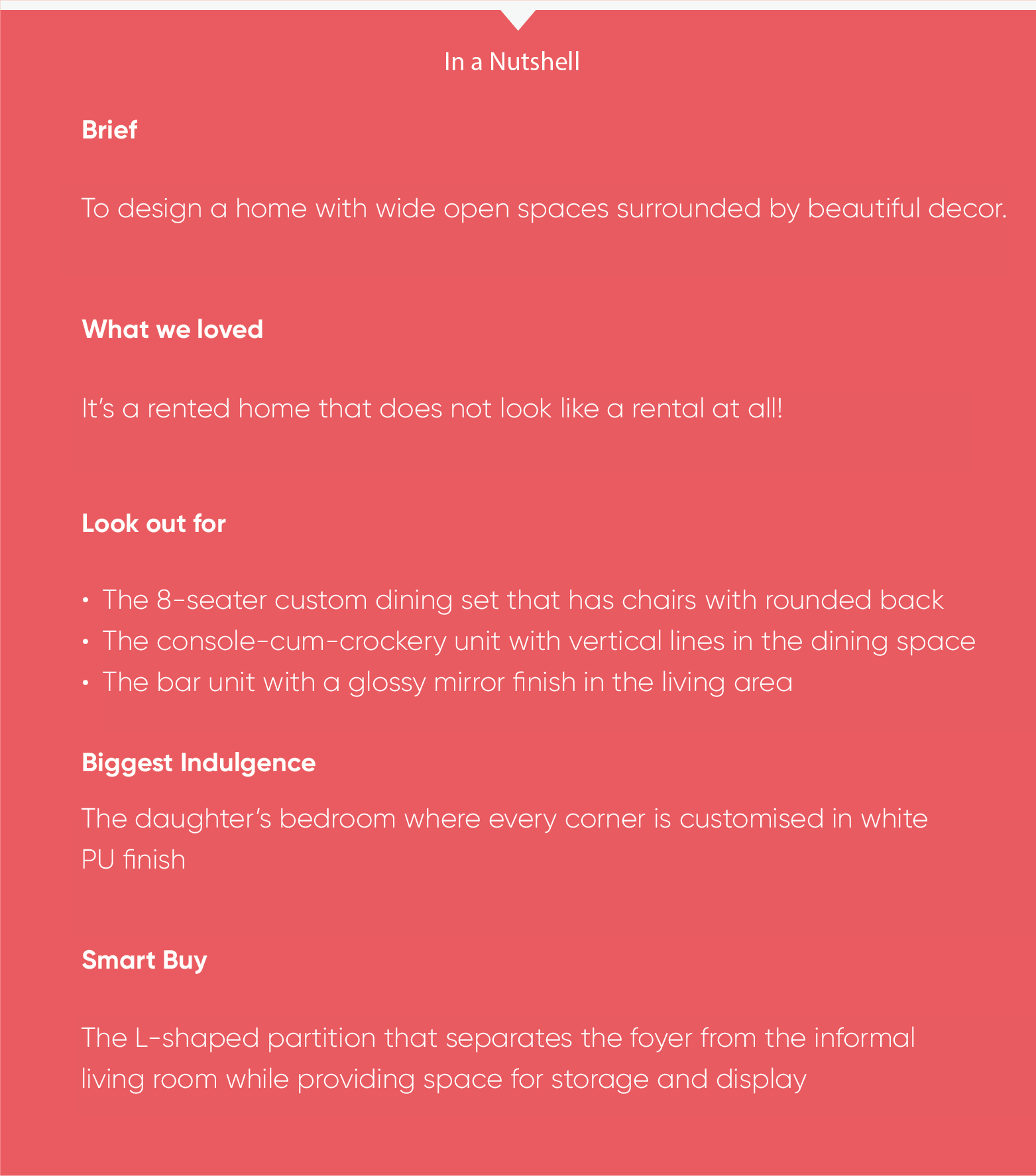 An entryway with threefold functions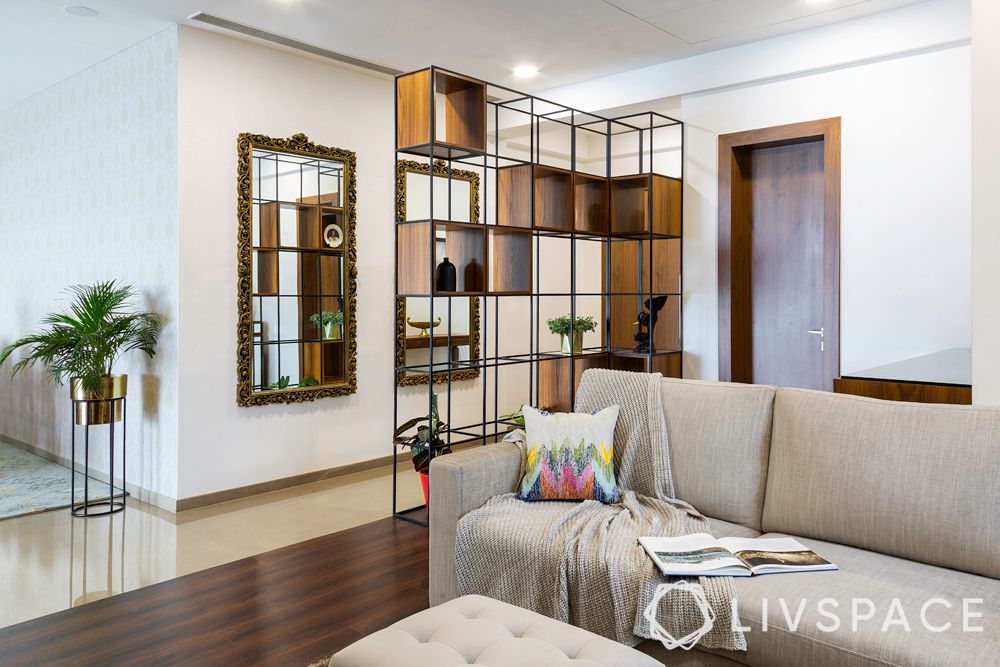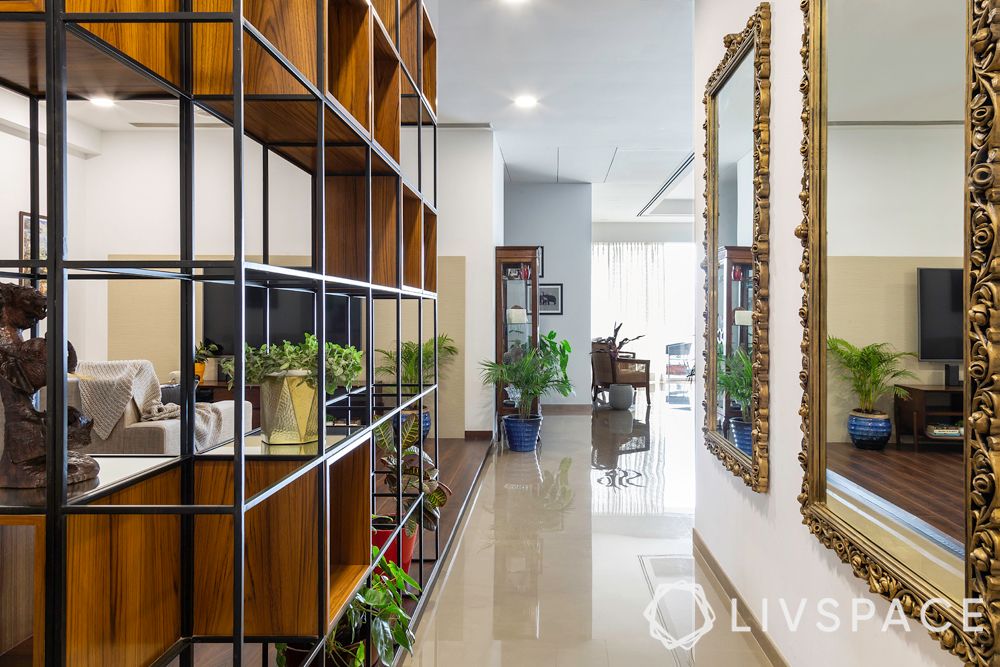 Michelle and Debashish have a social calendar that includes hosting parties at home. Hence, they were keen on segregating the living room into a family space to lounge and a formal living room for guests. Thankfully, the design of this 4BHK flat aided this plan and Pallavi lent it a deft hand at designing. She has placed a L-shaped metal frame open and closed shelf here that offers space for display and storage while serving as a partition between the foyer and the private living area. Also, the huge framed mirrors in the entryway accentuate this narrow space to look more roomy. They also add oodles of vintage charm due to their antique finish.
So the functions achieved are storage, display and divider right here in the foyer.
---
Tips for Renters: Squeeze in functionality with aesthetics. It's easier than you think!
---
The formal, the informal and the amazing!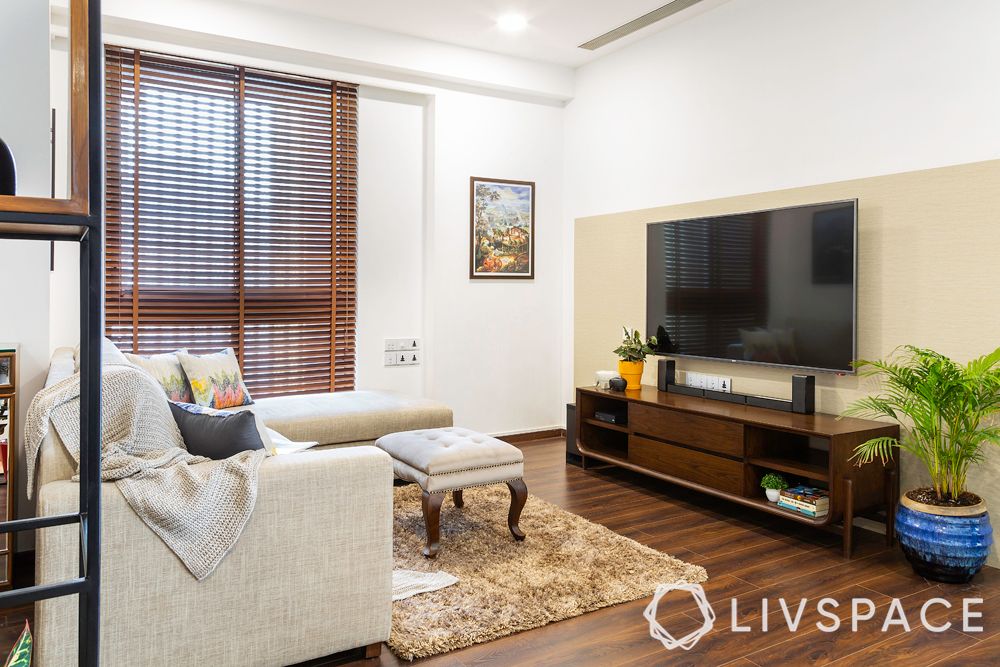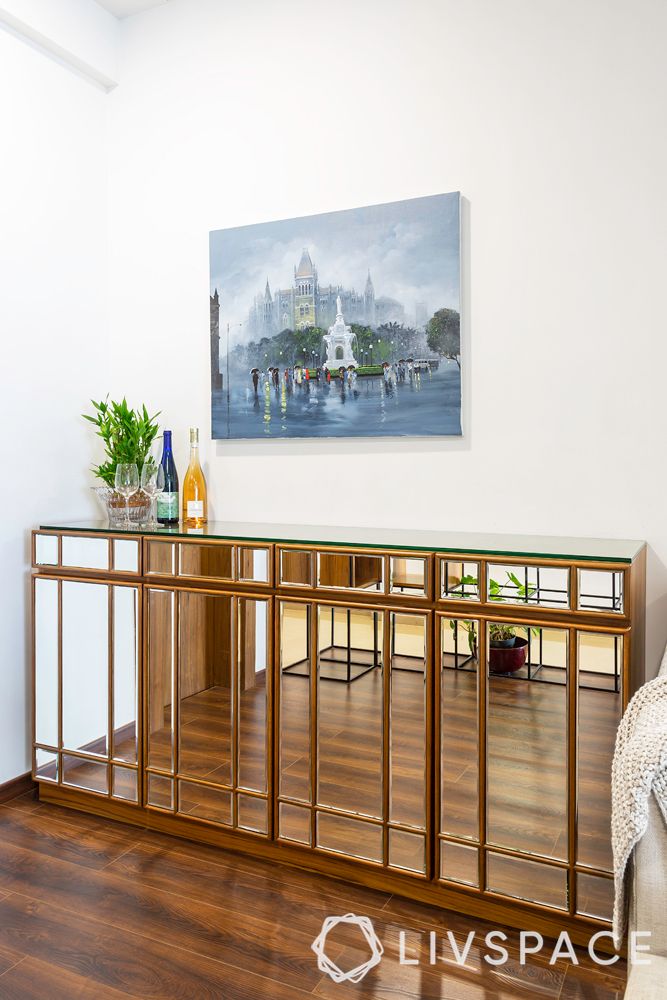 Nestled behind the shelf-cum-partition is the informal living area where the family sometimes watches TV together. A raised platform was created to segregate this area from the rest of the living room. The laminate flooring too points to it. The TV unit we see here is loose furniture but the back panel was made on site as per custom design. The panel behind it is created expertly with commercial plywood and wallpaper; it isn't exorbitant but has the desired effect. Apart from the comfy looking L-shaped sofa, this space stands out for the bar unit that has a tinted mirror finish and was also customised.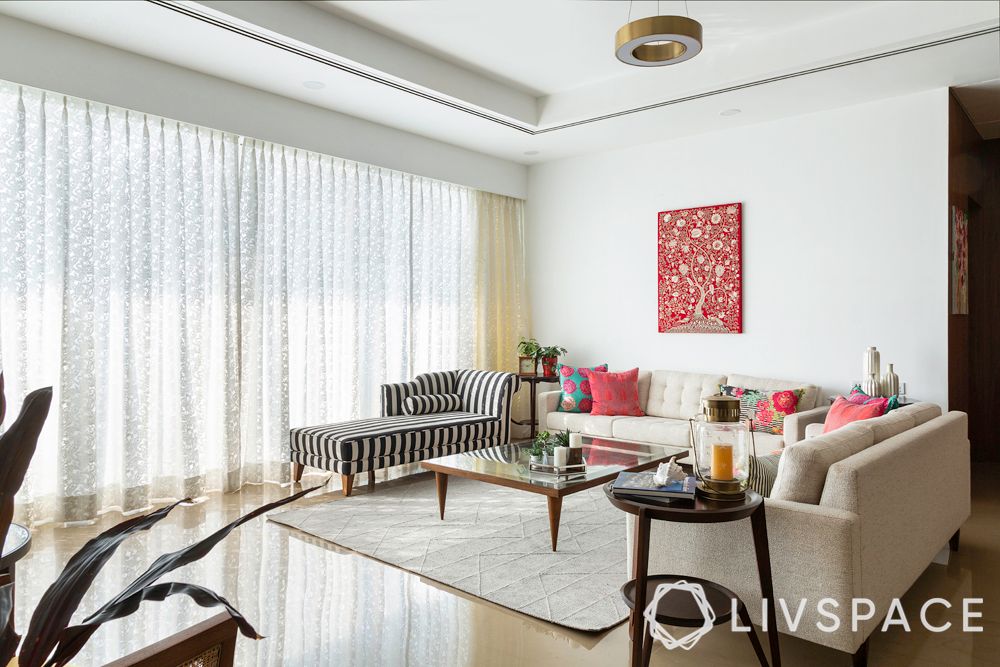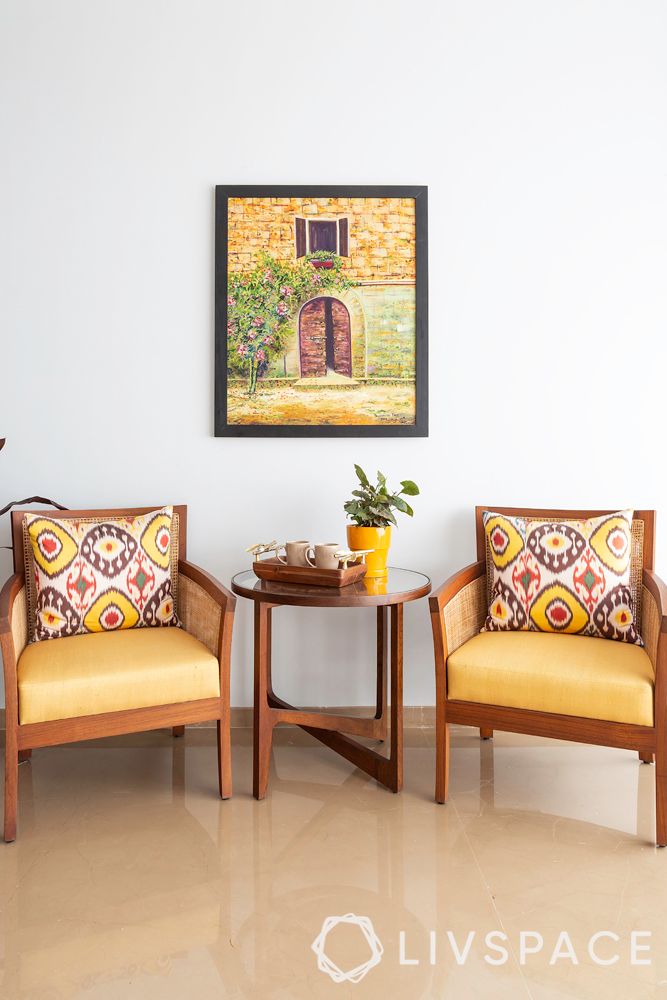 Moving on, the formal living area sets the glamour quotient of this 4BHK flat. The seating furniture here is mostly sourced from Tianu. It's hard to choose between so many beauties but we are partial to the black and white striped chaise lounge chair. The variety of seating options in this area doesn't allow monotony to set in at any point. It also covers the large space adequately without making it look cramped.
---
Tips for Renters: Invest in sturdy and good looking statement furniture like the side tables and consoles here. You can always retain them since they are versatile.
---
Here's how you dine in style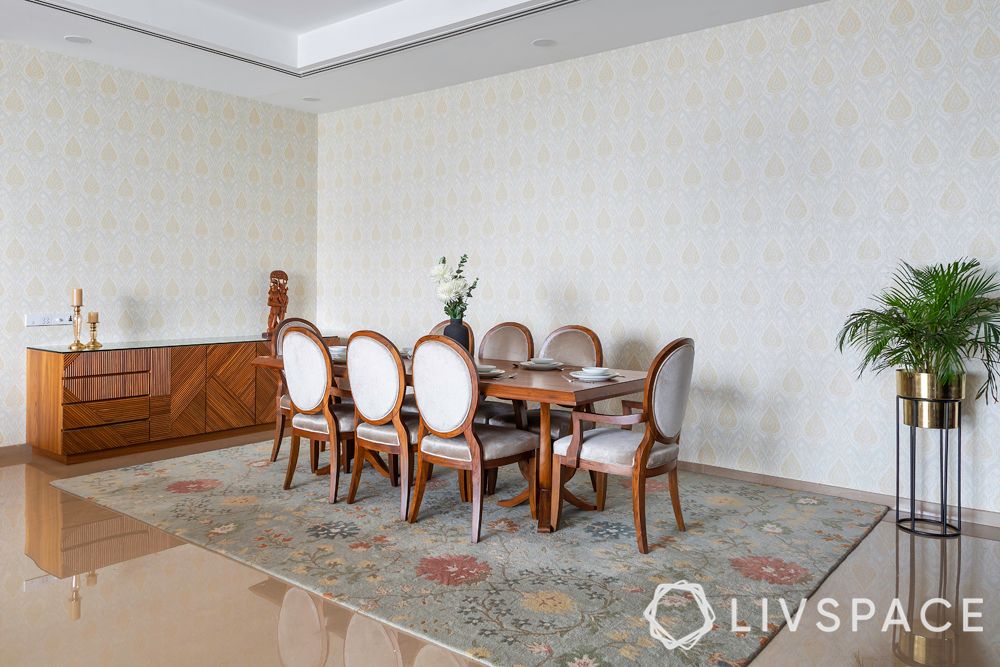 In the dining area, we have a total of two stunners: the dining table and chair set and the crockery unit-cum console. The chairs of this customised 8-seater dining set are particularly interesting with rounded backs and curvy legs. It seems like an ensemble that borrows the style aesthetics of neo deco, an extraction of the art deco style with respect to forms.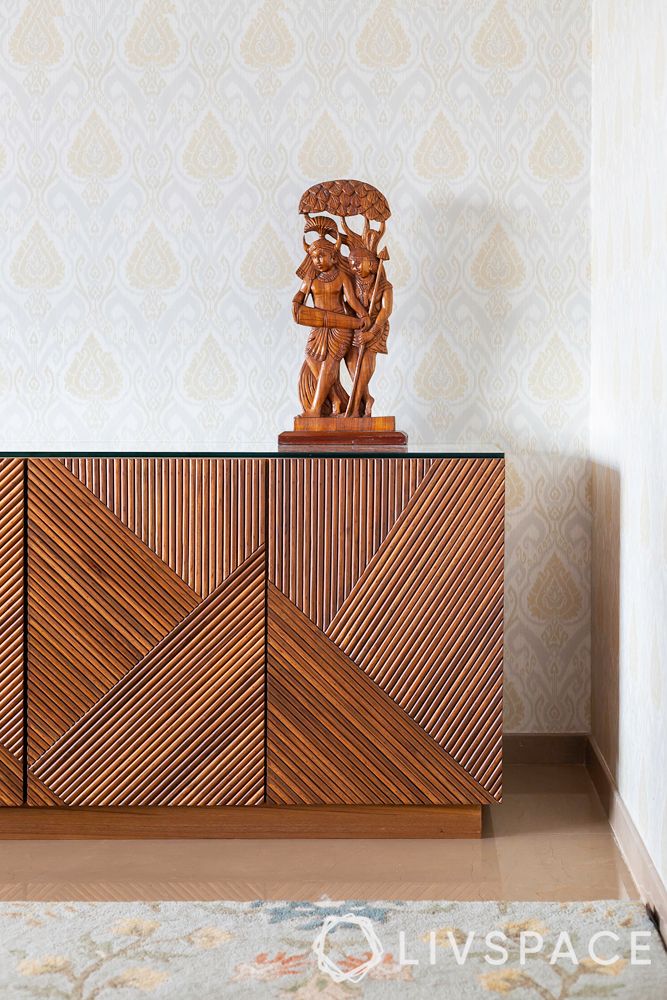 The console for its part has a textured presence with vertical grooves on solid wood pattis. This area also has a great view as it opens into the balcony so Michelle has been working out of here for the duration of the lockdown. Talking to us about her experience of working with Livspace and the design team, she said:
---
Tips for Renters: If you don't want to put in a partition to divide space, area rugs do the job equally well. And their prints and patterns can add aesthetic value to your rented home.
---
Wood rush and a love of linear design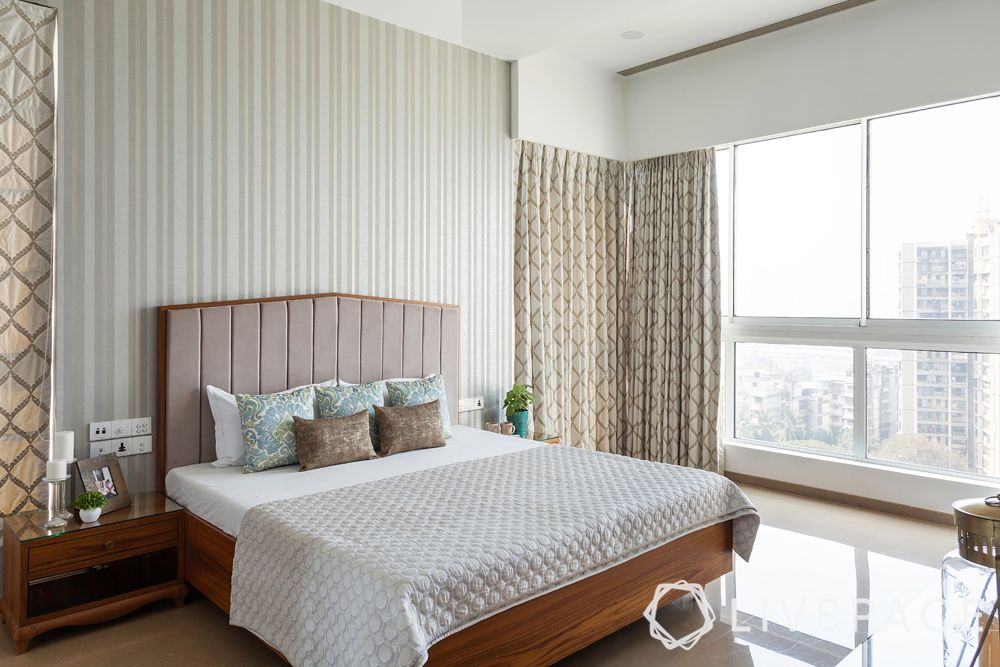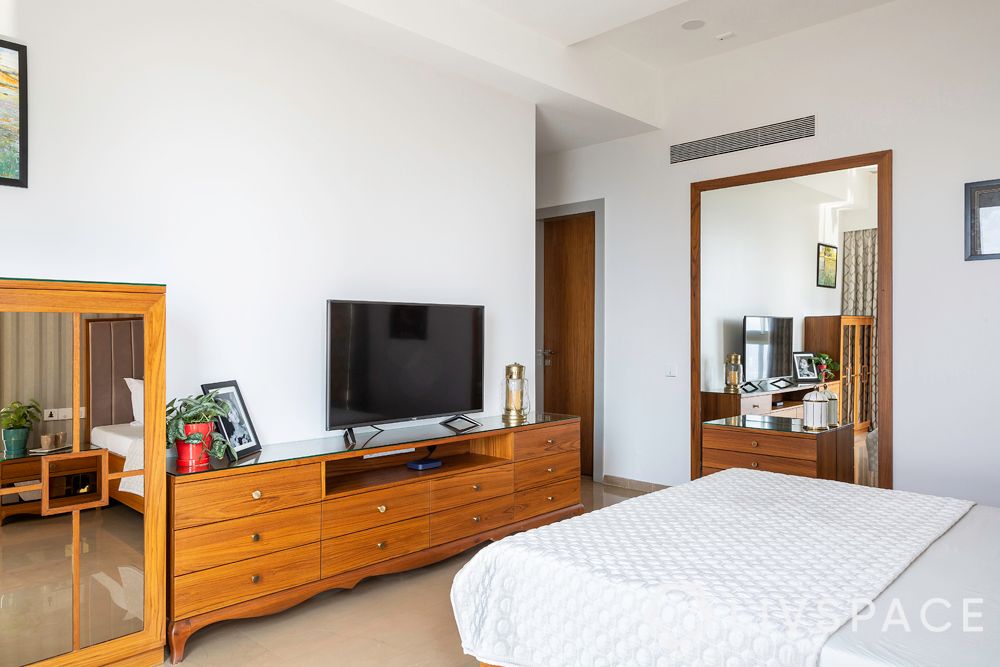 Michelle and Debasish's bedroom stands out for its neat and linear design. The bed's headboard has vertical lines that match the wallpapered accent wall behind it. Next to it is a veneer finish dresser with neat rectangular lines. Opposite to the bed, we see a TV unit, also in veneer finish and a storage unit with mirrored shutters. Everything except the TV unit follows a linear plan of design. This piece stands out as exception to the rule with its dated curvy style.
---
Tips for Renters: Wallpapers are a great way to create statement walls that brighten up your space instantly.
---
All thats cute and customised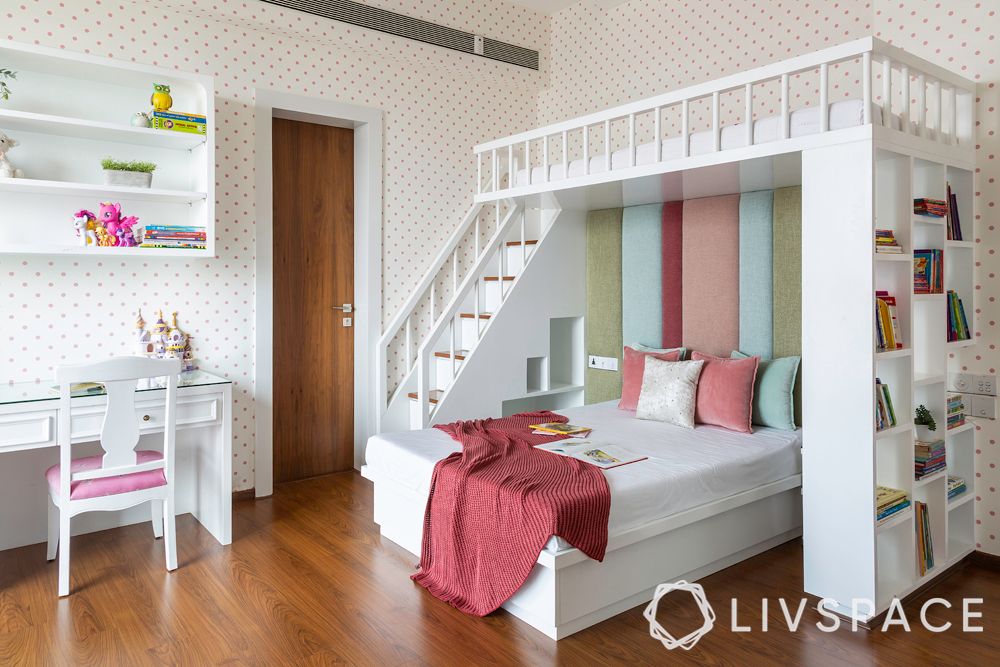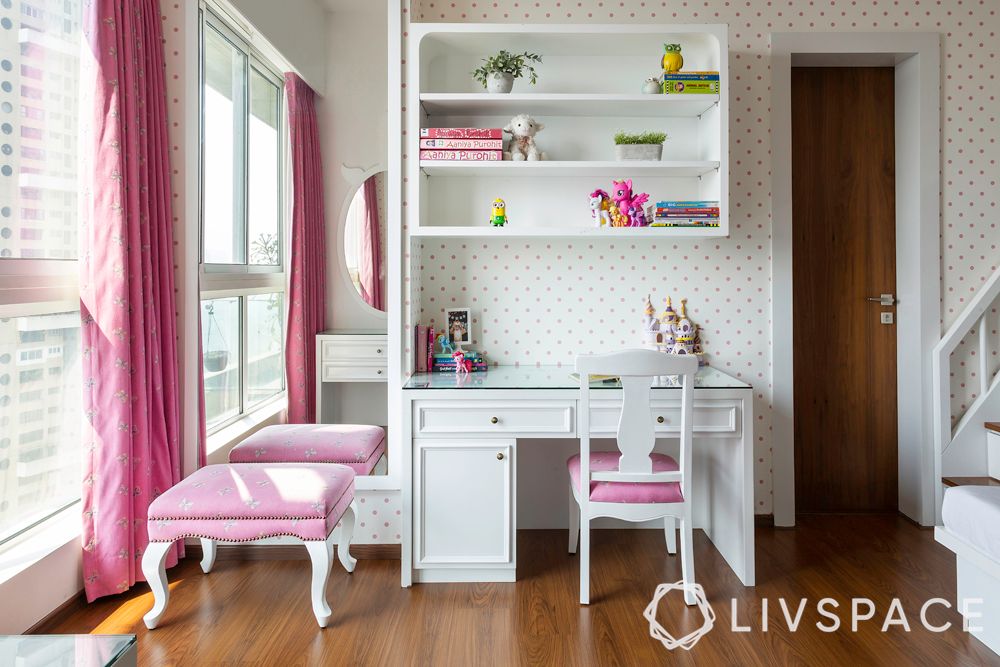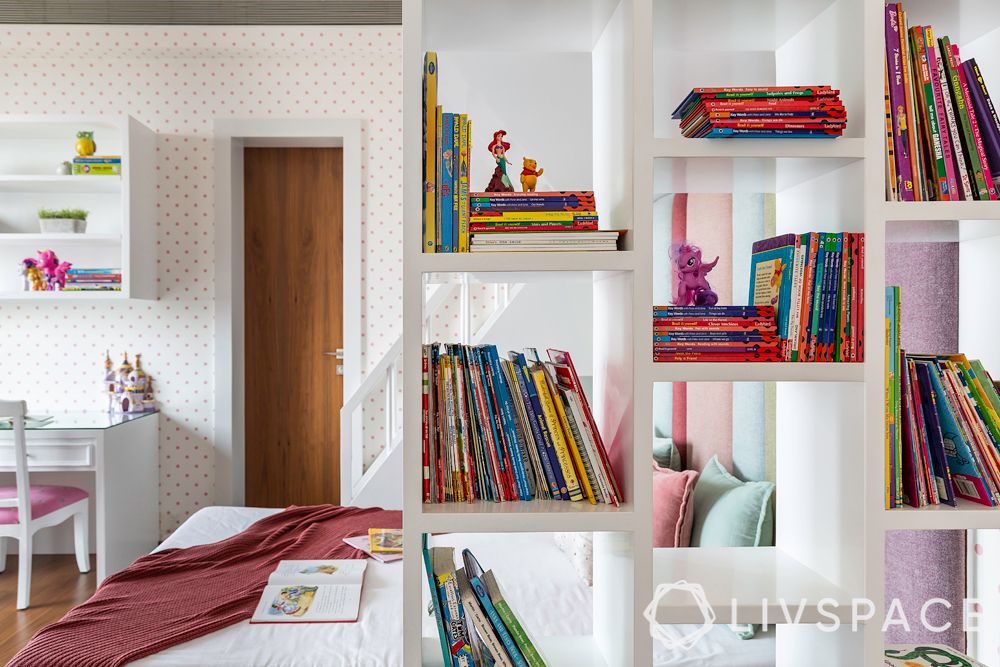 The most expensive and elaborate area in this 4BHK flat is the kid's room. The couple have a daughter whose bedroom had a white wardrobe already installed. The rest of the room was done up in white PU finish to match it. The bunk bed is all rainbows and sunshine with a panelled headboard and a bookshelf on the side. The adjacent wall was utilised to install a study table and a dresser with a full-length mirror. Customised furniture does not get better than this.
---
Tips for Renters: If you are buying furniture for a rental home, you must make sure it matches the existing furniture. If you don't have the budget to buy new furniture, you can always paint your existing furniture.
---
Wide open spaces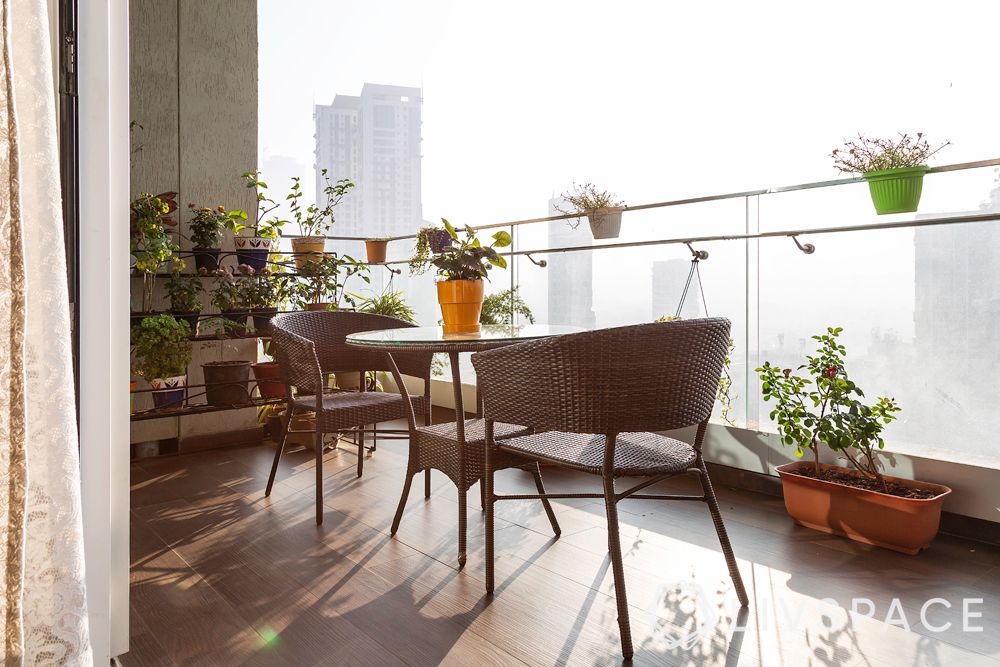 This 4BHK flat has a long balcony that they have turned into a garden of sorts. Naturally, wicker furniture is the best fit for outdoors and easy on maintenance too.
---
Tips for Renters: Every home, whether rented or owned, must have houseplants! It's just bare without plants.
---
Designer Speak
If you enjoyed reading about this novel home, also read read about this duplex is just as cosy as it is luxurious!
Write to us: