Just as every person is unique, so are the homes they inhabit. Your home should not only reflect your personality but also your needs, dreams and everything you desire from your space. Sachin Gaurav, a Livspace homeowner and an entrepreneur, used to live in a home that was dark and dull. As such, he wanted his new penthouse design to be as bright and airy as possible. Along with this, he wanted his home to be classy with a distinctive and wow element in every corner. Finally, since they were a happy family of five, maximum storage for their modern home interior design was a given!
Who livs here: Sachin Gaurav with his wife, son and parents
Location: Habitat Crest, Bengaluru
Size of home: A 4BHK penthouse spanning 3,252 sq ft.
Design team: Interior Designer Niriksha Jagadeesh and Project Managers Mohamed Aquib and Pavan Hongal
Livspace service: Full home design
Budget: ₹₹₹₹₹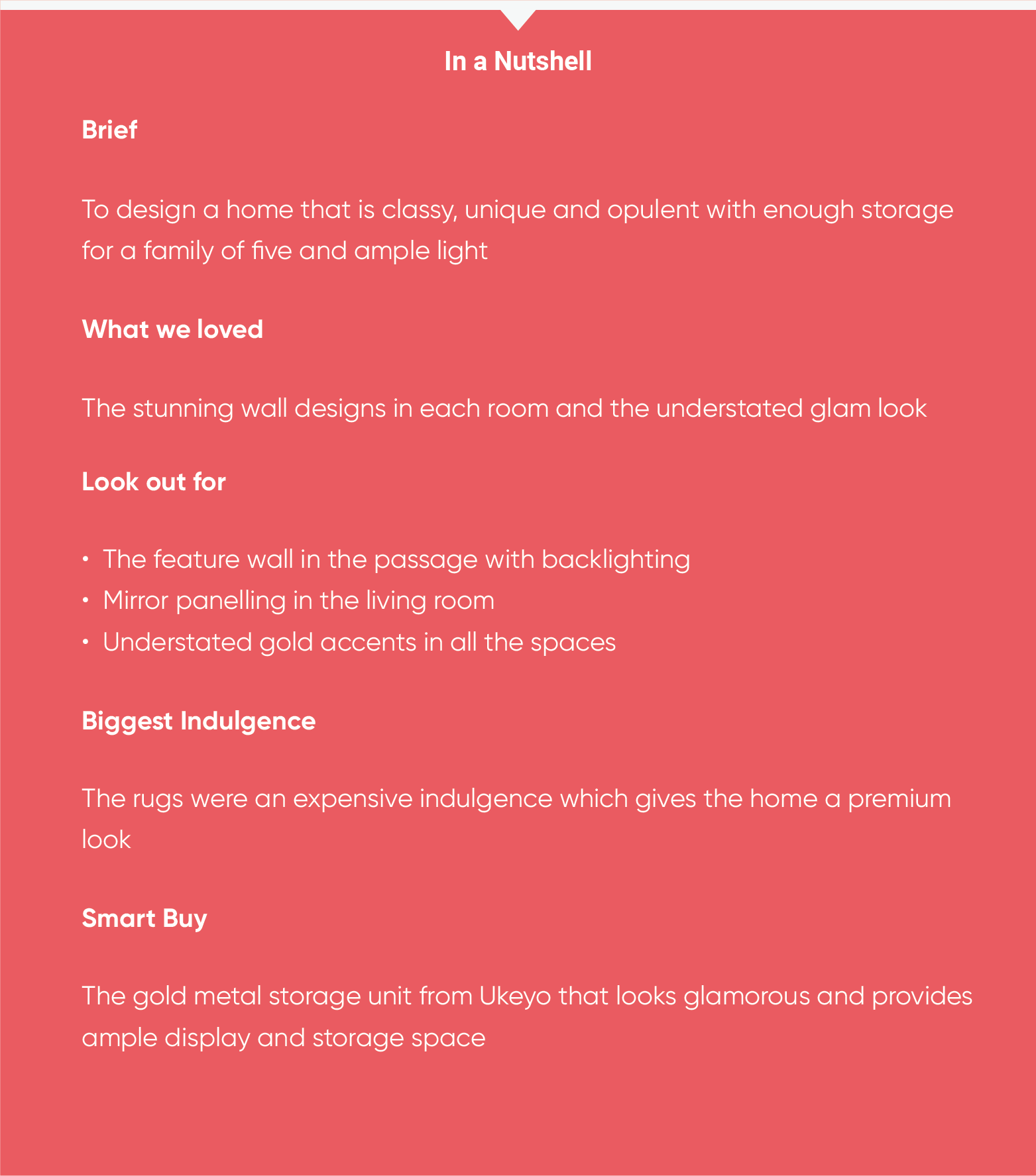 We got in touch with the designer of this stunning home, Niriksha Jagadeesh, to know how she went about creating the look. The first thing she said was how she loved designing this home as the clients gave her the full creative freedom to show her skills and expertise. And apart from a mix of custom solutions and modular units from Livspace, Sachin's penthouse design also features various decor items and furnishings from Ukeyo, a one-stop solution from Livspace where we curate the best furniture, furnishings and decor from the top brands.
Let's see what Niriksha has to say about this gorgeous 4BHK interior design.
Somreeta Sarkar: Why does this modern home interior design stand out?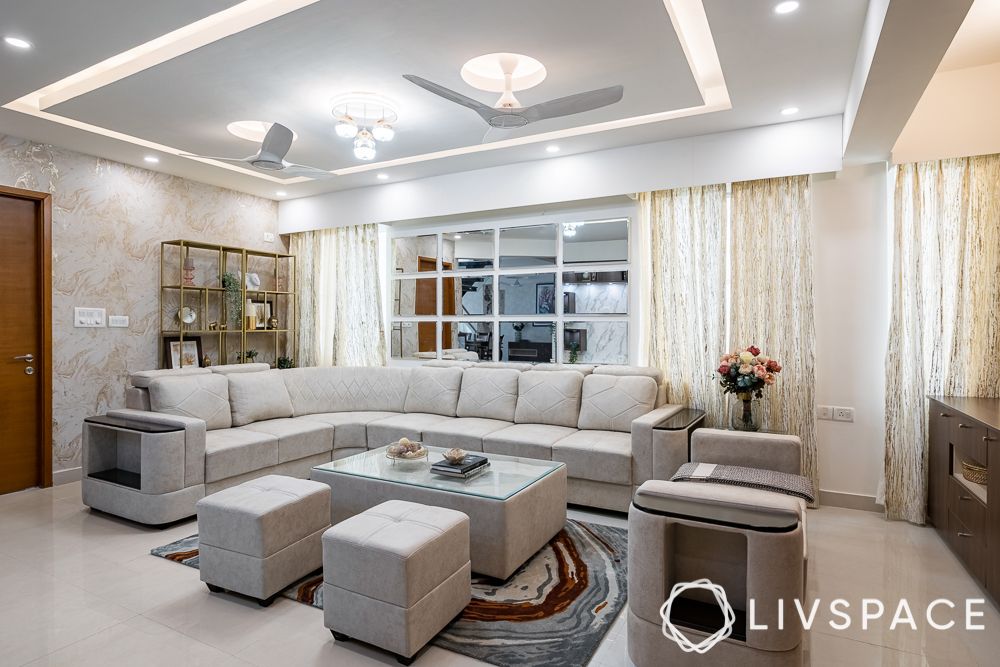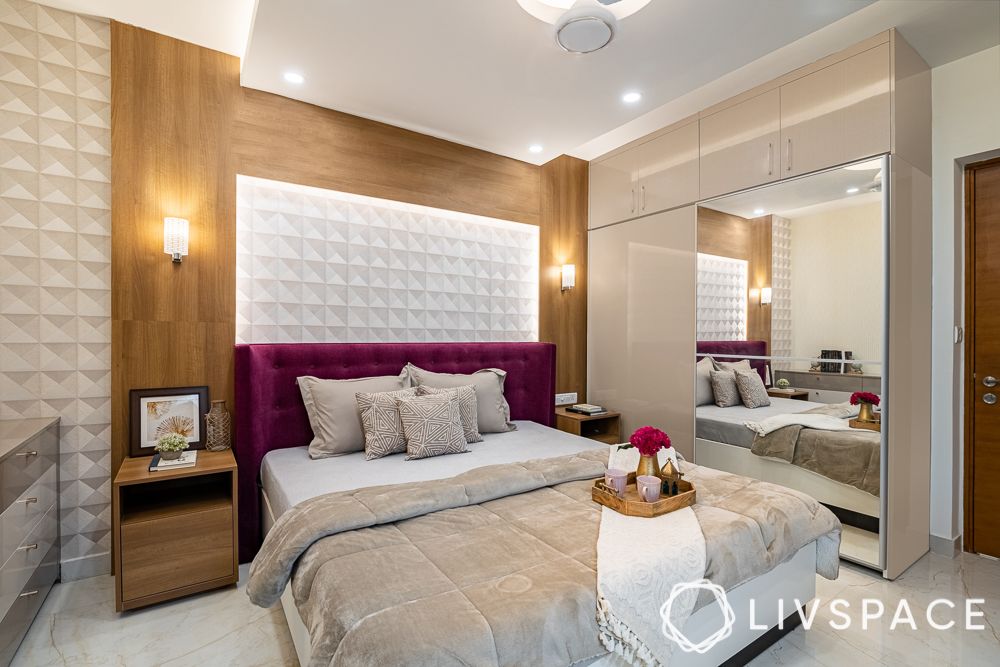 Niriksha Jagadeesh: The main reason why this penthouse design stands out as compared to other homes is due to the design freedom the clients gave us. For most other homes, the designer has very little freedom to mould the home as per their choice due to client demands, budget constraints etc. Here, on the other hand, I received a blank canvas to do with as I please! The only requirements that the clients had were that their 4BHK flat interior design should have lavish and glamorous designs, a bright space and unique elements.
Somreeta: We love how every room in this home features a unique wall design! Tell us more about this.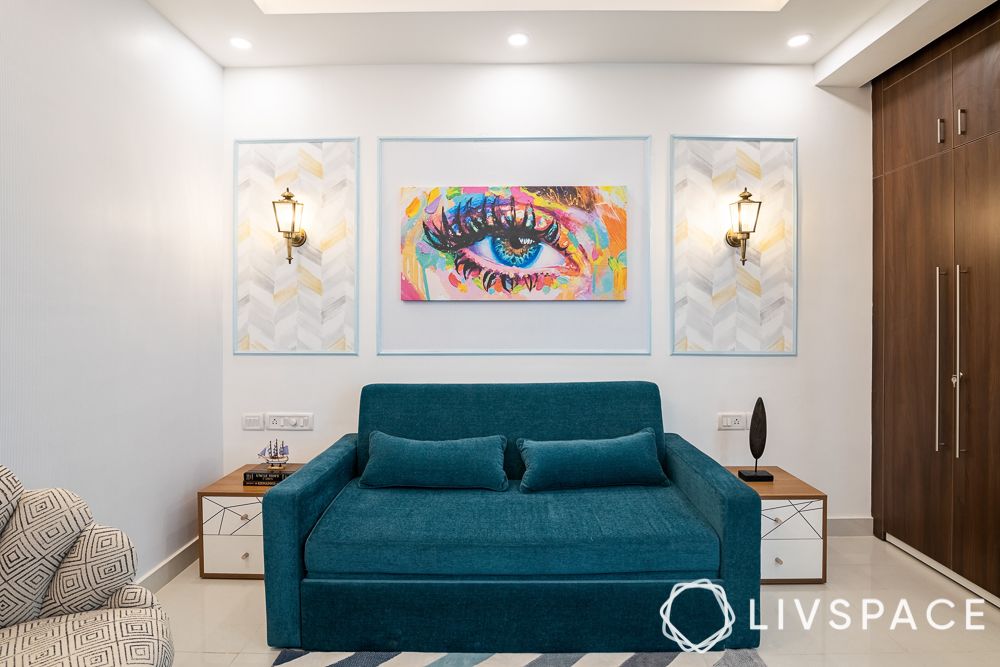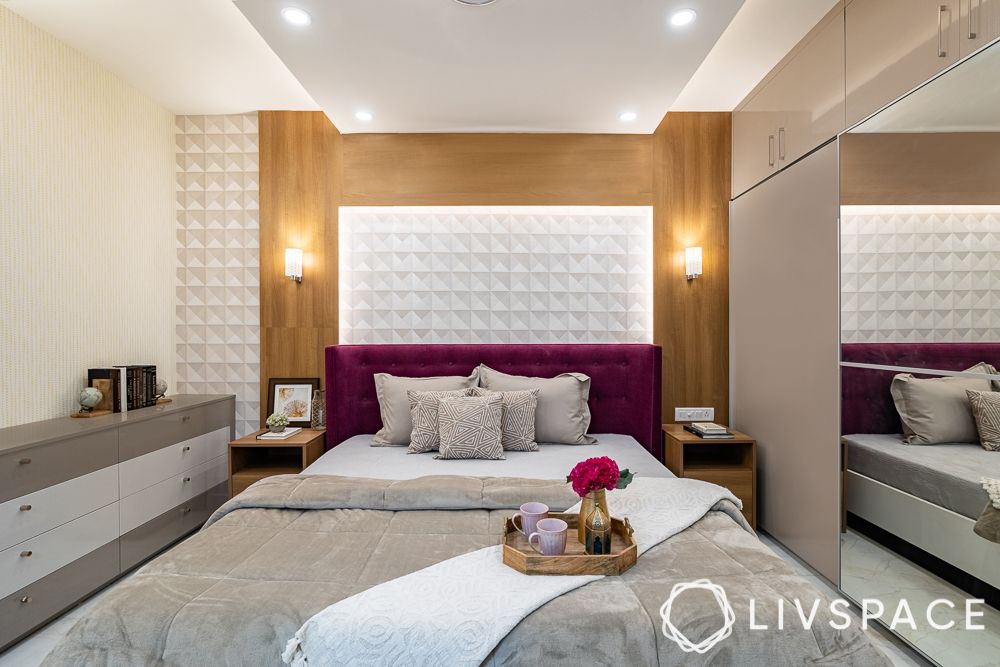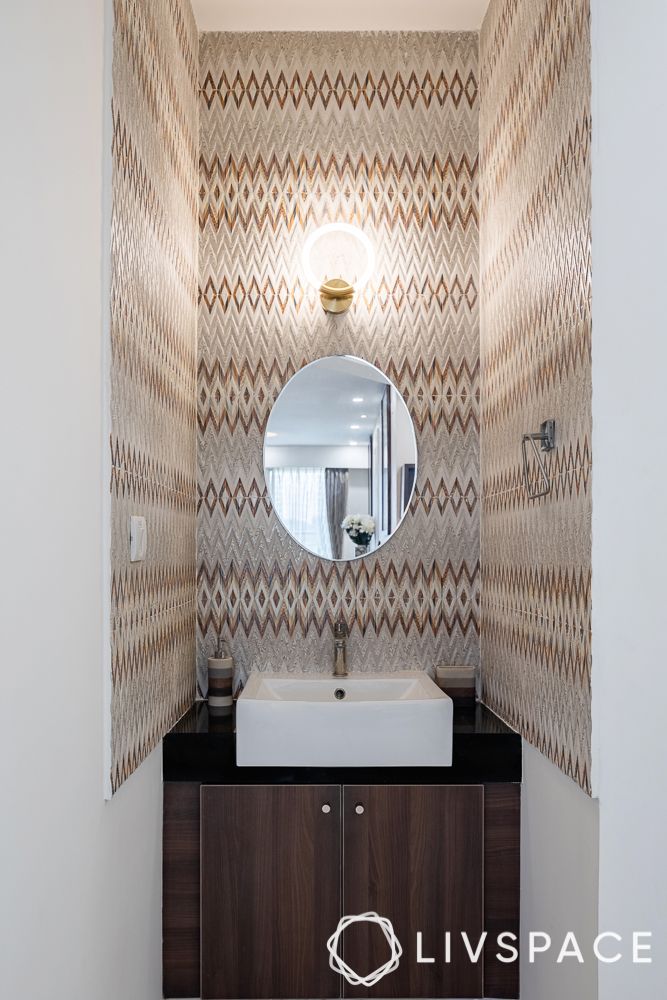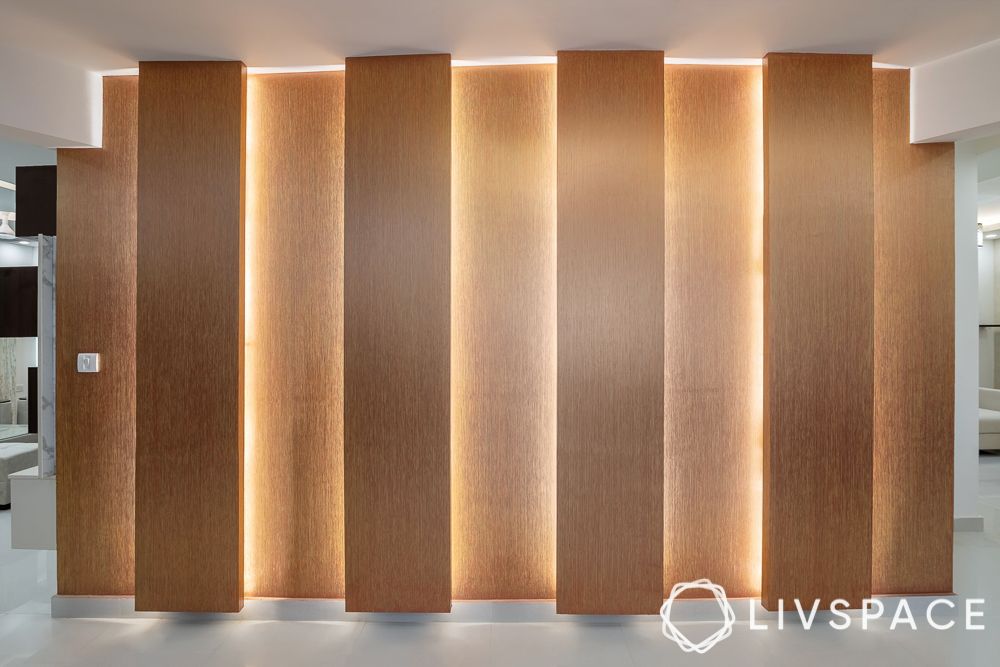 Niriksha: Originally from Mumbai, the clients loved to travel and had visited several countries. They wanted their penthouse interior design to have a luxe, hotel-like vibe, reminiscent of the various hotels where they had stayed. As most hotels come with wall panelling for an understated glam look, the clients wanted the same for their home. Not just wallpapers, they wanted different concepts that would make the penthouse design look unique.
Thus, you will see that each room in this modern home interior design has a different type of accent wall design. For instance, the guest room features wall trims with paintings, wallpaper within the trims and lights. I kept it simple and elegant as Sachin mainly works from this room and this wall is visible when he is taking calls. The master bedroom has veneer-finished wooden panelling on the wall with a white wallpaper in the middle and the bathroom has tile skin. But one of the best spots in this 4BHK interior design is the passage. The clients wanted the passage wall to be converted into a space where they can click photos. So, apart from the brown-and-gold textured paint, I gave the wall some backlighting to amp up the space.
Somreeta: Did you personalise every room for the occupants? If yes, how?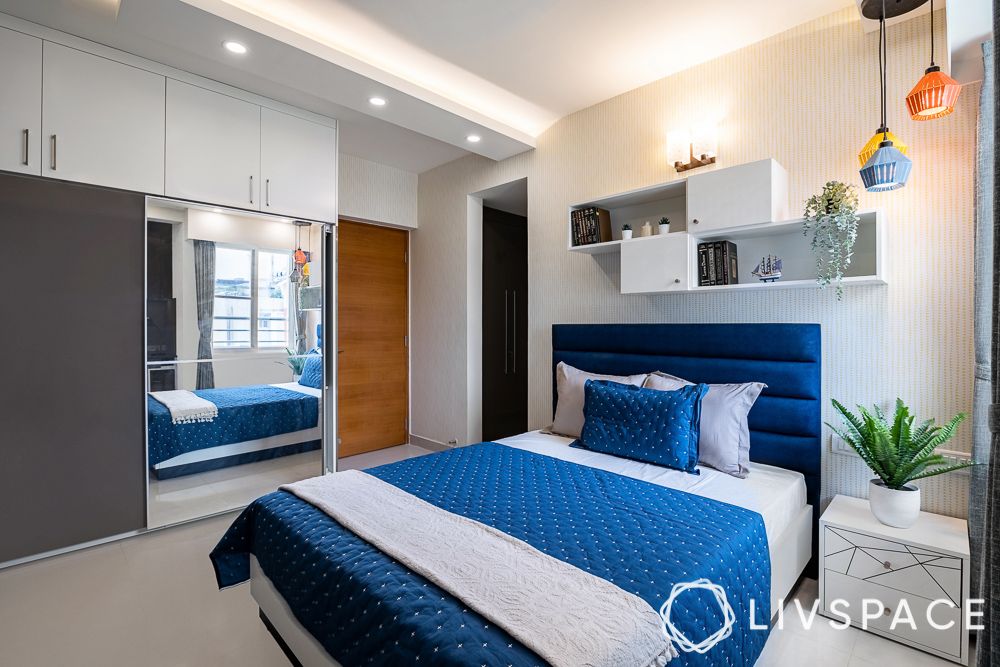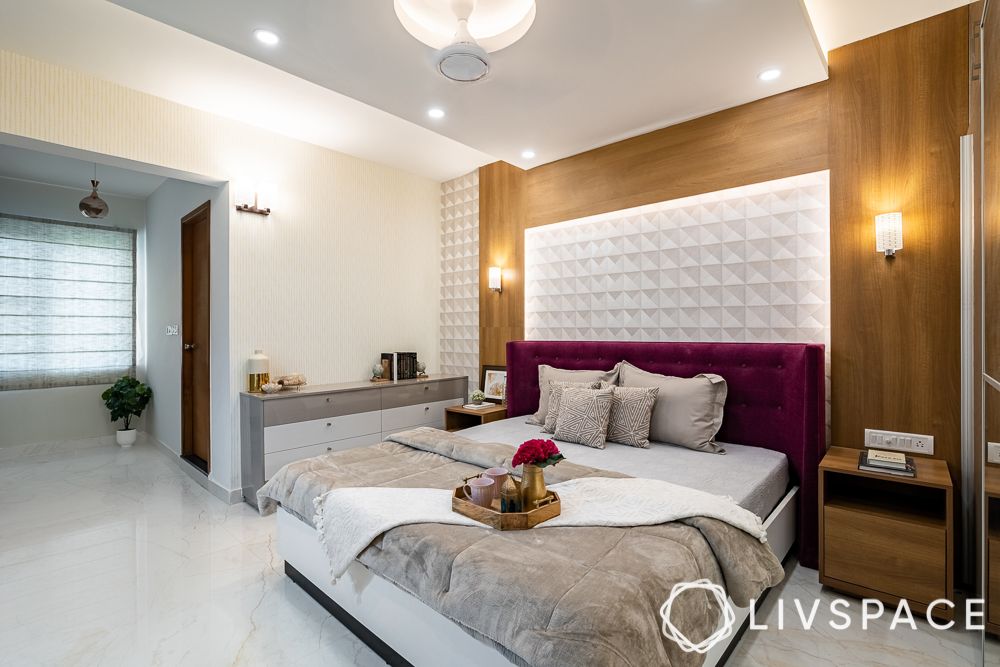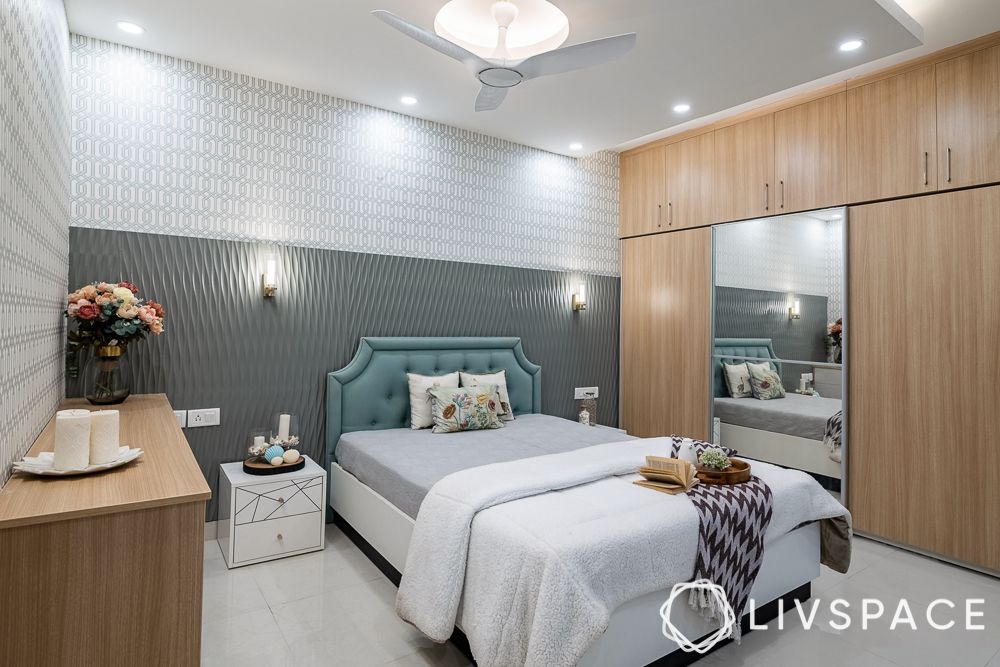 Niriksha: Yes, we did personalise the rooms for the occupants. The clients wanted something very glamorous and opulent for their bedroom. So, I gave all the rooms that warm veneer-finished wooden panelling, a royal maroon headboard and white and gold wallpapers. For the kid's bedroom in this 4BHK flat interior design, I went with a blue-and-white theme with maximum storage, keeping in mind the room is occupied by a growing boy. The parents wanted something simple and sober for their bedroom. Their room features wave-like wood panelling near the bottom of the wall while the rest is wallpaper. The headboard is fabric, making it elder-friendly.
Somreeta: This modern home interior design features a very understated glam look. How did you go about achieving this?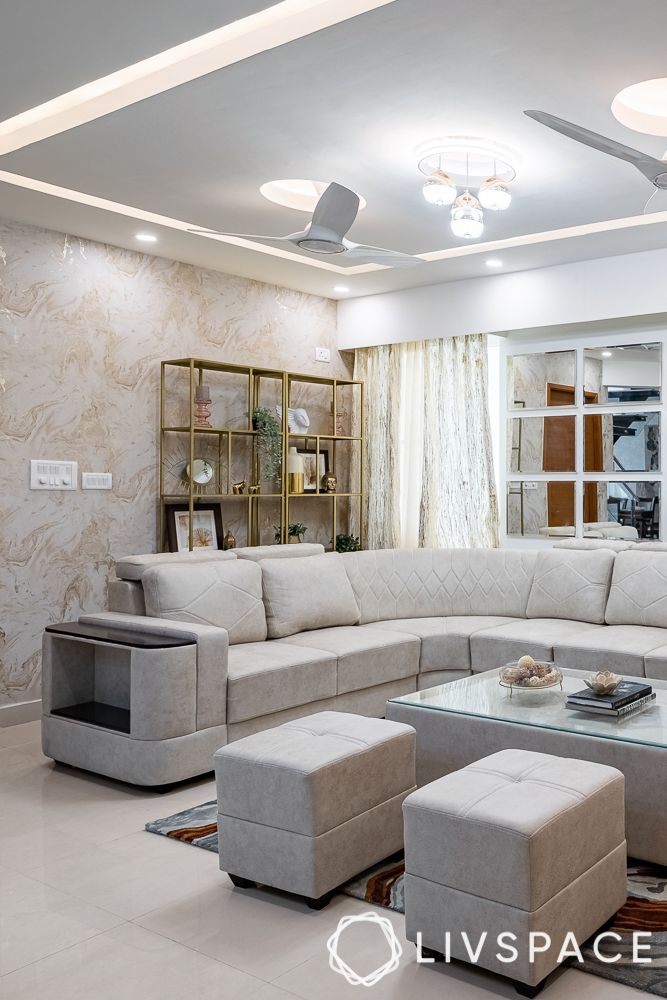 Niriksha: The treatment of the walls, the curtains and the accessories ensured this. One of the best things about this penthouse design is that each and every room had ample natural light. To capitalise on this, I selected lightweight curtains. For instance, in the living room, the curtains are white to let in natural light and have gold lace for a glam look. Similarly, you will notice a lot of gold accent pieces in this home — most of them are from Ukeyo. In the living room, I created a marble-finish laminate wall for the TV unit, which looks both opulent and elegant, as well as mirror panelling on another wall.
Somreeta: We know that most homeowners love storage. How did you maximise storage for the family?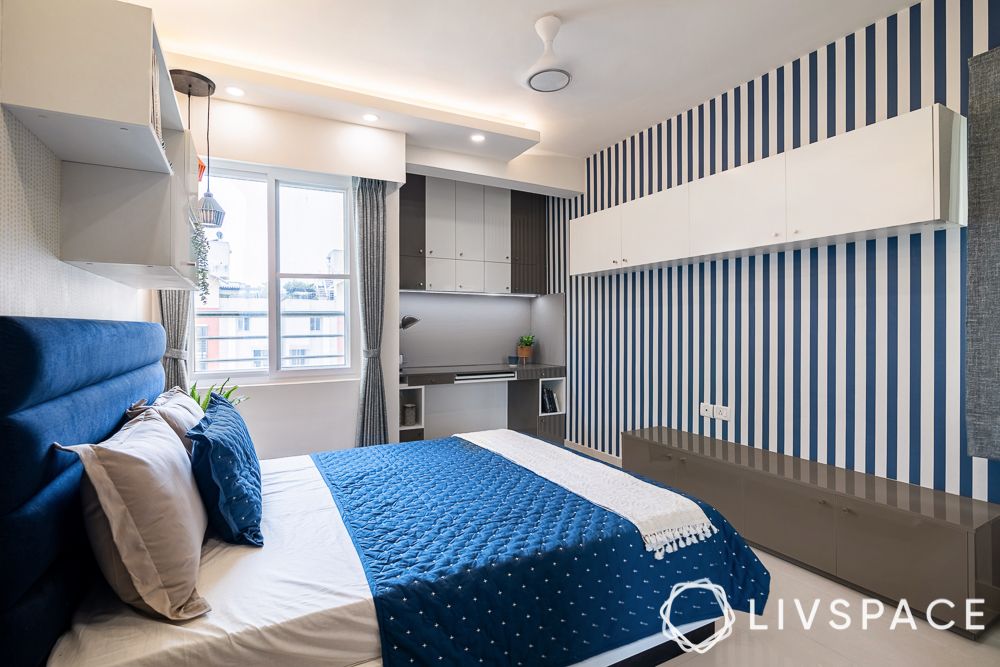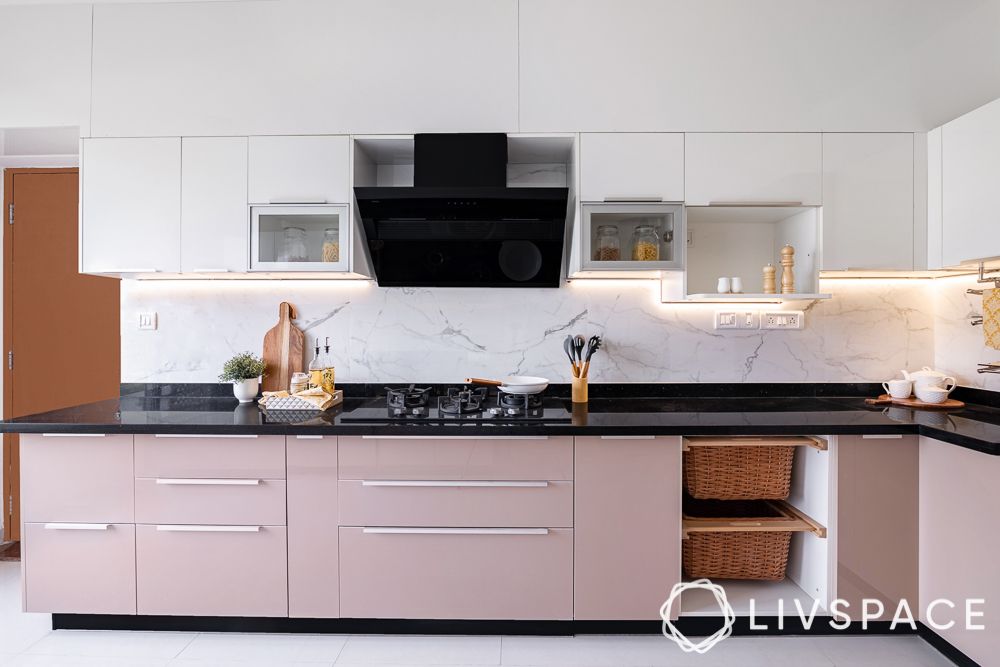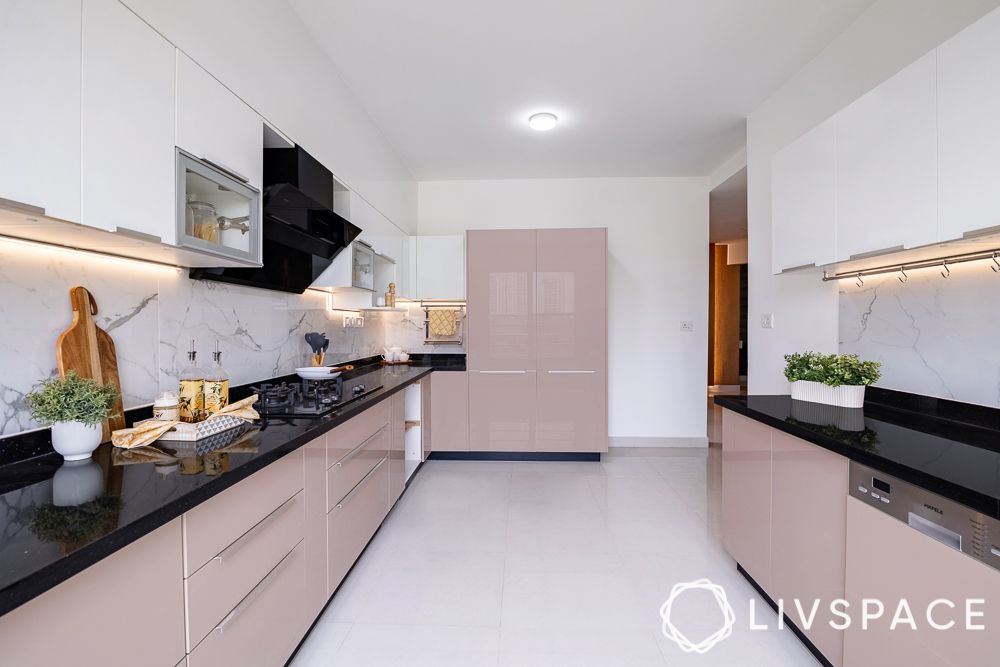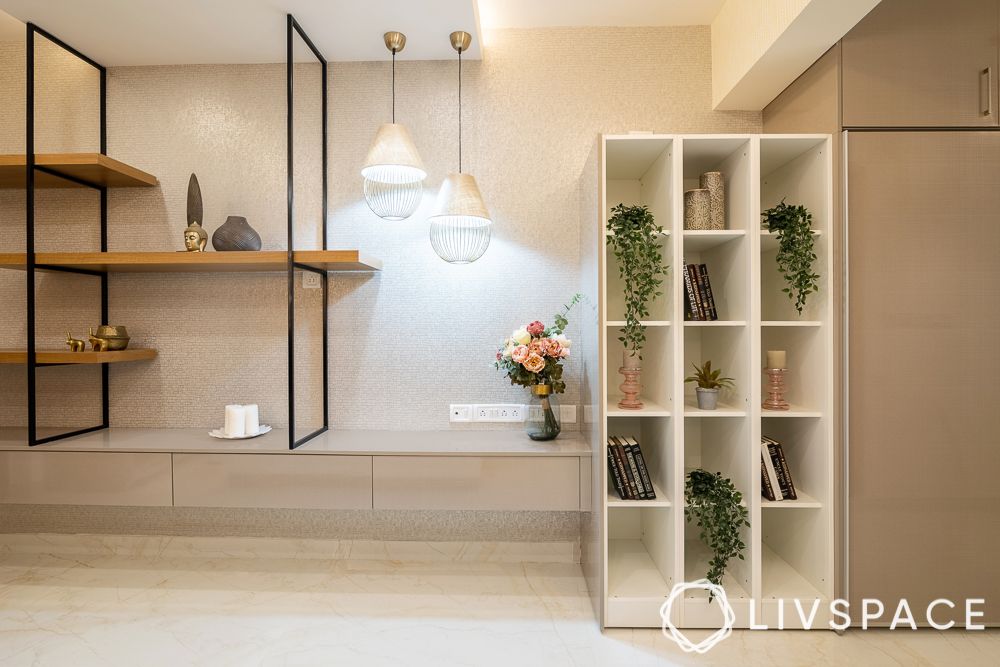 Niriksha: Each bedroom in this modern home interior design has three wardrobes, a chest of drawers and other storage solutions. In their son's room, apart from the wardrobes, I added a storage unit on the accent wall, lofts, created storage with the study unit and installed open shelves above the bed. The kitchen is used by the five members of the family along with their cook. To maximise storage here, I have added high-gloss laminate upper cabinets, acrylic lower cabinets, a tall pantry unit and wicker baskets. Additionally, in the living room, around the TV unit, I gave them a long-length custom-plus-modular storage unit that fits into a niche, making it look very seamless. The storage unit in the master bedroom has a combination of drawers, open shelves and ledges.
If you liked reading this gupshup with designer Niriksha, also check out our interview with designer Pallavi Goel on how to add hidden storage to a compact home.
How Can Livspace Help You?
We hope you found our ideas useful! If you want your home to be just as beautiful, then look no further. Book an online consultation with Livspace today.
Wondering how our customers feel about working with Livspace? You can check out the Livspace reviews here!
Send in your comments and suggestions to editor@livspace.com