When you buy a home, you often think ahead while finalising the design. That's because it's important to design a home that'll grow with your family – as your members and storage needs increase. For Karunakar and his family, it was no different. Maximum storage was a must! However, he did not want his interior design for Kalpataru Residency, Hyderabad to look cluttered. Not only did we at Livspace manage to give him a spacious design with ample storage space, but we also completed everything within a budget of ₹11.5 lakhs. Ready to join us for a tour?
---
Who Livs here: Mr Karunakar with his family
Location: Kalpataru Residency, Hyderabad
Size of home: A 2BHK spanning 1,200 sq. ft. approx.
Design team: Design Manager Aasmeena Sheik, Interior Designer Nihal Anwar and Project Manager Sai Srinivas Ella
Livspace service: Modular and basic services
Budget: ₹₹₹₹₹
---


Brief
Maximising the storage of the home without making the area look congested

What We Loved
– The strategic addition of colours
– The sleek units

Look Out for
– The L-shaped wardrobe in the master bedroom
– Maximum storage in the kitchen
– The sleek TV unit

Biggest Indulgence
The kitchen design with acrylic cabinets

Smart Buy
The storage units that use MDF and laminates to bring down costs



#1: Kitchen Interior Design of Kalpataru Residency Hyderabad With Maximum Storage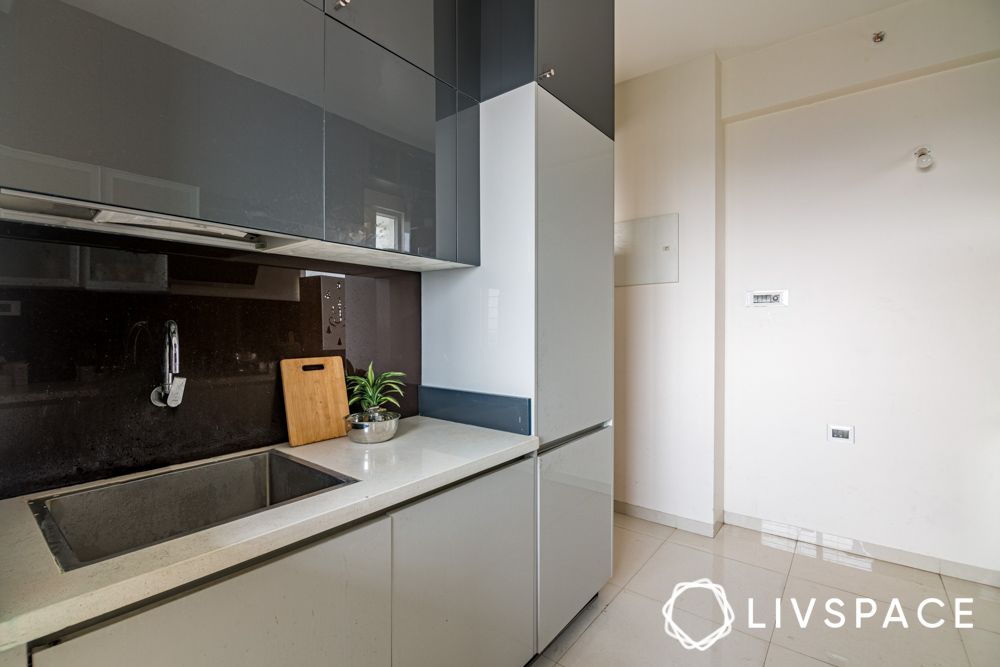 When it comes to kitchen layouts, a parallel kitchen is always the most efficient as it offers extra storage and counter space. Karunakar's kitchen interior design of Kalpataru Residency, Hyderabad stands out for the amount of storage it has. From cabinets to wicker baskets, open shelves and a tall unit, this kitchen is packed to the brim.
Moreover, the major portion of the family's budget was spent on the kitchen of this interior design for Kalpataru Residency, Hyderabad. The reason? Unlike the rest of the home, the cabinetry features a high-end acrylic finish as well as ply carcass for the base cabinets. However, the upper cabinets have an MDF carcass as a budget alternative. Remarkably well-thought-out, isn't it?
What We Love: The mandir in the kitchen is a good option when space is scarce, and you want a vastu-friendly design.
#2: Smart Use of Colours in This Interior Design for Kalpataru Residency Hyderabad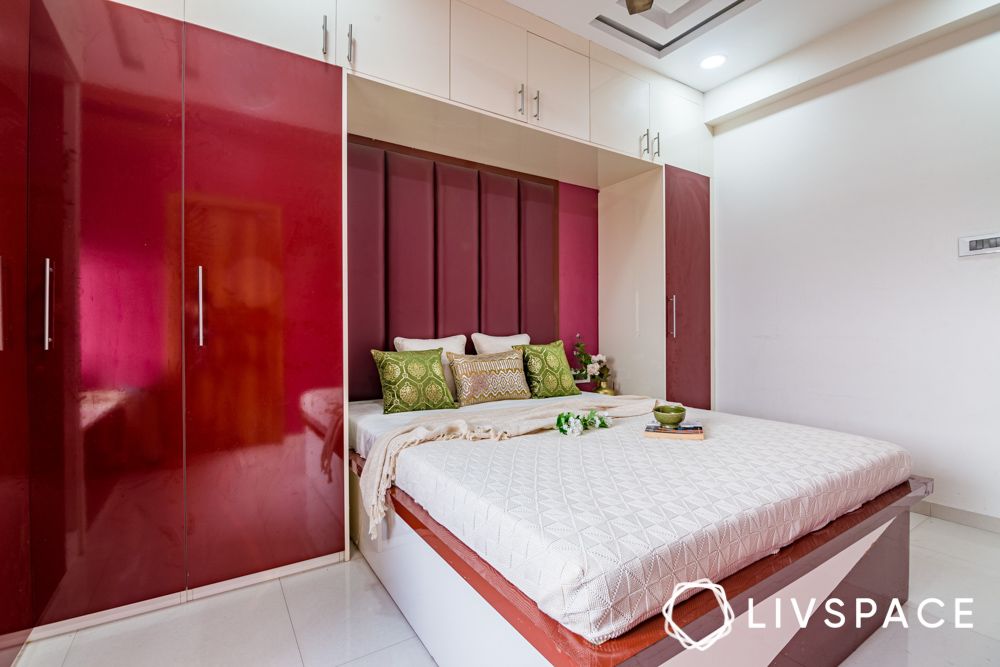 Red, while being a charming colour, can get quite overpowering when used as the primary shade in a room. However, this Kalpataru Residency, Hyderabad interior design shows you how you can smartly use vivid colours. Here are some tips:
Pair a vivid colour like red with neutrals like white to keep the overall tone subtle
Keep your walls plain and opt for furniture in bright colours
Opt for dual-toned furniture instead of a single unit in a bold colour
Keep the overall decor of the room minimal and simple
If you want colours on your walls, go for an accent wall
While the colour palette is definitely one of the highlights of the master bedroom in this Kalpataru Residency Hyderabad interior, the most striking feature is the wardrobe. Instead of opting for a basic swing or sliding almirah, the family decided to go with an almirah around the bed frame.
L-shaped on one side and covering the entire width of the bed, this wardrobe design comes with a lot of space. Additionally, since the family did not want clutter in their interior design for Kalpataru Residency Hyderabad, our design team provided multiple lofts above the wardrobe unit for more storage! Can you think of that?
What We Love: The bay window seating with storage.
#3: Sleek and Budget Furniture in This Interior Design for Kalpataru Residency Hyderabad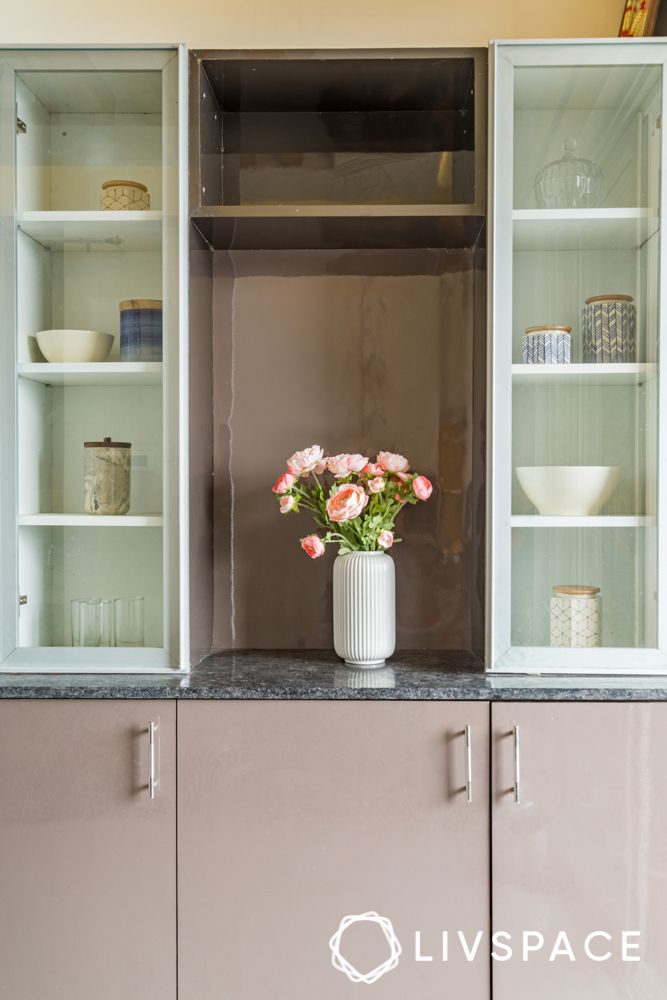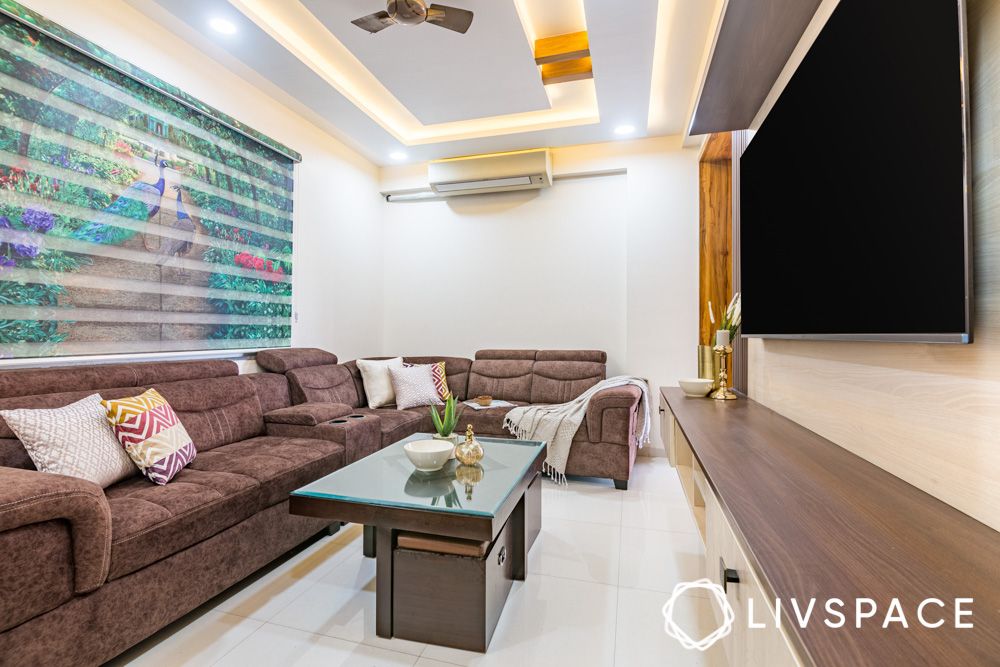 Apart from storage, Karunakar wanted his modular home interior design for Kalpataru Residency to be clean and spacious – one with zero clutter. To accommodate this, our design team ensured all their storage units were sleek, with no protruding edges. For instance, the TV unit has a slim storage ledge. Similarly, the crockery unit is compact, despite having storage cabinets and open shelves.
Another reason why the furniture in this Kalpataru Residency Hyderabad interior stands out is due to the budget element. Despite being stunning and with ample space, the modular storage units of this interior design for Kalpataru Residency, Hyderabad are all low-cost.
There are two reasons for this. First, apart from the kitchen, every storage unit has a glossy laminate finish. While laminate brings down the cost, the gloss gives them a high-end look. Second, a combination of HDF-HMR and MDF have been used as carcass for the storage units, which again helped in bringing down the cost.
What We Love: The contemporary designs of the modular storage units.
#4: Summary of This Hyderbad 2BHK
For a budget interior design, opt for low-cost finishes like laminate and carcass materials like MDF and HDF-HMR
While using a bold colour palette, keep your walls plain and neutral
Do not cutback on the design of your kitchen, despite the cost, as this is the space that receives maximum footfall
For maximum storage, opt for bigger storage units and lofts
If you liked this interior design for Kalpataru Residency Hyderabad, also check out this luxurious Bengaluru duplex.
How Can Livspace Help You?
We hope you found our ideas useful! If you want your home to be just as beautiful, then look no further. Book an online consultation with Livspace today.
Wondering how our customers feel about working with Livspace? You can check out the Livspace reviews here!
Have some thoughts or suggestions you'd like to share with us? We're all ears! Drop us a line at editor@livspace.com.