Subhakansalu from Hyderabad! The city's great legacy with architecture implies that home interiors in Hyderabad is a matter of artistic pursuit as well. So we expect nothing but the best from our #LivspaceHomes in the city of Nizams. But even among the best, some homes stand out for their popularity with our readers. So we've curated the most viewed homes from Hyderabad and hope you find inspiration from these when thinking of your dream home interior design!
Here's a walk through the most popular home interiors in Hyderabad done by Livspace!
#1: Rich wooden interiors for 3BHK Home Interiors Hyderabad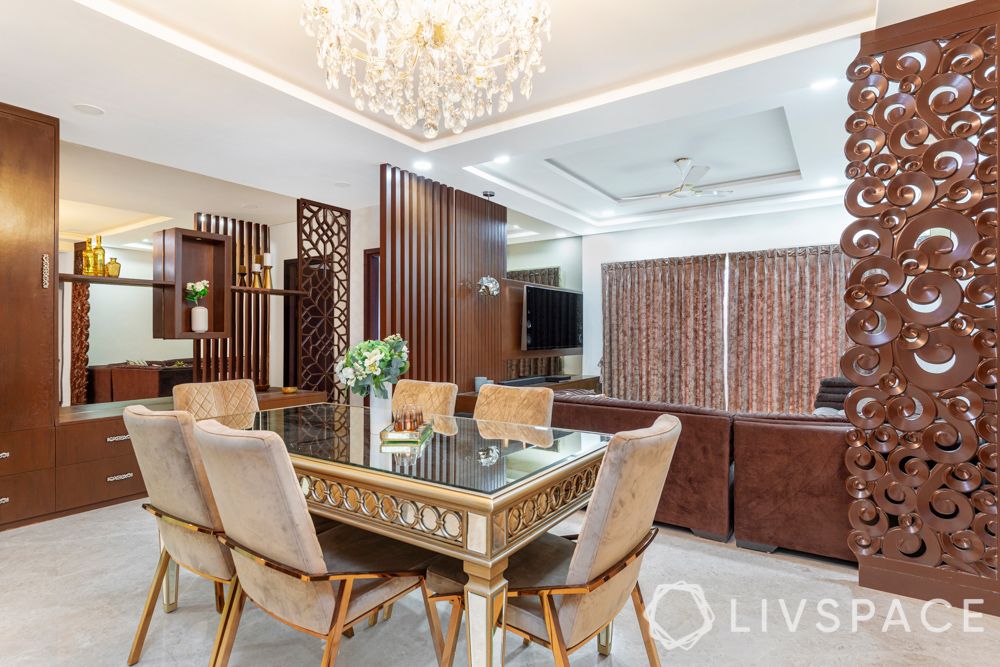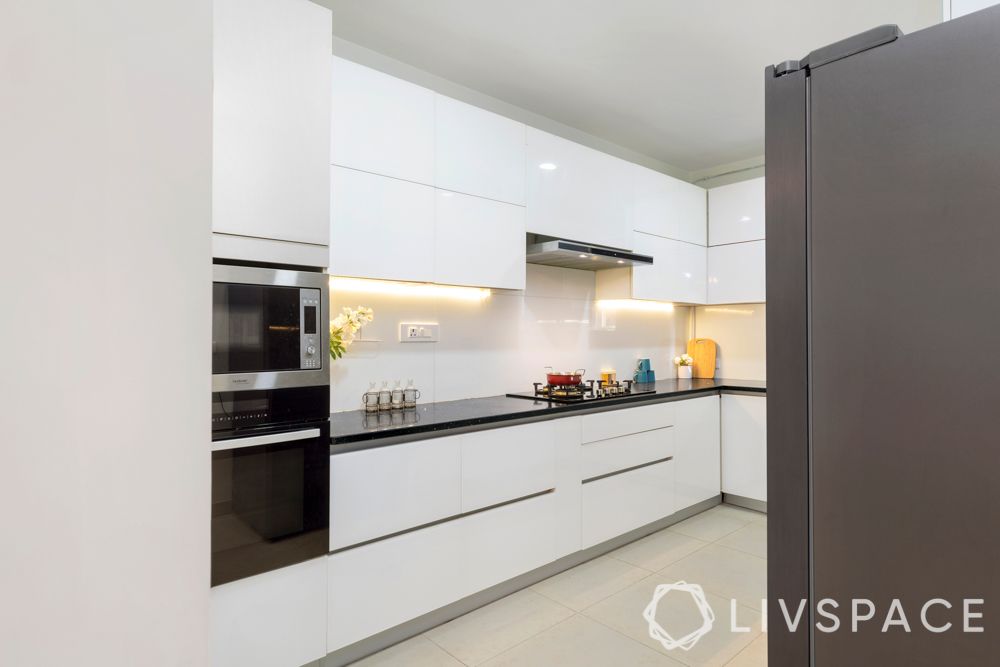 Hemanth Kumar's 3BHK home has been designed by Ritika Gupta who guided them through a design process that included a wide range of customised furnishings, most of which was modern in design but exude an old-world charm.
This home has not one, but two unique features. The first is an intricate carved partition made of solid wood that was specially customised for this home. The divider fits right into the design language of this home that is filled with classic veneer finishes and wooden furniture. The second element of awe in this home is a completely seamless glass kitchen. The cabinet shutters for this kitchen are back painted glass. It's no surprise this flat is one of the most loved homes by our readers!
Where they liv: Prestige Ivy League, Hitech City
You will love: The gorgeous woodwork and the pristine white glass kitchen
To explore home interiors Hyderabad for this home, browse Classic Woodwork for a Hyderabad Home.
#2: Pastel shades for a techie couple's 2BHK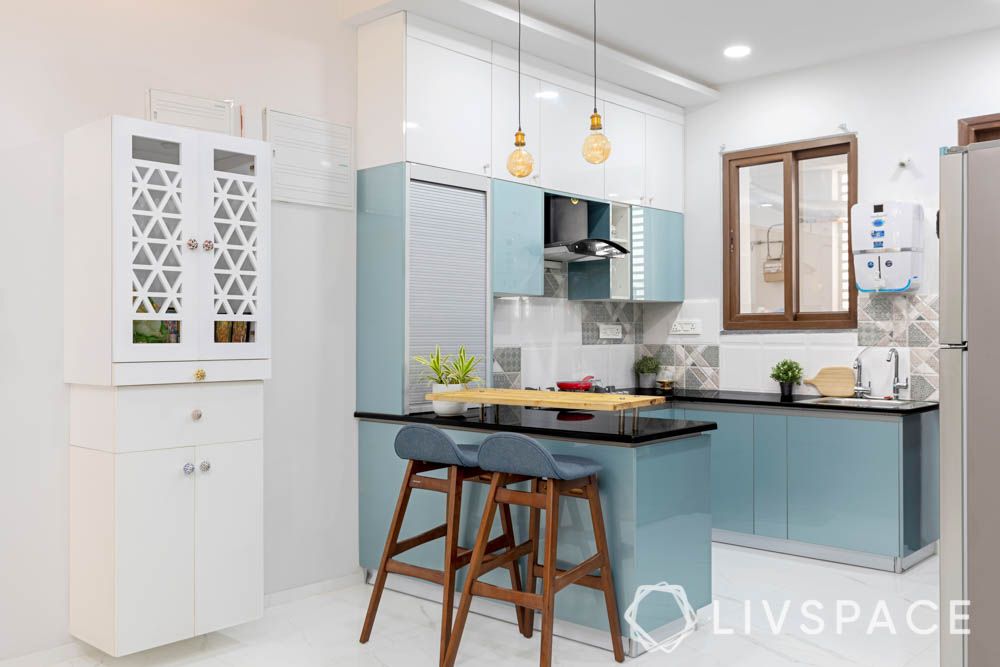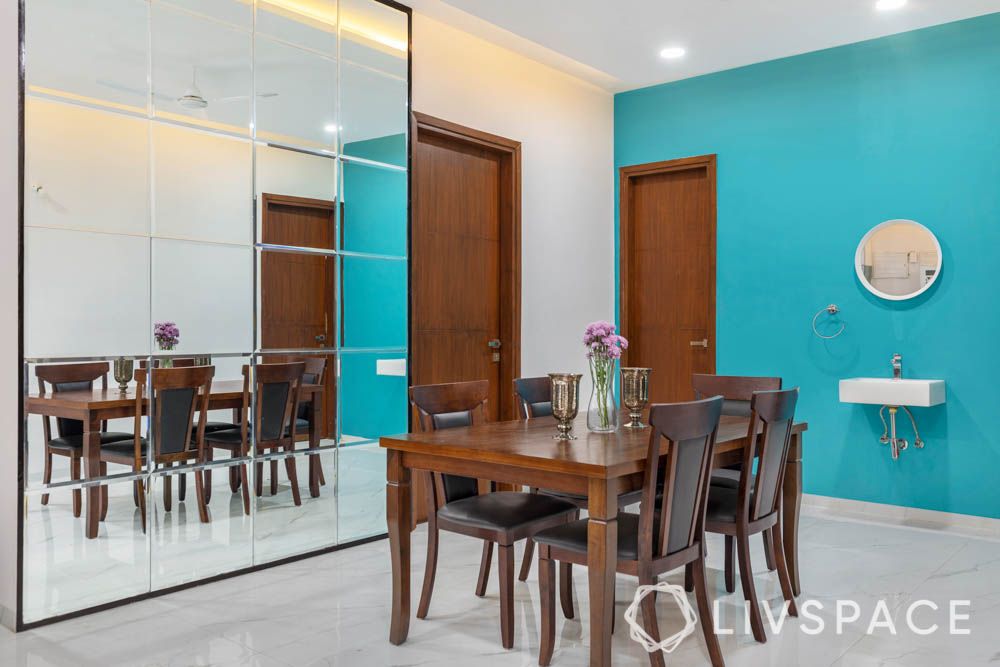 Everywhere your eyes go in Abhishek Guha's 1,400 sq ft home, you see colours that are easy on the eyes. Starting from the pastel yellow accent wall in the living room to the blue walls in the bedroom. But our favourite is the metallic blue kitchen, which has been completed on a budget! Looking at the sheen on the acrylic finish from the MDF cabinets, no one would guess that this is a budget kitchen. Abhishek also wanted a breakfast counter in the kitchen. So it was specially designed to fit into a compact space.
You will love: The contemporary colours and modern design
Get a full tour of this home:, This 2BHK Home Reveals the Importance of Colour in Design
#3: All-white elegance for 3BHK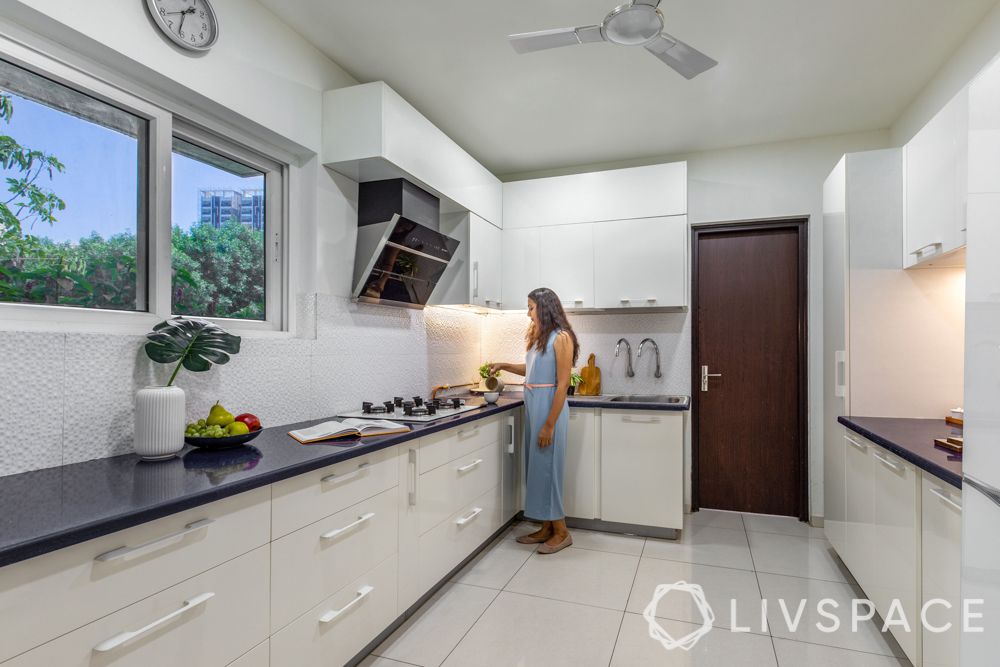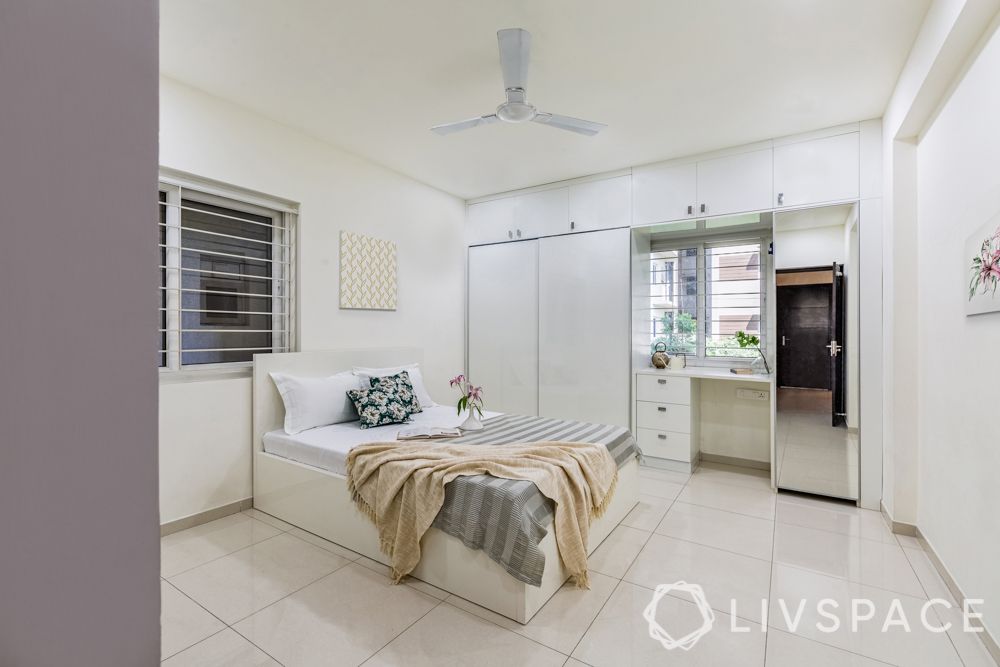 Us Indians have an unabashed weakness for colour, don't we? So when we come across a family that wants nothing but white, that's a challenge we love to take up. Imtiaz and Ramla's home is one our readers love (for obvious reasons!). All-white doesn't necessarily mean boring because we added a whole array of different finishes to this home. The kitchen, stocked with storage, has PU finish while the walk-in closet has high-gloss laminate finish.
Where they liv: Rajapushpa Atria, Hyderabad
You will love: The minimal, monochromatic design
To explore every corner of this stunning home, check out This Stunning 3BHK Reveals the Best Way to Use White in Your Interiors.

#4: Creative customisation at this 3BHK at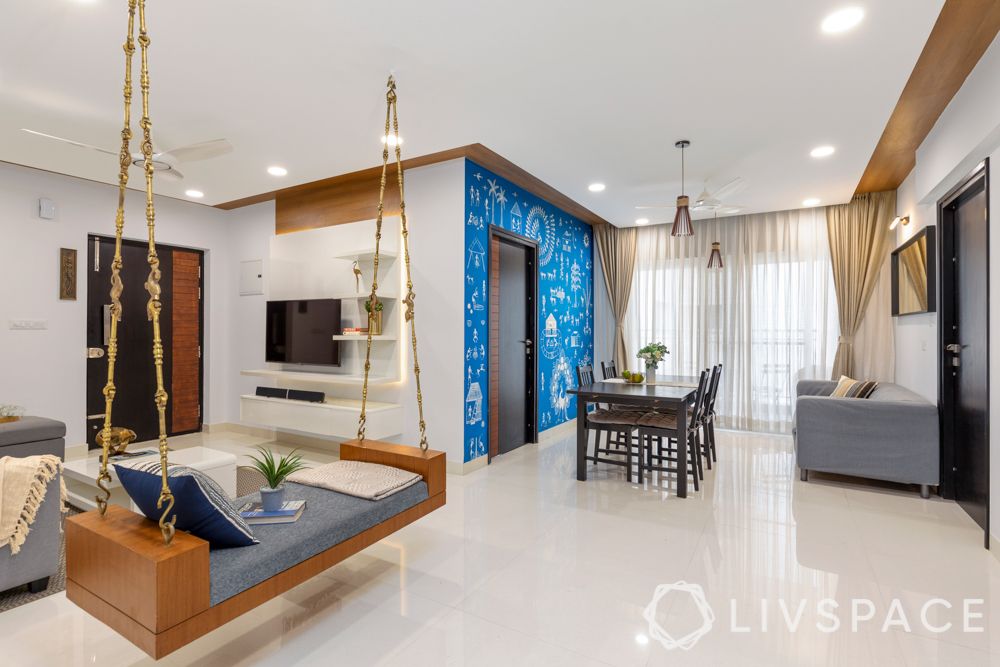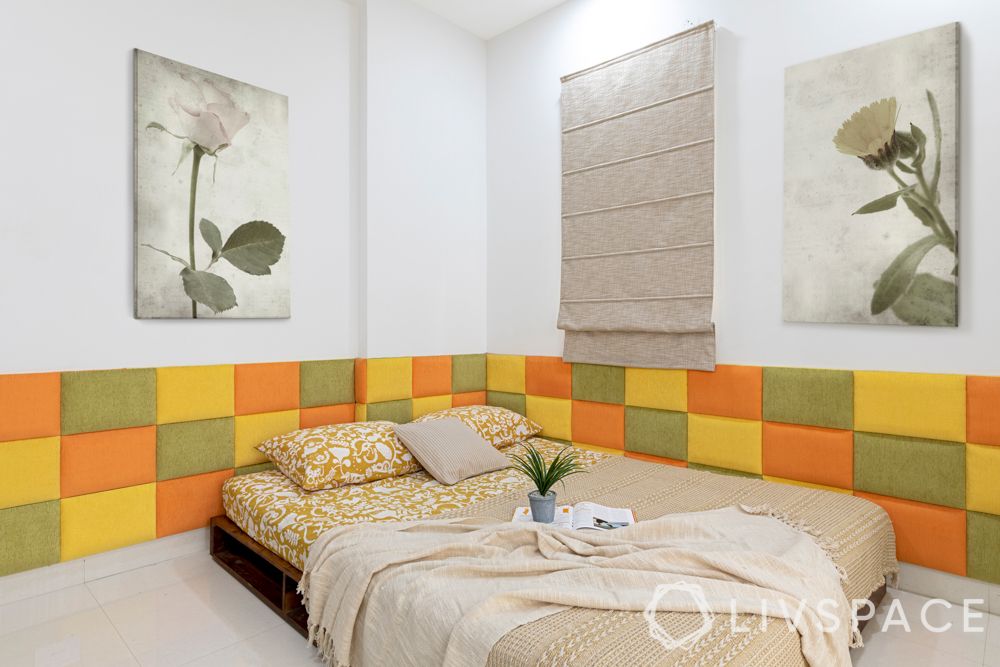 This spacious 3BHK is designed with 'wow' elements in every corner. To begin with, there is a CNC cut panel with backlighting glamming up the living area. The second, and our hot favourite, is the blue accent wall in the dining area painted by a local Warli artist. Last but not the least, the bed in Omkar and Neha's bedroom is a low one with a made-to-order cushioned headboard covering the wall in a L-shape.
Where they liv: Vajra Jasmine County, Hyderabad
You will love: The crafty customisation and elements of Indian design
To discover all the other wonders of this home, You Need to See How Custom Designs Transformed This Family Home.
#5: Smartly designed 3BHK on a budget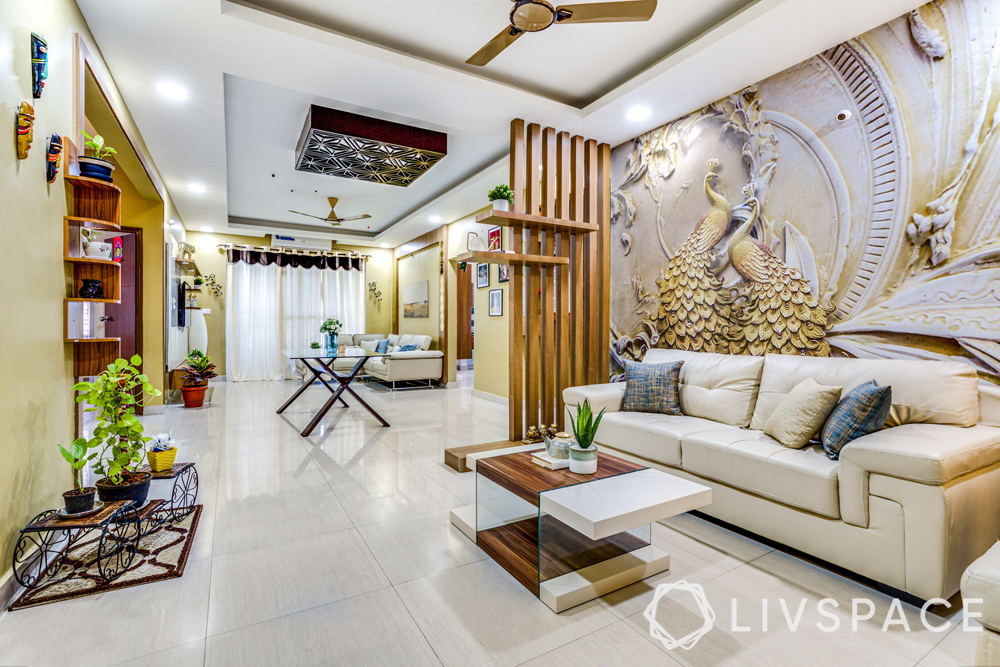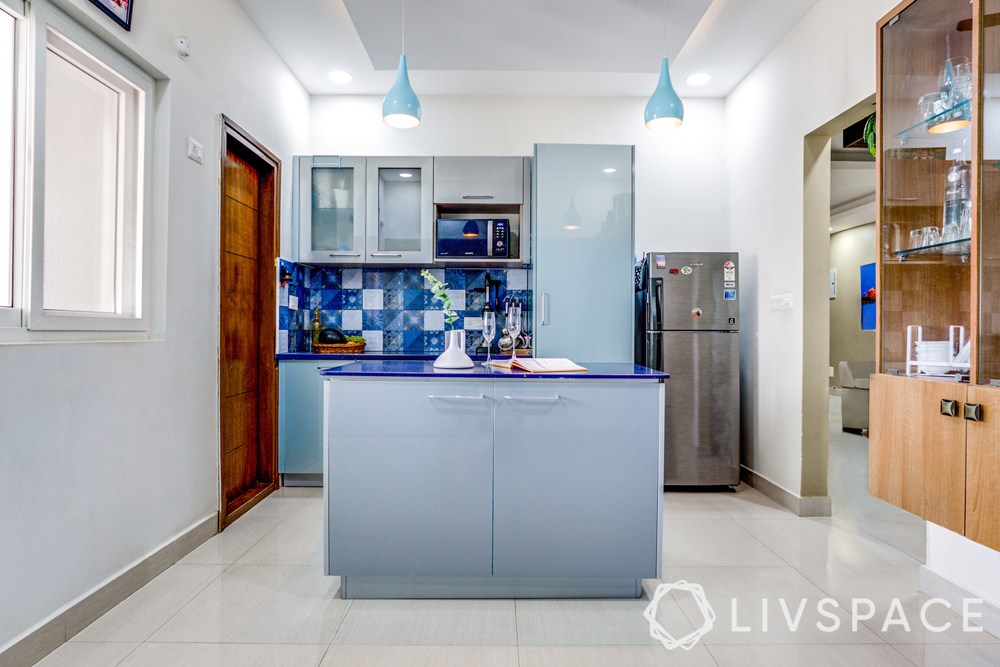 If there is one thing that stands out over all else in this home, then it is the judicious use of the available budget. Nilima wanted her home to be child-friendly, but fit for socialising. Also, they had to have sufficient storage to accommodate a growing family. And we made sure she had all this and more!
The acrylic finish kitchen which is her biggest investment, was divided into wet and dry zones. We segregated the living room into a formal seating area, dining and a family space. In the rest of the home, modular storage units with affordable finishes addressed their storage needs.
Where they liv: NCC URBAN ONE, Narsingi
You will love: The child-friendly design with sufficient storage crafted within a tight budget
Lots to learn from this home design! Read Use Your Budget for Interiors in the Best Possible Way Like This Home.
Write in with your comments and suggestions to editor@livspace.com.