Some of us like a bunch of plain red roses while others prefer an elaborate bouquet that is made from an arrangement of many different flowers. If you are in the second category and like a bit of this and a bit of that in your bouquet as well as home, the interior decoration of 3BHK flat in Bengaluru will draw you in. Shweta's home in Prestige Bagmane Temple Bells is, after all, a great rendition of eclectic design. Let our designer Mona NV visually walk you through this home.
What is eclectic design?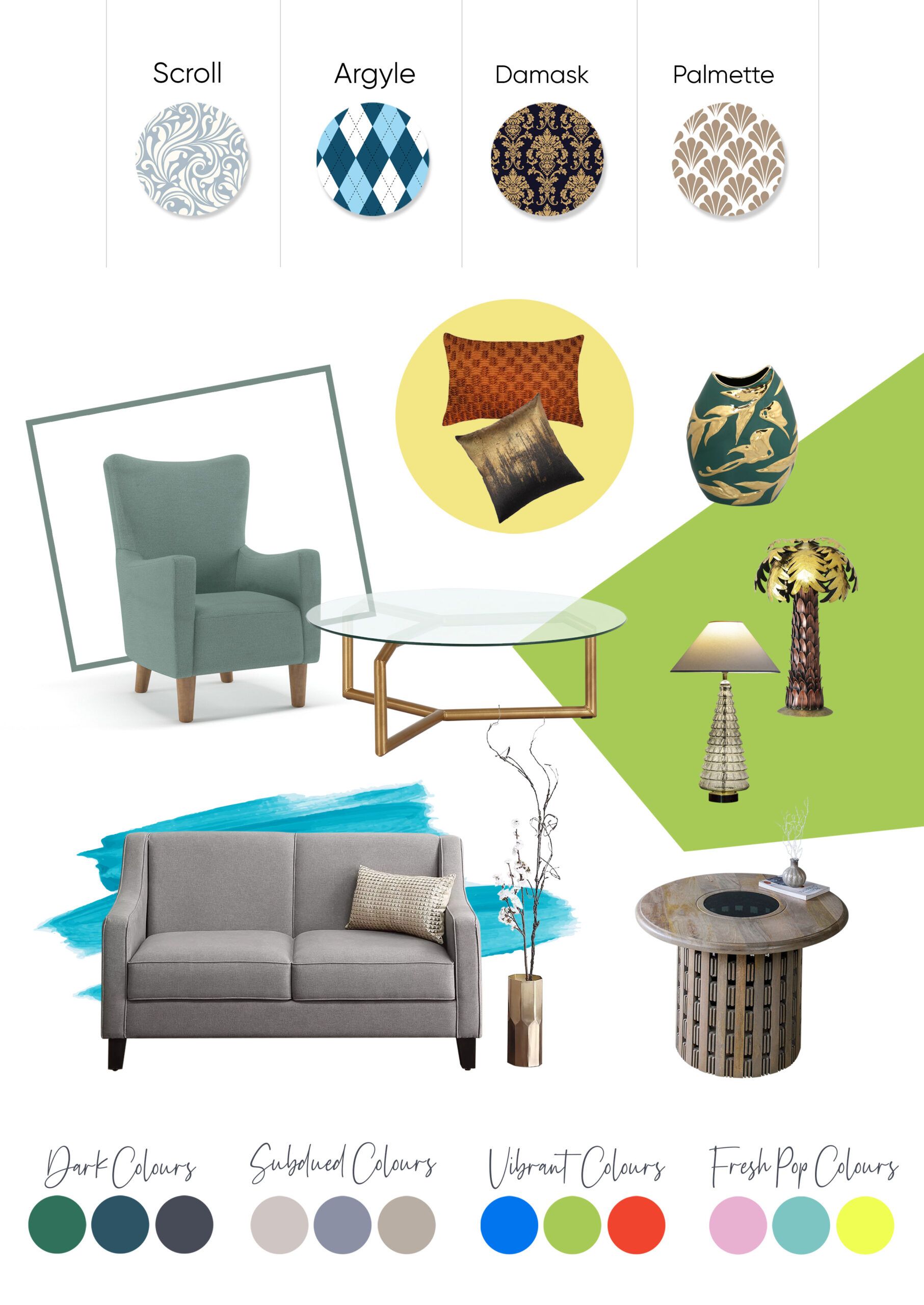 For the uninitiated, eclectic is a design style that is a mix of elements of two or more other styles. Essentially, the eclectic style borrows from a variety of styles—spanning across regions and time periods—and thoughtfully and very intentionally stitches them together to create a very unique personalised style.
The word eclectic originated from the Greek term 'eklegein' which translates to 'to choose'. Thus, there is a great deal of emphasis on the 'personal' in this style. Eclectic homes often take the shape of the designer or homeowner's personal expression while remaining faithful to the tenets of individual styles. So is the case with the interior decoration of 3BHK flat here.
Why is this home eclectic and how to get this style?
#1: Mix of design styles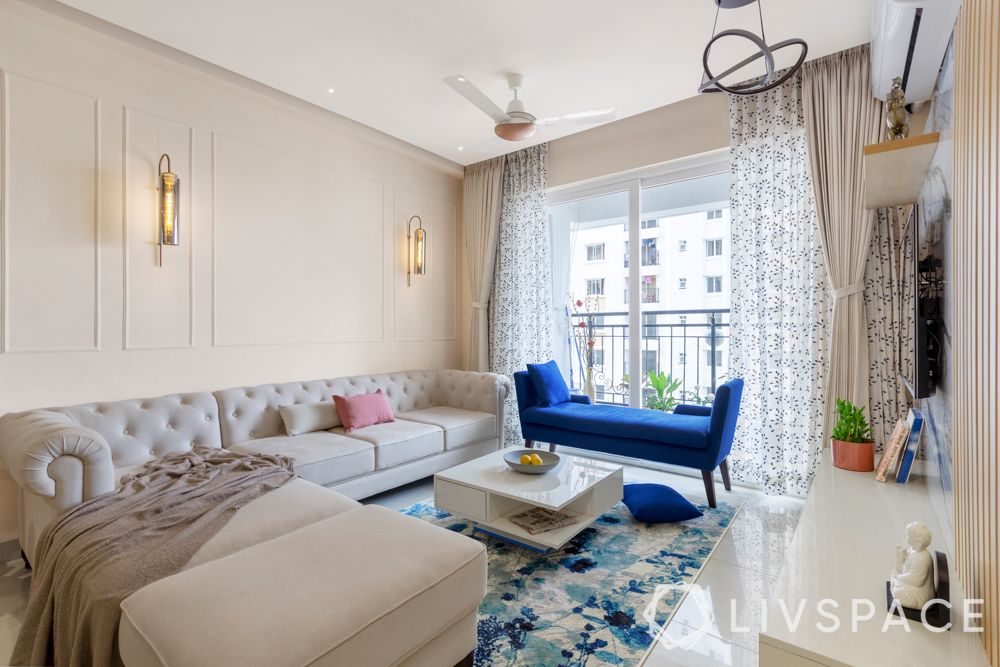 The interior decoration of 3BHK flat includes elements from different styles and time periods. For instance, the vintage Chesterfield sofa is paired with a contemporary daybed. Also, the trims on the wall are very Victorian but the wall lights are modern.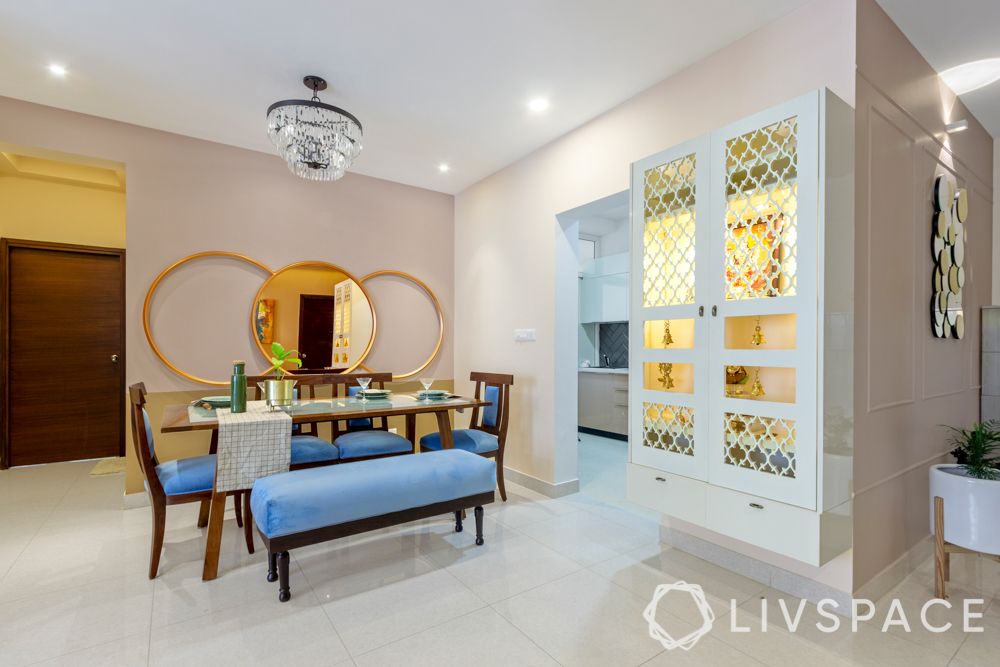 Similarly, the dining table is very contemporary in style with a bench, but the chandelier is inspired by the art deco style. Also, we have copper brushed custom wall accents that are very contemporary, paired with jaali doors for the pooja room that is Indian traditional.

#2: Mix of finishes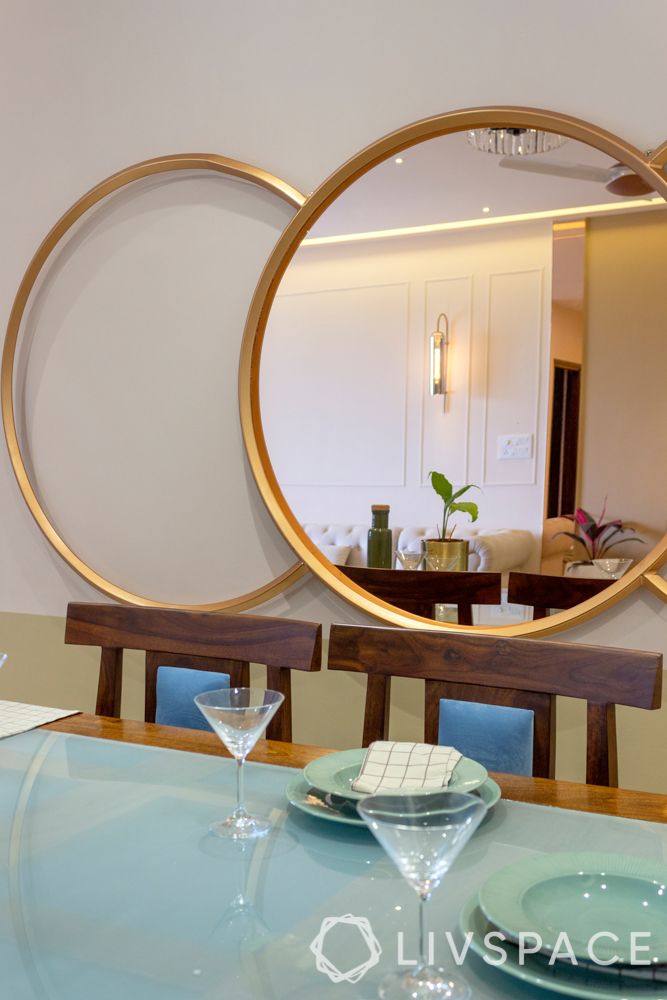 But this eclectic mix of styles is not all for this interior decoration of 3BHK flat. There is also a healthy mix of finishes. For instance, the copper brushed finish of the tinted mirrors in the dining space is the perfect contrast to the glossy tabletop.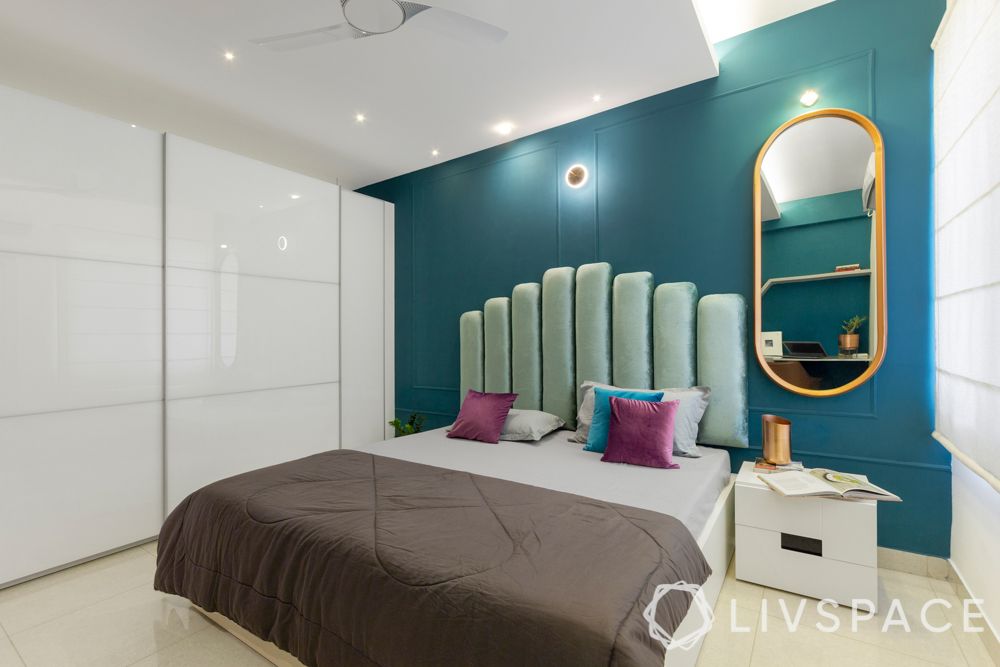 In the bedroom, we see velvet upholstery complement the reflective surfaces of the wardrobe that have acrylic finish. The copper brushed mirror frame is for continuity in this 3BHK flat.
#3: Mix of colours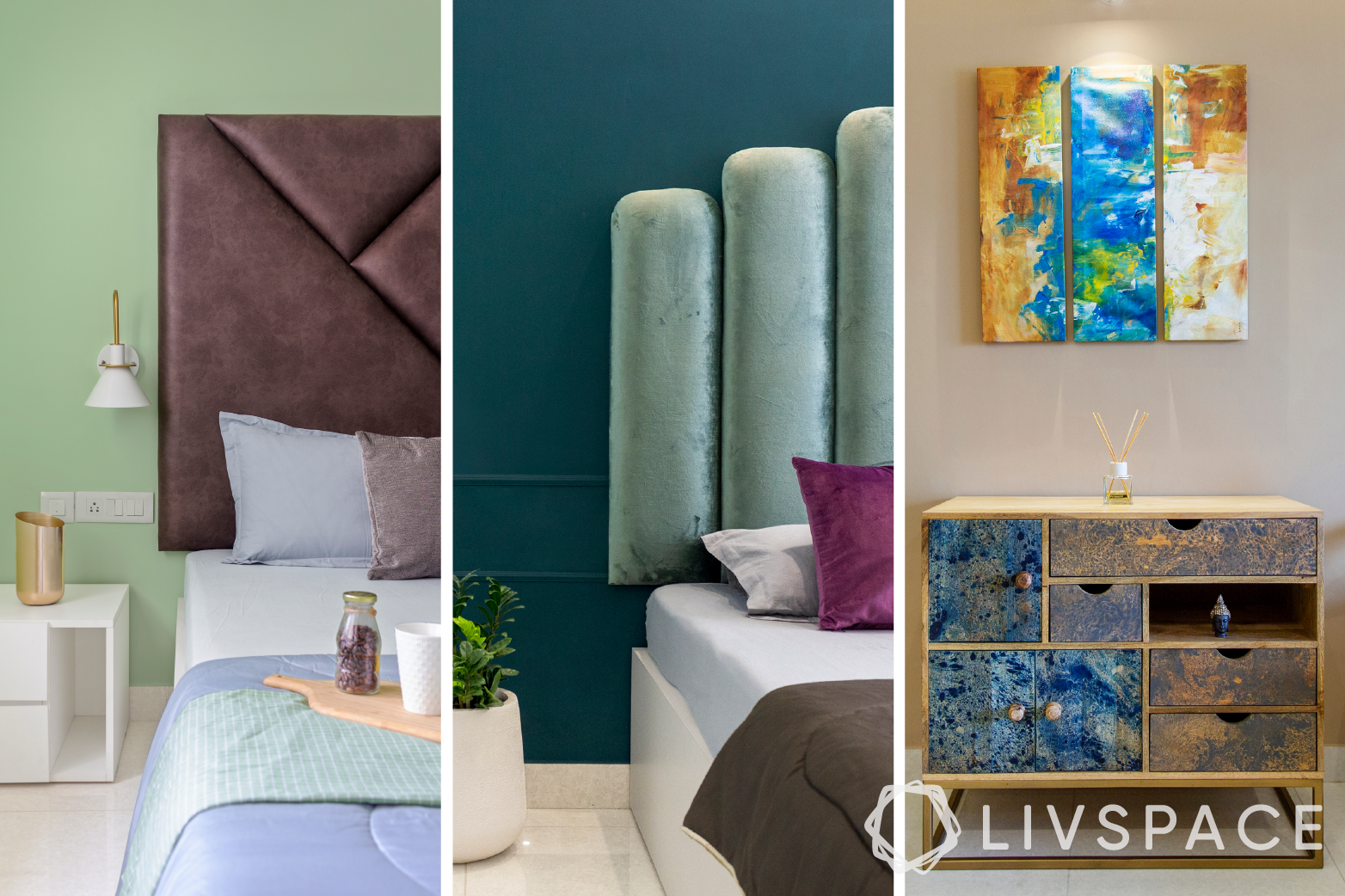 The colour palette used for this 3BHK flat is equally interesting. In one of the bedrooms, there is a pastel shade of green that provides the perfect backdrop for the brown headboard. There is a rich teal blue wall to complement the sky blue headboard in another bedroom. In the living room, the main source of colour is this console and the wall art above it. To sum it up, we see colours that are warm and cool, deep and light, mix together in a seamless melange. But not one colour is out of place.
#4: Mix of materials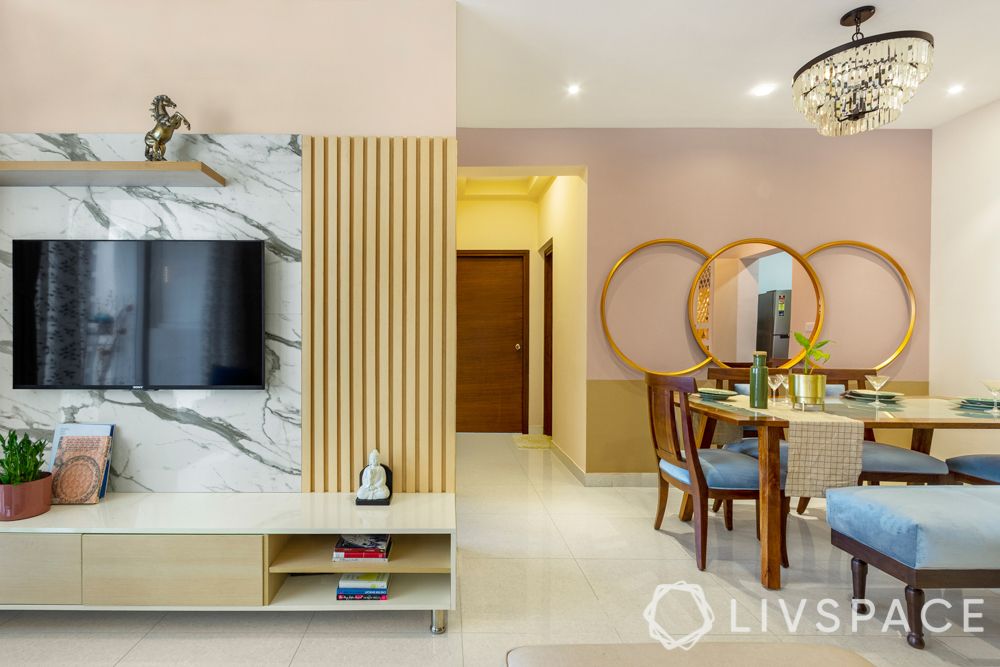 The variety of different materials used throughout this Bengaluru home is immense. The TV unit is particularly interesting in this regard. The back panel is marble with wooden pattis beside it and a laminate finish plywood unit for storage. The design is contemporary but the exhaustive list of materials makes it rather eclectic in spirit.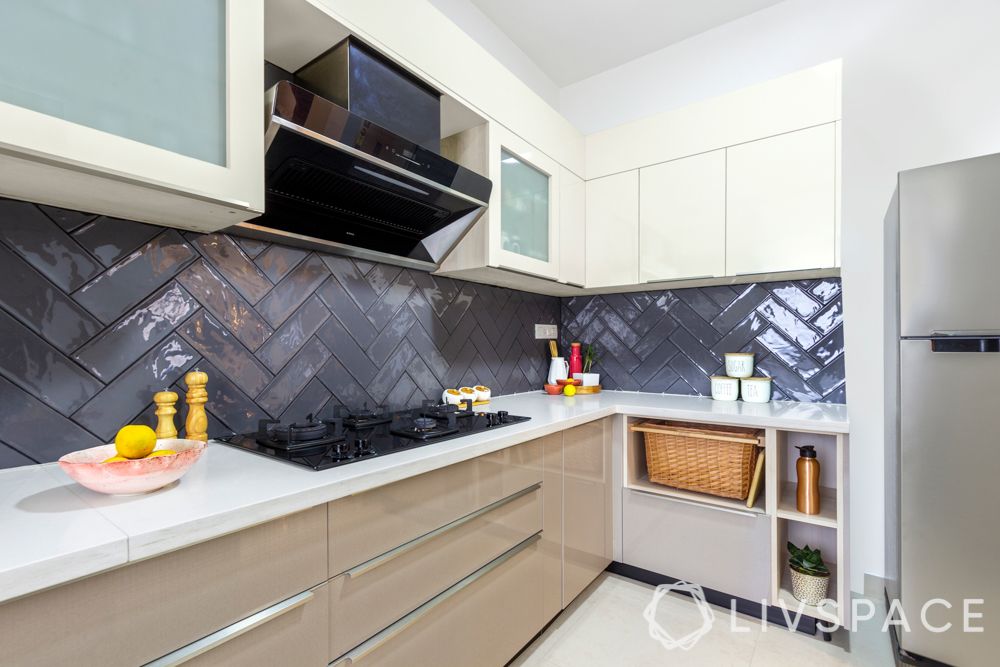 The kitchen with its unique requirements for plenty of storage within a tight budget made our designer Mona creative. She used bison board in places for its strength and water resistant properties while the framing was done in PVC and glass shutters. The backsplash is a neat affair with dado tiles in herringbone patterns that look perfect with the white countertop and light coloured cabinets.
If you enjoyed touring this eclectic feast with our designer, also explore how we styled this glamorous but low cost house in Gurgaon.
We love hearing from you! Write to us at editor@livspace.com