Your living room needs to make a grand and stunning statement. So, it is necessary that the living room has the right shades and hues. And don't forget the right use of textures and motifs! We've put together 5 living room colors to help you invent your own personal style that is experimental, fun, and gorgeous.
Living Room Colors #1: Purple Hues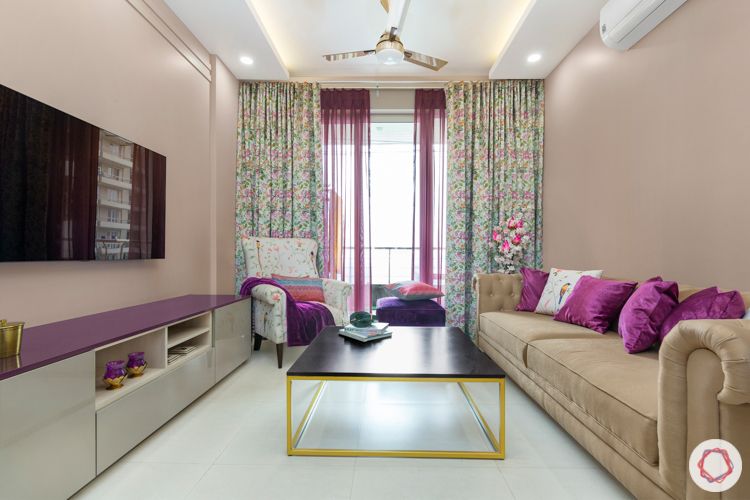 Purple is often associated with elegance, royalty and grandeur. In this home, intricate floral patterns set in a lovely purple hue, contrast with the beige furnishings and wall color. You can also add another dimension to the space with textures. You can use a patterned rug, velvet pillows, and sheer drapes. Moreover, you can carry the theme into the open dining area with upholstered purple chairs.
Living Room Colors #2: Breathing Blue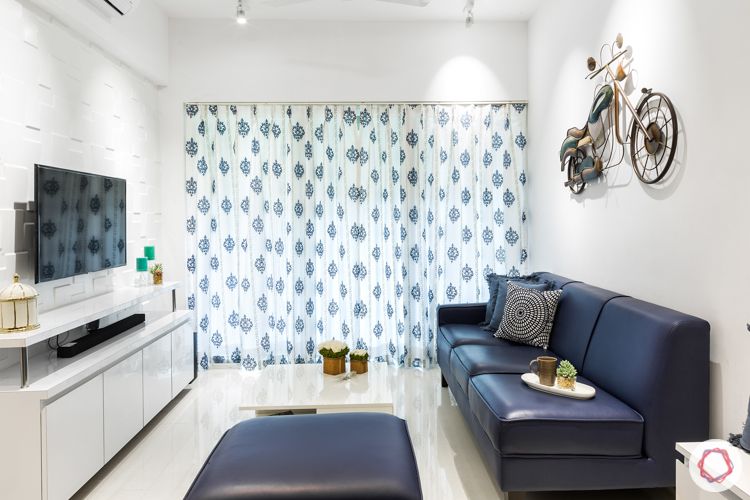 While weighing living room colors, pay attention to the versatility of blue. Transform your living room with a regal blue that breathes life into the charm of your home, and pair it with contemporary, patterned drapes. Top things off with an eclectic piece of wall art and focus lights for a simple, yet stately living room. For living rooms that always hit their mark, complete the blue theme with simple décor pieces for a clutter-free room.

Living Room Colors #3: Beaming Beige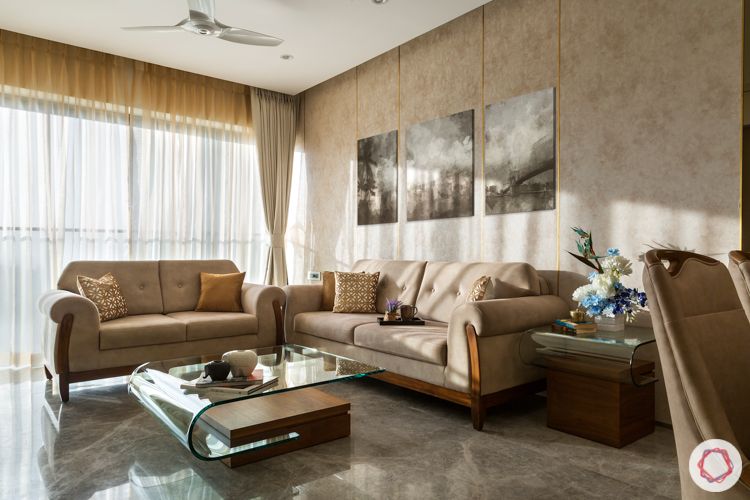 Beige is the marriage of the contemporary with the idyllic. The beige drapes in this home work well with the granite flooring. They reflect off the couch and the patterned walls with beige undertones, that work splendidly with wooden furnishings. Add some statement art, and a vibrant plant into the mix. And voila! You have a space that's both elegant and full of character.
In the dining room, you can couple the beige dining chairs with a fine marble table and accent lights to complete the aesthetic.
Living Room Colors #4: Gorgeous Greys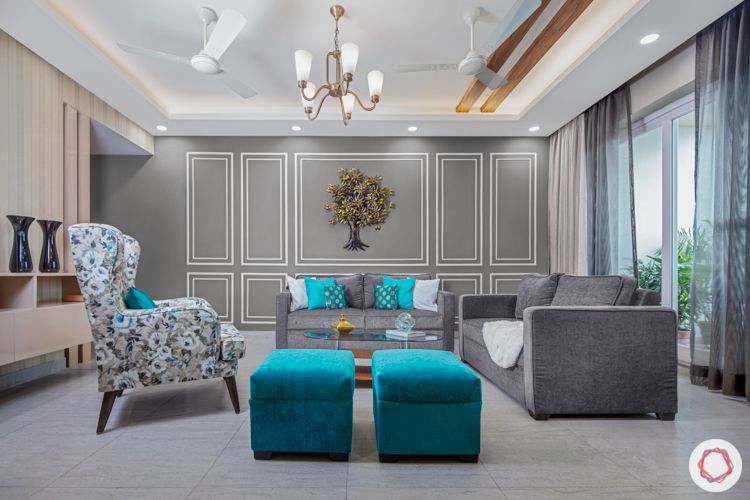 Greys are a staple in our look book of living room color ideas. They make for a striking aesthetic when paired with turquoise blues that pop color and charisma. Opt for colorful upholstery set in an eclectic combination of turquoise, cyan, and white, to draw the focus to the center of the room. Turquoise ottomans and throw rugs on the couch further complement decorative pieces and simple brass light fittings to make a bold statement.
Living Room Colors #5: Pearly White
The best of living room color ideas often come from pearly whites. Dignified and distinguished, there is something so alluring about anything that it goes with. Brandished with fine wood finishes and intricately patterned Persian carpets, the pearly white lends a sophisticated charm to the living room. You can also throw in Prussian blue armchairs, comfortable and soft couches, motif-strewn walls and elaborate brass curios and art pieces. Pearly white acts as the perfect base to build any décor theme on.
In a different avatar, you could choose to embellish one of the walls with wooden slats. This instantly creates a more rustic appeal. You can also contrast the seating area with designer mirrors and sheer drapes. This creates partitions in an open setting for an interesting and unforgettable home design.
Did you enjoy these living room color ideas? Let us know your favorites and what you think.
If you enjoyed reading this article, also check out Pleasing Pastel Colors for Home Decor.
Send in your comments and suggestions.