As the hustle-bustle in our busy lives sap our energy, we all have but one wish: to go home and relax. What if your home could help you de-stress on it own? A home that sports calming colors can definitely have a calming effect on your mood. And if G.F. Smith, a papermaker in the UK, and the University of Sussex are to be believed, then navy blue is the world's most soothing colour. In fact, looking at deep shades of blue can actually reduce your heart rate!
So we caught up with our designer Ashwini Gokhale to understand how navy blue affects design and also our moods. Here is what she had to say;
"Navy blue indicates calmness, while looking classy and modern. Colours like blue belong to a cool colour scheme, so it makes the person's mind very calm. After a hectic day at work, if you enter a blue kitchen or room, you are bound to feel peaceful."
– Ashwini Gokhale, Interior Designer, Livspace
Want some inspiration? Here are some design ideas to use navy blue as part of your home decor.
Calming Colors for Home #1: Navy Blue Walls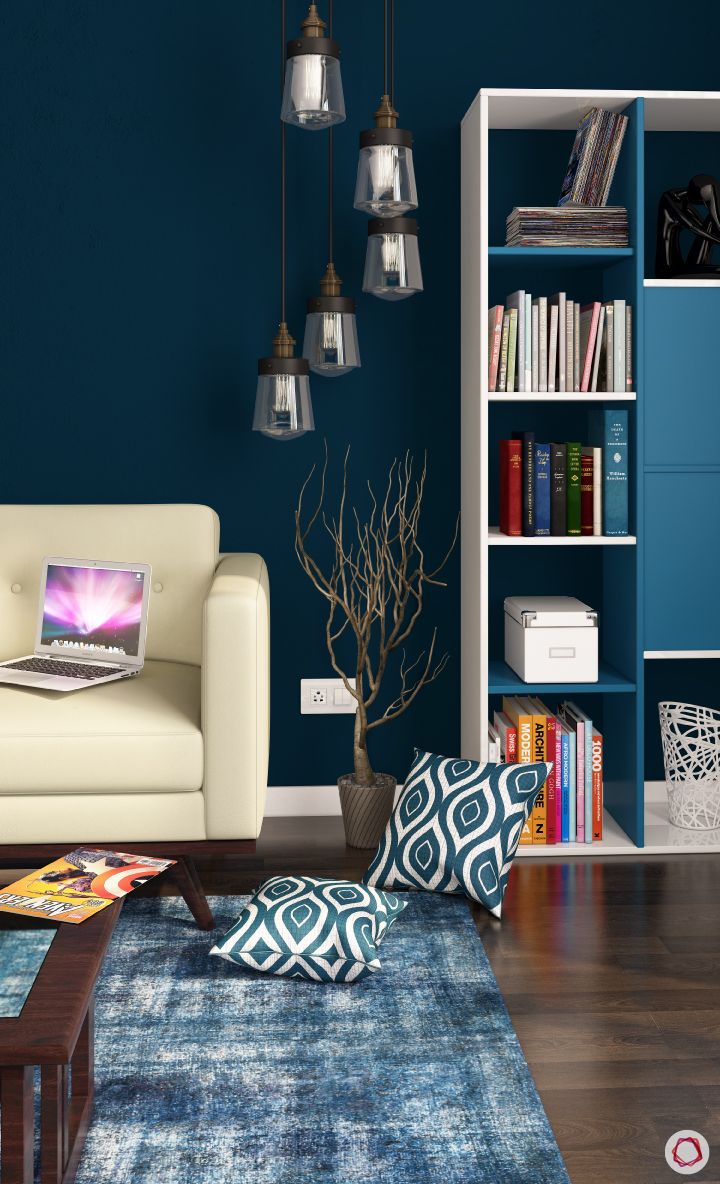 Navy blue wall paint makes a great background for light coloured furniture. The rich depth of this colour makes white and other light colours pop. However, you must be careful to use this dark blue wall paint only in rooms that get plenty of sunlight as it tends to darken the space. Also, pair it with plenty of whites and other lighter gradients of blue for a layered look.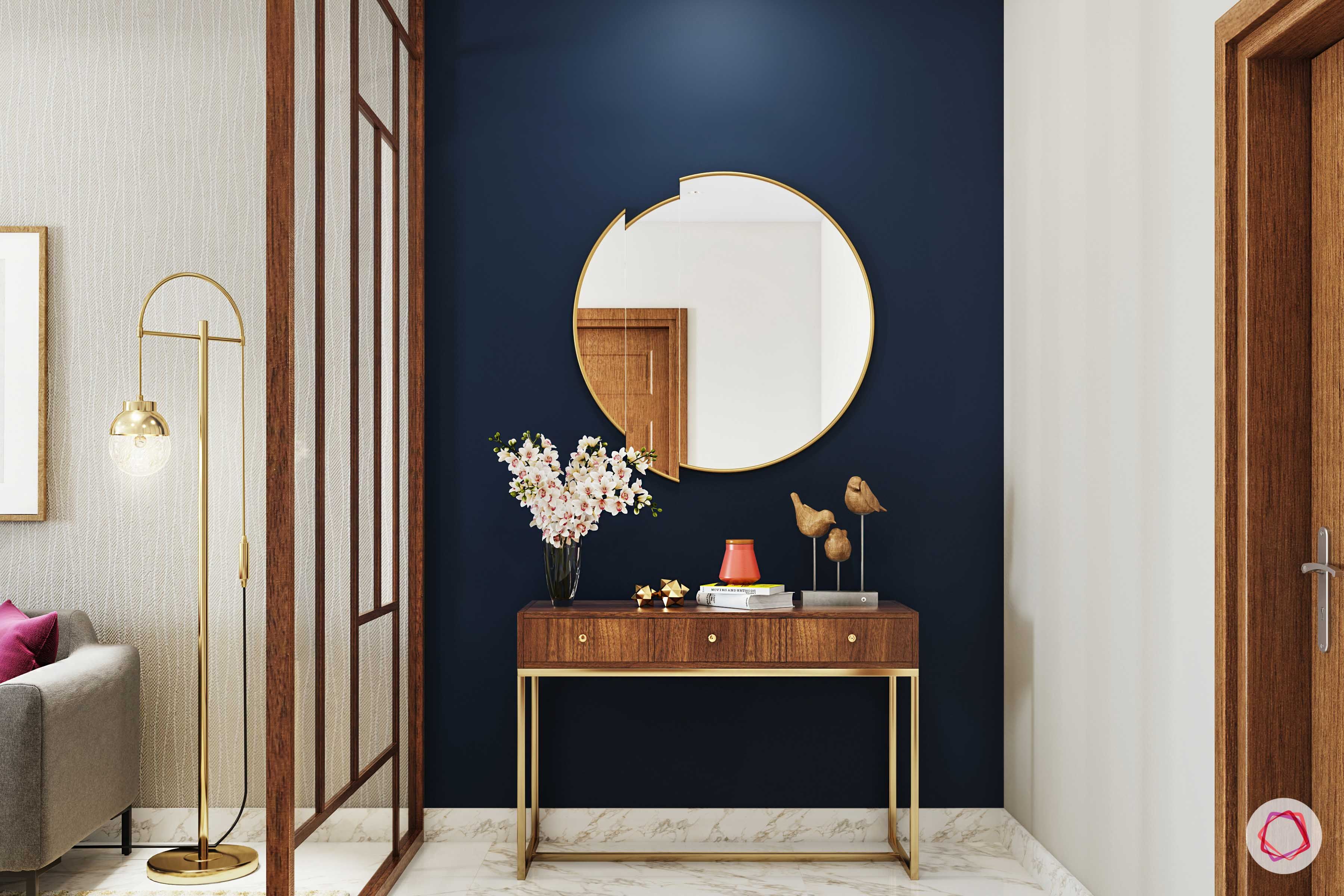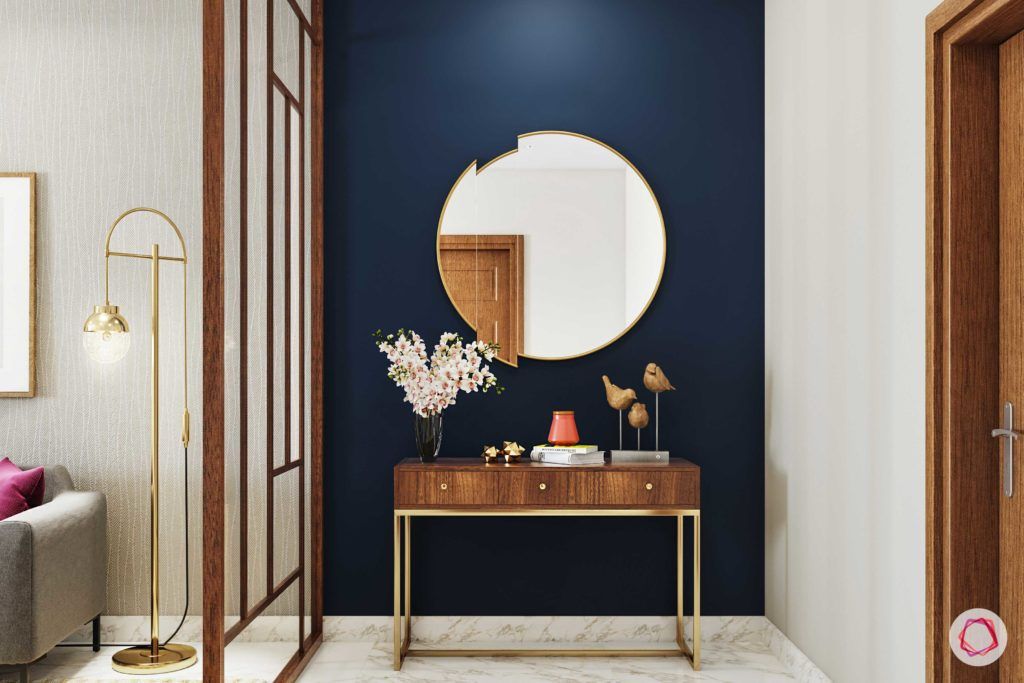 Despite being one of the most calming colors for your home, navy blue tends to consume light. So you must use it sparingly if you don't have an abundance of natural light flooding your home. Use it for painting an accent wall to highlight a piece of artwork or a chic mirror. This particularly works well for foyers.
Calming Colors for Home #2: Furnished with Deep Blues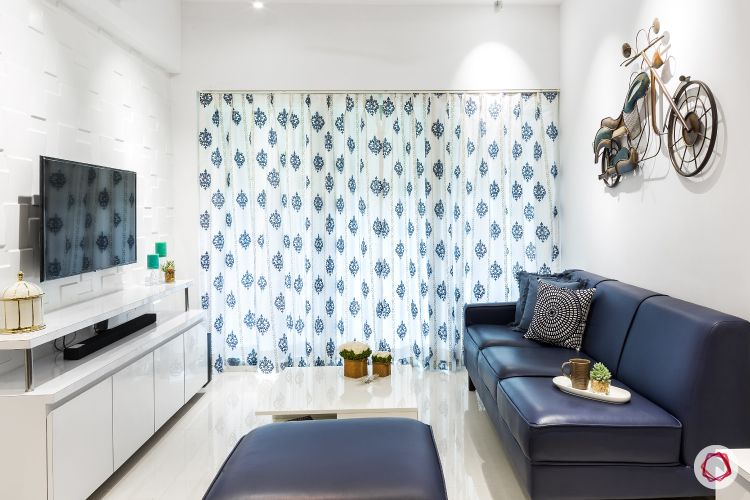 Most of us just slump on the couch in a heap once we get home from work. Hence, having a sleek couch in navy blue has two benefits. Firstly, it is one of the most calming colors so it will soothe you after a long and busy day. Secondly, being a dark colour it requires less maintenance. So basically, you could also be more relaxed about spills and accidents around navy blue furniture. If you are compulsive about cleanliness, then this certainly contributes to the calming effect it has on your mood!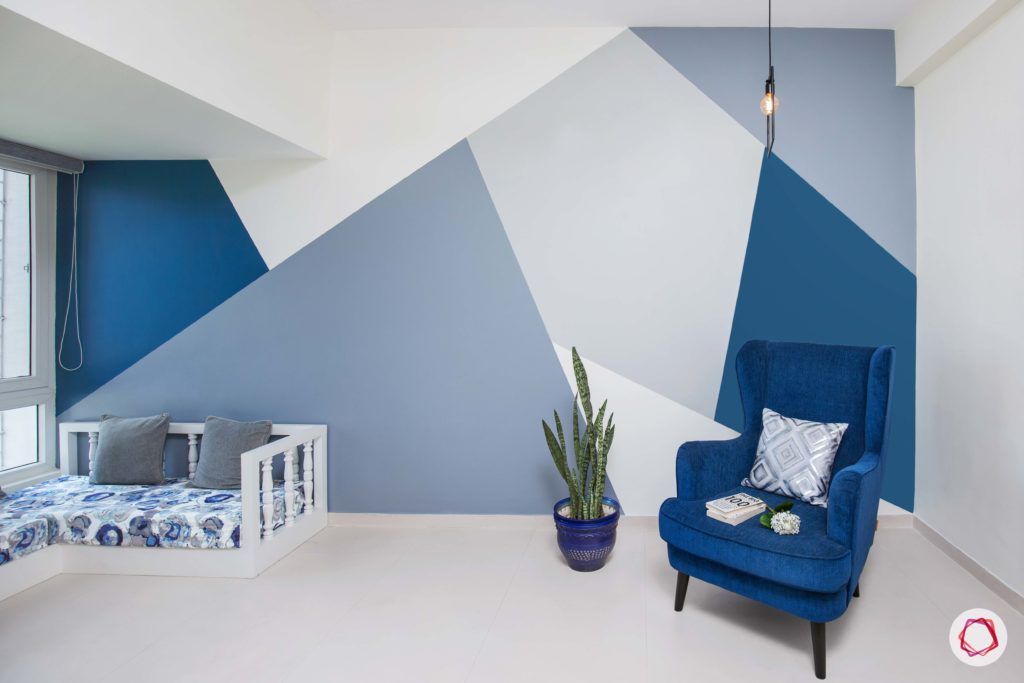 It is important to understand that rooms look flat when their are done up using the same colour. You must be particularly careful with dark colours like navy blue. However, this colour pops nicely when it is used with various other shades of blue, giving a textured look to the room.
Calming Colors for Home #3: Upholstered in Blue Hues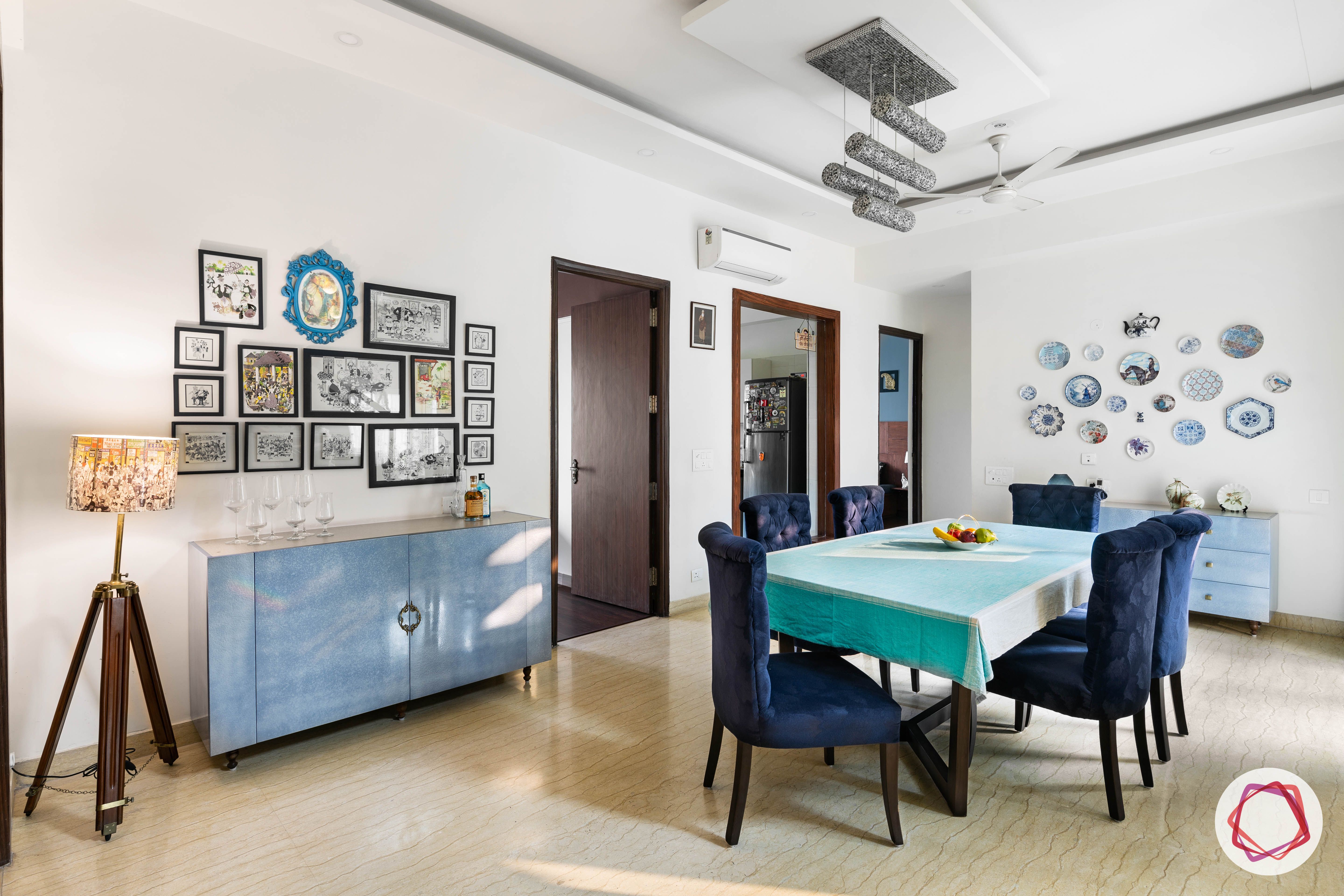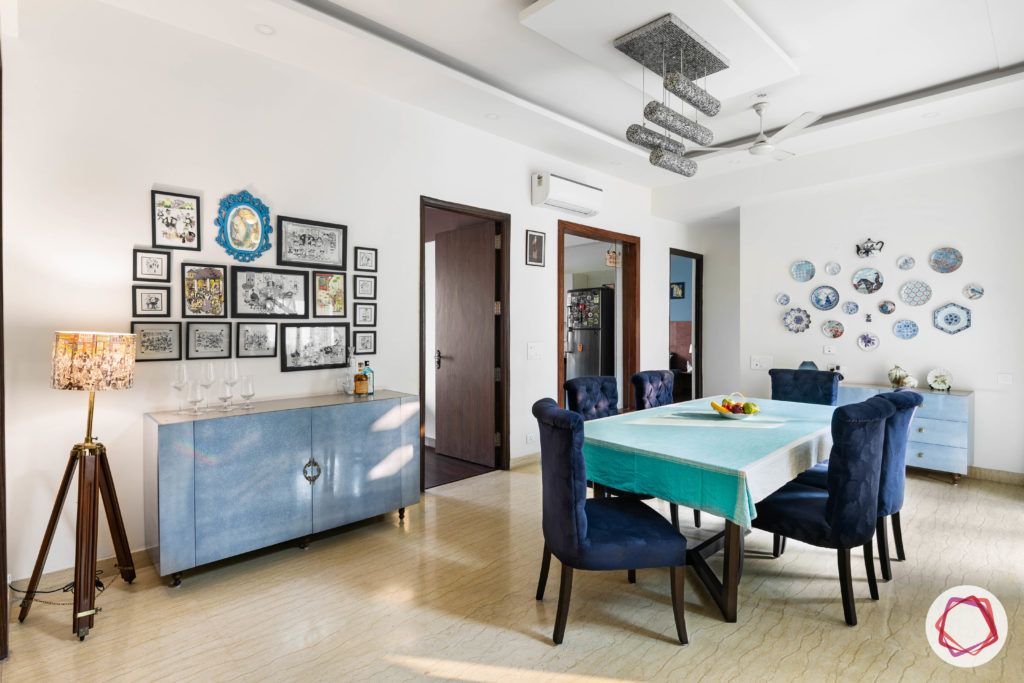 Nothing works like deep shades when decorating a sunny space. Apart from adding a rich tone to the decor, this shade of blue has an air of elegance to it. Navy blue upholstery look effortlessly plush and adds volume to every piece of furniture. Essentially, volume is something you need for furnishing spacious quarters or huge living areas.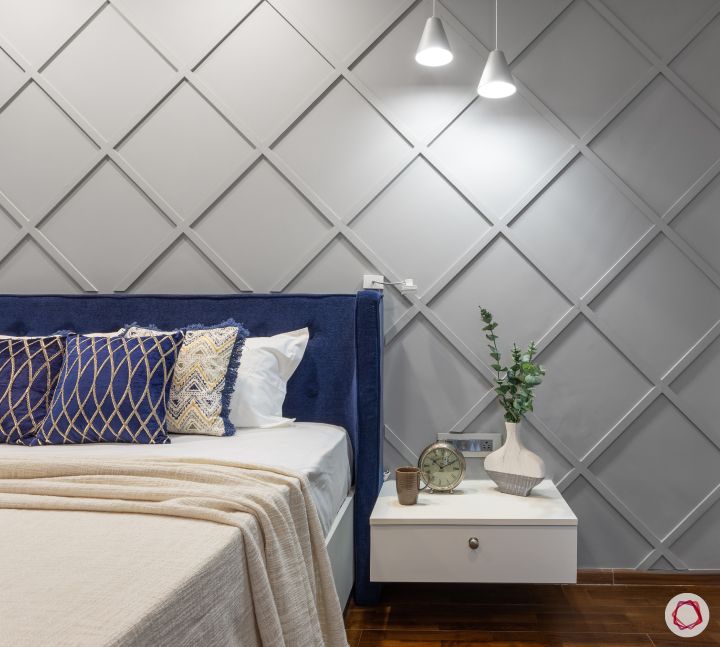 Every colour has its own characteristics; white opens up the space and deep blue add depth to it. So a combination of the two often gives us a perfect colour balance in design. If you are opting for white or grey toned walls and furniture, navy blue is your go to colour for headboards or other accessories.
Calming Colors for Home #4: Navy Blue Kitchens and Wardrobes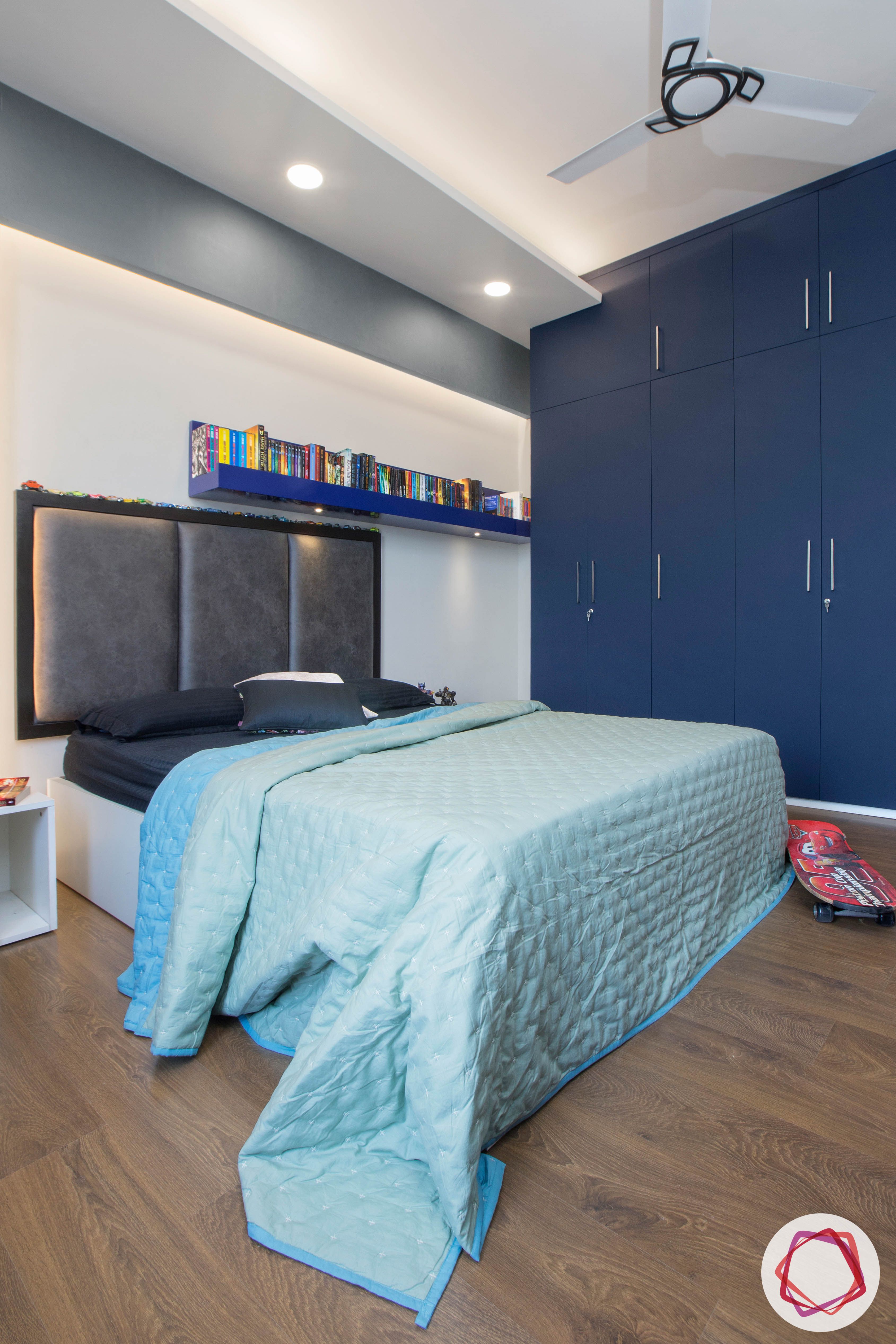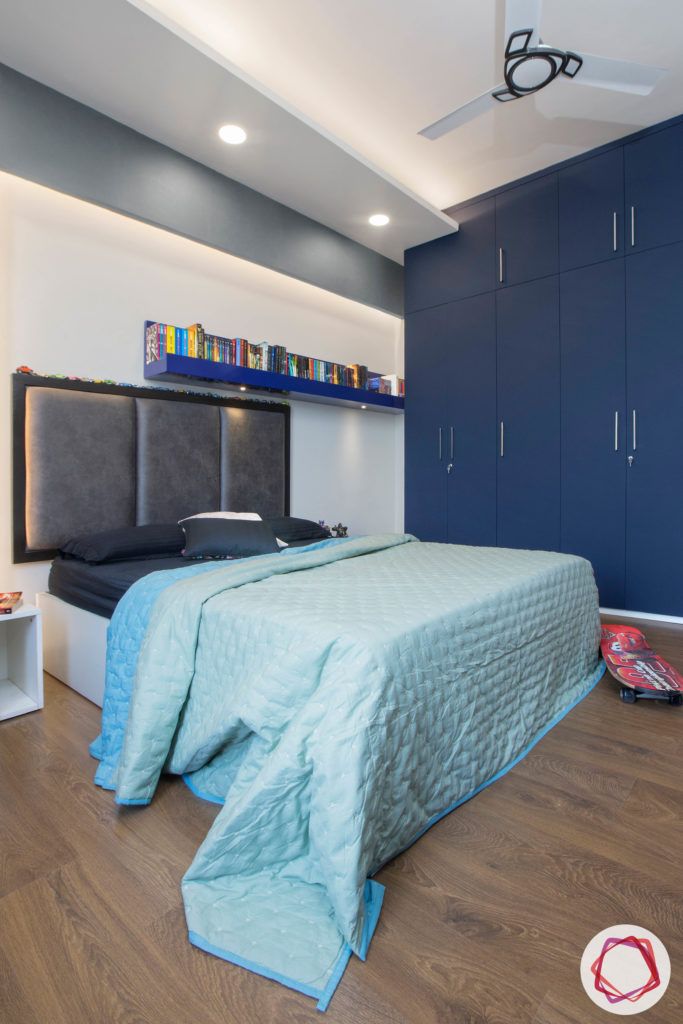 Navy blue shutters for wardrobes are not very common. But there is no denying the richness it can add to a bedroom. Apart from being one of the most calming colors for your home, navy blue is a low-maintenance colour. Hence, it makes sense to have navy blue wardrobes in kids' rooms. It can withstand rough use with some scrapes and scratches here and there. It also more quirky and fun than the regular colours used for wardrobes like wooden tones or whites.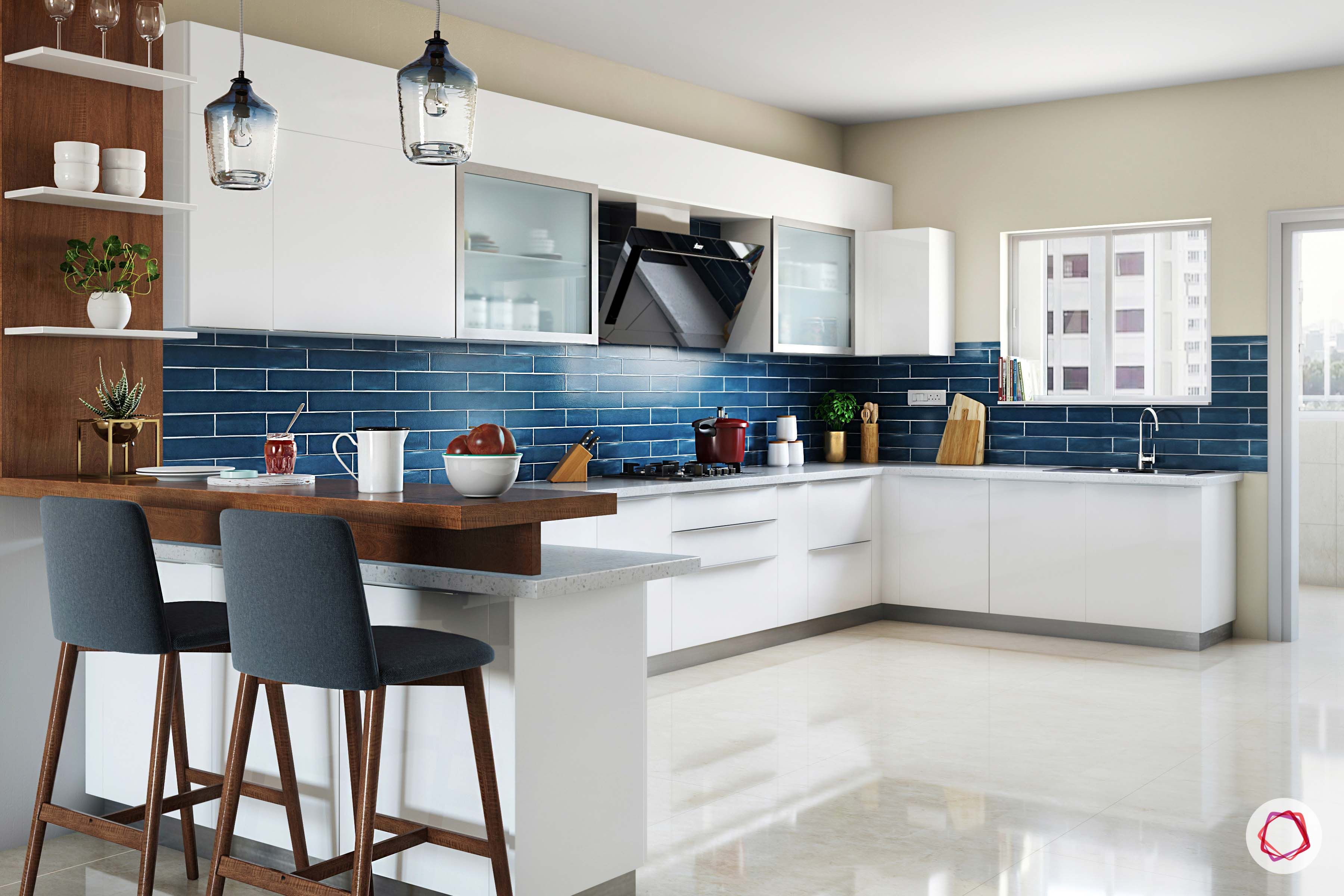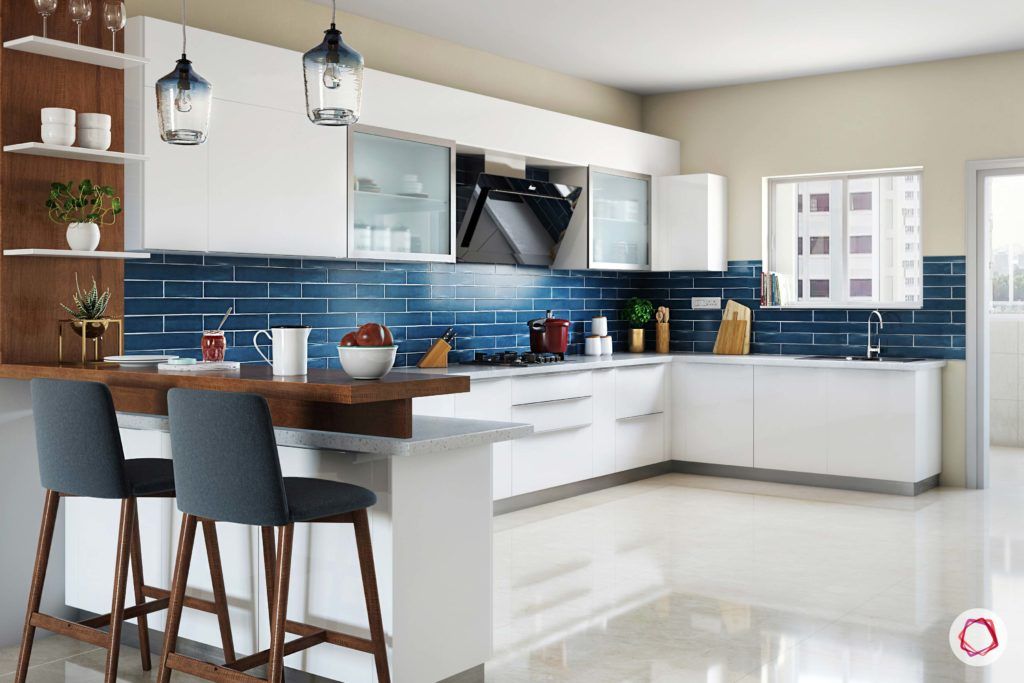 Indian kitchens have to put up with much more than steam and oil. We can all agree that the Indian curry stain is unique and very difficult to get rid of. So a colour like navy blue works wonders for Indian kitchens. Whether it is the backsplash or shutters, navy blue adds a dash of rich colour that is easy to maintain. However, it must always be used in combination with lighter colours like white or beige.
Calming Colors for Home #5: Soft Furnishings Dappled with Blues
We must never underestimate the contribution of soft furnishings to decor because something as small as the colour of your drapes can change the entire vibe of the room. So, if there are some navy blue elements in the room, then drapes in the same colour can help maintain design continuity. Being a deep colour, it also blocks light to a large extent. Hence, it can be used for dual curtains where the first layer is sheer.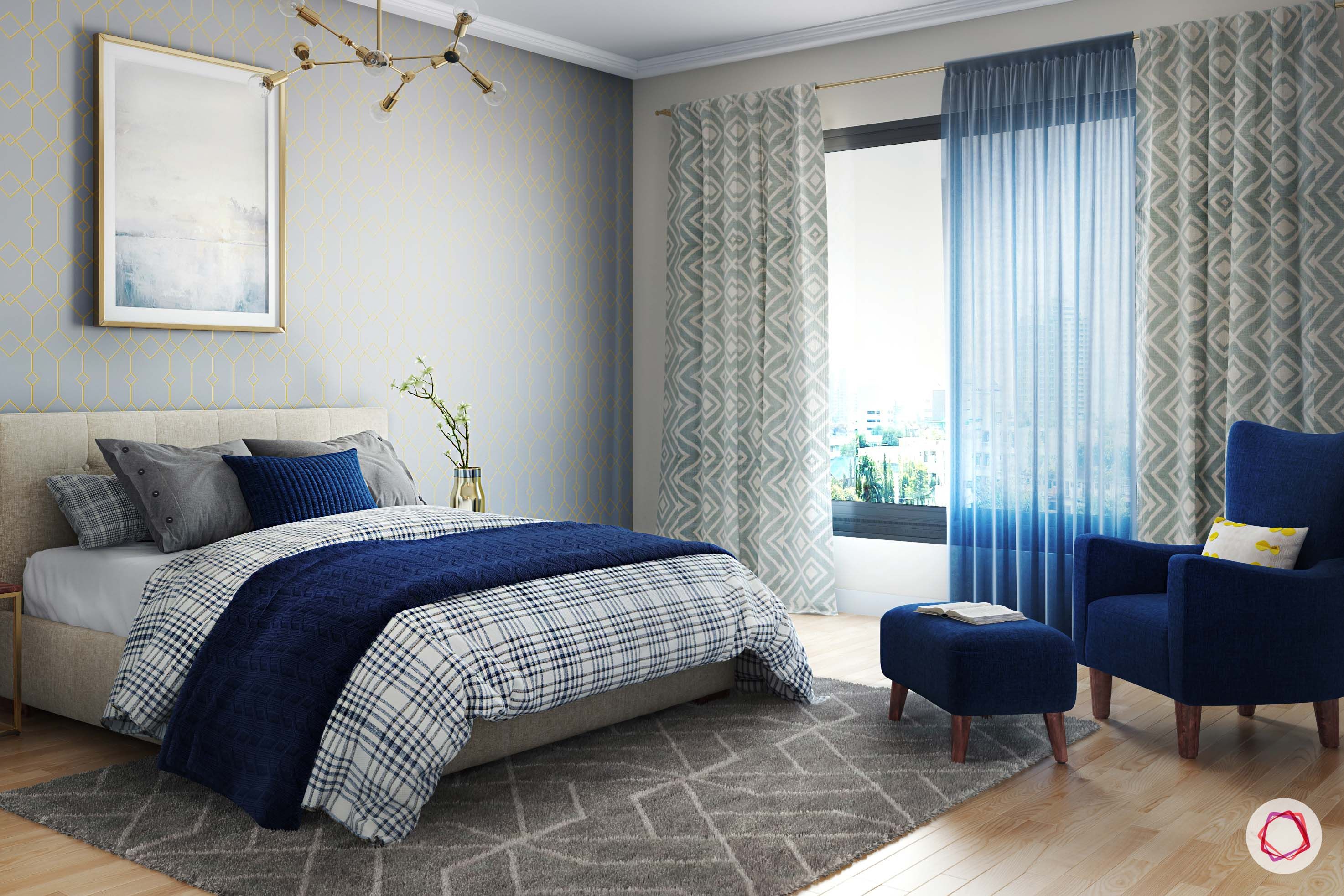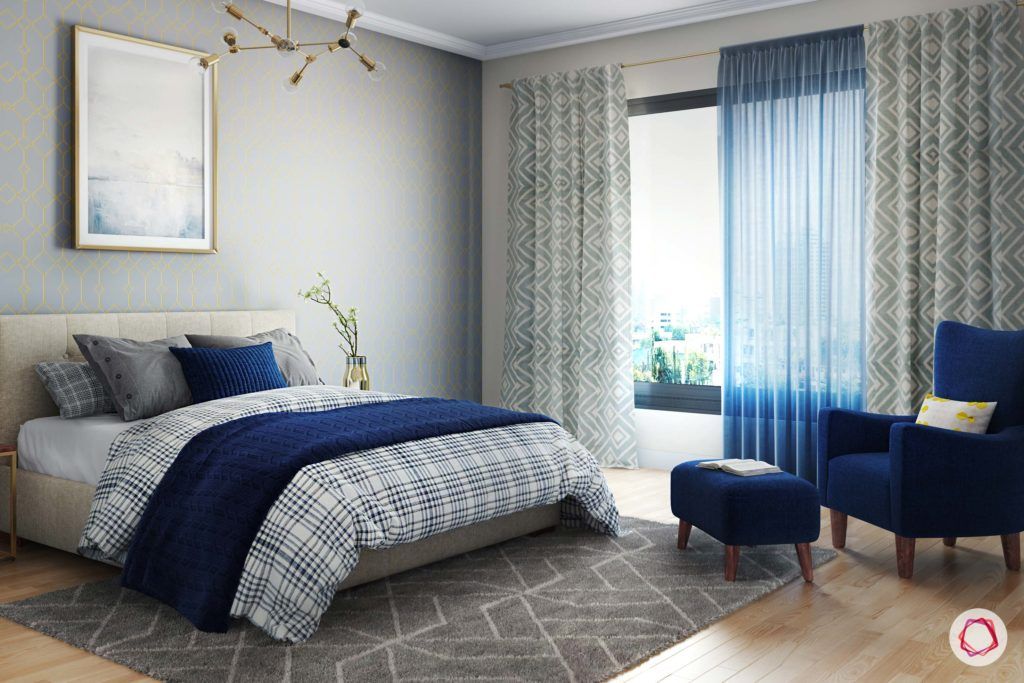 While we would all like to have calming colors as part of our decor, we cannot change our furniture or woodwork overnight. However, what we can do is improvise by adding pops of navy blue in the form cushions, throws and bed covers. These accessories are both practical and affordable ways to add navy blue to your existing decor.
If you enjoyed reading this piece, also explore Stunning Red Decor Ideas Used in #LivspaceHomes.
Send in your comments and suggestions.