An oft overlooked part of your living room is the ceiling. Traditionally, a few coats of white paint and some texturing was considered sufficient. But now, with a multitude of options for ceiling design for hall, there is no more reason to ignore the fifth wall. A good false ceiling for living rooms can also radically transform the whole design in the space and make it feel like a new room.
Without further ado, here are our top 5, drop-dead gorgeous ceiling design for halls and living rooms.
Ceiling Design for Hall #1: POP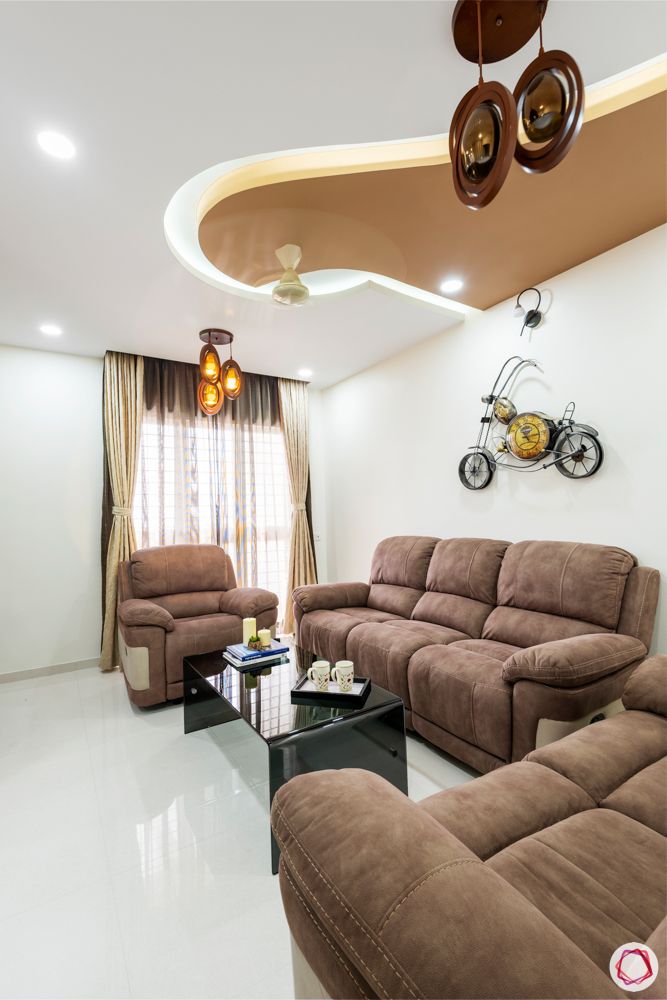 Plaster of Paris (POP) is highly durable and flexible, and is the perfect material for false ceiling for living room. Use it to add a pop of colour to your ceilings or hide unflattering curtain rails. Use a light hand while decorating the walls to ensure focus is on the stunning ceiling design. Just a few statement pieces like this minimalistic bike-shaped wall clock should do the trick.
Ceiling Design for Hall #2: Jaali
Create distinct spaces in your living room by using Jaali in your ceiling design. You can also use it to add an illusion of symmetric in uneven spaces by incorporating the pattern in the adjacent wall or pairing it with a soft, matching wallpaper as in this #LivspaceHome. Jaali is the perfect way to add a subtle ethnic touch, especially if you have an open altar or pooja area in the room.
Ceiling Design for Hall #3: Geometric False Ceiling
Choose a geometric style with recessed lighting in the false ceiling for living rooms and you'll weather any changes in trends over the years. Notice how it perfectly complements the wood panelling and the bright yellow wall niche in this home, elongating the design. You can also use it to emphasise the other colours in the space. The bright ceiling across the room helps the cobalt blue furniture and curtains stand out. You can also incorporate a touch of luxury with some wooden detailing or contemporary light fixtures.

Ceiling Design for Hall #4: Wooden Details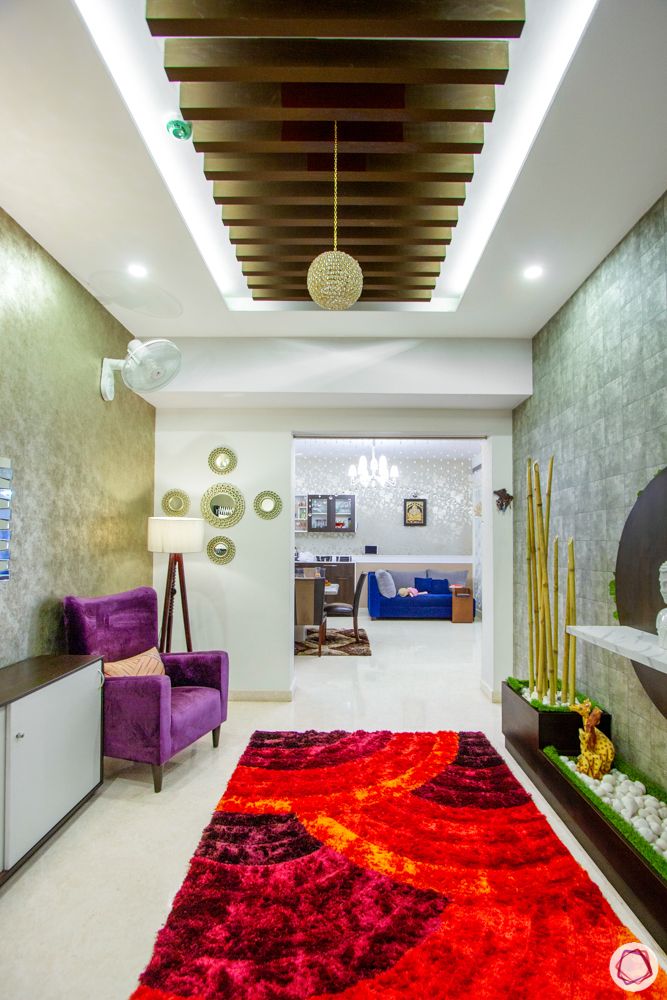 It's an open secret that wood makes a room feel warm and welcoming. Therefore, wooden false ceiling for living room can lend a charming and relaxing vibe. Use warm lights, painted wooden rafters, a bright purple armchair and a colourful carpet to set an upbeat tone to the house. Alternatively, use thick wooden beams for a farmhouse aesthetic, and pair it with white walls and warm wooden finishes.
Ceiling Design for Hall #5: Wallpaper & Paint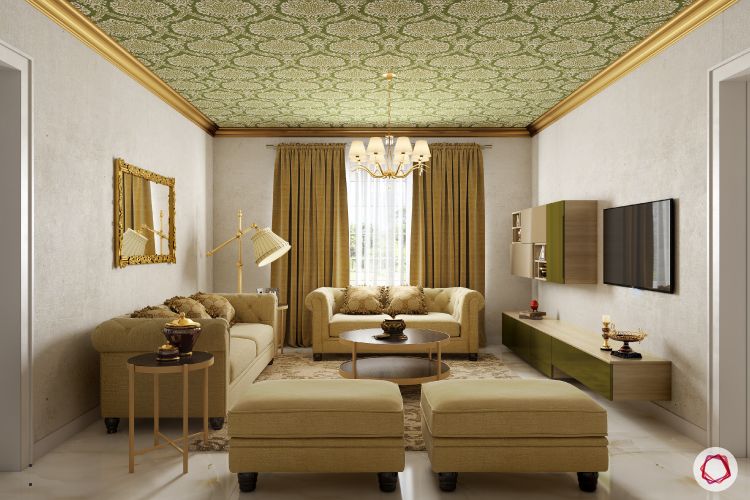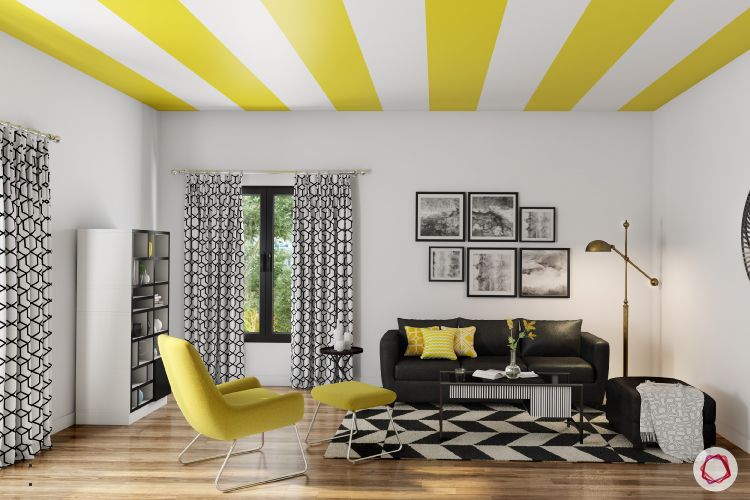 Bring a royal touch to your false ceiling for living room interiors using patterned wallpaper and a gold trim. Make sure to furnish the space with large pieces of nude furniture that add to the regal vibe. Choose from a range of sofas and ottomans, and include a vintage, gold mirror on the wall for a more resplendent outlook.
On the other hand, if you want a contemporary space, then simply opt for a bold, striped ceiling and keep the rest of the interior elements monochromatic. It is a great way to add a bright pop of colour such as in this home where the lime green contrasts with the black accents.
Did these 5 stunning ceiling design for halls inspire you to tackle your own blank ceiling? If you are still confused, then maybe it's time to approach the professionals.
If you liked these ideas, check out more ceiling design ideas here.
Send in your comments and suggestions.