Welcome to a world of vibrant colours and joyful hues! Today, we'll be exploring a stunning home located in the bustling city of Gurgaon that's sure to leave you inspired. The homeowners had a vision of creating a space that reflected their love for art, culture, and colours. With the help of Livspace, they were able to bring this vision to life in a way that's both breathtaking and functional.
Throughout the home, you'll find an array of colours that range from warm oranges and reds to cool blues and greens. Each room has its own unique colour scheme and style that's been carefully curated to create a cohesive and harmonious design.
So sit back, relax, and let's take a tour of this paradise of the most beautiful colours. Get ready to be inspired and amazed by the creativity and artistry that's been poured into every inch of this stunning home.
The Majestic Living Room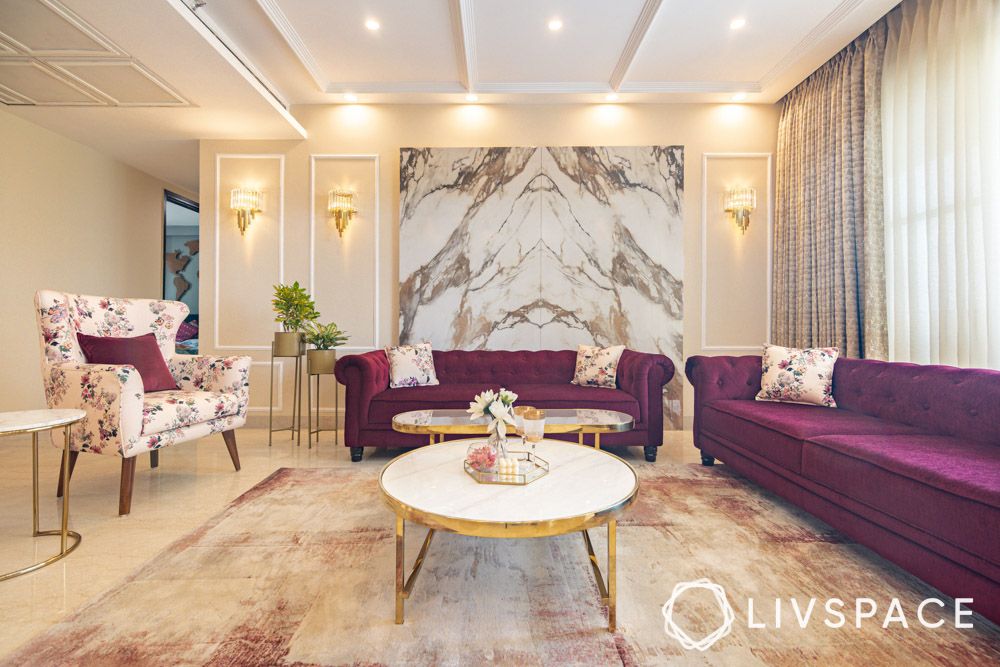 If you love hosting family and friends, a large living room is crucial to your home design. Keeping that in mind, our homeowner Rachit asked us at Livspace to design a living room that creates a fantastic first impression.
Every piece of furniture, every detailing on the wall and every choice of lighting creates a stunning and luxurious ambiance. The wall panelling adds depth and definition to the wall, while the recessed lights on the false ceiling helps add a streak of glamour.
Also Read: The 15 Best Livspace Living Room Designs From 2022 to Suit Every Style
Two magenta sofa sets add a pop of colour in the otherwise gold and beige living room. The center tables and side tables are crafted out of marble and finished with a gold metallic glint. As for the rug, its washed-up look helps it blend in with the ambience.
The marble accent wall creates a focal point that draws the eye and invites guests to sit and relax. The floral armchairs add a sense of dimension to the design, thereby elevating your space to a new level of elegance and comfort.
The Marvellous Master Bedroom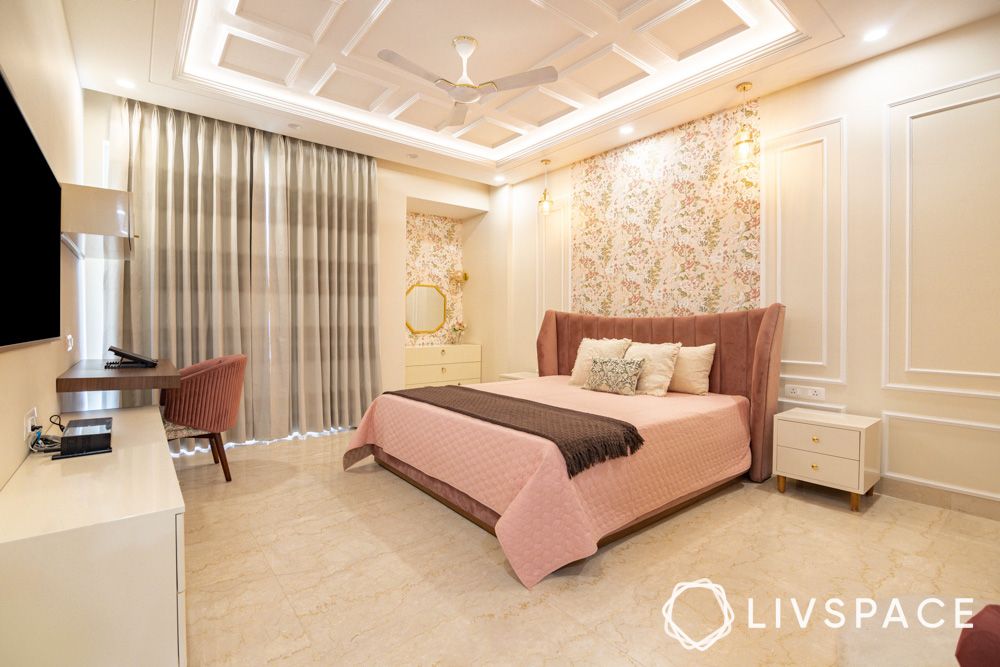 A luxurious master bedroom designed in soft shades can create a serene and calming atmosphere, and the master bedroom of this Gurgaon home is a case in point. The use of soft shades such as pastel pink, beige, ivory, or light blue can create a sense of tranquillity and relaxation in the space.
A variety of textures and fabrics, such as velvet, silk, and fur, can be used to add depth and interest to the room. A plush bed with high-quality bedding, fluffy pillows, and a cosy throw blanket can make the bedroom feel indulgent and luxurious.
The bedroom features a TV unit, a chest of drawers, a pair of bedside tables, a desk for work and a seating area with two armchairs and a side table. It also opens the way to a walk-in wardrobe space, thereby completing the feeling of indulgence and luxury. Moreover, the wall panelling, the mood lights and the use of floral wallpaper adds a subdued charm to the soothing space.
The Imaginative Kids Bedroom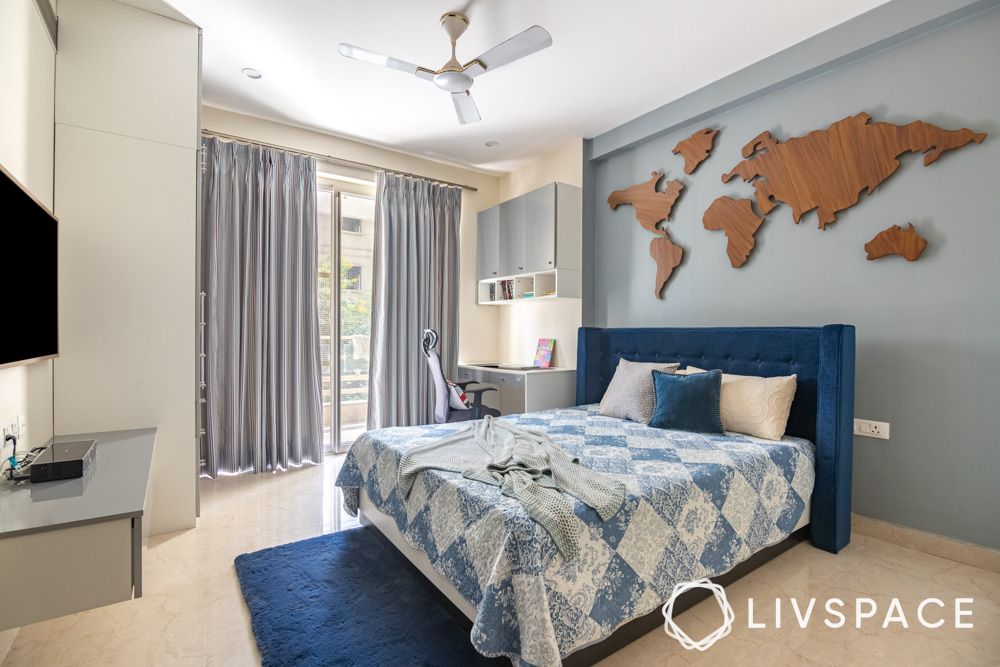 A variety of textures and fabrics, such as velvet, silk, and fur, can be used to add depth and interest to the room. A plush bed with high-quality bedding, fluffy pillows, and a cosy throw blanket can make the bedroom feel indulgent and luxurious.
The bedroom also features floor to ceiling curtains, a work desk with ample storage, a TV unit and keeps it really simple in shades of grey, beige and dark blue.
The Gorgeous Guest Bedroom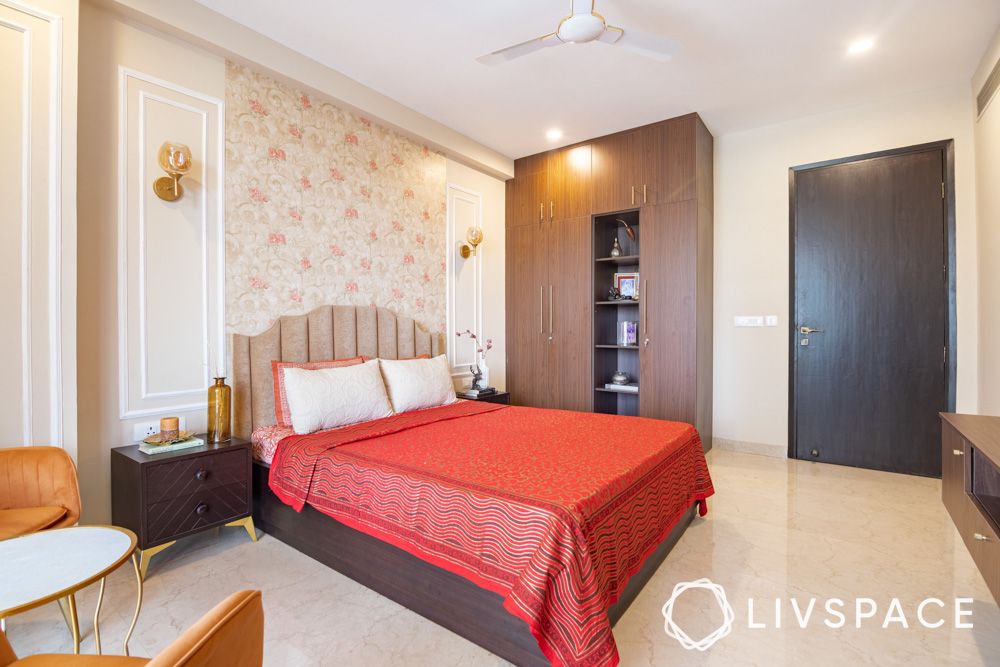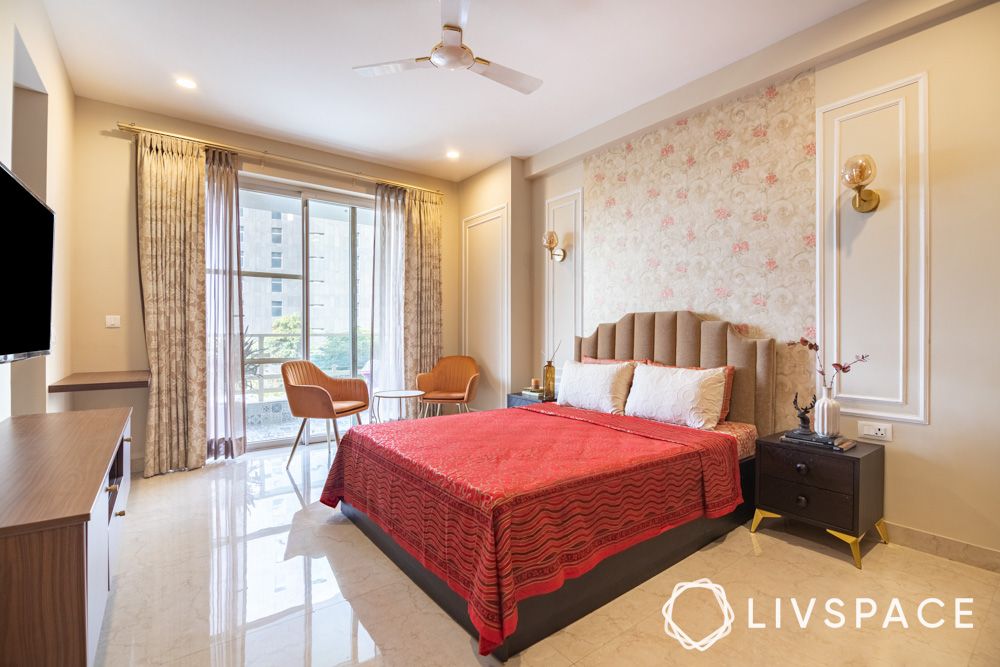 This 3BHK in Gurgaon features yet another bedroom, meant for the lucky guests of this luxurious home. The use of neutral colours, high-quality linens, and plush bedding creates a serene and welcoming atmosphere.
Incorporating additional amenities such as a small desk or seating area, a television, and bedside lighting can make the room feel more like a home away from home. Including storage solutions such as bedside tables and the modular wardrobe can also provide guests with space to unpack and feel settled during their stay.
Overall, a bedroom like this can move you with a sense of luxury and comfort that will leave a lasting impression.
The Bright & Beautiul Indian Kitchen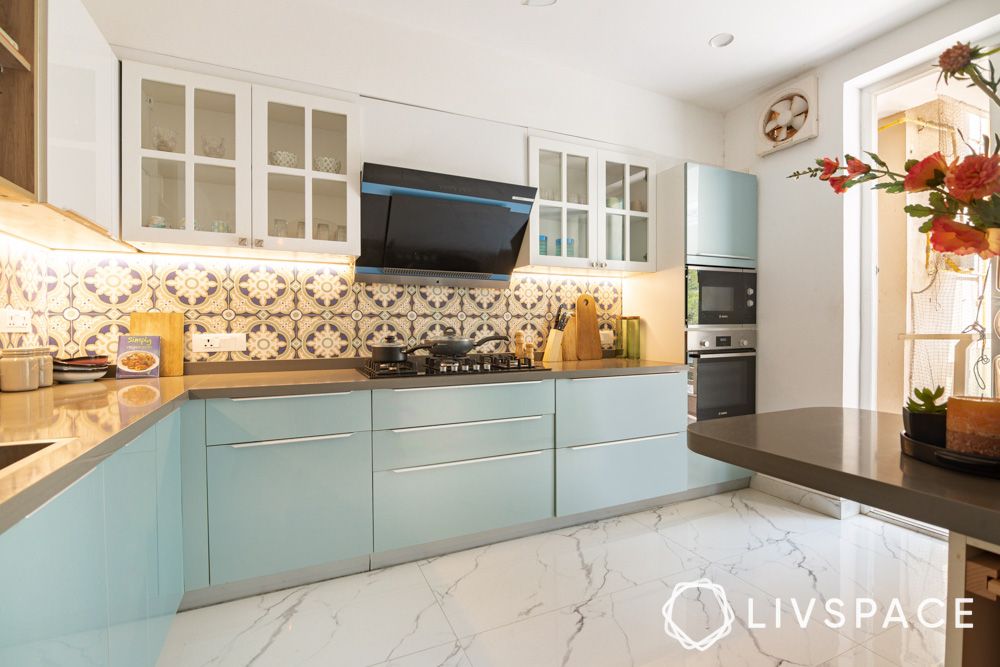 The use of blue, a calming and soothing colour, creates a serene and inviting environment for cooking and dining. The incorporation of traditional Indian elements such as intricate tile work or ornate brass accents adds a touch of cultural heritage and style to the space.
The kitchen in this luxurious Gurgaon home features a mix of open and closed top units and seamless bottom units. It also has a tall unit for all appliances, and an additional island table to maximize convenience.
The golden triangle is aptly defined in this beautiful L-shaped kitchen, thereby making the kitchen a functional space.
Also Read: Kitchen Trolley Design Ideas: 10 Trendy Kitchen Trolley Designs for Your Kitchen
The Decked Up Dining Room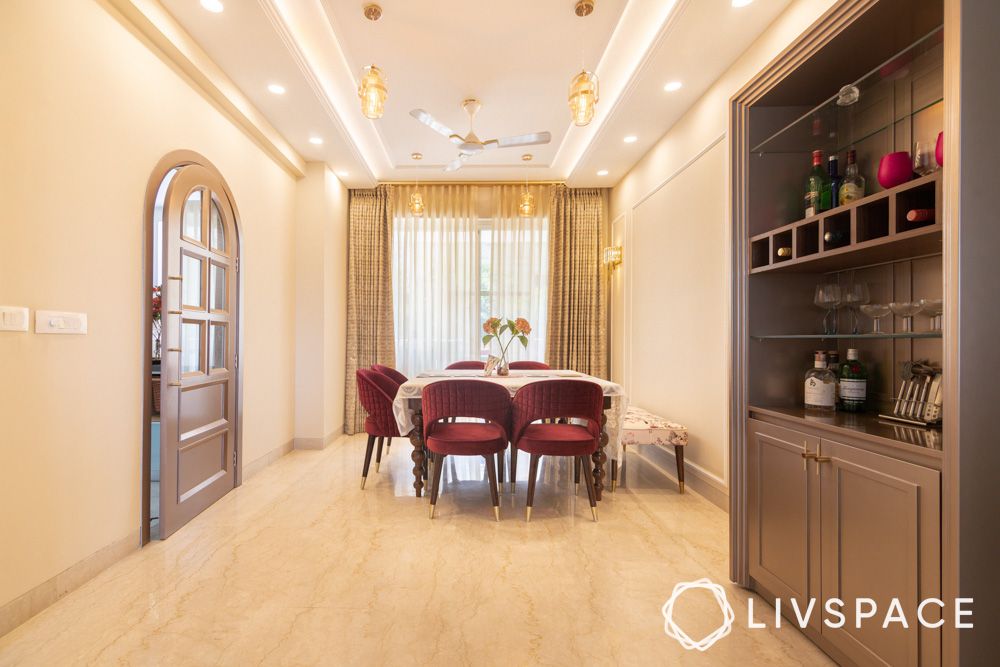 The combination of a crockery unit, a dining table and chairs, floor to ceiling curtains and mood lighting can create an elegant and sophisticated space for entertaining guests or enjoying a family meal.
The crockery unit also doubles up as a bar unit. And, it can be used to showcase beautiful and intricate pieces of china or crystal, adding a touch of luxury and refinement to the room. The use of mood lighting, pendant lighting or ambient lighting, can create a warm and inviting atmosphere, perfect for intimate dinners or celebrations.
The dining table and chairs creates a sense of opulence and luxury to the space. Additionally, including statement pieces such as ceiling lights and a simple false ceiling can add a touch of drama and personality to the room.
The Emerald Green Escapade Slash Multi-Functional Study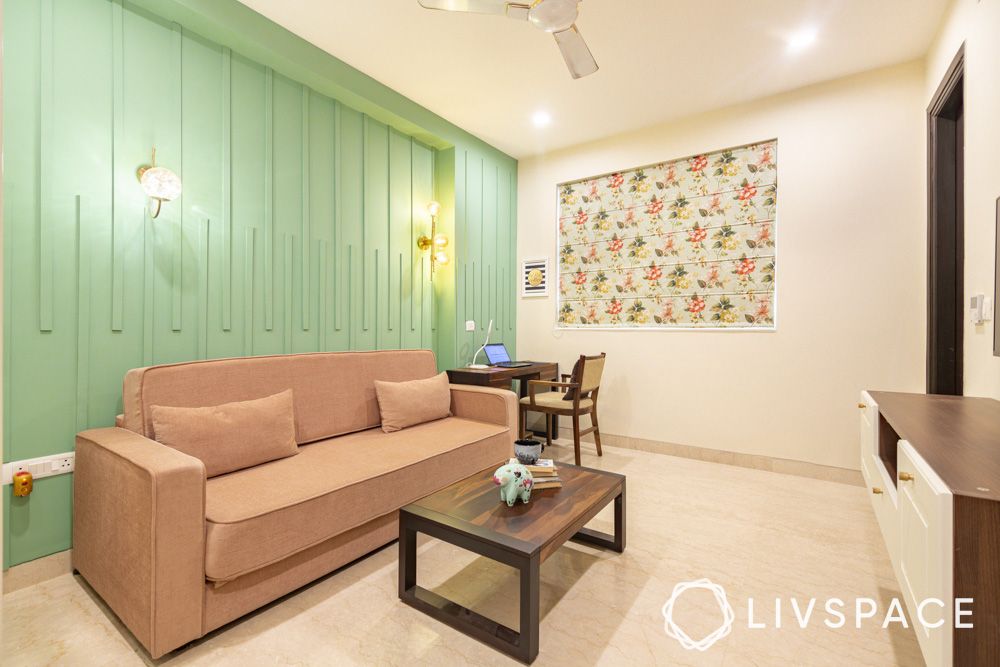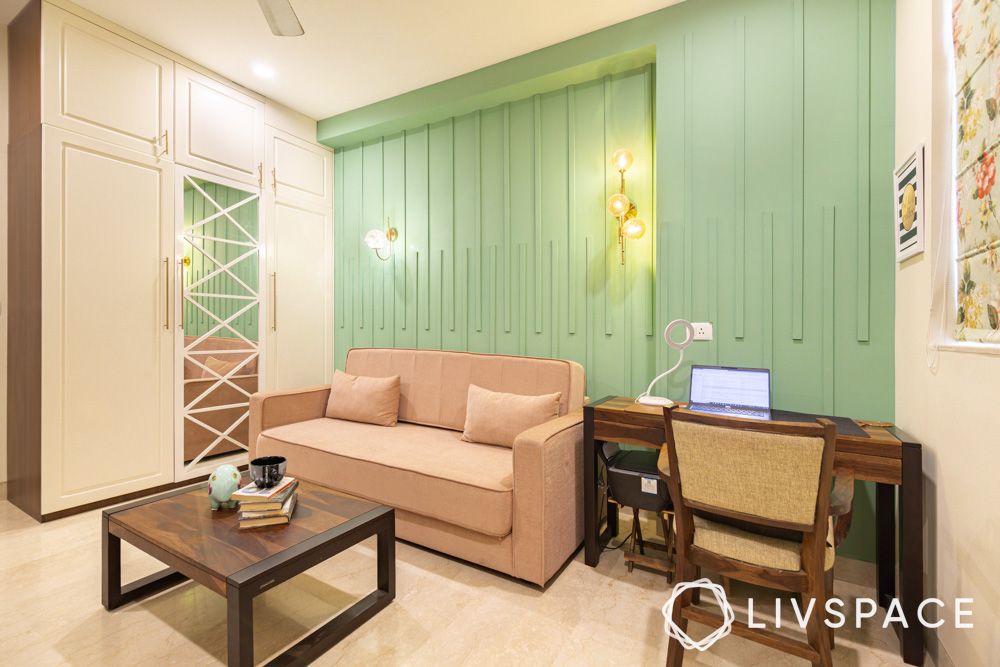 Concealed behind the green walls, this personal oasis is an example of a brilliant use of spare space. It can provide a sanctuary for unwinding, meditating, or pursuing hobbies or interests. The space has been furnished with comfortable seating and has a simple work desk setup.
Incorporating a modular storage solution, the beige wardrobe, it adds functionality and convenience, in addition to promoting relaxation and self-care. Overall, this serves as a multi-functional space in this Gurgaon home that provides a restful and rejuvenating retreat for both guests and personal use.
The Bathroom You'll Want to Stay Forever in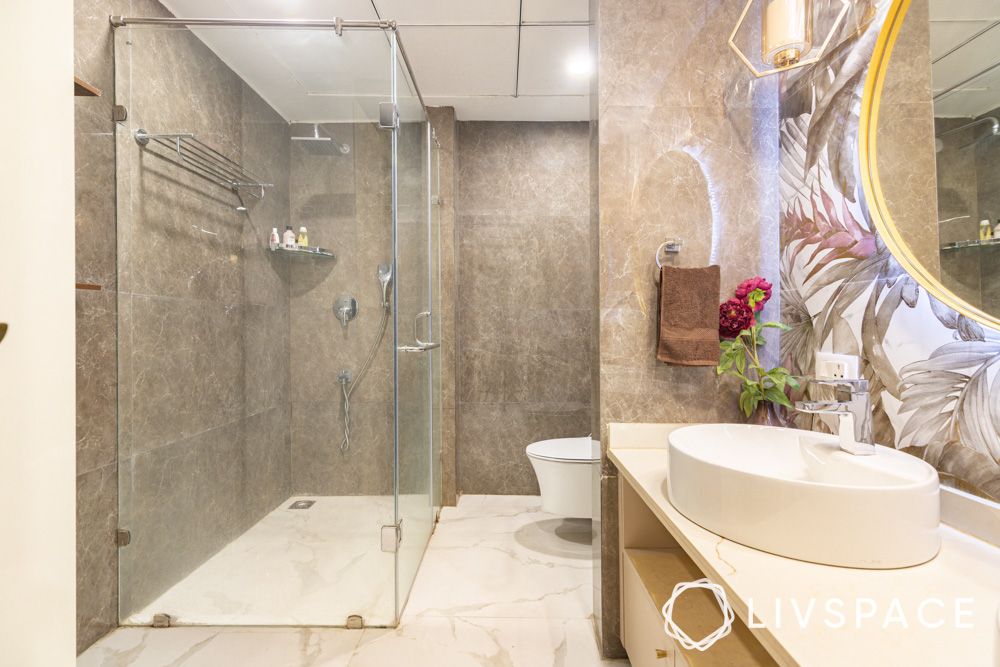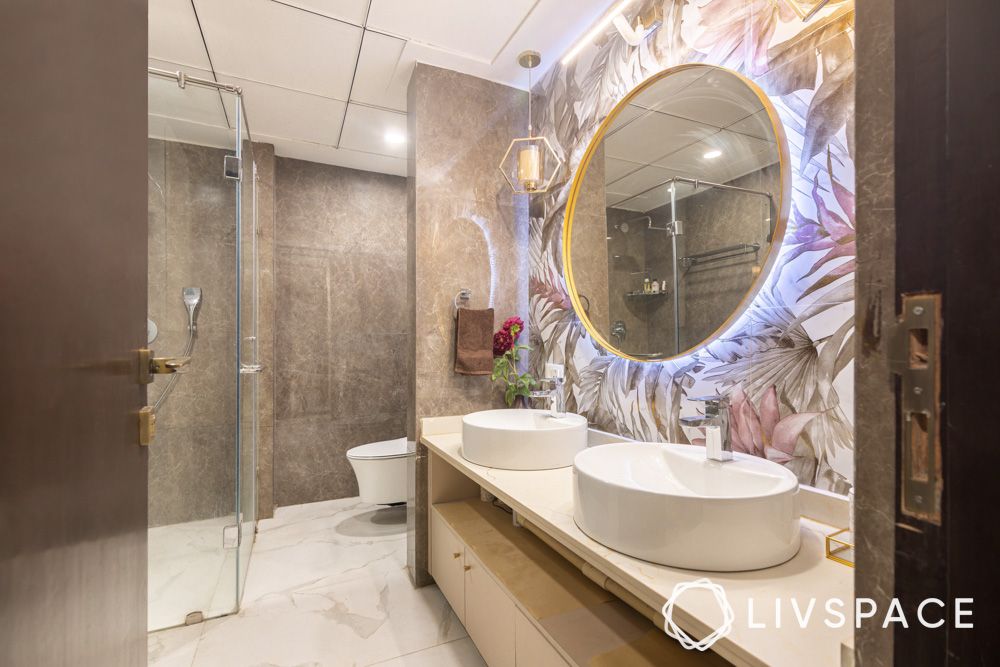 A luxurious bathroom with double washbasins for him and her can provide a spacious and functional environment for self-care. The twin washbasins, accompanied by a large mirror and ample lighting, provide an efficient and comfortable space for multiple users to prepare for their day.
The glass shower cubicle and hint of golden across the bathroom adds flourish and fantasy to the calm, modern space. The tropical print adds a sense of drama and transforms this space to an experience of serenity.
The Abode of Calm
This Gurgaon home designed with soothing colour shades can provide a haven from the stresses of daily life. Thereby, promoting relaxation and a peaceful state of mind. The use of high-quality materials and personal touches can elevate the space and provide a sense of opulence and luxury.
Incorporating functional and practical elements such as ample storage solutions, comfortable seating, and ambient lighting can also enhance the space's functionality and comfort.
How Can Livspace Help You?
With Livspace, you have access to a team of experienced and talented designers. They can work with you to create a customized and personalized design plan that meets your unique style, preferences, and budget. The platform offers a range of services, including design consultations, 3D rendering, project management, and installation. You can also find the perfect pieces for your home by browsing through products on the platform's online store.
Additionally, Livspace's technology-driven approach allows for efficient communication and collaboration. Thereby, ensuring that your design vision is brought to life with precision and care. Whether you're looking to renovate your existing home or design a new one, Livspace can help you create a beautiful and functional space that meets your needs and exceeds your expectations.
Book an online consultation with Livspace today. To know how our customers feel about working with us, check out these Livspace reviews for more details!