Bigger doesn't always mean better, especially when it comes to your floor space. While many of us lament the lack of space in our homes, we need to know that staying in a big home comes with its fair share of problems. Wondering how to design a large home? See what we did with the interiors of this 2,050 sq. ft. 3BHK in Hyderabad.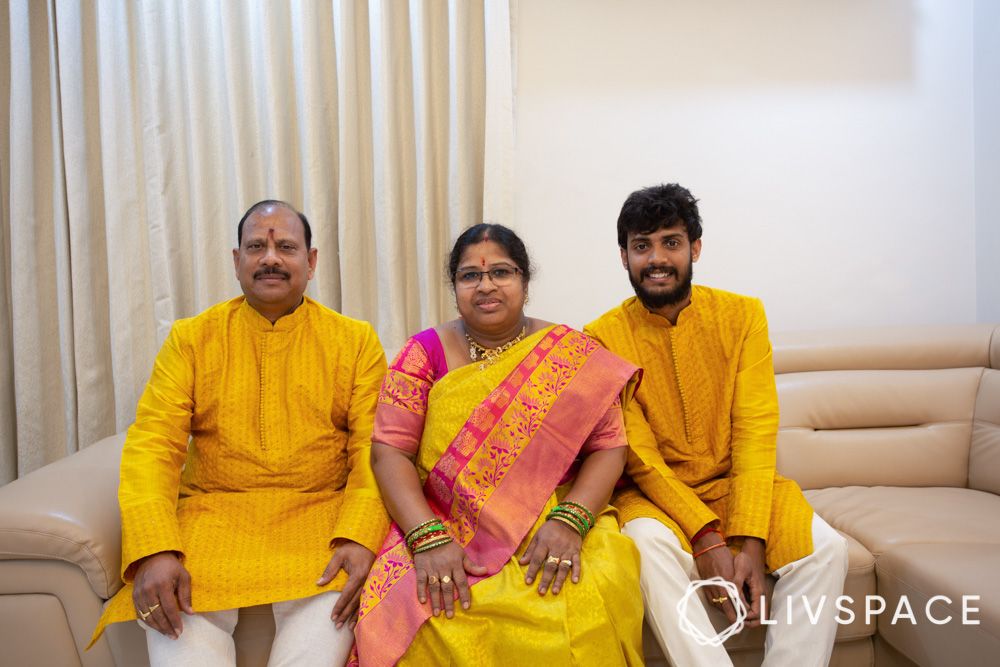 Venkat's 3BHK in Hyderabad is 2,050 sq. ft. and has two living rooms, an open kitchen, a connecting dining space and three large bedrooms. Our designer, Uday Kiran Rajeshuni, fully utilised the space, and even gave them a custom-made pooja room and a modular bar unit. Here is the full home tour of this spacious interior design with clever design tips that you can steal, no matter the size of your own home!
---
Who Livs here: Venkateswarlu Pola, his wife and their son
Location: Margdarshi Colony, Kothapet, Hyderabad
Size of home: A 3BHK spanning 2,050 sq. ft. approx.
Design team: Interior Designer Uday Kiran Rajeshuni
Livspace service: Full home design
Budget: ₹₹₹₹₹
---
IN A NUTSHELL


Brief
A spacious home with multiple rooms that needed to have warm and neutral-coloured interiors, while also being vastu-compliant

What We Loved
The layered lighting done in all rooms to give two different ambiances

Look Out For
– The custom designed pooja room with a back-lit panel
– The durable wall panelling in the drawing room to hide the column

Biggest Indulgence
The acrylic finish dual-tone kitchen with breakfast counter

Smart Buy
The glossy laminate-finished wardrobe in the guest bedroom



Uday Kiran, our designer, helped them plan the many spaces in this home while keeping in mind the vastu rules and the family's favourite colours as well. Here are some of the ideas he used to utilise the space cleverly so that the house, even though with an open plan, doesn't look oddly empty.
The Practical Living Rooms
There are two living rooms in this 3BHK and Venkat's family wanted each space to have its own distinct purpose. They decided to use the closed living room to host formal gatherings, and the open hall space for family hangouts. This meant that these rooms had to be designed differently, and here's how Uday worked it out.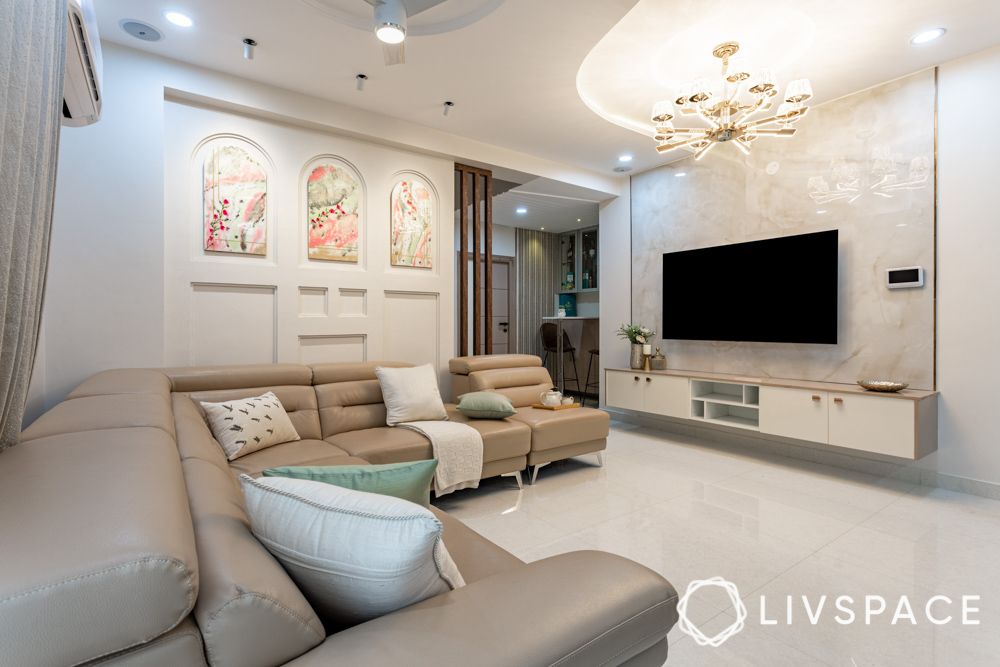 He designed these rooms in a way that they have different ambiances; one formal and the other informal. At the same time, our designer made sure that they maintained a coherent design language. He did this by keeping the layout of both the spaces similar (notice the L-shaped seating and the co-ordinated placement of the TV units).
His design is also consistent when it comes to the wall panelling and false ceiling. Both of these living rooms have these elements, but with different features. For example, the informal hall space has curvy POP ceiling and wall panelling, whereas the formal living room has a plywood wall panelling and gypsum ceiling with clean straight lines.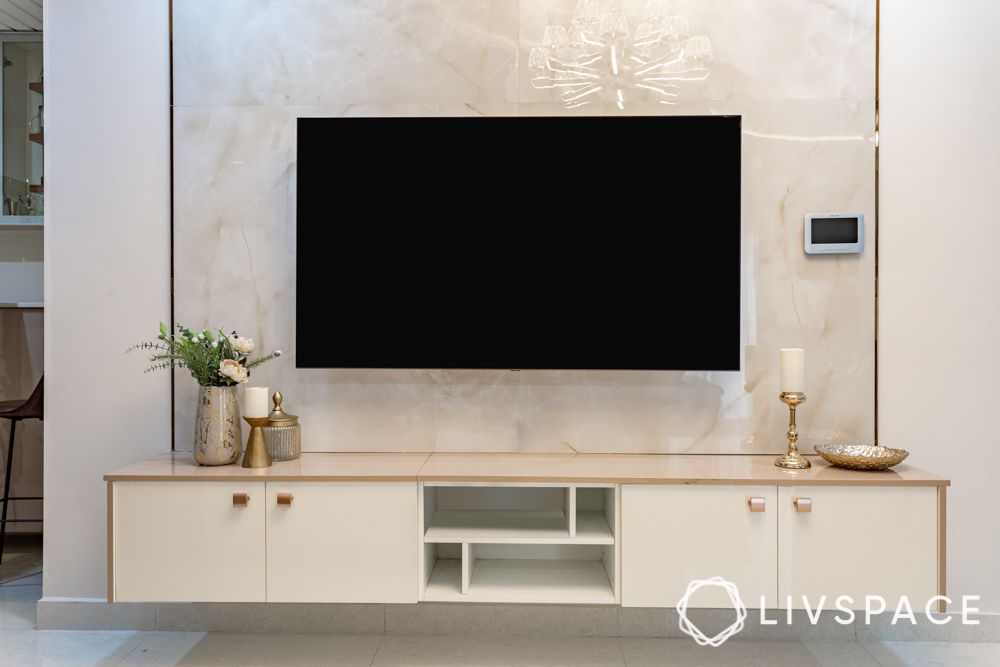 Despite the similar layout, each room is still distinctly different from each other. The colour theory still sets these rooms apart and gives them contrasting vibes that match the purpose and use of the spaces.
The Open Kitchen and Dining Areas
Large houses like this need a good interior design to connect its spaces and keep the users (in this case a small family of three) close and social. This is a common challenge faced by designers and more often than not, the solution is to hack and create an open floor plan. That is just what Uday did for this home.
He broke the wall that was separating the kitchen and dining area to open up the floor plan. He then added a breakfast counter so that the family could have informal social moments.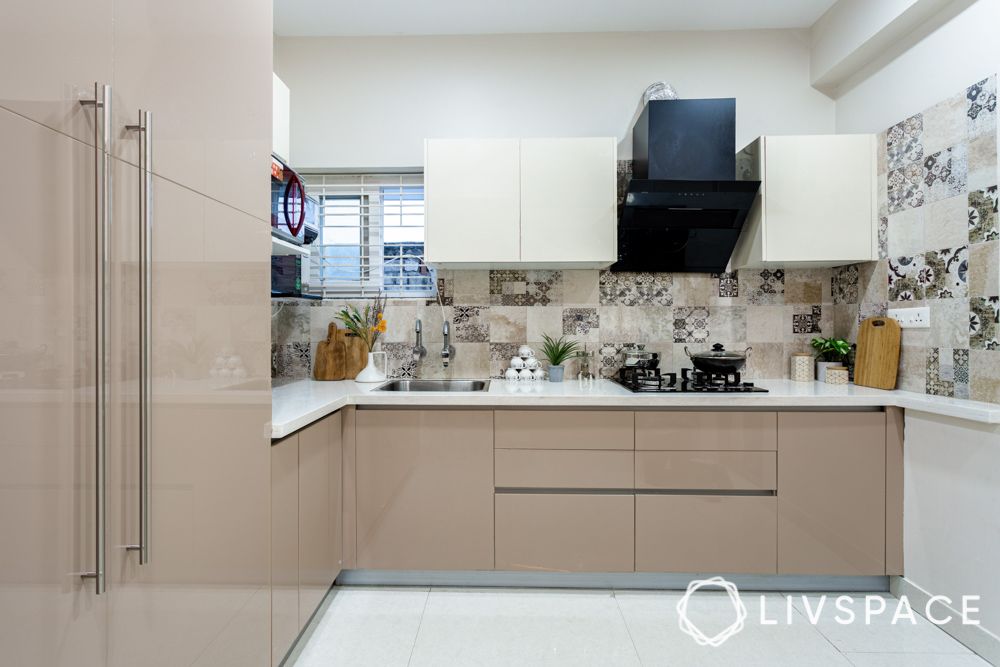 Since natural lighting can sometimes be insufficient in large homes, designer Uday used lacquered glass-finished modular systems to add storage in these areas. The reflective finish helps in enhancing the lighting and making the overall design appear luxurious.
The Large Vastu-Compliant Bedrooms
In the bedrooms of this Hyderabad home, Uday also had to make sure he provided a good lighting system that is sufficient throughout the room and doesn't leave any corner dark.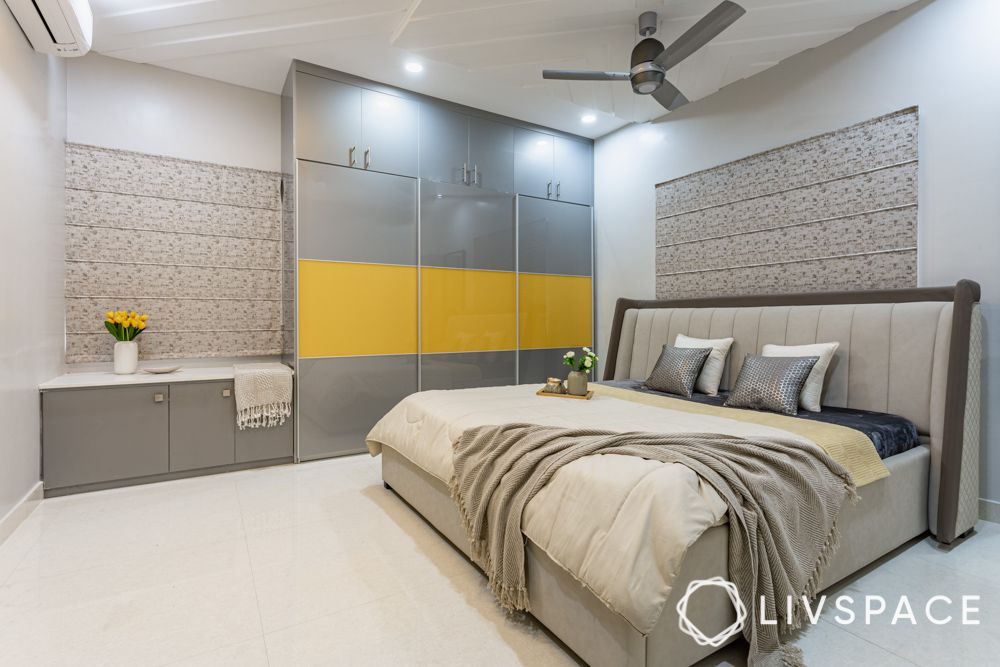 He came up with a layered lighting design that provides both warm and white lights to the rooms. The warm lights give off a soft ambience during the nights, whereas the white ones add a bright, focused illumination for doing tasks.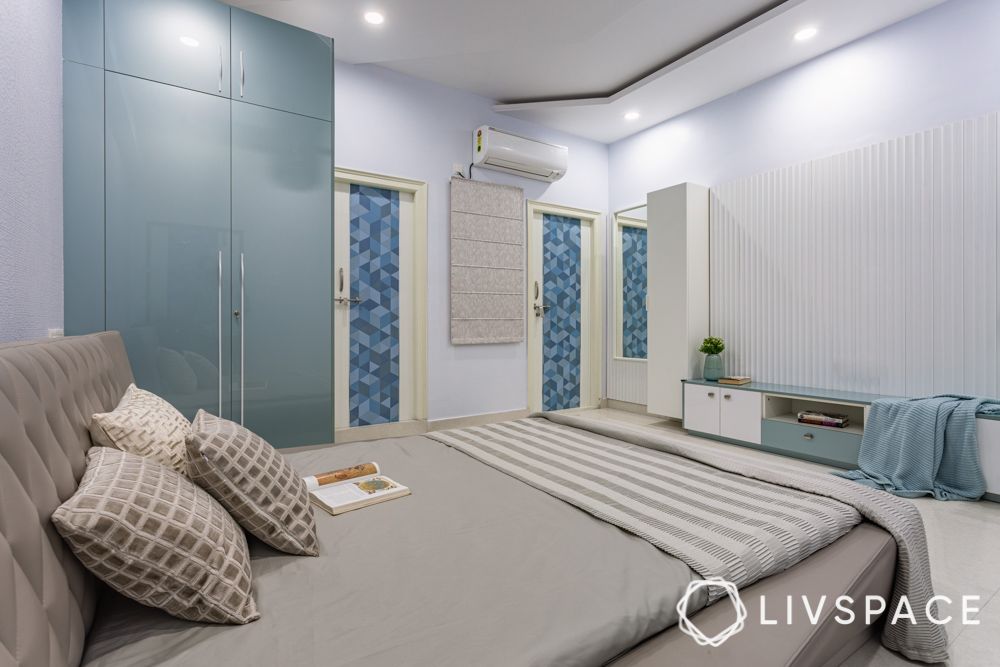 In the smaller bedroom, our designer made sure to fill up any awkward empty spaces. This makes the rooms appear cosier, while the use of printed wallpapers and textured TV unit panels help to ground the design further.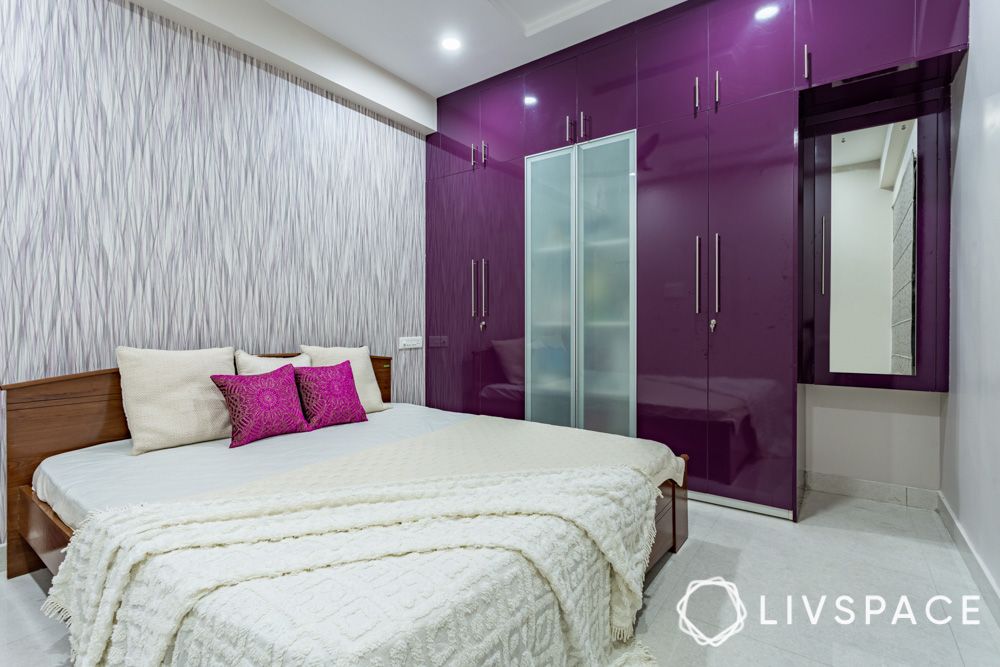 The guest bedroom has a striking purple colour, which is this family's favourite shade. This is a great way to personalise your large guest bedroom without adding many pictures and show pieces.
The Custom-Made Pooja Room Design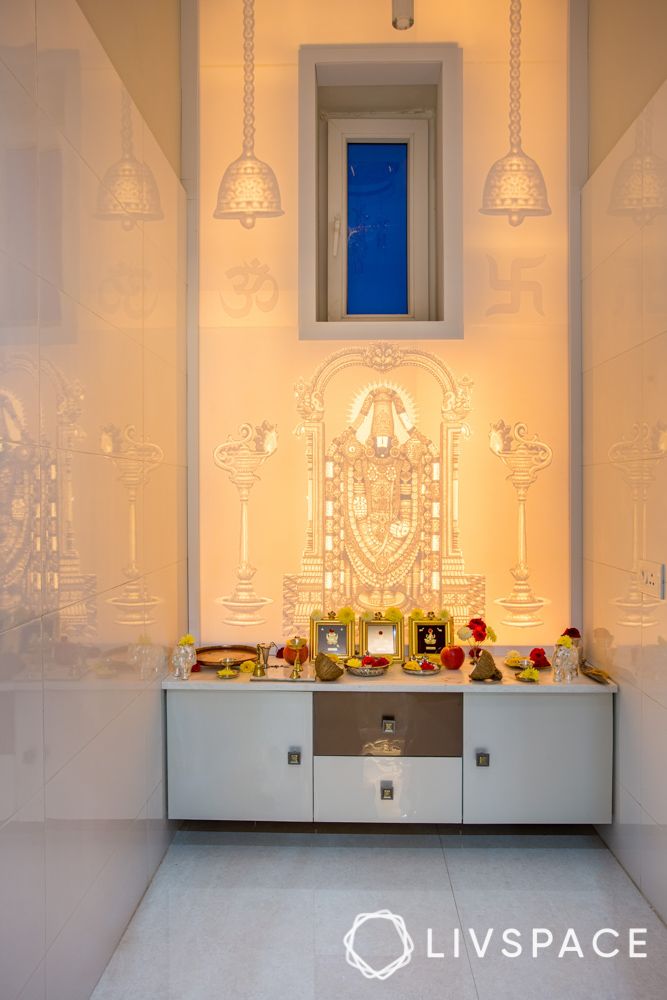 If you have a big home, you probably have space designated for worship. Since white is the most auspicious vastu colour for a pooja room, you can protect your white walls by laying tiles. Tiles are easier to maintain and their glossiness will make your room look more divine.
Venkat trusted Uday to do the interiors for his family home, and he even let the process take its time instead of rushing things. The result is this beautiful spacious design that gives each member their cosy private space but also brings them together in the common areas.
Our efforts in creating your homes, big or small, are equal and it shows. If you want to see more such homes, then read about this stunning Eros Kenwood 4BHK that was turned into a spacious 3BHK after this contemporary renovation in Faridabad.
How Can Livspace Help You?
If you want your home to be just as beautiful, then look no further. Book an online consultation with Livspace today.
We love hearing from you! Write to us with your comments and suggestions at editor@livspace.com
Disclaimer: All contents of the story are specific to the time of publication. Mentions of costs, budget, materials, finishes, and products from the Livspace catalogue can vary with reference to current rates. Talk to our designer for more details on pricing and availability.