Generally, moving into a new home means a fresh start for most homeowners. They are ready for an ultimate comfort space with their well-thought-out plans that are sensitive to their real-time needs. For Prerna Koul, this meant that her new Eros Kenwood 4BHK renovation in Faridabad should be designed to look perfect during the day and also at night. And for this, she wanted to capitalise on natural lighting, ventilation and a suitable artificial lighting strategy to create the right ambience. With all of this in her mind, she trusted Bhanu Mittal, a Livspace designer, to understand her needs and deliver her dream home interiors.
---
Who Livs here: Prerna Koul, her husband and their son
Location: Eros Kenwood Towers, Charmwood Village, Faridabad
Size of home: A 4BHK spanning 1,800 sq. ft. approximately
Design team: Interior Designer Bhanu Mittal and Project Manager Darain Saifi
Livspace service: Full home design
Budget: ₹₹₹₹₹
---
IN A NUTSHELL


Brief
To convert a 4BHK into a 3BHK by demolishing one of the rooms to extend the kitchen. A contemporary and vibrant interior design with good lighting and ventilation

What We Loved
The new informal lounge with breakfast counter created by demolishing one of the rooms

Look Out for
– Vastu-compliant treatments around the house
– Golden brass accents to uplift the appearance of the rooms
– The Moroccan floor tiles in the kitchen

Biggest Indulgence
The L-shaped modular kitchen with ceramic backsplash tiles laid in brick pattern

Smart Buy
The Livspace catalogue wallpapers used for accent walls in the room


The first challenge at hand, for Bhanu, was breaking down one of the 4 rooms and a bathroom to make this 4BHK into a spacious 3BHK. Prerna and her family required only 3 rooms and could use an informal lounge with a breakfast counter as their family room.
So, one of the smaller rooms attached to the kitchen was broken down to create this lounge area. Here's what happened next:
The Living Room in This Eros Kenwood 4BHK Renovation in Faridabad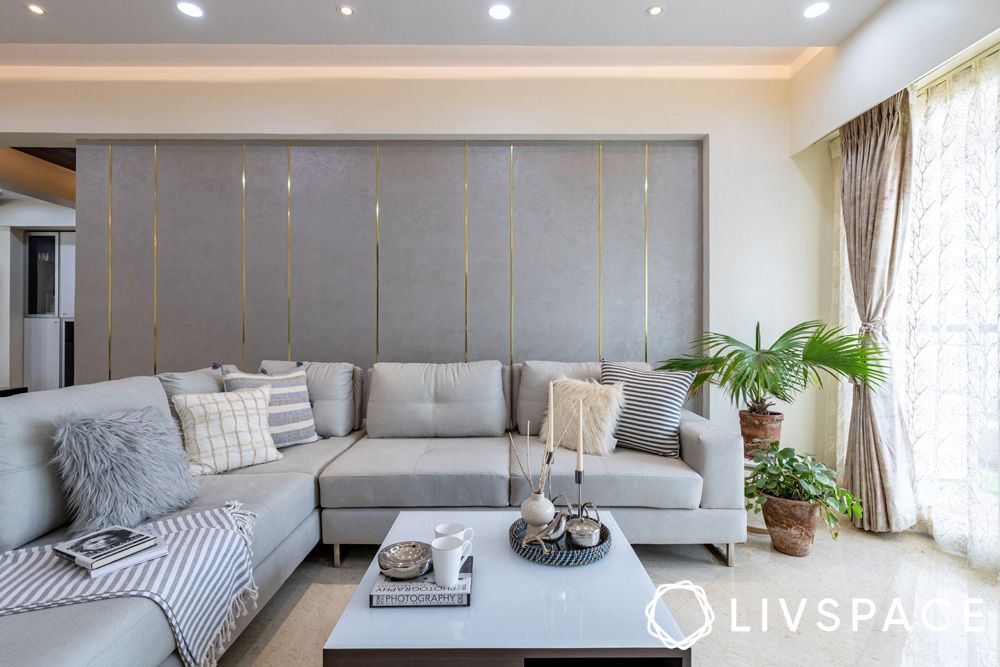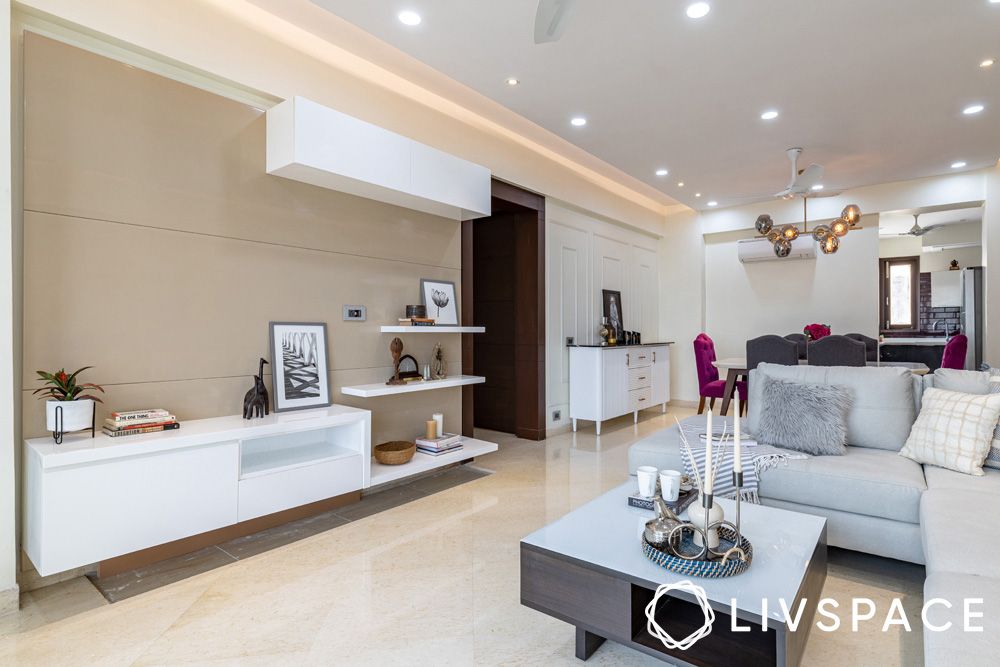 Apart from clever colours and lighting that are at play in this contemporary living room, there are other rich, complementary elements like the premium finishes, to make this space stylish.
Take the accent wall behind the sofa, for example. It has a stucco concrete finish with brass trims attached to it. This backdrop puts you in awe the instant you lay your eyes on it.
Also, the entire TV unit has a PU finish which is relatively expensive but highly durable. It is resistant to wear, tear and moisture, and easy to maintain. You can clean it with a damp cloth and a little soap or detergent. However, avoid any alcohol or ammonia-based cleaners unless you are trying to remove a stubborn stain.
The Dining Room of This Luxurious 4BHK Renovation in Faridabad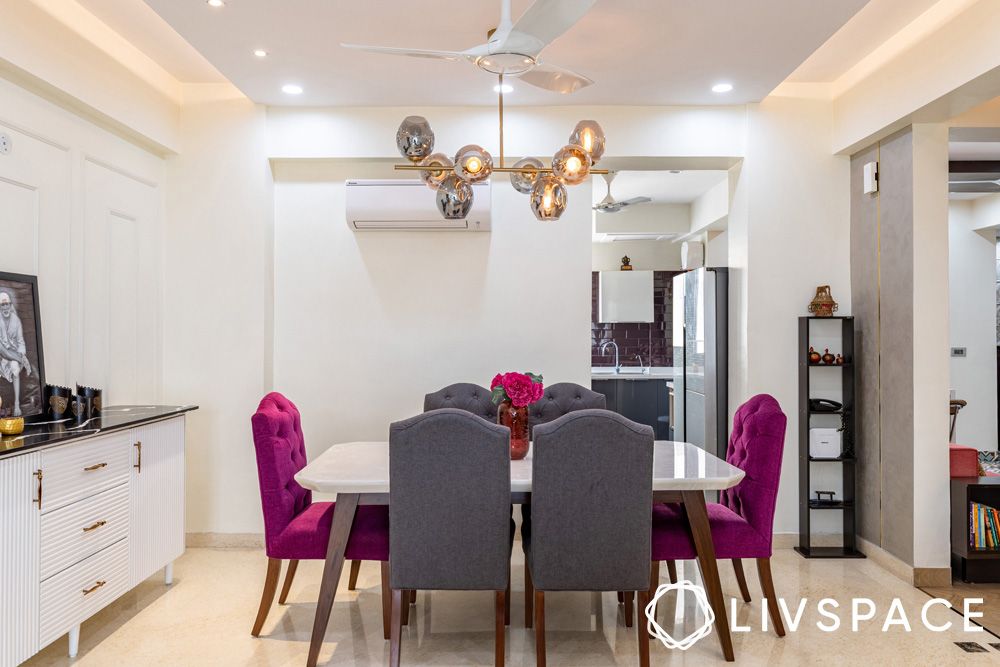 The neutral colour theme continues in the dining room via the ceiling and lighting design, except for the hot magenta chairs that break the monotony. These chairs also help in uplifting the vibe of the dining space by making it more welcoming and fun.
The Kitchen in This 4BHK Renovation for Eros Kenwood Towers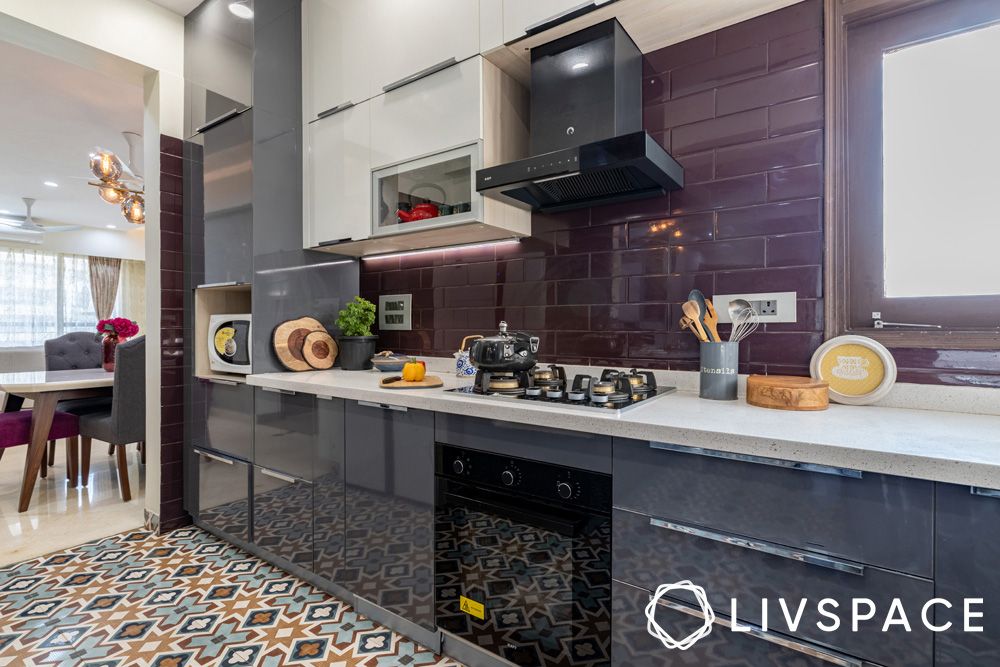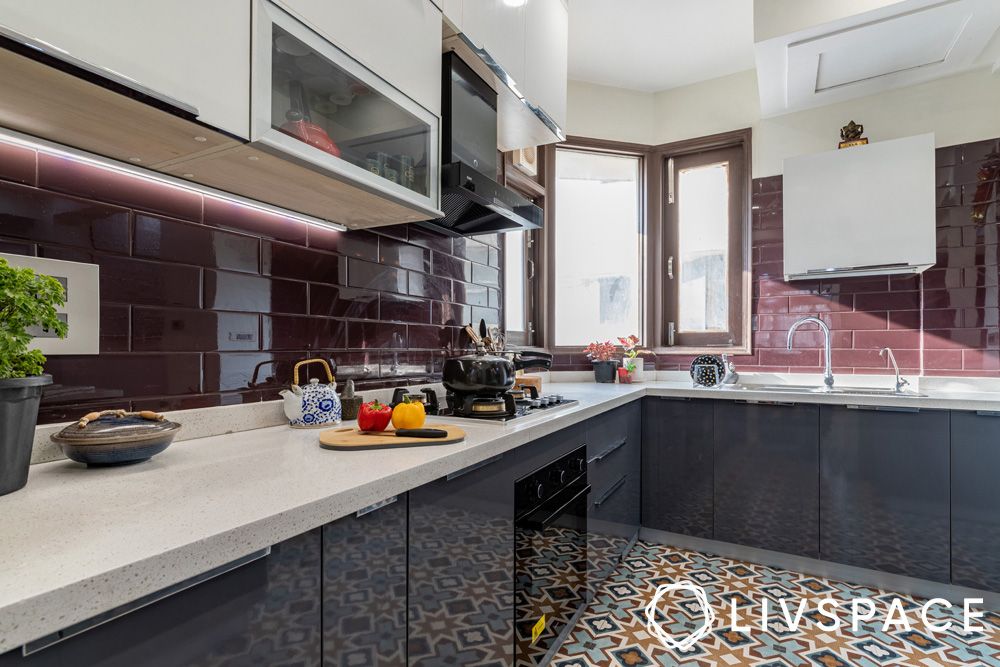 The kitchen is designed keeping in mind that the user's experience in it must be seamless and easy. Since Prerna's help will also be using it quite often, the finishes are all economical laminates. Additionally, the quartz countertop and the deep magenta vitrified tiles (laid in a brick pattern) can also withstand careless/rough usage.
Similarly, the flooring is redone with colourful Moroccan tiles that also help in keeping this place low-maintenance. Your floor ends up looking quite dirty after a round of cooking, and a floor like this can help you hide the mess in the plain sight of your visitors.
The Cosy Lounge Room for the Family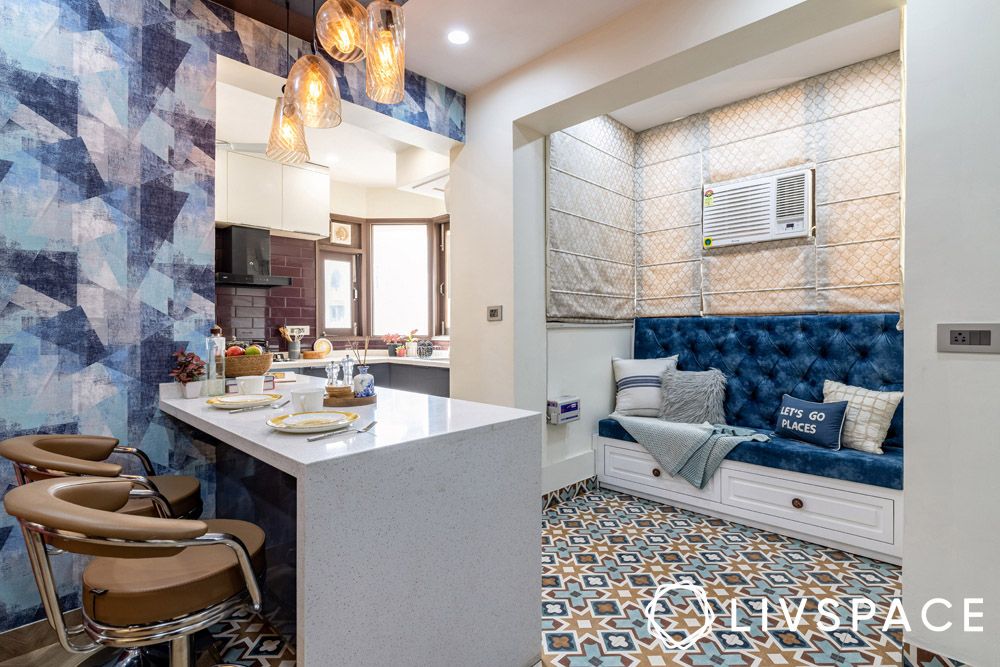 Prerna lives with her husband and her son in this flat and she needed a space for her nuclear family to spend some quality time together. So, one of the main objectives of this Eros Kenwood 4BHK renovation in Faridabad was to create a fun, cosy and flexible space where the family could do more than one thing together.
The same, fun Moroccan tiles used in the kitchen can be seen in this area along with a blue colour theme to induce a sense of relaxation. This is also a good time to mention that using wallpapers, instead of texture paint, is more beneficial to you when you're on a budget.
The Bedrooms in This Eros Kenwood 4BHK Renovation in Faridabad
Bhanu had to tear down a lot of old walls to make them spacious. The previous homeowner had rebuilt the walls to make the balconies more spacious. In order to add wooden flooring, Bhanu had to undo this work. Once the rooms were made spacious, especially the master and the kid's bedroom, Bhanu used vastu-compliant colour schemes in this 4BHK renovation for Eros Kenwood Towers.
The Master Bedroom of This Eros Kenwood 4BHK Renovation in Faridabad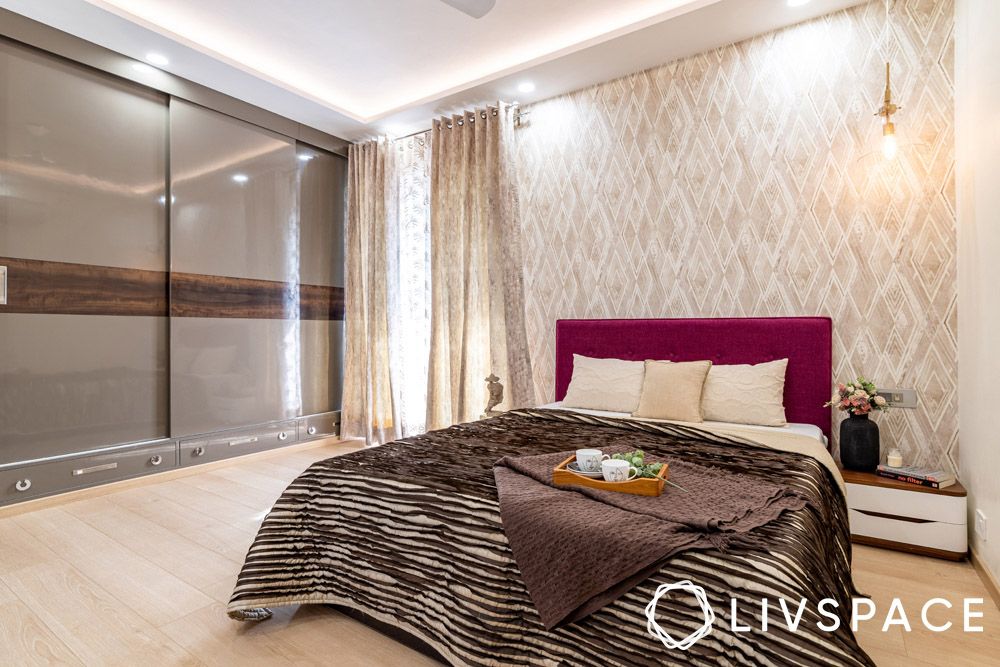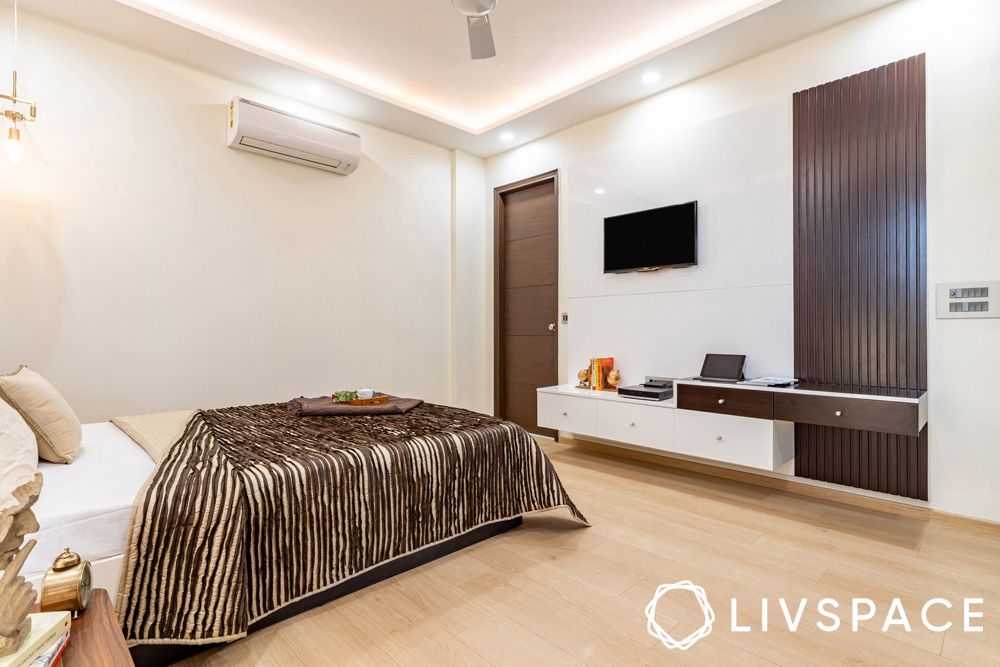 Unlike most of the home that has a neutral colour theme, warm palettes take over this room. The pink headboard is a vastu-compliant addition that the family followed.
Additionally, there is a tall sliding door wardrobe that covers the loft as well. Bhanu was aware that a loft in this room that had a false ceiling would make the room height seem disproportionate to the length and width of the room. As such, the tall wardrobe makes the ceiling look higher.
The Kid's Bedroom in This 4BHK Renovation for Eros Kenwood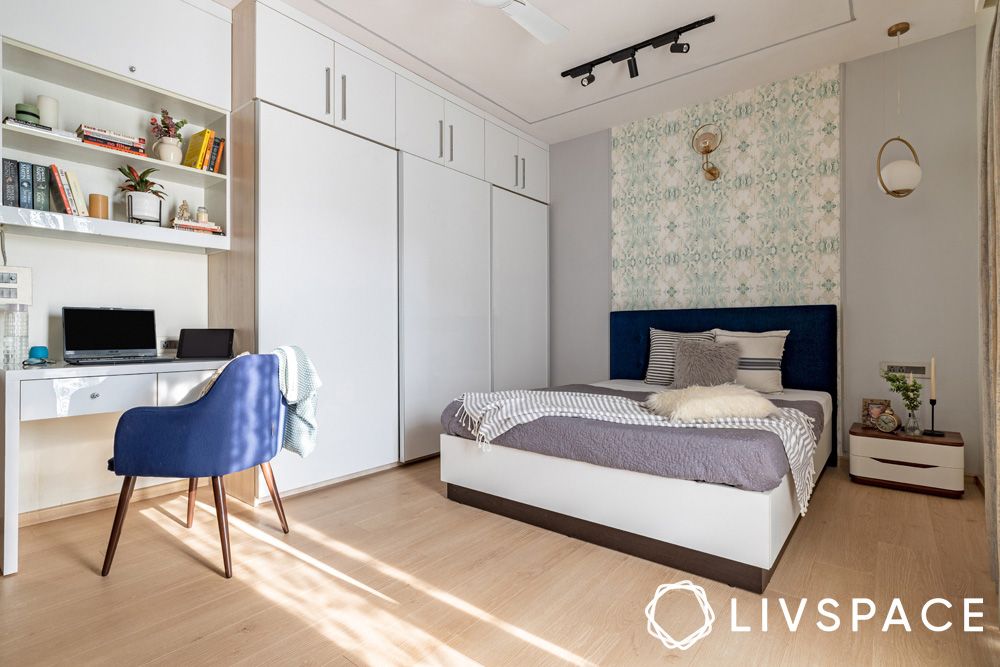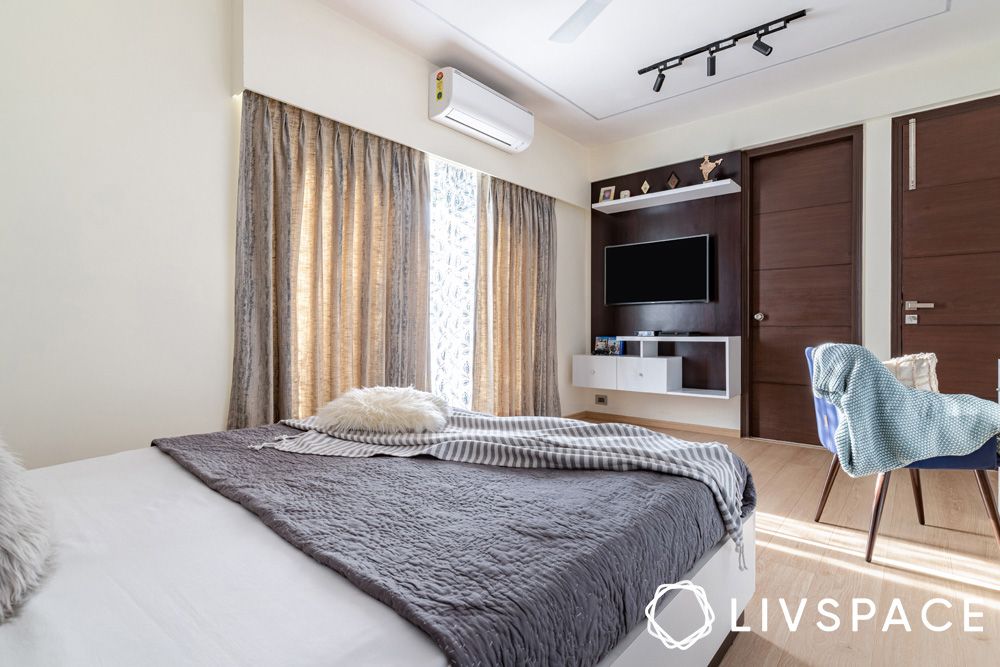 The son's room is deliberately kept bright and airy. Bhanu even avoided making a false ceiling in this room for this reason. Instead, she added track lights to highlight the design elements of this Eros Kenwood 4BHK renovation in Faridabad. In addition to this, she also pushed all the furniture like the study table and the wardrobe to one wall to create more free space in the middle.
The Parents' Bedroom in This Eros Kenwood Towers 4BHK Renovation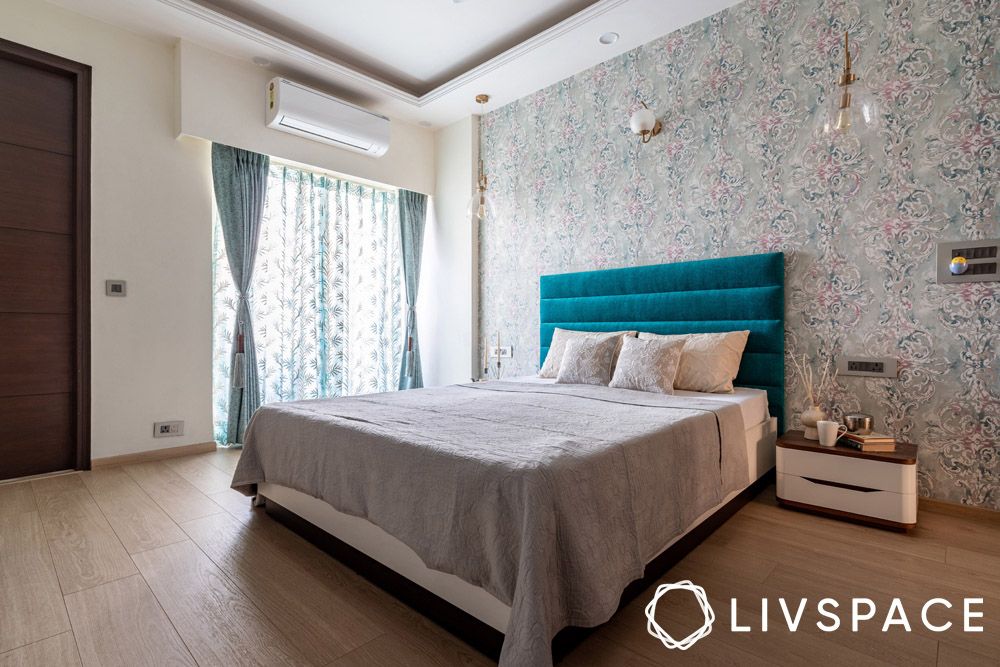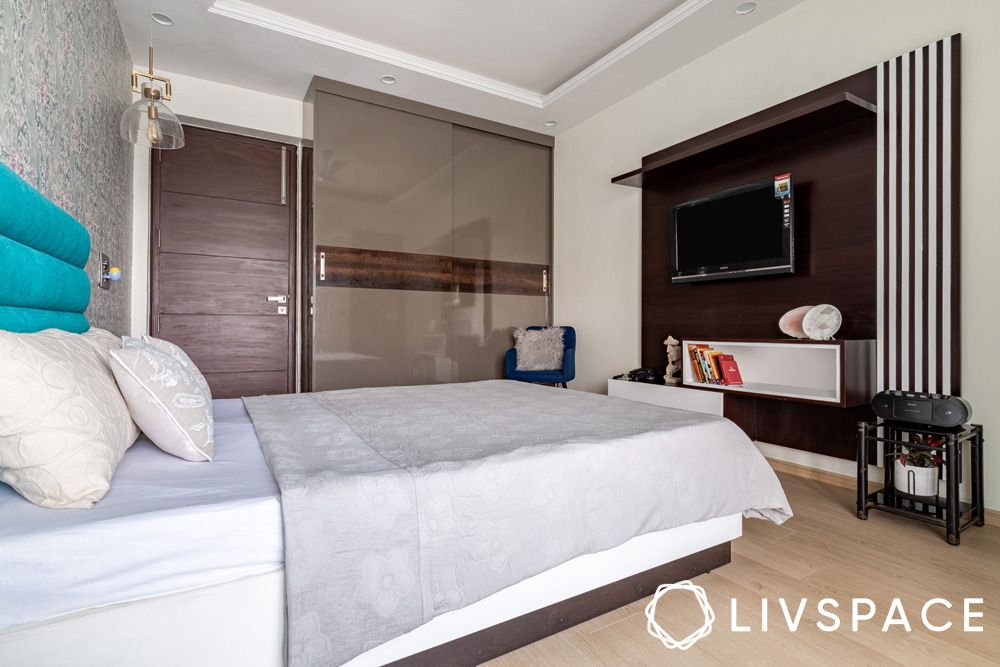 The parents' bedroom has a minimal layout that is quintessential to any Indian bedroom. The colours in this room are also cool and light to enhance the natural light flowing into this room. However, Bhanu made an elaborate TV unit design so that the room doesn't look entirely bare and empty.
We hope you liked the smart strategies that Bhanu has utilised in designing this Eros Kenwood 4BHK renovation in Faridabad. If so, you might enjoy reading about more such clever designs in this home tour: 3 Transitional Designs to Explore From This Drawing-cum-Dining Room Interior Design in Faridabad.
How Can Livspace Help You?
If you want your home to be just as beautiful, then look no further. Book an online consultation with Livspace today.
We love hearing from you! Write to us with your comments and suggestions at editor@livspace.com