Pretty, whimsical and dreamy – pastel shades are a sight to behold! Gone are the days when you could only see pastels in baby rooms. Now, pastels have taken the world by storm! From the world of fashion to interior design, pastels are a favourite amongst all! No wonder Livspace designer Sahil Gore decided to go with a pastel theme for Varun and Nidhi Anand's sprawling 4BHK in Gurgaon. With a plethora of striking shades, this budget home is a stunning example of how pastels can transform your interiors. But how did he get this soothing shade right?
The secret to a beautiful home design is balance. Every colour, design and aspect of the house has to be in symmetry. For instance, if you want a pastel-themed home, adding pastels in every corner will make your home look like an ice-cream! Using pastel colours for a stunning home interior is an art – and we are here to help you master it!
#1: Opt for Pastel Furniture With Neutral Walls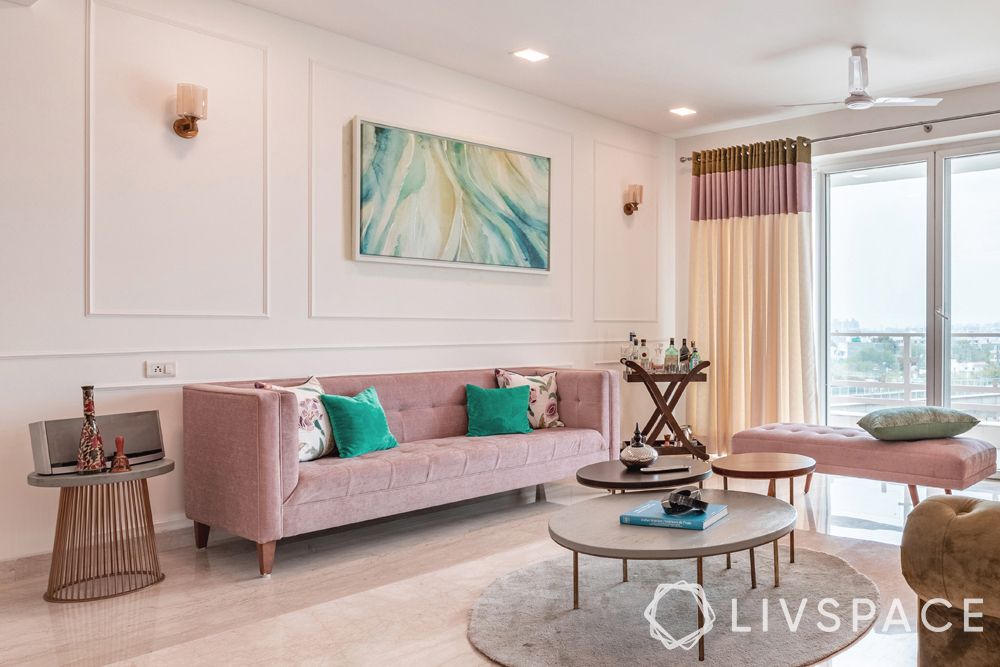 The easiest way to add a pastel touch to your home is with the help of your furniture. Be it sofas, chairs or beds — pastel shades look great everywhere! But be sure that you keep it subtle. Instead of going all pastel, why not opt for neutral walls? This will go perfectly with the pastel palette! You can add a dash of colour like teal or blue for a pop.
How to Get the Look?
For a classy Victorian look, get a fabric sofa and Zuri daybed in a delicate, dusty pink colour. Throw in some pillows in bright colours like teal for a pop. Add wall trims to neutral walls for some old-world drama. Complete the look with wall décors like artwork and statement lights. 

#2: Pops of Darker Tones to Keep Things Balanced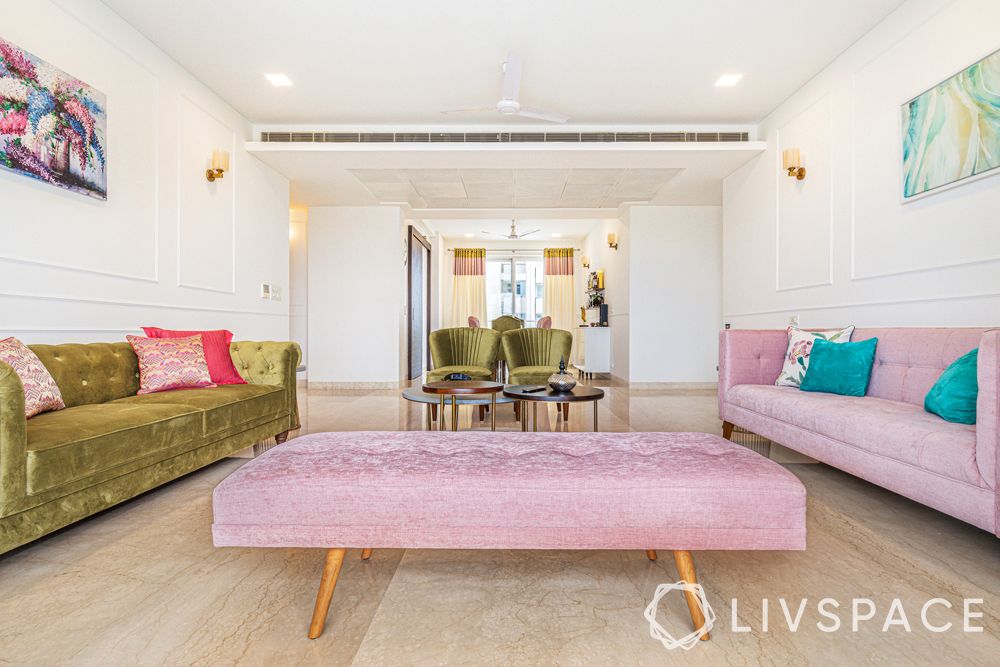 An all-pastel look is great if you are designing a baby room. But for a formal area like the living room, it can prove to be too much. So, to keep things balanced, add some darker tones. You can either go for a pop look with contrasting shades or a seamless look with darker colours of the pastel family.
How to Get the Look?
Ever heard of a more unique combination than dusty pink and olive green? But don't they look divine together?! Mix up your pastel furniture with deeper colours like green and blue. If you want all your furniture to follow the same colour combination, use pillows in contrasting dark colours.
#3: Offset a Complete Pastel Room With Wooden Flooring and Furniture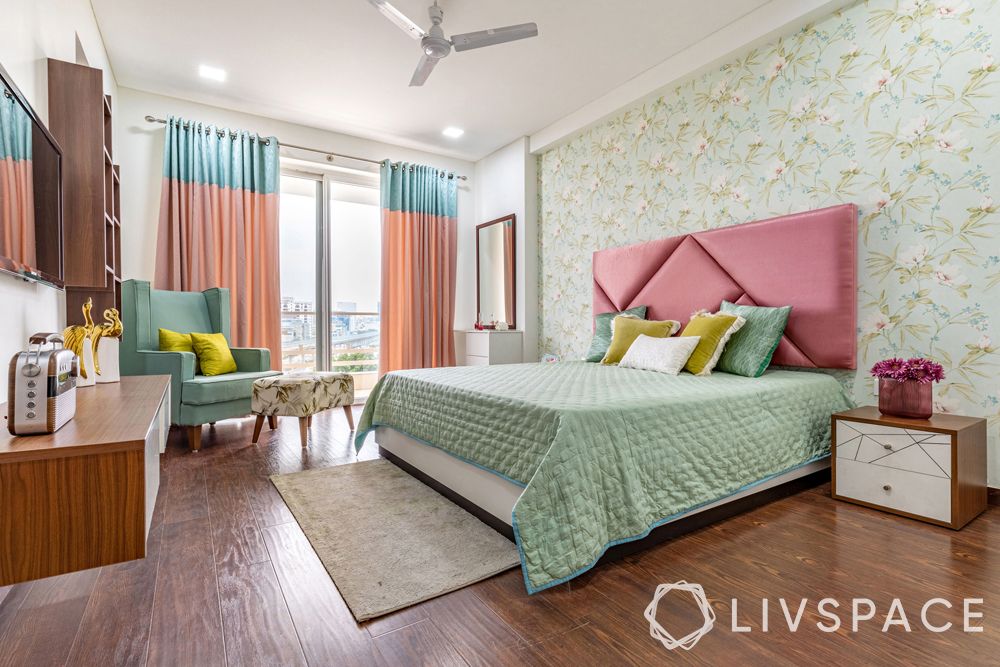 While it's always good to mix-and-match, let's accept it – some of us are just a little bit extra! Nothing is stopping you from going all out pastel! From pastel furnishings to wallpaper, a complete pastel-themed room need not look childish – provided you don't forget the first rule of interior design – balance. Always keep some elements in your room that give a break from the pastel look.
How to Get the Look?
How lovely is this whimsical bedroom done up in pretty pastel shades? From the soothing bed and headboard colours to the floral wallpaper, everything in this room is striking! But the best part is how the designer kept the room balanced with wooden flooring and furniture. The wood-like laminate TV unit, wall mounted storage shelf and side tables add a break in the sea of mint green and dusty pink.
#4: Pastel furnishings can be plush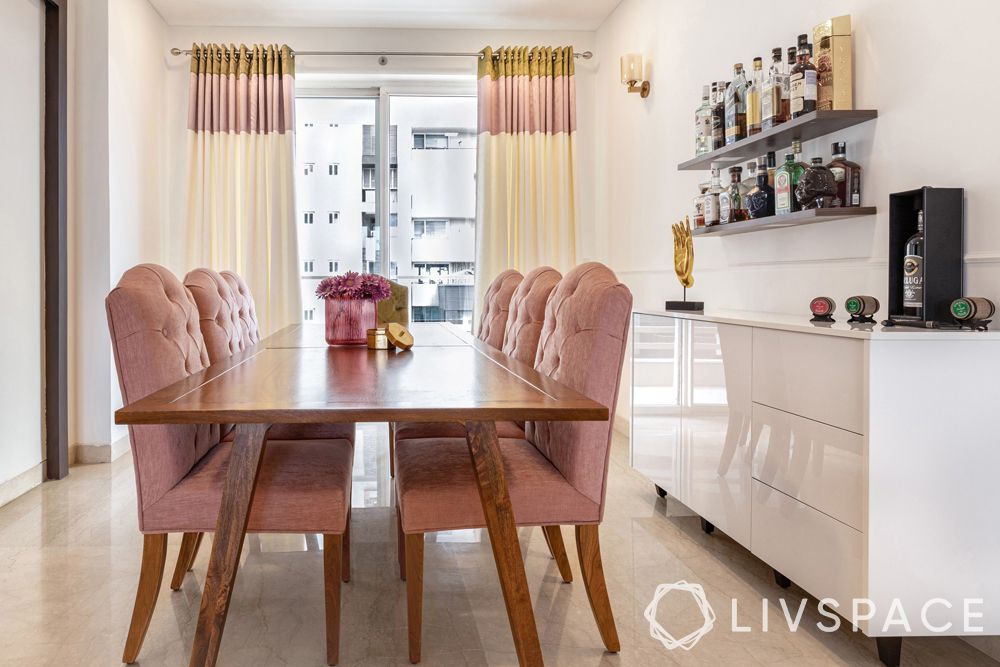 And finally, the furnishings! If you want a pastel look for your home but don't want to take the extra effort, furnishings will come to your rescue! Furnishings like curtains, bedsheets etc are easy to buy and do not require you to change the entire design of a room. This is especially useful for people living in furnished rental homes where they do not have the option to change the walls, flooring or furniture.
How to Get the Look?
This look is pretty simple to get – just choose your favourite pastel shades and go shopping for furnishings. Start with the curtains as they are the easiest to select. Love the dusty pink chairs but do not have the bandwidth to buy them? Not a problem! All you need are some chair covers in pastel colours that match your room décor. 
When it comes to home interiors, pastel shades are a reliable option that looks stunning in all homes. Getting the look right isn't difficult – all you need to do is keep things balanced while having fun! Looking for more tips on using pastel? Here are 7 different ways to use pastel in décor.
Check out this 3BHK renovation in Gurgaon:
We love hearing from you! Write to us with your comments and suggestions at editor@livspace.com