Designing a sprawling 3,000 sq. ft. 4BHK within eight weeks and on a budget seems like an impossible task, doesn't it? Not for Livspace! Our designer Sahil Gore proved that true beauty requires neither a big budget nor a lot of time; all it needs is the expertise of an efficient designer.
---
Who livs here: Varun and Nidhi Anand
Location: Gurgaon
Size of the home: A 4BHK spanning 3,000 sq. ft.
Design team: Interior Designer Sahil Gore and Project Manager Bharat Narula
Livspace service: Full home design
Budget: ₹₹₹₹₹
---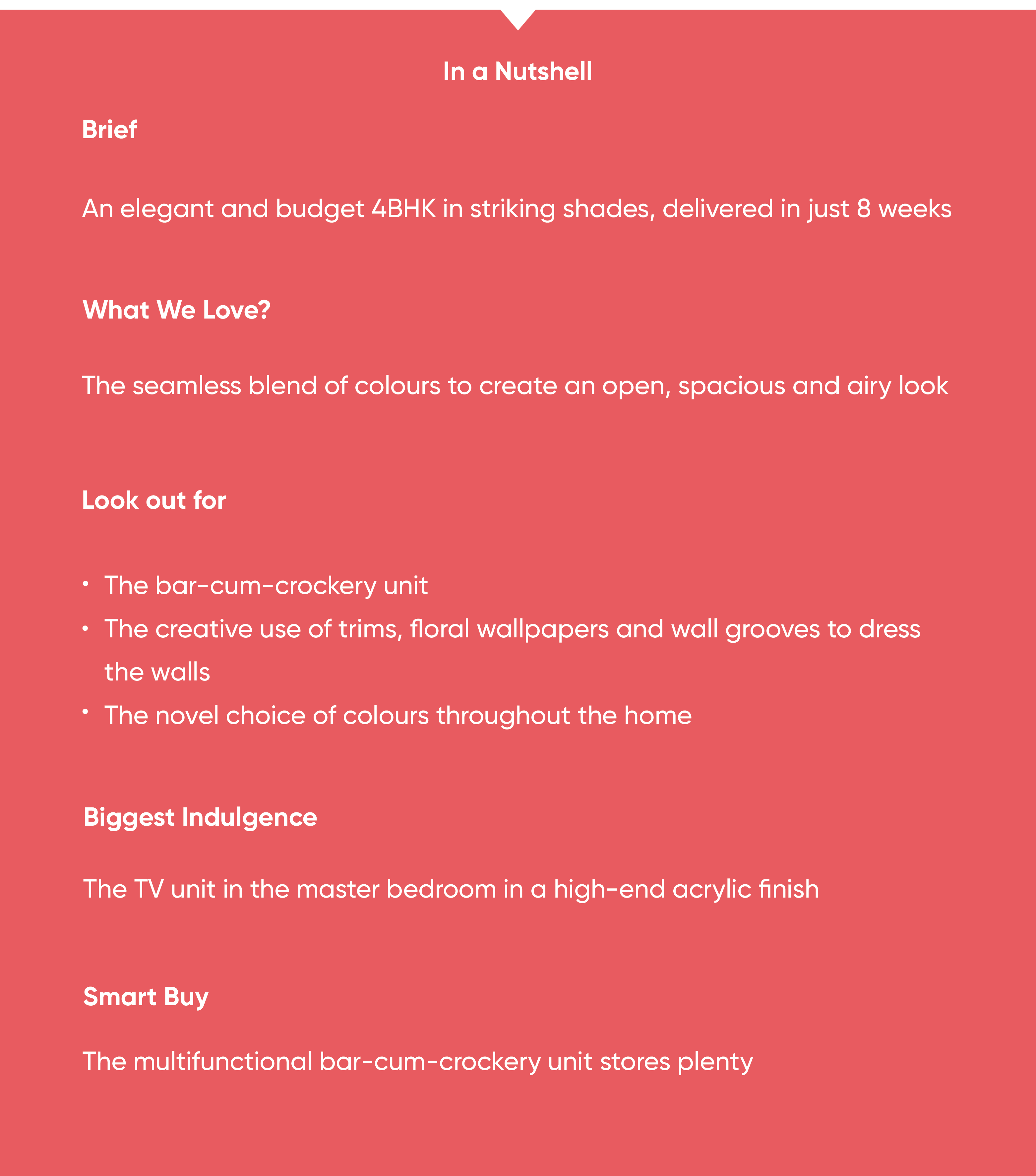 Varun and Nidhi Anand were the ideal clients — easygoing and open to creative ideas. All they wanted was an elegant and clutter-free space that they could call 'HOME'! But at the same time, they had time constraints and a limited budget. With the help of Sahil's design acumen and some stunning furniture and décor pieces from the Livspace catalogue, we designed and delivered the Anands' dream home! Take the tour!
#1: A Play of Shades in the Living Room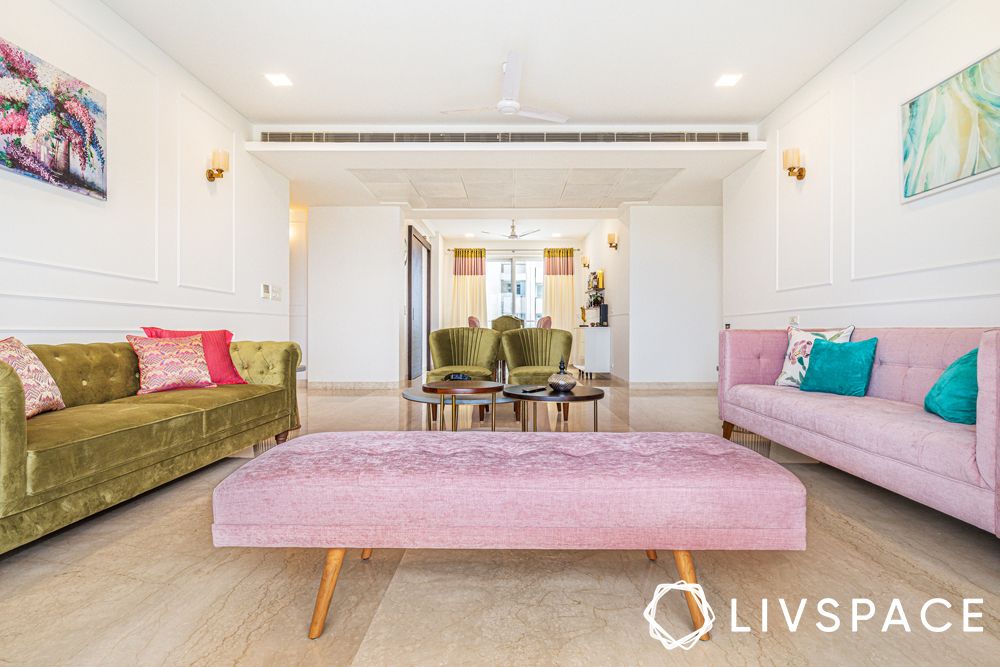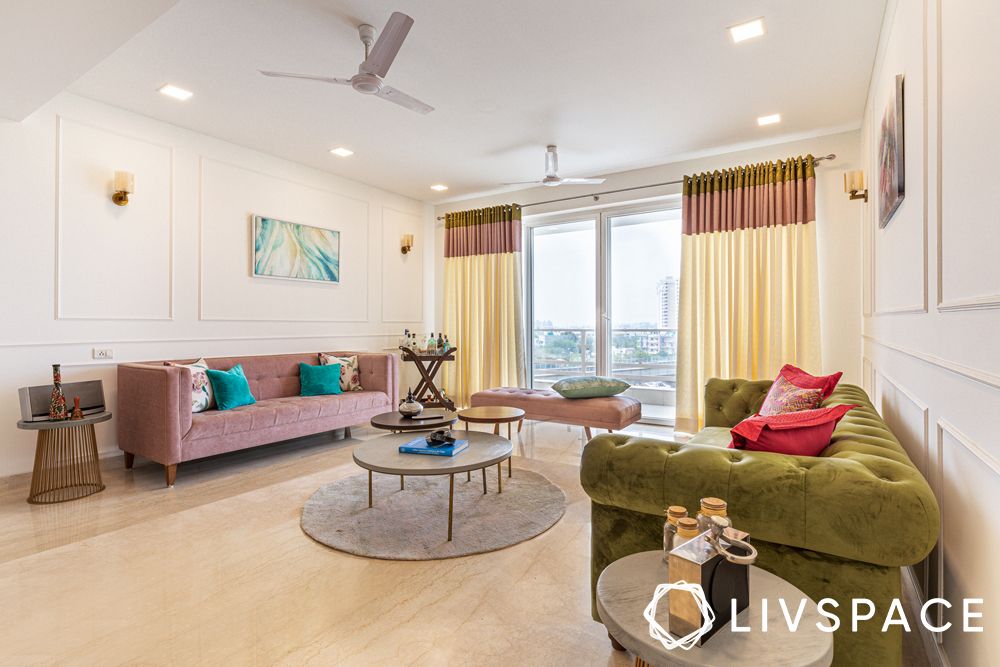 The Anands' living room had a gorgeous view of the Golf Course Road. Not wanting to take away from this view or the natural brightness in the home, Sahil opted for light pastel shades in the living room of this 4BHK. In line with this, Sahil placed a dusty pink Zuri bench in front of the floor-length window to ensure that the Anands and their guests could enjoy an uninterrupted view of the Golf Course Road.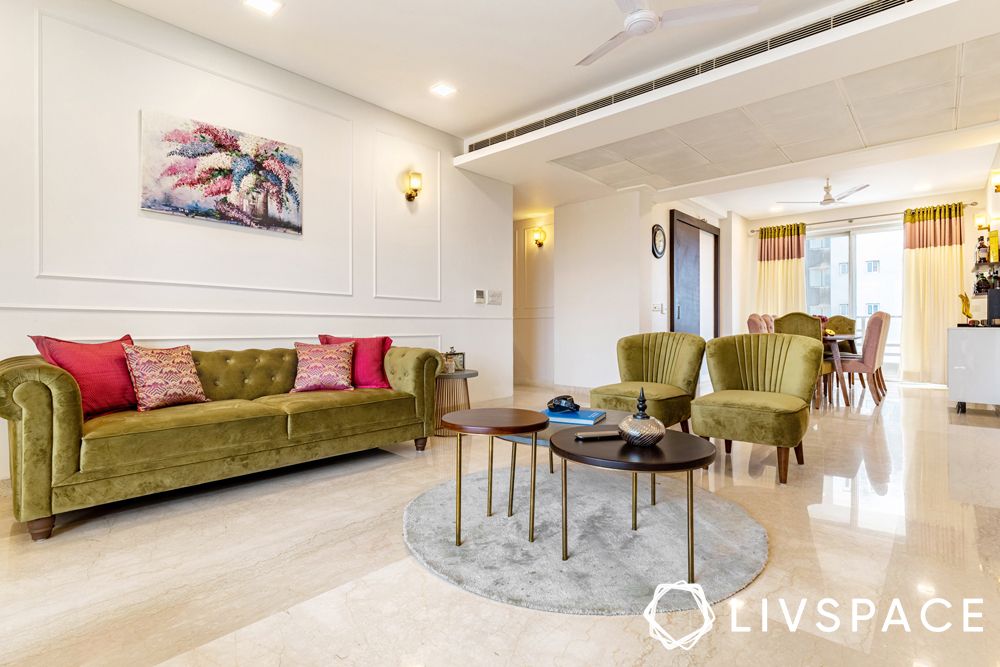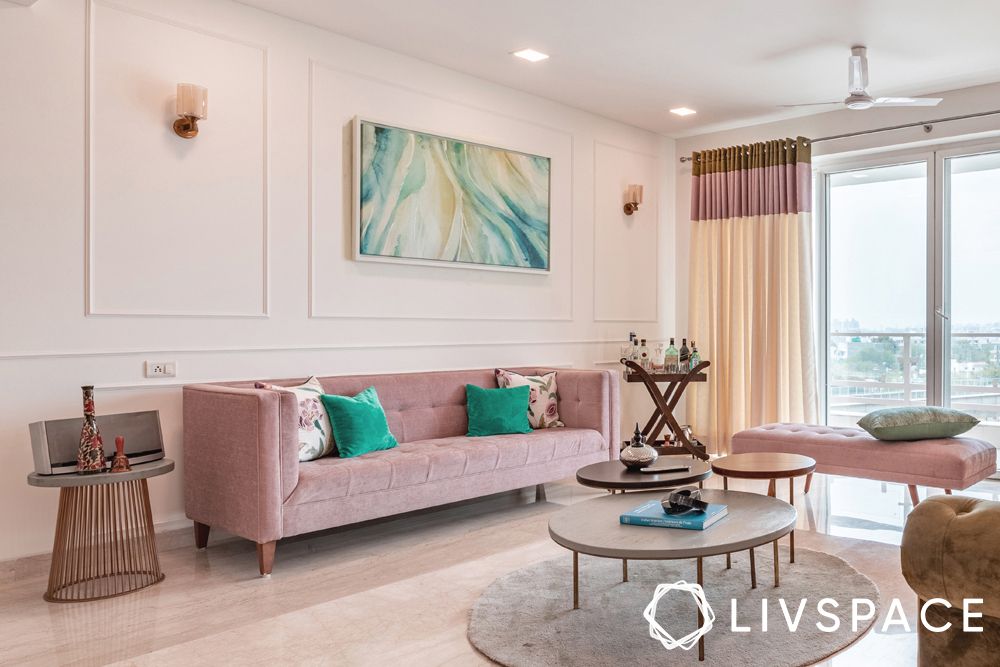 One of the primary challenges that Sahil faced was the time constraint. Keeping this in mind, he had to consider a basic theme while making a statement. Hence, his decision to create simple wall trims does not take much time to create and adds some Victorian drama to this room.

What we love: The unusual colour combination of dusty pinks and olive.
#2: A Touch of Sophistication in the Dining Room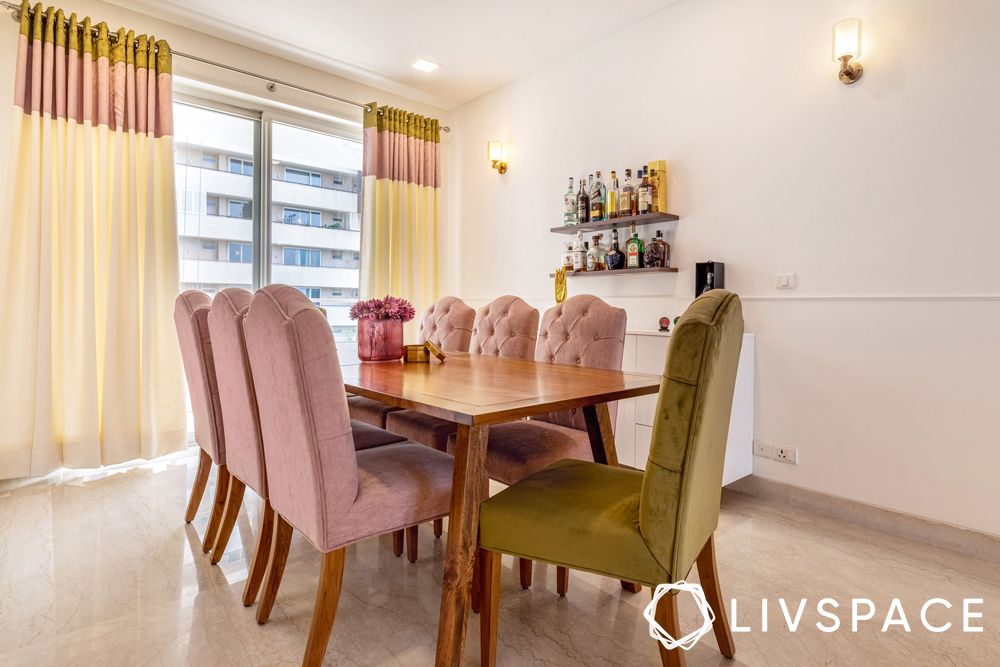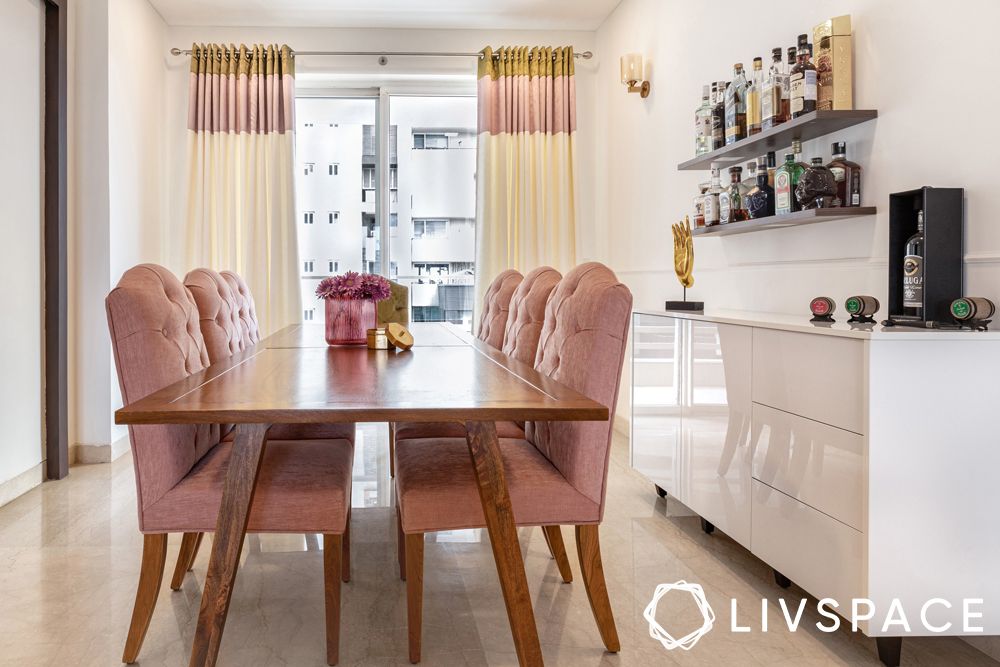 The dining room in this 4BHK is a seamless continuation of the living area with the same play of shades. The Anands were clear that they wanted a dining set that could comfortably seat all their guests. This spacious eight-seater dining set in solid wood was the obvious choice. Also, notice the highlight of this room — the bar-cum-crockery unit. Varun Anand wanted a minimal and elegant bar unit to display his bottles; something that was not at all gaudy. Sahil chose a simple bar unit with sleek lines that came with storage for crockeries. The acrylic finish of the unit ensured a glossy and premium look.
What we love: The coordinated and balanced look.
#3: A Master Bedroom That is Bold and Beautiful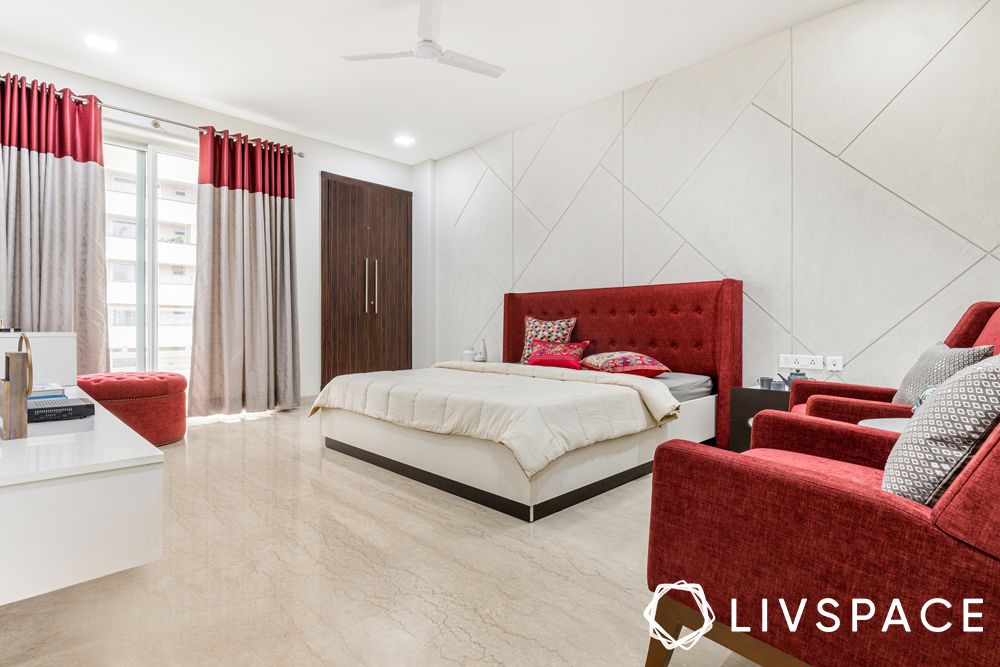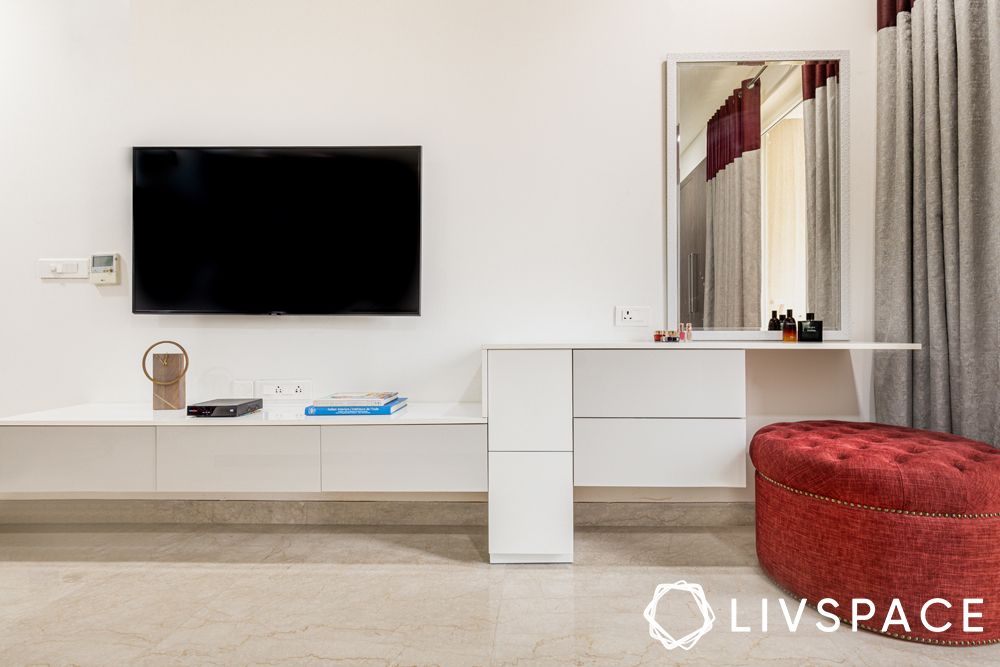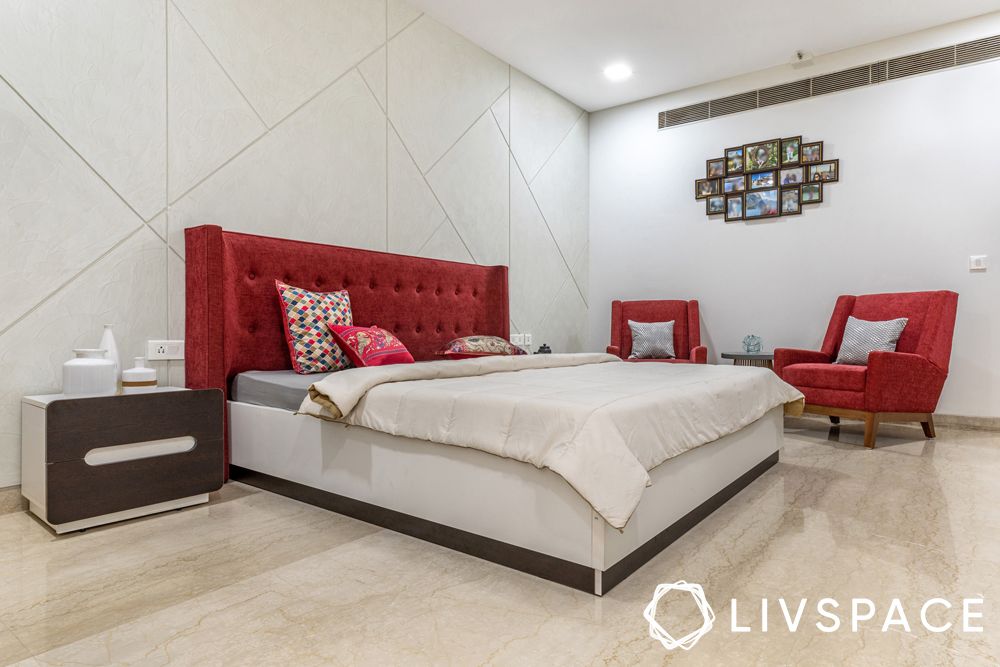 As the saying goes, the wife is always right! And so is the case for the Anands' master bedroom where Nidhi Anand had her heart set on a red theme. And what a masterpiece the room turned out to be! The bold red colour scheme spells a majestic charm. However, Sahil prevented it from going over the top by sticking to red accents in combination with neutral walls and furniture. Our designer also ensured that the room remained clutter-free by opting for basic and space-efficient furniture like an acrylic-finish TV-cum-dressing unit, some accent chairs, and a pouf.
What we love: Considering the time constraints, Sahil kept it simple and elegant with groove-like paint on the walls.
#4: The Mother's Bedroom Which is Pretty in Pastels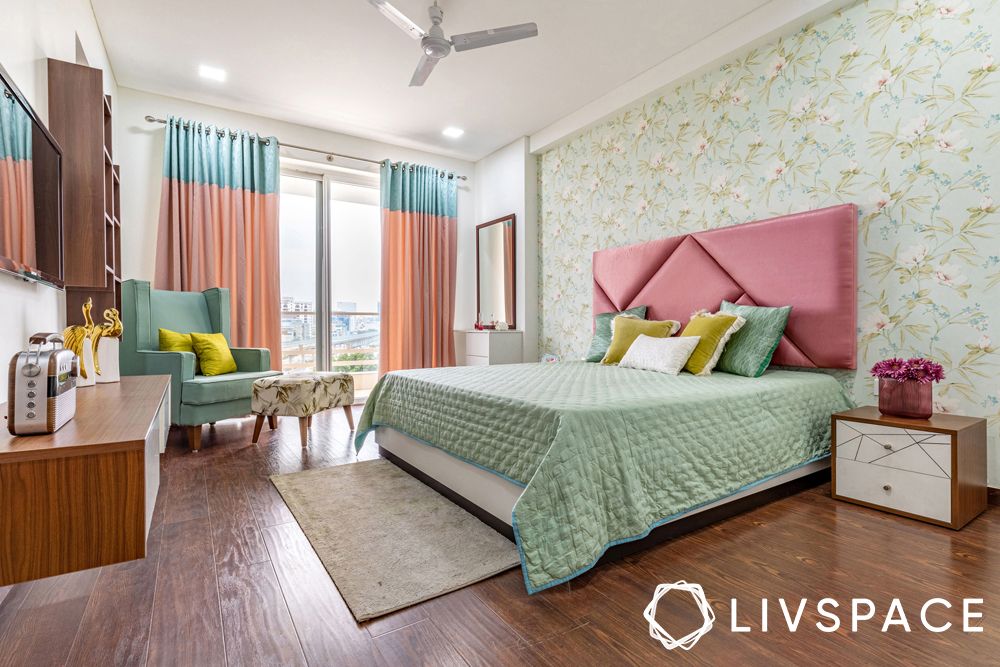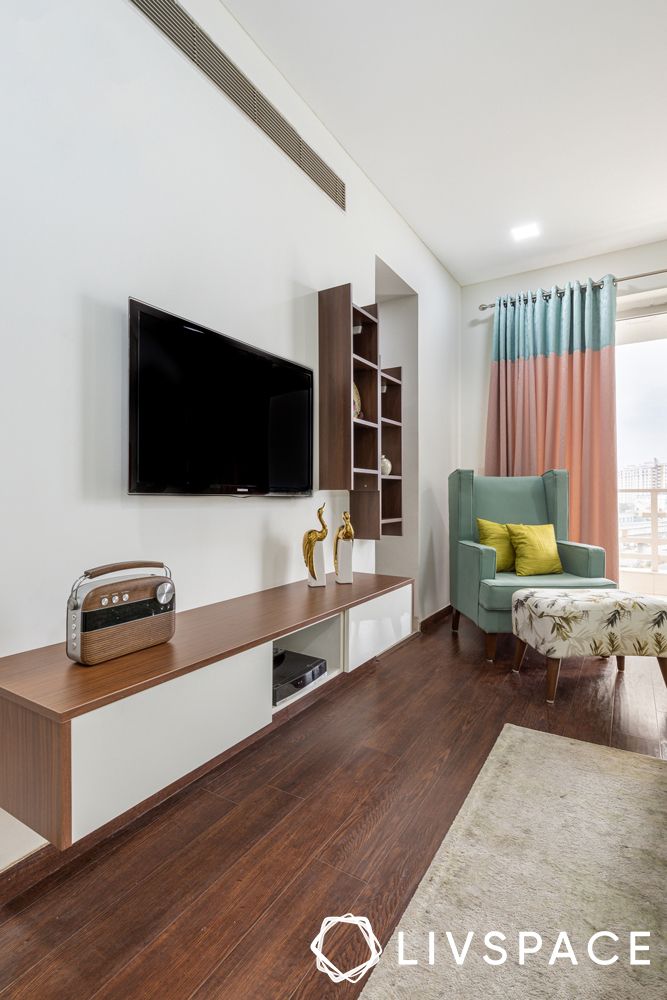 The senior-most member of the family wanted a room that was bright and soothing — a space where she would happily spend the entire day. Varun Anand's mother was quite stunned (in a good way) by the play of pastels in the living area. So, Sahil decided to opt for a pastel theme for her bedroom as well. A pleasant mix of mint green, dusty pink, and powder blue, this room is perfect for an elderly lady. Considering her age, Sahil also ensured that her bedroom had everything that she could need. A spacious bed, a comfortable armchair, plenty of natural light, a sleek laminate-finish TV unit, and extra wall storage.
What we love: The super-comfortable suede headboard to cushion your head as you sleep.
"This project will always be close to my heart as Varun and Nidhi were the most ideal clients any designer could ever ask for. As I had complete freedom of design with this house, I was able to achieve the perfect balance of simplicity and functionality."

-Sahil Gore, Livspace Designer
Liked this stunning and budget 4BHK in Gurgaon? Also check out this easy-to-maintain Gurgaon home.
Send in your comments and suggestions.
Disclaimer: All contents of the story are specific to the time of publication. Mentions of costs, budget, materials, finishes, and products from the Livspace catalogue can vary with reference to current rates. Talk to our designer for more details on pricing and availability. Please note that the designs showcased within the story are subject to availability and will vary based on the year the homes were designed in. Consult our designers for more details on the latest designs.