This apartment interior is sure to dazzle you with its mirrors!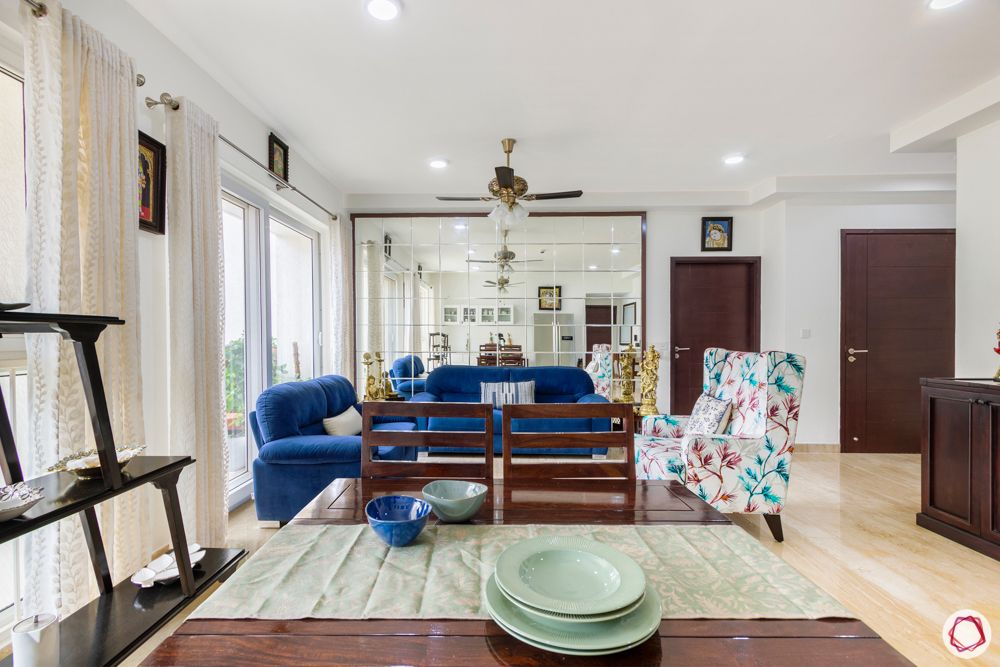 ---
Who livs here: Chandra with her husband Subramaniam Dorairajan

Location: Mahindra Windchimes, Bengaluru
Size of home: A 3BHK spanning 1,772 sq ft approx.
Design team: Interior Designer Shweta Kainthola and Project Manager Karthik Simha
Livspace service: Full home design
Budget: ₹₹₹₹₹
---
Subramaniam Dorairajan and his wife Chandra were moving to Bengaluru from Delhi. For Chandra, who had been in Delhi nearly all her life, this was a huge move and she wanted her home to be perfect to ease the transition. And which interior design firm but Livspace could ensure this?
Chandra wanted her home to be as white as white can be. As an informed client, she was very sure of how she wanted her Mahindra Windchimes Phase 2 home to look like, and interior designer Shweta Kainthola was only too happy to provide the same. To get a better idea of her clients' expectations, Shweta even visited their house in Delhi. Their large Delhi home was spic and span, and decked in the most spotless of whites. Having understood what Subramaniam and Chandra wanted, Shweta went about the process of designing their dream home in Bengaluru. Let's step in for a quick look!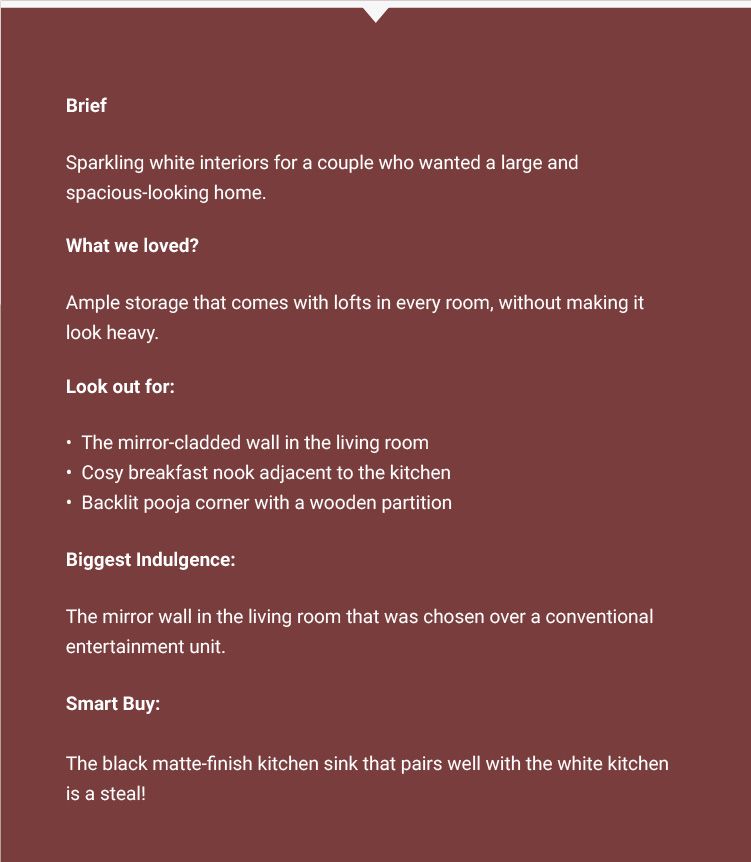 Apartment Interior: Wooden Pieces in the Foyer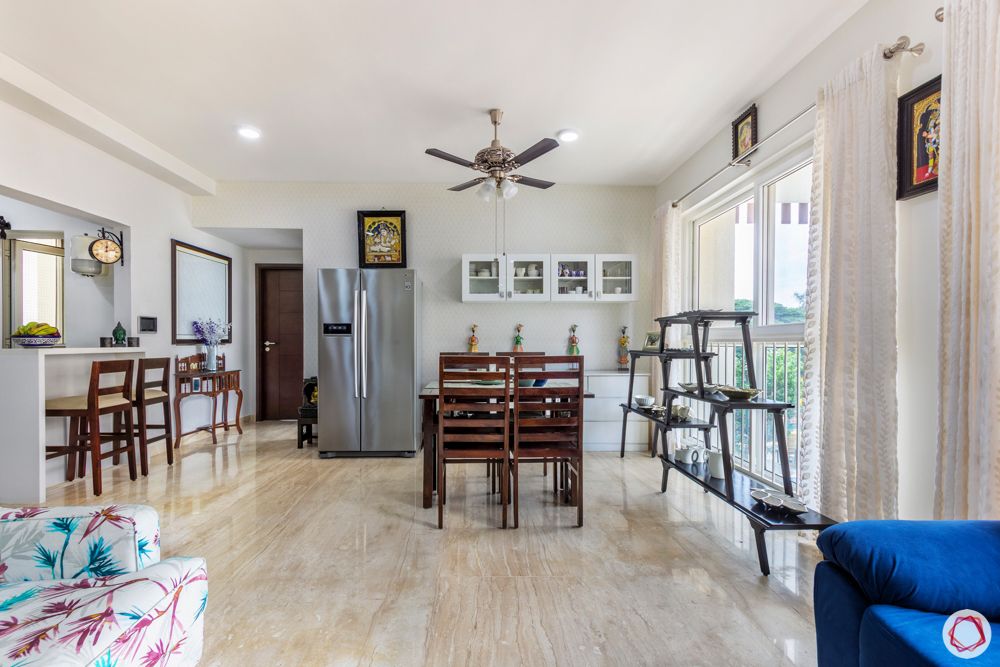 The foyer at this Mahindra Windchimes Phase 2 home is simply but elegantly furnished with a wall piece from the Livspace catalogue and a drawer unit used to store bits and pieces.
Apartment Interior: Cosy Living & Dining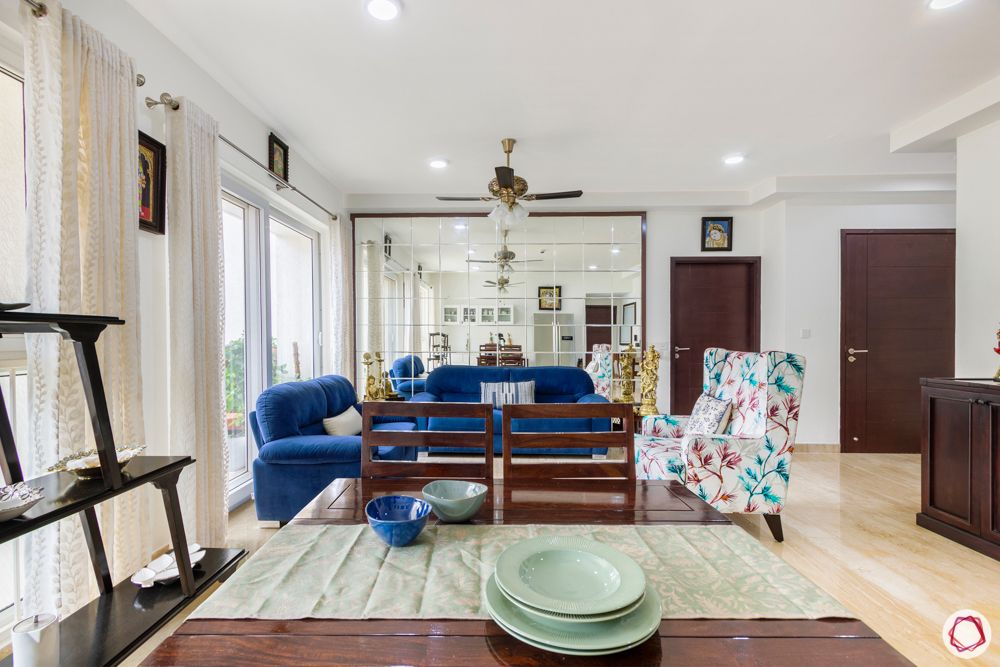 The living room in this Mahindra Windchimes Phase 2 home reflects the homeowners' tastes to perfection. As they wanted the primary colour of the home to be white – not ivory, not cream, but fresh, dazzling white, Livspace designer Shweta doused the living room in their preferred colour. Having observed the couple's love for mirrors in their Delhi home, Shweta suggested that the living room wall be covered in mirrors. Subramaniam and Chandra loved the idea so much that they decided to forego the TV unit that is a common part of most living rooms.
Two blue sofas stand in the living room. Complementing these is an accent chair with printed upholstery that brightens up the room. Cool white lighting fixtures also brighten the room and emphasise on its spotless nature. At the same time, this room receives an abundance of natural light that ensures that life never goes out of this home!
The dining room is filled with warm wooden furniture that compliments the room's colours perfectly. At the same time, a wooden display shelf serves to show off the curios the couple has gathered over the years.
"It was a pleasure getting our home designed by Livspace. Both Shwetha and Karthik were deeply invested in ensuring that things went according to plan, while the team was open to feedback even during the process. They delivered what they promised, with very few bumps on the road. We have been living here for the past eight months, and are still getting compliments on it from guests!"
– Chandra, Livspace Homeowner
Apartment Interior: Shiny White Kitchen & Breakfast Counter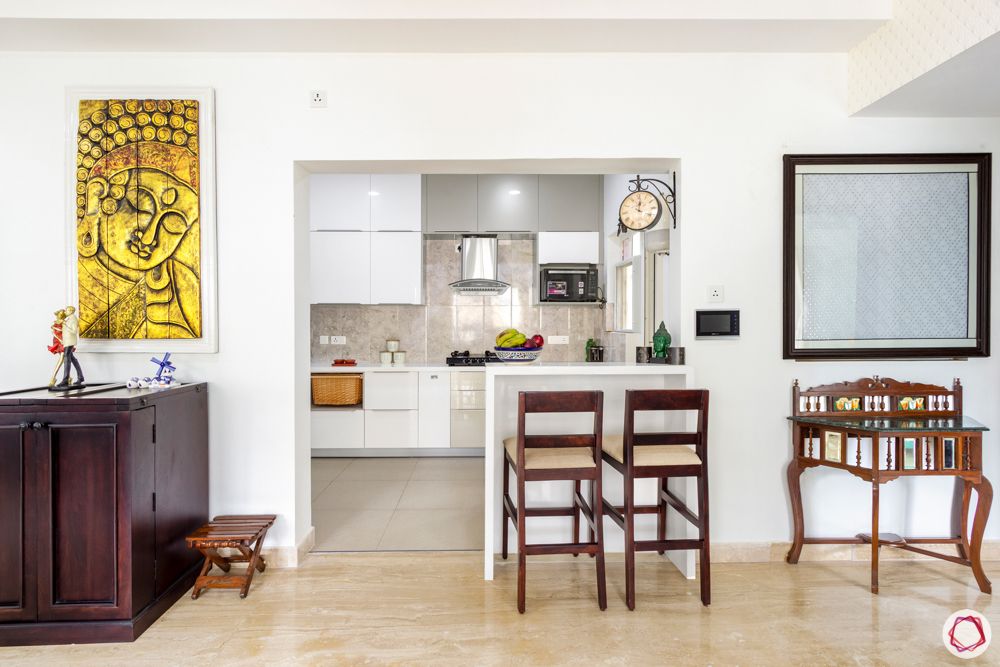 How could the kitchen in this Mahindra Windchimes Phase 2 home be doused in colour but white? Like most other parts of the house, Chandra had a specific idea of how she wanted the kitchen to turn out. However, when Shweta suggested a dual-toned kitchen, she was intrigued by the idea. Thus came about this dazzling kitchen in white, paired with a metallic beige. So, the pantry unit in beige stands at one end of the kitchen, and the microwave oven has been accommodated on a wall unit. A white Kalinga stone countertop ties the kitchen together.
In place of the commonly used kitchen cabinets, the kitchen in this Bengaluru home is full of drawers. Moreover, lofts stand above the wall cabinets to maximise storage space. The acrylic finish on the drawers makes this kitchen looks timeless, while a black matte-finish sink ensures easy maintenance.
The breakfast counter in this Bengaluru home was created afresh for Subramaniam and Chandra. Placed adjacent to the spotless white kitchen, this is the perfect place to catch up over a cup of coffee, or even a meal! The warm wooden furniture in this room has been selected carefully in keeping with the fresh white kitchen as well as the dining room.

Apartment Interior: A Master Bedroom Dressed in Grey & White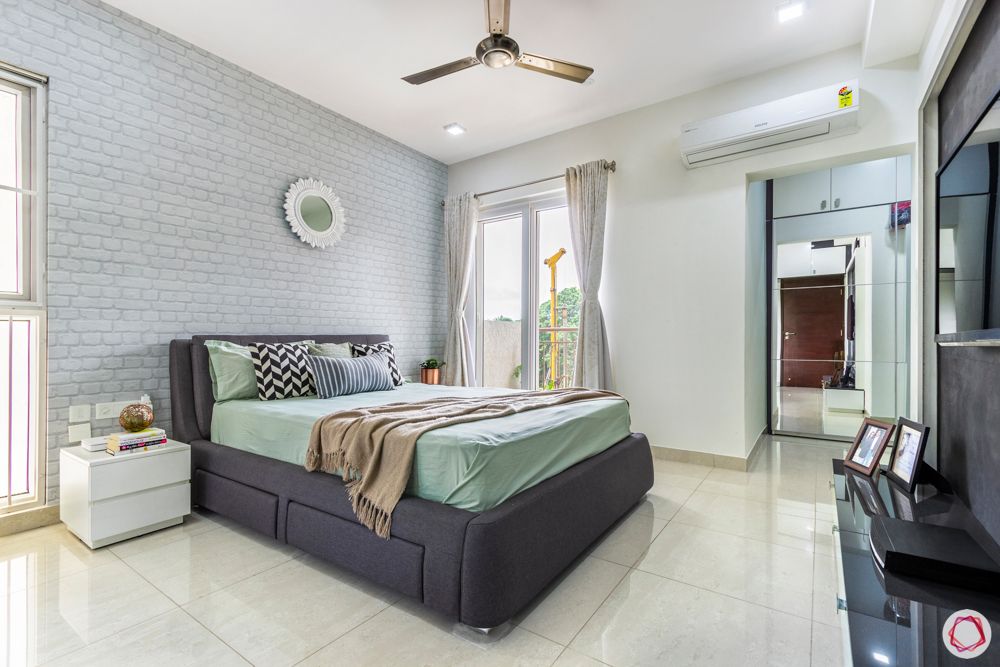 Against a background of an exposed brick wallpaper, the master bedroom and side tables stand out. A compact TV unit stands on the opposite wall. Chandra fell in love with this stone veneer TV unit in the Livspace experience center and wanted it in her home, so Shweta fulfilled her wish for the same. A hidden corner with a mirror fulfills the need for a dressing unit in the room, while two cabinets on the opposite wall serve as a dresser.
In this home in Mahindra Windchimes Phase 2, Shweta has optimised storage by providing carcass lofts along the wall of the wardrobe. The primary colour of the wardrobe remains white, with a membrane finish, just as Chandra wanted. At the same time, metallic dark grey on the underside of the lofts makes the white wardrobes pop.
Apartment Interior: A Pastel-hued Bedroom for the Daughters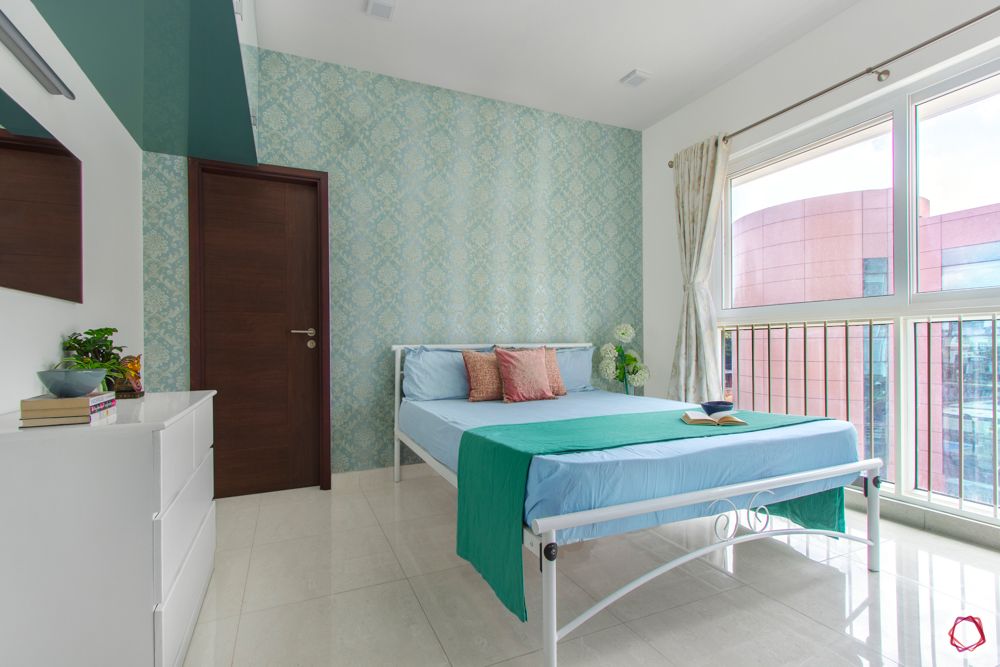 Shweta confesses that she loves the bedroom for Subramaniam and Chandra's daughters. And why not? The beautiful printed wallpaper ties in with the metallic blue wardrobe finish, lulling you into a sense of calm.
Apartment Interior: A Cosy Pooja Nook in the Bedroom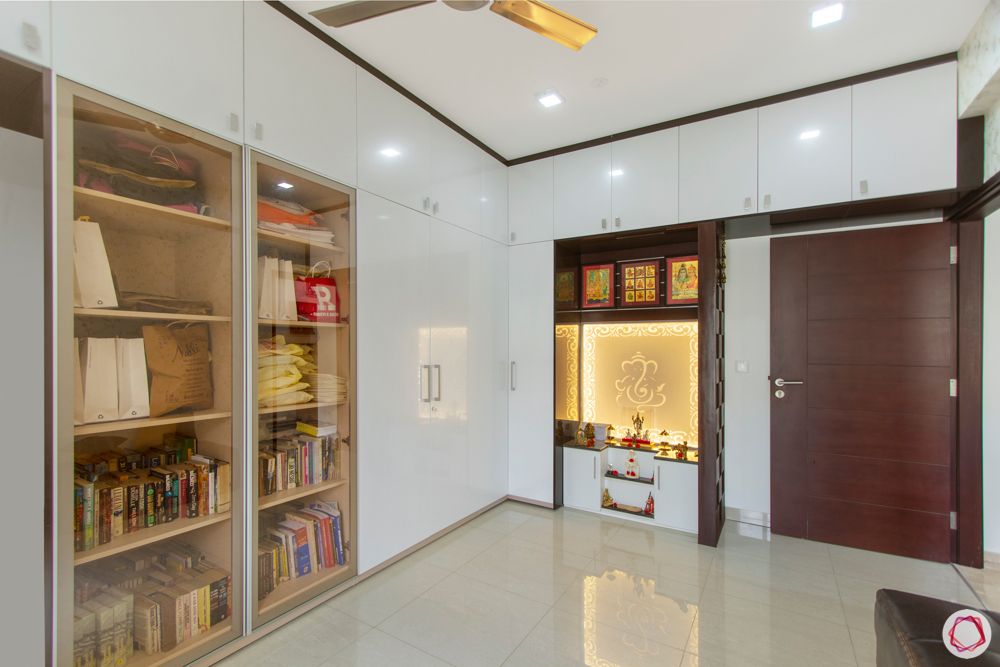 Subramaniam and Chandra wanted a separate pooja unit in their home. So, they made space for it in the third bedroom. The backlit unit comprises two clear acrylic sheets, between which lies a beautiful design of Lord Ganesha on a white acrylic sheet. The 3 ft deep nook stands regally in the bedroom. In order to maintain the sanctity of the pooja unit, Shweta installed a wooden partition with small bells attached to it. Thus, the pooja nook is not immediately visible on opening the door, which is exactly what the homeowners wanted.
Like the other bedrooms, the room has white wardrobes and lofts. At the same time, it stands apart from the other bedrooms with its use of a brown acrylic finish.A soft golden glow from the pooja nook envelopes the room, making it look complete.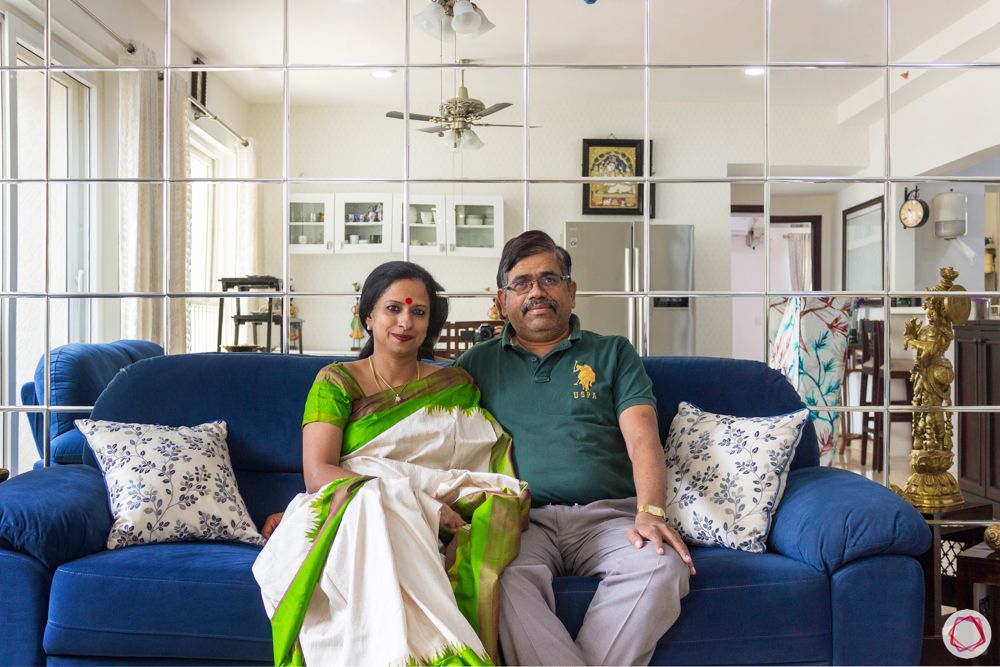 "Chandra and Subramaniam were clear about what they wanted for their apartment interior. They wanted a lot of white and the ample use of mirrors, but they were open to my ideas on the use of other colours, wallpapers, and accessories. It was great fun working with them and I was thrilled to be able to hand over their home to them!"
– Shweta Kainthola, Interior Designer, Livspace
Also, if you enjoyed reading about this home, check out Luxurious Interiors at Prestige White Meadows.
Send in your comments and suggestions.