A home is made up of the people who live in it. The best home is the one that reflects a small part of the personalities of its residents. So is the case for Manoj Kanodia's home. Searching for a good designer for homes, Mr. Kanodia came across Livspace and our designer, Akanksha Purohit. Being a family of four, he wanted a home design that resonated with all the family members — him, his wife and his two daughters. Not a tough task for Akanksha, who combined Manoj Kanodia's love for minimalism, his wife Kavita's need for glamour and feminine elements for their daughters, all in a seamless manner in this 4BHK.
---
Who livs here: Manoj kanodia with wife Kavita and two daughters
Mahima and Krishna
Location: Mumbai
Size of home: A 4BHK spanning 2000 sq. ft.
Design team: Interior Designer Akanksha Purohit and Design Manager Charvie Mehta
Livspace service: Full home design
Budget: ₹₹₹₹₹
---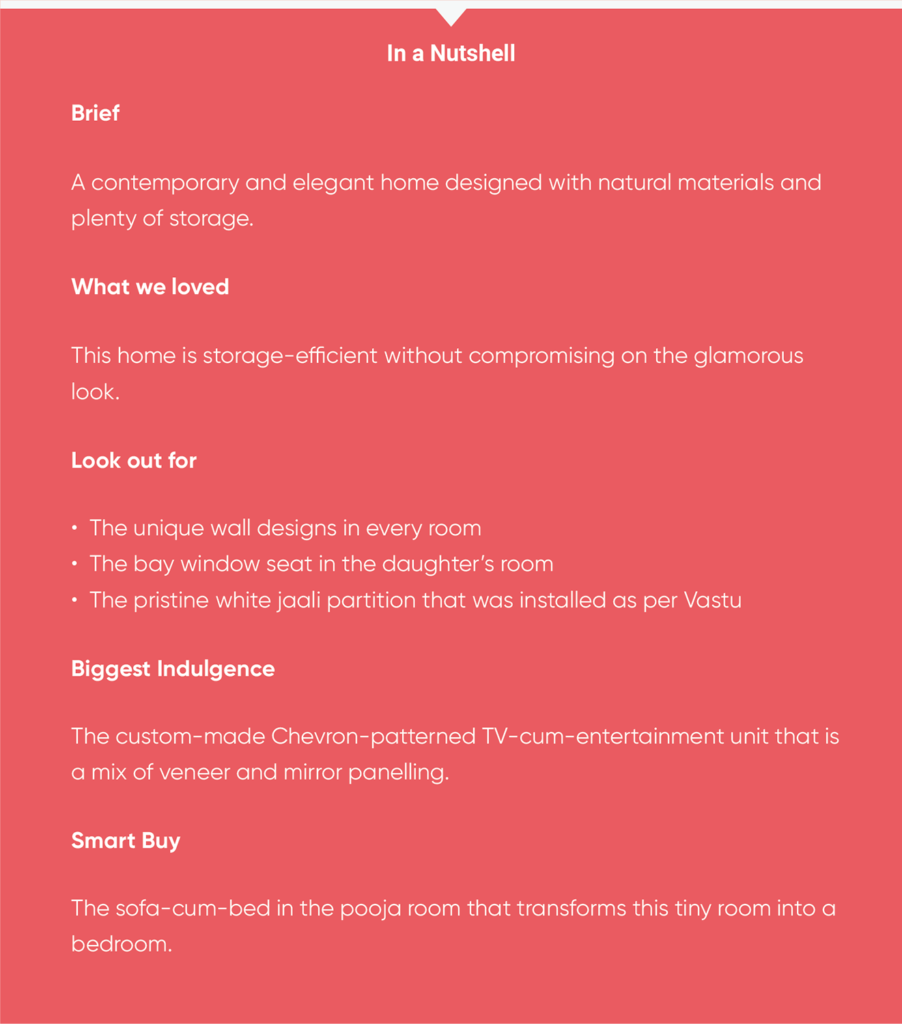 "The Kanodias wanted a home that was simple and functional, with lots of storage," says Akanksha Rajpurohit. Boasting natural elements like stone and veneer and made up in muted colours, this 4BHK in Mumbai is the epitome of elegance and functionality while also being vastu-compliant. Join us for the home tour.
#1: A Bright and Elegant Living Room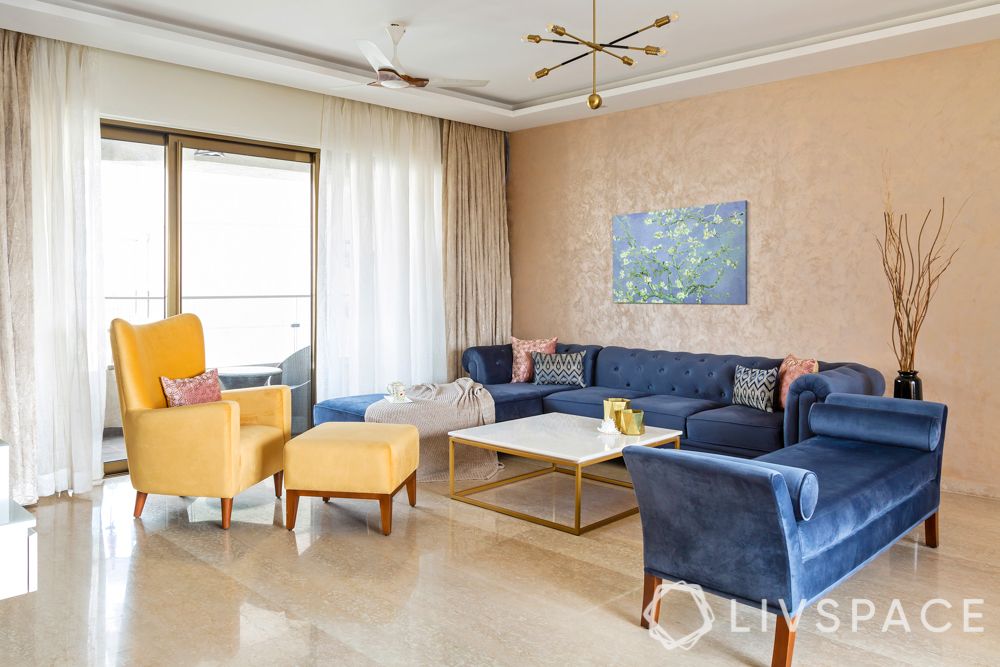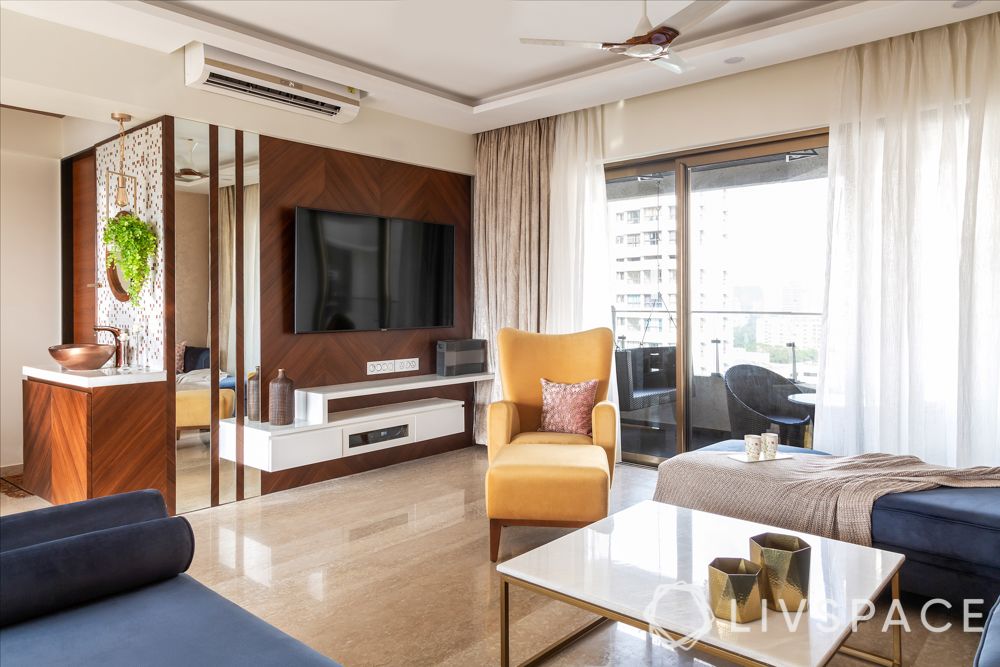 The living room sets the mood for the entire home — soft, elegant and bright. Any good designer for homes knows that homes that have natural elements not only look good but are also easy to maintain. Akanksha too wanted to give the living area a natural look and feel. At the same time, it had to be minimal and glamorous to suit the tastes of the Kanodia couple. So, she chose stucco paint for the wall and an onyx marble countertop for the centre table — minimal and natural. The velvet sofa and accent chairs add the necessary plush look to this room. Also, notice the gorgeous custom-made Chevron patterned suspended TV unit. Made up of veneer and glass panelling, this unit is the most expensive element in this home! At the same time, being a suspended unit, it is functional and easy-to-clean.
#2: A Neutral Master Bedroom with Pops of Mustard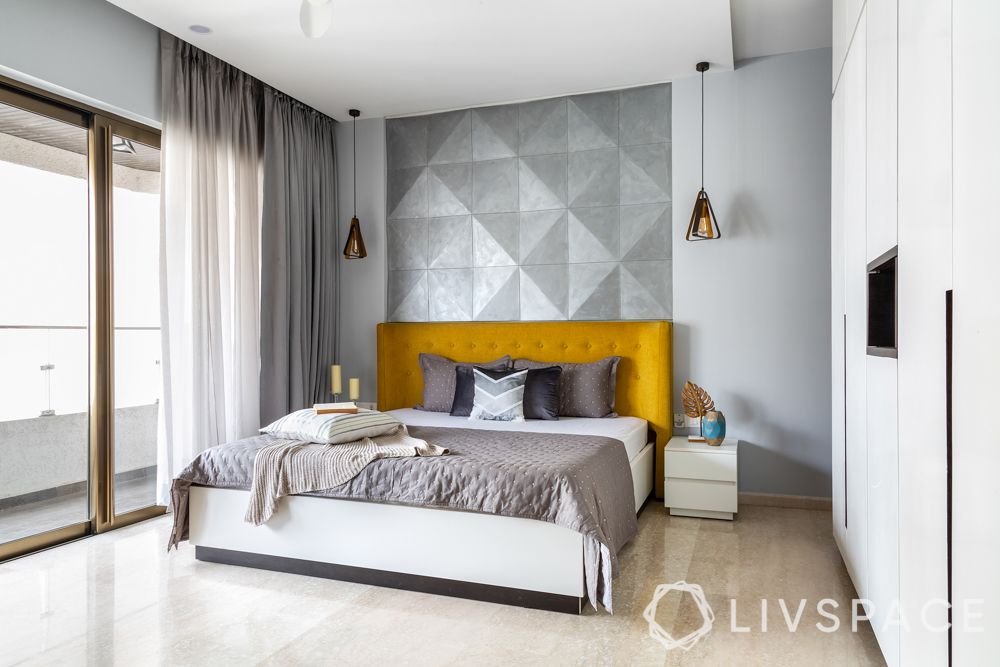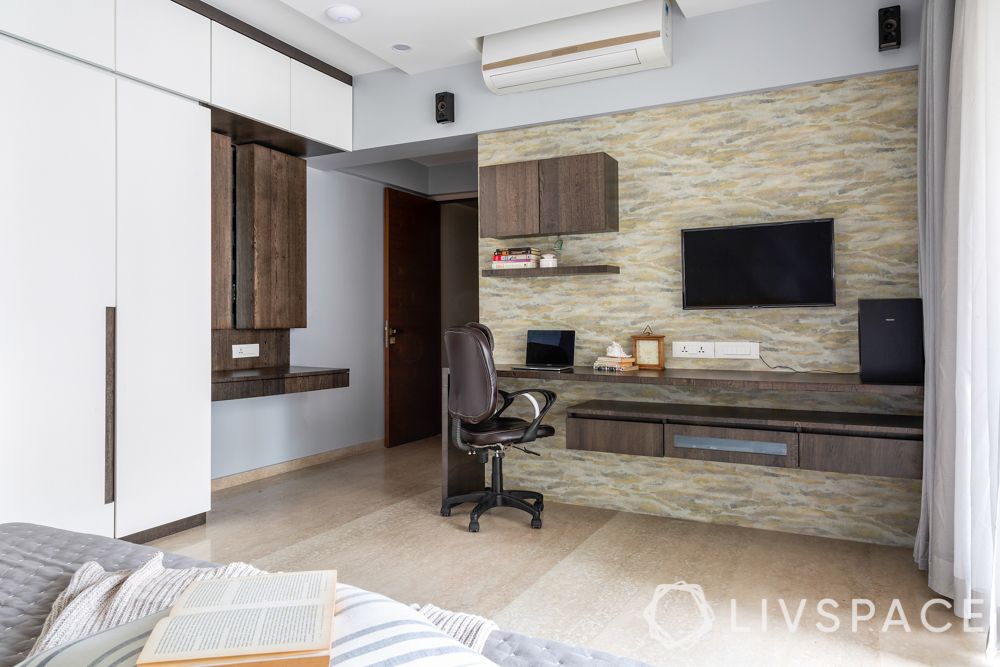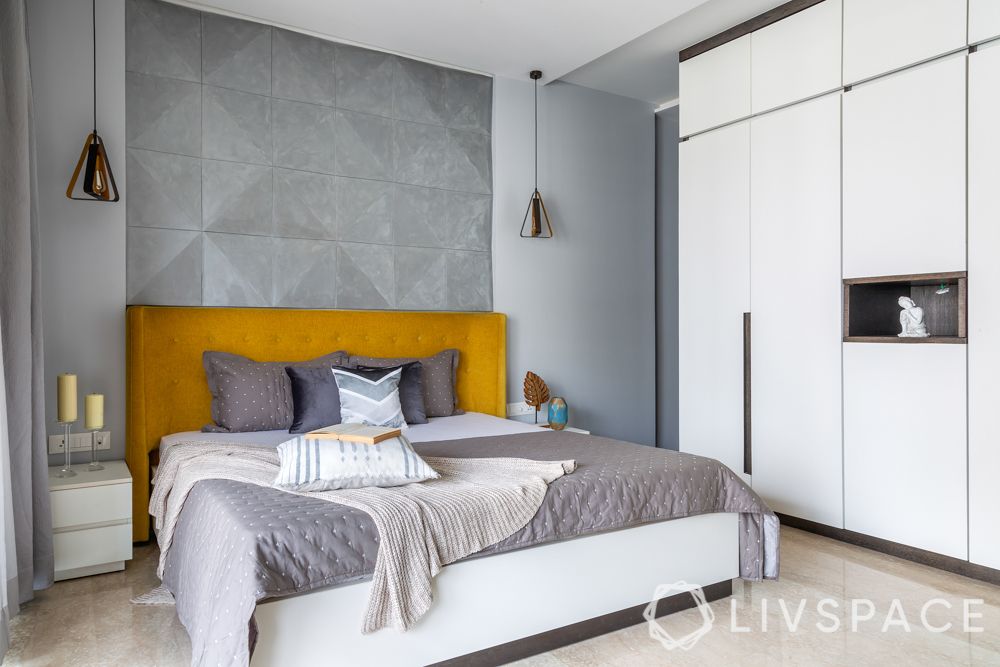 While Manoj and Kavita might have had differing views with regards to the design style, one thing that they agreed upon was that they wanted lots of storage! This is clear from their master bedroom which comes with full height wardrobes, lofts, wall-mounted storage areas and a hydraulic bed with storage. In keeping with the minimal and natural look of the home, Akanksha opted for a grey MDF panelled wall. The tufted mustard headboard adds a pop of colour.
The distinctive items in this room are the veneer dresser area and TV-cum-study unit. The dresser takes up little space while providing ample storage. The sleek and minimal TV-cum-study unit has a wood-like look, which lends a natural feel to the bedroom. Also, notice the niche in the wardrobe? It was added to break the monotony of the white wardrobe while providing storage space for curios.
#3: A Vastu-Compliant Daughters' Bedroom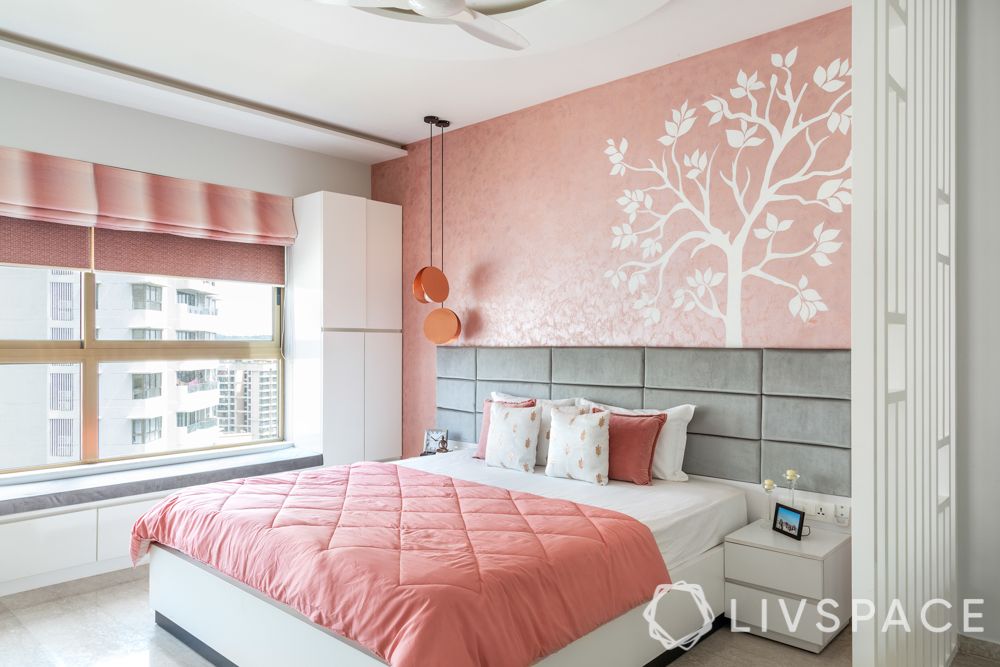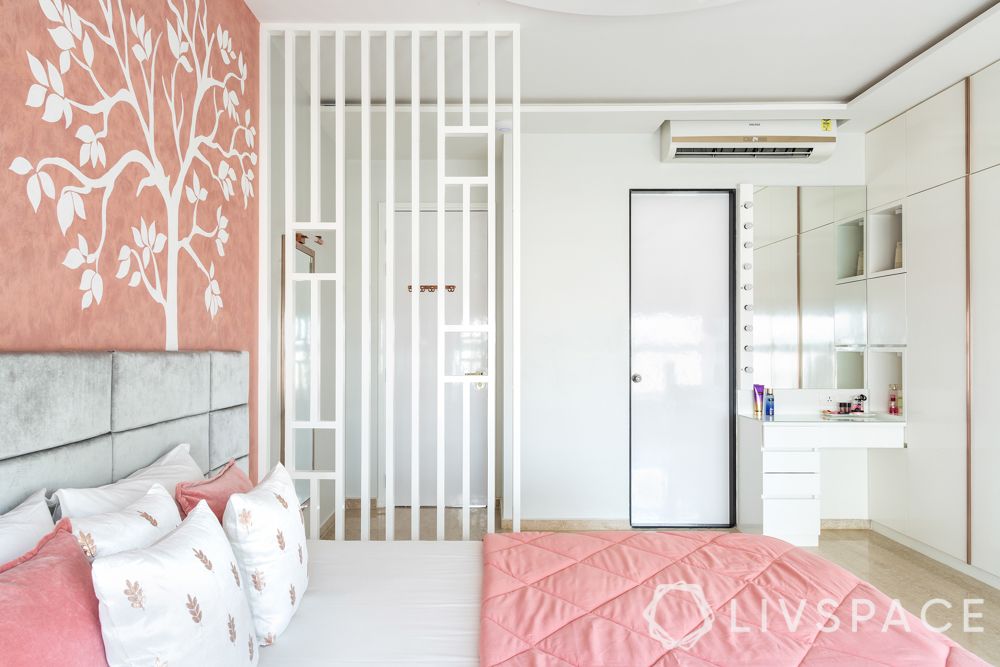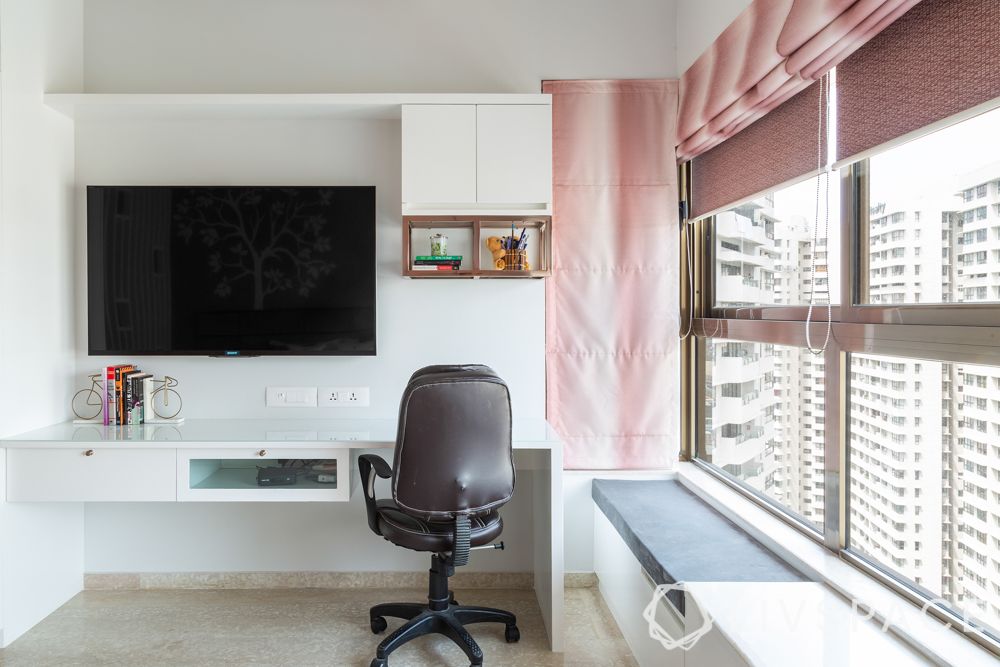 The Kanodia daughters, Mahima and Krishna, wanted a feminine bedroom in a white and rose-gold theme. The room also had to be airy, bright, vastu-compliant and with ample storage — a task only an experienced designer for homes could fulfil. The first thing you notice about this room is the stunning accent wall behind the bed. Stucco painted in a dusty pink colour, the stunning white tree has been done by a local artist. As per Vastu Shastra, the bed should not be visible from the entrance. So, Akanksha added a pristine white PU finish jaali partition. This acted as a design element while keeping the bed hidden from the entrance.
"They wanted a lot of storage, so we have utilised each and every corner of this room," says Akanksha. Be it the PU-finish custom-made wardrobe, cabinets below the bay seating, hydraulic bed, laminate side tables or the study table — everything comes with storage. Considering the girls were very keen on a rose-gold theme, Akanksha added rose-gold knobs in the custom-made TV-cum-study unit. The best part of this room? The gorgeous bay window with seating which lets in ample sunlight and fresh air.
#4: A Guest Bedroom with Warm Wooden Tones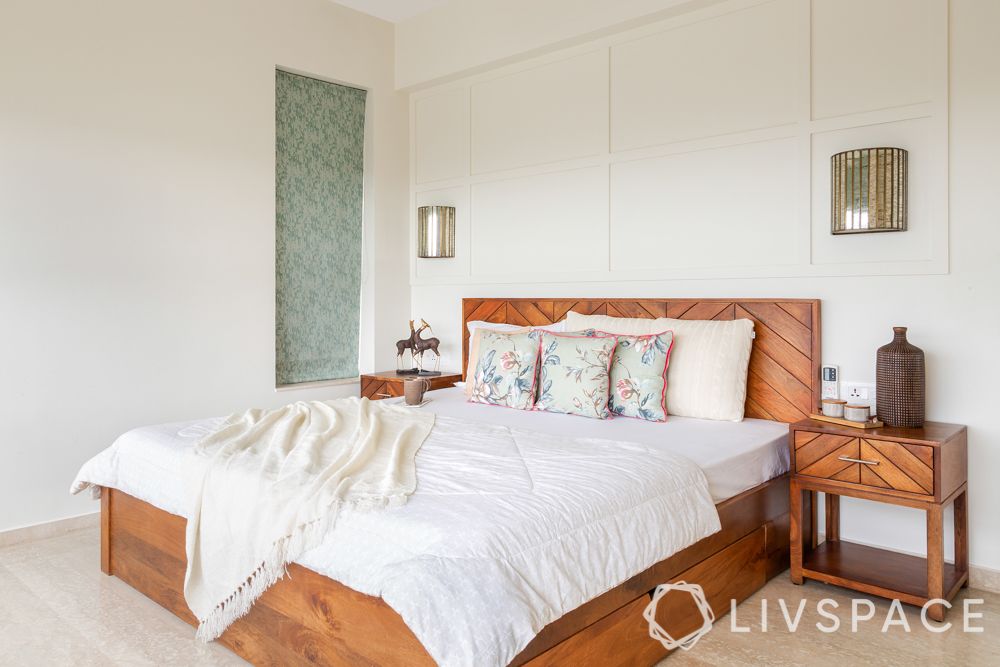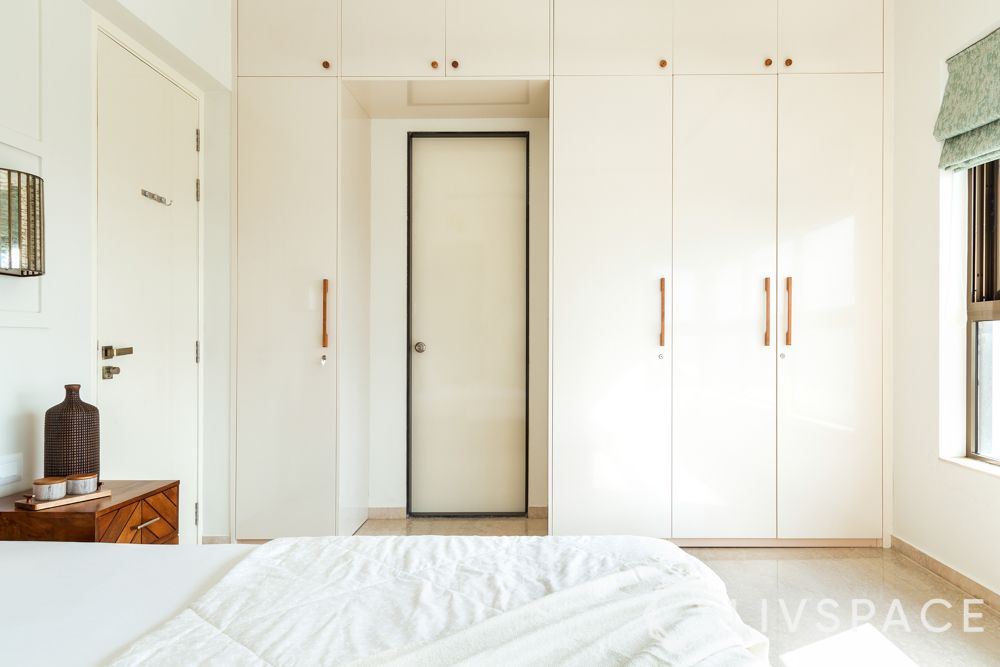 The guest room had to be designed keeping in mind that the Kanodia couple's parents would be staying here when they would come over. So, it had to be soothing and pleasing, perfect for elderly people. The painted MDF-panelling on the wall and the wooden furniture looks classy and homely. As with the other rooms, this room also comes with ample storage in the form of a membrane-finish wardrobe.
#5: Holy Vibes in the Pooja Room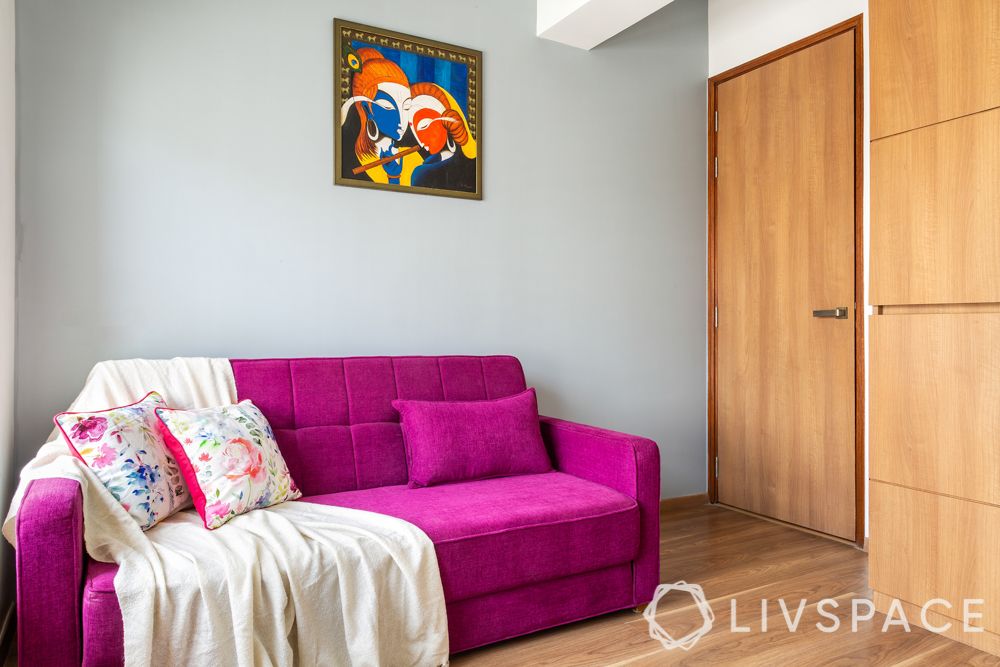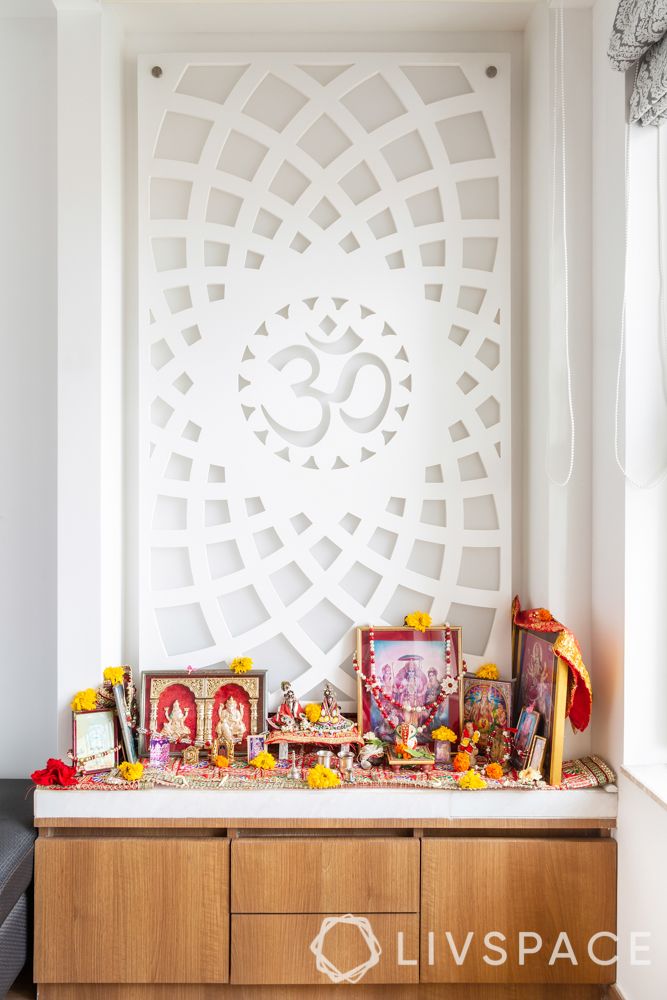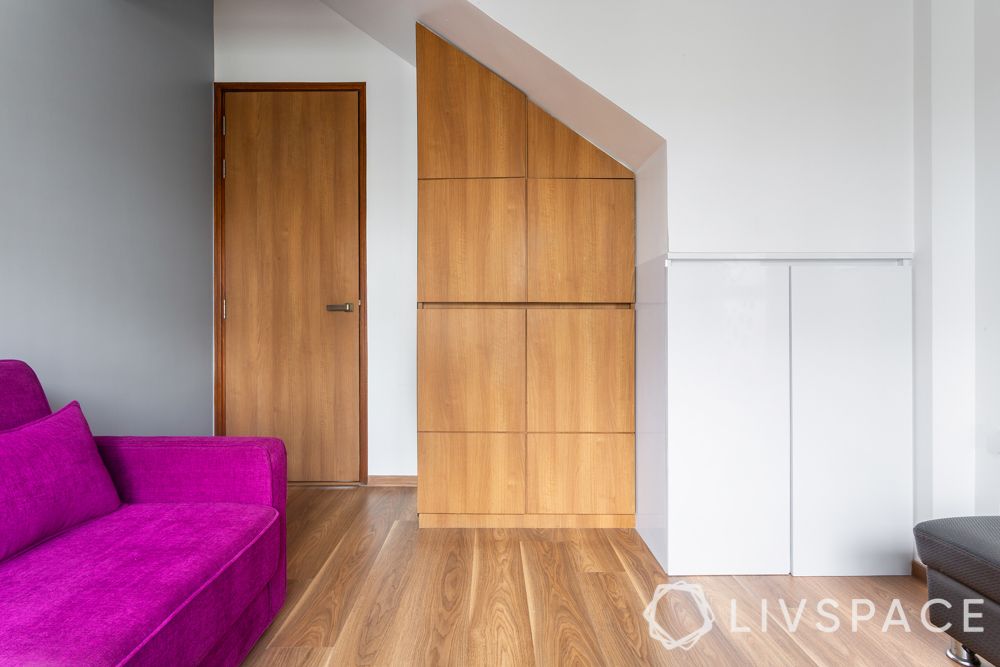 Indian homes are incomplete without a prayer room. The Kanodias too wanted a room where they could offer their daily prayers. But instead of just dedicating an entire room for a mandir, Akanksha decided to make the most of the space available. While the stunning custom-made laminate and PU-finish pooja unit is in one corner, she placed a sofa-cum-bed in the other corner. This ensured that the room could also be converted into a guest room when needed. And it goes without saying, this room also has abundant storage in the form of laminate cabinets below the pooja unit and a laminate wood-like wardrobe.
"It was a wonderful experience designing for Manoj Kanodia and his family. The planning of this home revolved around their tastes and preferences. I tried to create a space where they would love to spend time. Overall, it was fulfilling to watch a non-functional house gradually transform into a vibrant and inspiring home.."

— Akanksha Rajpurohit, Livspace Designer
This minimal, elegant and storage-efficient home is proof that an expert designer for homes can completely transform the look of your house. Liked this 4BHK? Check out this well-designed home in Mumbai.
We love to hear from you! Send us your comments at editor@livspace.com