"When you go through a home, you must feel that the entire home is one single unit," says Chetan Mistry, the project manager of this cosy 2 BHK in suburban Mumbai. And we couldn't agree more! The credit, of course, goes to Binal Bhagat, who designed Pawan and Neha Jaggi's home in a way that ties in every aspect of the interiors in a neat knot. Essentially, design continuity makes this 2 BHK home decoration project an unforgettable aesthetic experience.
---
Who livs here: Pawan and Neha Jaggi with their son
Location: Kanakia Levels, Malad, Mumbai
Size of home: A 2BHK spanning 700 sq. ft. (approx.)
Design team: Interior Designer Binal Bhagat and Project Manager Chetan Mistry
Livspace service: Full home design
Budget: ₹₹₹₹₹
---
But aesthetics is not all. Functionality also has a pivotal role to play in the overall experience of homeowners. So, we write with some relish that Neha described her experience of moving into their new home as "painless". The full testimonial follows: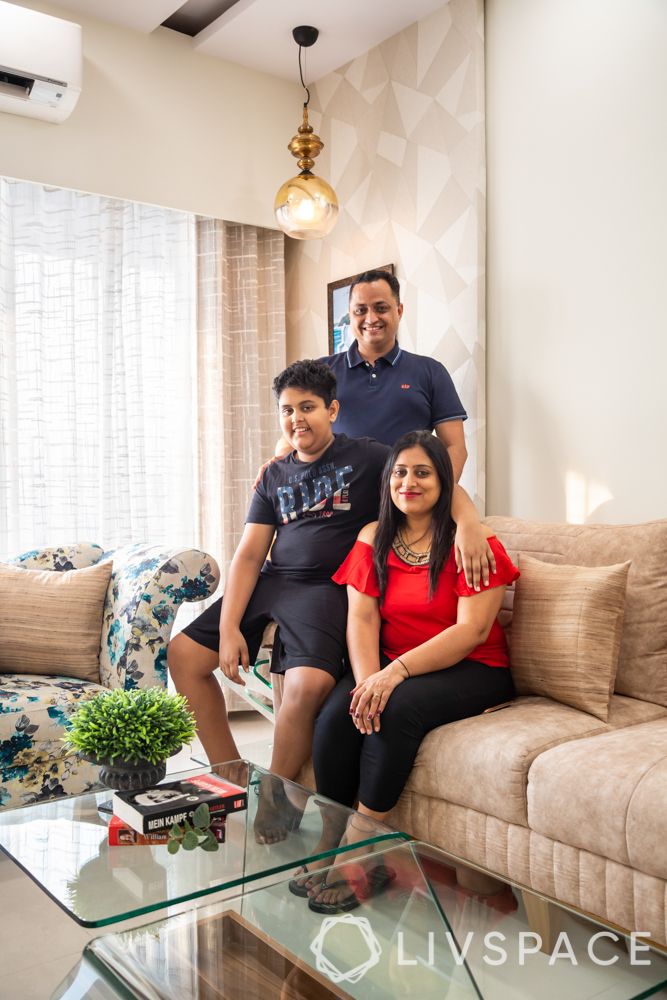 "Binal deserves a big thank you for her impeccable designing. And we also want to give a shout to the entire Livspace team for the painless experience of setting up our dream home!"

– Neha Jaggi, Livspace Homeowner
Now that we have established that this 2 BHK home decoration project is a marriage of 'impeccable" design and seamless execution, let's take a closer look at the home in its entirety.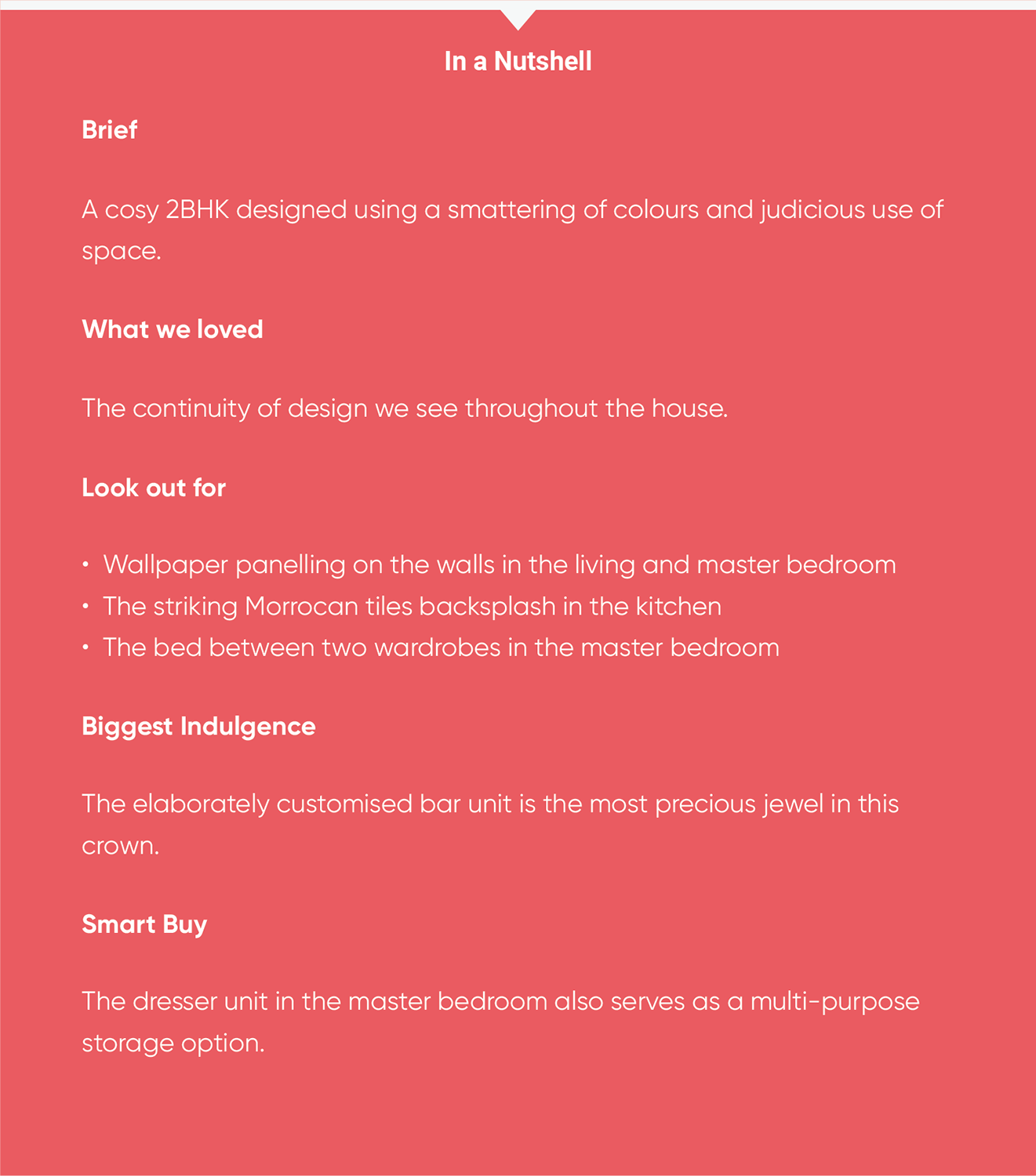 #1: Dial 'C' for continuity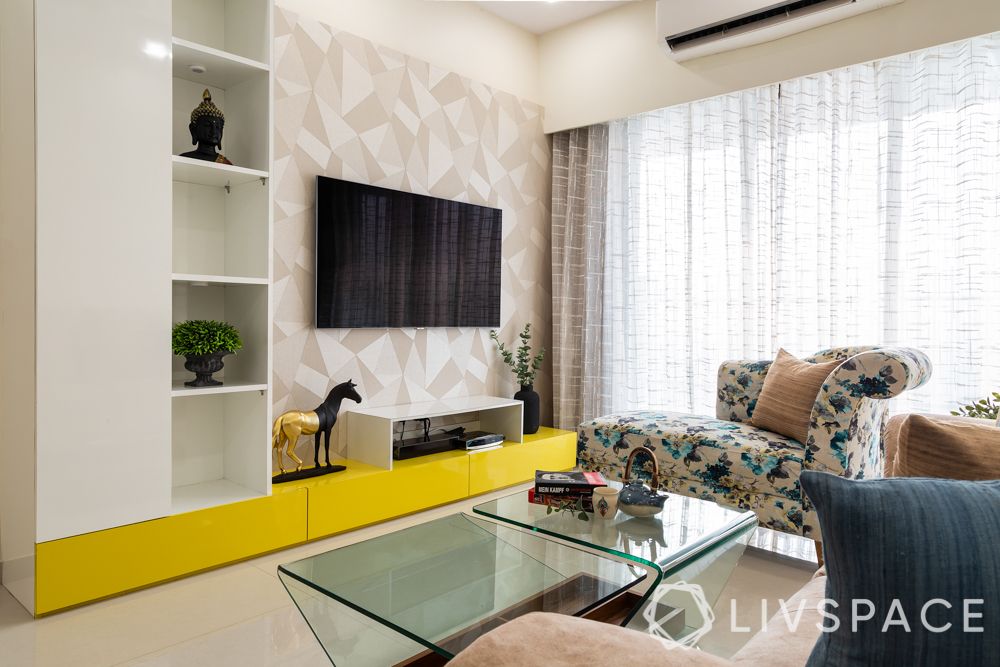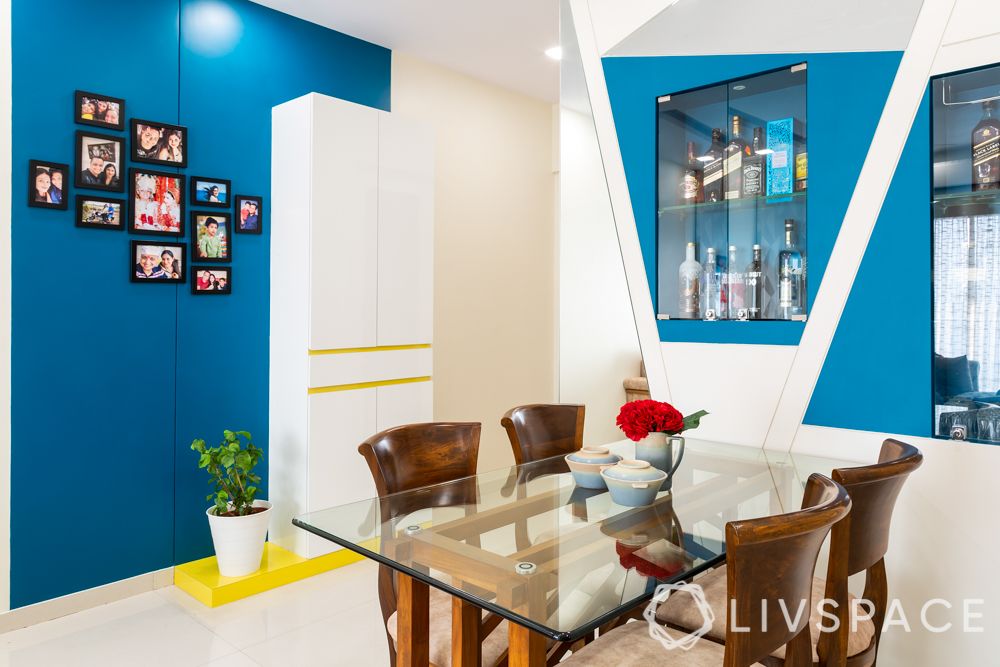 If we were to quote experts, we would say that continuity is a 'fluid connection between the composite parts of a whole'. Switching back to the common tongue, continuity refers to a common thread of repeated design elements that ties a home together, thus building relatability by making the transition from one room to another relatively smooth.
For instance, in the living area of this 2 BHK home decoration project, the custom-made TV unit has a band of yellow laminate at its base. At the other end of the living room, we see a white shoe cabinet set on a yellow pedestal. The connection has been irrevocably established! Similarly, the wall behind the shoe cabinet is painted a bold blue. We see the same blue in the customised bar unit in the dining area.
#2: The bar and the mango jar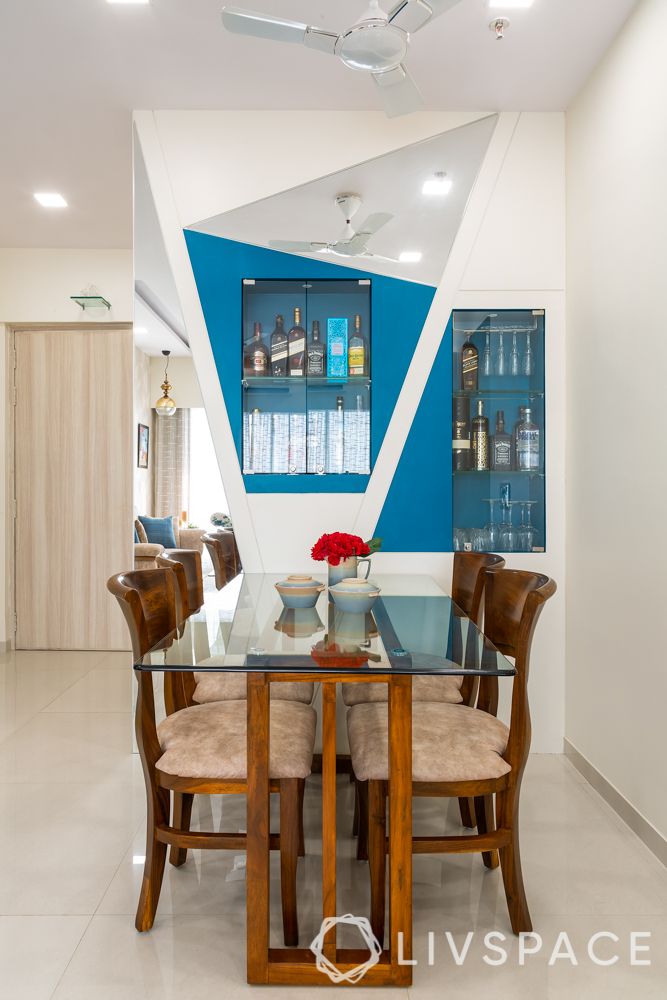 "Both Pawan and Neha wanted to have a stunning effect in their living room. And this is provided by the bar unit," said Chetan. The bar unit is a customised floor-to-ceiling piece that has an interesting facade. Some portions of the shutter is covered in mirror panels, some are open niches and the rest is a mix of white and coloured laminates. The geometric shapes and play of textures make this piece the star of this 2 BHK home decoration project!
#3: Four walls and a roof over your bed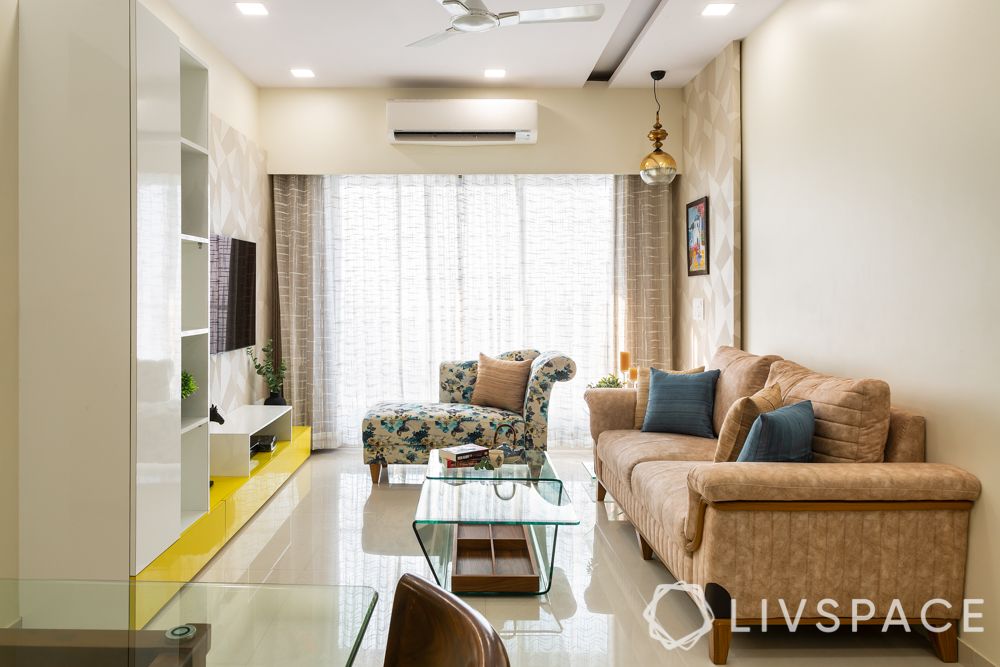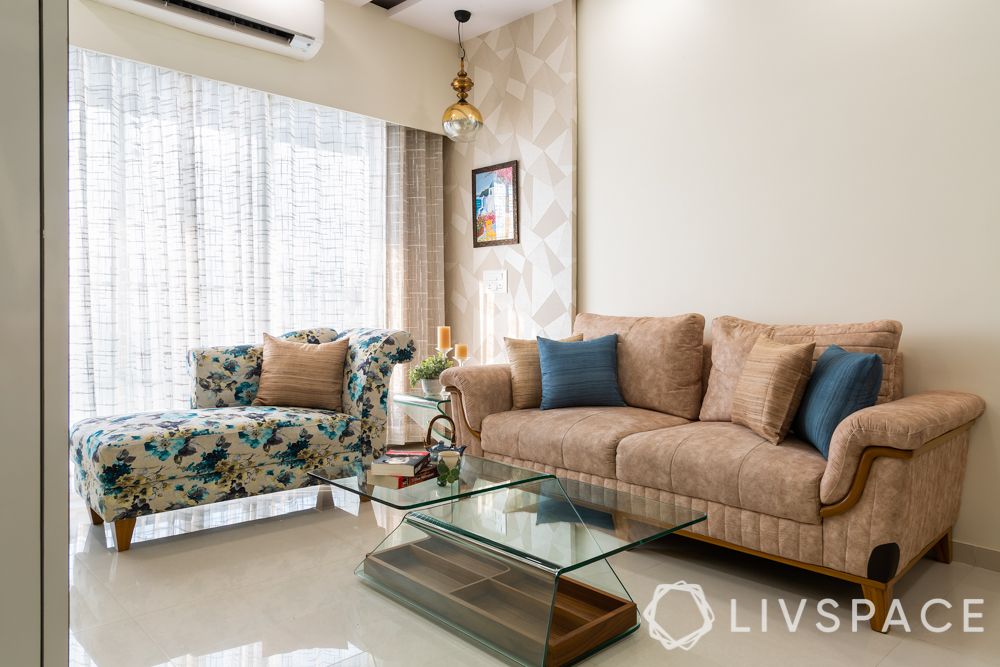 The couple did not want bare walls or ceilings in their new home. However, the budget was not enough to cover extensive false ceilings or wall trims. Luckily, Binal provided excellent alternatives for both. The walls in the living room and master bedroom have patches of wallpaper panelling, creating some visual interest. The roof has a simple false ceiling design that covers the wiring and provides sufficient decorative value!

#3: A reimagined kitchen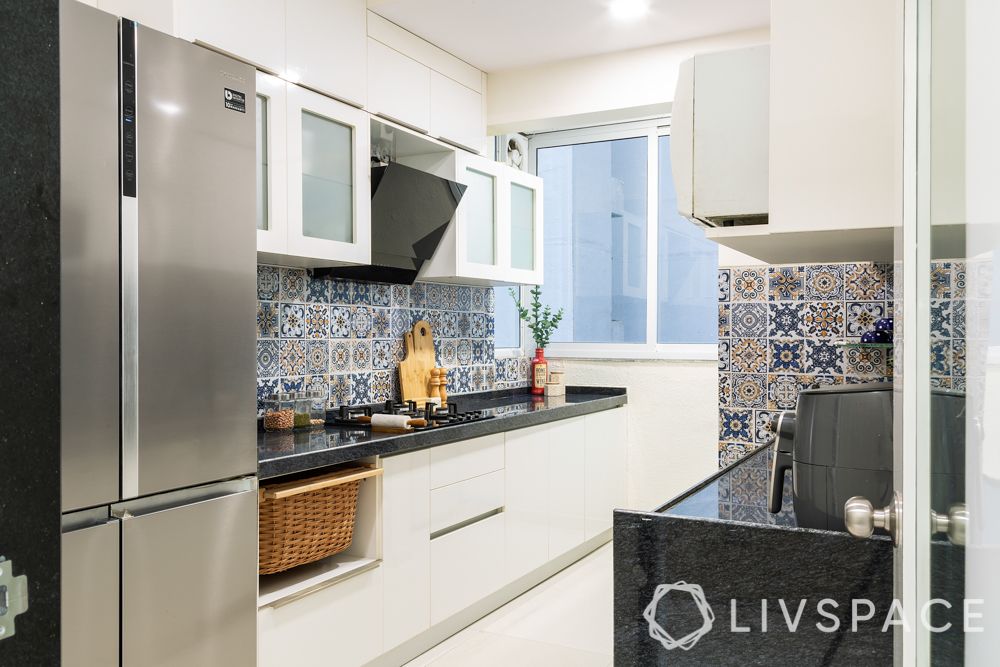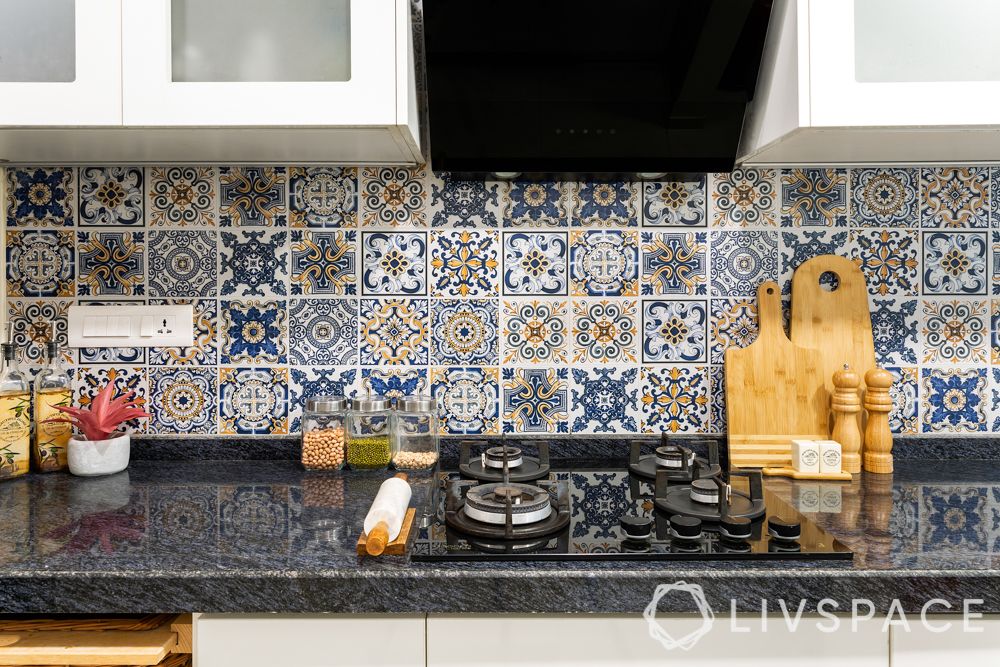 The Jaggis wanted the kitchen to have a wider entrance and wanted the space to be utilised as per ergonomics. Thus, Chetan's team took the liberty to demolish the existing kitchen and install this new one according to Binal's directives. The layout of the kitchen is parallel and it is covered in high-gloss laminate. The white cabinet finishes enhance the spaciousness of the kitchen while the exotic Moroccan tiling on the backsplash functions as a highlight. There is style and storage punched into the same space in one single nugget of great design.
#5: Keeping storage on your side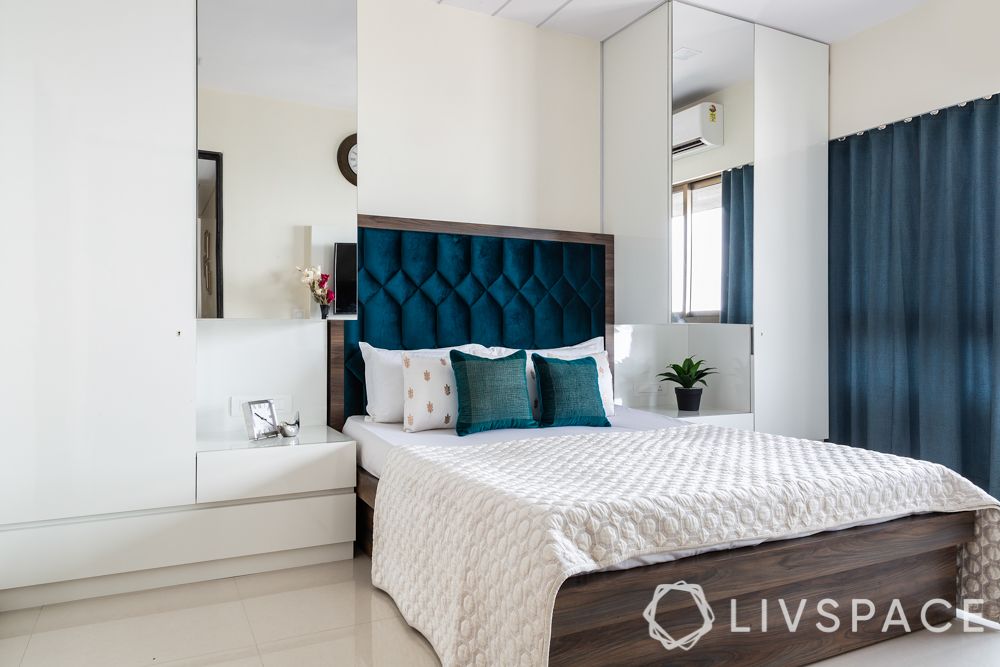 Needless to say that a 700 sq. ft. 2 BHK requires space optimisation in every possible way. In fact, Neha had quite a large wardrobe (read collection of clothes) to accommodate. Hence, the bed was set into the space between two wardrobes. Both these customised wardrobes had mirror and laminate shutters that slide over each other.
#6: Everyone likes a slim fit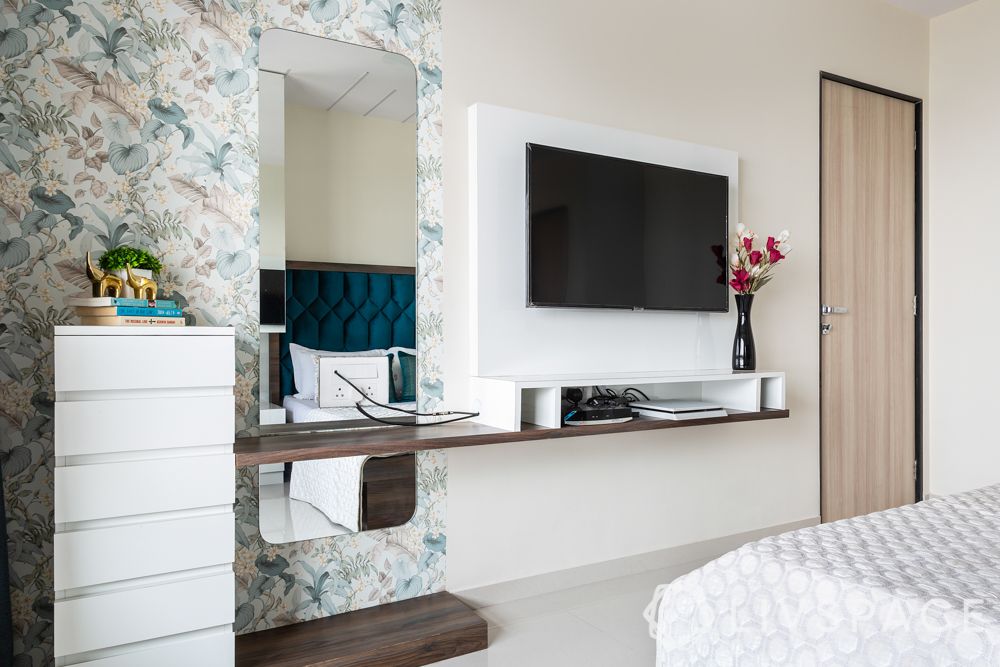 Only those who do not have a dedicated dresser know its true value. And Neha definitely wanted one. This chest of drawers was initially designed as additional storage for this 2 BHK house decoration project. But it became an extension of the TV ledge, and eventually, served as a mini dresser unit next to the vanity mirror.
#7: Sleek is the new black!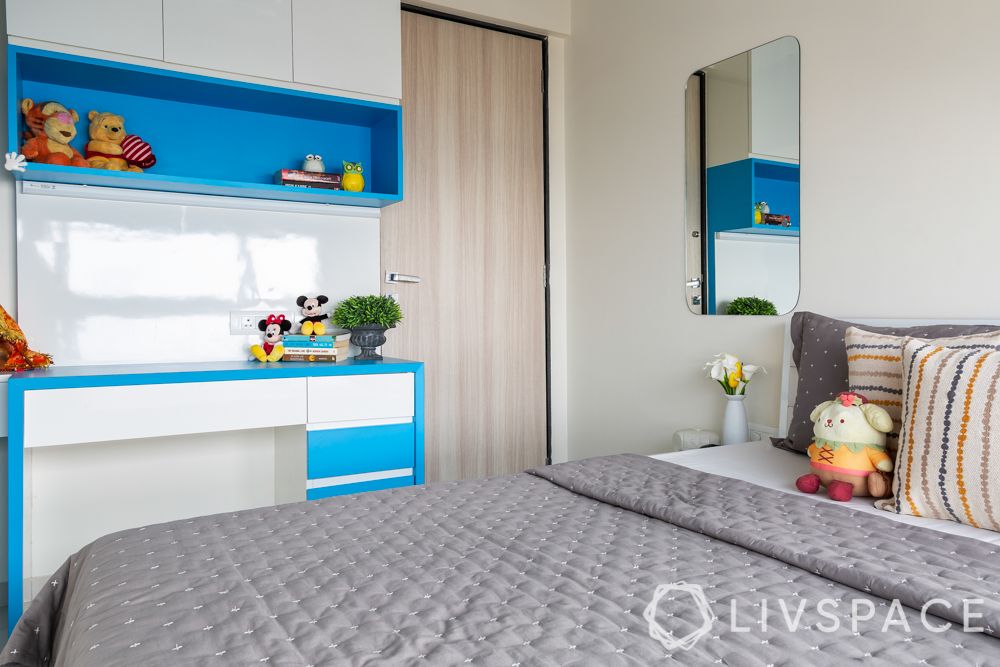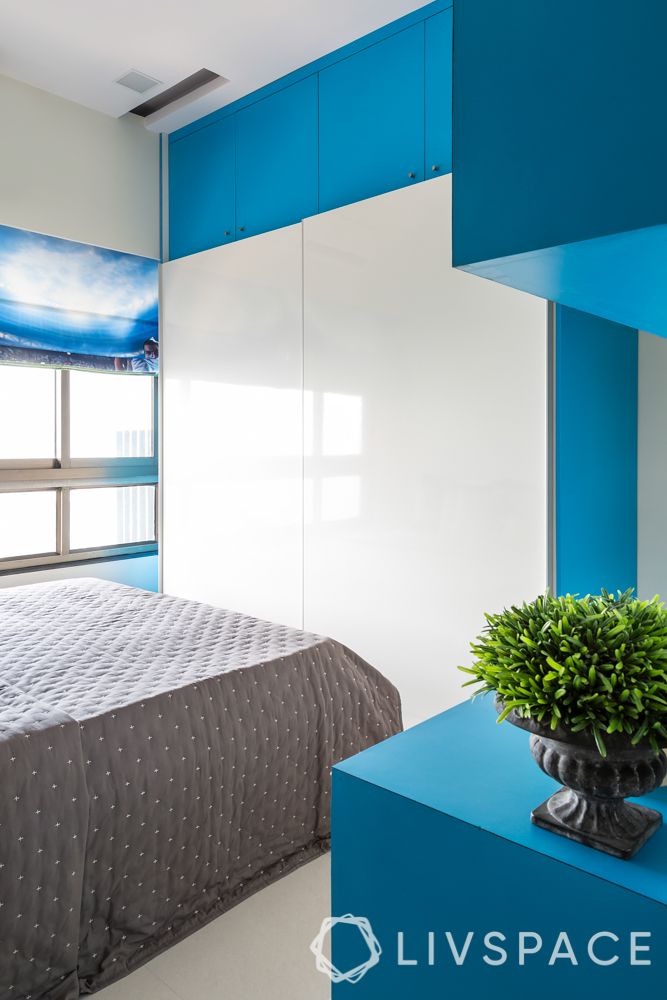 The couple's son has a room that is smaller in dimension to the master bedroom. However, we had to fit additional items in this room like a study unit as well as book and toy storage. So, sleek was the only way to go. Binal picked a sliding wardrobe from the Livspace catalogue to minimise the cost of this bedroom, but for the study unit, she chose to customise.
If you enjoyed reading about this 2 BHK house decoration project for its sheer cohesiveness, also explore the spin we gave on another 2BHK in Mumbai dreamy interiors on a budget!
Send in your comments and suggestions.