A roof over your head, food in your stomach and love in your heart — that's all you need for a happy life! But it doesn't hurt to have a stunning home as well, does it? This 3 BHK flat in Gurgaon has the best of everything — unique wall designs, gorgeous ceilings, a clutter-free look and ample storage. When you first enter Himanshu Wali's home, you will notice how clean and spacious his apartment looks. At the same time, it is elegant and decorative with a focus on wall and ceiling designs. Take a tour of this glam and sophisticated home to take a look yourself!
#1: One Wall Wonders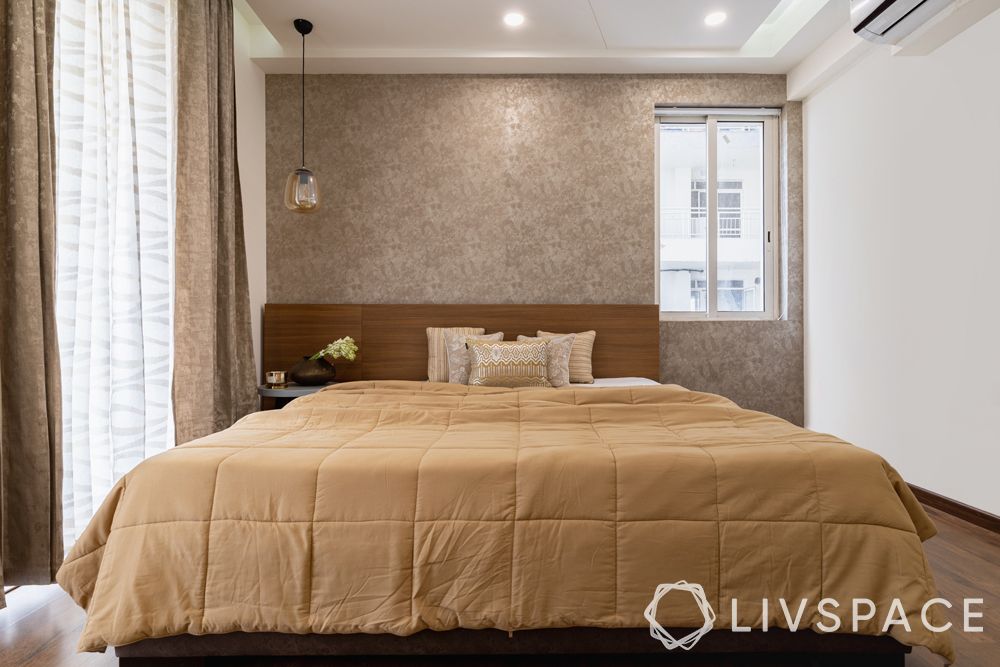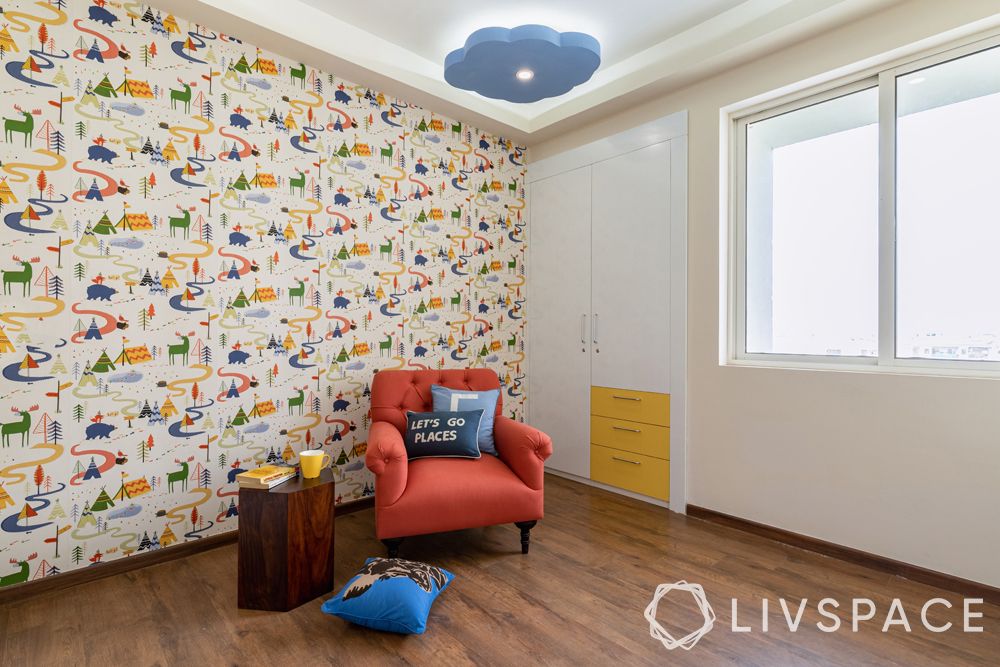 Beautiful walls equal a beautiful home. Gone are the days when paint was the only option available to homeowners. Today, with wallpapers, wall trims, wall panelling etc, there is so much more that you can do! This 3 BHK flat in Gurgaon has some of the most unique wall designs that we have seen under one roof. From a vivid Krsnaa Mehta wallpaper to an elegantly textured one, every wall tells a unique story. The bright and colourful wallpaper in the kids' room is perfect for energetic, growing kids. And apart from being a gorgeous choice, wallpapers are also very cost-effective, giving you the look you desire without the added cost.
#2: Ceilings That are the Cherry on Top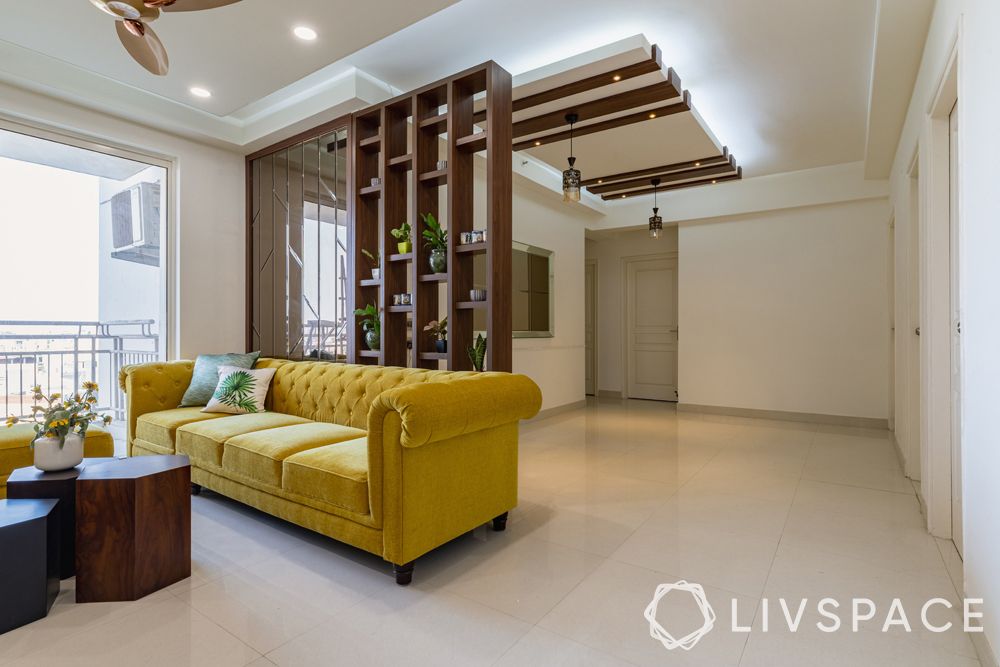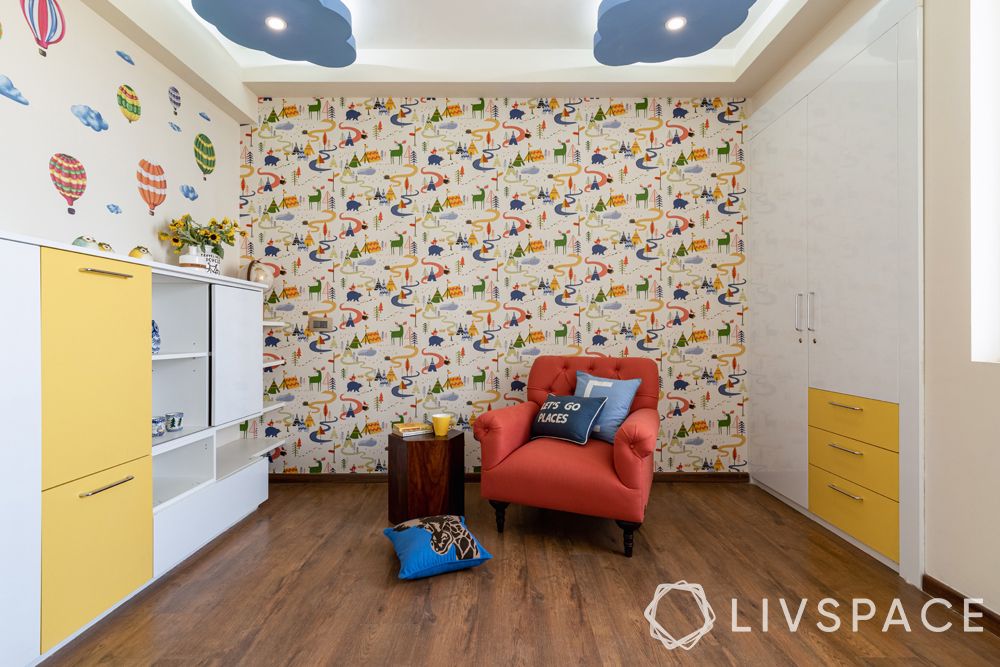 In an attempt to beautify the parts of your home that guests first see, you may often forget the fifth wall, the ceiling. For a perfect interior design, your ceiling should seamlessly fit in with the rest of your home design. Moreover, if you have a compact house, the ceiling is the one area where you can get the look you want without worrying about any design or decor element taking up extra space. Himanshu's 3 BHK flat in Gurgaon has some steal-worthy false ceiling designs. While most of the rooms feature a simple and elegant false ceiling, the living room and kids' room have some unique designs. While the latter features a POP false ceiling design in fun, cloud-like patterns, the living room has classy modular rafters, which are also a low-cost false ceiling option.
#3: Sleek Storage Solutions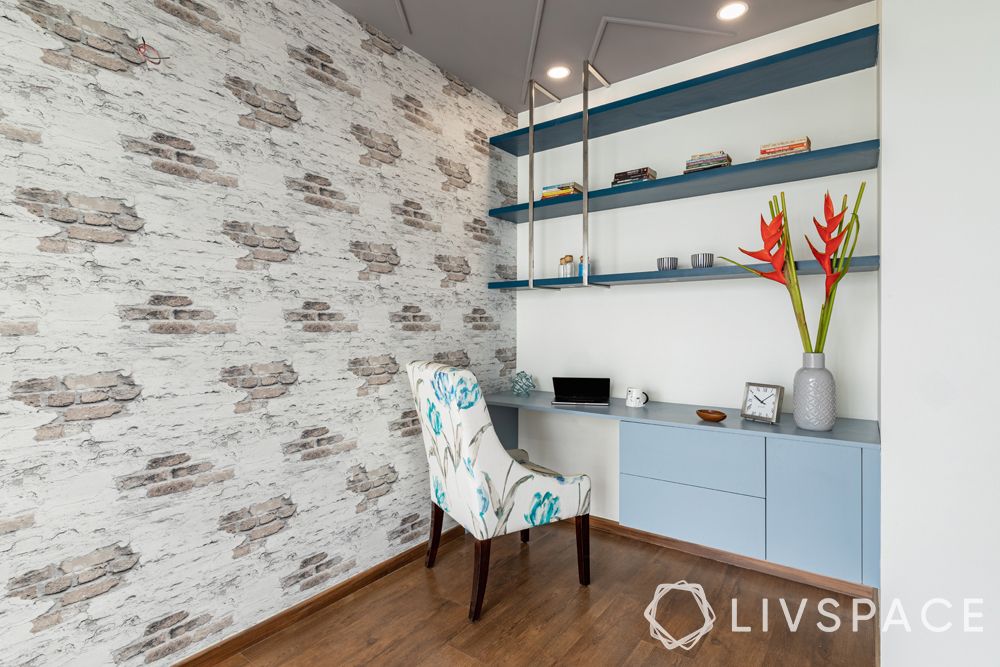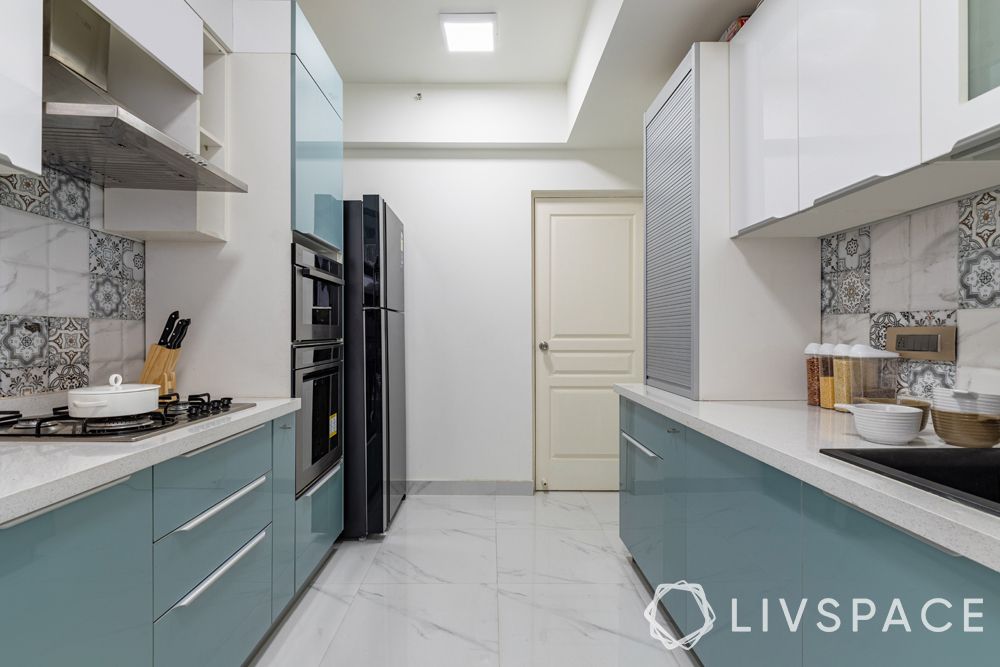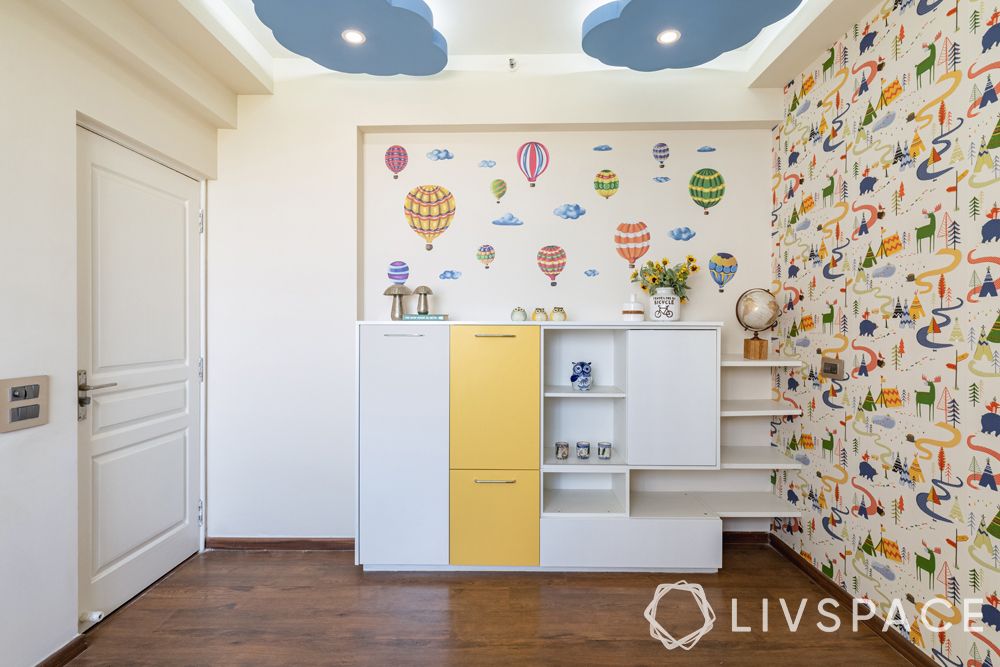 For a growing family, storage is that one necessity one can never have enough of! But go to any furniture shop and ask for a storage unit and they will show you a large, bulky piece that will compromise the look and ambience of your home.! While storage is vital, it should not take up too much space. Sleek storage units are the trend in today's interior design market. This 3 BHK flat in Gurgaon is a lesson on how to add storage without overpowering the look of the home.
For instance, take a look at the kitchen. It is packed with storage and accessories like upper and lower cabinets, a Tambor unit and a tall unit with in-built microwave space. However, the sleek designs and neutral colours ensure the kitchen does not look cramped. Similarly, the workstation and storage cabinet in the kids' room feature slim designs with a mix of open shelves and closed compartments to provide extra storage without looking bulky.
The main lesson from this 3 BHK flat in Gurgaon is that when designing your home, ensure that you get the basics right. The rest will follow! If you liked this home, also check out this Gurgaon 3BHK that features Scandinavian-style interiors.
How Can Livspace Help You?
We hope you found our ideas useful! If you want your home to be just as beautiful, then look no further. Book an online consultation with Livspace today. Delivering safe home interiors has been our No. 1 priority. Click here to find out how interiors are being delivered following all safety protocols.
Let us know what you think in the comments or send us an email at editor@livspace.com.