Have you ever wondered what it is like to live next to the famous Sabarmati Riverfront in Ahmedabad? And do you imagine it to be expensive? Well, who can blame you for thinking that – Grand Riviera is in a prime location, has well-lit and well-ventilated flats. Naturally, they're on the higher end of the cost spectrum, and that's not without reason. But is it necessary for your interior design for Grand Riviera to burn a big hole in your pocket? In simple words – no. Take a look at this home with modular furniture for 3BHK in Ahmedabad that cost Anjali and Guarang only ₹3.5 Lakh!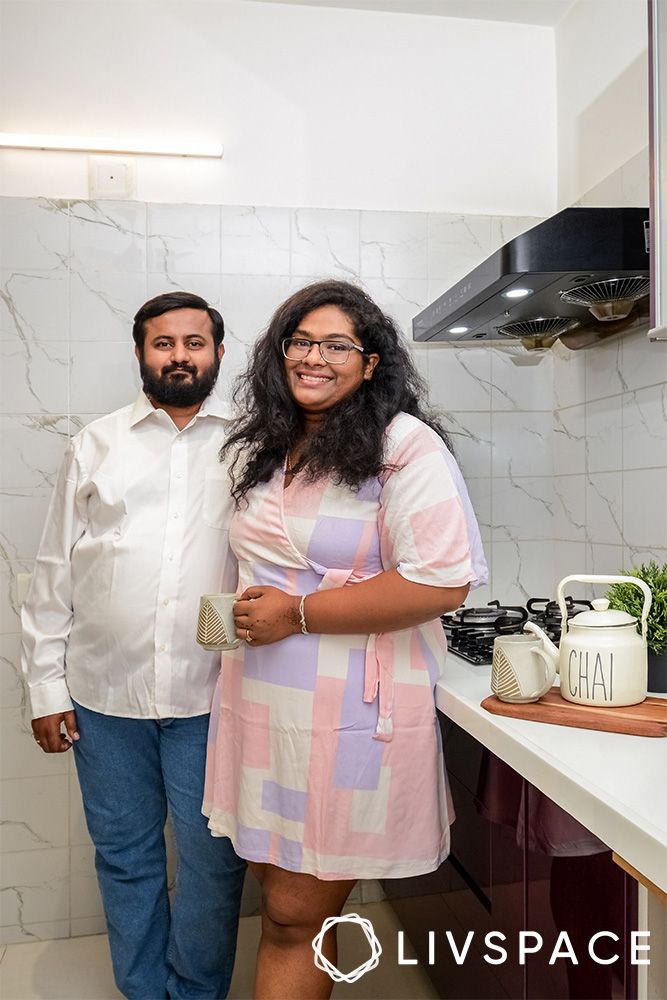 ---
Who Livs here: Anjali and Gaurang Vyas
Location: Grand Riviera, Paldi, Ahmedabad
Size of home: A 3BHK spanning 1,740 sq. ft. approx.
Design team: Interior Designer Seme Nadvi and Project Manager Kishor Purohit
Livspace service: Kitchen, wardrobe and storage
Budget: ₹
---
IN A NUTSHELL


Brief
An easy-to-maintain interior design that had to be delivered within 40 days

What We Loved
The colourful matte laminate finishes used in the house

Look Out for
The lift-up unit in the modular kitchen

Biggest Indulgence
The acrylic-finished cabinetry in the modular kitchen that is easy-to-maintain

Smart Buy
The convertible storage unit that opens into a breakfast counter in the kitchen


So, how did Seme Nadvi, a Livspace designer, deliver these budget-modular furniture in Ahmedabad in 35 days and ₹3.5 Lakh? Let's find out.
The Budget-Friendly Kitchen Modular Furniture for 3BHK in Ahmedabad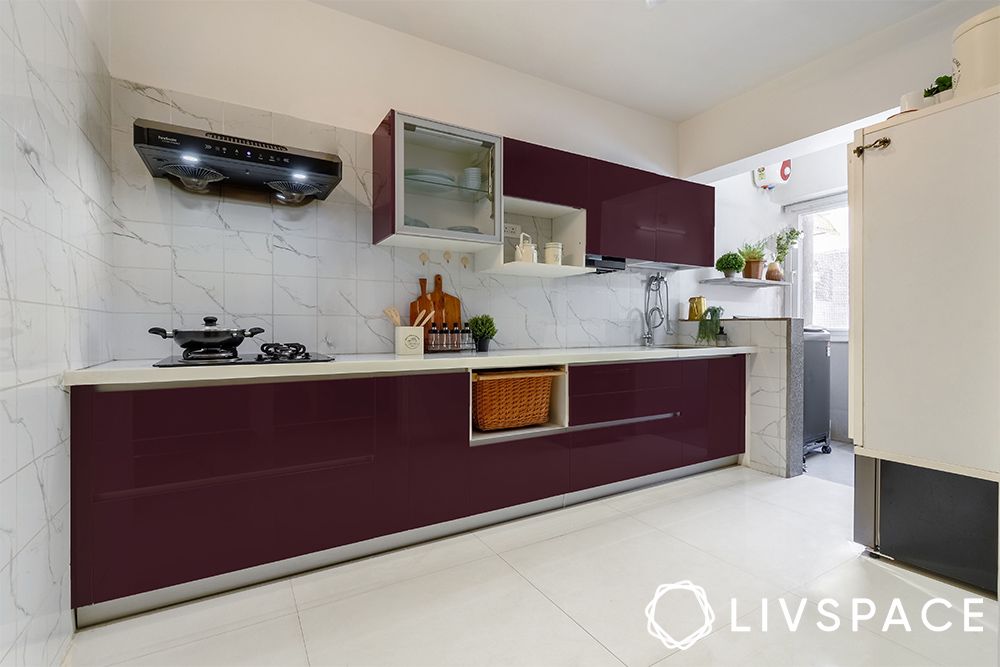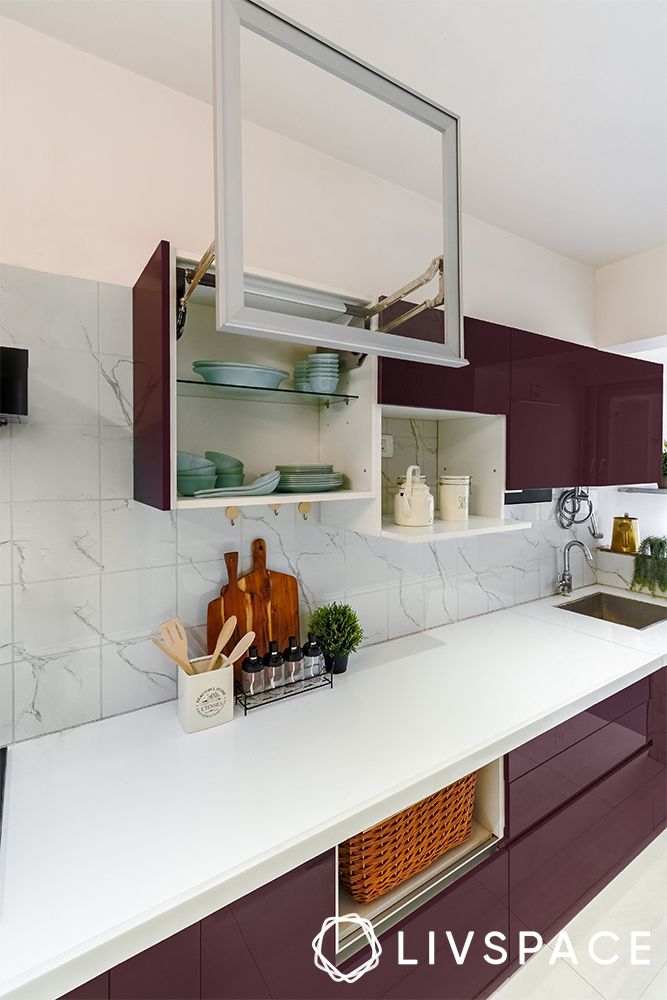 The total cost of this acrylic-finish kitchen modular furniture for this 3BHK home in Ahmedabad is a little less than ₹2.5 lakh. It has special units like the wicker basket, the lift-up shutter and the wall aqua guard unit.
Apart from this, Seme also finished the backsplash with marble-mimicking ceramic tiles to make the kitchen a low maintenance affair. Additionally, she installed a nano glass countertop in white to match the theme of the modular kitchen design at Grand Riviera. Nano glass countertops are engineered stones made of Silica, that are stain-resistant and environment-friendly as well.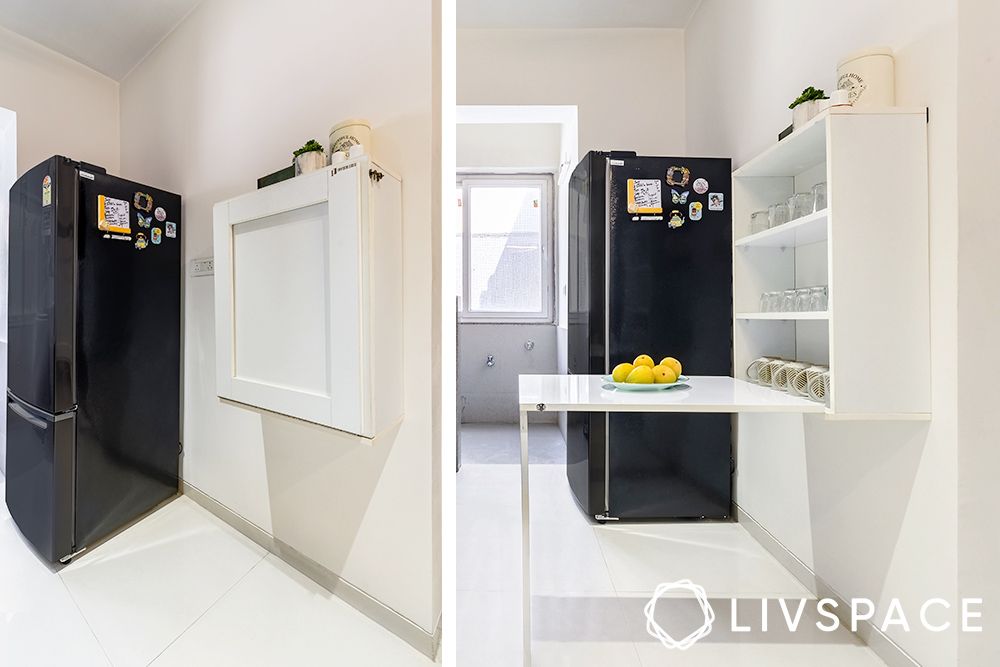 There is a convertible storage unit at the entrance of the kitchen. This wall-mounted unit opens into a counter that you can use for having quick meals or as a serving station when visitors arrive.
The TV Unit in the Living Room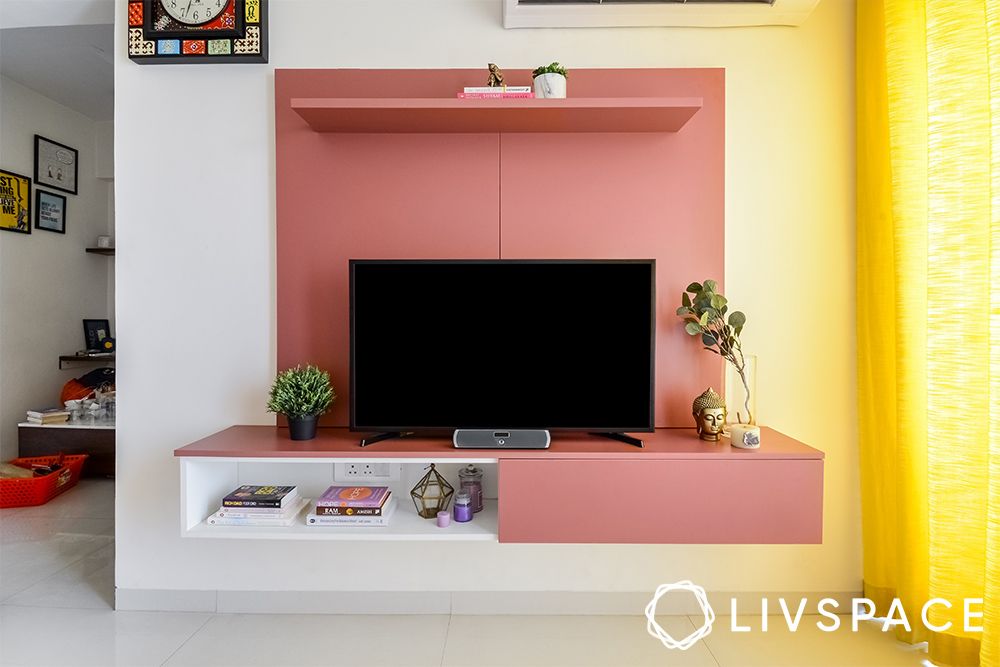 This light red laminate-finish TV unit is a preset design from the Livspace catalogue. Such modular furniture for 3BHK in Ahmedabad are usually much budget-friendly as compared to the custom designs. Most homeowners commonly use laminates in their homes because of the lower costs, relatively high durability and easier maintenance.
The Storage Modular Furniture for 3BHK in Ahmedabad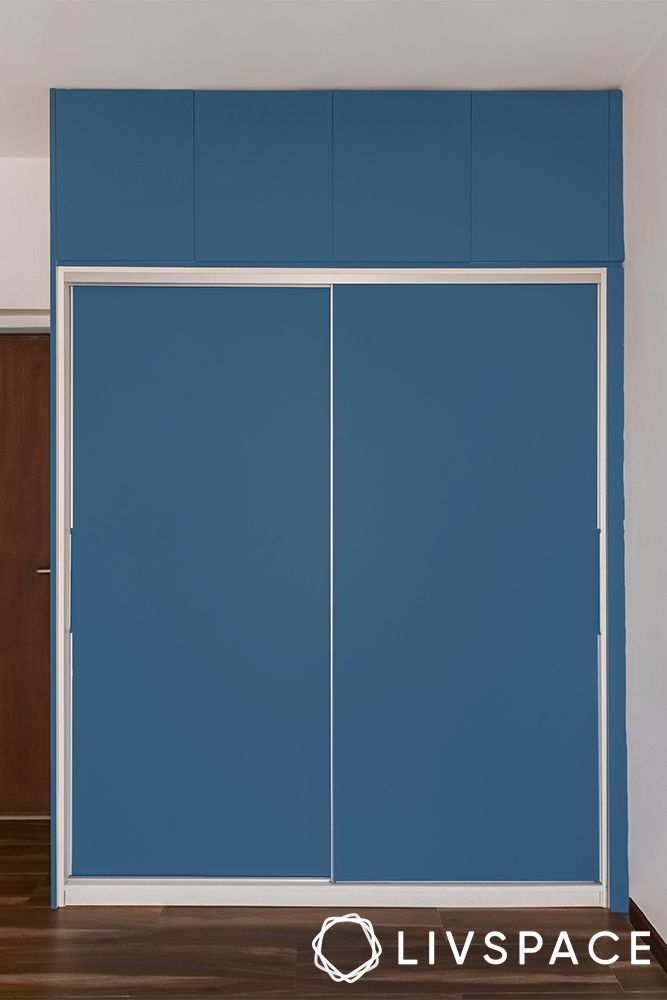 When you have compact rooms, sliding doors are the best space-saving additions to your wardrobes. This is because unlike swing doors, these don't need clearing space to open and close. You can also customise the storage racks inside your wardrobe to suit your needs. The lofts are optional additions, and you can build them atop your wardrobe to add more storage space.
The best thing about such economical modular furniture for 3BHK in Ahmedabad is that they are great for rental homes. Even if you are a homeowner but want to render your house with basic modular furniture that are easy-to-maintain and durable at the same time, these are your go-to options.
If you enjoyed reading about our budget-friendly modular solutions, then you might also like to read this: 9 Must-Have Modular Kitchen Fittings With Price From Real Livspace Homes.
Check out this modular kitchen design in Ahmedabad:
How Can Livspace Help You?
If you want your home to be just as beautiful, then look no further. Book an online consultation with Livspace today.
You can visit our Livspace Experience Centre in Ahmedabad to get your dream home designed.
We love hearing from you! Write to us with your comments and suggestions at editor@livspace.com