Designed under ₹5 lakh, this 3BHK interior design, Gulshan Balliena is clean, modern and spacious. While getting your hands on a sprawling and spacious 3BHK might look difficult in a city like Noida, making your compact space look spacious hasn't ever been easier. It's all about the science of changing the way you liv!
Our Livspace designers came up with some stunning interior decor ideas for Gulshan Balliena, Noida, and we can't wait to share them with you.
Also Read: Designed Only Under ₹11 Lakhs, This Home in Cleo County, Noida Is Minimal and Amazing
Meet the Family That Loves Beige & Greys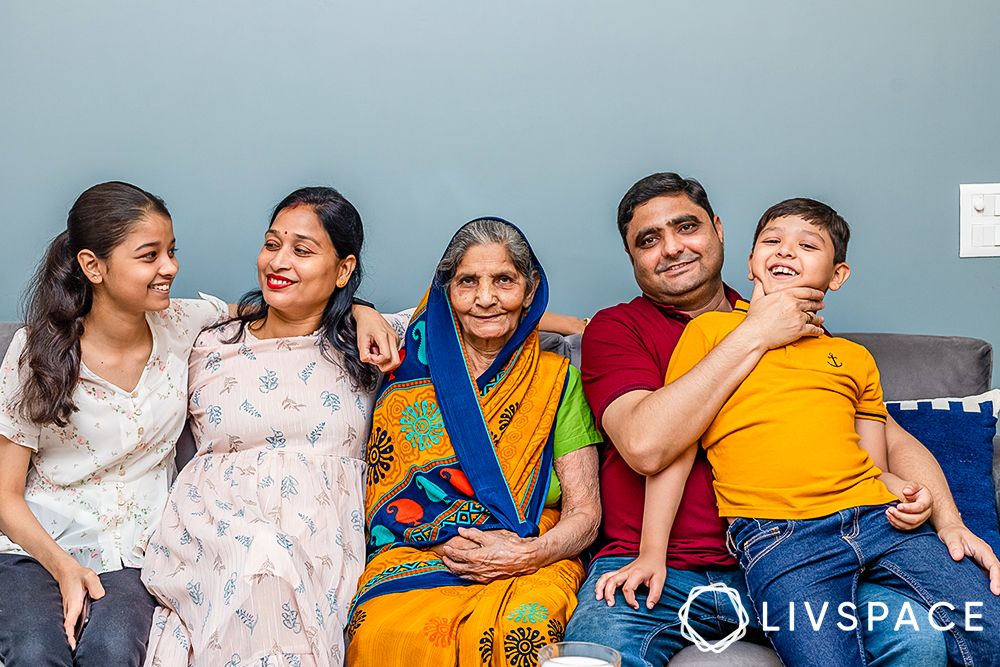 ---
Who Livs here: Amit Dubey with his mother, wife and two children
Location: Gulshan Balleina, Noida
Size of home: 3BHK
Livspace service: Kitchen, wardrobes and false ceilings
Budget: ₹
---
IN A NUTSHELL



Design Brief
To design a modern home where comfort meets convenience

What We Loved
The galley kitchen that opens up space

Look Out for
-The tall units in the kitchen
-The wicker baskets and closed shelves for added functionality
-The handleless design of the cabinets

Biggest Indulgence
The blue wardrobe in the master bedroom

Smart Buy
The TV unit in the master bedroom



1. Choose One Colour Palette for the Living Room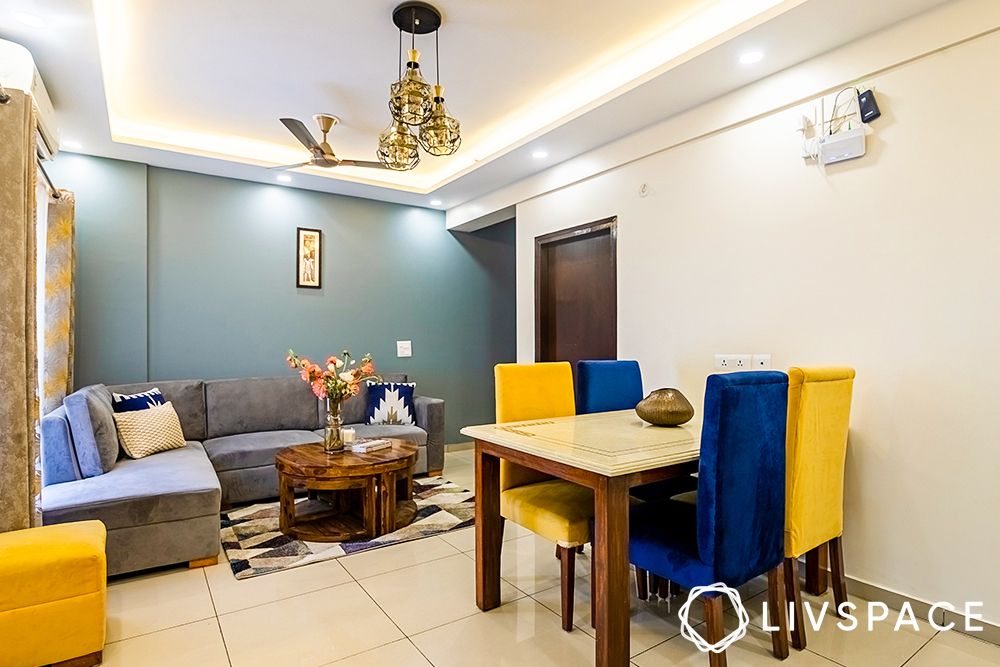 If you take a quick look at this lovely 3BHK interior design for Gulshan Balliena, you'll see it's bathed in beige and greys. Or, as it's sometimes called – greige!
Grey's a great base for modern living rooms. When you pair it with beige (the colour that's making a comeback this year), you create a stunning living room. Neutrals don't have to be boring – and nothing proves it better than greige.

In fact, sticking with neutrals and beige for the kitchen creates a seamless flow throughout the space. The tonal hues accentuate the colour scheme further, giving the living room a warm and welcoming vibe.
2. Take Advantage of Weird Angles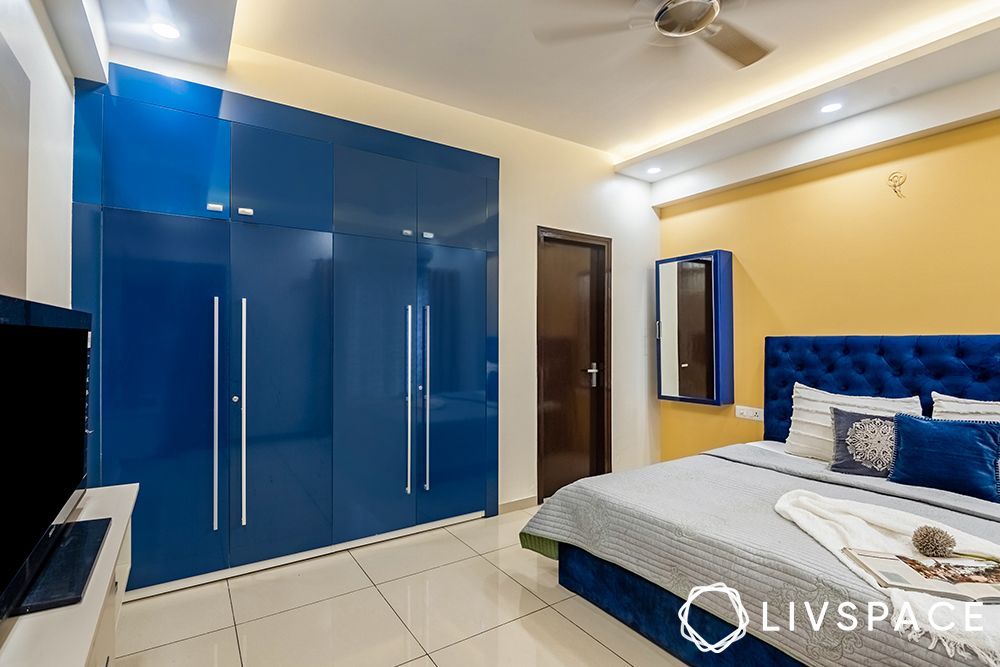 The master bedroom for this interior design for Gulshan Balliena flat has unconventional angles that it works around. With a simple yet stunning design, the smart positioning of the TV unit has given ample opportunity to take the focus off the size of the bedroom.
In fact, the wardrobe also blends in with the angles and adds a shine to the space. Not to forget, how the wall-mounted mirror with storage adds consistency of design and convenience to this space.
3. Leverage Natural Light Like This 3BHK Interior Design, Gulshan Balliena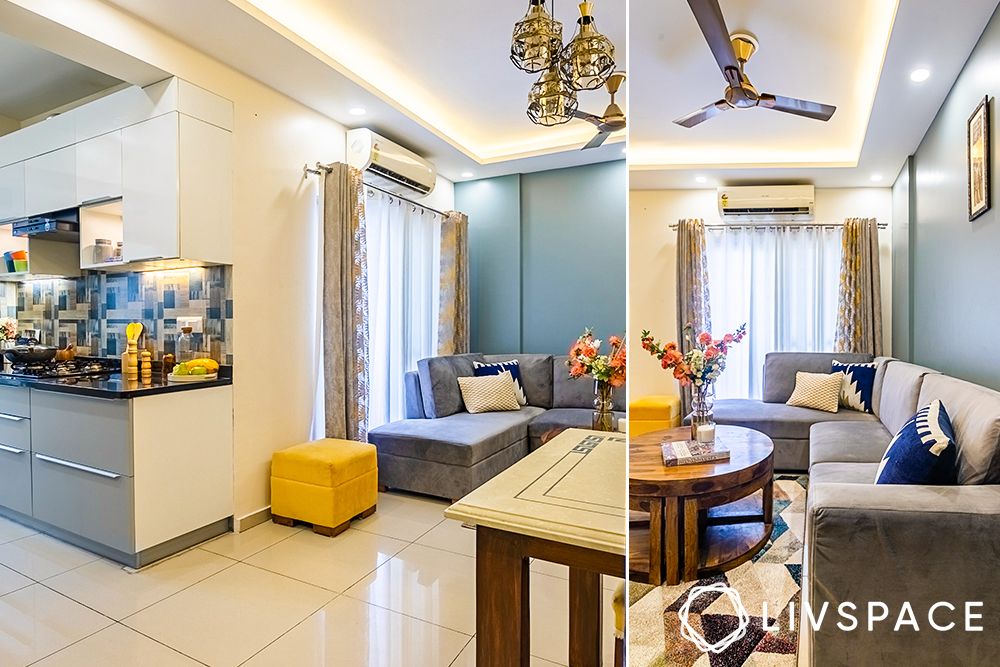 When the right light hits, even the smallest of rooms appear bigger. We're not saying it – our interior designers are! You'll want to take advantage of the natural light as much as you can with floor to ceiling windows, sheer curtains and clean lines.
Pro Tip: Move clutter away from window sills, and you'll see the magic!
4. Streamline With Modular Storage Solutions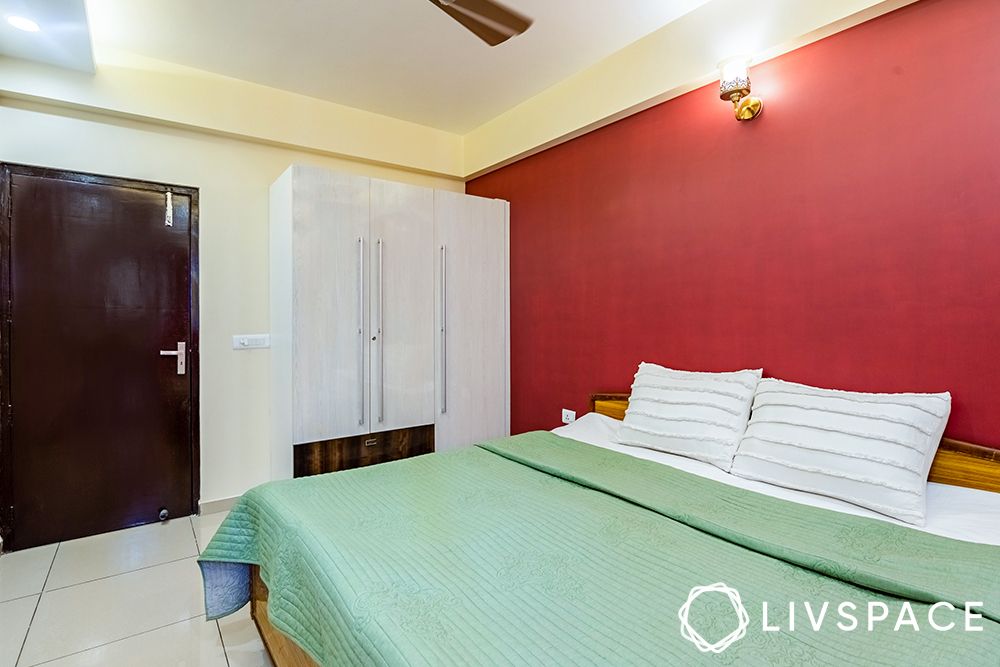 This one's a no-brainer for the modern interior design for Gulshan Balliena flat designer under ₹5 Lakh. They went all modular to skip the unnecessary challenges of daily life.
Modular-style storage helps conceal clutter, streamline a space and give it a clean and spacious love that you'll love. Make note of the lovely white wardrobe in the bedroom that stands out. It requires very little floor space, but can pack in a lot of storage!
Next in our range of all modular interiors is their simple yet functional kitchen design (more on that below).
5. Copy This Space-Saving Galley Kitchen Idea From This 3BHK Interior Design, Gulshan Balliena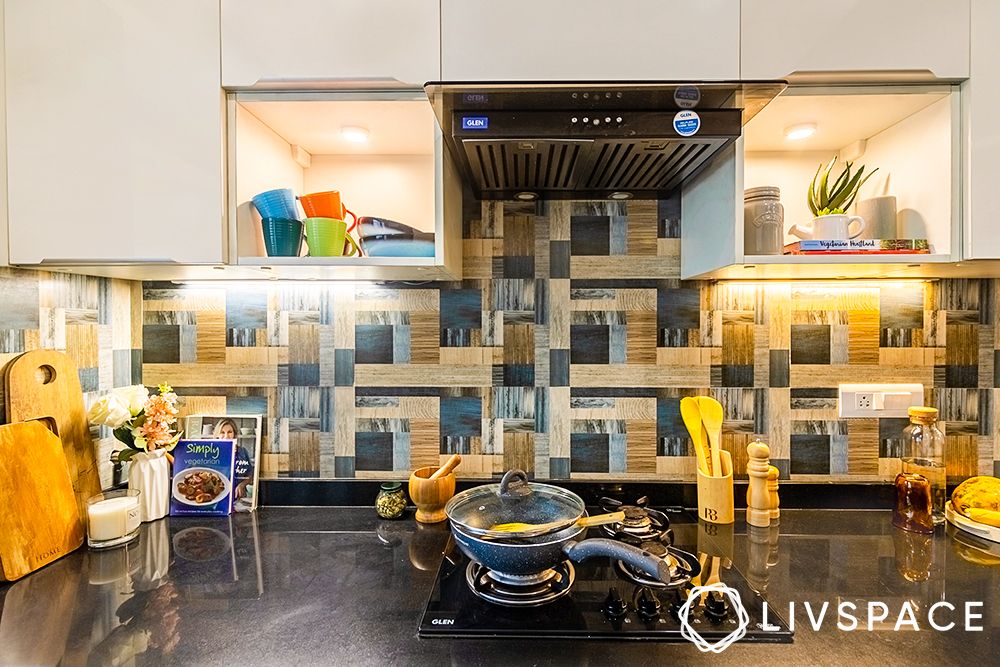 If you want to live large and not be confined by the limitations of space, go galley! Galley kitchen design ideas are all the rage – thanks to the style quotient, they add to the most functional space in your home.
With tall units, wicker baskets for additional storage and a mix of open and closed shelves, this kitchen design interior decor ideas for Gulshan Galliena, Noida streamlines convenience.

6. Try a Sleek and Modern Kitchen Like This 3BHK Interior Design, Gulshan Balliena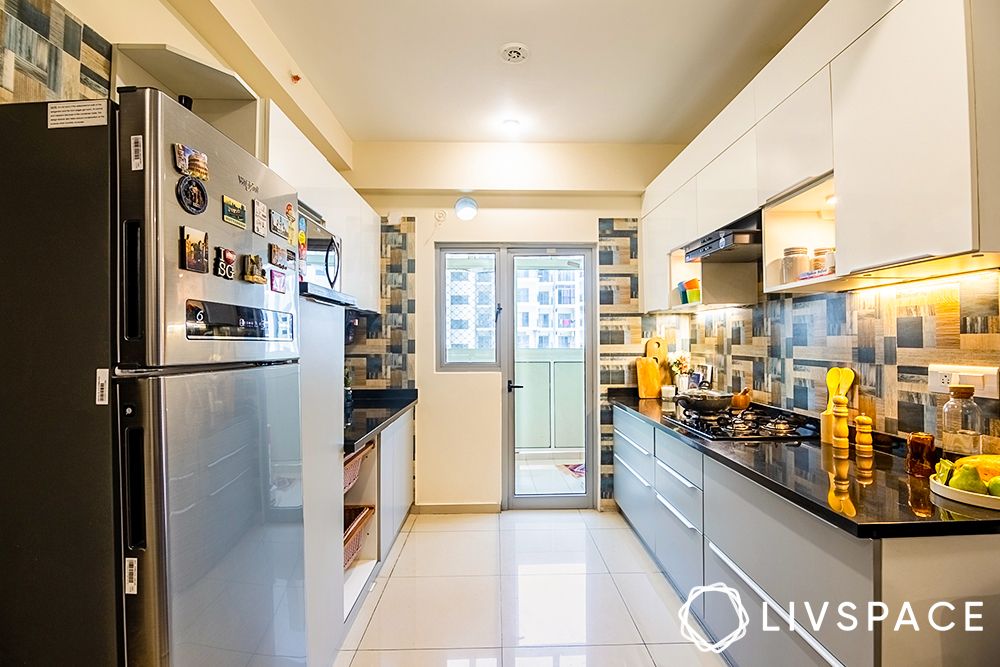 No matter the square footage, a galley kitchen (also called a parallel kitchen) with a window at the end can do wonders! If you don't have a window, consider putting in one.
The kitchen design of this 3BHK flat interior design in Gulshan Balliena with its handleless cabinets and black countertops makes quite an impression. While the overhead cabinets are finished in white, the ones below have a grey colour palette to give a high yet subtle contrast.
This interior design uses MDF as the core material (it cuts down costs and is sturdy) and finishes it in laminates (again great for aesthetics and budget). The backsplash is a printed motif that helps break the monotony of the beiges, thereby opening up this space.
Also Read: Designed Within ₹13 Lakhs, This 1,200 Sq. Ft. Noida Home Is a Pastel Paradise
How Can Livspace Help You?
We have delivered over 75,000+ happy homes
Our expert team of designers can give you your dream home
With 146 quality checks, we promise durable materials
If you want beautiful interiors for your home, then look no further. Book an online consultation with Livspace today. In addition, you can also visit us at the Livspace Store in Noida. If you have any thoughts and suggestions you'd like to share with us, we're all ears! Drop us a line at editor@livspace.com.