Moving to a new city can be a daunting task. Imagine moving to a new country! After living in the USA for more than 10 years, Sadanand Deshpande decided to move back to India and make Bangalore his home. Once he purchased his 3BHK flat design in House of Hiranandani, the next step was to get his dream interiors — a simple and classical design that blends in with his existing wooden furniture. Join us for a tour of his stunning home.
---
Who Livs here: Sadanand Deshpande
Location: B603 Cypress, House of Hiranandani, Bangalore
Size of home: 3BHK spanning 1,800 sq. ft. approx.
Design team: Interior designer Pradnya Sanzgiri and project manager Arvind Kumar K
Livspace service: KWS + Custom Designs
Budget: ₹₹₹₹₹
---


Brief

To design a simple home with a classical design that works well with the existing wooden furniture

What we loved

– The fireplace with the solid teakwood mantlepiece
– The white wardrobe in the bedroom that has grooves on it for a classical look
– The rustic stone wall in the balcony

Look out for

The functional kitchen with maximum storage

Biggest Indulgence

The fireplace with the teakwood mantle and stone base

Smart Buy

The sleek and minimal breakfast bar in the kitchen


---
#1: An All-White Bedroom With Classical Cues in This 3BHK Flat Design in House of Hiranandani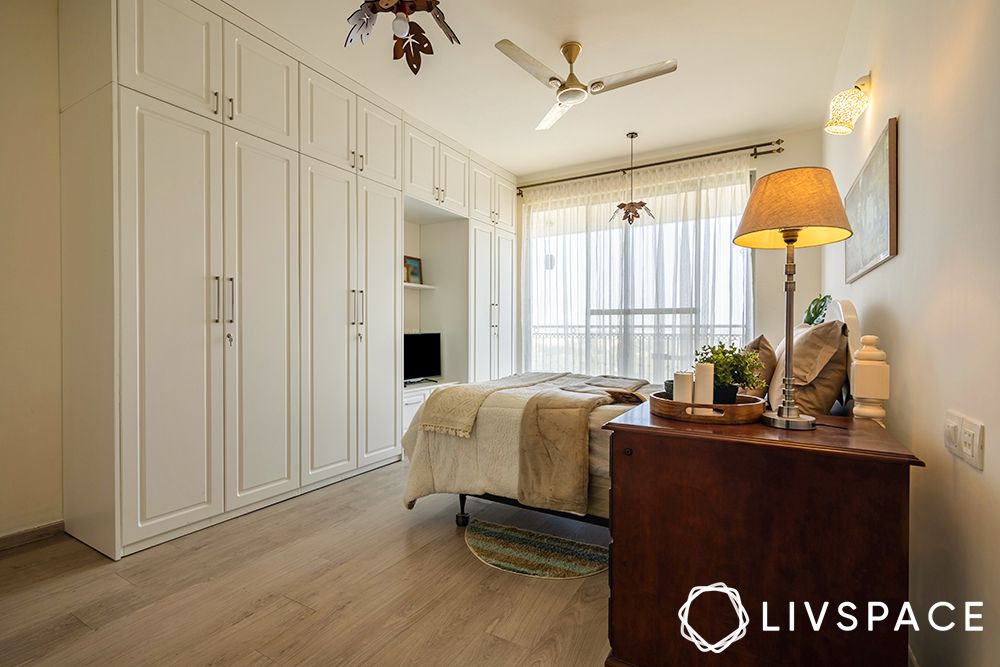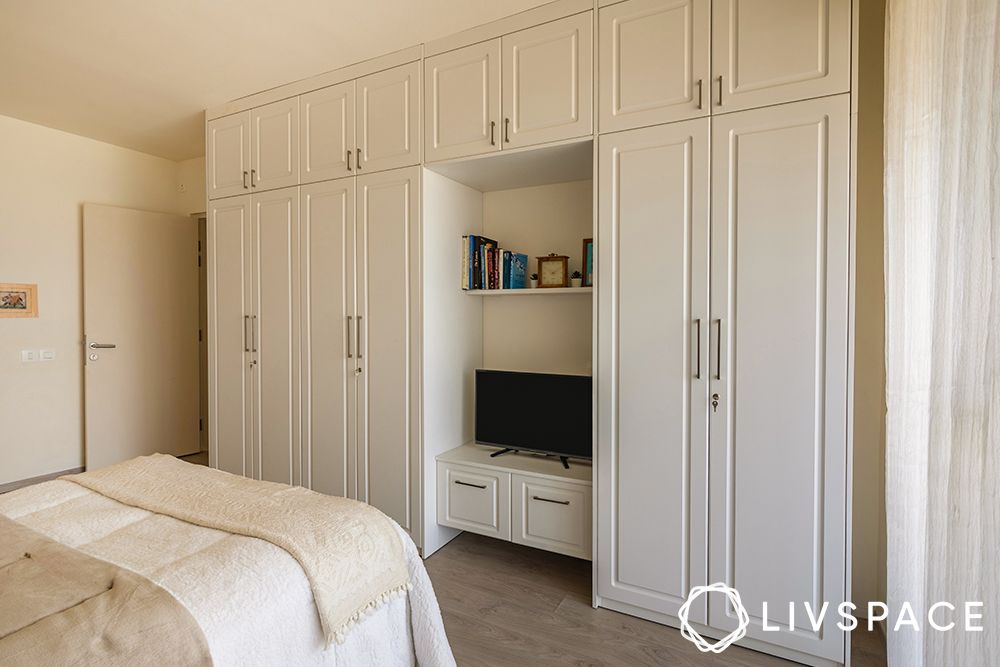 Your bedroom is where you go to relax and rejuvenate after a long day. And this serene white bedroom in the House of Hiranandani flat interior design is perfect for relaxation purposes. Our designer, Pradnya Sanzgiri tells us that the homeowner had his heart set on a home that was very classical in design since he already had several solid wood furniture pieces that he had brought along with him from the USA. So, Pradnya ensured that this bedroom interior design in Hiranandani Bangalore stuck to that template, with a classic wardrobe with grooves on the shutters. In addition, the wardrobe has a niche for the TV unit, making the most of the space available.
#2: A Fully Functional Kitchen Interior Decor for House of Hiranandani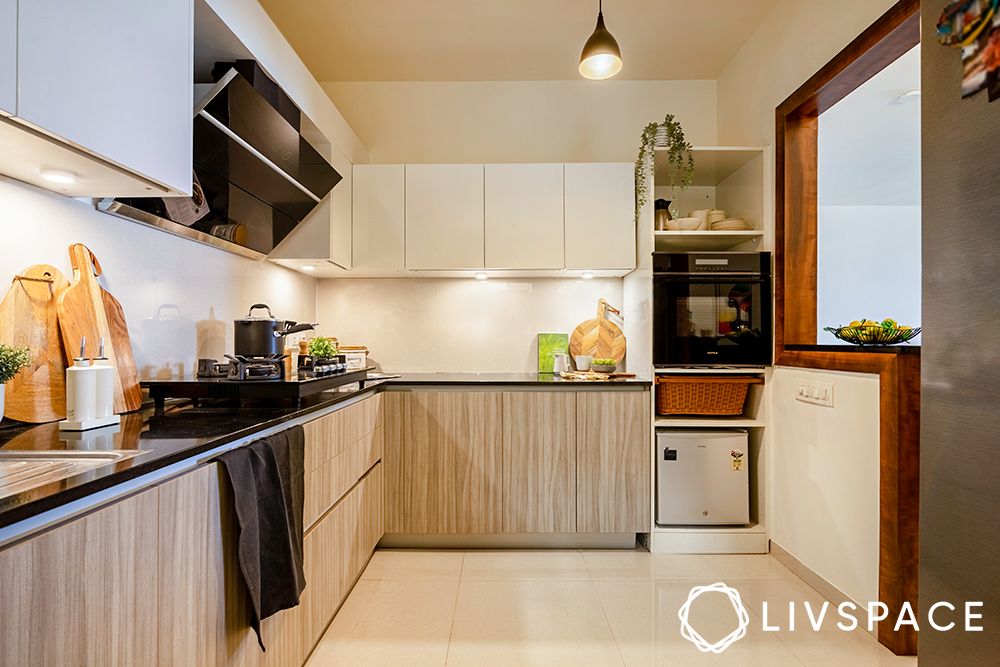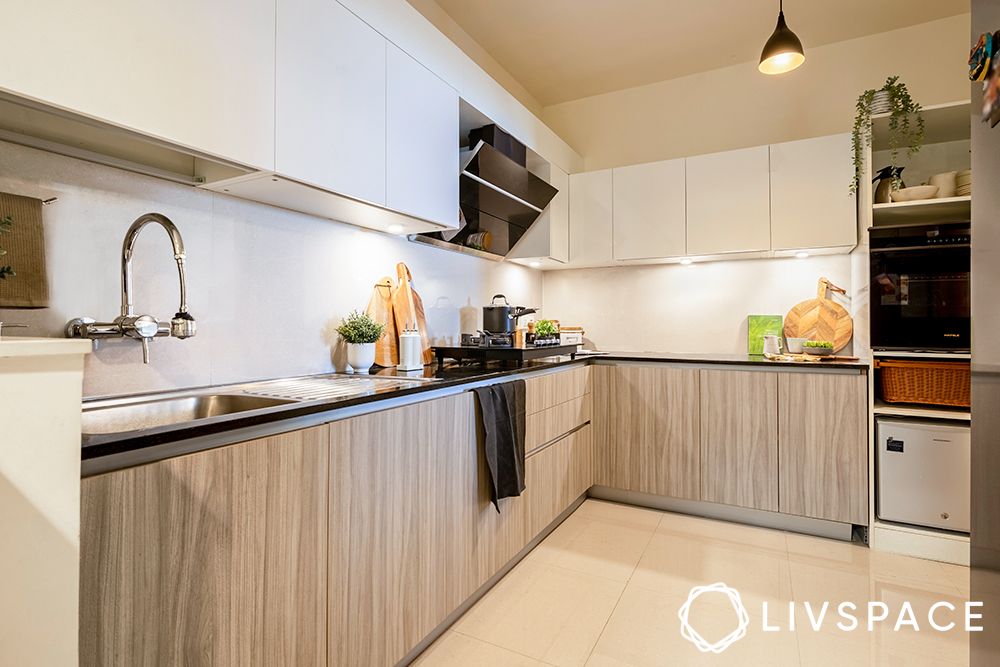 While designing the kitchen in this 3BHK flat design in House of Hiranandani, Pradnya had to take into consideration several roadblocks. Firstly, the builder had already provided the lower cabinets in a light wood finish. As a result, the choice of colours for the upper cabinets was limited. Pradnya decided to go with all-white cabinets which went perfectly with the wooden base cabinets while also maintaining design continuity with the rest of the home.
Secondly, the builder had provided a narrow space for the fridge in the kitchen of this 3BHK interior flat design for House of Hiranandani. However, Sadanand's refrigerator was much too big to fit into the space. Instead of wasting that niche, our designer added a customised tall unit to create space for the homeowner's mini-fridge. Thirdly, Sadanand had his heart set on an open kitchen design with a breakfast counter, even though space was scarce. To accommodate him, Pradnya tore down a wall, added some wooden borders to highlight the open space and provided a sleek breakfast counter.
#3: Some Charming Custom Designs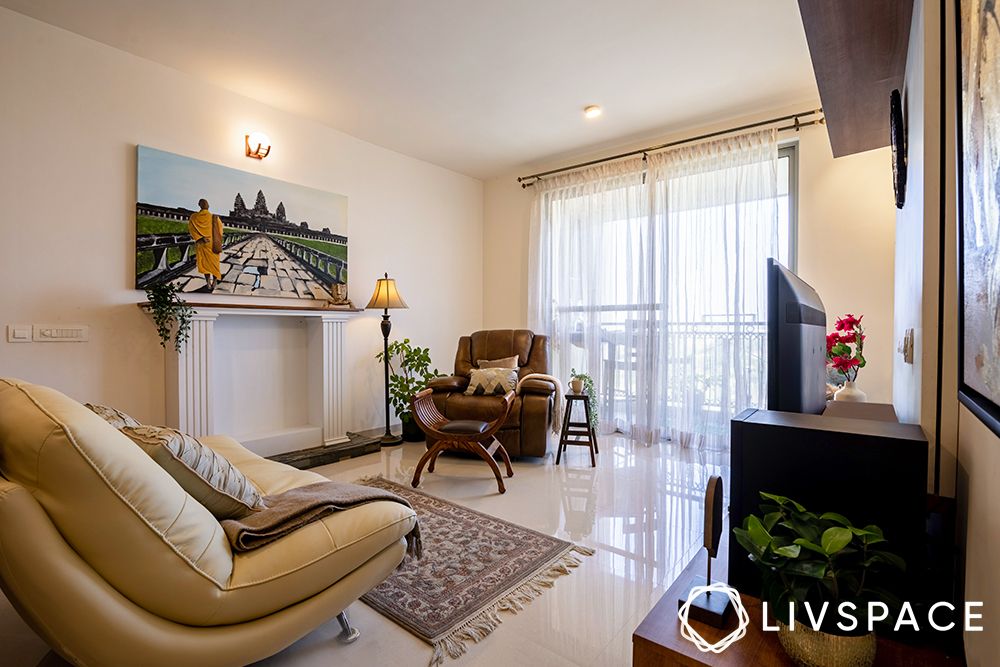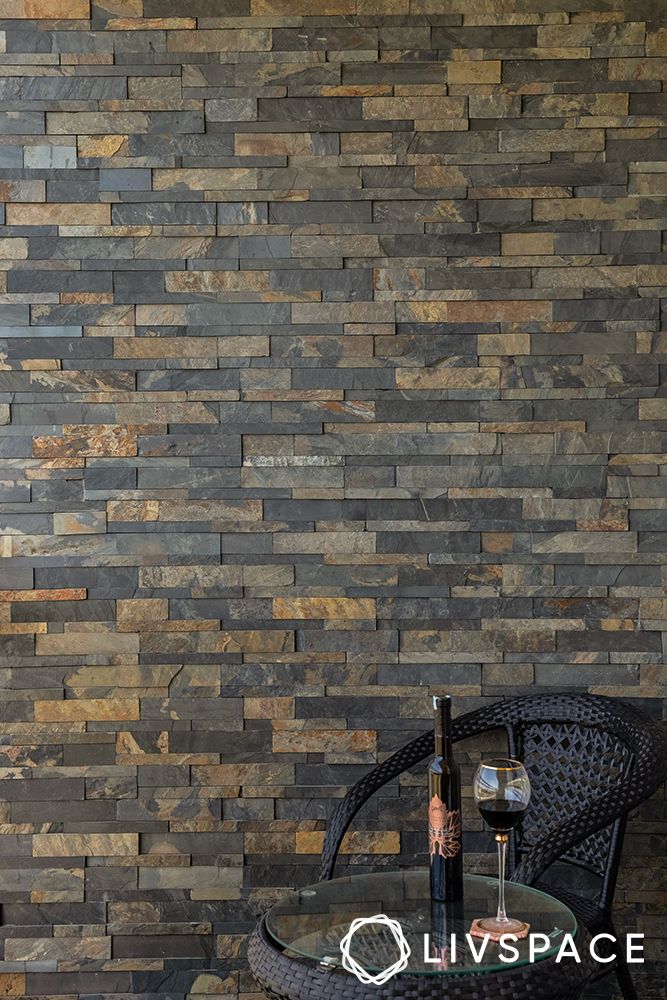 Apart from the modular units by Livspace that you see in Sadanand's 3BHK flat design in House of Hiranandani, he also had several custom design requirements. One of the things he wanted in his home was a fireplace. And not just any fireplace; it had to be one that would remind him of the fireplace he had back in his home in the USA. So, we gave him a simple, minimal white artificial fireplace with a solid teak wood mantle piece that matched the wood used in the TV unit and a stone base.
While the fireplace adds charm to the interiors, there is a lot to be said for the view that the house enjoys, courtesy of the balcony. Sadanand's balcony in this House of Hiranandani flat interior design had a gorgeous view, making it the perfect spot to sit and enjoy a cup of coffee. Also, being an avid gardener, he would spend a lot of time in this space. As such, he wanted something aesthetic to elevate the look of his balcony. The solution was a gorgeous stone wall, giving his balcony a rustic yet elegant look.
#4: Tons of Storage in This 3BHK Flat Design in House of Hiranandani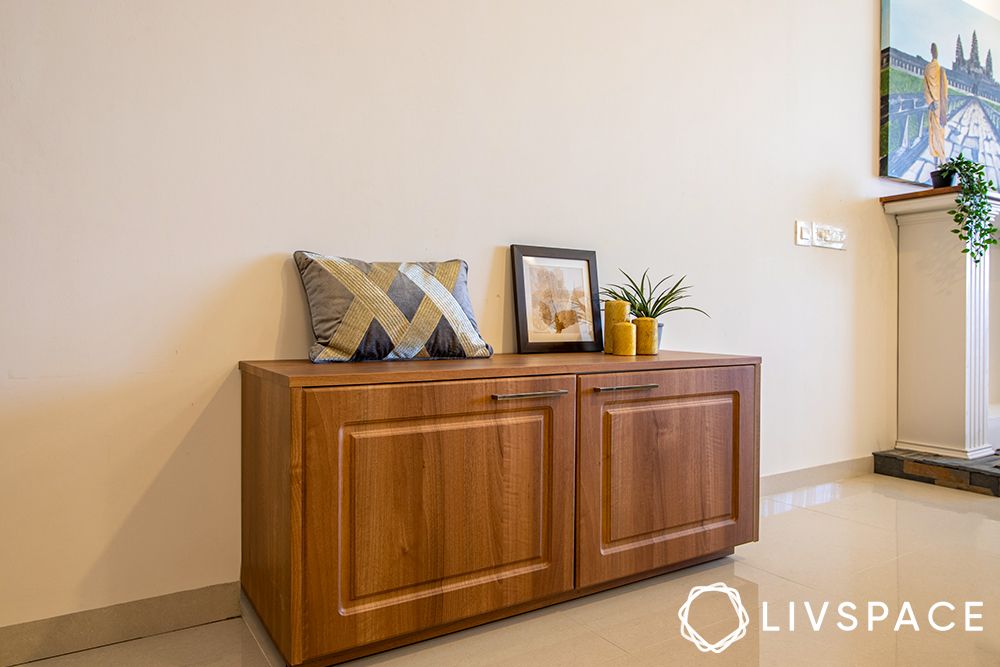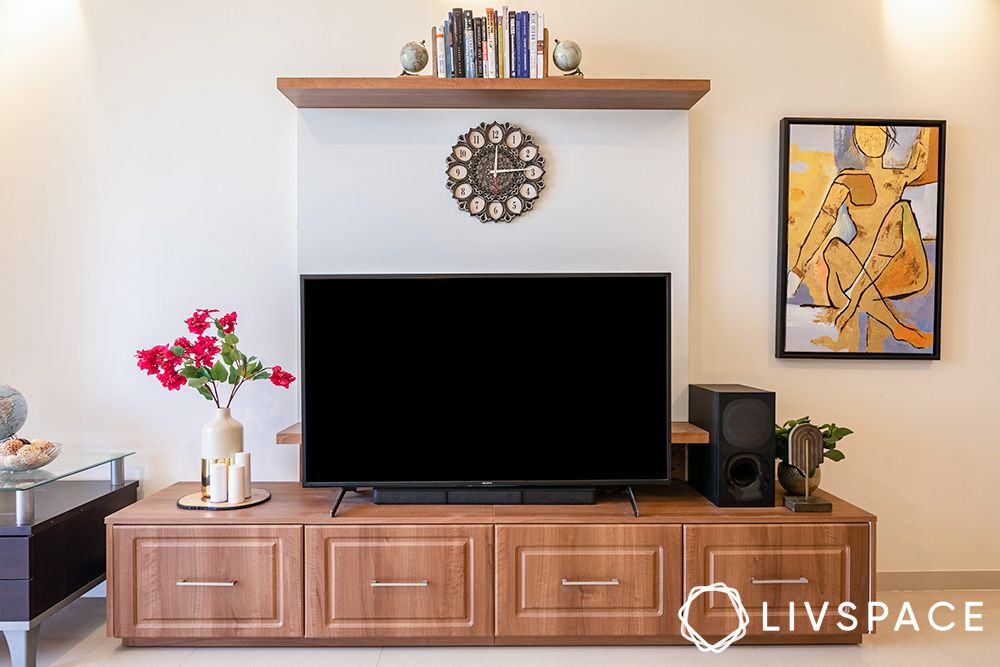 Be it a compact 1BHK or a lavish penthouse, every home requires storage. While adding storage to this 3BHK flat design in House of Hiranandani, Pradnya ensured that every new unit blended in with the existing furniture. Moreover, she also maintained design continuity between all the rooms and the main units.
Sadanand wanted a simple shoe rack as he did not own too many shoes. At the same time, he wanted it to also have seating for him to sit on it and change his shoes. Since the home did not have a separate foyer and opened directly into the living room, Pradnya chose a sleek shoe rack with grooves. The same design and finish can be seen in the TV unit in the living room.
#5: Spa-Like Bathroom for This Interior Design for House of Hiranandani Devanahalli Flat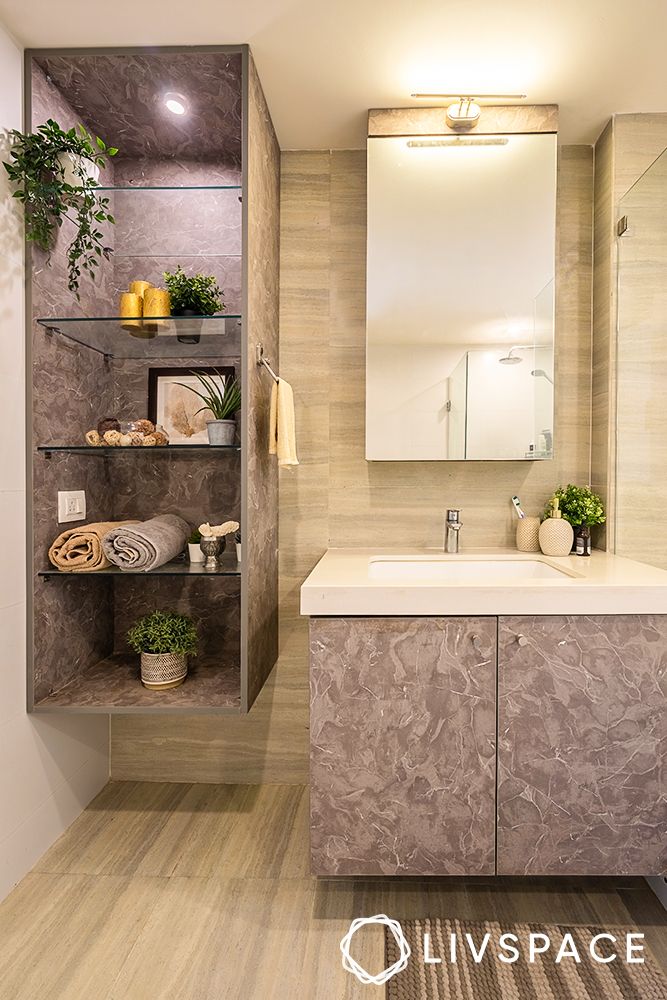 If there is one room in this House of Hiranandani 3BHK flat interior design that we can't take our eyes off, it is the bathroom! Completely designed from scratch, our designer gave Sadanand spa-like feels with a plush bathroom design. While the floating units make it easy to clean and low maintenance, the stone finish cabinets give the space a luxe look. And while aesthetics are definitely important, Pradnya ensured that the bathroom had ample storage and display racks.
If you liked Sadanand's classical 3BHK flat design in House of Hiranandani, Bangalore, check out this modern and budget home.
How Can Livspace Help You?
We hope you found our ideas useful! If you want your home to be just as beautiful, then look no further. Book an online consultation with Livspace today.
Wondering how our customers feel about working with Livspace? You can check out the Livspace reviews here!
Have any thoughts or suggestions you'd like to share with us? We'd love to hear you out. Write to us at editor@livspace.com.