People often believe that interior design involves a lot of money. But this is far from the truth! At Livspace, we believe in designing and delivering dream homes to everyone, irrespective of their budget. Don't believe us? Hear it directly from our happy homeowners! We have collated our top five low budget homes across the country. Moreover, we have also included video testimonials from the proud owners of these houses. Read on.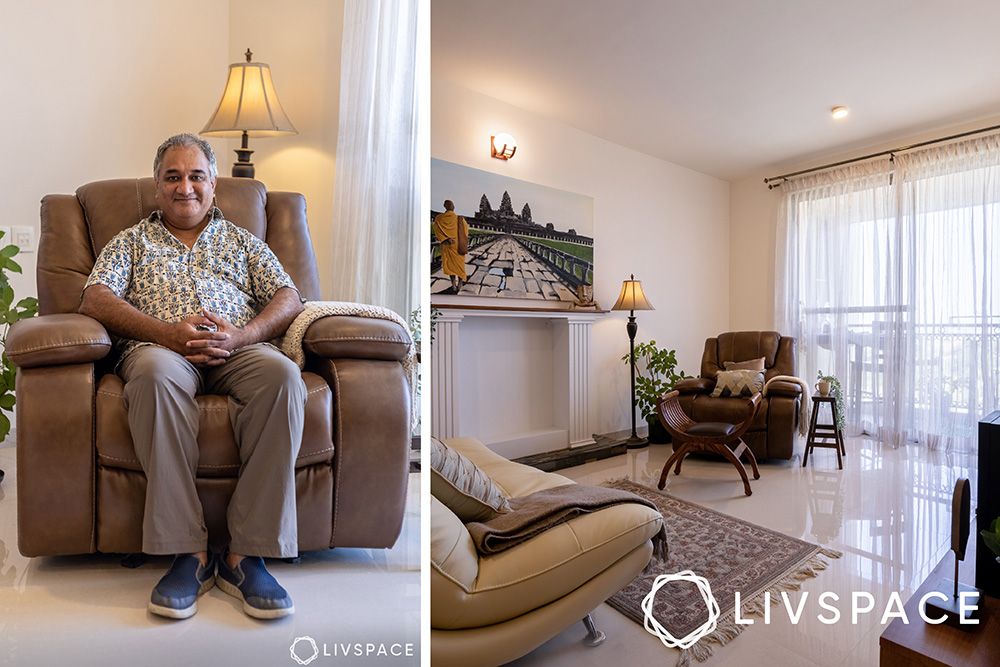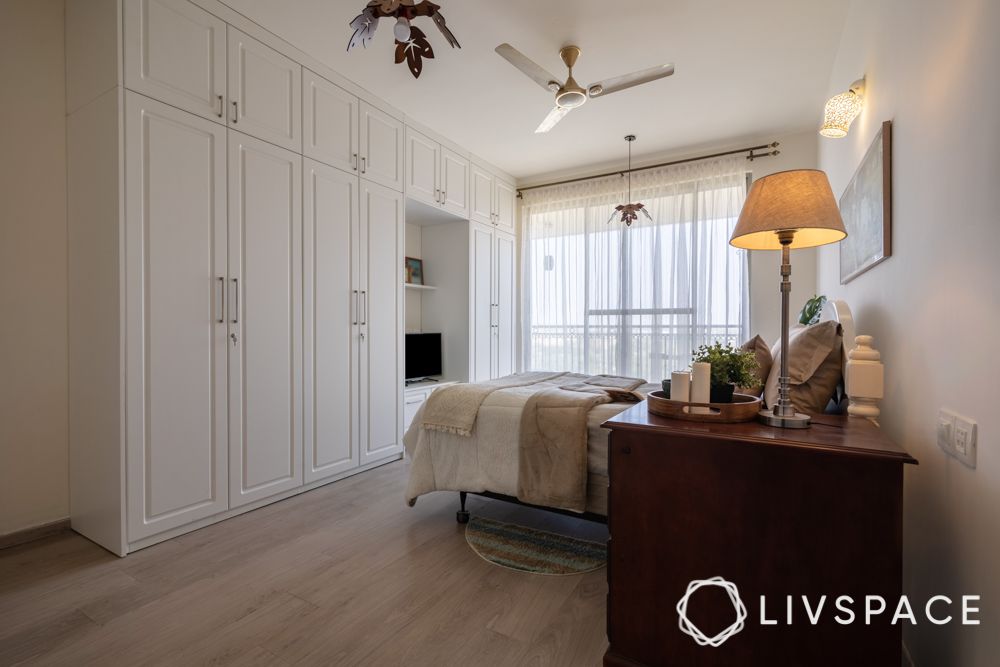 Location: B603 Cypress, House of Hiranandani, Bangalore
Budget: Within ₹10 Lakh
What Did the Homeowner Want?
A simple and clutter-free home with a classical design that would work well with the existing wooden furniture. In addition, some custom designs.
Livspace Solution
An all-white, minimalistic home that would allow the furniture to stand out.
In Sadanand Deshpande's own words, "I don't like a place that's too cluttered and so I wanted to have very minimal interiors done." In addition, he wanted a classical design that would allow his existing wooden furniture to blend in as well as some Western influences as an ode to the years he spent in the United States of America. We managed to give him all this without crossing his budget.
Striking Features of This Home
A classic white wardrobe with grooves. Moreover, it also has a niche for the TV unit
A fireplace in the living room
Rustic stone wall in the balcony
Spa-like bathrooms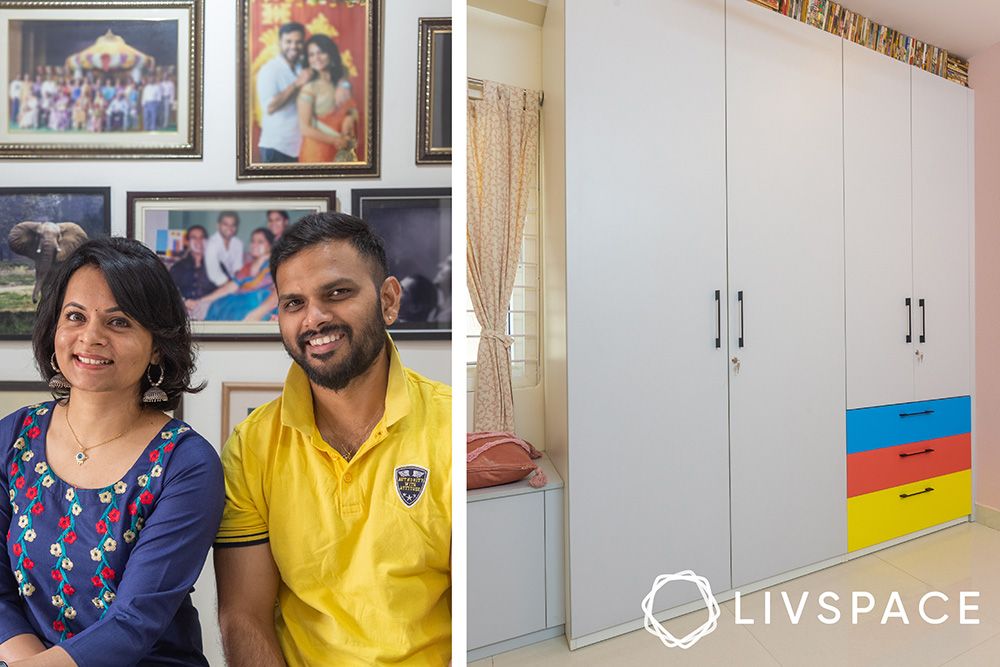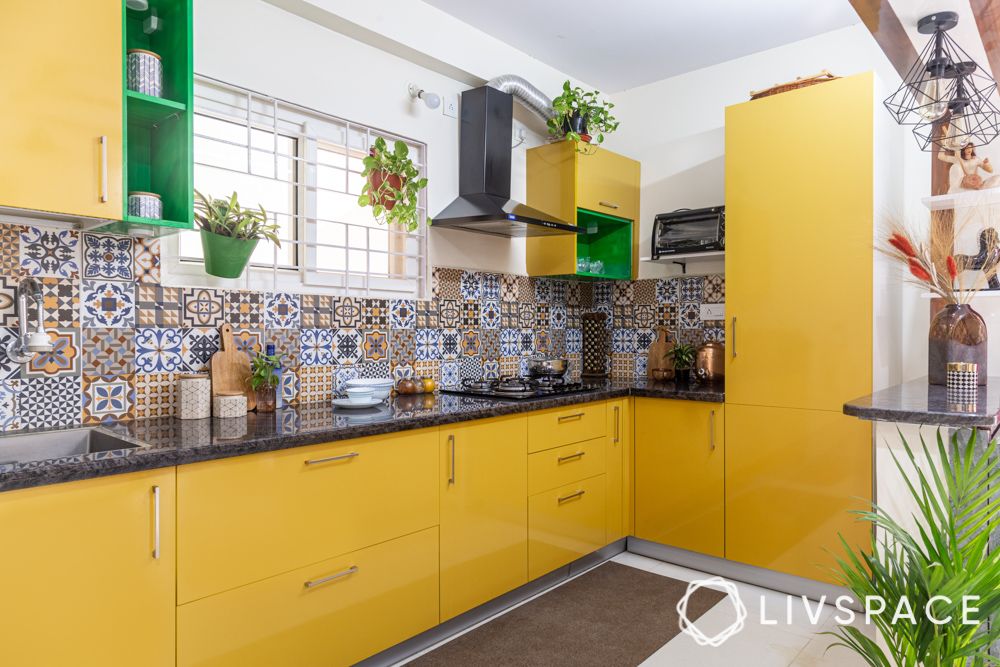 Location: Sri Venkata Sai Nilayam Apartments, Nizampet, Hyderabad
Budget: Within ₹3 Lakh
What Did the Homeowners Want?
Colourful and low-budget interiors with maximum storage.
Livspace Solution
Different colour palettes in each room to suit the personal preferences of the members of the family and modular storage solutions.
Can you believe that Adithya and Swathi's 2BHK interior design cost just ₹3 lakhs? Unbelievable, right? Once they bought their first home, the happy couple envisioned how they wanted the final design to look. Swathi was very specific about the colour contrast in the bedroom, she wanted pastel, English colours. On the other hand, she is very happy with the colourful kitchen, that reflects the cheerful personalities of the homeowners. The cherry on the cake for this lovely couple was the maximum amount of storage that we fitted into their home.
Striking Features of This Home
Since the couple first met at Google, the wardrobe in their bedroom features the Google logo colours as a tribute to their love
An open concept, 70 sq. ft. kitchen in MDF to keep the budget low
A pull-down bed to clear up floor space as Swathi is a yoga teacher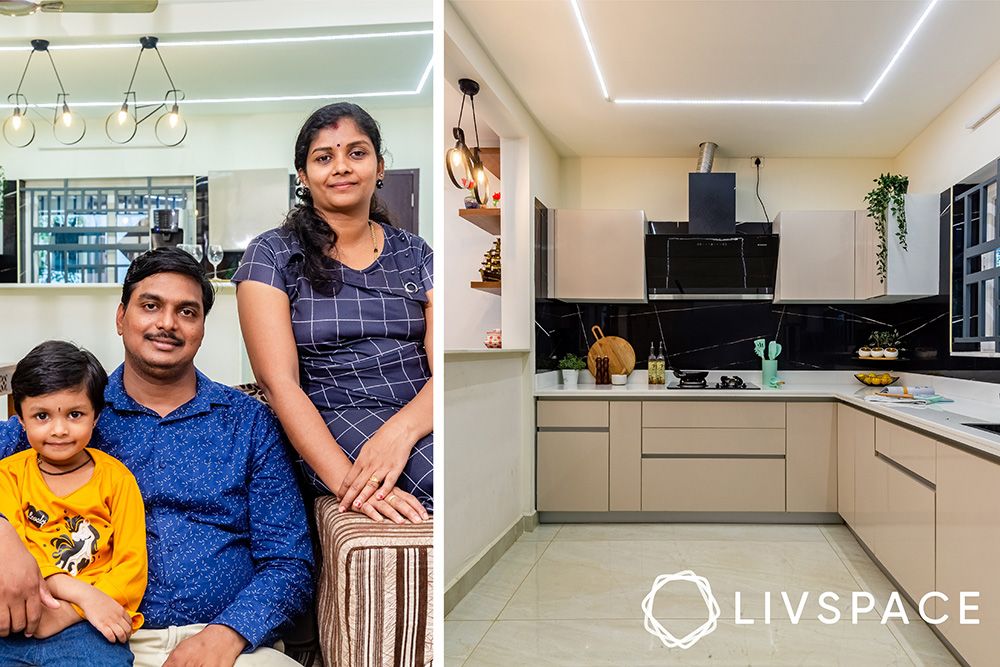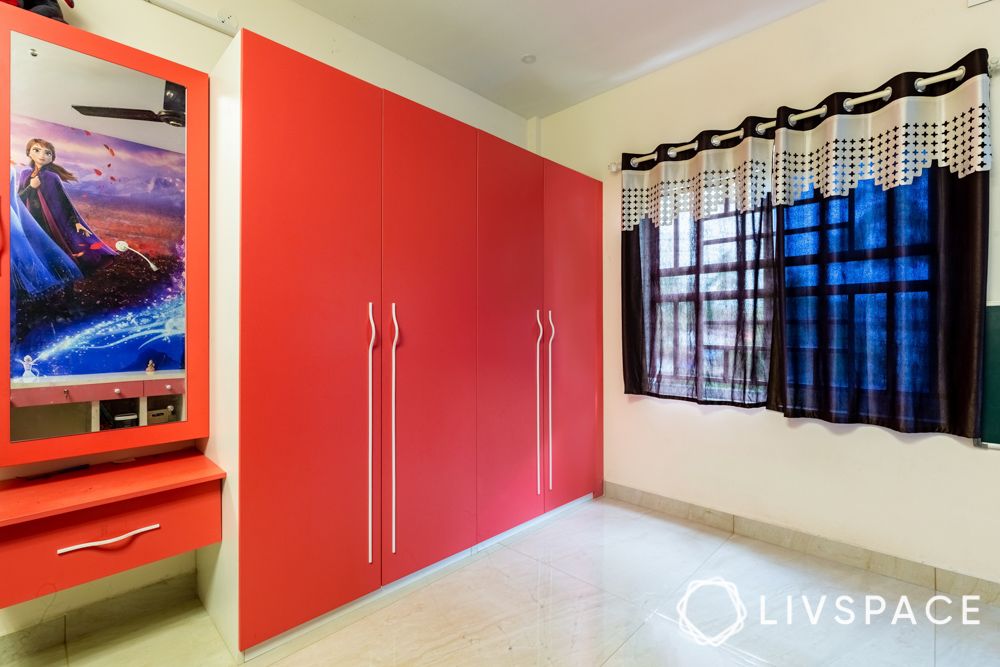 Location: Aluva, Ernakulam, Kerala
Budget: Within ₹6 Lakh
What Did the Homeowners Want?
An acrylic champagne-coloured kitchen that is very functional but within budget and maximum storage in their home.
Livspace Solution
Acrylic would have pushed up the cost, so we gave them a laminate kitchen in the same champagne shade.
While the entire home cost Sandeep ₹6 lakhs approx., we designed the kitchen in under ₹3 lakhs. The stunning kitchen looks elegant in the subtle, champagne shade. In addition, it is also packed with storage. Sandeep and his wife loved the rolling shutter and the corner unit, that makes optimum use of dead spaces. Since Sandeep has a growing family, we gave him spacious wardrobes.
Striking Features of This Home
No extra kitchen accessories except a corner unit to keep down the cost
A Frozen-themed wardrobe for the daughters
Since the homeowner had a growing family, lofts for maximum storage
No extra wardrobe accessories to stay within budget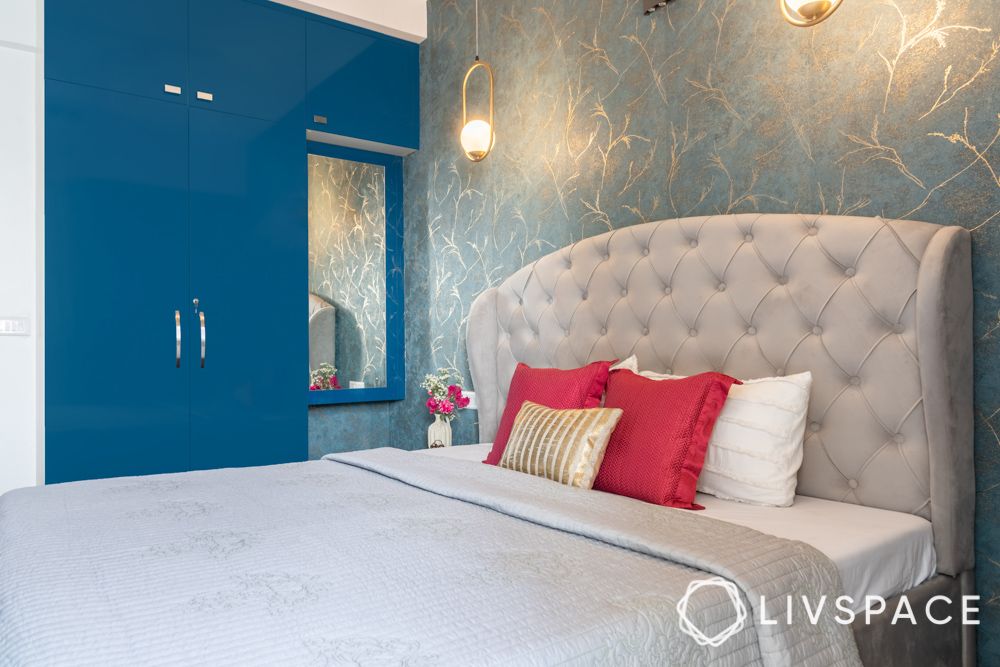 Location: Prateek Grand City, Ghaziabad
Budget: Under ₹10 Lakh
What Did the Homeowners Want?
A functional and budget home with elegant elements for a working couple.
Livspace Solution
Multifunctional modular units that would ensure functionality on a budget.
Being from Lucknow, a city with century-old architecture, both Grishma and Pranay wanted a modern home design. Additionally, being a working couple, functionality was of utmost importance to them. They love their blue-themed bedroom, where they spend maximum time, as the colour reminds them of the open sky. From extra seating to working spaces in different areas of the house, this home design is the marriage of beauty with efficiency.
Striking Features of This Home
A bar unit that doubles up as a makeshift study table
The homeowners wanted a feeling of the sky in their space. Therefore, we gave them a blue-hued master bedroom
A study table with cove lights, open shelves, window seating. Moreover, the window seating has concealed storage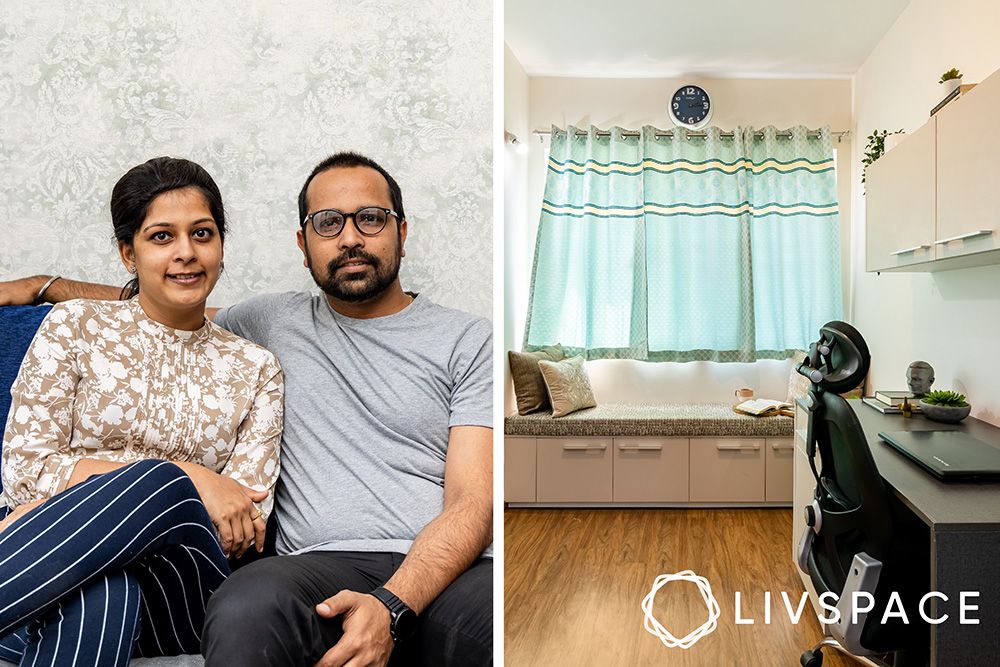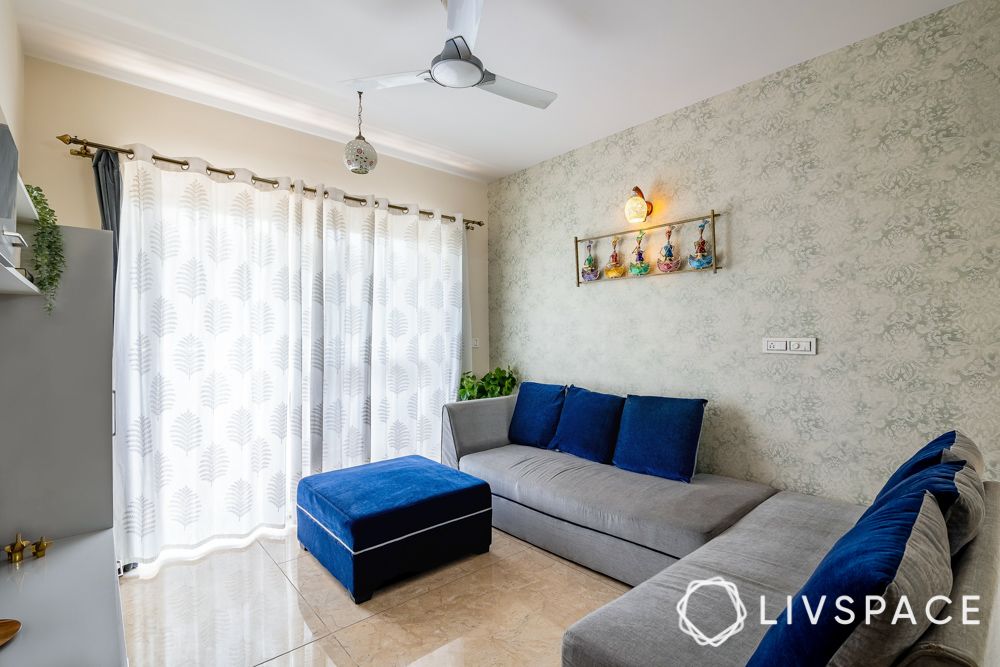 Location: The Marquis, Whitefield, Bangalore
Budget: Within ₹10 Lakh
What Did the Homeowners Want?
A modern and efficient home. In addition, the home should reflect their personalities.
Livspace Solution
Almost every unit in this home features some form of storage for efficiency. Additionally, we have followed a neutral colour palette in keeping with what the homeowners wanted.
Designed in under just ₹10 lakhs, we delivered Surabhi and Pratyush's home in just 45 days! In Surabhi's own words, "It was very important that our home reflected the true characters of what we are, and it is all about simplicity." The kitchen was one of the most important parts of their home. This is because the couple comes from different parts of India and hence had different eating preferences. Therefore, we gave them a galley kitchen for maximum counter and storage space.
Striking Features of This Home
A separate pantry unit
A neutral living room with texture in the form of wallpapers and patterns. Moreover, the space also has pops of blue
Wardrobe in the bedroom with maximum storage
A study with a reading nook. Additionally, the nook comes with concealed storage
These low budget homes from different parts of India prove that interior design does not have to be expensive. Moreover, beauty can be achieved within a budget!
If you liked reading this, also check out our top 7 budgeted homes under ₹10 lakhs.
How Can Livspace Help You?
We hope you found our ideas useful! If you want your home to be just as beautiful, then look no further. Book an online consultation with Livspace today.
If you are wondering how our customers feel about working with Livspace, you can check out the Livspace reviews here!
If you have any thoughts or suggestions, write to us at editor@livspace.com.