Designing an independent house for young homeowners is always fun, because millennials are open to experiment with styles, furniture and other elements of the house. So, when Aishwarya got the opportunity to design Praveen Madhu's house in Bengaluru, she worked diligently with them to deliver a home that would satisfy the young couple and boy, do a great job! She has ensured a perfect blend of traditional and modern in this 3BHK house design. Let's take a home tour of this 3BHK house plan, which is sure to provide some great inspiration for your own independent house.
---
Who livs here: Praveen Madhu, with his wife Sahana and son, Vivikth
Location: RT Nagar, Bengaluru
Size of home: An approximately 1,050 sq. ft. 3BHK
Design Team: Designer Aishwarya DN and project manager Wrishov Nandan
Livspace service: Full house interiors
Budget: ₹₹₹
---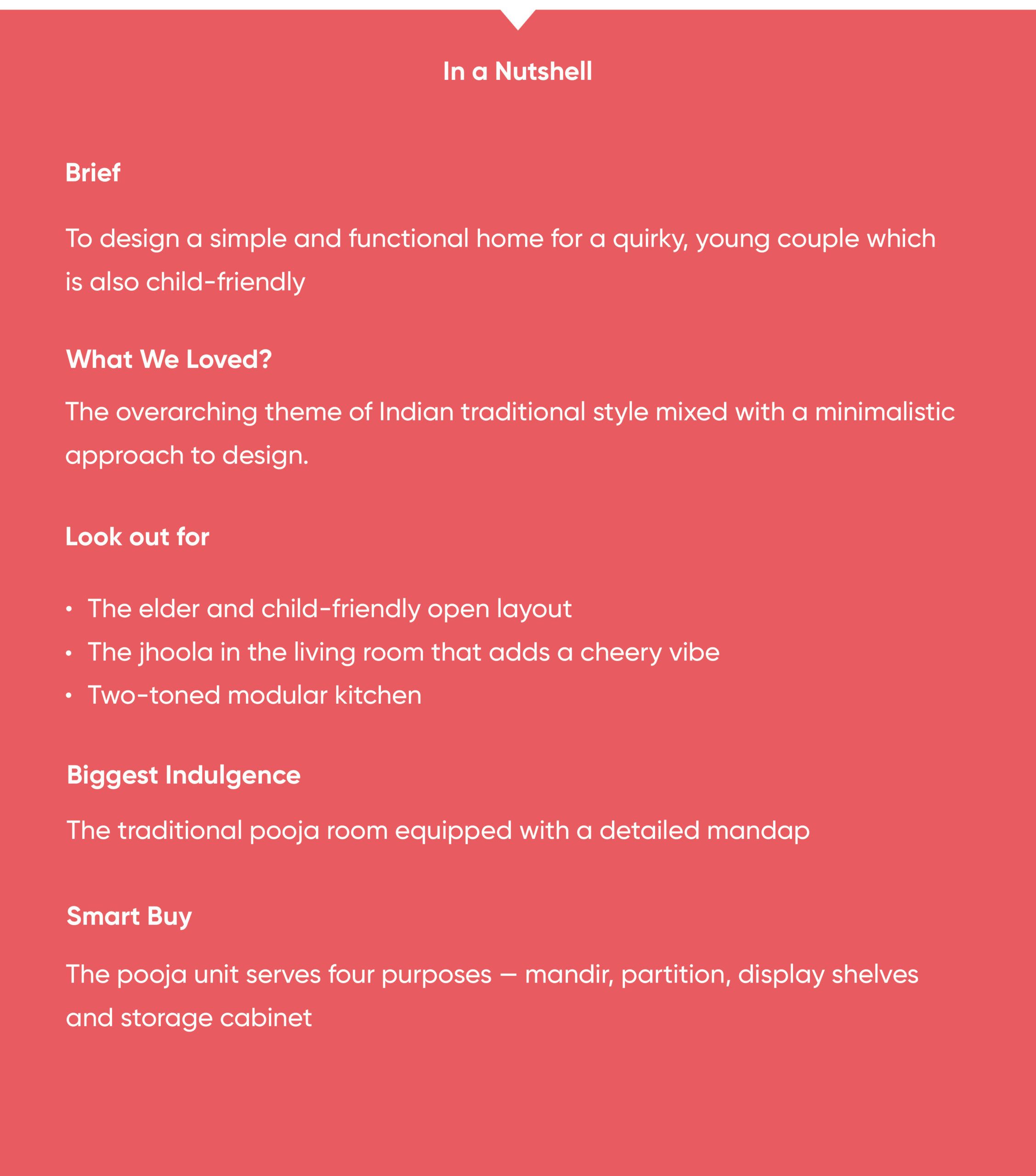 #1: Voguish Living Room 3BHK House Design with Desi Glam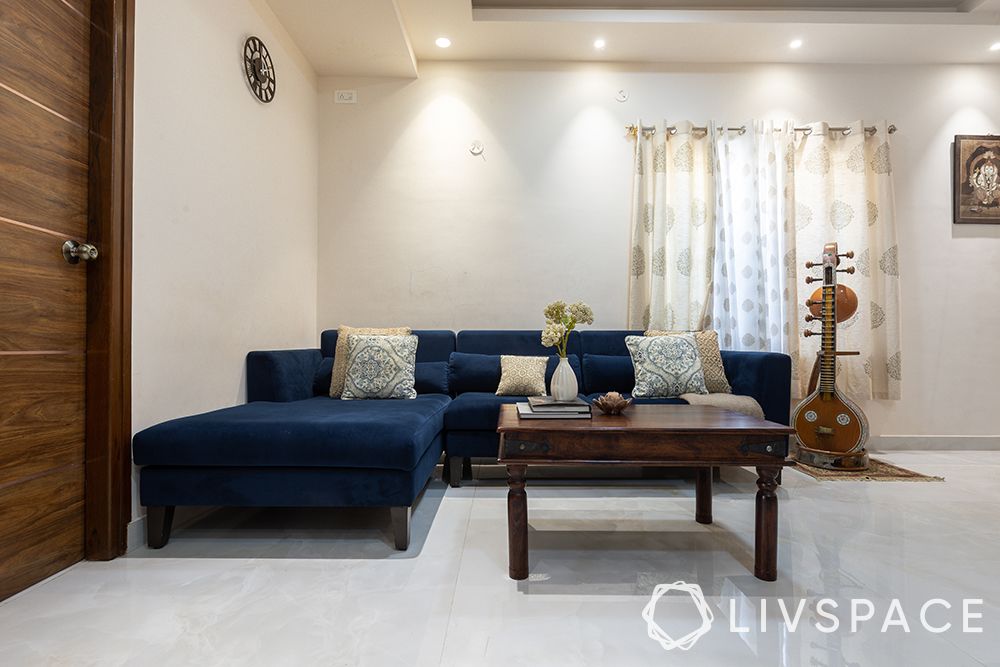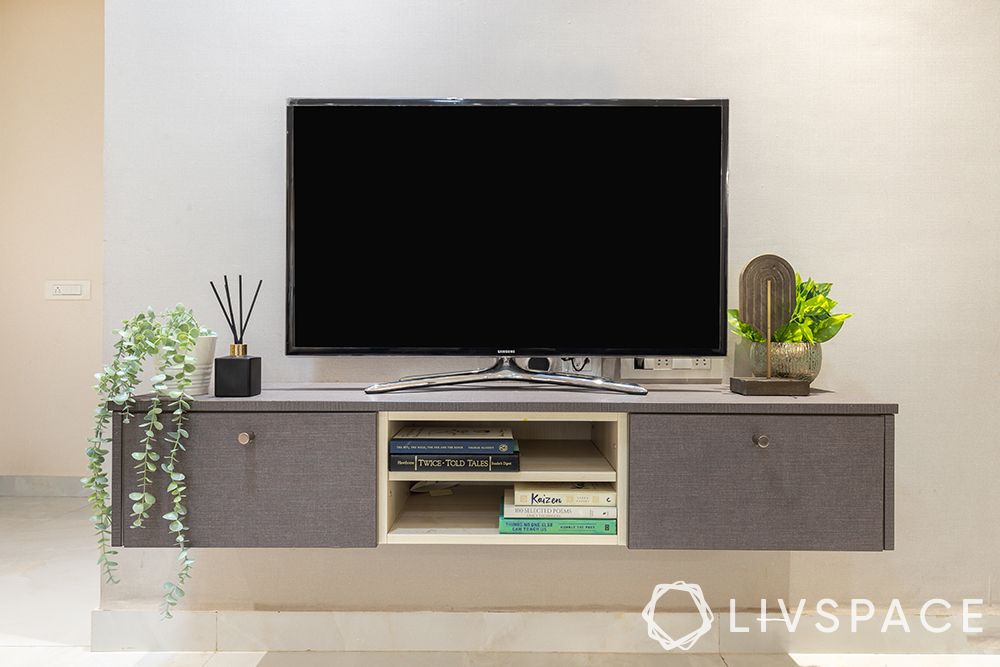 This 3BHK house design has a traditional Indian touch in the living room, complete with a jhoola. The plush blue velvet corner sofa has been added to save more floor space in the living room. Also, the dark brown wooden coffee table gives rustic vibes that complements the ethnicembroidered cushions on the sofa. They handpicked a child-friendly open 3BHK house plan, which was a good choice given that their son Vivikth is quite an active growing child.
Aishwarya picked out this beautiful veena as an antique addition beside the plush sofa. The jhoola hangs just beside it, adding an interesting traditional vibe to the living room in this independent house. Nevertheless, the TV console in this 3BHK house design is a modern addition to the space with open and closed floating shelves for storage.
Also Read: How to Style Your Home the Desi Way
#2: Partition-cum-Display-Unit for 3BHK House Design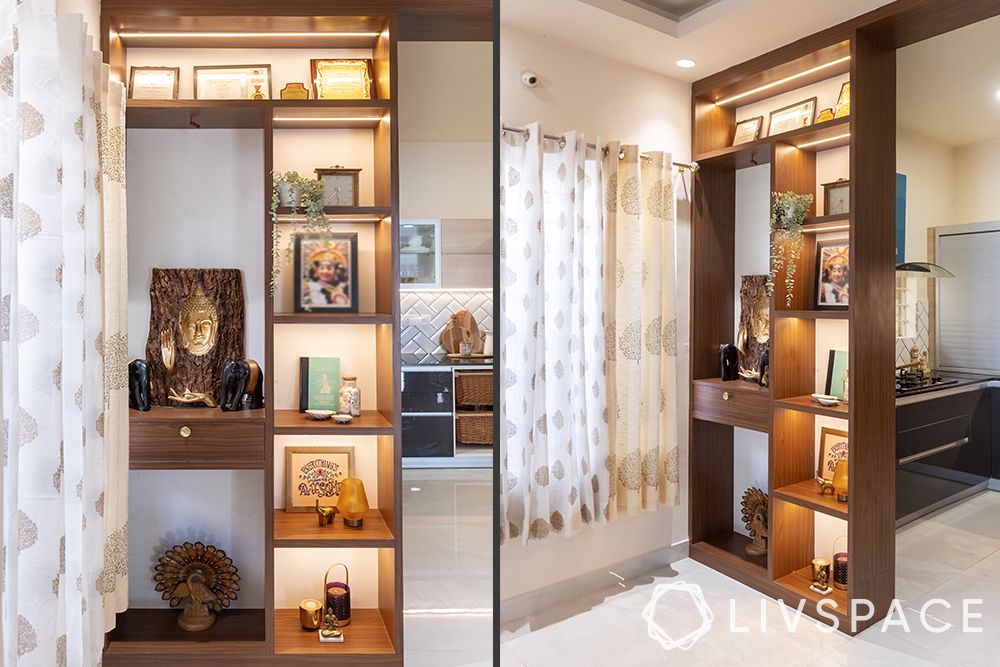 This custom partition demarcates the living room and open kitchen. Since the homeowners picked an open layout, Aishwarya added the partition that also functions as a display unit for memorabilia and souvenirs as well as a traditional decor element that enhances the traditional look in this 3BHK house design. The embedded lighting is convenient to place focus on the artwork too.
#3: A Modern Kitchen for Comfortable Cooking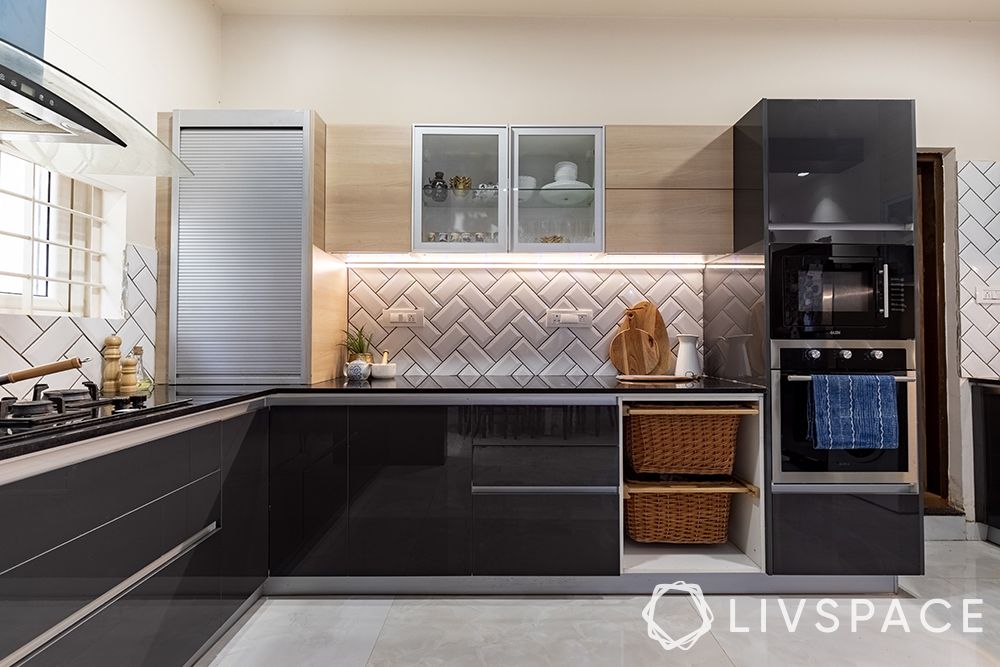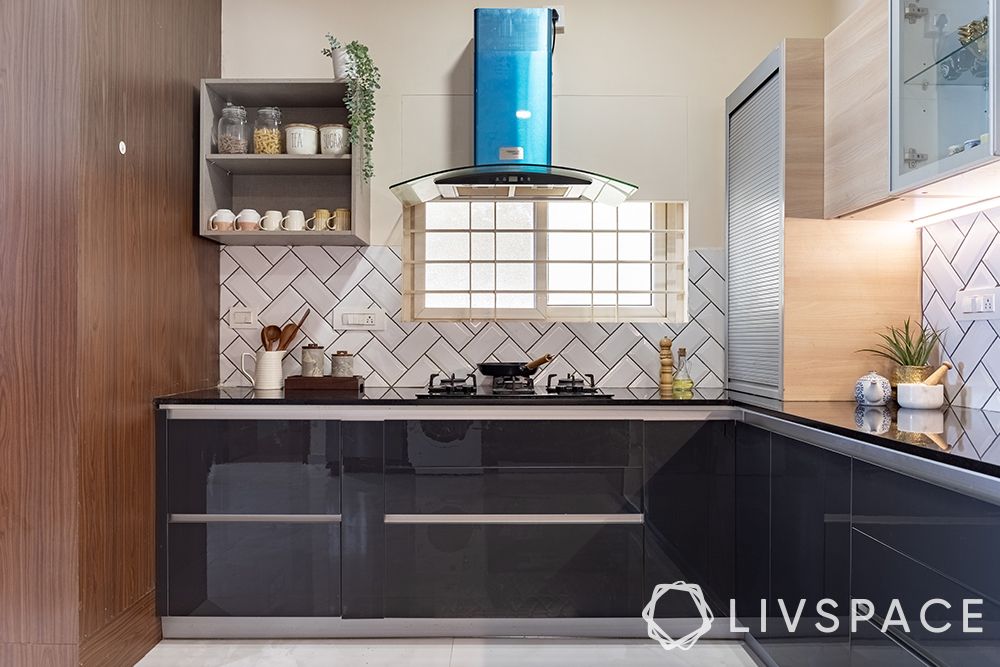 The kitchen in this 3BHK house design has a modern aesthetic and is fully automated. It houses a tall pantry as well as a mid-tall one, which provides enough storage to house a lot of groceries. Moreover, he cabinets are handleless for a flawless look. The low-maintenance lower cabinets have high-gloss laminate while the upper cabinets have wood laminate. A combination of open and closed cabinets completes the look. There are some opaque glass shutters too that give increased visibility.
Here are 5 Modern Kitchens & Why We Love Them
#4: Mandap-Equipped Puja Room in This 3BHK House Design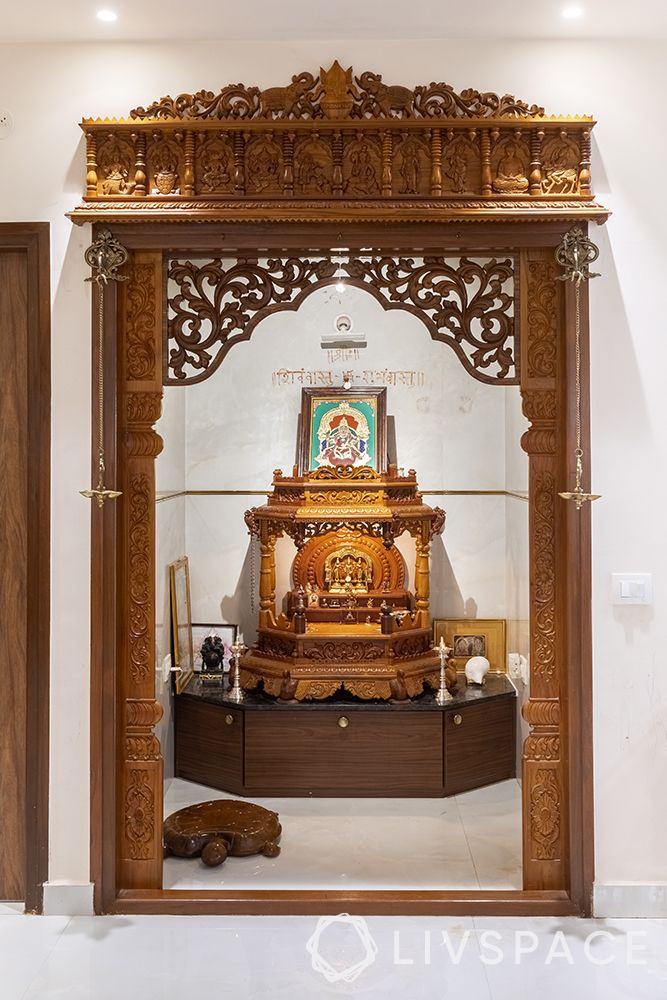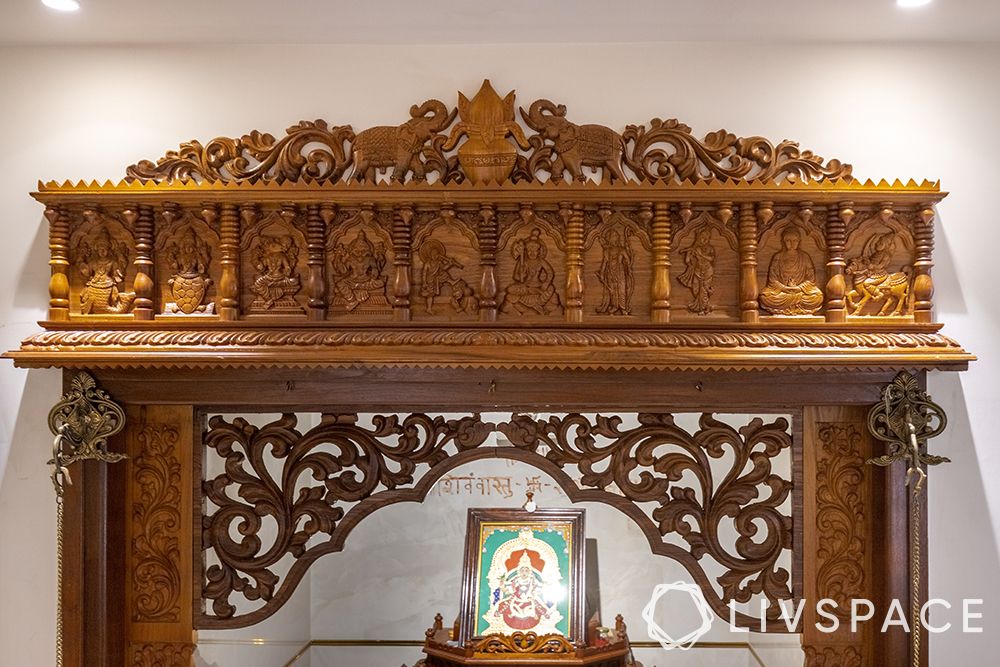 This 3BHK house plan made space to accommodate a detailed wooden puja room customised to fit into a niche. The room is fully equipped with a mandap as well. Designed in the traditional style as per the requirements of the homeowners, the puja room has wonderfully done wooden detailing — a clear indicator why it is the biggest indulgence in this 3BHK house design!
Also Read: 13 Beautiful Mandir Design Ideas for the Perfect Indian Pooja Room
#5: Custom Wardrobes for Individual Needs in the Bedrooms of This Independent Home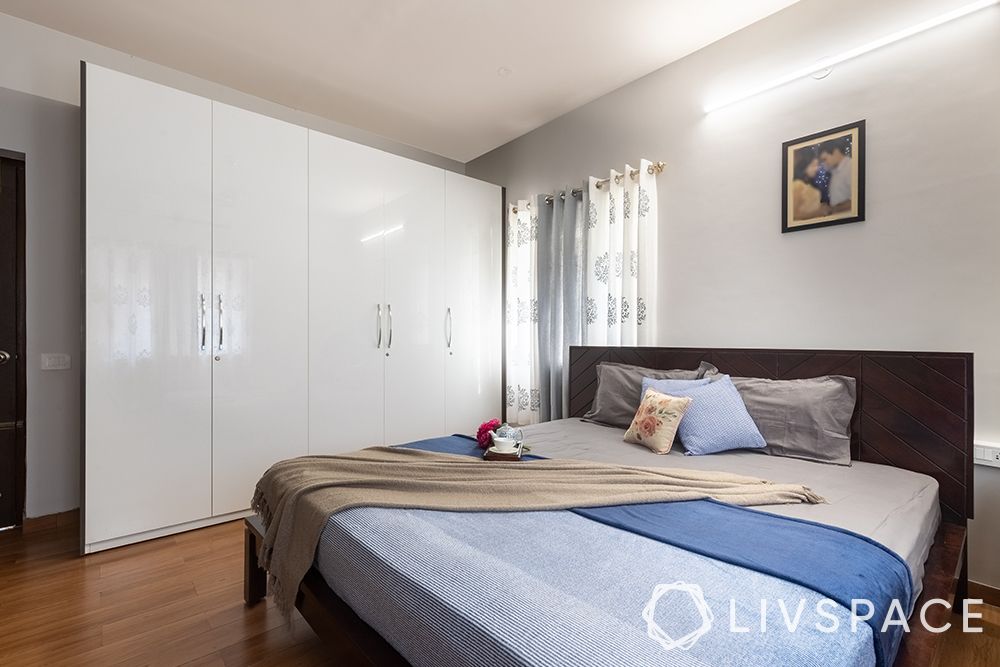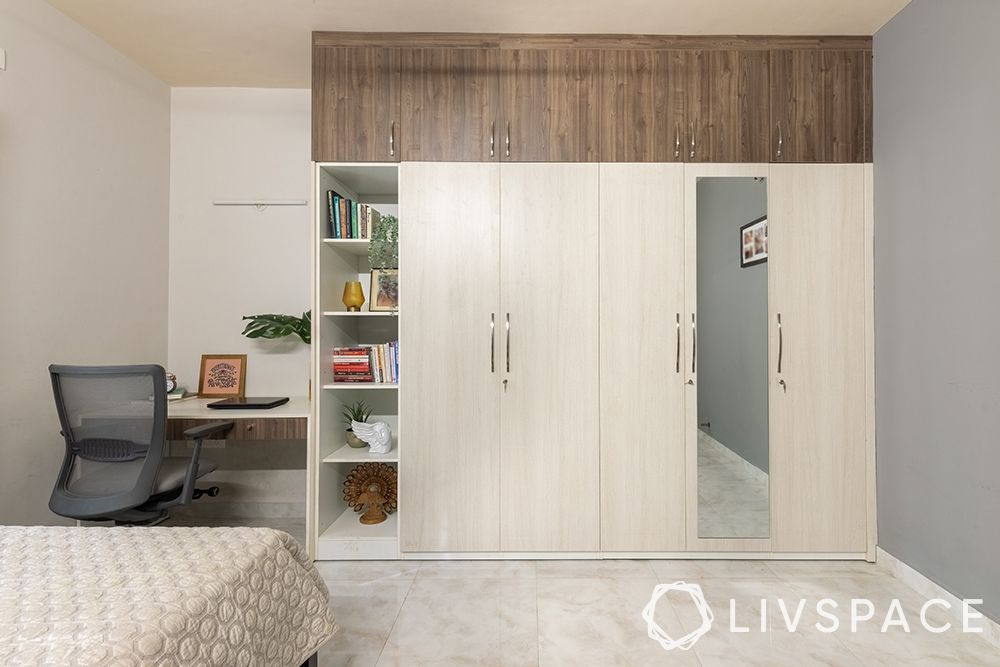 The homeowners wanted custom wardrobes to suit their needs in every room. In the master bedroom, Aishwarya gave them an acrylic-finished wardrobe, making this 3BHK house design bedroom a visually inviting space. Its glossy surface further gives it a reflective touch. The guest bedroom wardrobe continues into the dressing table, creating a seamless look in the space.
#6: A Plush Washroom for This 3BHK House Design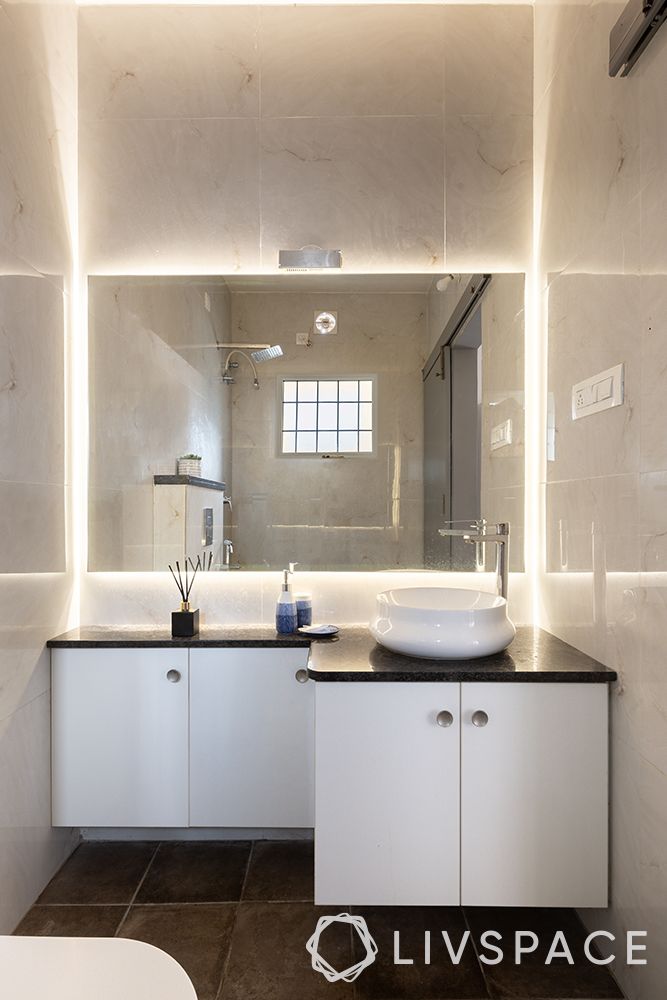 This modern and luxe washroom is hotel-like in its aesthetic. The modular vanity is a mix of sliding and hinged storage cabinets. The white-finished laminate gives a clean look while the granite countertop is a good option for wet spaces. The huge mirror is good for this 3BHK house plan with a compact washroom. It adds the illusion of space and is further complemented by backlighting behind the mirror.
This 3BHK house design has a perfect mix of the classical and the contemporary. The pops of colours used are minimal and picked by the homeowners along with the wallpapers. We hope this article inspired you. Wondering how our customers feel about working with Livspace? You can check out the Livspace reviews here!
How Can Livspace Help You?
We hope you found our ideas useful! If you want your home to be just as beautiful, then look no further. Book an online consultation with Livspace today.
You can visit our Livspace Experience Centre in Bangalore to get your dream home interiors.