Why complicate cooking for the family? The days when you had to bend and perform a variety of acrobatic feats while doing regular kitchen chores have passed. We cannot take family's culinary experts for granted. In fact, their comfort and convenience while cooking is so paramount importance. Hence, modern kitchens are all about proper ergonomics that make the process of cooking a seamless one. 
We bring you the top five modern kitchen design images from #LivspaceHomes that we have been crushing on. So, join us as we take you through these pretty, functional kitchens and find inspiration for your own homes!
Modular Kitchen Design Images #1: Multi-functional Kitchen Island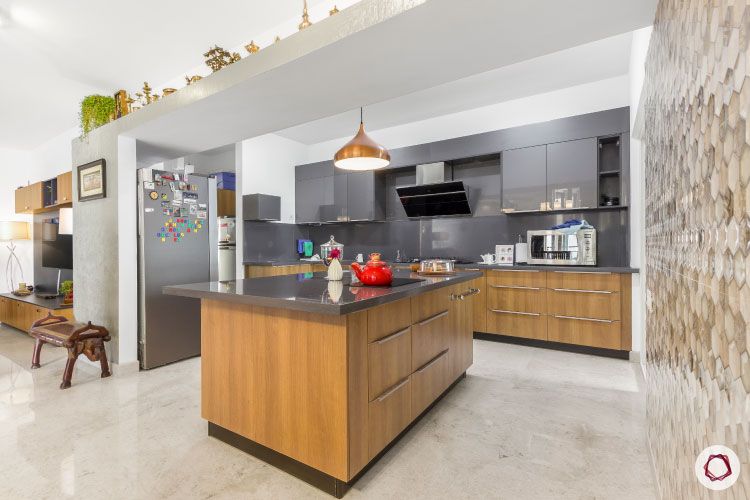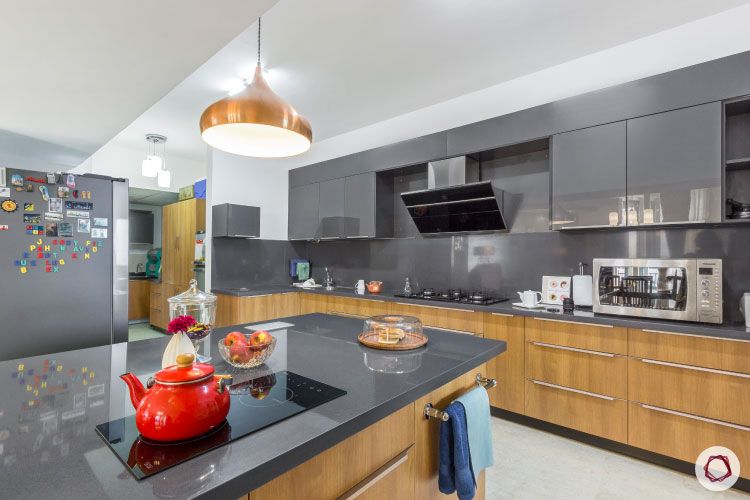 This open kitchen with an island counter has wall cabinets in  grey acrylic finish, which matches the Kalinga stone countertop perfectly. In order to increase accessibility, there are no shutter cabinets below waist-level; these have been replaced by drawers.
The central focus of this best modular kitchen is a multi-functional island counter, which comprises an induction stovetop for light cooking. It also has concealed charging points for cooking appliances and other devices alike. Modular storage is only another feather in the cap of this exquisitely designed kitchen. Find more such elegant features here.
Modular Kitchen Design Images #2: Stocked With Storage Units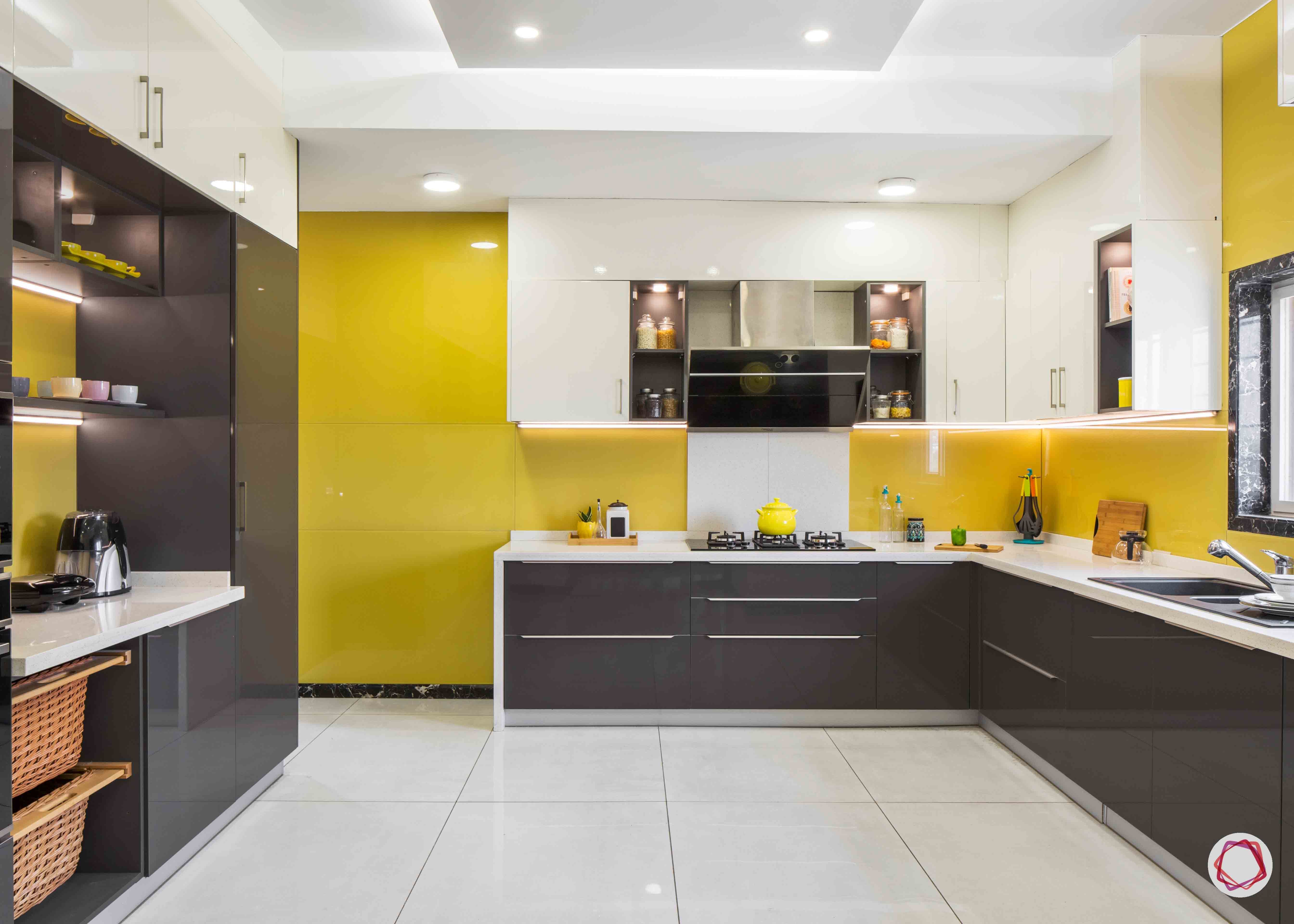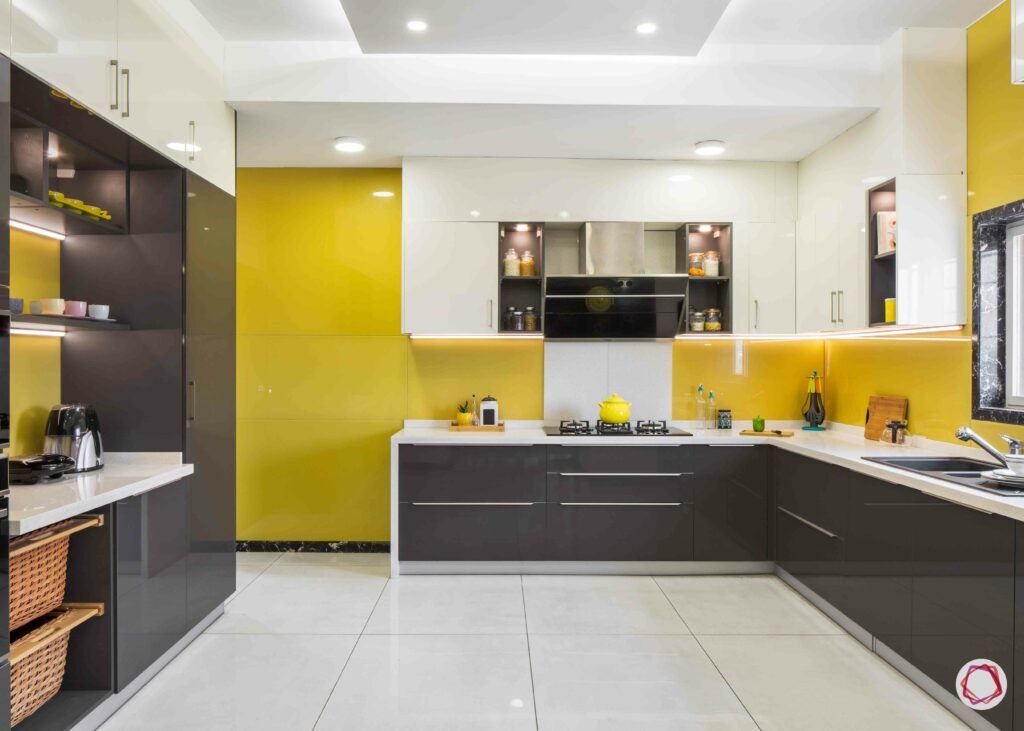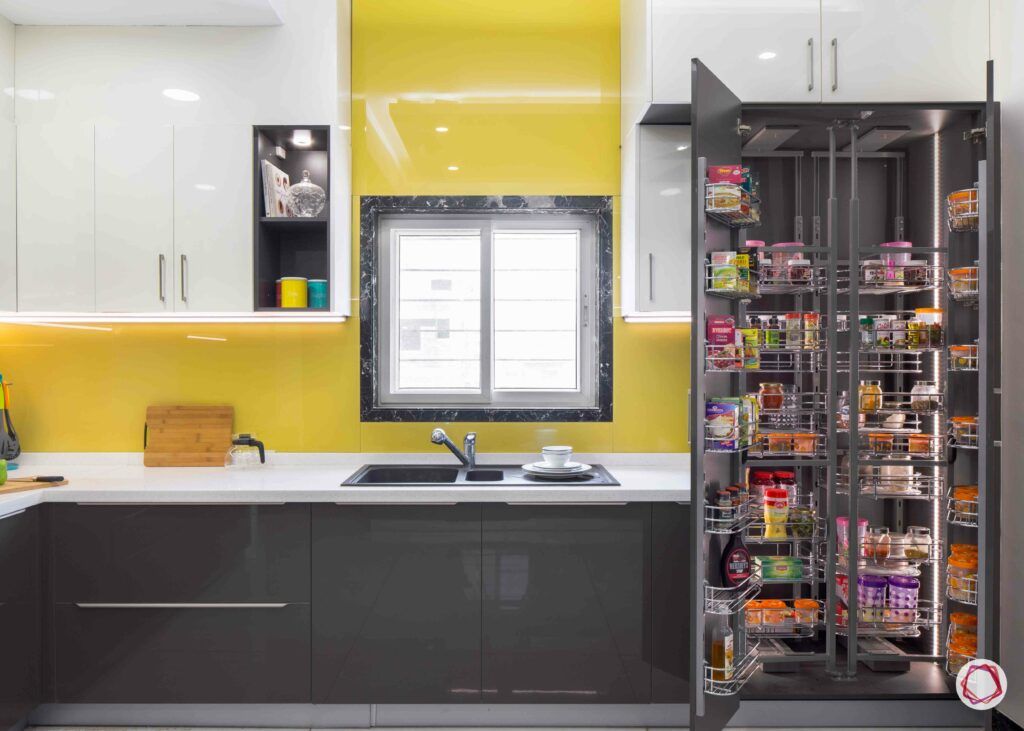 This cheerful kitchen in yellow, grey and white is guaranteed to lift your spirits! The lacquered glass backsplash adds a dash of life to this kitchen. Additionally, we see a mix of multiple storage options peppered throughout the kitchen, making it as functional as it is beautiful.
The kitchen has an abundance of wall cabinets in sparkling white UV panels and base cabinets with slate grey membrane finish. However, the pantry pull-out stocked with groceries is the highlight of this kitchen. Apart from providing ample storage, it also gives easy access to the chef! For more kitchen design ideas and swanky wardrobes, look here.
Modular Kitchen Design Images #3: Smooth and Seamless Cabinet Finish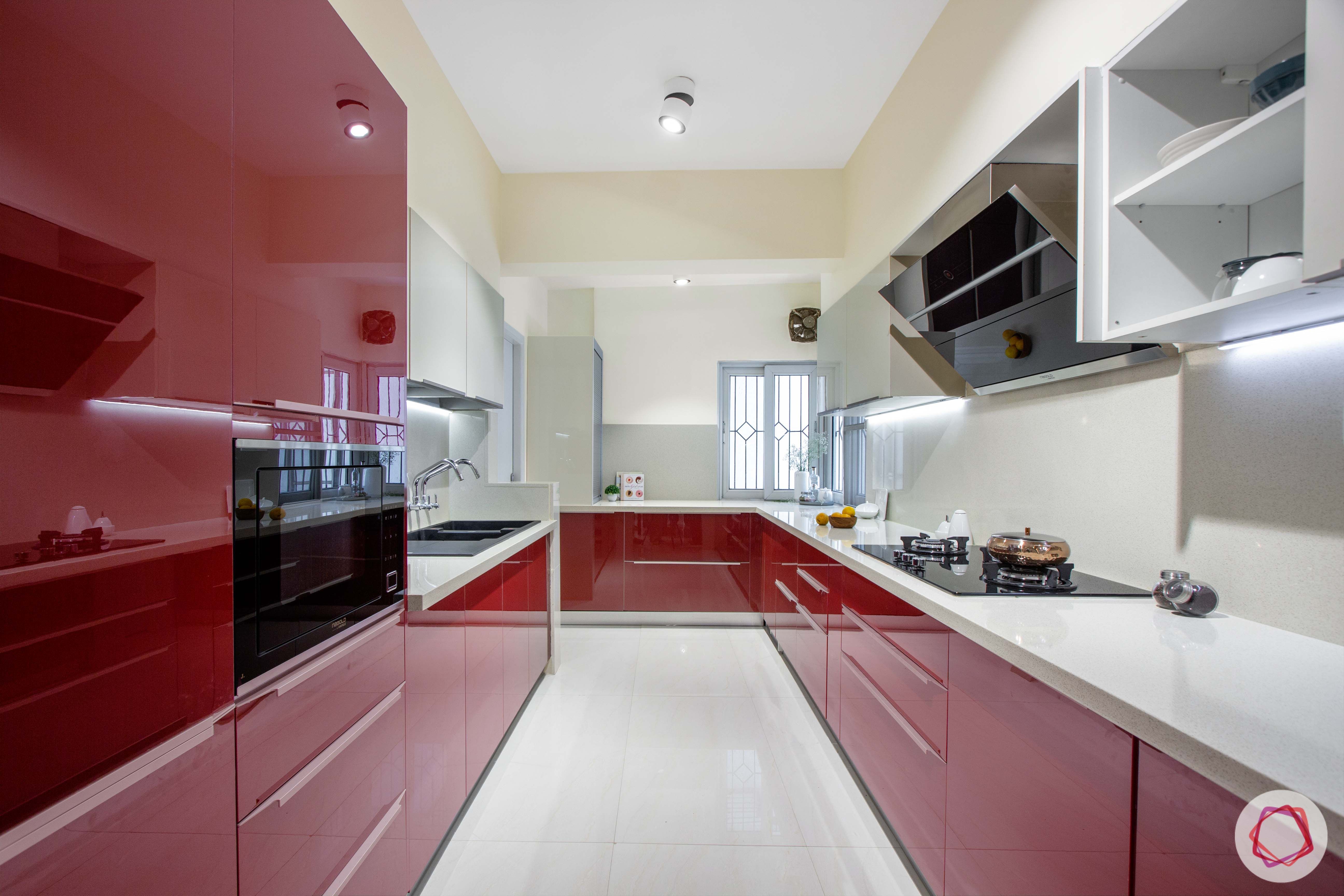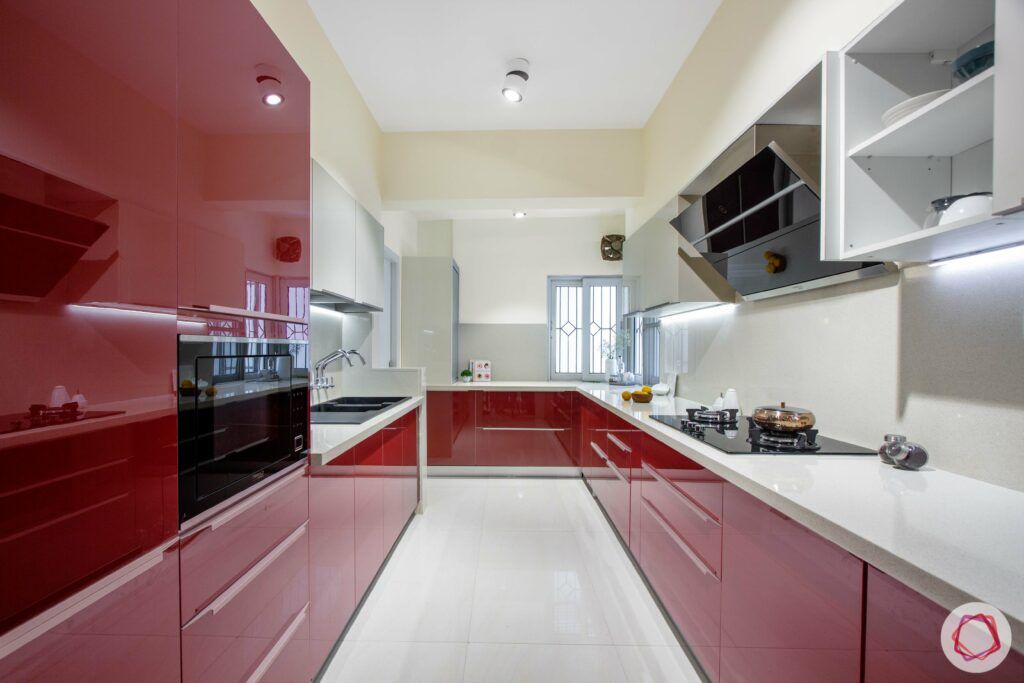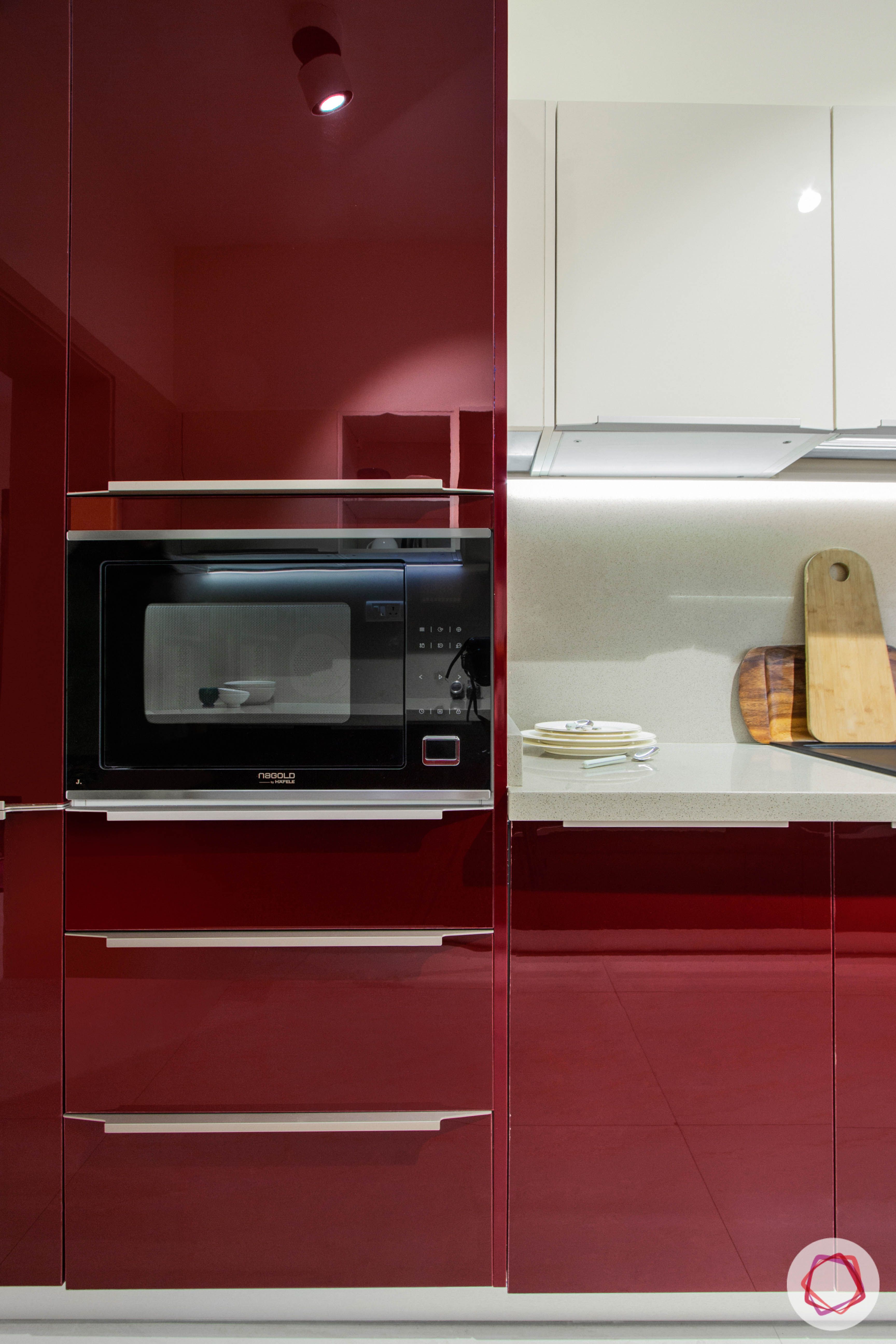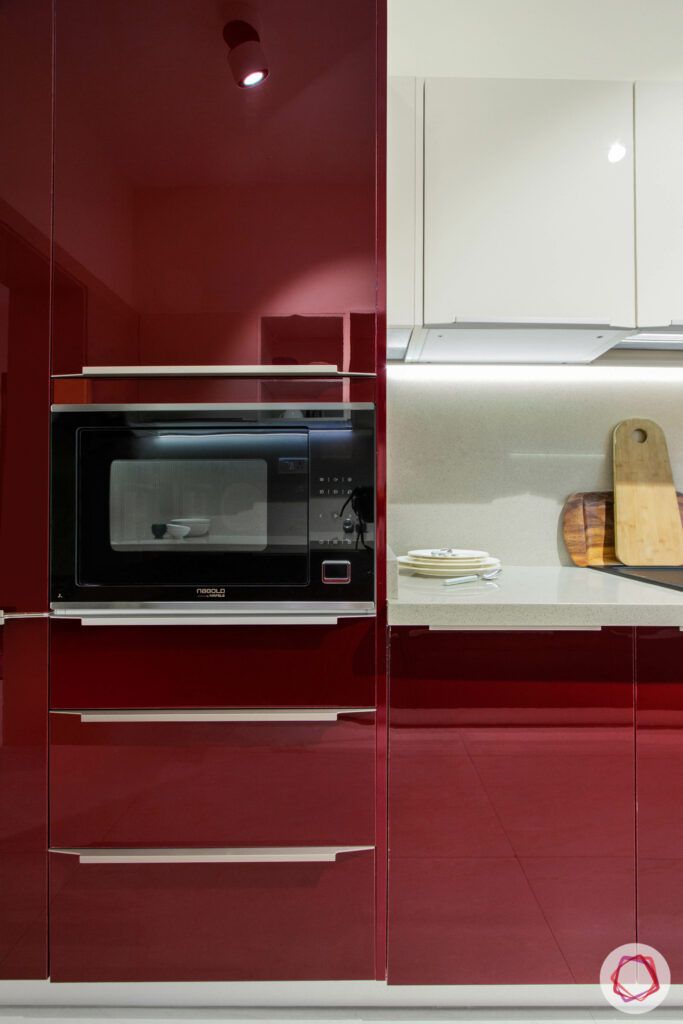 Seamless parallel kitchens have their own way of taking your breath away – if you need proof of this, look at this gorgeous red and white kitchen that has been designed for accessibility. Thus, the glossy acrylic finish on this wine red kitchen makes it a happy space that makes you want to put on your chef apron and cap, and whip up a delicious meal!
The parallel layout of this best modular kitchen opens up ample opportunities for storage spaces. The kitchen has a roller-shutter unit that conceals electrical appliances. An oven built into the tall unit aids further in optimising space. Read about this kitchen in greater detail here.
Modular Kitchen Design Images #4: State-of-art Task Lighting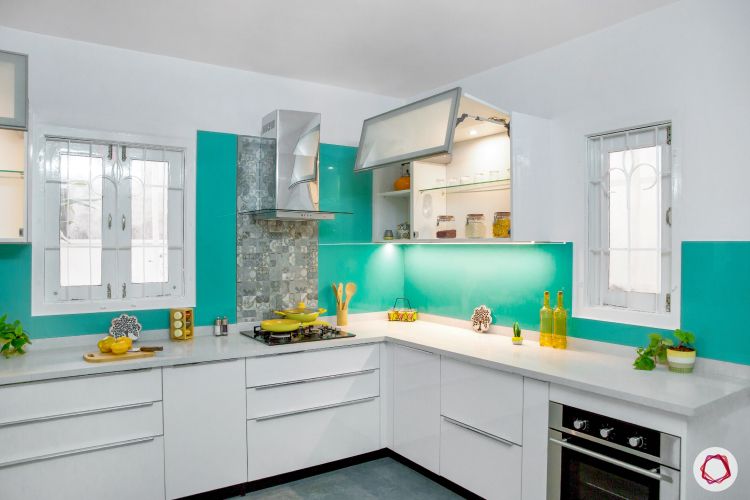 This kitchen stands tall for its breezy vibes. The task lighting behind the wall cabinets adds to the cheerful vibe of the kitchen and ensures that there is enough light to do your chores.  The kitchen comes with a built-in oven and plenty of counter space for prep.
The best modular kitchen does not disappoint with its abundance of features. Another unique aspect of this kitchen is the SERVO-DRIVE mechanism on the pull-up cabinets with frosted glass shutters. The touch-sensored mechanism allows cabinets to be opened effortlessly. Find more such interesting colours and unique  features here.
Modular Kitchen Design Images #5: Frosted Glass Shutters & In-built Lighting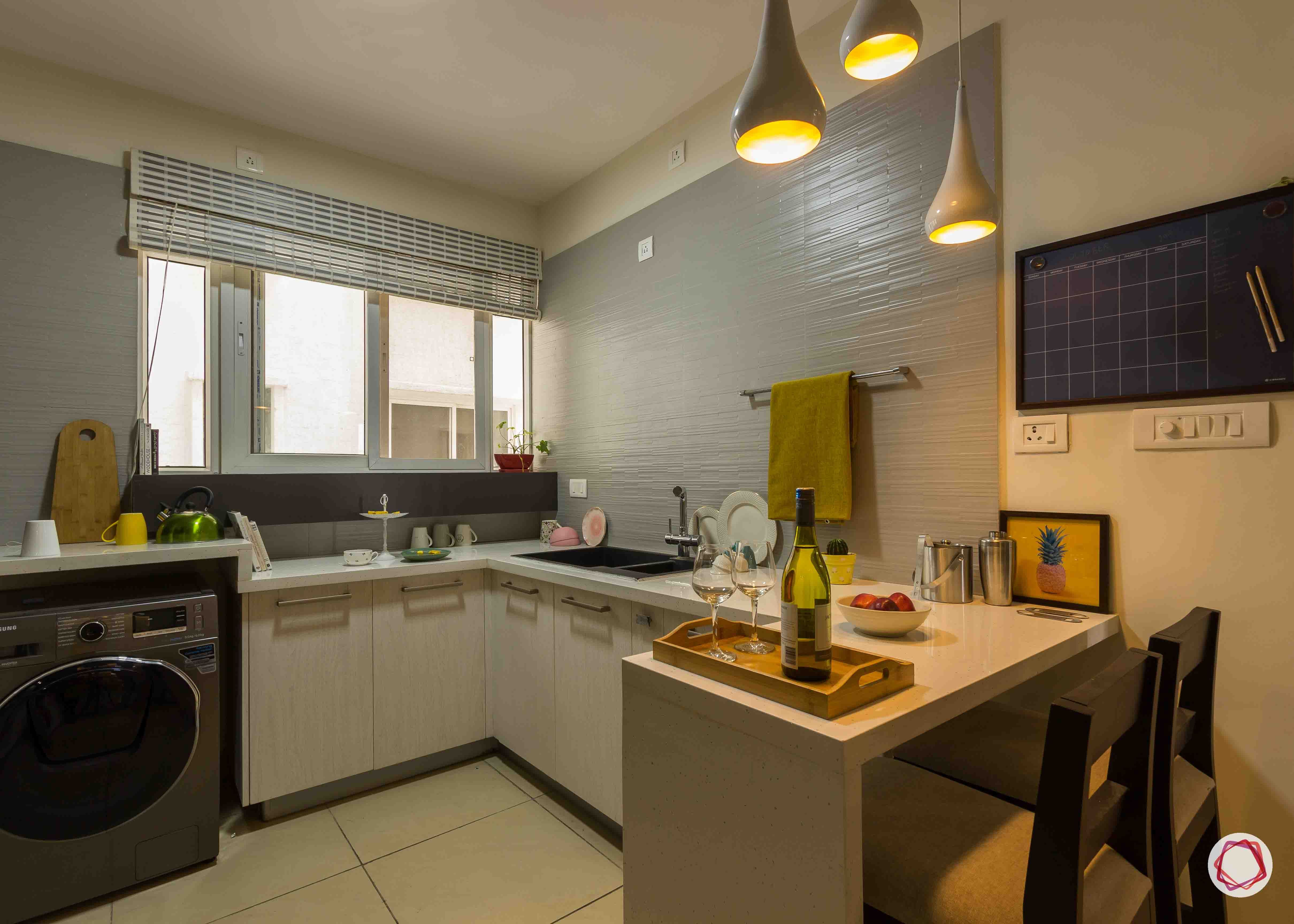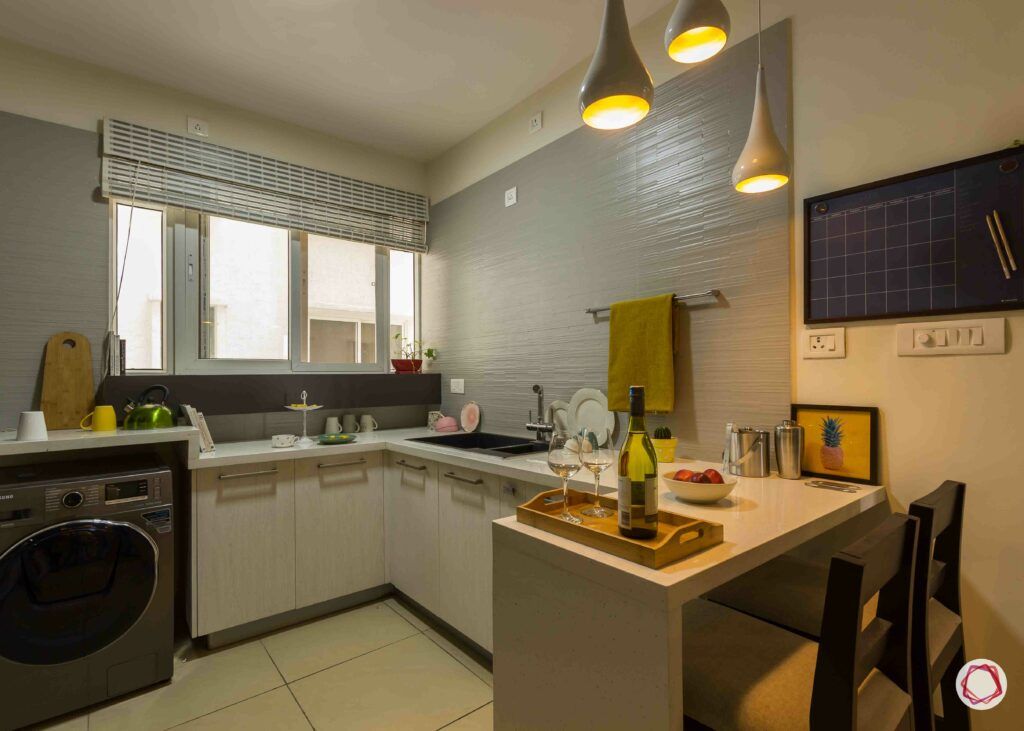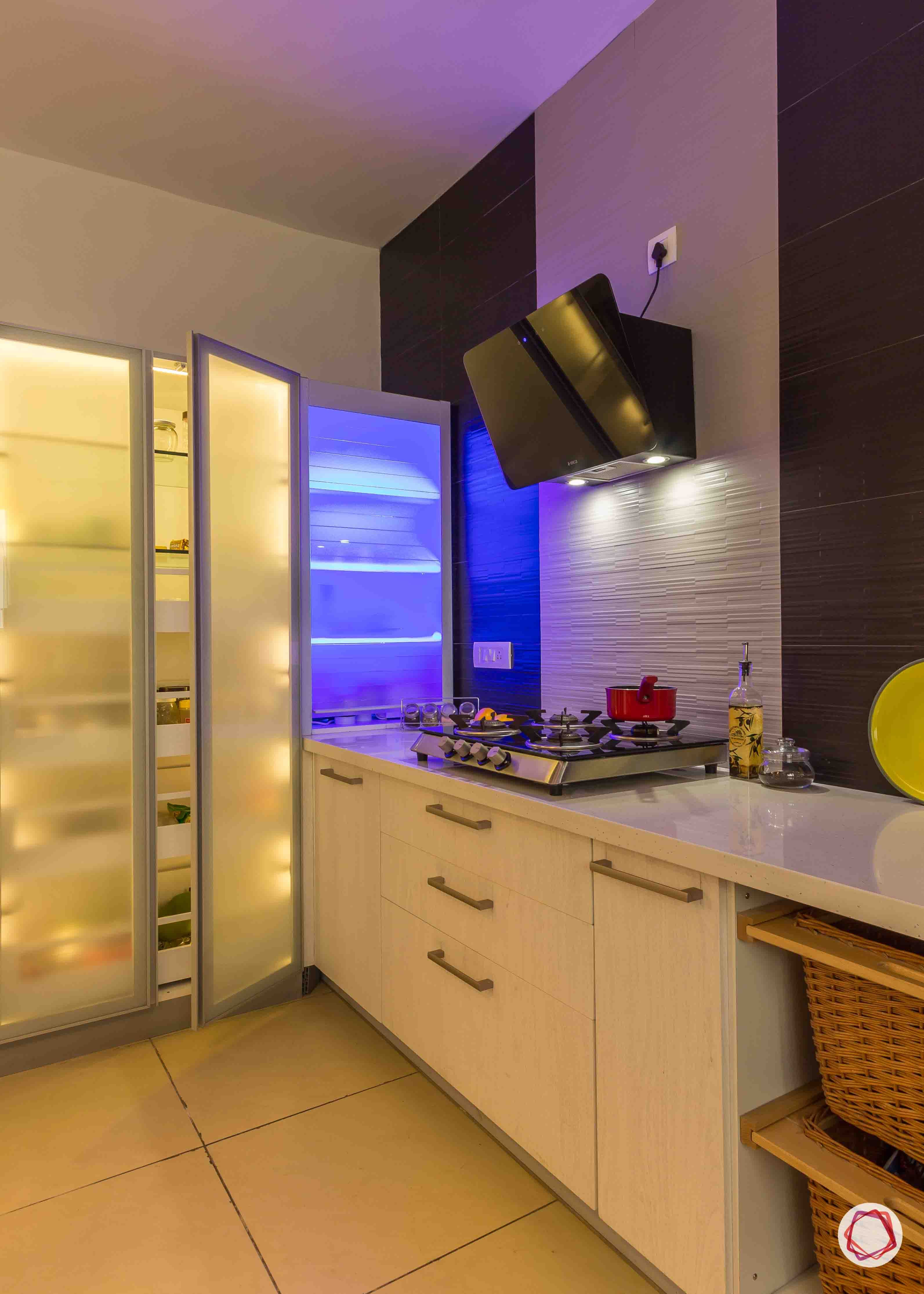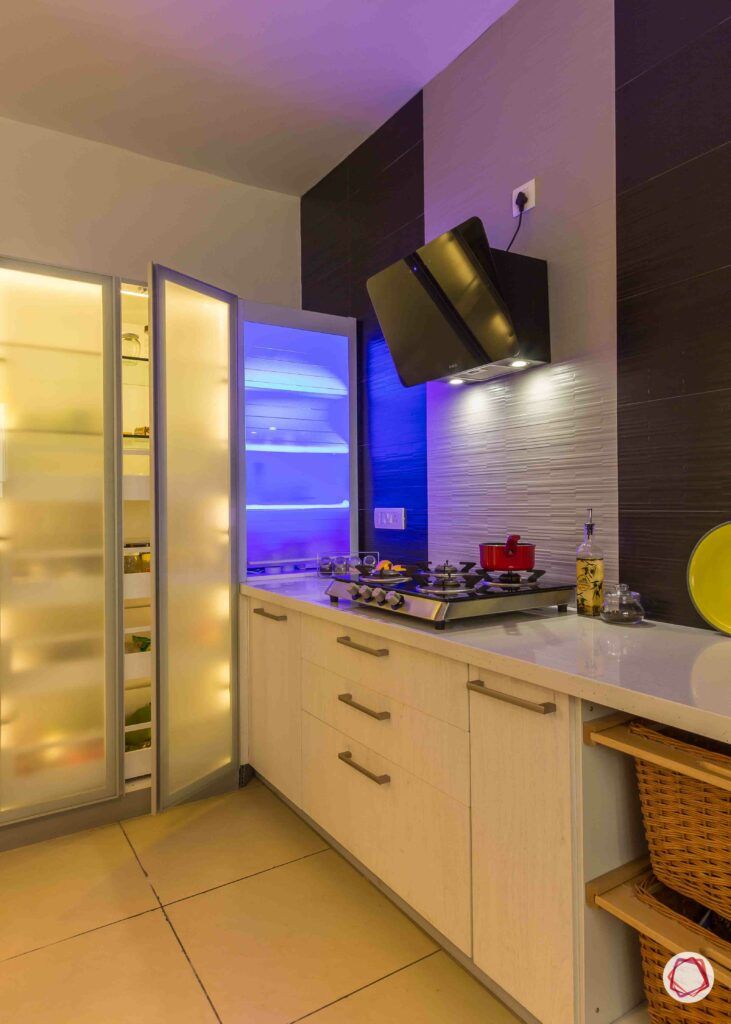 The modern kitchen design image stands out as it lacks the typical heavy wall cabinets. An abundance of base drawers ensures that storage space remains uncompromised. In addition, a couple of tall units with frosted glass shutters serve as the perfect place to store bulk groceries. The tall unit features in-built soft lighting, while the roller shutter unit holding kitchen appliances has blue lights.
The breakfast nook with hanging pendant lights and cushioned chairs also forms an essential aspect of this kitchen. Intriguing lighting and uncommon features form a part of this home. Check it out here.
If you enjoyed reading about these functional kitchens, check out: Where to Save & Splurge on Your Kitchen.
Send in your comments and suggestions.