We understand that kitchens are the most used spaces at home and everyone wants the best for theirs. While you might have a lot of reasons to get your kitchen designed and installed by your local carpenter, we will tell you why you should choose a Livspace kitchen over them. By the end of this, we are certain that you will know why your beautiful kitchens deserve the Livspace edge. Let us break down our process for you and tell you why more and more people are opting for modular kitchens designed by us!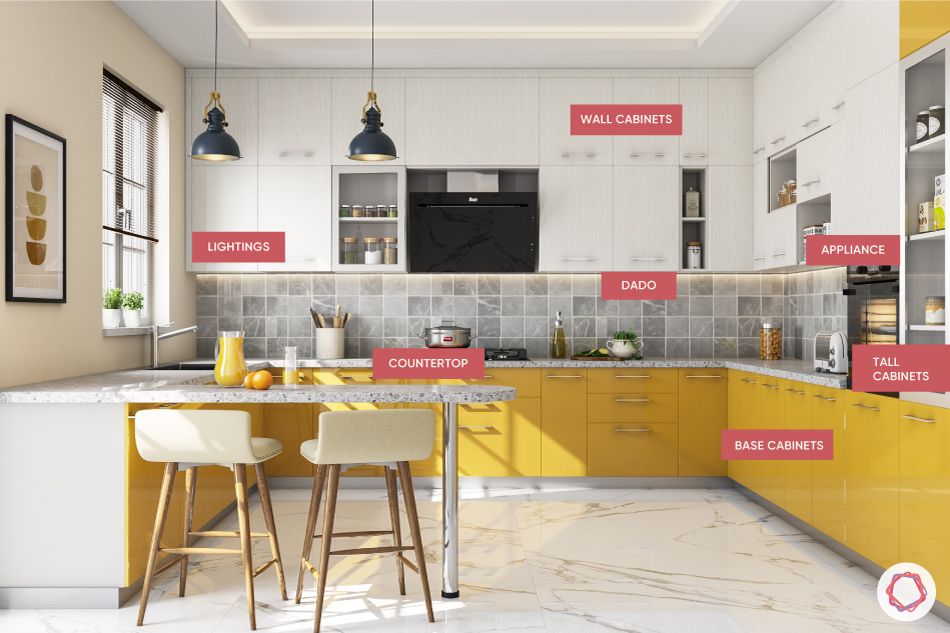 What are the essentials of a kitchen design?
Before you start with your kitchen design, there are a few things that you need to keep in mind. Whether you go to a carpenter or any designer, they will check your kitchen for certain specifications. Let's take a look at them:
Essential #1: Size of your kitchen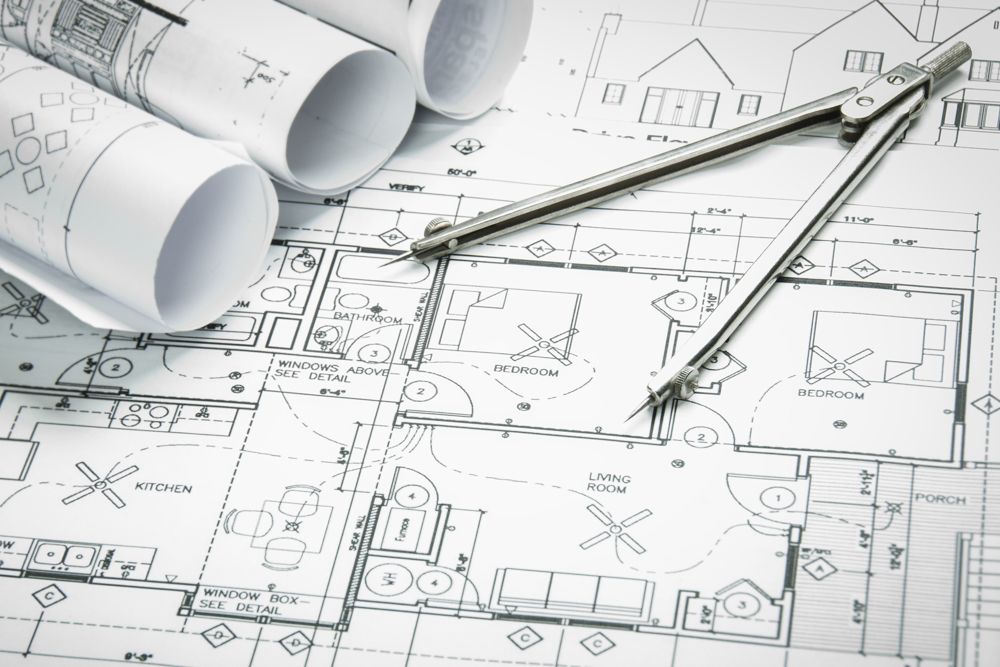 Before anyone even starts the process of designing a kitchen or any space for that matter, they have to measure the size of the room. For kitchens, it is essential to know the exact size because even the slightest mistake or discrepancy can cause major disturbance in the designing and installation. Since we at Livspace customise each and every aspect of your kitchen, we will measure it accurately so that we manufacture correct modules for your space.
Essential #2: Existing connections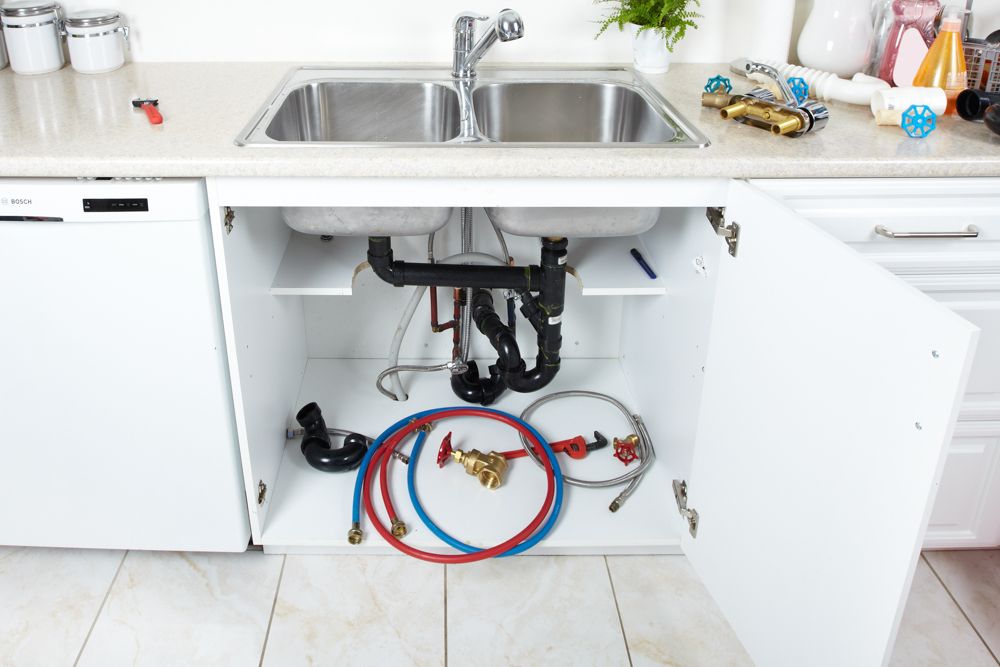 Since a kitchen is the most used space at home, it is important that the right connections are provided here. Before anyone starts working on the design for your kitchen, they will check the existing connections that are already present. These include water connections, power points and so on. It is important to establish these since they are essential for a kitchen design.
Essential #3: Availability of storage space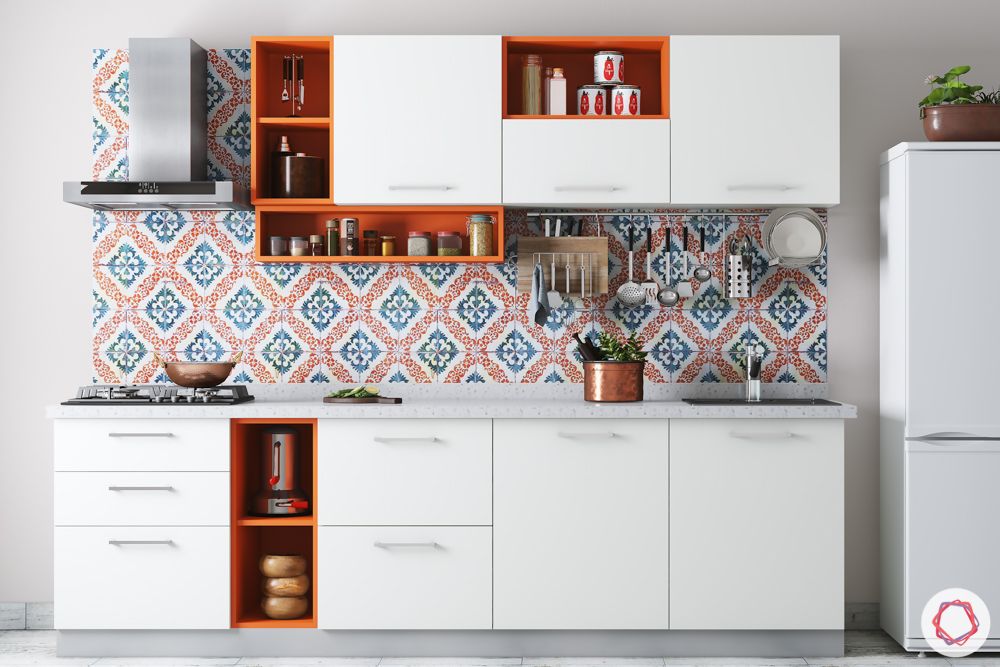 There's nothing like enough storage when it comes to kitchens. Before a designer or a carpenter starts designing your kitchen, they have to check how much space is available for storage. Accordingly, they can chalk out a plan and tell you how much storage they will be able to provide in the available space.
What does Livspace do extra when it comes to the essentials of a kitchen design?
While every carpenter or designer will do all of the above when you hire them to design your kitchen, there are some things that only Livspace can do for you. This is very essential and you will soon know why.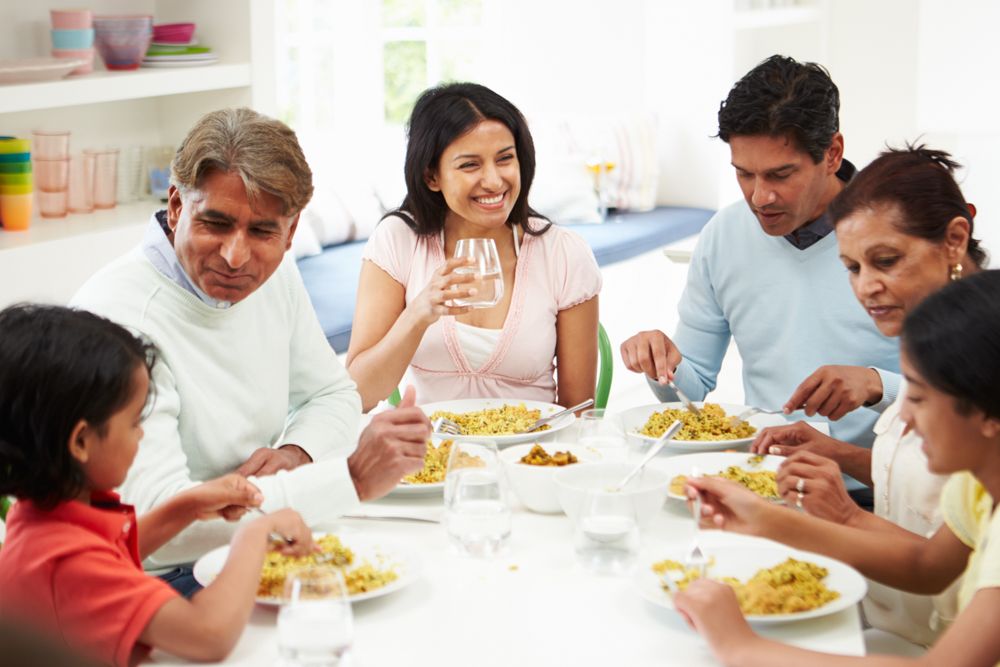 Livspace design essential #1: Size of the household
At Livspace, we believe in customising kitchens for each and every unique customer. So, before our designers start designing your kitchen, they will meet you and try to find out how many people reside at home and how many people are going to be using this kitchen. This will help them give an appropriate design.
Livspace design essential #2: Habits of the homeowners
We all are different and every customer has unique habits. Be it shopping habits, cooking habits or eating habits. Our designers will thoroughly examine your habits before giving you a design plan. This involves judging if you shop for groceries on a daily basis or stock up on groceries, which means you will require a tall unit, for example. Similarly, they will study your cooking habits and eating habits as well. So you get a highly customised kitchen in the end.
Livspace design essential #3: Lifestyle of the homeowners
What purpose does your kitchen solve? Is it used only when you have a large get-together or is it used on a regular basis? Are you designing a kitchen in a weekend home, which means you need only basic modules? Our designers will make sure you get the right kind of kitchen based on your usage and lifestyle needs.
Let us tell you the difference between modular and carpenter-made kitchens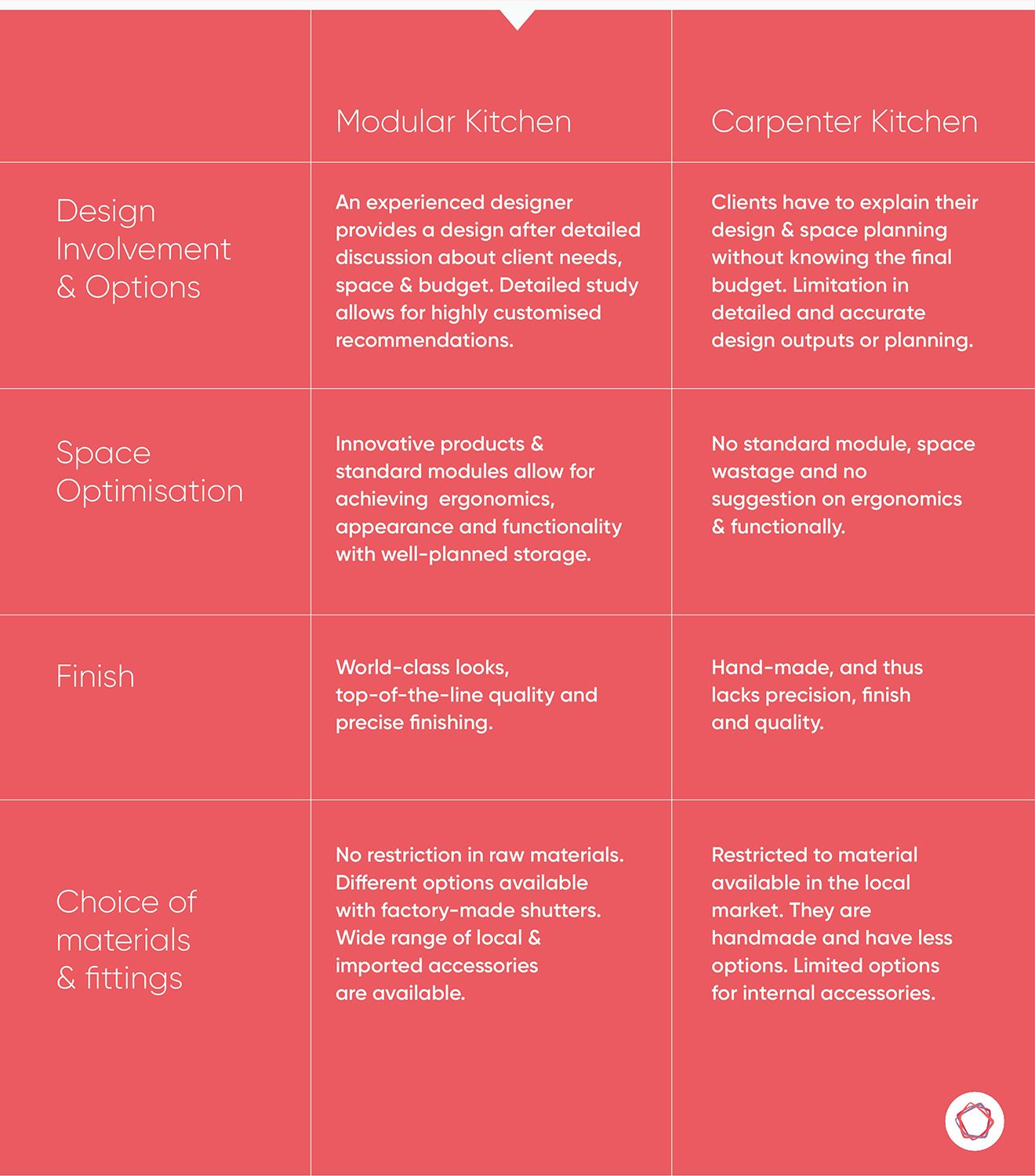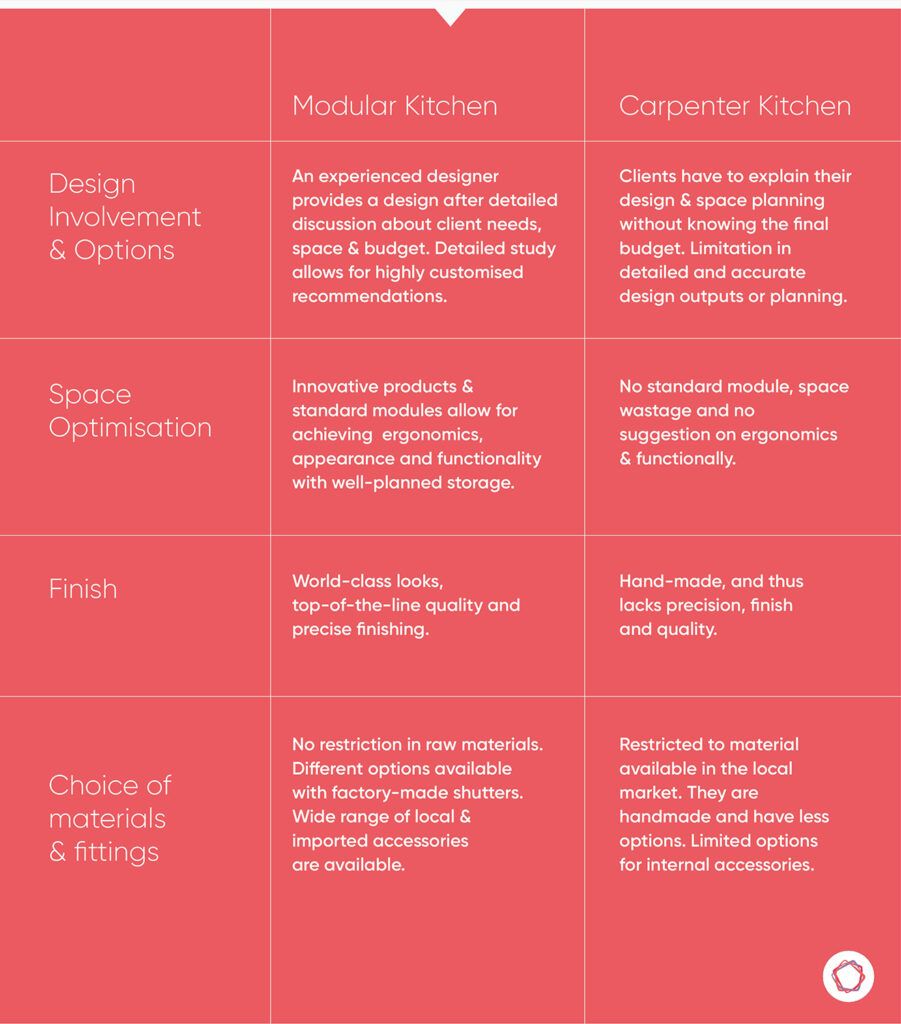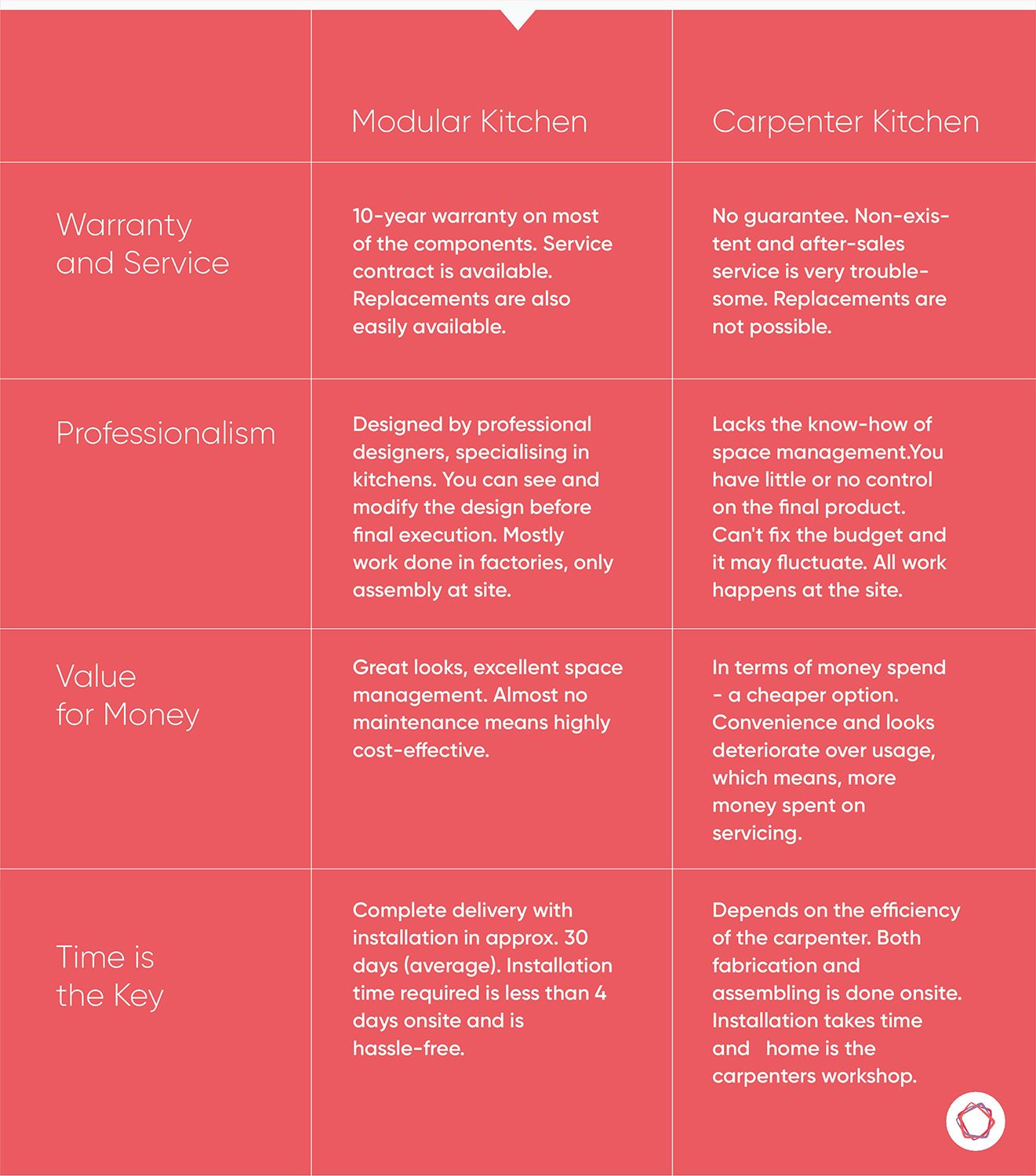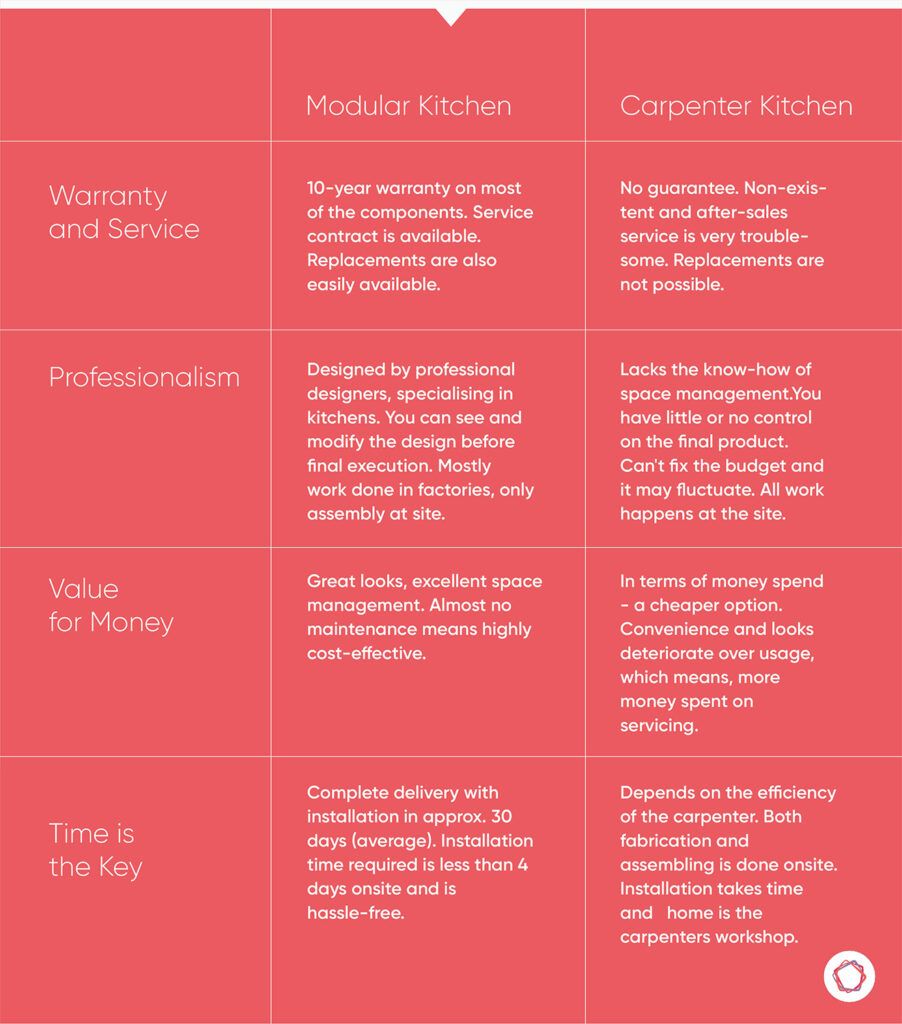 Why should you choose Livspace kitchens over anything else?
Let's come to the bottom-line – why Livspace kitchens? While carpenters will give you a basic kitchen that you might be able to use regularly, Livspace designers make sure that you get a kitchen that is custom-made for you. This is just one of the many reasons why you should choose Livspace for your modular kitchen design. Let us give you some more:
Reason #1: Our kitchens are moisture-resistant & tested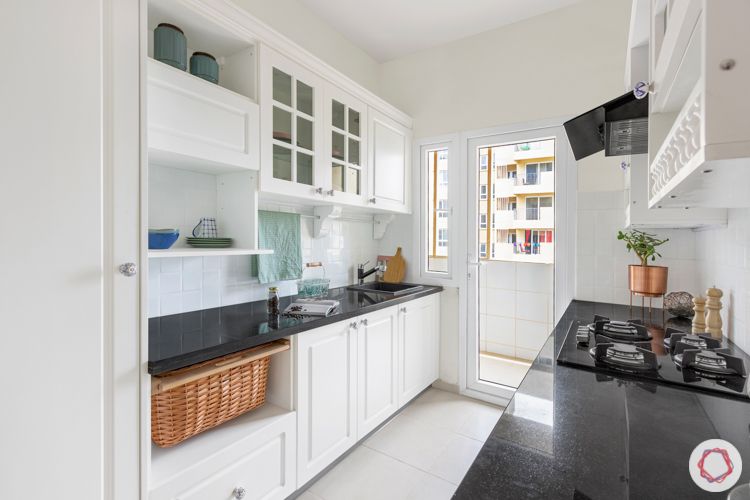 Livspace kitchens are especially designed to tackle the weather conditions that prevail in India. Hence, we provide moisture-resistant modules for kitchens so that your kitchen does not succumb under harsh weather conditions. Every module that our designers give you is durability tested and you do not have to worry about wear and tear over time. We also provide only automated kitchen production which means we have integrated machinery that gives you 99% accuracy for every panel.
Reason #2: Fastest delivery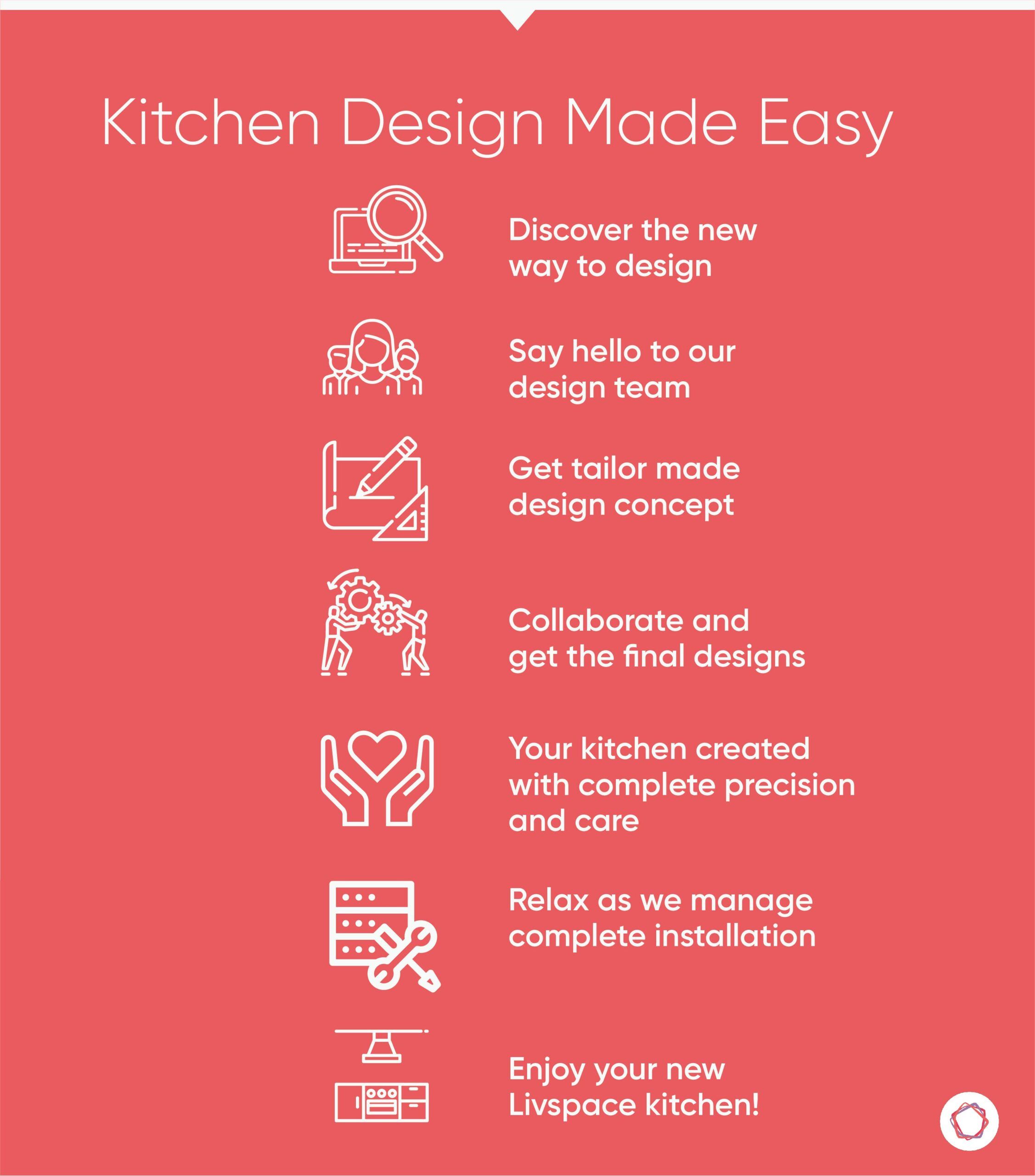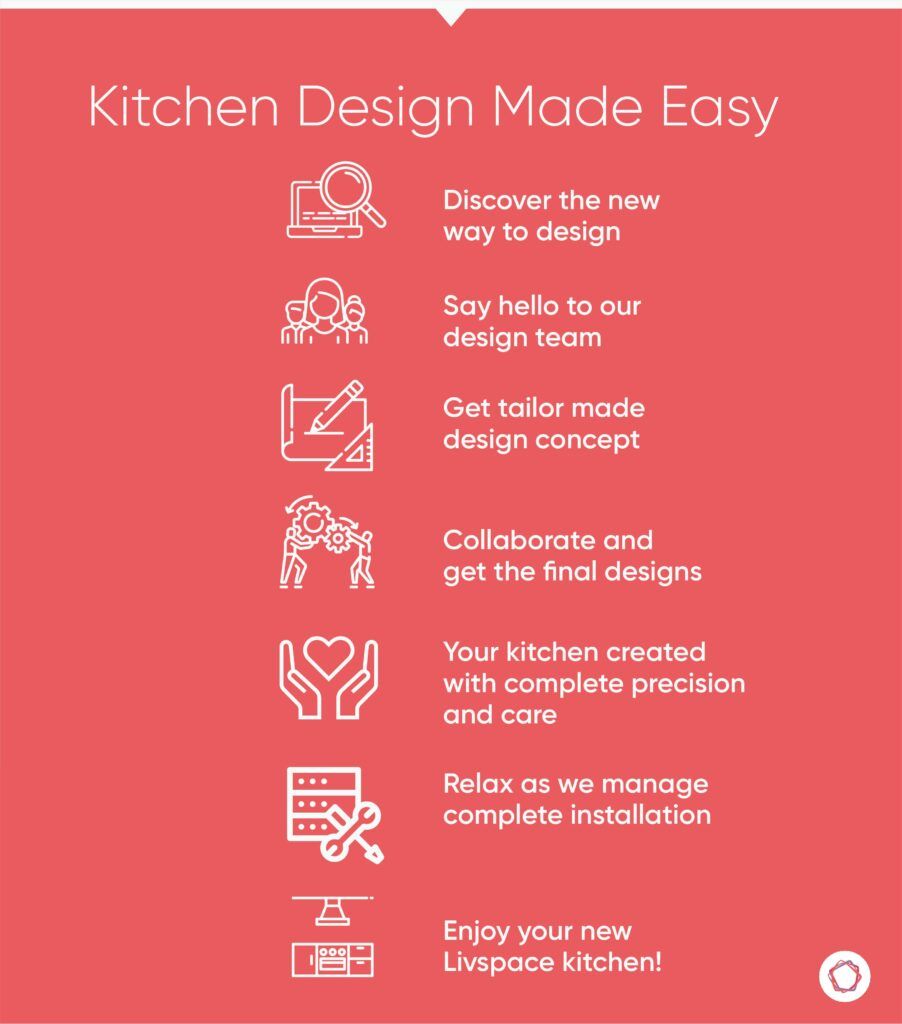 At Livspace we believe that time is very valuable and we make sure we deliver within the promised time. We have the fastest delivery of kitchens, i.e. 45 days from the day you finalise the design and modules. We know how excited you are to see your brand new kitchen and we help you realise that dream even sooner!
Reason #3: Designer kitchens with technology integration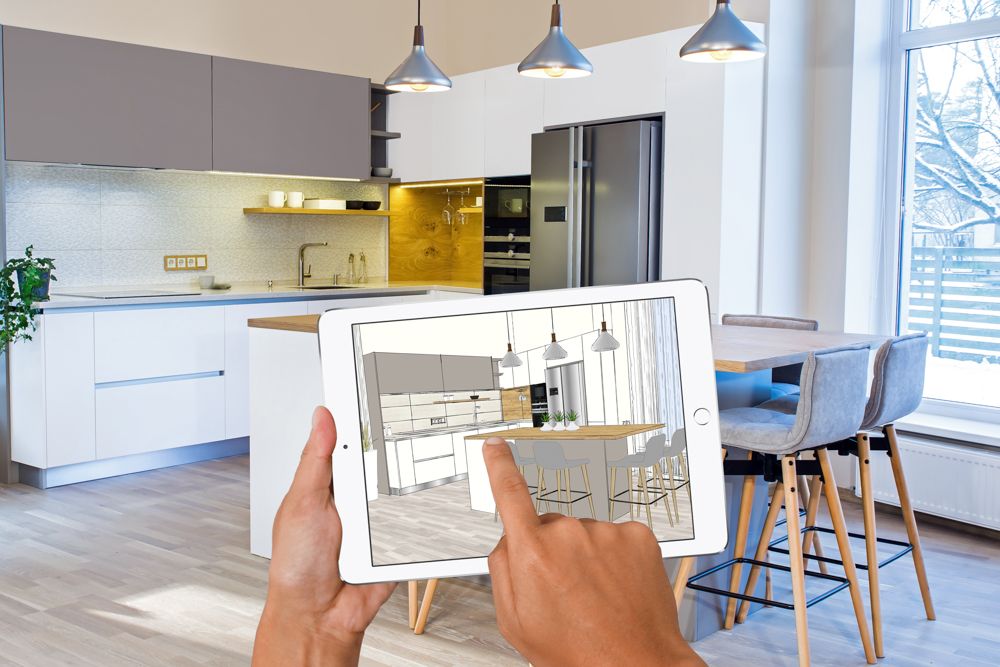 We used advanced tools like Canvas for designing and estimating budget for your kitchens. Our designers aslo use 3D tools to create virtual images of your kitchen. So, you can practically see how your kitchen is going to look like even before you get it. Technology integration is one of our major offerings and we believe in making this experience smooth and convenient for you. We also design ergonomically sound kitchens with maximum space efficiency, which is of utmost importance in Indian households.
Reason #4: Ready-to-cook kitchens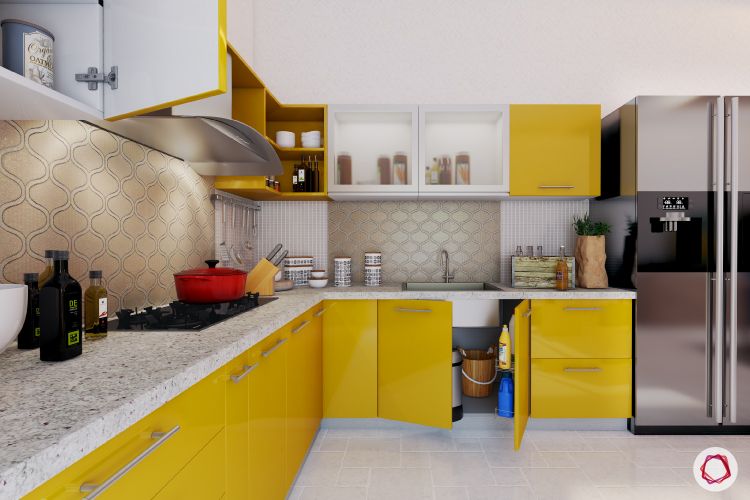 What do we mean by ready-to-cook-in kitchens? This means that everything for your kitchen is manufactured in factories and we only assemble them on-site. Minimum work happens in your kitchen, except the civil changes that we make. Everything comes ready from the factories. Once you place your order and finalise the design, your kitchen will be ready-to-cook in 45 days. You can practically throw that party you have been planning!
Reason #5: Hassle-free experience
We want to make this experience as hassle-free as possible for you. Therefore, we have 100% inhouse services and after-sales service at your beck and call. We also have specialised project management which ensures project timelines are maintained and regular updates are sent to you, regarding the progress of work on your kitchen.
Reason #6: Easy payment options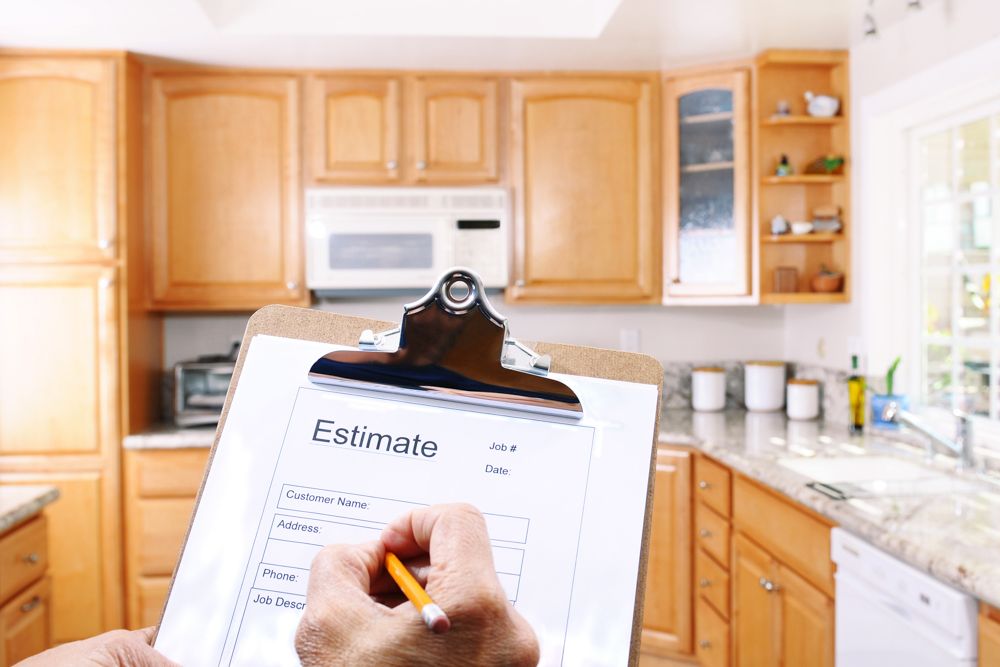 What we take pride in is the fact that we give you ready to move in quotation. What does that mean? This means that our prices will not change after confirmation from your end. We also have zero escalation on agreed scope of work, which means price will not increase unless the scope of work changes from your end. We also provide easy EMI options so that you do not have to worry about your money.
Extra benefits of getting a Livspace kitchen
That's not all, along with the above mentioned points, Livspace will also give you the following benefits once you decide to design your kitchens with us:
Made for you/customisable – Your kitchen is your personal space and it should define you. Therefore, designers at Livspace will ensure that you get a kitchen design that is made just for you. We customise kitchens to the T and you can tell us your requirements openly.
Space-saving – One of the major concerns of Indian households is space crunch. Therefore, we at Livspace make the best use of space and give you solutions that will fit your space perfectly. We have modules like magic corners, d-trays, etc that we provide especially for compact spaces. Our designers will recommend the best for you. Read this for more: Smart & Space-Saving Ways to Boost Kitchen Storage
Provides optimum functionality – Kitchens should be highly functional since they are the most active part of a home. We use it daily, thus it should have modules that provide optimum functionality. Tall units, roller shutters, pull-outs, pantry units – the list is endless. Our designers will give you the best modules that are suitable for your lifestyle. Read this to know more: How Can I Make My Kitchen More Efficient?
Easy assembly on-site – Your entire kitchen will practically be manufactured in our factories and we will only assemble the final products on-site. This means you do not have to deal with mess and everyday labourers coming into your home. We deliver ready-to-cook kitchens at your doorstep!
High aesthetic appeal – Lastly, who does not want a kitchen that they can flaunt? If you are going to spend on getting a designer kitchen for yourself, you might as well be able to show it off. We will make this possible for you. The kitchens that our designers design for you will be of top quality and have impeccable aesthetics. You will be proud of your kitchen! Check this out: 25+ Kitchens That Will Inspire a Makeover
Want to look at some of our top kitchens? Take a look at this: We Love These Modular Kitchen Designs.
Send in your comments and suggestions.