For some of us, storing yet another appliance in the kitchen can spell clutter disaster. It could mean an over-stuffed rack or cabinet that probably shouldn't be opened when you have guests over. But this doesn't have to be the case all the time. It just needs the magical touch of organisation.
If you're looking to upgrade your kitchen or you're moving into a new place, these kitchen storage options are a great way to squeeze in a lot more space. Here's how you can take kitchen organisation up a notch!
Kitchen Storage Option 1: Tall Unit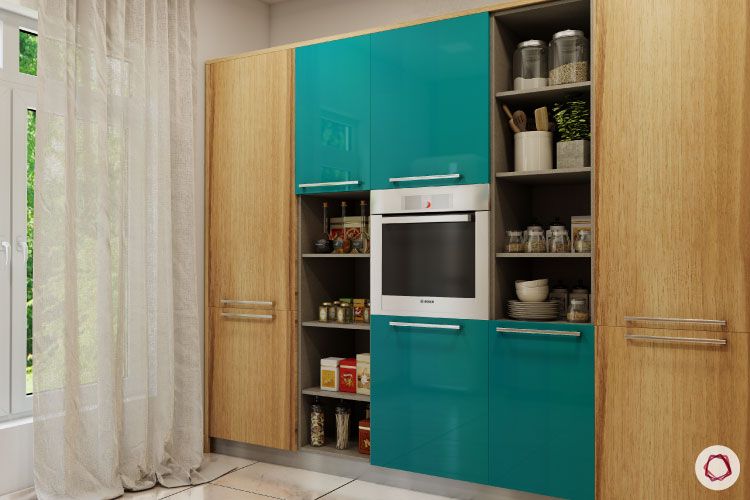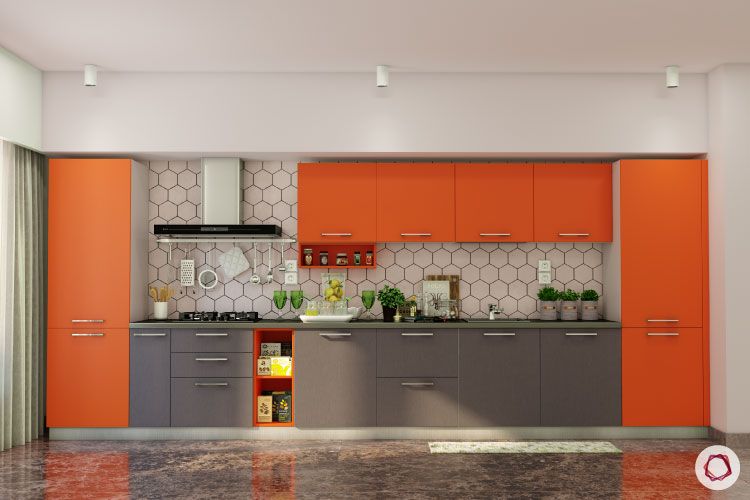 When it comes to storage space, you can't go wrong with a tall unit. Imagine a chest of drawers for your kitchen – that's what a tall unit does. It stores all your non-refrigeration foods and essentials. You could also stash your snacks and on-the-go foods in these high storage units. These are usually 1900 mm in height and very user-friendly. You could either have a straight pull-out door that has drawers attached to them or a door that simply opens up to drawers.
Kitchen Storage Option 2: Drawers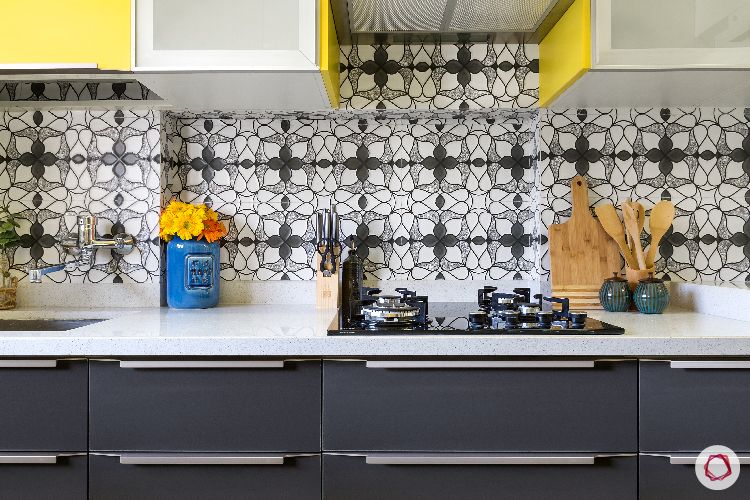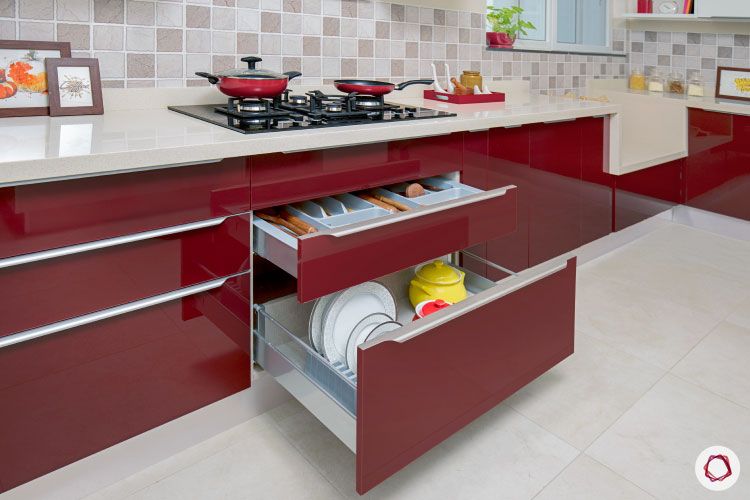 The classic storage space saver: the drawer. It might be the obvious answer but the humble drawer is extremely versatile. It can hold cutlery trays, knives, plates, bowls – pretty much all your kitchen essentials. Most modern kitchens put in long drawers under the countertop so that you don't have to dig out things from the deep end.
---
"My personal favourite is a huge drawer. This adds a lot more storage and you can store anything you like. You can add in a unit with a set of 3 drawers. The first drawer is a cutlery tray, the second holds cups and bowls and the last drawer is for your plate rack and pans."

– Archana Magal, Livspace Designer

---
Kitchen Storage Option 3: Corner Units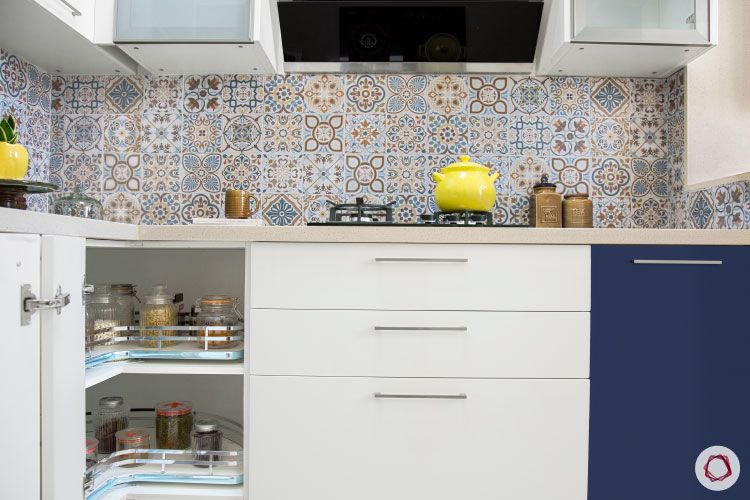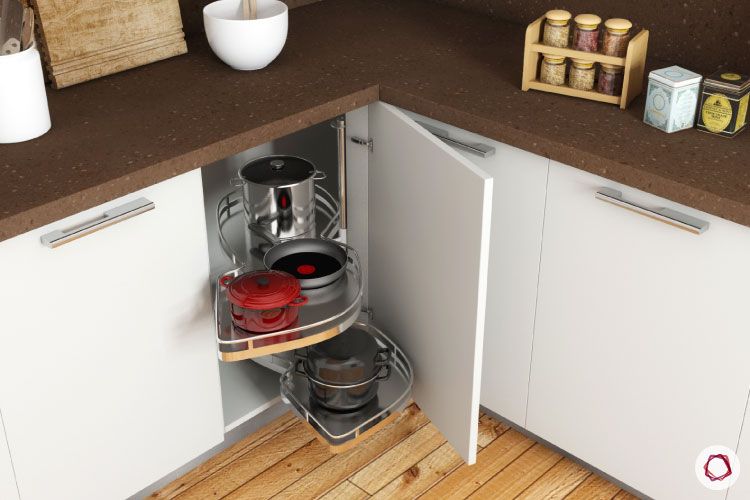 If you really want to squeeze in more storage space, check your kitchen corners. The space underneath the point where the countertops join were completely overlooked once upon a time because of the inconvenience involved in storage. These are usually deep and it takes quite a bit of fishing to take your utensils out. But corner units save us the effort. You could put in a rotating tray nicknamed "Lazy Susan" and simply access your utensils with ease. No more diving into the deep end! Depending on the size and its depth, you can store heavy-duty pots, containers or spice jars.
Kitchen Storage Option 4: Wicker Baskets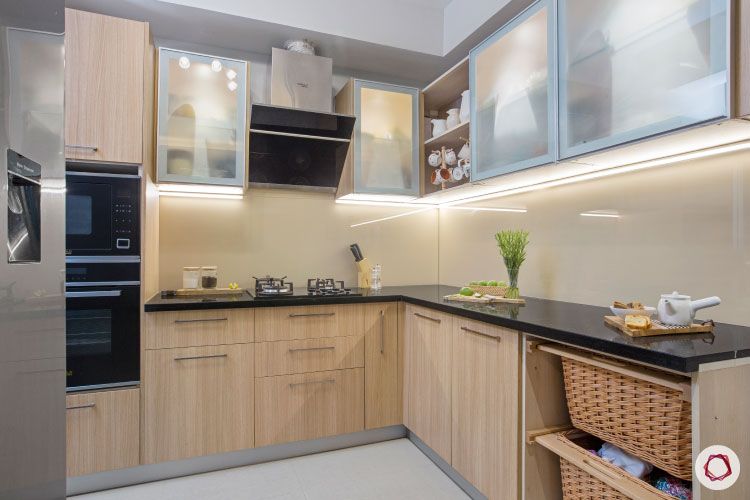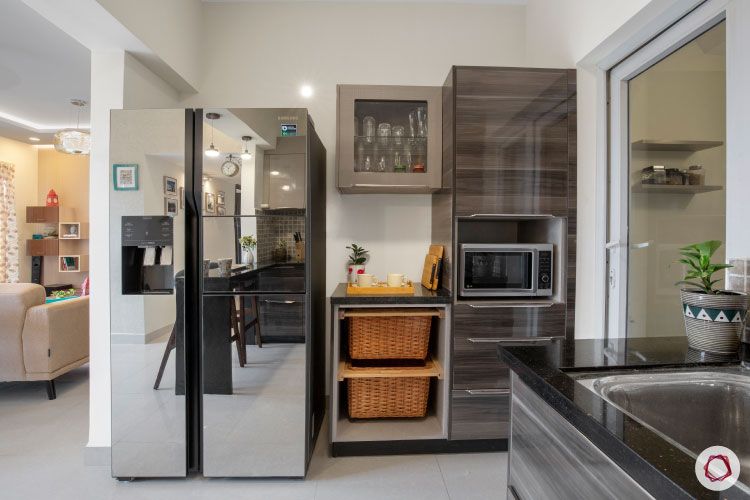 Wicker baskets are your answer to quick storage space and adding countryside vibes right in your kitchen! These work perfectly for any knick-knacks you've got in the kitchen with no assigned place.
Stash standalone baskets freely in the corner or have pull-out baskets that fit under the countertop. It comes in a range of sizes too! This is a great option for those looking for storage space and style. The standalone baskets works well for cozy kitchens.
Kitchen Storage Option 5: Roller Shutter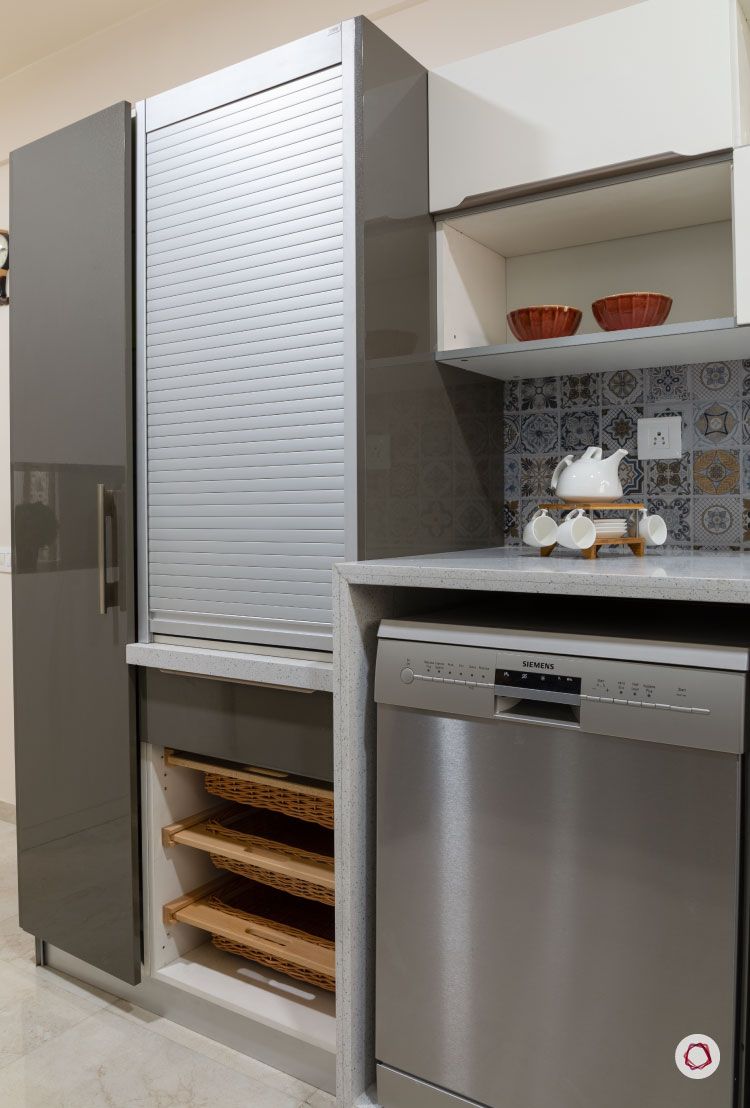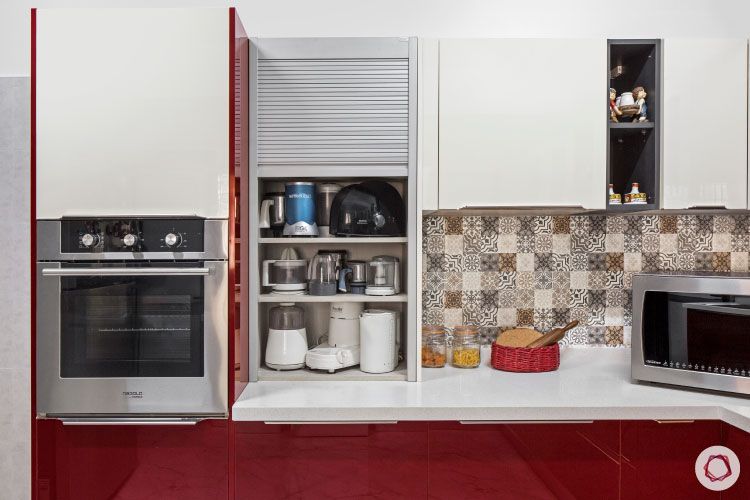 Wouldn't it be perfect to store all your kitchen appliances in one place and not have it spread out all over the kitchen? You will love the roller shutter then. These shutters can hide appliances neatly in a shelf. It typically comes in aluminium or a glossy acrylic finish. You can also choose a glass roller shutter for a touch of softness.
Roll it down when it's not in use and when you are done for the day. Wake up to a clutter-free working space! This even gives the impression that your kitchen has plenty of space. Roller shutters make a swanky and elegant kitchen.
Loved these ideas? You might want to look at these as well to maximise your storage space: Smart & Stylish Storage Options to Try Out
Send in your comments and suggestions.