The kitchen is the heart of every Indian household, regardless of the size of the family or the size of the space itself. But not all kitchens are the same, not just in terms of size but in the way the kitchen is used, in the layout, and in the aesthetic. In fact, kitchens have evolved to suit modern requirements, with compact homes even giving rise to the kitchenette design. But what is a kitchenette exactly?
If you're stumped by the word, we're here to give you some clarity! From what kitchenettes are about to the cosiest kitchenette designs for small spaces, this guide has it all.
1. What Is a Kitchenette?
A kitchenette layout describes a space-saving design that's integrated into a living room or a passage. It functions as a cooking area without the bells and whistles that come with a fully equipped kitchen. In other words, a typical kitchenette usually features a refrigerator and a microwave, which are considered the two essentials of any modern household when it comes to making a meal.
However, this need not always be the case. Some modern kitchenette designs may also be equipped with a stove, sink, and storage space. Depending on the need and available space, you can modify your kitchenette to suit your lifestyle.
2. Kitchenette vs Kitchen: What's the Difference?
Kitchen
Kitchenette
Usually covers various equipment and
appliances to create a fully functional
kitchen
Includes only must-have essentials
such as a refrigerator, microwave,
stove, and countertop
Typically has more counter space
Limited availability of counter
space
Offers more storage space
Storage space might be limited
depending on the overall size of
the kitchenette
Can house full-size appliances
and cooking equipment
Due to space constraints, smaller
appliances are best-suited for
kitchenettes
Ideal for big families or homeowners
that prefer to cook at home
Ideal for renters or single occupants
that do not cook as often
3. Modern Kitchenette Designs for Big and Small Spaces
Not all kitchenettes are on the compact side. While the majority of them are smaller to save space in compact homes, your kitchenette design can also suit a larger space. Here are a mix of big and small kitchenette designs that you can consider for your home:
#1: Minimalist
Here's a kitchenette design that's perfect for homes that like to keep it simple. A minimalist take on your kitchenette is not only aesthetically pleasing, but can also be a great way to reduce visual clutter.
Opt for seamless white cabinets to build a minimalist theme. Additionally, if you want to add a storage-cum-display element to the space, go for open shelving.
#2: Cosy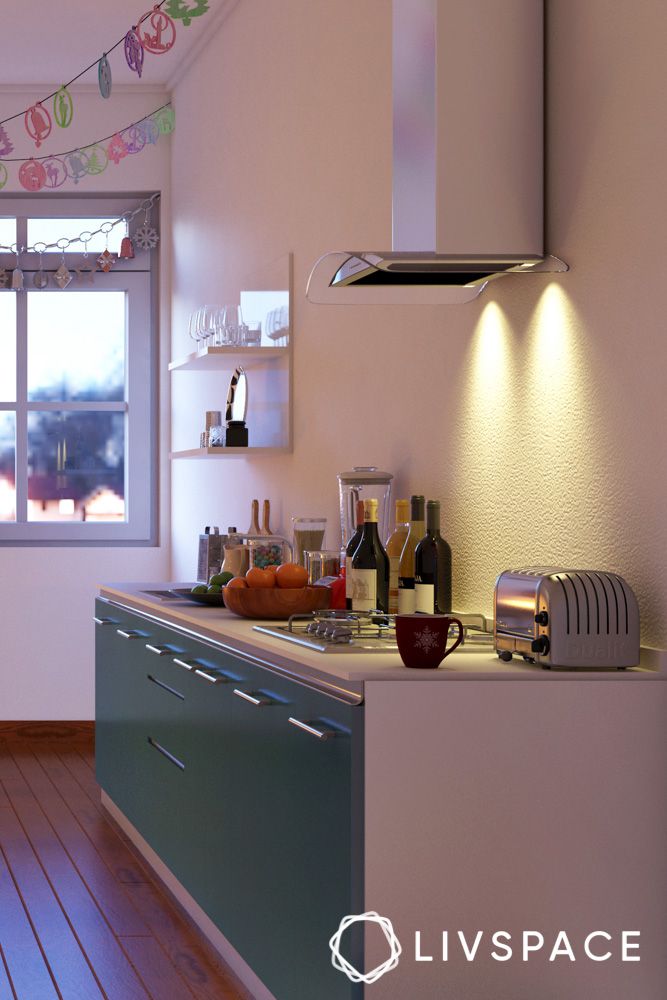 There's nothing like a cosy, small kitchenette layout to suit an open-concept home. Similar to a one-wall kitchen design, this kitchenette layout is ideal for compact spaces.
All you need are some base cabinets and a counter, an induction stove top, and a sink. You can further customise this kitchenette design based on your exact needs.
#3: Extended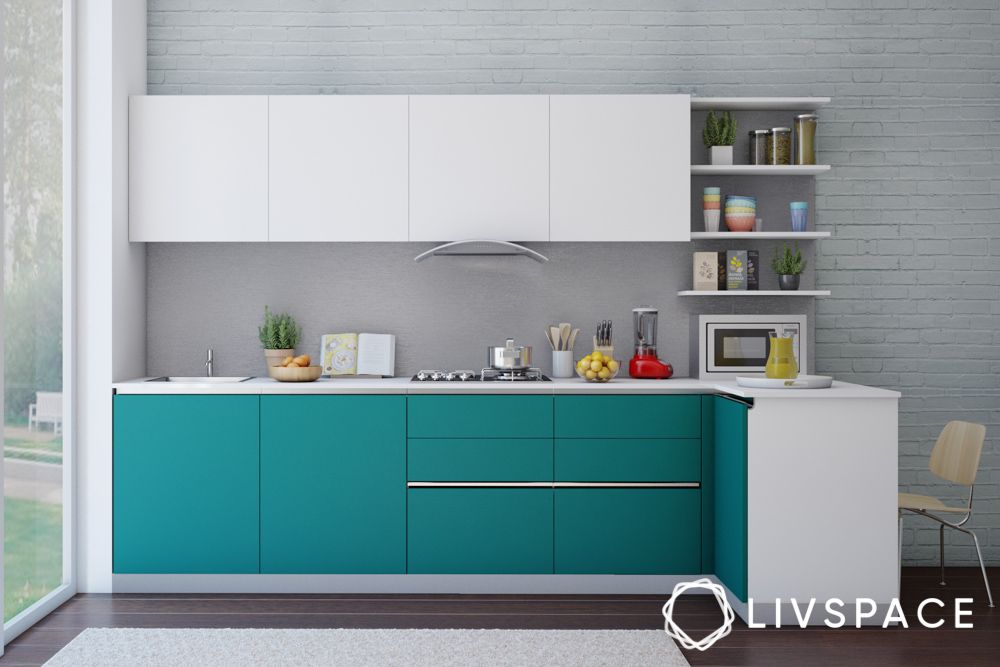 If you don't have a dining area, you can simply extend your kitchenette design to create a breakfast nook. You can do this by extending your countertop to create extra storage and seating space, or you can add a kitchen island to the side to make it longer.
Also Read: How to Design a Compact Kitchen
#4: Backsplash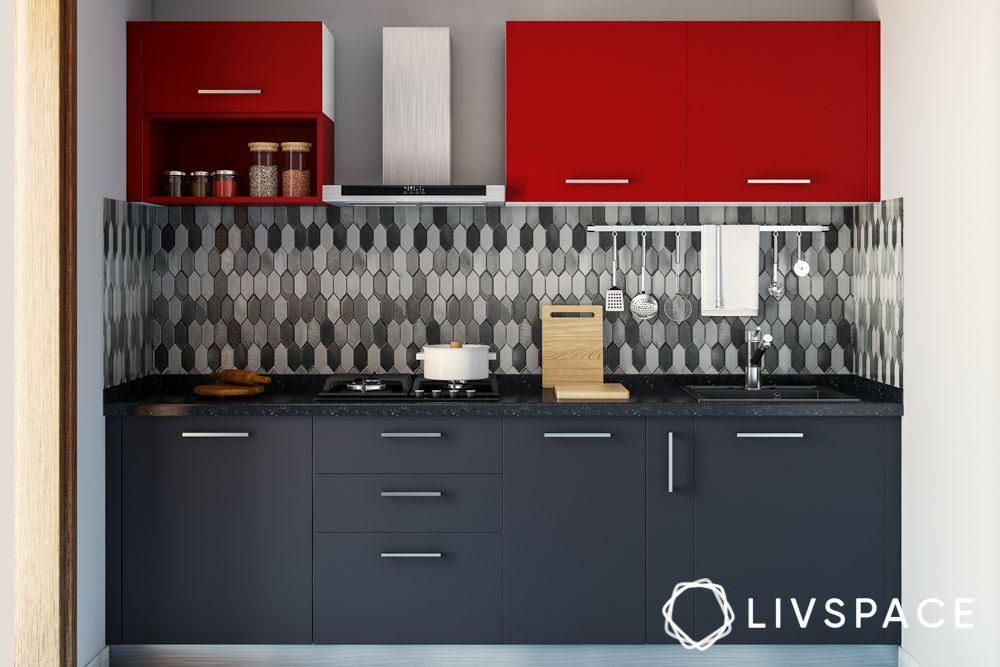 If you have a full wall to spare, consider decking it out with a compact kitchenette design that can answer all your storage concerns. To give it the look of a full-fledged kitchen, consider adding a backsplash to it.
#5: Scandinavian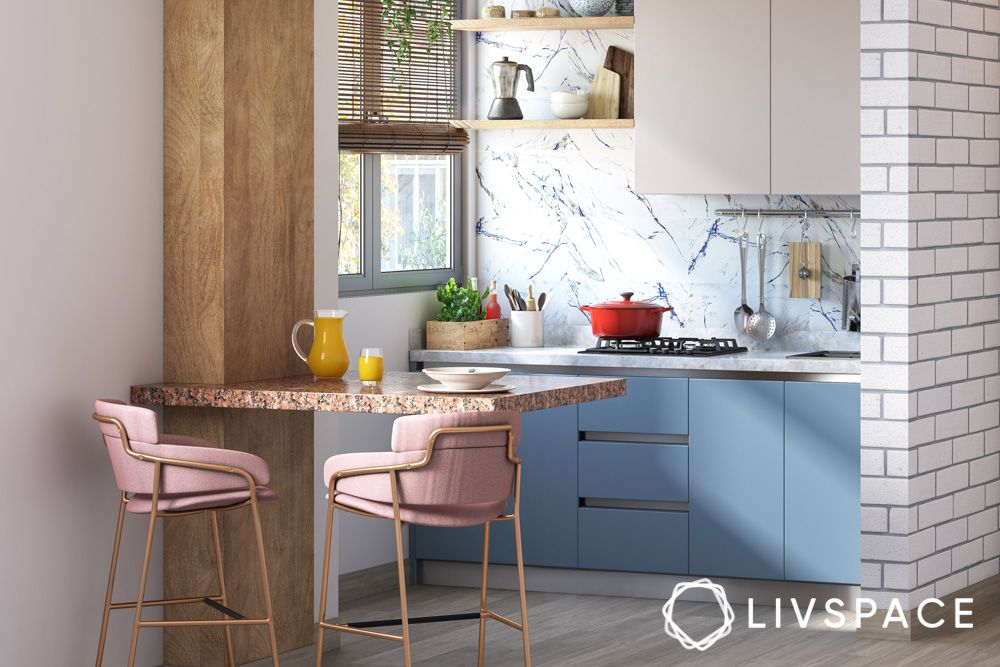 Though kitchenettes aren't as comprehensive as kitchens, they can still be styled to suit the rest of your interiors. Similar to the minimalist style, you can consider going Scandinavian while designing your kitchenette.
Opt for neutral colours and natural materials to curate the look. However, don't forget to add sunlight to further amplify the airy look and feel of this design style.
#6: Open Layout
Integrating a kitchenette design into an open layout can be tricky. This is because it may stick out like a sore thumb in comparison to the rest of your space. To avoid this, consider integrating your kitchenette design into the rest of your interiors by using similar colour schemes and materials.
#7: Vertical Storage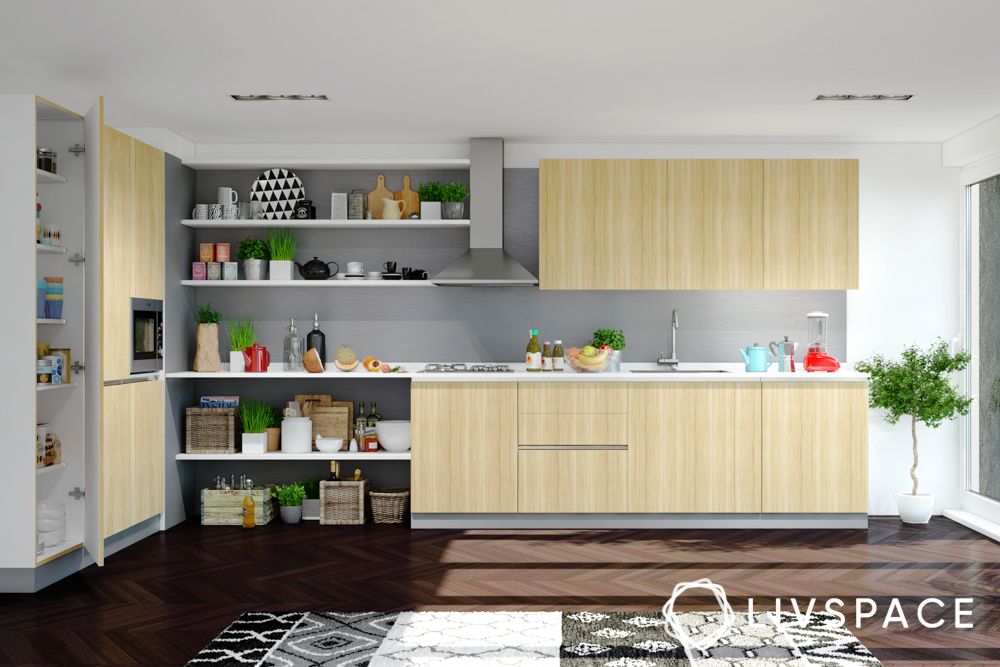 Vertical storage is your best friend when it comes to your kitchenette design. Why? Because you might not have the floor space to expand your kitchenette, but you can always use more of your wall space to add storage.
If the wall above your kitchenette counter is empty, consider using it to hold cabinets and shelves, based on your needs. If you have a wide wall, you can even divide it into two segments: storage and cooking.
One part of the wall can be reserved for shelving or the pantry, while the other can be your primary cooking area.
Also Read: 15+ Clever Makeover Ideas for Small Kitchens
#8: Shelving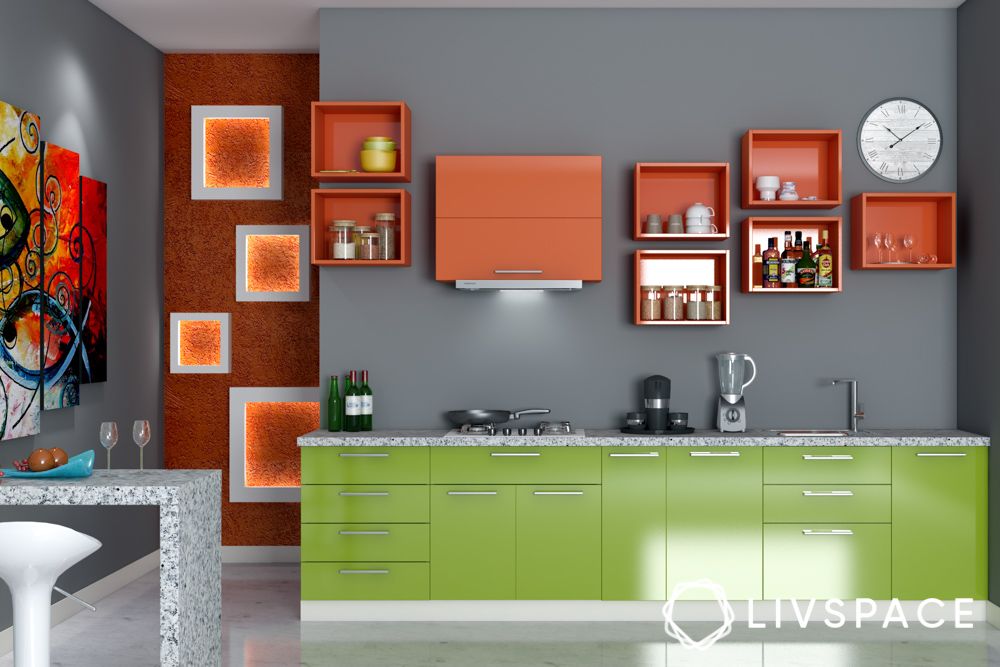 Upper cabinets might be your go-to when it comes to designing your kitchen. However, for a light kitchenette design, you might not want to clutter your walls with cabinets. So, what do you do in such cases? You use a mix of storage options!
Ditch bulky overhead cabinets for open shelves instead. They not only make it easier to find items, but can also double as a display unit for your crockery.
#9: Seamless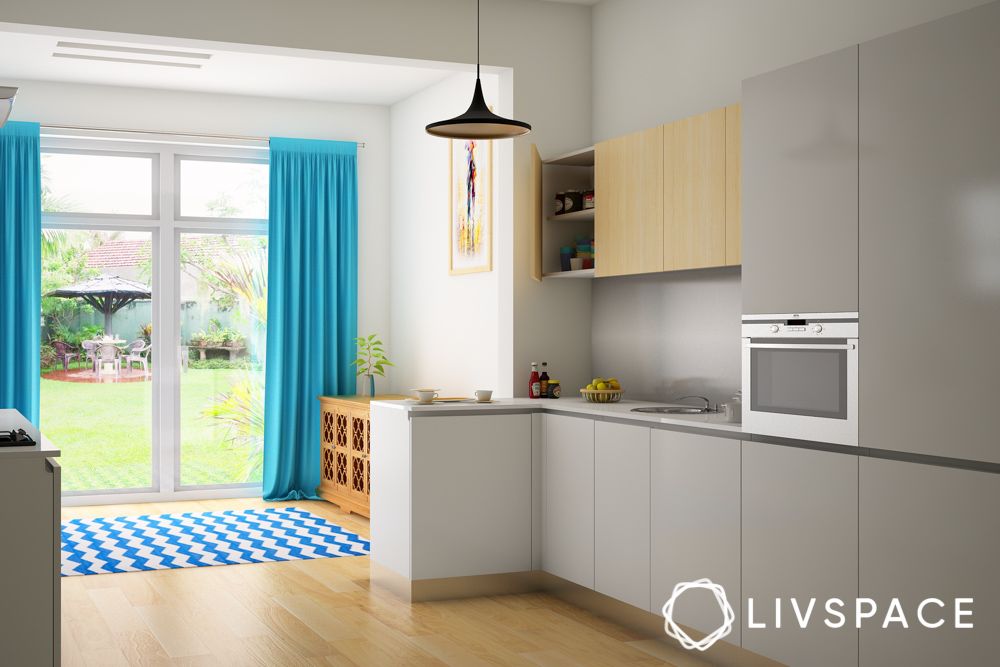 An easy way to make your kitchenette design appear less cluttered is to opt for seamless cabinets. While handles are functional, they can add to the visual weight of the design and make it look heavy. Instead, opt for frameless doors without handles for a cleaner look.
Similarly, stick to the basics while detailing your kitchenette. If you're low on space, only fit it with items that are absolutely necessary. Moreover, bear in mind the function of the space and design it exactly to suit those needs.
If you're looking for more ways to design a modular kitchen, check out:
4. What Are the Pros and Cons of a Kitchenette Design?
Pros
Cons
It can help you save space effectively
without compromising on functionality
May come with a lack of design flexibility
as compared to a full kitchen
Helps you prevent clutter by sticking to
the essentials only
Full-sized appliances might be difficult
to accommodate
A kitchenette design can be relatively
renter-friendly
It may not be ideal for elaborate cooking
needs
Can be comparatively less expensive to
design compared to a full-fledged kitchen
as you save on appliances and
furniture
This layout has lesser counter space
compared to full-size kitchens
5. Does a Kitchenette Design Suit You?
A kitchenette design can suit you if you're lacking the space needed for a detailed kitchen. It's ideal for single occupants, renters, or small families that occasionally prepare meals at home and don't want to splurge on a full kitchen just yet.
Moreover, a kitchenette layout is also ideal for minimalists who don't want to collect more than the very basic appliances to kit out the meal-prepping space.
Apart from this, a kitchenette is perfect if you're looking to redo a smaller space in your home, like a basement or a guest room. It keeps the cooking area separate without adding much bulk that can make the space look cluttered or smaller than it is.
6. Why Are Kitchenettes Becoming Increasingly Popular?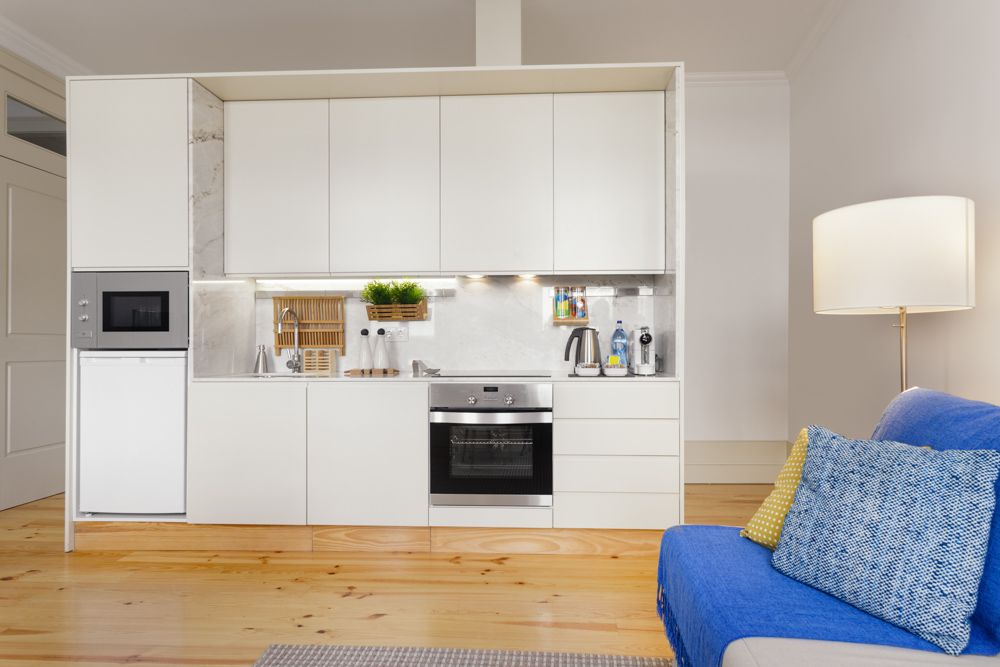 Task-Oriented: Since kitchenettes pack just about enough space to get basic cooking done, there's no space for clutter or multipurpose use. While this may be a drawback to some, it helps focus on the main task: cooking
Space-Saving: Kitchenettes are great space-savers as they don't take up too much square footage. You can create them on an existing countertop or in a niche. They also use space in such a way that the number of dead corners in a house reduces
Practical: They focus on helping you cook and meal prep without getting into aesthetic appeal. They're also easier to clean than full kitchens, which is a blessing for low-maintenance households
7. What Should You Consider While Designing a Kitchenette?
Plumbing: Does your kitchenette design require a sink? If yes, you'll need to account for plumbing lines while getting your kitchenette designed and installed. You'll also have to see to the kind of water connection you want for the sink: hot or cold
Worktops: How much space do you need for cooking and meal prep? Based on your answer, you can determine the width and length of your countertop. Don't forget to select the material based on the features you're looking for, such as water-resistance, heat-resistance, or stain-resistance
Appliances: If you don't cook often, you might not necessarily need a gas stove. Instead, list out your needs and requirements to know what exactly you want the function of your kitchenette design to be. If it's solely for meal prep and light cooking, you can get by with an induction stove, a microwave, and a refrigerator
Storage: If you're looking for storage, you'll need to work out how much space you can use for cabinetry. If you're low on floor space, consider using available wall space to add cabinets, shelves, or racks
Colours: Dark colours might make the space look more cluttered and compact, especially in an open layout. Instead, consider opting for light or neutral colours that tie your kitchenette design into your overarching interior theme
How Can Livspace Help You?
With our ergonomically designed kitchens, we'll ensure that you have a comfortable space to work in that stands the test of time. What's more, you can also enjoy a *flat 10-year warranty on all kitchens, so you can rest assured the materials and finishes used are built to last.
Book an online consultation with Livspace today and get started on your dream kitchen journey. You can also check out these Livspace reviews to know how Livspace homeowners are loving the way they Liv.
*Flat 10-years for modular and semi-modular products.
Disclaimer: All contents of the story are specific to the time of publication. Mentions of costs, budget, materials, finishes, and products from the Livspace catalogue can vary with reference to current rates. Additionally, the designs featured within the story are subject to availability and will vary based on the year the homes were designed in. Consult our designers for more details on the latest designs, availability, and pricing.
---
Popular Services:
Modular Kitchen Designs | Wardrobe Designs | Bathroom Designs | Master Bedroom Designs | Living Room Designs | Pooja Room Designs | TV Unit Designs | False Ceiling Designs | Kids Bedroom Designs | Balcony Designs | Dining Room Designs | Foyer Designs | Guest Bedroom Designs | Window Designs | Flooring Designs | Wall Decor Designs | Wall Paint Designs | Home Wallpaper Designs | Tile Designs | Kitchen Cabinet | Home Office & Study Room | Home Interior Designs
Popular Locations:
Interior Designer Bangalore | Interior Designer Mumbai | Interior Designer Pune | Interior Designer Chennai | Interior Designer Hyderabad | Interior Designer Gurgaon | Interior Designer Delhi | Interior Designer Ahmedabad | Interior Designer Vadodara | Interior Designer Kolkata | Interior Designer Thane | Interior Designer Navi Mumbai | Interior Designer Coimbatore | Interior Designer Lucknow | Interior Designer Patna | Interior Designer Nagpur | Interior Designer Chandigarh
Popular Stories:
2 BHK Interior Design | 3 BHK Interior Design | 1 BHK Interior Design | Interior Design Cost In India | Painting Cost Per Square Foot | False Ceiling Cost | Bathroom Renovation | Sofa Design Ideas | POP Design for Hall | House Paint Colours | Main Door Design | Granite Countertops | Vastu For Home | Cool Wallpapers | Types of Kitchen Layout | Types of Flooring | What Is Plywood | Pooja Room Vastu | South Facing House Vastu | Which Plants Are Good for Home Vastu | Vastu Tips for Home