The complete guide to your kitchen backsplashes — find out why you need one and learn how to choose the right material and design like a pro.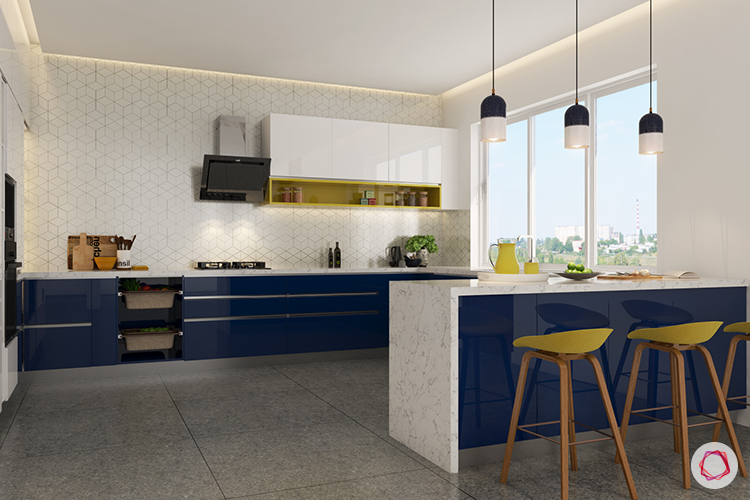 What began as a functional convenience, has now become the ultimate style statement for your kitchen. Say hello to kitchen backsplashes- a fun way to protect your walls and at the same time add color, prints and texture to your kitchen. By definition, a backsplash is a vertical surface, installed upright on the wall behind the countertop that houses the stove and basin — which protects the wall from water, oil and other splashes.
The metaphorical armour of your kitchen, by design, is essentially a very easy-to-clean surface. It makes the cleanup around sink, stove and other messy areas, as easy as it can be. When you see the backsplash in an aesthetic light, it is an important design element in your kitchen. It is upto you to decide whether you want the backsplash to serve as an understated element which binds the whole look together or as an element that stands out in the kitchen and becomes the focus.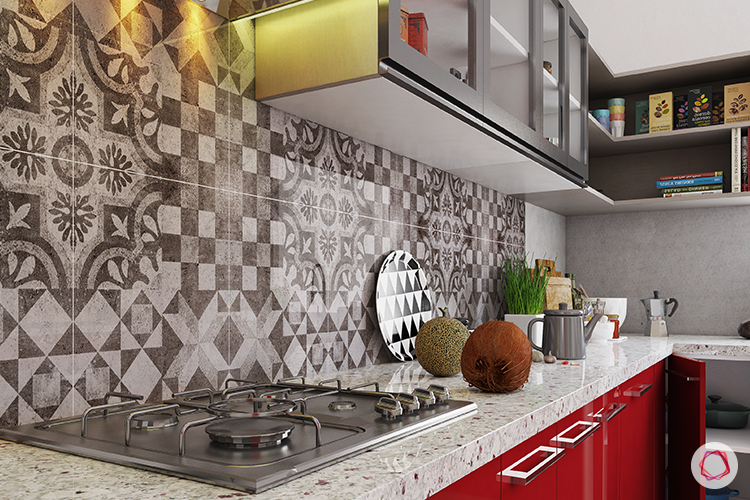 To answer a common question, with very less fuss and without disturbing other elements of the kitchen a backsplash can be added to an old kitchen to instantly revamp its look and make it more functional. But whether you choose to add a backsplash to an exisiting kitchen, or add it when you renovate or design a new kitchen — the process is simple, done yourself or by a professional. Just use this handy guide and you should be good to go!
Materials: They can range from the commonly used metal sheets like aluminium, stainless steel; fancy yet easy to clean tiles; corian or granite matching your countertop; glass or even natural stone( although the last two are slightly high mainetanace)
Think about maintenance: While glass and stone are elegant and chic, the most easy to maintain is the humble tile and it also gives you plenty of room to experiment. You can pick an eye catchy design for focal points to create a stunning effect.
Get creative with the tile: You can now pick and choose tiles which appear like another material for a unique finish. There are several tiles available in the market which look like a wallpaper, fabric, metal, stone or even wood.
Decide where the backsplash is installled: You have the option to either install the backsplash along the entire kitchen or target just specific areas like the stove and sink. While the former gives you a pleasing sense of continuity, and creates the illusion of a bigger space, the latter highlights and draws attention to the specific areas.
Get the right dimensions: Multiply the width and height of the wall to estimate the square footage. Make sure you buy a little extra, just in case.
Get the budget right: Work out your budget first and then accordingly buy your materials. The areas where you install the backsplash will also decide whether you can splurge or save. Although, with countless options available for all budgets, you can have yourself a beautiful kitchen in any case.
Play with your creativity: You can mix and match your tiles for a statement effect — use a magnetized surface to stick your cooking accessories or decorative magnets, in turn creating a unique visual. You could also unleash the artist in you and paint your backsplash yourself. A statement color like the one in the picture, worked around a sleek white kitchen makes a perfect style statement.
Grout is an investment: The foundation is the most important aspect of anything. Choose your grout and the sealing material with care. Buy good quality materials to make sure that the backsplash is durable.
Aftercare: Remember to reseal your kitchen backsplash at least once in 2 years, depending on the material of the backsplash. On a day-to-day basic make sure you clean the backsplash to keep stains at bay.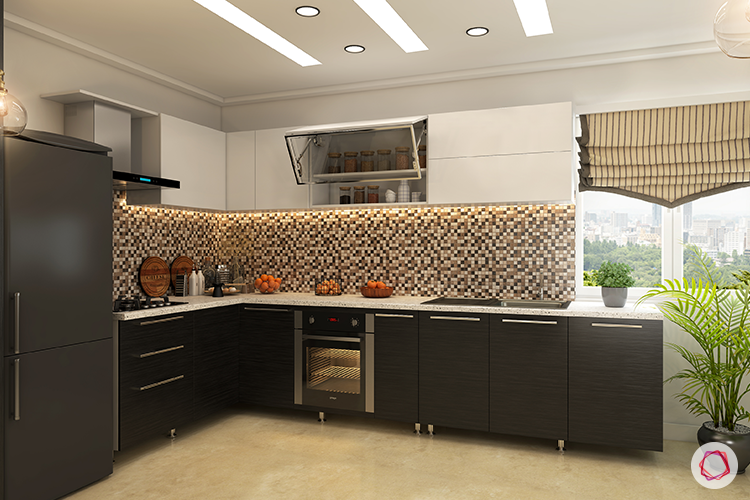 So go ahead, let your creativity soar. Armed with these great tips, to help you choose your perfect backsplash, you, too, can design your dream kitchen wisely. Keep reading for more great tips, ideas and inspiration.
If you have any additional questions and still need help with your modular kitchen design, get free design help here.