We've heard these queries quite often: Which is the best kitchen material for cabinets? Which countertop can withstand masala spills? Which backsplash material is the most cost-effective? Moreover, the material used in each part of your kitchen decides how your kitchen looks and what it can endure over time. Hence, we've tried to address your concerns as homeowners with respect to durability, maintenance and cost to help you decide on the best kitchen materials.
What are the basic components of a kitchen?
The cabinetry sets the tone for the look and feel of your kitchen. However, you also need to consider the following:
What is your kitchen cabinet made of?
Which shutter material should be used and what finish is best?
What countertop is best suited for Indian cooking?
Find a backsplash that's pretty and functional
Pick the flooring
Cabinets
We find that all the information in the market can confuse you about terminology. Let's get that out of the way. Carpenter Has You Confused? Help is Here. It will also help you distinguish between cabinet carcass and shutters/finishes, both made of different materials.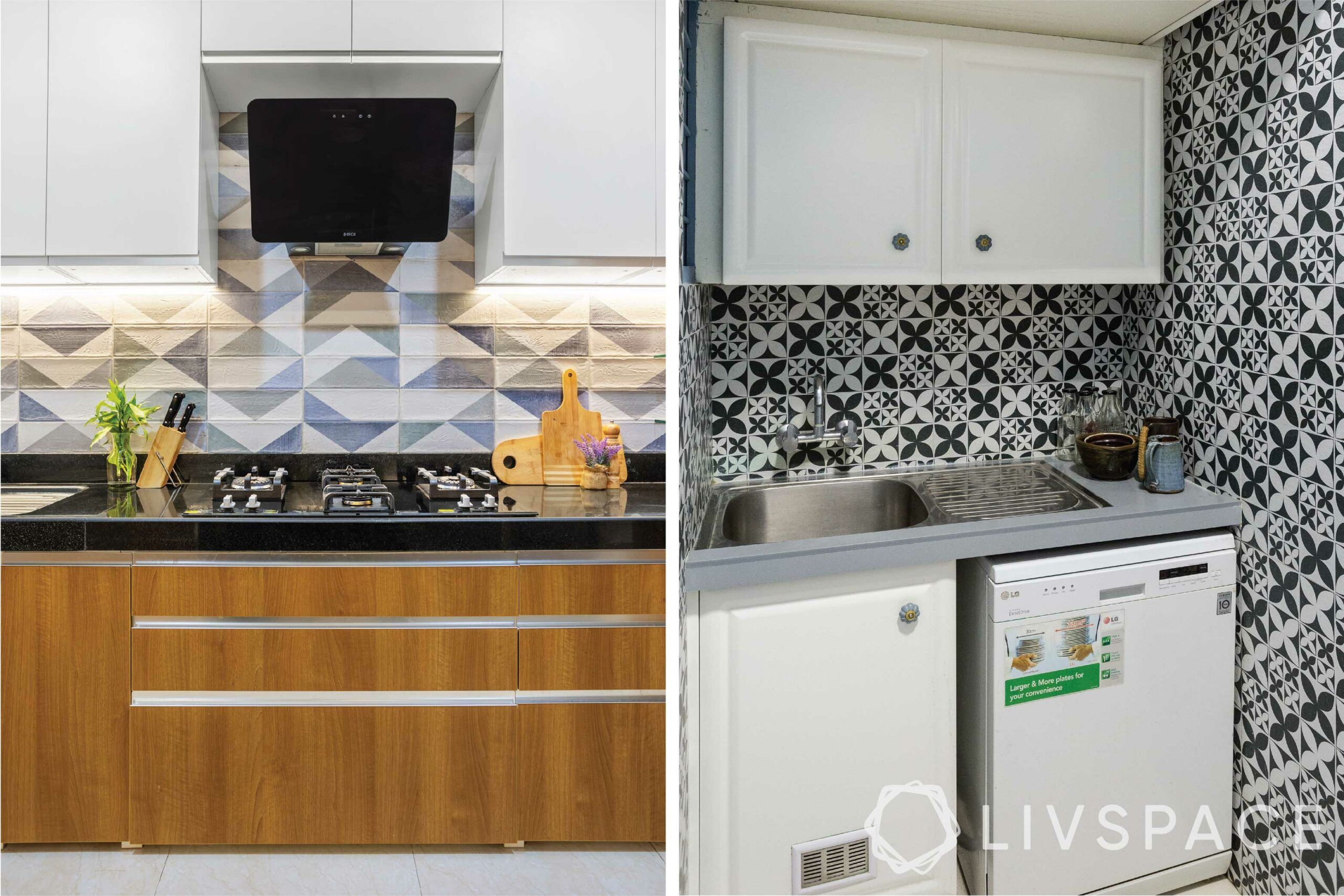 Cabinet Carcass
An important distinction to be made here is, are you getting a Civil or Factory-made Kitchen? Also, with factory-made or modular kitchens, the carcass is primarily made of materials that mimic wood. For instance:
BWR (Boiling Water Resistant)
MR (Moisture Resistant) plywood
MDF (Medium Density Fiberboard)
HDHMR (High Density High Moisture Resistant) board
PLPB (Particle Board)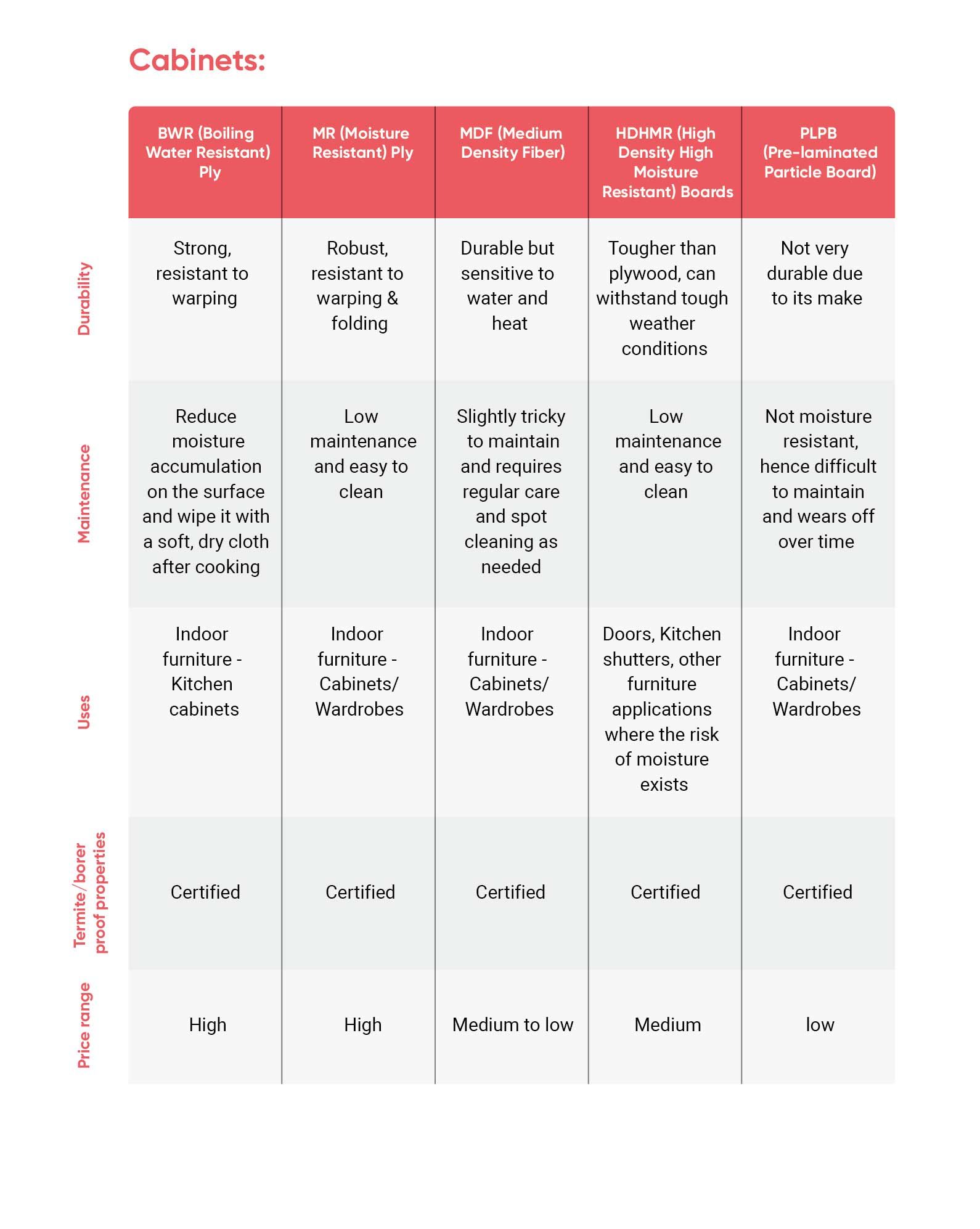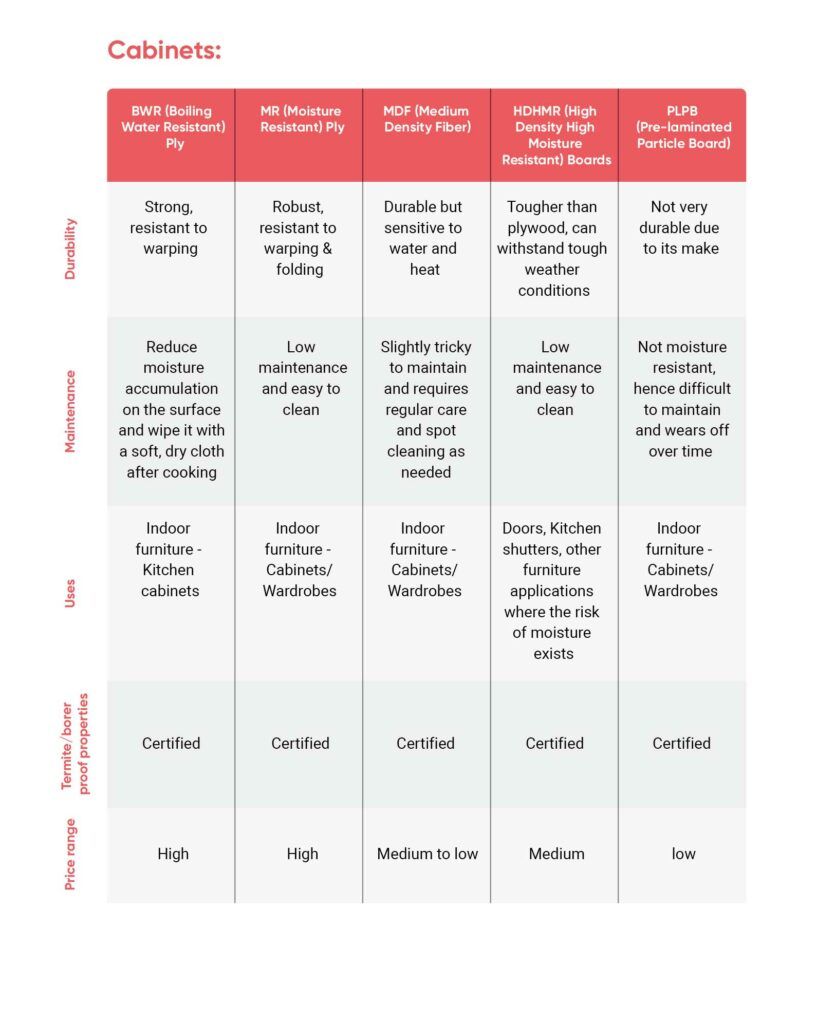 Cabinet Shutters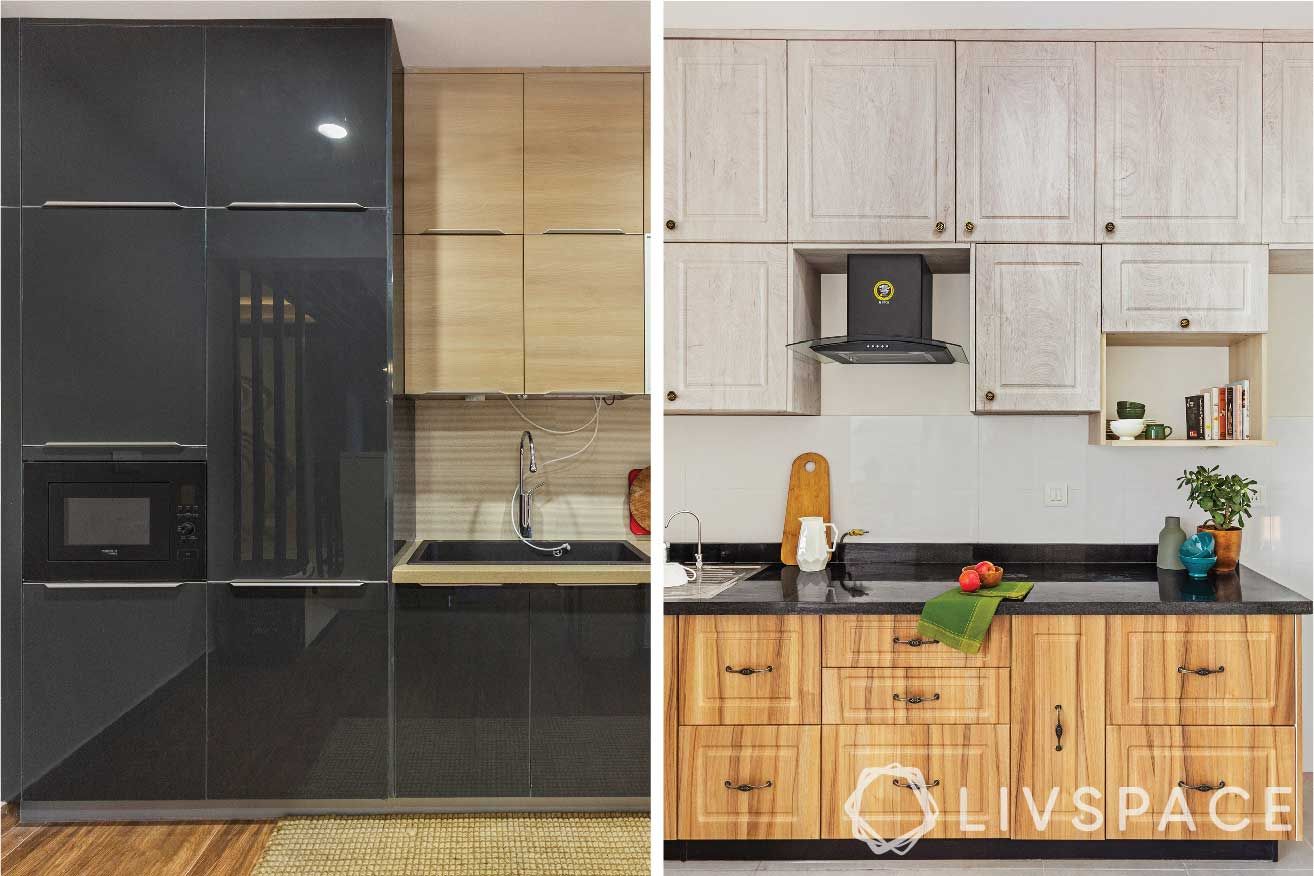 Modular kitchen shutters or doors are made of an interior material and exterior finish. You can also select a particular finish based on your aesthetic sense, budget, maintenance needs, and so on. Here are the most commonly available options in the market:
Laminate for a budget-friendly kitchen
Membrane for a durable and easy-to-maintain kitchen
Acrylic for that stylish look
PU Paint can be used on wood as a finish. It is also best suited for materials with high wear and tear
Aluminium glass where the finish is glass with an aluminium frame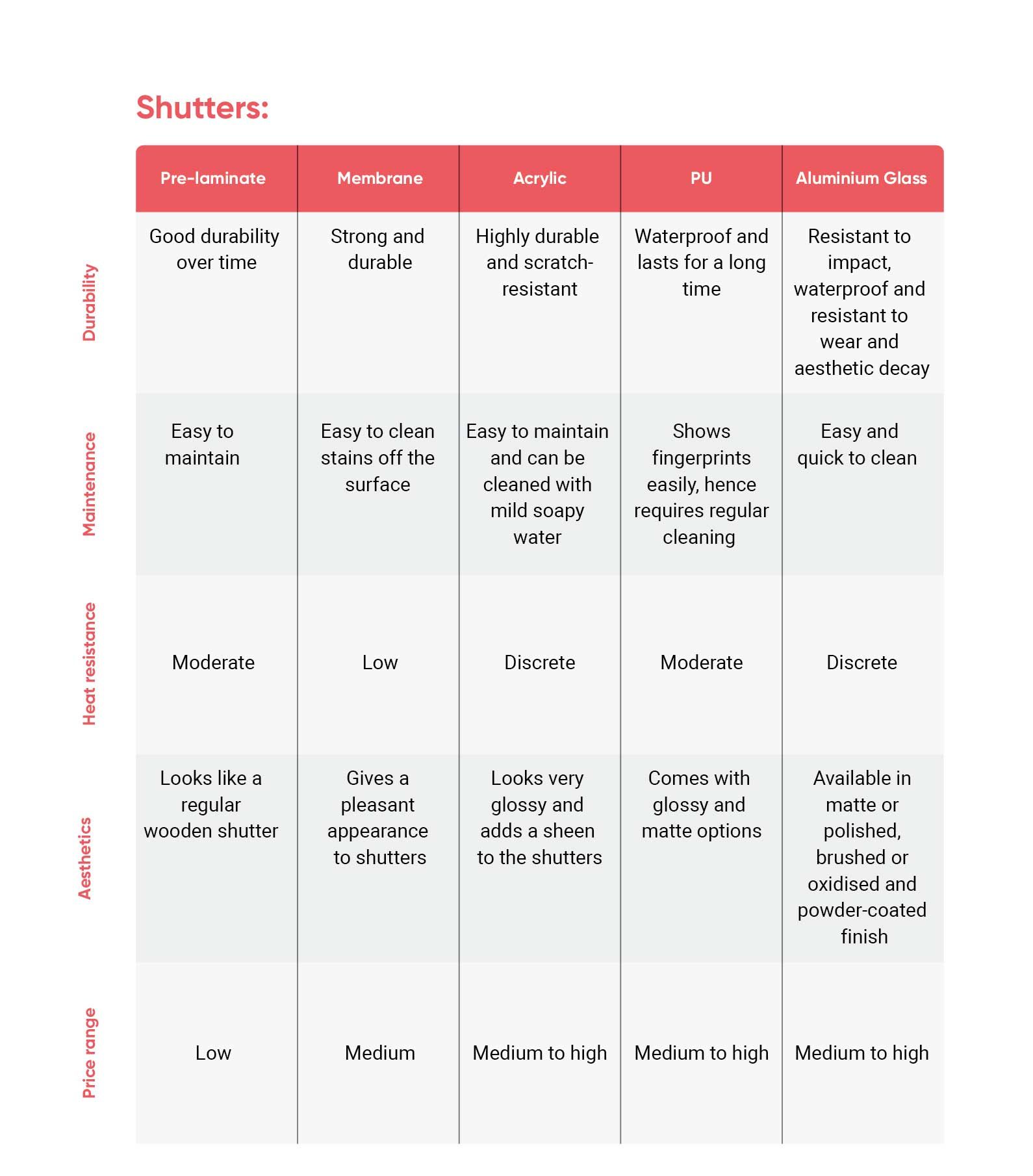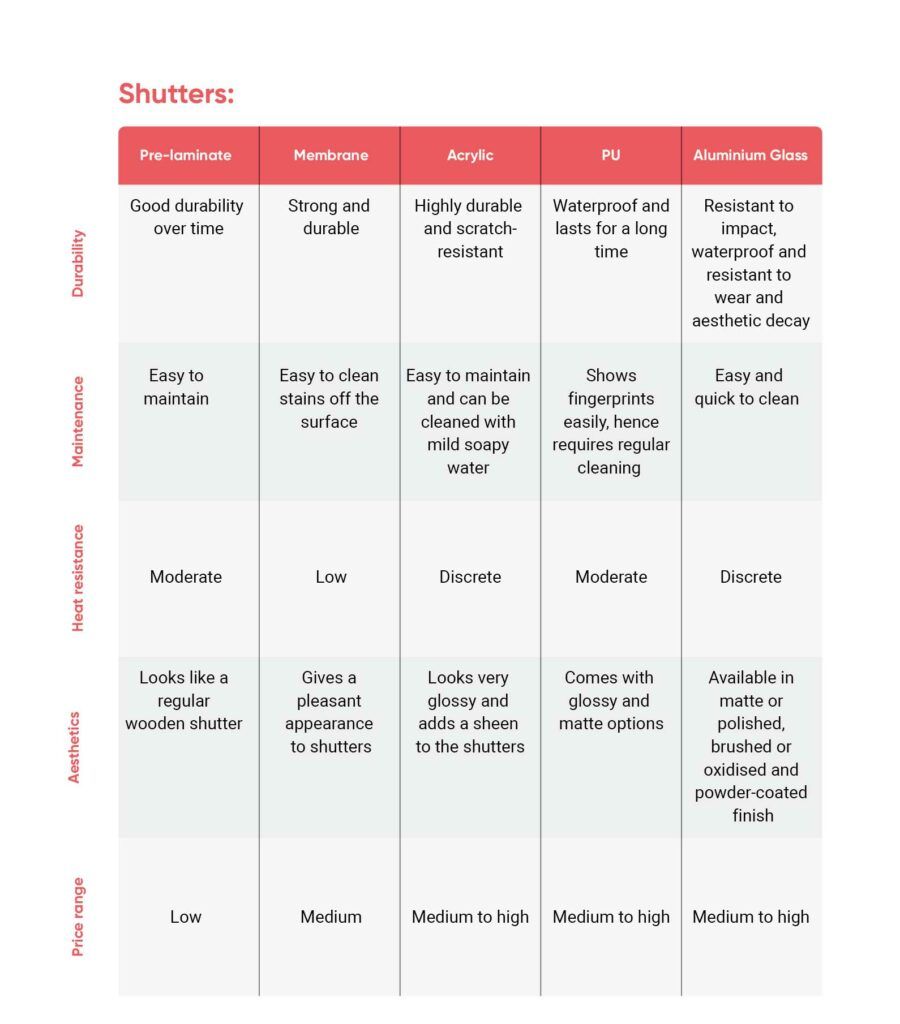 Countertop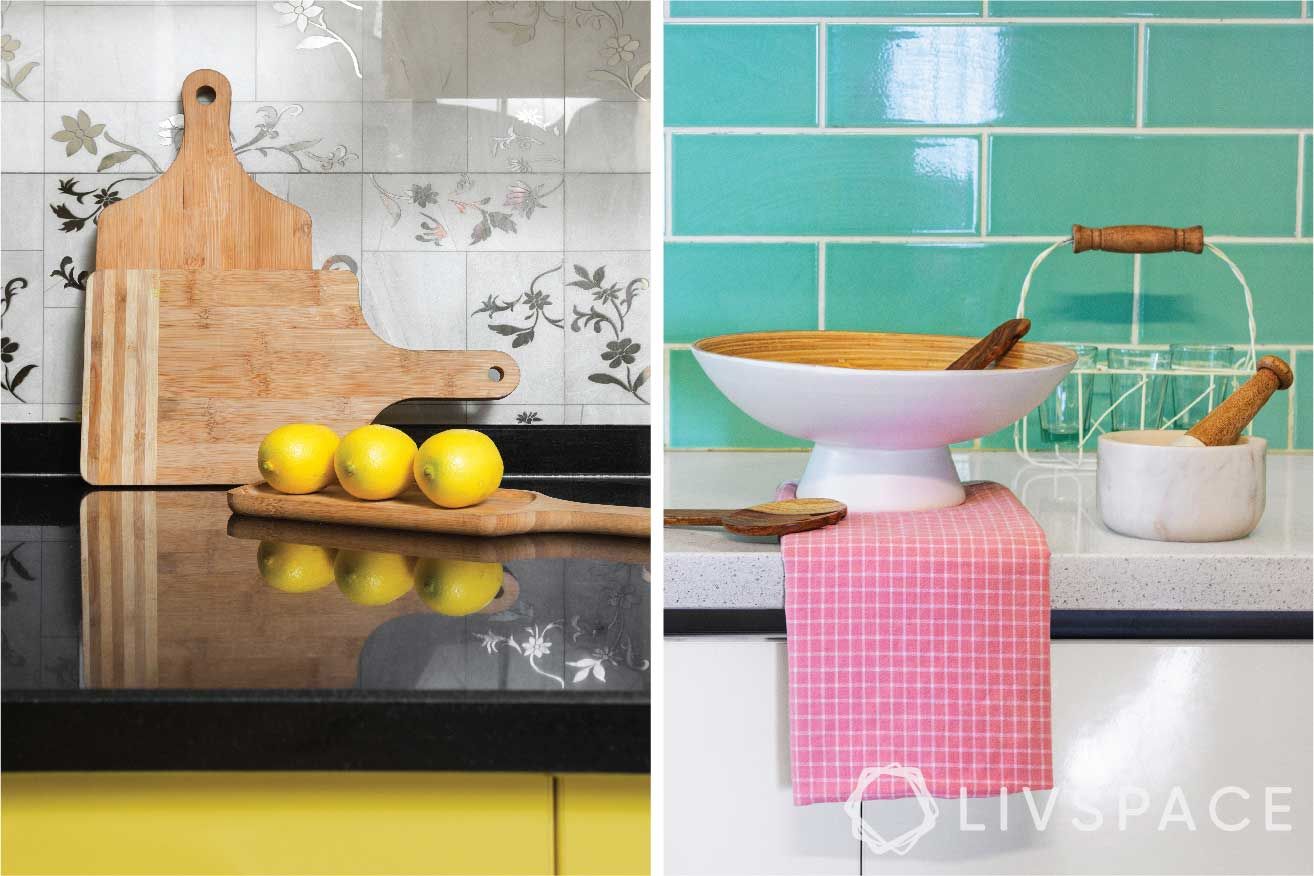 Most Indian kitchens have the traditional black granite for a countertop. Therefore, we aren't surprised that the most popular countertop material in India is granite. Explore these materials offered by Livspace for countertop:
Granite
Synthetic material (Corian, Caeserstone and Sile Stone)
Quartz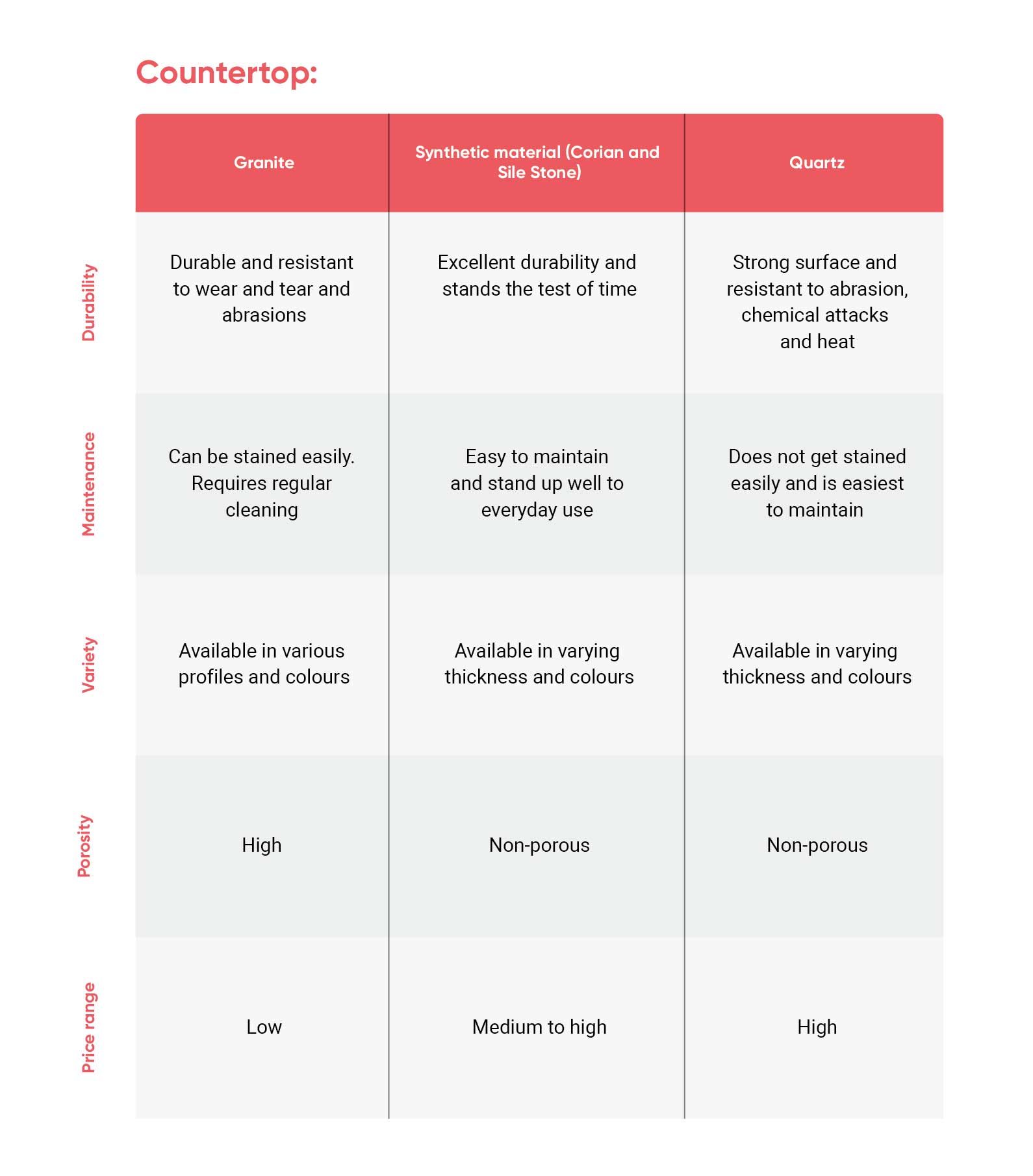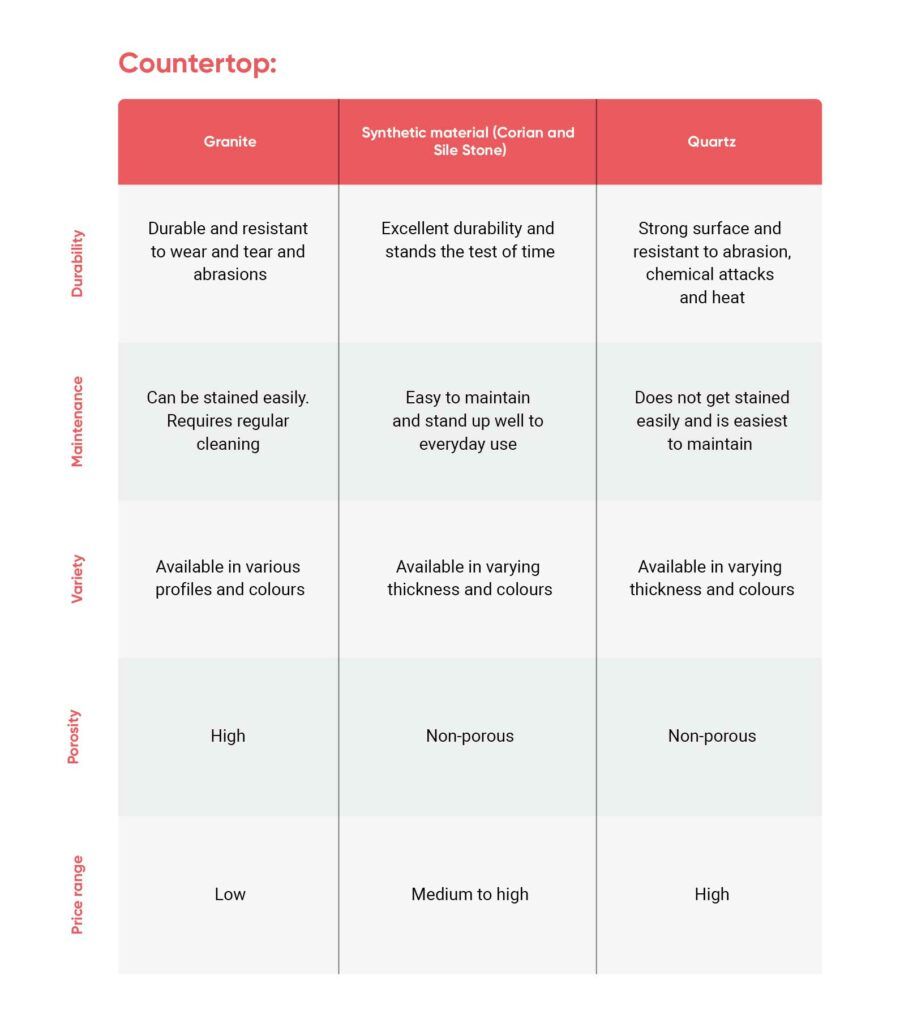 You can also explore the Complete List of Countertop Materials to stay aware.

Backsplash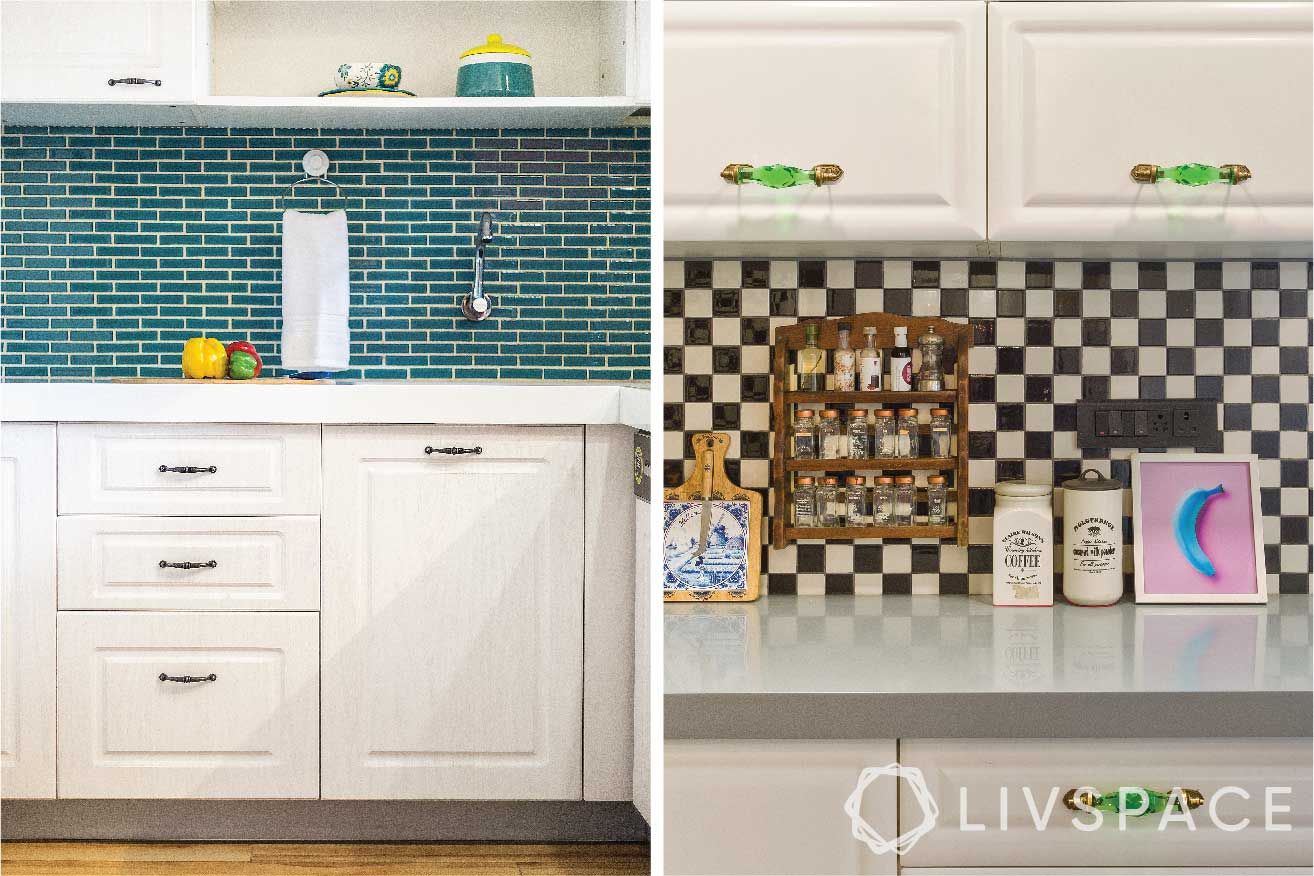 You would've noticed, the backsplash is the area most prone to spills and stains due to cooking. You can pick wall tiles/backsplash (as it's commonly known) to match the countertop or cabinets or even pop for effect. In addition, you can play around with tile patterns for aesthetic appeal. These options can help you choose wisely for your own kitchen design:
Ceramic tiles
Glass
Mosaic tiles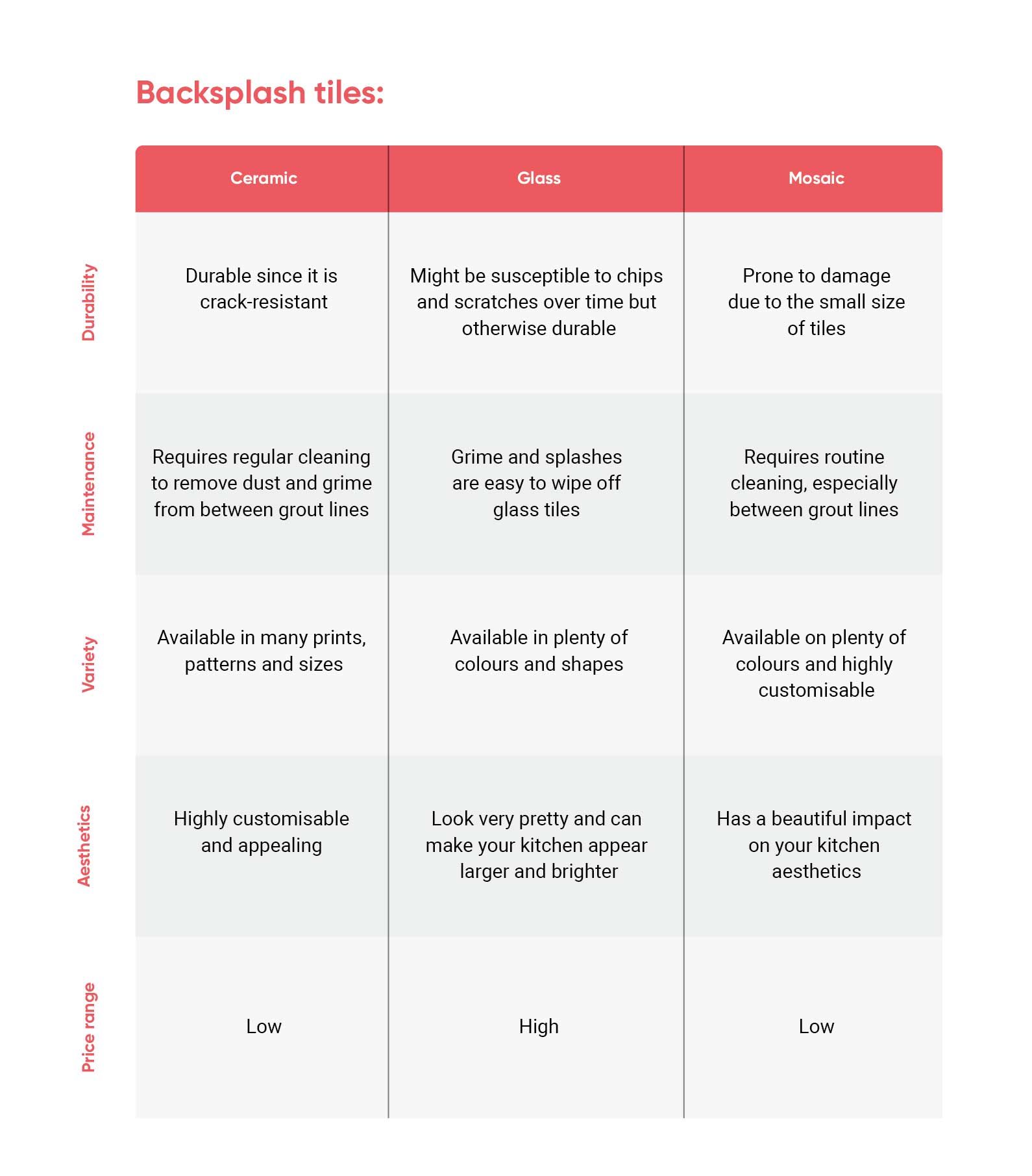 Flooring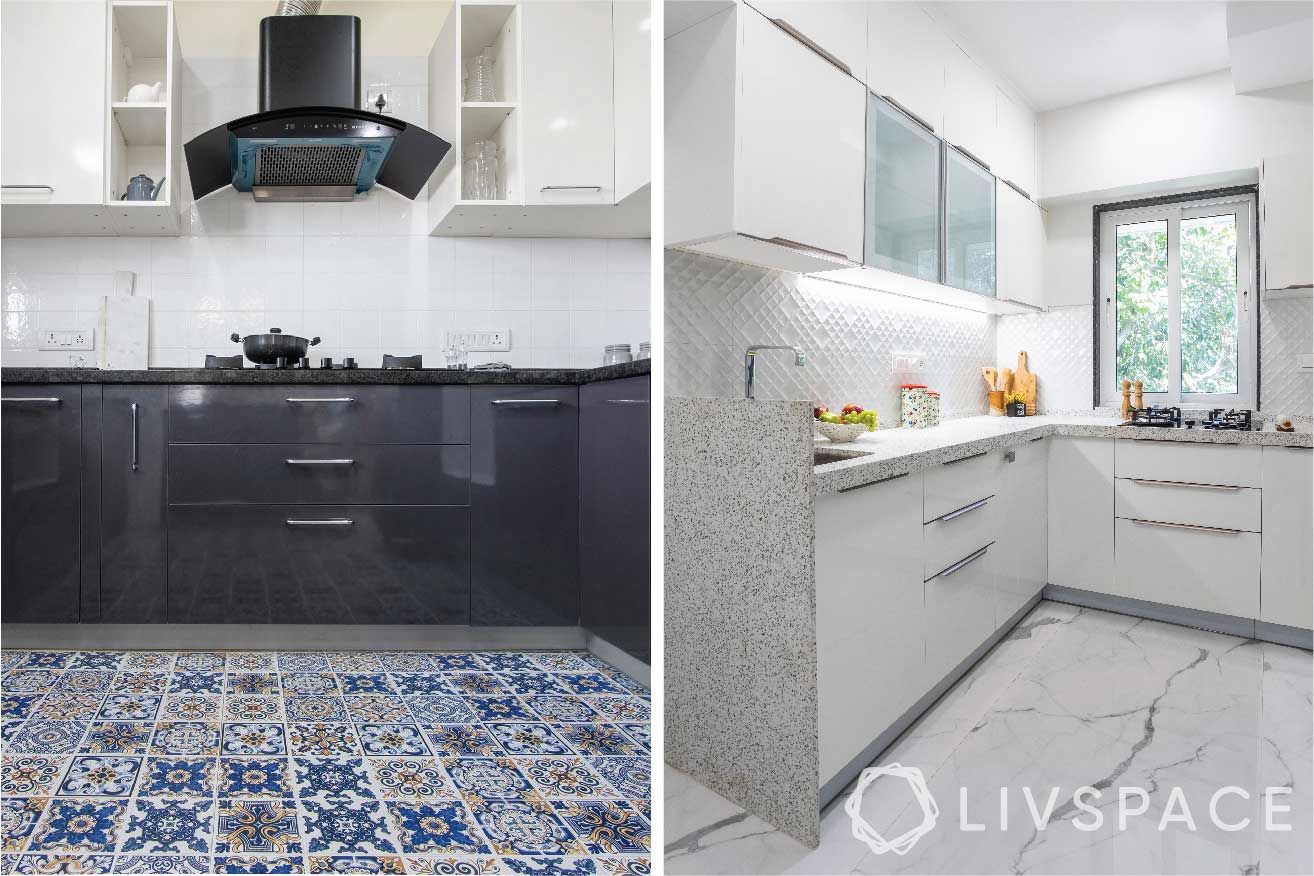 Since most homes from established builders come with good quality flooring, there isn't much debate here. If you're interested in replacing your flooring, here are the best materials to choose from:
Ceramic tiles
Marble
Granite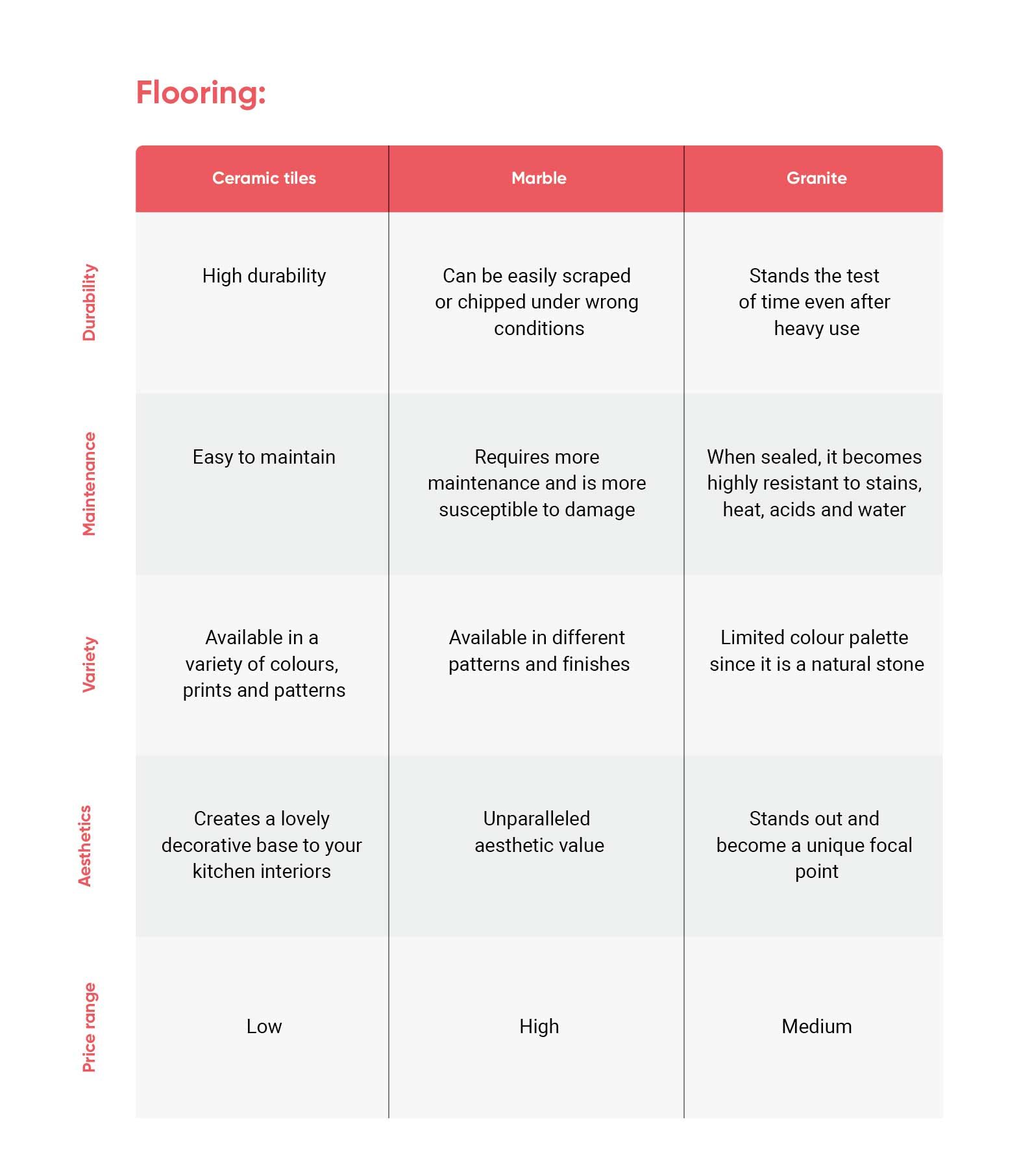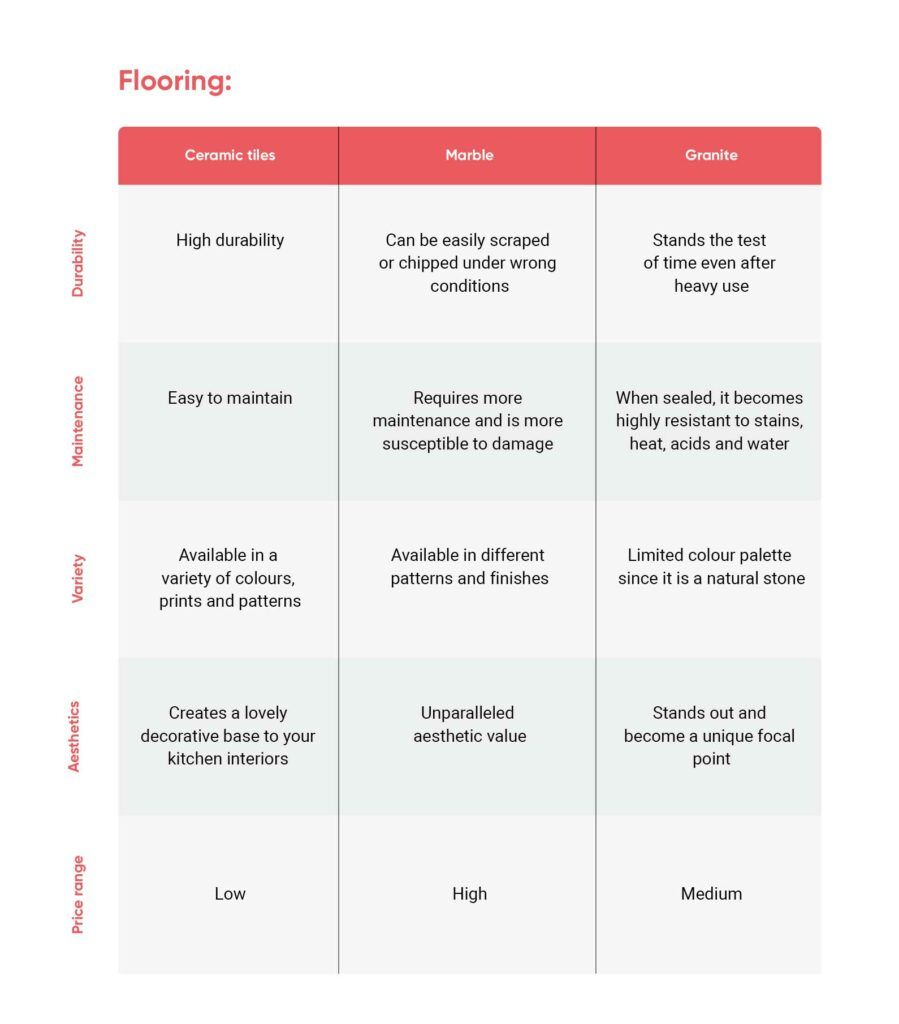 Did that answer your concerns about picking materials? We hope this also equips you for your next conversation with a designer. And if you're still trying to decide on who should design your kitchen, check out 6 Answers to the Question: Why do People Choose Livspace Kitchens?