Ergonomically speaking, a kitchen is incomplete without elements that increase productivity, efficiency and comfort while cooking. Factors like having the right hob or chimney, storage cabinets, drawers, counters, etc are essential to designing a perfect kitchen.
Amongst them, the kitchen sink is one of your crucial purchase. Before getting one installed, always remember that a kitchen sink is ambushed with impairing items throughout its lifetime like slimy and oily foods, sharp knives, boiling water etc.
To help you whittle down your choices, here are the types of kitchen sinks available in India, classified according to
Type of bowl
Type of installation
TYPES OF BOWL
Single-bowl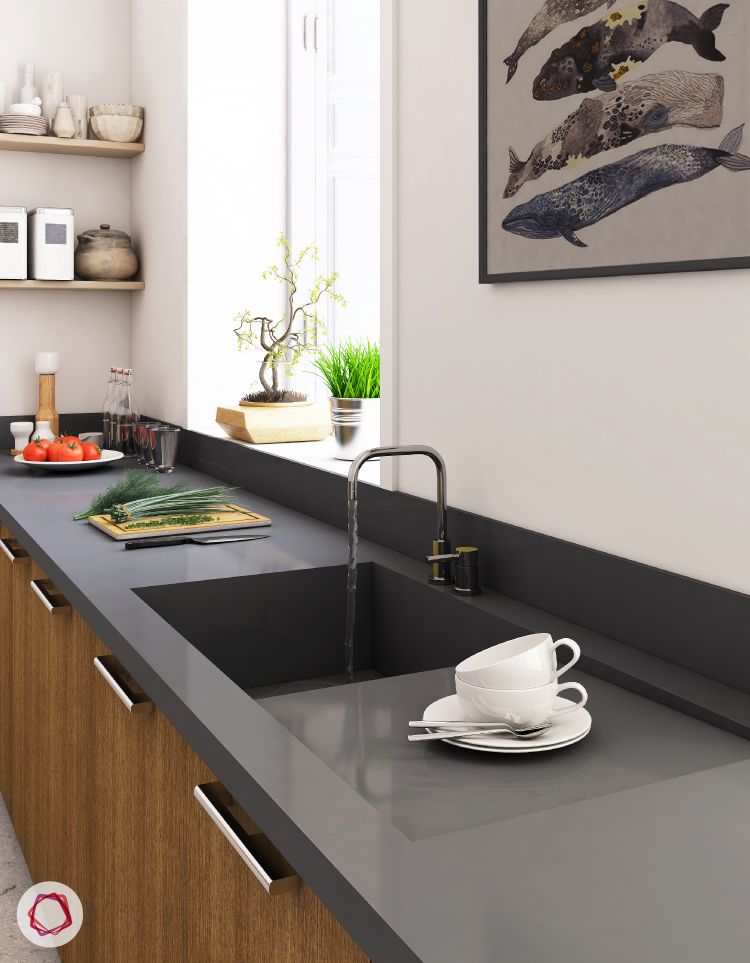 As the name suggests, this has a single sink fitted with the countertop. It is a great choice for kitchens that are small and compact, being easy to clean. Single bowl sinks can lend a streamlined look to your kitchen.
Double-bowl sink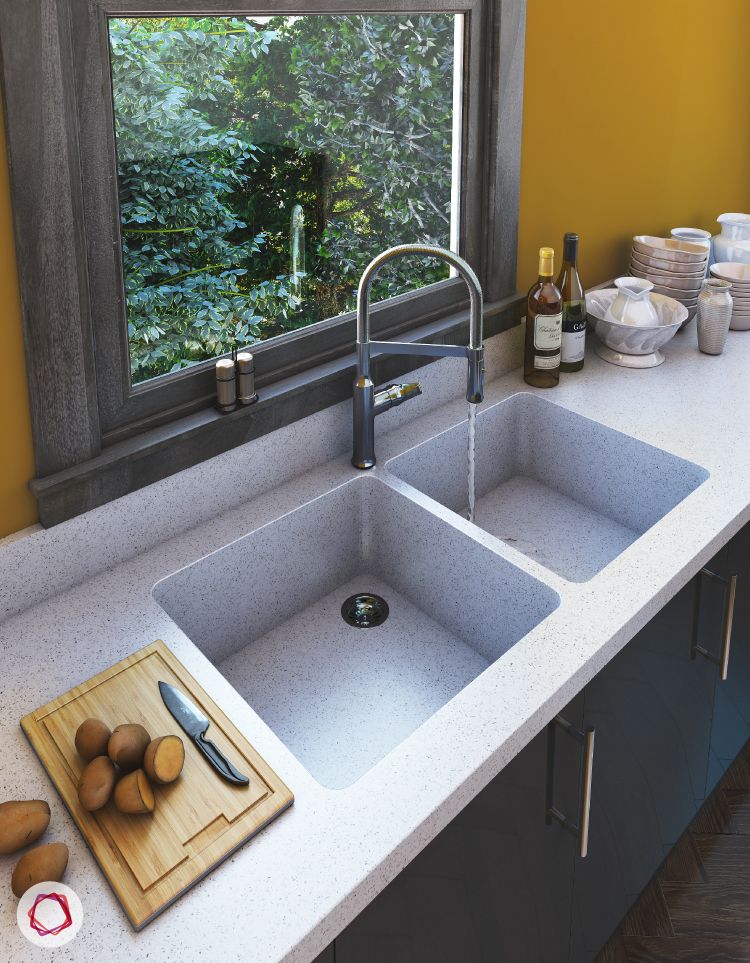 Double bowl sinks are partitioned into two sinks. Most of the homeowners swear by double-bowl sink, for it makes multitasking an easy job. This is also a great choice when there are two cooks in the kitchen.
Sink with drainboard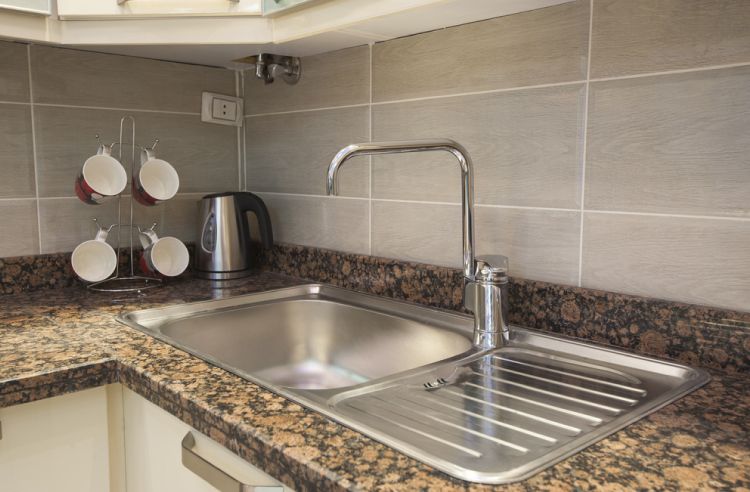 This is a popular choice in Indian kitchens since it allows space to dry utensils as well as to drain vegetables. Since it comes with a drainboard in varied shapes and sizes, it often tends to occupy more space on the countertop.
TYPES OF INSTALLATION
Top mount sink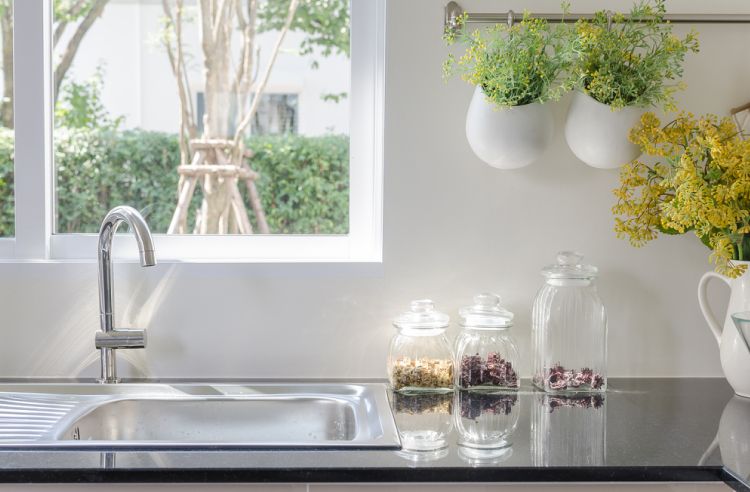 This is also known as the drop-in or self-rimming sink seen regularly in Indian kitchens. Top mount sink, to put it simply, has a ridge that fits over the countertop. It has a sink rim or lip which rests on top of the countertop. These kind of sinks are easier to install and are relatively cheap.
Undermount sink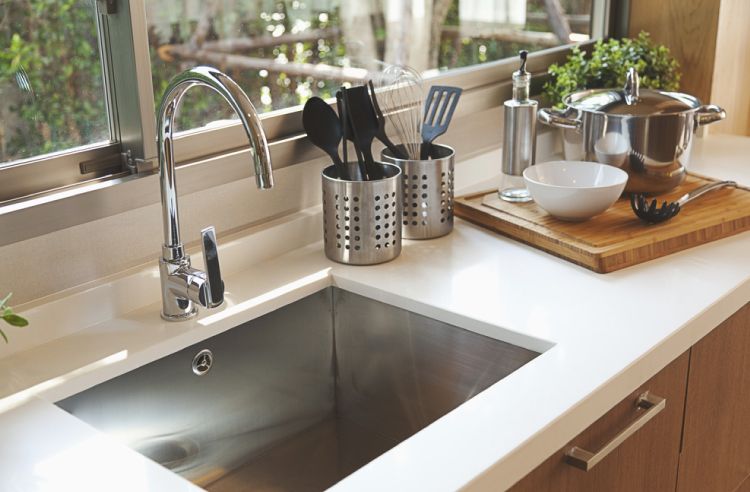 This type of sink is recessed below the countertop, so the sink effectively hangs underneath the counter. Since the lip or rim of the sink does not sit on top of the counter, it creates a meticulous flow from countertop into the sink. The under mount sink is also easy to clean because there are no crevices where normally dirt or grime gets accumulated.
Integrated sink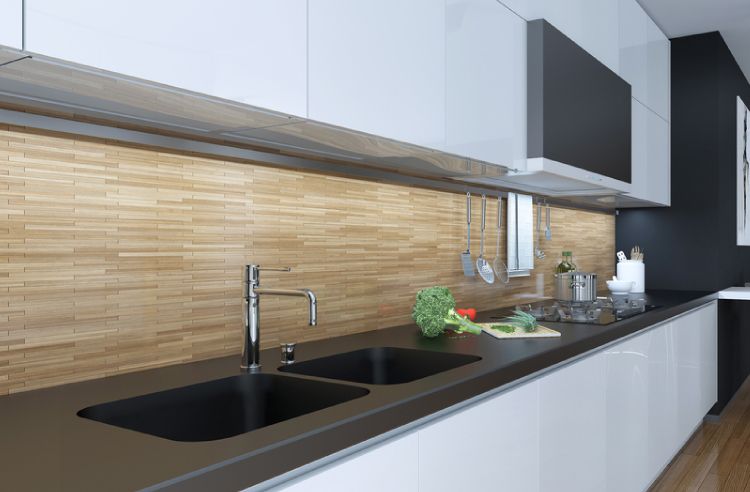 This is for those who desire a kitchen sink that seamlessly blends in. It is made from the same material as the countertop, such as stone, metal, solid surface or quartz. An integrated sink is perfect for a contemporary kitchen since it has a clean and elegant design.
Before you decide to shell out your hard-earned money on the kitchen sink, make sure you spend some time on picking up a countertop.
If you're planning to remodel your kitchen, always choose the sink and the countertop together. It saves a lot of your precious time worrying about whether they complement each other. Moreover, when you shop for both the sink and countertop together, there is a lesser chance of ending up with a mismatched pair.