Just because you do not have space for a six-burner stove or a fancy cooktop, doesn't mean that you should compromise on design and aesthetics. Having a compact kitchen design is in trend now and it's all about combining design and practicality. Shrinking sizes should not be treated like a curse, instead, they should be treated as a boon and utilised to the maximum.
In this article, we are going to tell you all about how you can make the most of compact kitchens. Read and find out how.
Small kitchen design idea #1: Plan the layout well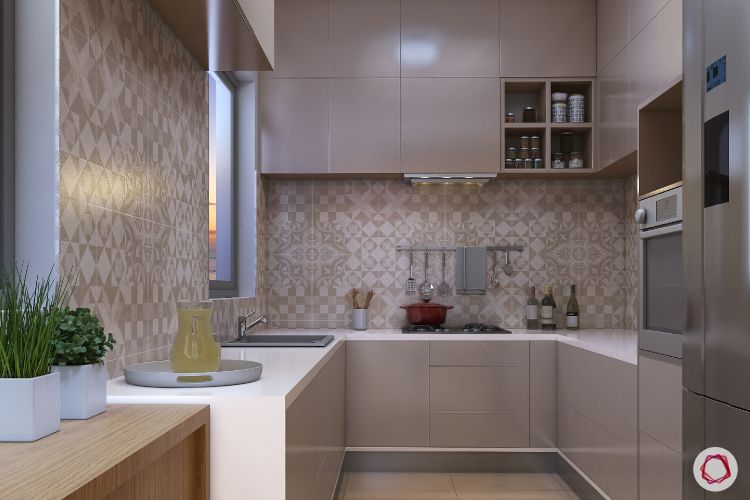 When it comes to compact kitchens, layouts are very important. If you have the right layout, you can drastically change the way your kitchen looks. A galley or corridor-style kitchen is the most common layout for a small kitchen as it leaves a lot of scope for upper and lower cabinets. Alternatively, you could opt for a one-wall kitchen that is typically half of a galley-style kitchen. These are perfect for people who have very limited needs and can make do with the necessities.
Small kitchen design idea #2: Make use of wall space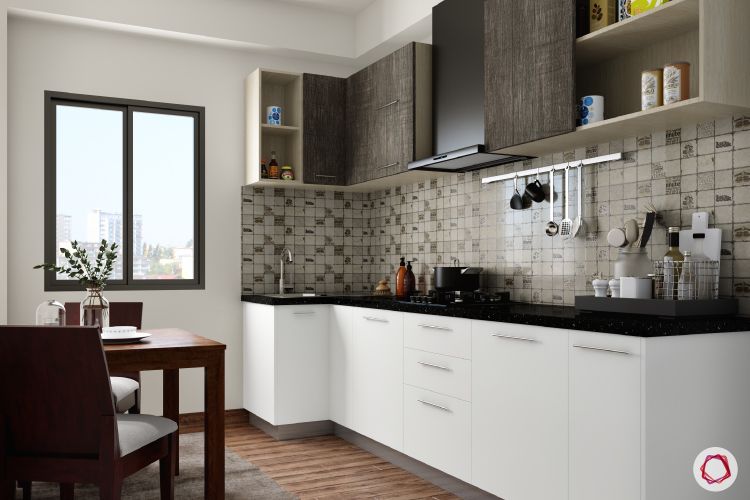 When you do not have a lot of counter space, what do you do? Utilise the bare walls and build shelves on them. Use up all the dead space on those walls and mount ledges on which you can store all your utensils and so on. Get the cabinets fitted with some internal organisation accessories to make life a lot simpler for you.
Small kitchen design idea #3: Utilise the corners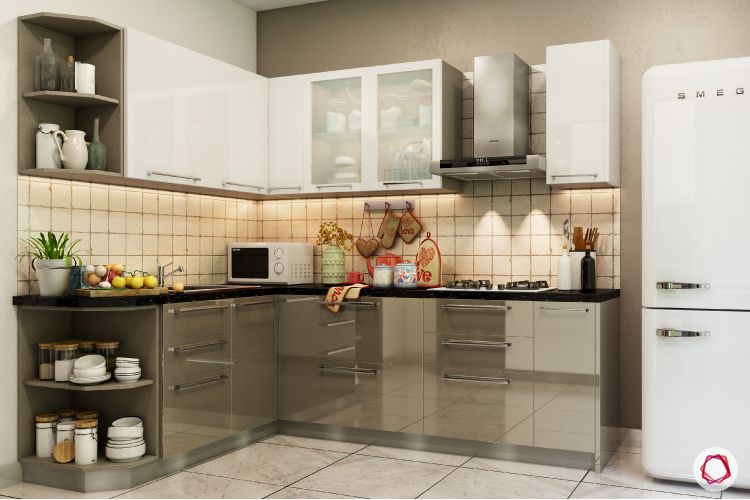 When you are short on space, the last thing you want to do is waste even an inch of space. A compact kitchen employs smart storage solutions in every possible way. Corners are often useless unless you turn them into open shelves and make the most of that area. You will be surprised at the utility these corners serve! There are also accessories available for corner cabinets that make the most of that difficult spot.
Small kitchen design idea #4: Single bowl under mount sink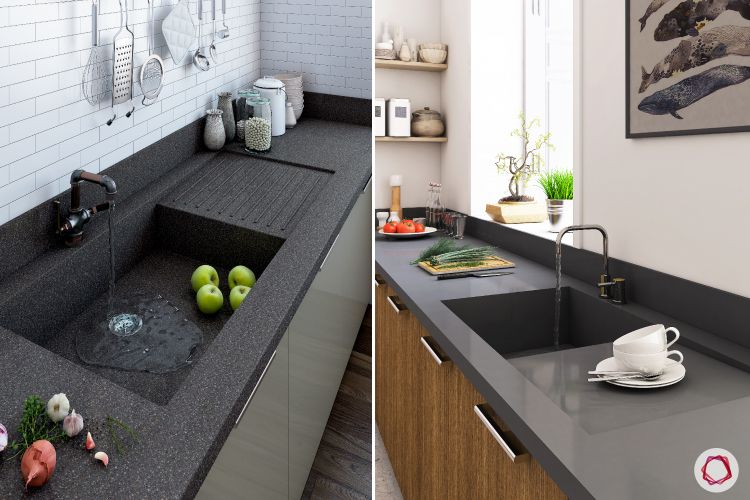 Just opting for a single bowl sink will do wonders for your compact kitchen design. Most of us can actually function perfectly fine with a single bowl sink, instead of the space-consuming double bowl version. Opt for an undermount sink and see how much counter space you'll be left with! Read this for more information on the types of sinks available in the market.
Also Read: How to Choose the Best Kitchen Sink Designs
Small kitchen design idea #5: Think built-in appliances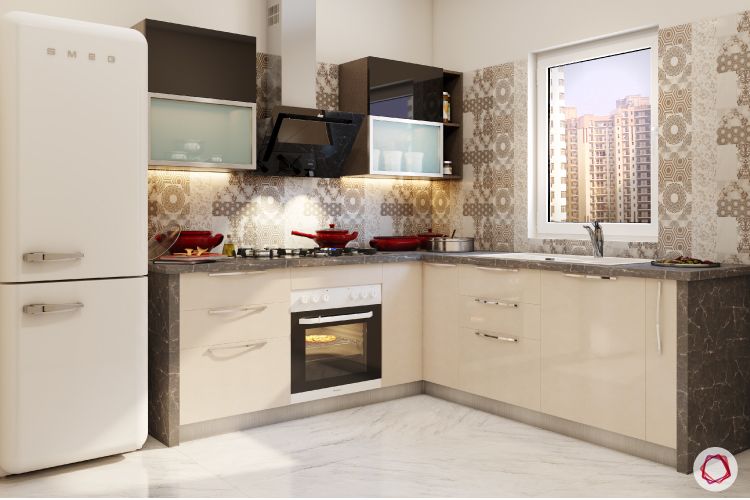 Have you ever thought about how much counter space you end up using to place those appliances there? Incorporate a built-in unit for microwaves and other appliances into your kitchen design. Alternatively, you can also opt for open wall-mounted shelves where you can place your appliances and free up counter space.
Small kitchen design idea #6: Reach the ceiling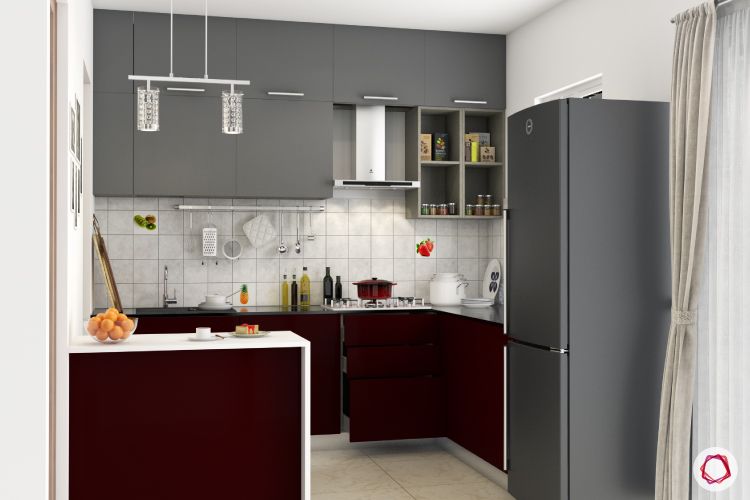 Why should you waste wall space above your kitchen cabinets when you can actually reach the ceiling? Yes, we are talking about building lofts and utilising them as storage for your heavy utensils or anything that you might not need every day. Go all the way up and make the most of the walls!
Small kitchen design idea #7: Utilise under-sink space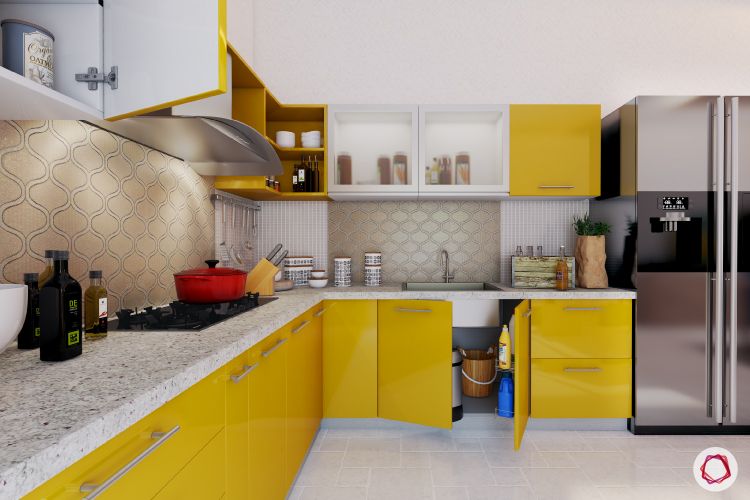 We often end up wasting the space under the sink. Instead of doing that, you can look for modular units that have designated brackets for keeping household cleaning items and dustbins. This trick will address a dual purpose – hiding all the clutter and saving up any extra space from getting occupied by these items.
Now that you know how to rock the show even with limited space, what are you waiting for? Use up all these tips and build a seamless compact kitchen for your home.
Like always, keep those suggestions and comments coming in.
How can Livspace help you?
Looking for a kitchen upgrade? Our team of seasoned and creative designers is ready to collaborate with you to bring your vision to life. Whether you aspire to replicate the exact ambience of this space or desire a bespoke design tailored to your preferences, Livspace has you covered.
With a flat 10-year-warranty, 45-day move-in guarantee, and easy EMIs Livspace is a platform service that includes personalized design consultations, life-like 3D rendering to visualize your dream home, efficient project management, and seamless installation. We understand the importance of every detail in creating a home that truly reflects your style and personality.
Book an online consultation with Livspace today. To know how our customers feel about working with us, check out these Livspace reviews for more details!